Best Things to Do in Kyoto in Winter
Kyoto in winter: best indoor and seasonal activities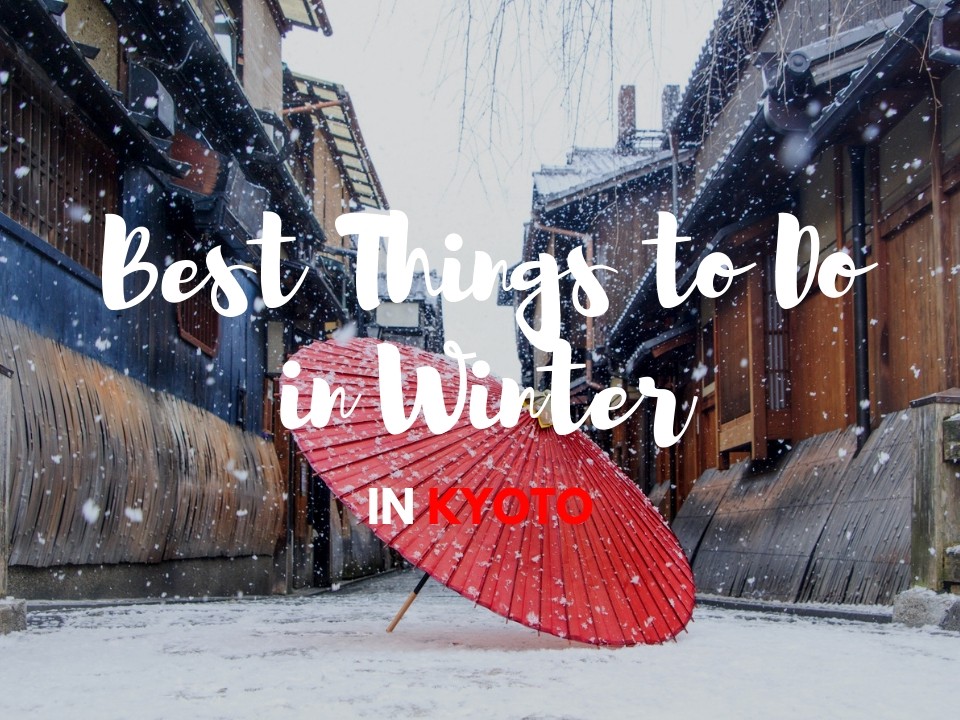 If you are visiting Kyoto in winter months from December to February, you may feel the cold, experience the snow and wonder what to do. First of all, please remember that the winter is the slowest season in Kyoto which means you don't have to worry about all the crowds and cues at the popular sites. The hotels tend to be cheaper and you can enjoy many indoor activities by getting special attention from local hosts.
From ski slopes to hot springs, there are many alternative things to do in Kyoto during the Winter that will make you want to visit this ancient capital again. Just keep in mind: no matter what part of Kyoto you are staying at, you can always visit the shopping arcade, downtown bookstores and pet cafes on a cold day in Kyoto. Let's see what else you can do:
1. Experience Japanese Onsen in Kurama
One of the most undeniably quintessential attractions of Japan are its onsen–natural hot springs and spas. There are more than 3,000 onsen resorts dotting the country, so finding a good one is more a matter of personal taste than availability.
Visiting an open-air onsen in otherwise inclimate weather is perhaps one of the more underrated experiences a traveler can have in Japan. The feel of the cool rain falling down on your shoulders while you relax in a hot bath, surrounded by the beauty of the Japanese mountains in absolutely exquisite.
For the traveler looking for a bit more of a secluded experience, Kurama Onsen in Kyoto's Sakyo Ward absolutely fits the bill for a rainy day. For 1,000 yen (700 for children) guests can enjoy a soothing sulphur hot spring or open-air bath while taking in the quiet mountain atmosphere.
While Kurama Onsen is easily accessible from the main city for a day trip, guests wishing to extend their time in Kurama can book a traditional-style Japanese room for the night starting at 17,000 yen. This price even includes two complimentary meals! Let go of all your troubles and tensions while being pampered in the rain at a Japanese spa.
2. Try Traditional Tea Ceremony
Kyoto is surrounded by tall mountains that's why summers feel warmer and Winters feel colder compared to Tokyo and Osaka. After visiting a few temples and shrines on a cold day, you may really start thinking about getting yourself into a place where there is a heater. Luckily, this ancient capital has many indoor workshops and cultural centers which offer various kinds of courses and experiences ranging from pottery making to tea ceremony, calligraphy to traditional cooking.
The most famous indoor activity venue is Kimono Tea Ceremony Maikoya. If you are not into dressing up in kimono, drinking bitter matcha tea and eating Japanese sweets you can try local origami or Japanese calligraphy where you learn how one's true nature is reflected on the scripts coming out of one's brush which leads to the zen mindset.
▶︎This tea ceremony experience at Maikoya is really popular, so book it before it's fully booked!!
3. Go Skiing
Believe it or not, Kyoto actually does have a few ski resorts for winter sport enthusiasts. Although the city is surrounded by mountains of all shapes and sizes, it is not as well known for skiing and snowboarding as some of the more northern prefectures are. Nonetheless, visitors looking for something to do outside of the traditional can turn their gazes toward these three resorts.
Hirogawara is the only ski resort located within Kyoto City limits, and is popular for its every day late night ski access. The resort has a single ski lift and a maximum elevation of 635 meters. The majority of this ski slope is reserved for beginners, so advanced skiers looking for a variety of slopes may want to look elsewhere for a challenge. No classes are offered, but ski and snowboard rental equipment are available for guests.
Oeyama Ski Resort is located in Miyazu City, in Kyoto Prefecture. This slope has been closed for the past two seasons due to lack of sufficient snowfall, however if you're lucky enough to visit on an open season, advanced skiers will find plenty of space to test their skills on this maximum 500 meter elevation slope. Only ski equipment rentals are available at this resort and there are no lessons.
Finally, Swiss Ski Village Ski Resort is a smaller facility at 683 meters elevation, located in Ine Town in Kyoto Prefecture. This resort is mainly reserved for beginners however there are a few more challenging runs for more advanced guests. Ski and snowboarding lessons are available on this slope, as well as rentals for both sports. The resort has both single and double lifts, and is only opened during the day.
4. Visit Museums
If you just can't stand to be outside in the blistering cold for another second, take refuge in warm museums instead. The most popular two museums are Kyoto Samurai & Ninja Museum near Nishiki Market and the Kyoto National Museum near Sanjusan Gendo.
The Kyoto Samurai and Ninja Museum hosts a variety of cultural events in the winter. There are hourly Japan history tours inside the museum where you can take your shoes off and listed to the old stories about the samurai who once roamed the streets of Kyoto. After the tour you can enjoy watching the samurai show and trying samurai and ninja weapons all take place indoor on the tatami mat floors.
The Kyoto National museum is located just across the street from Sanjuusangen-do temple–the site of the thousand Kannon statues and a cultural sight to behold in itself. In addition to the museum's extensive thematic and special exhibitions, the Kyoto National Museum also has several outdoor garden arrangements and a teahouse for guests looking to warm up with a bit of culture. The museum is quite large, so guests are encouraged to arrive early in comfortable shoes to see all that it has to offer, however the calming atmosphere and easy pace of the museum layout makes for a relaxing indoor experience regardless.
5. Eat Nabe
Nabe is the perfect meal to fill you and your friends up on a cold winter night. Perhaps the most popular winter food in Japan, nabe is a nutritious, versatile, and easy to make savory food that encourages an atmosphere of sharing and togetherness. Cooked in a large pot and self-served by diners, typical ingredients for this Japanese style hot pot include cabbage, green onion, mushrooms, tofu, bok choy, and the diner's choice of meat.
This meal is typically shared among a group of family or friends. One person is in charge of the cooking and addition of the ingredients, while the rest of the diners take what they want directly from the cooking pot to add to their bowls. Dry rice is sometimes added to the remaining broth at the end of the meal to create a sort of savory rice porridge infused with the flavors of all the ingredients that have already been eaten. This adds a final layer of comforting, warm fullness to the meal that contributes to its overwhelming popularity in the cold months.
Because nabe is warm, filling, and communal it has a reputation of being a quintessentially winter food in Japan when family and friends gather inside against the cold.
6. Participate in Hatsumode New Years Celebrations
If you find yourself in Kyoto over New Years Eve, you might wish to join in the celebrations at one of the city's many shrines or temples. Hatsumode literally translates to "first temple visit" and is an important annual custom in Japan.
The atmosphere is festive, with colorful vendors and enthusiastic revelers traveling with friends and family to welcome the New Year with a clean slate. Pull an omikuji fortune to see what the New Year has in store for you, and enjoy the free refreshments many shrines and temples offer their guests in the first week of January.
If you go to a Buddhist temple on New Year's Eve for joya no kane, or the bell ringing ceremony, you may have the opportunity to ring the bell yourself if you arrive early at certain locations. This ceremony is intended to do away with bad karma and invite only good luck in for the New Year.
Head to Chion-in to hear Kyoto's largest temple bell rung by the strength of 17 monks, or share the bright festive experience with large crowds in the magical ambiance of the temple courtyards of Heian Jingu or Kitano Tenmangu.
7. Try Mochi Pounding
Mochi is a ubiquitous snack in Japan that comes in many different forms. Made from stick rice flour, mochi is usually presented as small, semi sweet dumplings with a variety of fillings ranging from red bean paste to whole fruits.
Around the New Year, kagamimochi or, mirror mochi–so named for how it is traditionally cracked after it has hardened, is a popular ornamental display. Ozoni is another popular winter dish featuring mochi. As a savory chicken and vegetable soup with rich, gooey mochi as the highlight of the dish, ozoni is a meal that sticks to the ribs, so to speak, on those cold, dry winter days in Kyoto.
With mochi being such a popular foodstuff in the beginning months of the year, mochitsuki, the iconic pounding of steamed sticky rice, has become culturally synonymous with the Japanese New Year. You can watch mochitsuki and try a variety of fresh local mochi dishes at Nishiki-mochitsuki-ya, located in Kyoto's Nakagyo ward, or you can try mochitsuki for yourself at the Miyama Nature & Culture Village Kajikaso. This two-hour experience near the historic thatched roof village costs 10800 yen, and offers visitors the opportunity to pound their own mochi the way it has been done for hundreds of years.
8. Watch an Archery Spectacle
Kyoto is a city where traditional arts and crafts are still deftly woven into the thrum of modern living. As such, it's not hard to stumble upon interesting showcases of Japan's long cultural history on full display to the public throughout this city.
In January, archery competitions are popular. In the Japanese martial art of kyudo, 108 arrows are shot at the beginning of the New Year in order to cleanse the soul of the sins of the past year in the Buddhist tradition.
On the second Sunday of January, at Sanjuusangendo, the annual archery competition Omato is held on the outside terrace of the temple. This competition is over 400 years old, and started when a samurai boasted that he could shoot an arrow the entire length of the temple complex–an astonishing 120 meters! Today the distance for the competition is set at only half the length of the temple, but it is still a spectacular sight to behold. Around 2,000 archers compete annually, with women wearing beautifully colorful hakama making Omato much more stunning than the average kyudo competition.
Musha Jinji is another archery ritual performed at Kamigamo Jinja around the middle of the month. This ceremony dates back to the Heian period and acts as a means to dispel bad luck at the beginning of the year. This is done by firing purifying arrows at targets with the word oni (demon or ogre) painted on the back. The ritual begins with the firing of special whistling arrows at the targets and proceeds with archers dressed in kariginu (Heian court raiment) firing subsequent volleys.
This ceremony is an especially good display of the ritualistic attention to detail pervasive in Heian-legacy performances. The ceremony begins at 11am, but because these spectacles are popular at large shrines like Kamigamo, it is recommended that guests arrive early to secure good viewing positions. (Image credit: mypixeldiaries/shutterstock).
---
Why don't you enjoy the wonderful experiences above if you visit Kyoto in winter!! For more info about Kyoto, check these articles below.
▽Related Articles▽
▼Editor's Picks▼
---