Best Things to Do in Kansai
Discovering the Wonders of Japan's Heartland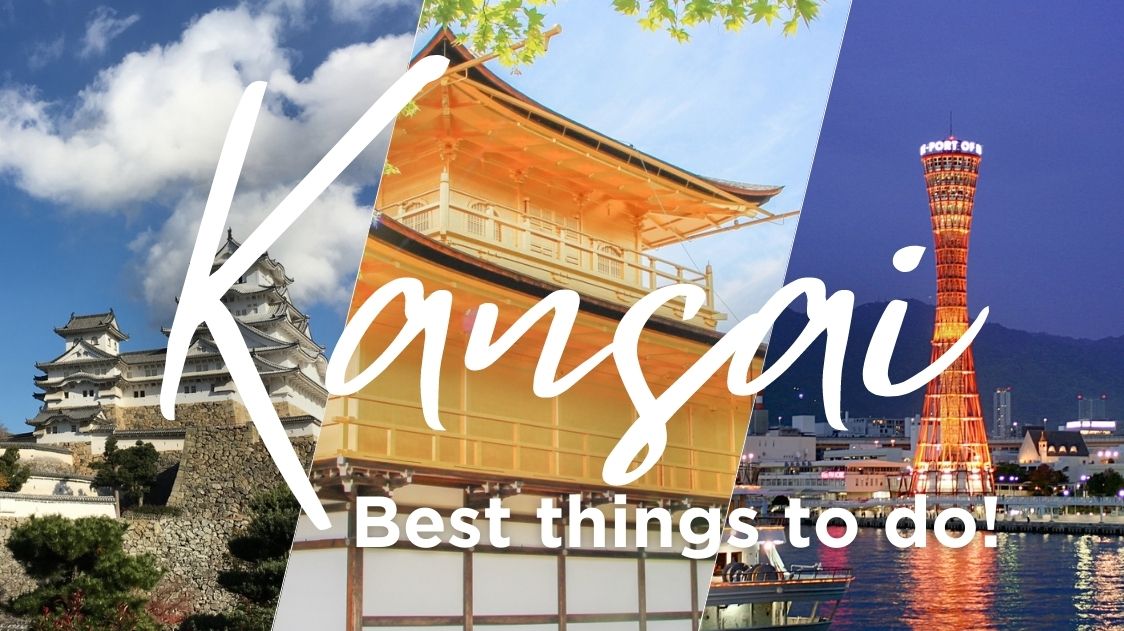 The Kansai region is a hub of cultural, historical, and culinary significance, which is why it's one of the prime touristic destinations in Japan for international travelers.
What awaits you in Kansai? For starters, it's home to Japan's ancient capitals, Kyoto and Nara, tremendously popular among visitors thanks to significant landmarks like the Golden Pavilion (Kinkakuji), Fushimi Inari Shrine, and Todai-ji temple with its colossal Buddha statue. Osaka, Japan's third-largest city and a prominent darling for tourists, offers modern attractions like Universal Studios Japan and a gastronomic scene that birthed sushi styles like hakozushi. Hyogo's Himeji Castle is one of the best-preserved examples of Japanese castle architecture, while Shiga has gorgeous natural landscapes such as Lake Biwa, Japan's largest freshwater lake. Wakayama is another natural wonderland featuring Koyasan, a sacred mountaintop temple complex.
The Kansai region is also a gateway to traditional arts, tea ceremonies, and local cuisines like Osaka's takoyaki and okonomiyaki. Ready to get more details? Say no more! Here we are with the best things to do in Kansai!
▶ Buy your Kansai 3-Day WIDE Area Excursion Pass here!
▶ Buy your bullet train tickets here!
---
Kansai Region, the Wonders of Japan's Heartland
The archipelago of Japan, a striking mix of culture, tradition, and breathtaking landscapes, is divided into eight distinctive regions brimming with its own charms – Hokkaido, Tohoku, Kanto, Chubu, Kansai, Chugoku, Shikoku, and Kyushu & Okinawa. And within this rich anthology, there is the Kansai region, the beating cultural heart of Japan, encasing six fascinating prefectures – Kyoto, Osaka, Hyogo, Nara, Shiga, and Wakayama. Each prefecture, with its unique identity.
Geographically, Kansai lies in the southern-central region of Japan's main island, Honshu. Interestingly, you may often hear Kansai being referred to as Kinki. This terminology also includes the Mie prefecture and essentially refers to the same area, a nuanced detail that illustrates the intricacy of Japan's regional nomenclature, as current official names are often used almost as if they were interchangeable with traditional and historical denominations.
1. Uncover Kyoto's Rich History Through its Temples and Shrines (Kyoto)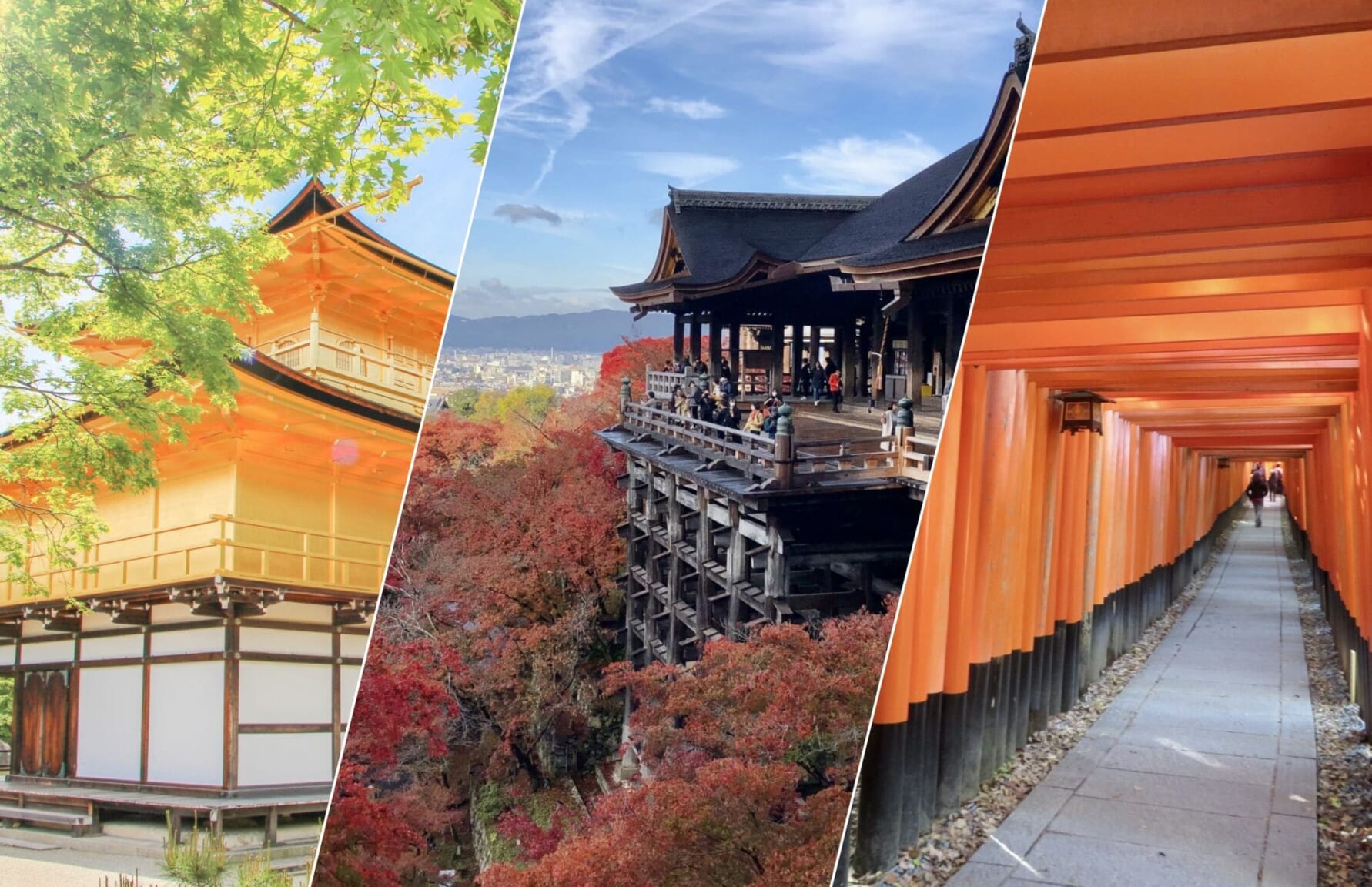 Kyoto is a city where ancient and modern Japan seem to interact seamlessly, in light of its rich history, where its temples and shrines exemplify Kyoto's spiritual heritage. Notably, Kinkakuji (金閣寺), or the Golden Pavilion is probably one of Kyoto's most iconic symbols. Covered in resplendent gold leaf, the temple magnificently mirrors itself in the tranquil pond below, creating a surreal sight. On the eastern edge of Kyoto lies Kiyomizu-dera (清水寺), a Buddhist temple offering panoramic views of the city against a backdrop of cherry blossoms or vibrant autumn leaves. Another must-visit is Fushimi Inari Taisha (伏見稲荷大社), famous for its vermilion torii gates that trail through a quiet, wooded mountain, forming a seemingly endless pathway. Each shrine and temple offer an intimate glimpse into the city's past, demonstrating the essence of Japanese traditional architecture and garden design.
▶ Kinkakuji official website: https://www.shokoku-ji.jp/kinkakuji/
▶ Kiyomizu-dera official website: http://www.kiyomizudera.or.jp/en/
▶ Fushimi Inari Taisha official website: http://inari.jp/en/
▽More details about Kinkakuji, Kiyomizu-dera, and Fushimi Inari Taisha!▽
2. Challenge Yourself to a Pilgrimage in Koyasan (Wakayama)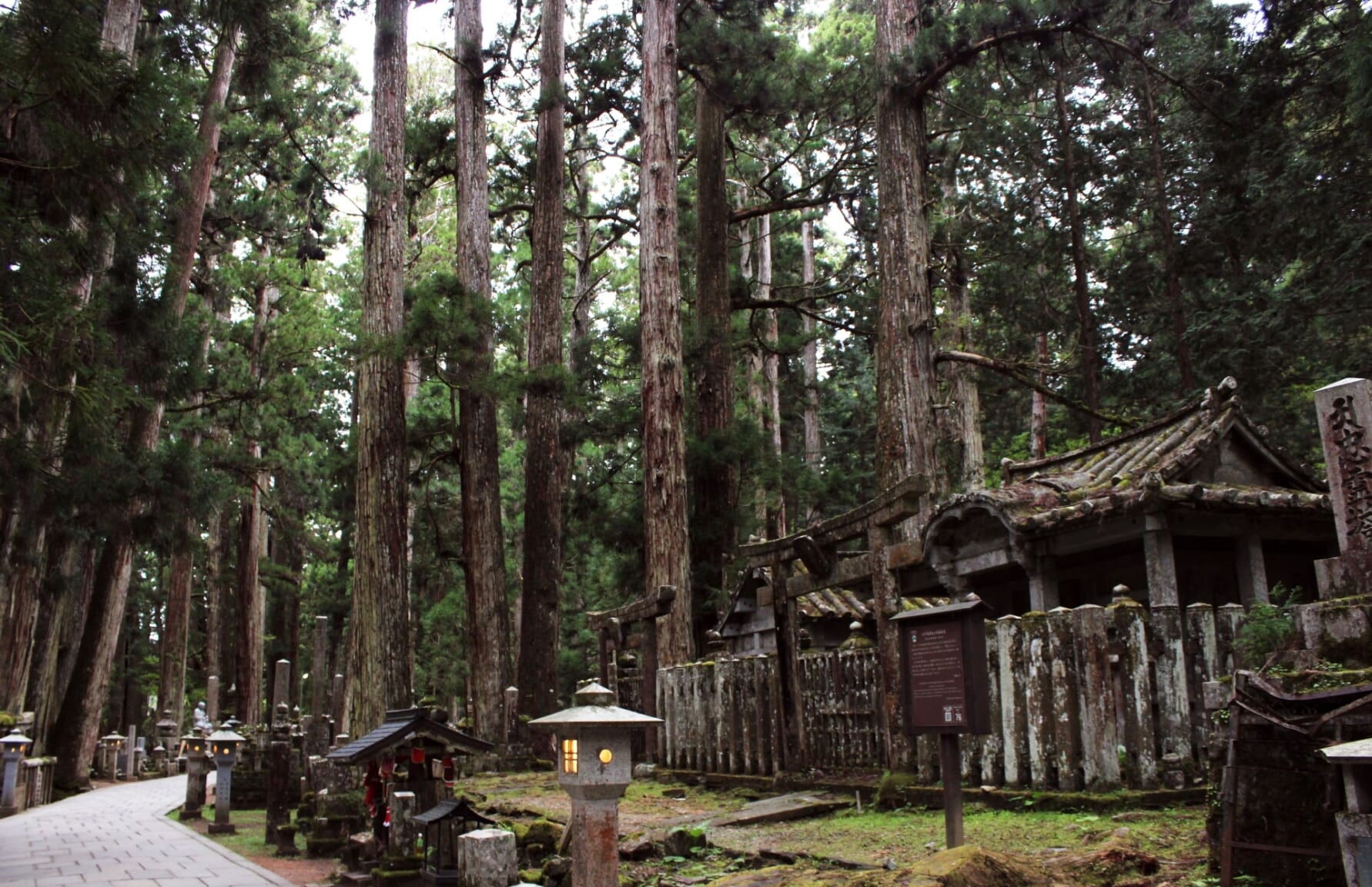 Escape into the mountains of Wakayama and find solace in Koyasan (高野山), a sacred Buddhist retreat. Founded by the revered monk Kobo Daishi, Koyasan is a spiritual nexus, brimming with over 100 temples. Explore Kongobuji, the head temple of Shingon Buddhism, renowned for its elegant sliding door paintings and Japan's largest rock garden, Banryutei. Make sure to visit Okunoin Temple, one of the most sacred places in Japan where also the country's largest cemetery is located, an ethereal, moss-covered forest filled with centuries-old tombstones. Experiencing shukubo, or temple lodging, allows visitors to experience a taste of monastic life, participating in morning prayers and savoring traditional Buddhist cuisine. The tranquillity of Koyasan, away from the urban bustle, provides a peaceful retreat and a journey into the heart of Japanese spirituality.
▽Check the article below for more information about what to do in Koyasan!▽
3. Embrace Your Fun-loving Self at Universal Studios Japan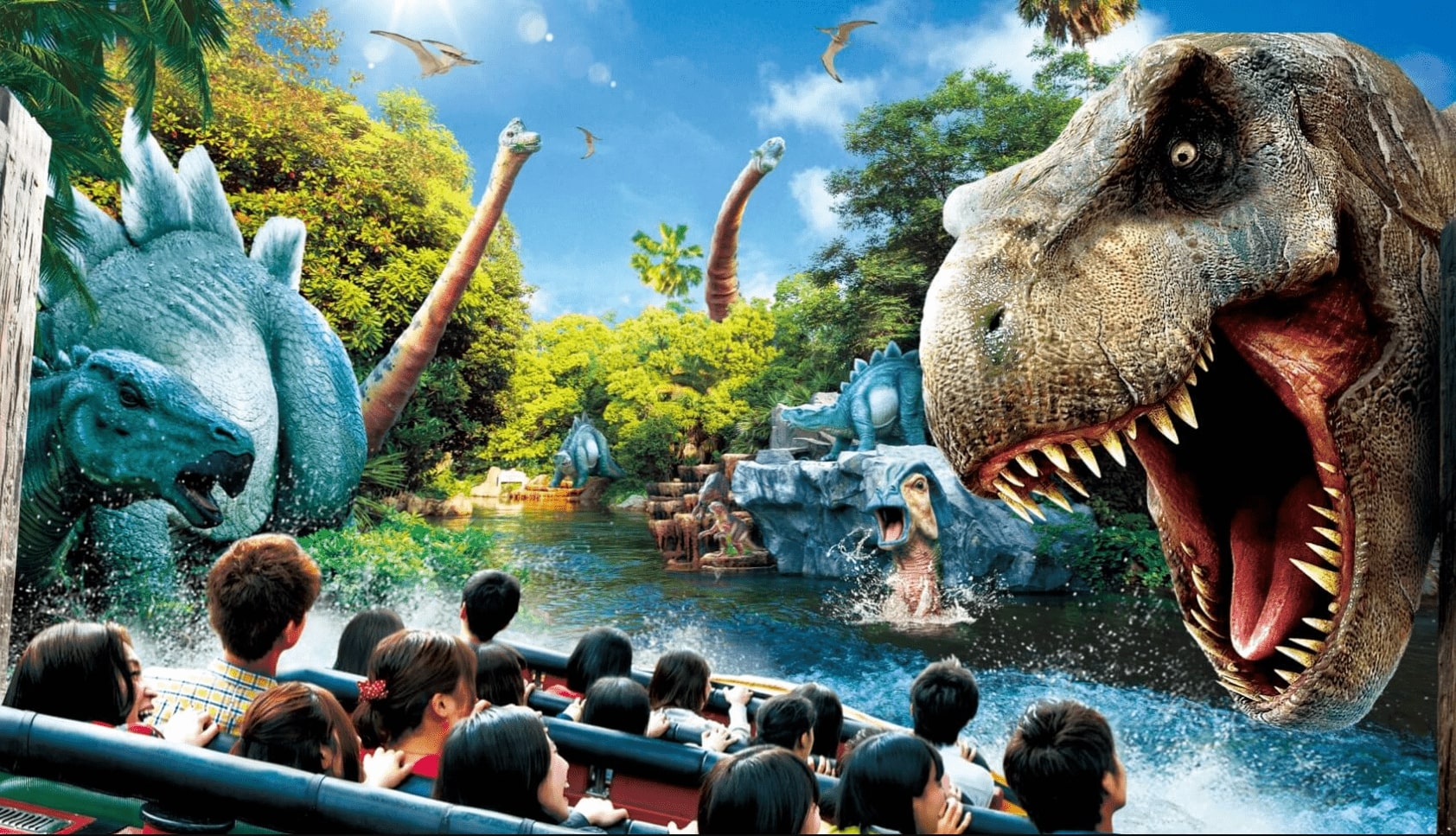 Switch from the tranquility of historical sights to the pulse-quickening excitement of Universal Studios Japan in Osaka. This cinematic theme park is a paradise for movie buffs and thrill-seekers alike. Get drawn into the magical world of Harry Potter, walk through the magical streets of Hogsmeade, and experience the thrilling ride of 'Harry Potter and the Forbidden Journey'. Venture into the prehistoric world of Jurassic Park and brace yourself for a dinosaur encounter. Minion lovers can bask in the cuteness at Minion Park, the largest Minion-themed area in the world. Cap off your day with a spectacular night parade, where beloved characters come alive amidst dazzling lights and music.
▶ Universal Studios Japan official website: https://www.usj.co.jp/web/en/us
▽More details about Universal Studios Japan!▽
4. Enjoy Osaka's Culinary Scene (Osaka)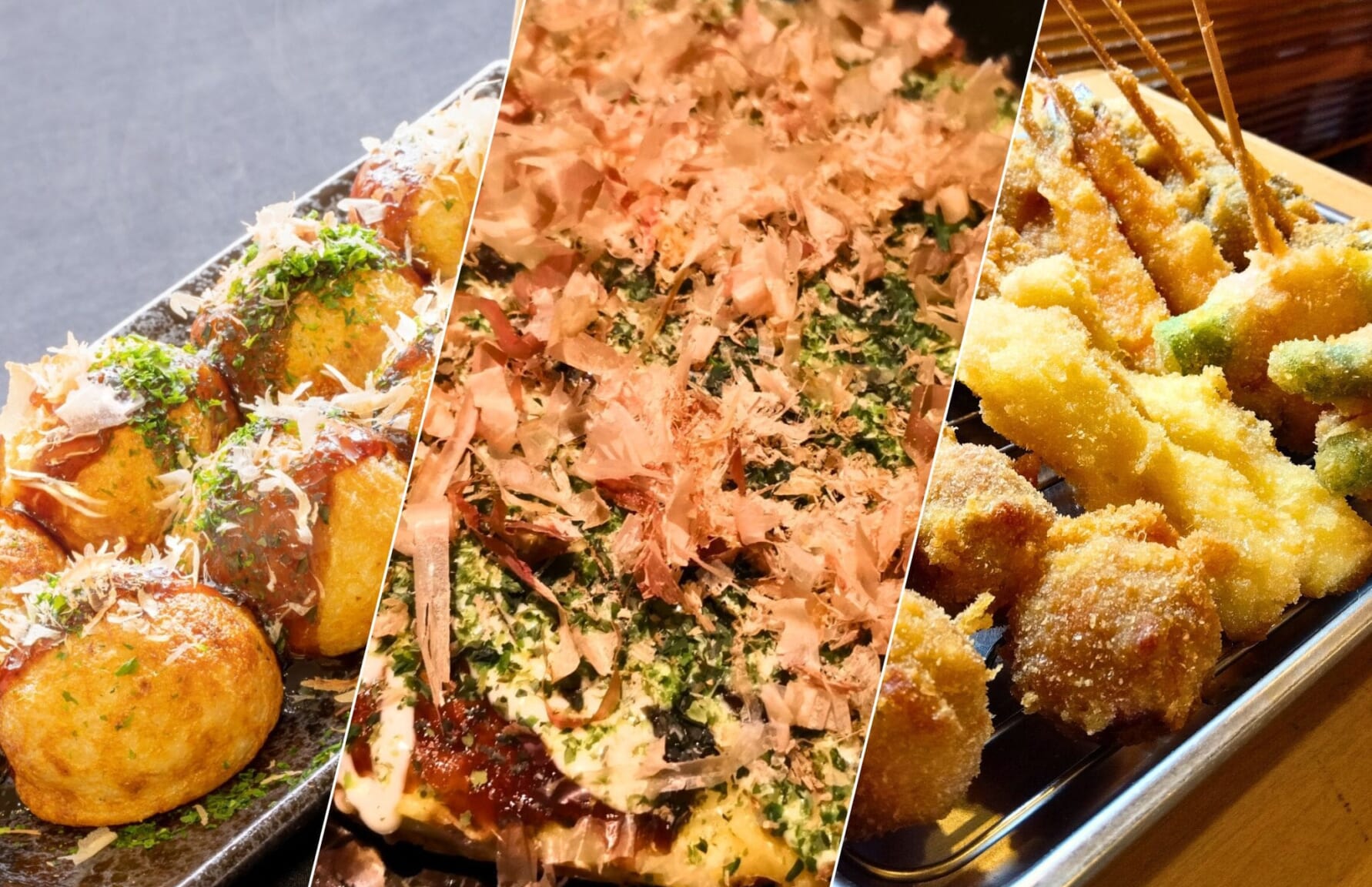 Osaka's culinary scene is an explosion of flavors, sure to delight all tastes. Known as the "Kitchen of Japan", it's a city where food isn't just sustenance, it's a celebration. The bustling district of Dotonbori brims with street food stalls, serving crowd favorites like takoyaki (octopus balls) and okonomiyaki (savory pancakes). A trip to Osaka wouldn't be complete without experiencing kushikatsu, skewers of breaded and deep-fried meat, fish, and vegetables, best enjoyed in the retro atmosphere of Shinsekai. For a lavish experience, indulge in the delicate artistry of kaiseki, traditional multi-course dining, where seasonal and local ingredients take center stage. In Osaka, every meal narrates a tale of tradition, innovation, and passion for food.
▽Find out more about eating in Osaka!▽
5. Relax at Lake Biwa's Scenery (Shiga)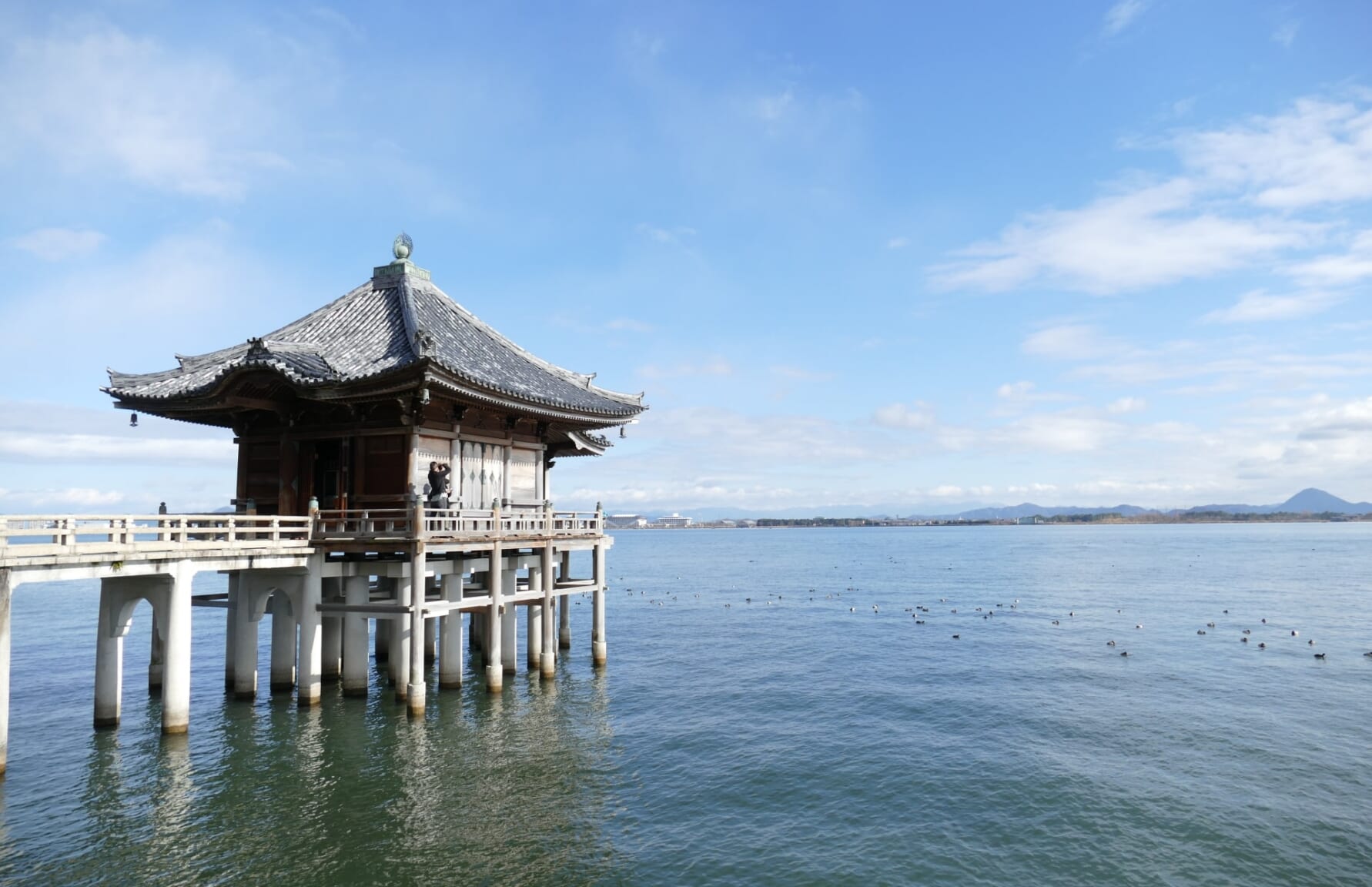 Away from the cities' vibrant energy, Lake Biwa (琵琶湖) in Shiga Prefecture offers a tranquil getaway. As Japan's largest freshwater lake, Biwa presents a plethora of activities, from fishing and swimming to sailing. Its verdant surroundings come alive with the chirping of migratory birds, making it an ideal spot for birdwatching. Cycling along the 'Biwaichi' cycling route is a great way to explore the picturesque lakeside towns and the myriad of shrines, temples, and cultural heritage sites dotted along the route. There's also Omimaiko Beach on the western shore of the lake and known for its pristine sands and crystal clear waters. As the day comes to a close, the setting sun casts a magical glow on the lake, creating an atmosphere of serene beauty that encapsulates the enduring charm of Lake Biwa.
▽More details about Biwa Lake▽
6. Admire The Grandeur of Himeji Castle (Hyogo)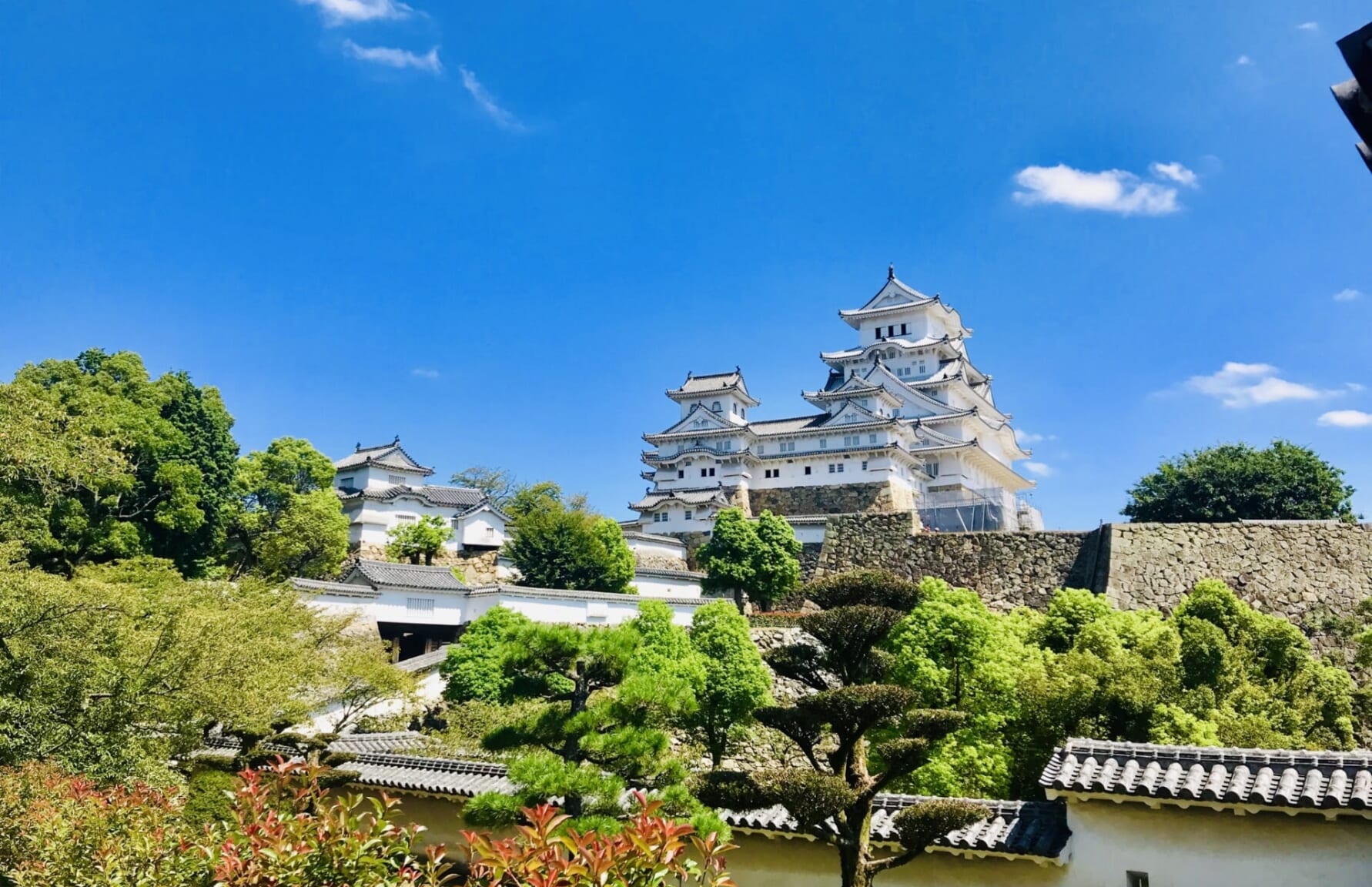 Himeji Castle (姫路城), a UNESCO World Heritage Site in Hyogo, is a perfect embodiment of Japanese castle architecture. Known as 'White Heron Castle' due to its stunning white exterior, the castle stands as a testament to the country's feudal period. Exploring its well-preserved complex, you'll discover intricate defensive systems, expansive courtyards, and an elegant six-story keep offering panoramic views. Especially enchanting during cherry blossom season, Himeji Castle is a magnificent sight that transports you back to a bygone era.
▶ Himeji Castle official website: https://www.city.himeji.lg.jp/castle/index.html
▽More information about Himeji Castle▽
7. Indulge in the Charm of Nara Park (Nara)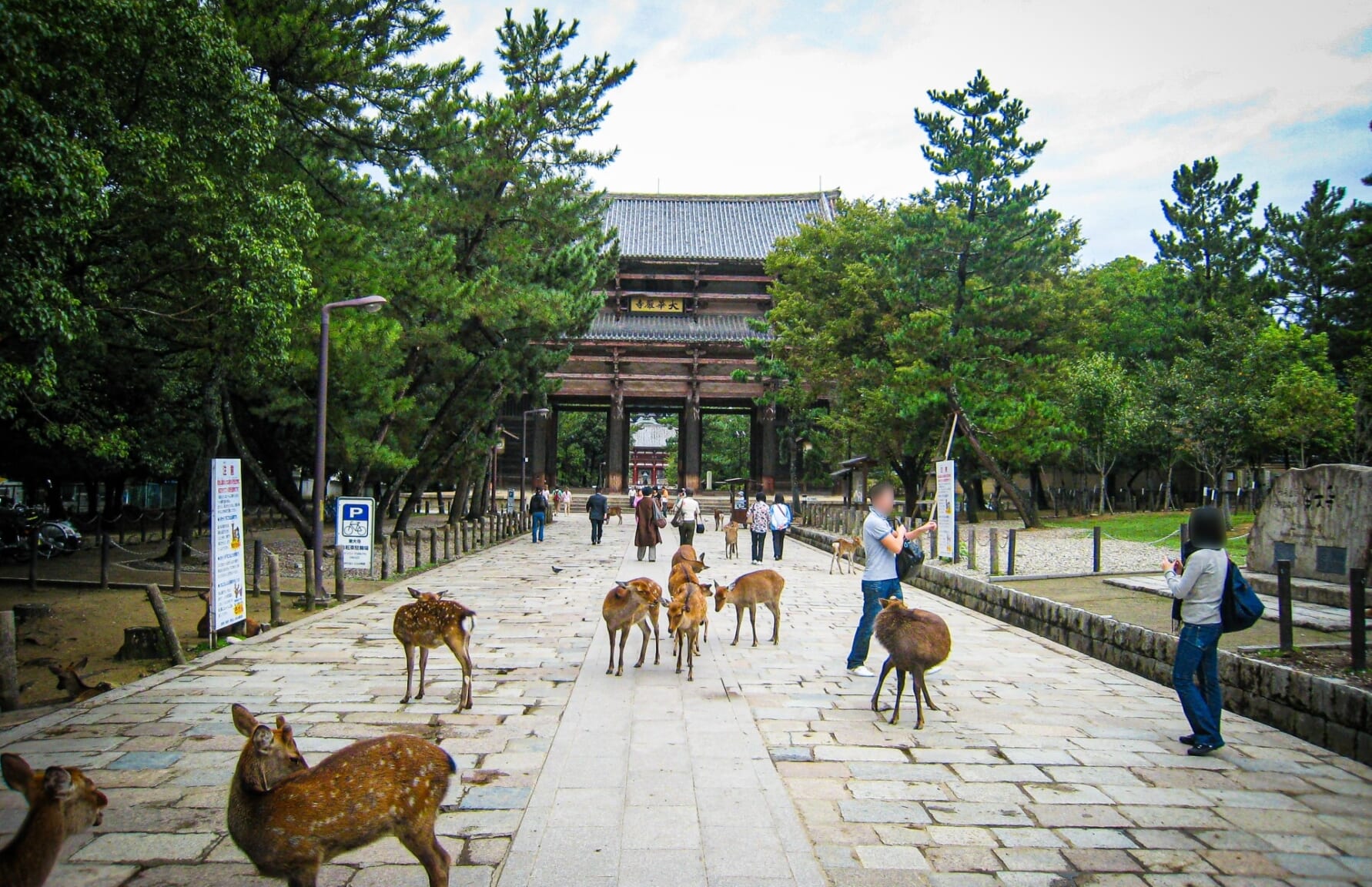 Roam around Nara Park (奈良公園), a sprawling public park in Nara City, home to hundreds of freely roaming Sika deer. Considered messengers of the gods in the Shinto religion, these friendly creatures have become a symbol of the city. Strolling through the park, you can feed the deer with special crackers available for purchase. Also, within the park's boundaries lie several must-see important sites, like the impressive Todaiji (東大寺) temple, housing the world's largest bronze Buddha statue, making your visit to Nara Park a delightful blend of nature and culture.
▽More ideas to do in Nara? Check this link!▽
8. Unwind and Rejuvenate at the Onsen (Hyogo, Wakayama)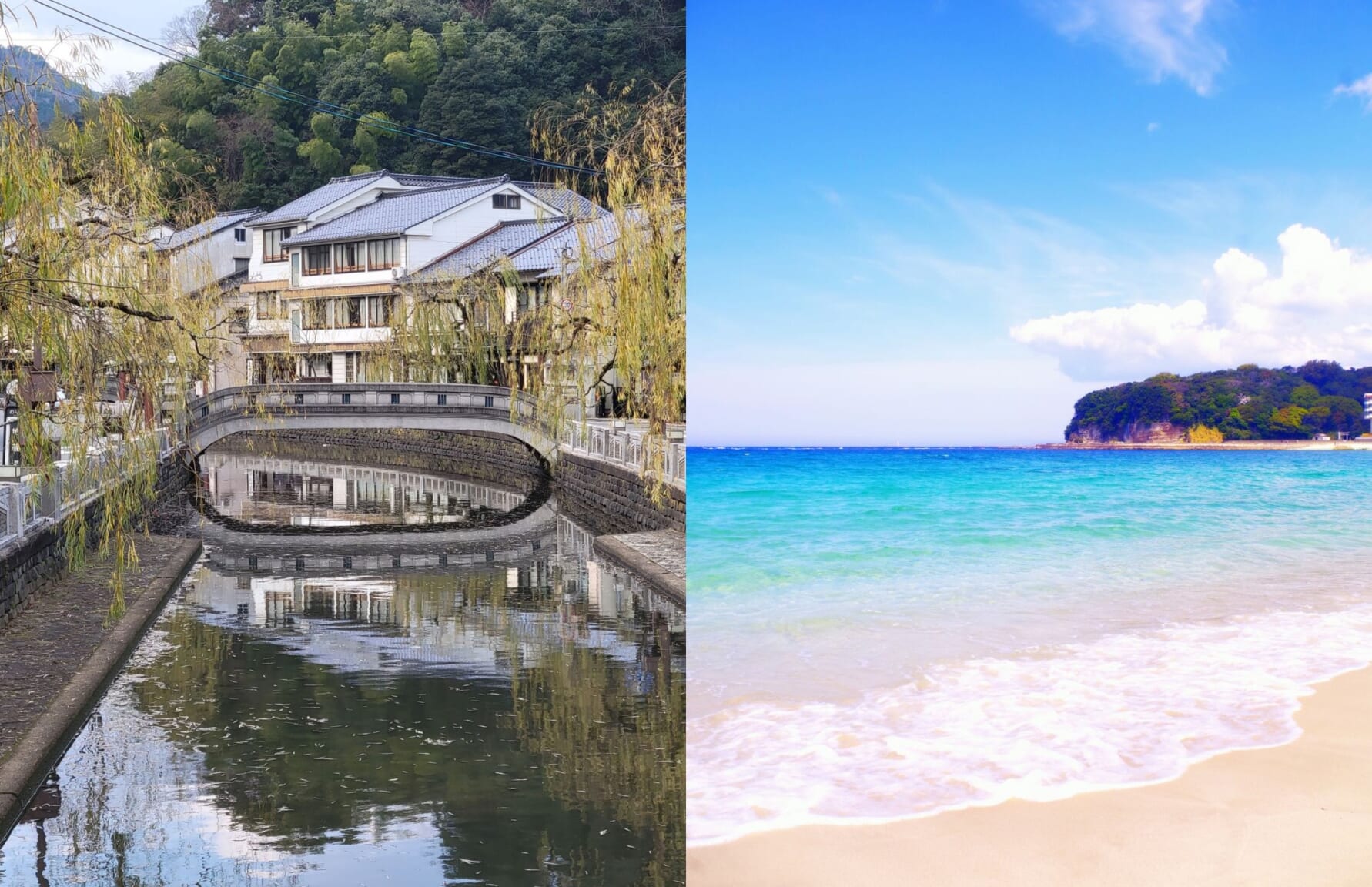 For a restorative experience, visit Kinosaki Onsen (城崎温泉), a historic hot spring town in Hyogo. The town's seven public bathhouses, each with its unique waters, offer the perfect respite. As you walk along the charming streets dressed in traditional yukata robes and wooden geta sandals, the town's calming atmosphere will soothe your senses. Taking a dip in the hot springs, each reputed for different healing qualities offers a quintessential onsen experience that embodies Japanese tradition and hospitality.
▽More information about Kinosaki Onsen▽
Another great option in the southern part of Wakayama is Shirahama Onsen (白浜温泉), one of Japan's oldest hot springs. The town's natural hot springs are reputed for their healing properties, making them an ideal spot for relaxation and rejuvenation. The area also features Senjojiki, a beautiful rock formation created by years of erosion, and the scenic white sand Shirahama Beach. Balancing nature's beauty and the comfort of hot springs, a visit to Shirahama Onsen offers a multi-faceted experience of restorative baths and scenic beauty.
9. Marvel at the Naruto Whirlpools from Onaruto Bridge (Hyogo)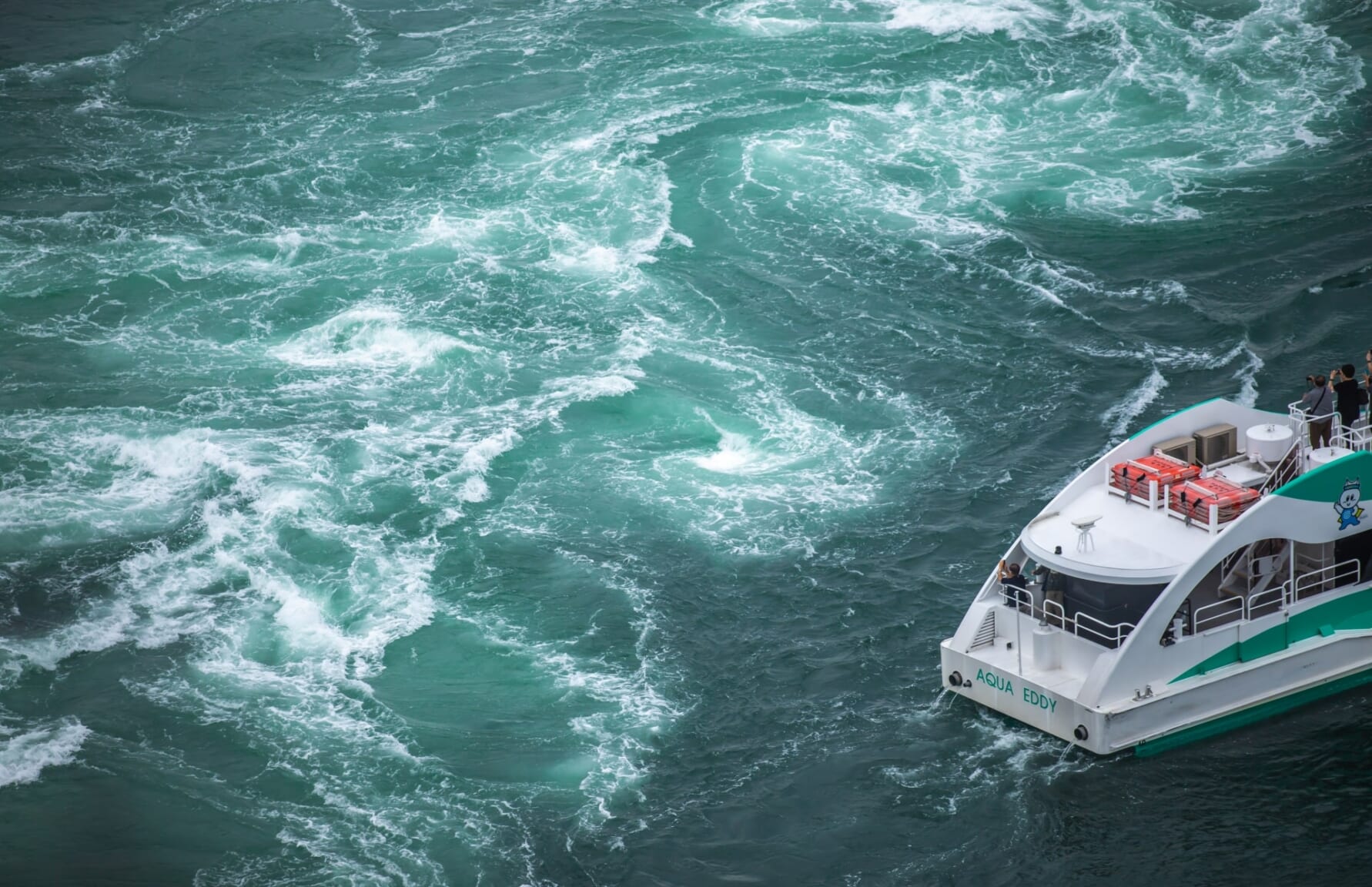 The Naruto Whirlpools (鳴門の渦潮), located in the strait between Awaji Island in Hyogo Prefecture and Naruto in Tokushima Prefecture, offer a captivating natural spectacle. These dramatic whirlpools, some reaching up to 20 meters in diameter, are created by the rapid tidal currents between the Seto Inland Sea and the Pacific Ocean. For the best vantage point, venture onto the Onaruto Bridge's Uzunomichi Walkway, where glass floor panels provide thrilling views of the churning waters beneath. These mesmerizing whirlpools vary in size and intensity depending on the tide, offering a unique spectacle each time they appear.
▶ Naruto Tourism official sightseeing website: https://www.uzusio.com/
10. Spend a Leisurely Day in Kobe (Hyogo)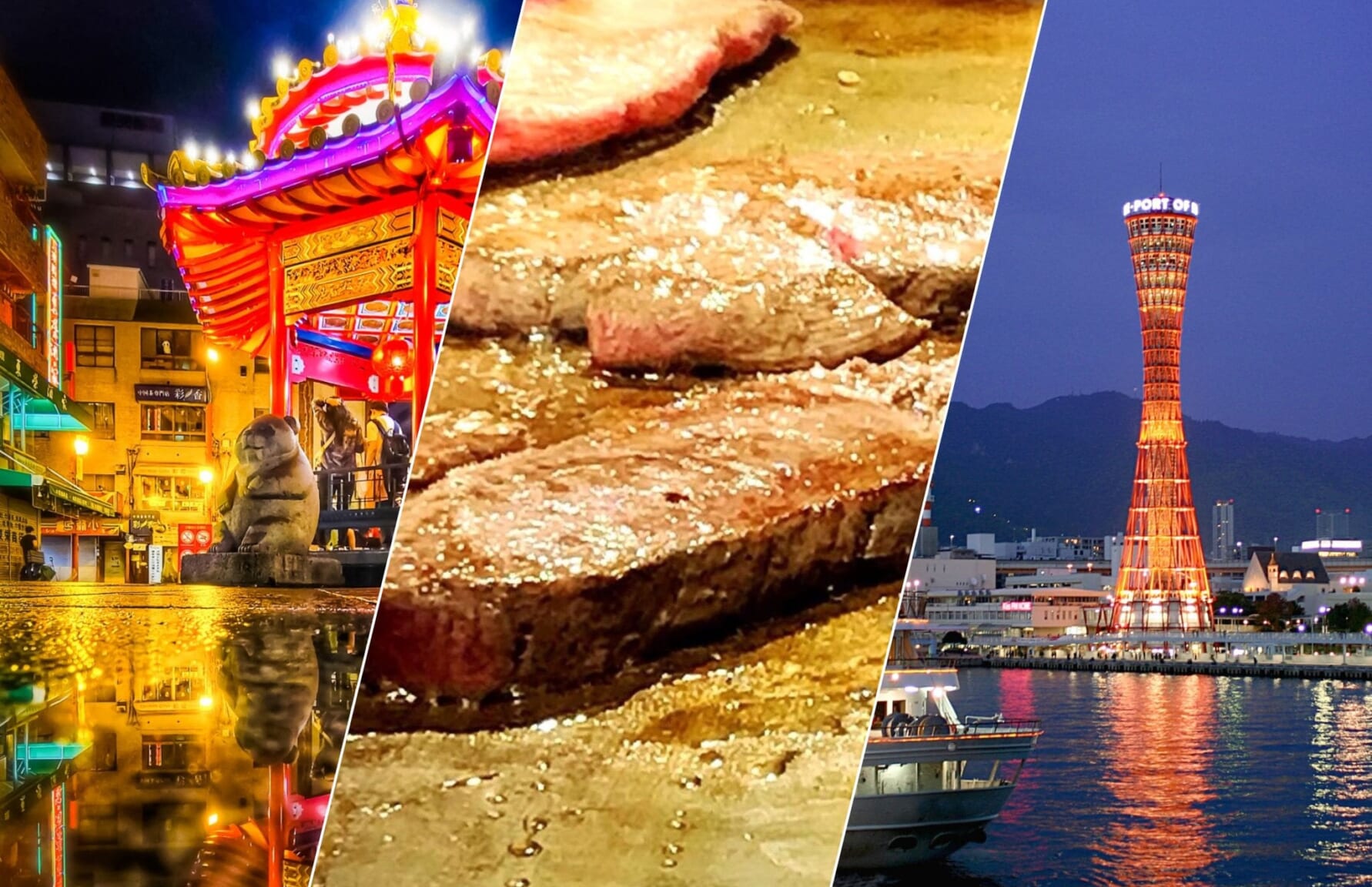 Immerse yourself in the lively Kobe Chinatown, or Nankinmachi (南京町), teeming with shops, eateries, and vibrant decorations that celebrate its rich Chinese influence. Delight your palate with authentic Chinese cuisine and flavorful street food as you navigate the bustling marketplace. After this gastronomic adventure, make your way to the scenic Kobe Harborland (神戸ハーバーランド). A highlight of the harbor experience is savoring the world-renowned Kobe beef (神戸ビーフ) in one of the many waterside restaurants, an epicurean delight that is a must-try when in the city. Cap your visit with a trip to the Kobe Port Tower, where you can relish panoramic city and bay views. As dusk falls, the harbor transforms into a stunning canvas of lights mirrored on the tranquil waters, beautifully juxtaposing the daytime buzz of Chinatown.
▽Find out more about Kobe City!▽
---
▶ Buy your Kansai 3-Day WIDE Area Excursion Pass here!
▶ Buy your bullet train tickets here!
---
Best Things to Do in Kyoto
Kyoto (京都府), once the capital of Japan, is the epitome of traditional Japan. With over 1,600 temples, including the famed golden Kinkaku-ji and silver Ginkaku-ji, and the iconic Fushimi Inari Shrine with its rows of torii gates, Kyoto is a haven for history and culture enthusiasts. The city is also known for its beautiful gardens and the Philosopher's Walk, especially charming during the cherry blossom and fall color seasons. Kyoto hosts several festivals, including the grand Aoi Matsuri and Gion Matsuri, filled with elaborate processions and rituals. The city is famed for its Kyo-Kaiseki (Kyoto-style banquet cuisine), matcha tea, and yuba (tofu skin).
▽See more details about Kyoto▽
Best Things to Do in Osaka
Osaka (大阪府) is a vibrant city known for its modern architecture, exuberant nightlife, and gastronomic scene that gave it the nickname "the nation's kitchen." The city's notable landmarks include the Osaka Castle, a restored historic monument set amidst a scenic park. The lively district of Dotonbori, with its eye-catching neon lights and the famous Glico Running Man sign, is the heart of Osaka's entertainment and food scene. Osaka's Sumiyoshi Taisha, one of Japan's oldest Shinto shrines, offers a serene retreat. The city is a food lover's paradise, known for delicacies like takoyaki (octopus dumplings), okonomiyaki (savory pancake), and kushikatsu (deep-fried skewers) that represent its vibrant street food culture.
▽See more details about Osaka▽
Best Things to Do in Hyogo
Hyogo Prefecture (兵庫県), part of the Kansai region, is home to a diverse range of attractions. It houses the majestic Himeji Castle, an epitome of classic Japanese castle architecture and a UNESCO World Heritage Site. The capital city, Kobe, boasts a cosmopolitan atmosphere with its stylish buildings, chic cafes, and high-end shops. The city is renowned for Kobe beef, a delicacy recognized worldwide for its flavor and tenderness. Hyogo also hosts the historic hot spring town of Kinosaki Onsen, offering a traditional onsen experience. Celebrated events like the Nada Kenka Matsuri, a unique festival involving portable shrines being carried and clashed together, imbue the region with festive vibrancy.
▽See more details about Hyogo▽
Best Things to Do in Nara
Nara Prefecture(奈良県), Japan's first permanent capital, is a treasure trove of historic treasures and natural beauty. Home to some of Japan's oldest and largest temples, including Todai-ji, housing the world's largest bronze Buddha statue, and Kasuga Taisha, famed for its thousands of bronze and stone lanterns, Nara is steeped in history. Nara Park, a massive public park, is a sanctuary for over a thousand friendly deer considered sacred in Shinto belief. Nara's cuisine is equally unique, featuring delicacies like kakinoha-zushi, sushi wrapped in persimmon leaves, and the sweet, herb-infused yomogi mochi.
▽See more details about Nara▽
Best Things to Do in Shiga
Shiga Prefecture (滋賀県), home to Lake Biwa, Japan's largest freshwater lake, is a natural paradise. From leisurely activities at Omi-Maiko beach to explorations in the historic town of Omihachiman, with its well-preserved traditional houses and canal area, Shiga is rich in natural and cultural appeal. The Hikone Castle, one of Japan's twelve original castles, stands majestically overlooking the city. Shiga is known for the Nagahama Hikiyama Matsuri, a vibrant festival featuring kabuki performances by children on ornate floats. The prefecture's cuisine is renowned for funazushi, a traditional form of fermented sushi, a testament to its distinctive gastronomy.
▽See more details about Shiga▽
Best Things to Do in Wakayama
Located in the Kansai region's southern part, Wakayama Prefecture (和歌山県) offers a unique blend of spiritual and natural attractions. Koyasan, a sacred mountain retreat with over a hundred temples, and the picturesque Shirahama Onsen, with its hot springs and white-sand beach, are the highlights of the region. The Wakayama Castle, perched atop a hill surrounded by a beautiful park, and the seasonal blossoms of Kimiidera Temple, add to the prefecture's cultural richness. Unique events like the Kishu Kuroshio-Onsen festival, featuring a large communal bath in a massive tub, offer memorable experiences. The region is also famous for Kishu Ume, a variety of plums used in umeboshi (pickled plums) and umeshu (plum wine), showcasing Wakayama's diverse culinary offerings.
▽See more details about Wakayama▽
How to Get to Kansai
The journey from Tokyo to Osaka is a breeze thanks to Japan's efficient Shinkansen, or bullet train network. From Tokyo Station, you can hop onto the Tokaido Shinkansen Line, which directly services Osaka. The journey on the fastest train, the Nozomi, takes approximately 2.5 hours and covers the distance with impressive speed and punctuality. For those with a Japan Rail Pass, the Hikari train is your best bet, taking around 3 hours. The Shinkansen offers comfortable seating, stunning views of the Japanese countryside, and cityscapes along the route, and also a chance to taste ekiben, traditional bento boxes sold on trains.
If you prefer to fly, numerous airlines operate daily flights from Tokyo to Osaka. You can choose between Tokyo's two airports: Haneda, which is closer to the city, or Narita, a little further out. Both airports offer domestic flights to Osaka's Itami (closer to the city) and Kansai International airport. The flight duration is roughly 1.5 hours. However, when factoring in check-in, security, and travel to and from airports, the total travel time can be around 4 hours. Despite this, flying can sometimes be a faster option if you're traveling on a tight schedule, and promotional airfares can make it a budget-friendly choice too.
▶ Buy your Kansai 3-Day WIDE Area Excursion Pass here!
▶ Buy your bullet train tickets here!
---
▽Subscribe to our free news magazine!▽

For more information about Things to do in Japan, be sure to check our other articles down below.
▽Related Articles▽
▼Editor's Picks▼
---