15 Best Onsen Towns in Japan
Relaxation and Rejuvenation: The Top Onsen Towns to Soothe Your Soul in Japan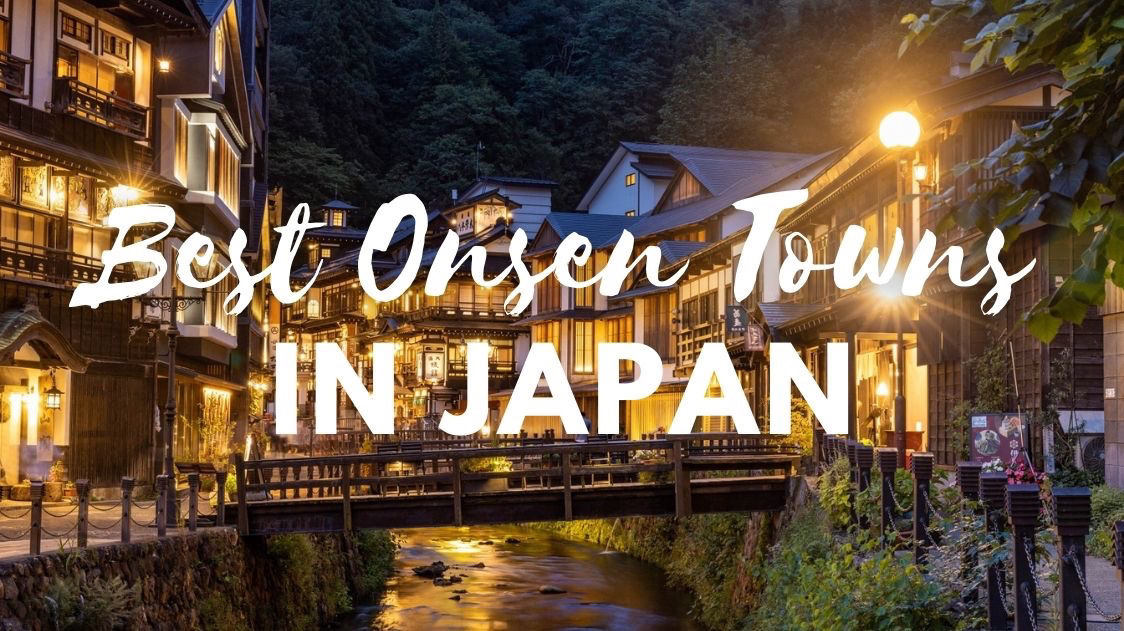 Did you know that out of the approximately 1,500 volcanoes said to be active in the entire world, about 110 of them are located in Japan? This is why there are so many hot spring sources, and consequently, many Onsen towns (hot spring towns) all across the country.
These Onsen towns attract visitors seeking relaxation and healing of the body. Some have become especially popular, attracting visitors from around the world.
Embark on a captivating journey through the land of the rising sun as we delve into the 15 best onsen towns in Japan. Nestled amidst scenic landscapes, these towns offer a haven of relaxation, cultural immersion, and natural wonders. Immerse yourself in the rejuvenating waters, indulge in traditional rituals, and witness the fusion of natural beauty and Japanese hospitality. Join us as we unveil the secrets of Japan's finest onsen towns, where tranquility and bliss await every traveler.
---
History of Onsen
Onsen, or hot springs, have a rich history deeply woven into the fabric of Japanese culture. This is due to the fact that there are over 100 active volcanoes in Japan, creating over 27,000 hot spring sources.
Dating back as far as the Jomon era (6,000 years ago), the practice of bathing in natural thermal waters gained popularity due to its believed healing properties. Initially, onsen served as a communal gathering place for locals and weary travelers.
Over time, they became ingrained in Japanese traditions and rituals. The therapeutic benefits, such as relaxation, improved circulation, and relief from ailments, contributed to their popularity.
Today, onsen not only provides physical rejuvenation but also offer a serene escape from the fast-paced modern world, fostering a sense of tranquility and balance deeply cherished in Japanese culture.
Japanese Onsen Etiquette: Dos and Don'ts
When visiting Japanese onsen, it's helpful to know the "dos" and "don'ts" to ensure a respectful and enjoyable experience. Bathing in hot springs is not a uniquely Japanese thing, however, the way you bathe in hot springs in Japan is very different compared to western countries. Therefore, it is important to know what these differences are.
Do follow proper etiquette, such as washing your body thoroughly before entering the bath, as cleanliness is highly valued. Do bring a small towel to use discreetly for modesty or to wipe off excess water. Do enjoy the peaceful ambiance and serenity of the onsen.
However, don't enter the bath if you have open wounds or contagious conditions. Don't wear swimwear inside the baths as onsen are typically enjoyed naked. Lastly, don't use the towel to soak in the bath itself, as it's intended for drying.
For more information about Japanese onsen etiquette, be sure to check out the following article.
Best Onsen Towns in Japan
1. Hakone, Kanagawa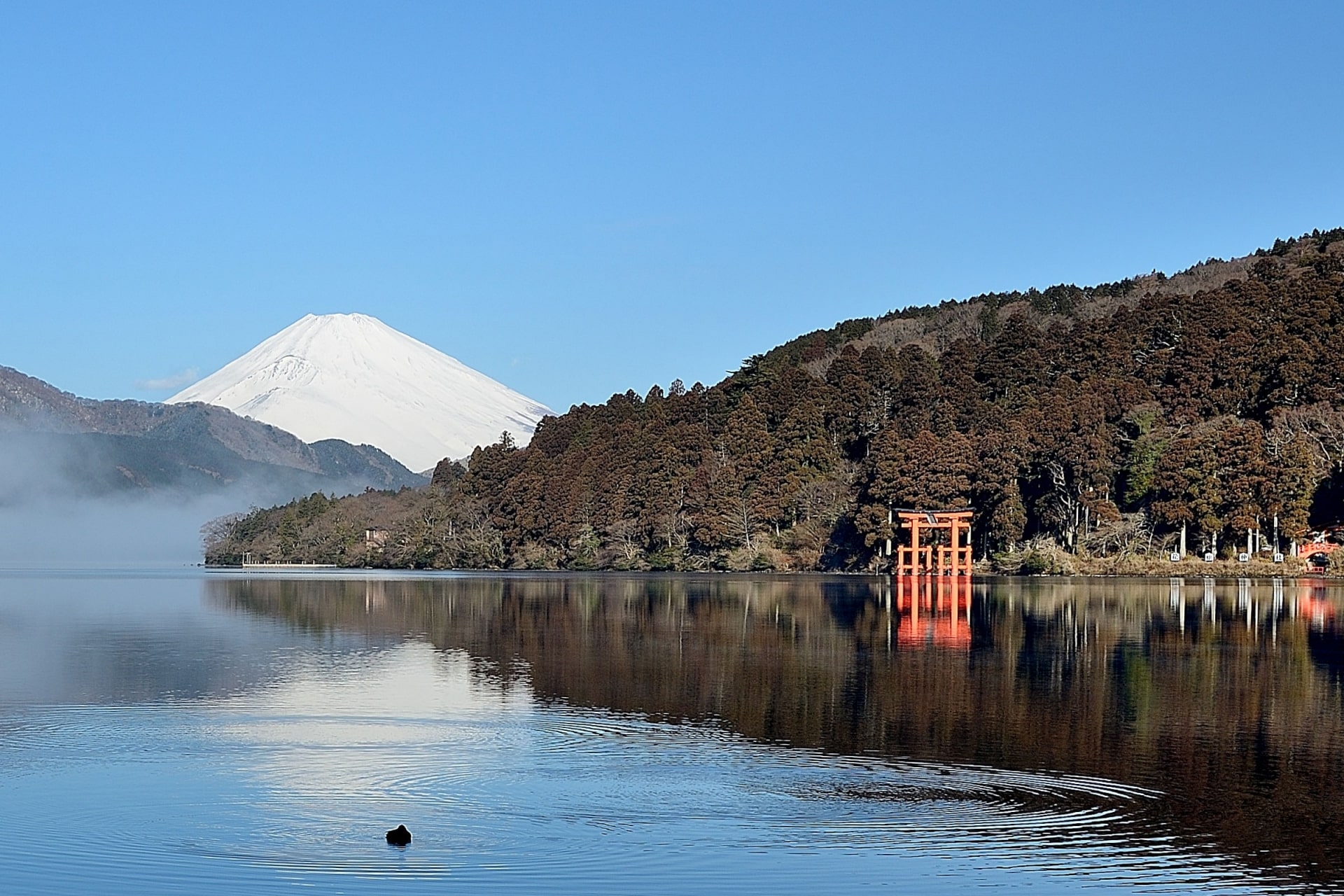 We start our list with the most popular Onsen town you can access easily from Tokyo. Hakone (箱根), nestled in Kanagawa, is a captivating onsen town renowned for its close proximity to Tokyo and its allure as a hot spring haven. Just a short distance from the bustling capital, Hakone enchants visitors with breathtaking views of the iconic Mount Fuji.
The town's popularity stems from its diverse selection of rejuvenating onsen. There are about 17 hot spring sources, offering a range of mineral-rich baths to soothe the weary traveler. The surrounding mountains also provide a tranquil moment for those visiting this town.
For more information about this Onsen town, be sure to check the following articles!
2. Kusatsu, Gunma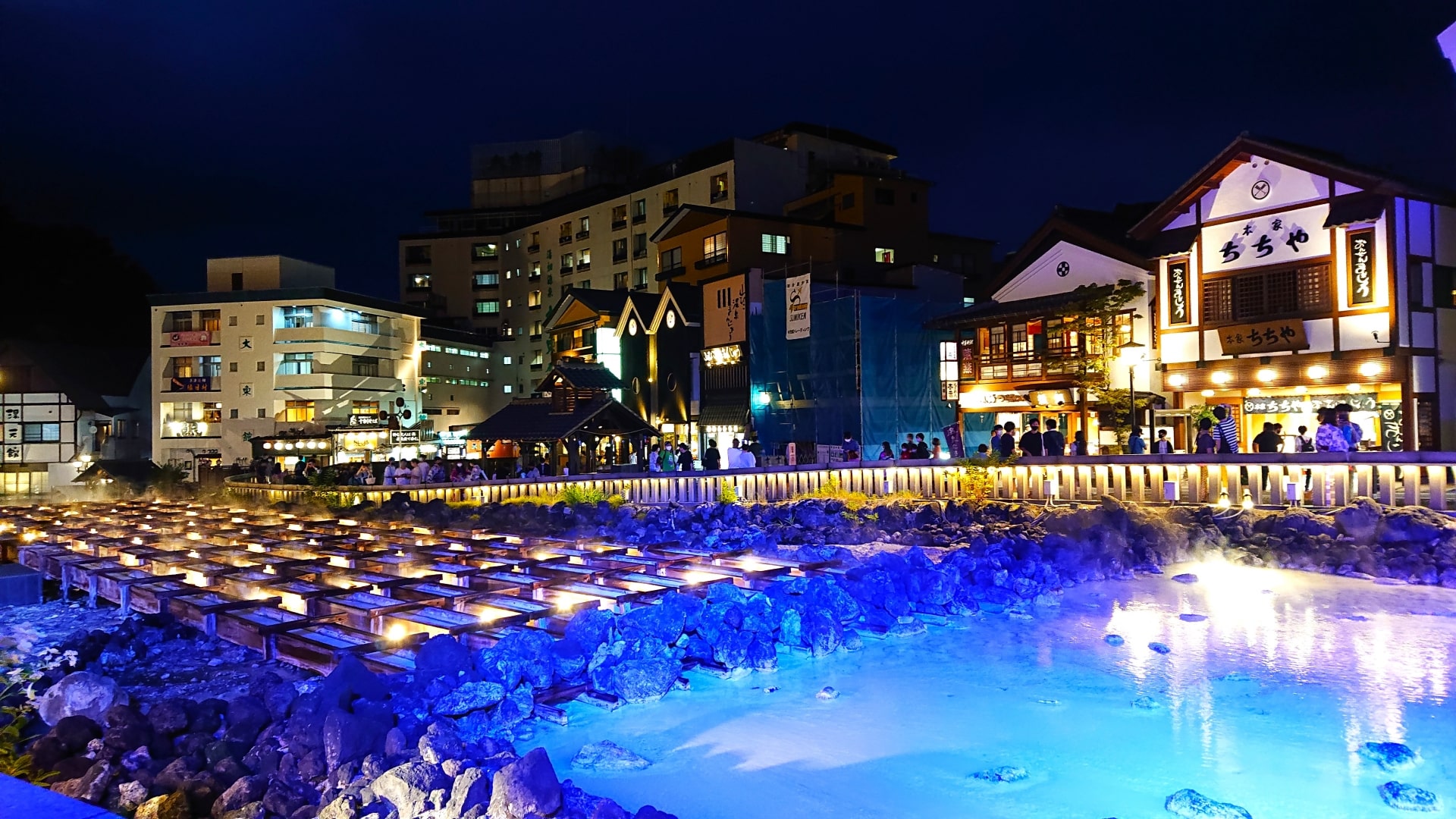 Next on this list, we have the city of Kusatsu (草津) in Gunma prefecture. This city stands as one of the nation's three most renowned hot spring towns, drawing visitors from far and wide. What sets Kusatsu apart is its distinctive sulfuric waters, renowned for their healing properties.
The centerpiece of this charming town is the traditional Yubatake hot water field, where scalding hot spring water gushes forth and is cooled before it cascades into various baths. The mesmerizing sight of steam rising from the Yubatake is a testament to Kusatsu's rich heritage and the therapeutic benefits of its hot springs.
For more information about this Onsen town, be sure to check the following article!
3. Beppu, Oita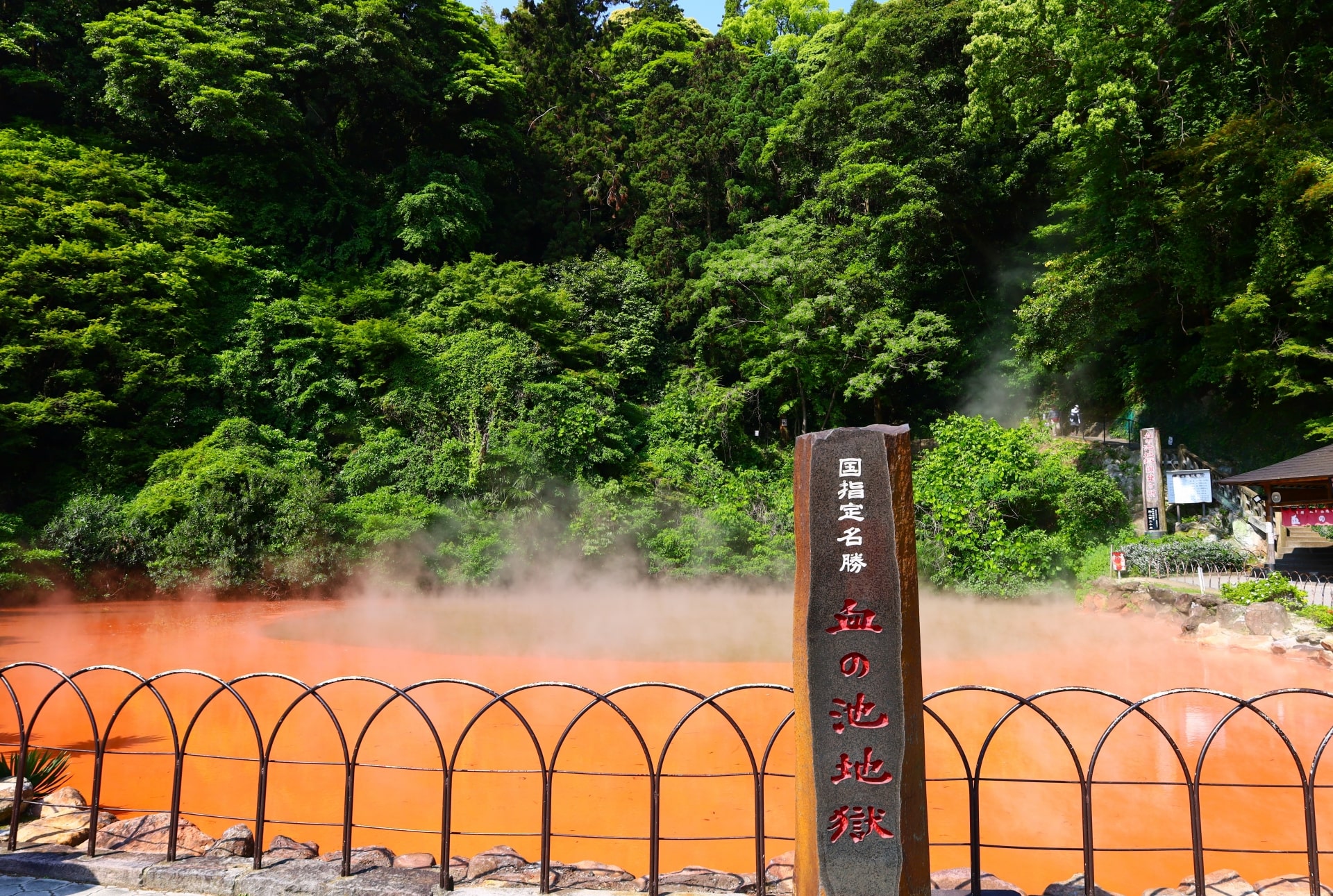 The next Onsen town is located on the picturesque southern island of Kyushu. Oita prefecture has the largest amount of hot spring sources in Japan (over 4,000), and one of the more popular towns is Beppu (別府). This is a captivating onsen town that beckons travelers with its renowned hot springs. It boasts a reputation for having Japan's hottest spring sources, offering a truly unique and invigorating bathing experience.
Beppu presents an array of bath options, including traditional hot spring baths, but what truly sets it apart is the extraordinary sand and mud baths. These extraordinary natural wonders allow visitors to immerse themselves in warm, therapeutic sands or indulge in mineral-rich mud, believed to have therapeutic benefits.
For more information about this Onsen town, be sure to check the following articles!
4. Noboribetsu, Hokkaido
For the next destination, we go all the way north. Noboribetsu (登別), nestled in the scenic region of Hokkaido, stands as a premier hot spring destination. This captivating town captivates visitors with its volcanic landscape and the enchanting Jigokudani, or "Hell Valley."
Exploring Jigokudani allows travelers to witness a mesmerizing spectacle of steaming craters and sulfurous vents, creating a truly otherworldly atmosphere. The mineral-rich waters that flow from these geological wonders provide the perfect opportunity for a revitalizing dip in one of Noboribetsu's many hot spring baths. Having various types of hot spring sources (each said to have different healing properties) in a single Onsen town is one of the unique traits of Noboribetsu.
For more information about this Onsen town, be sure to check the following article!
5. Yufuin, Oita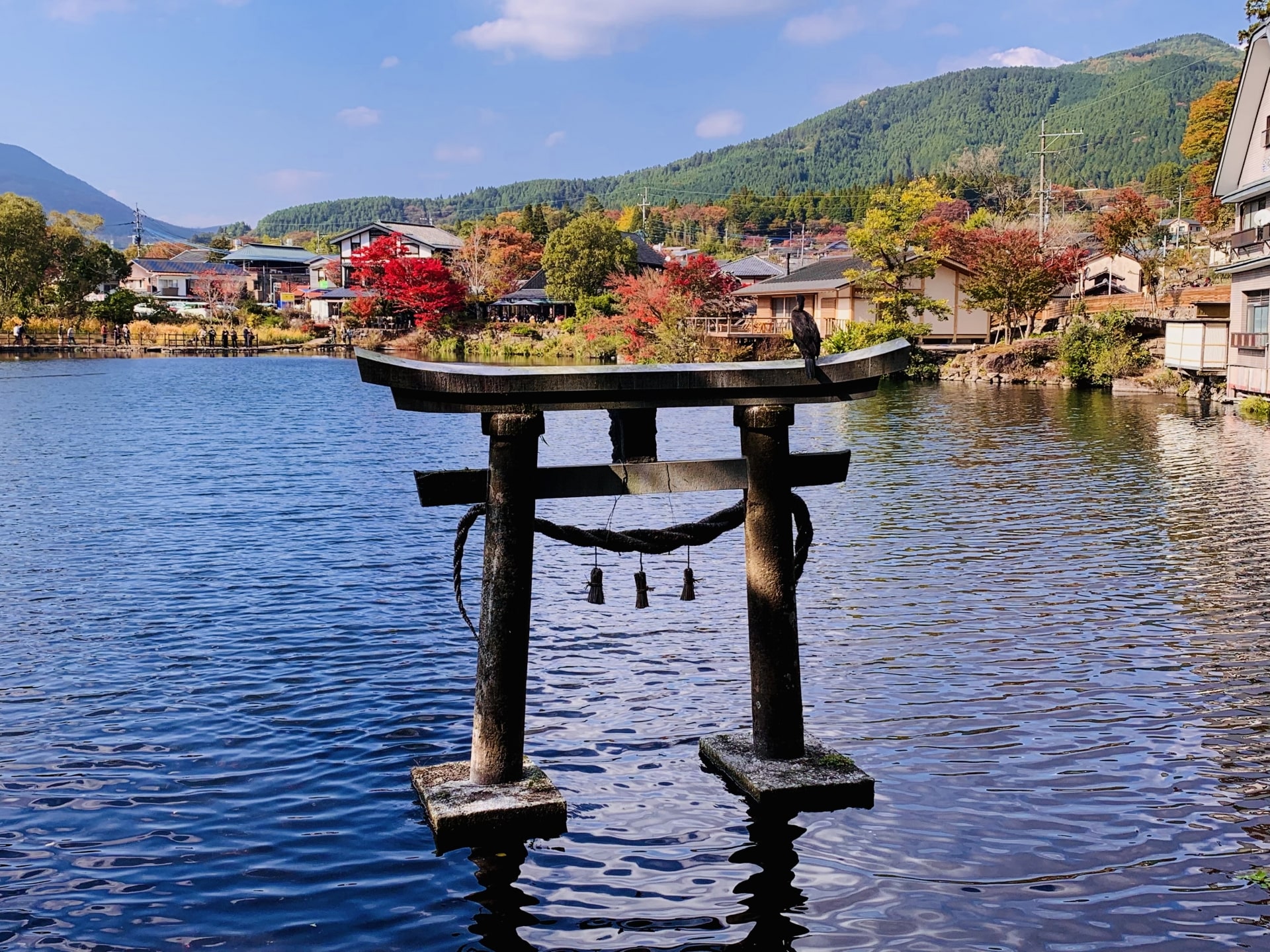 Going back to Oita prefecture, we have the town of Yufuin (湯布院). this is an idyllic onsen town that enchants travelers with its picturesque setting at the foot of Mount Yufu. This serene destination boasts a quaint and peaceful atmosphere, perfect for relaxation and rejuvenation.
The town is blessed with a scenic lake that adds to its charm, providing a tranquil backdrop for leisurely strolls. There are also various Japanese traditional buildings as well as Japanese-style gardens where you can experience "Wabi Sabi". Yufuin is also known for its boutique ryokan accommodations, offering traditional Japanese hospitality and exquisite hot spring baths.
▶ Yufuin Onsen official website: http://www.yufuin.gr.jp/
6. Arima, Hyogo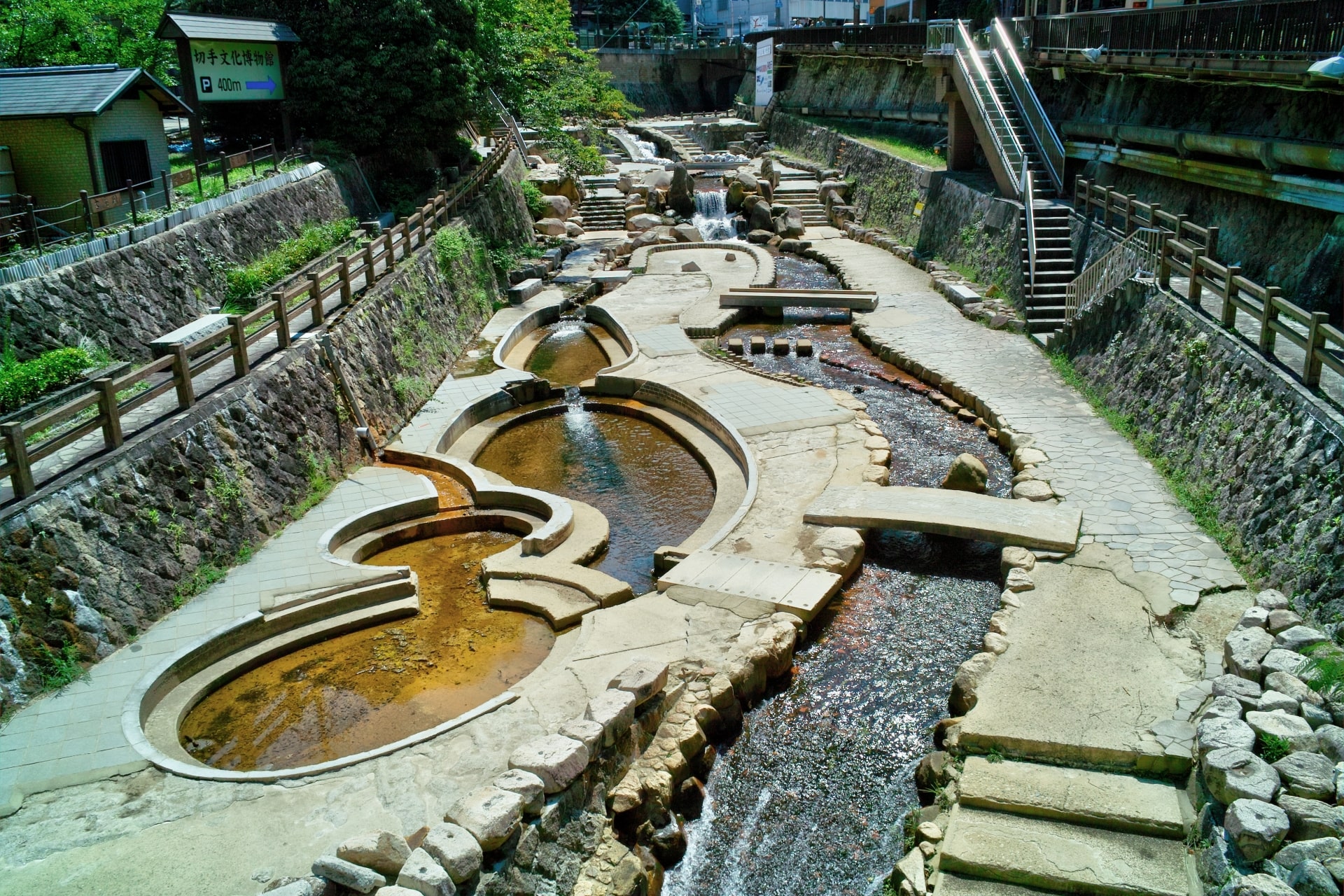 Arima (有馬) in Hyogo prefecture, stands as one of the country's oldest and most cherished hot spring towns. Situated near the vibrant city of Kobe, Arima offers a perfect retreat for travelers seeking relaxation and tranquility.
What sets Arima apart are its unique Kinsen (gold) and Ginsen (silver) spring waters, believed to have therapeutic properties, especially to treat neuralgia and sensitivity to cold.
After a soothing soak, explore the town's charming streets lined with traditional shops and indulge in local delicacies. Arima's rich history, close proximity to Kobe, and extraordinary hot springs make it an irresistible destination for any traveler.
▶ Arima Onsen official website: https://www.arima-onsen.com/
7. Ginzan Onsen, Yamagata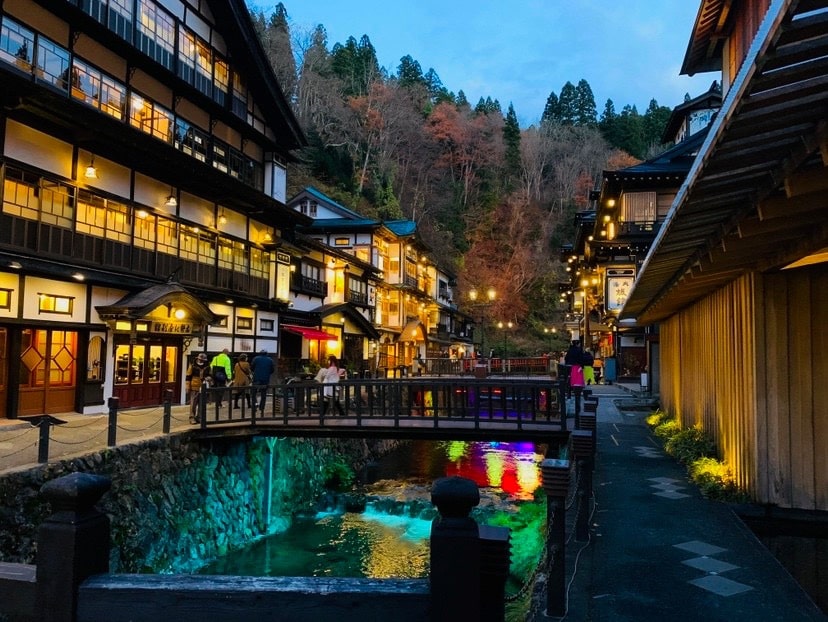 Ginzan (銀山), nestled in the breathtaking Yamagata region, is an enchanting onsen town that evokes a sense of nostalgia. Its historic wooden ryokan and charming gas street lamps transport visitors to a bygone era.
Set in a scenic mountain valley, Ginzan captivates with its natural beauty and serene ambiance. During winter, the town transforms into a magical wonderland, as snow blankets the landscape, creating a postcard-perfect scene. The hot springs provide a cozy escape from the chilly weather, offering relaxation and warmth. Ginzan's timeless charm and popularity during winter make it a must-visit destination for those seeking tranquility and a glimpse into Japan's rich cultural heritage.
For more information about this Onsen town, be sure to check the following article!
8. Nyuto Onsen, Akita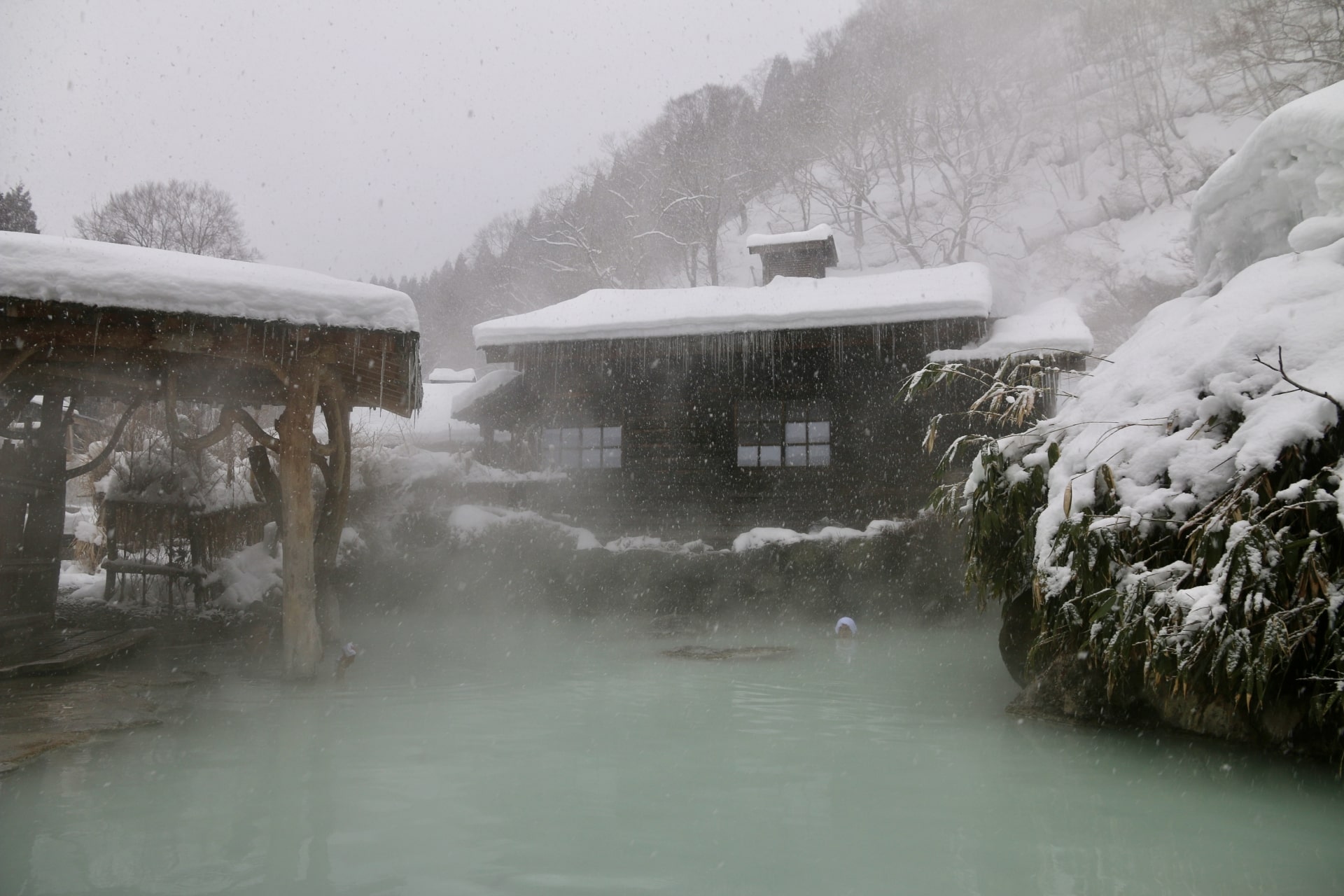 Next on our list, we have Nyuto (乳頭温泉), located in the serene Akita region. This is a hidden gem among onsen towns. This secluded hot spring village in the Tohoku region offers a tranquil escape from the bustling world. Rustic ryokan accommodations await visitors, providing an authentic and immersive experience.
But what truly sets Nyuto apart are its scenic outdoor baths. Nestled amidst nature's embrace, these open-air hot springs offer breathtaking views and a sense of serenity. Immerse yourself in the soothing waters, surrounded by mountains and forests, and let the worries of the world melt away. Nyuto's rustic charm and rejuvenating outdoor baths make it a haven for relaxation and introspection.
For more information about this Onsen town, be sure to check the following article!
9. Dogo Onsen, Ehime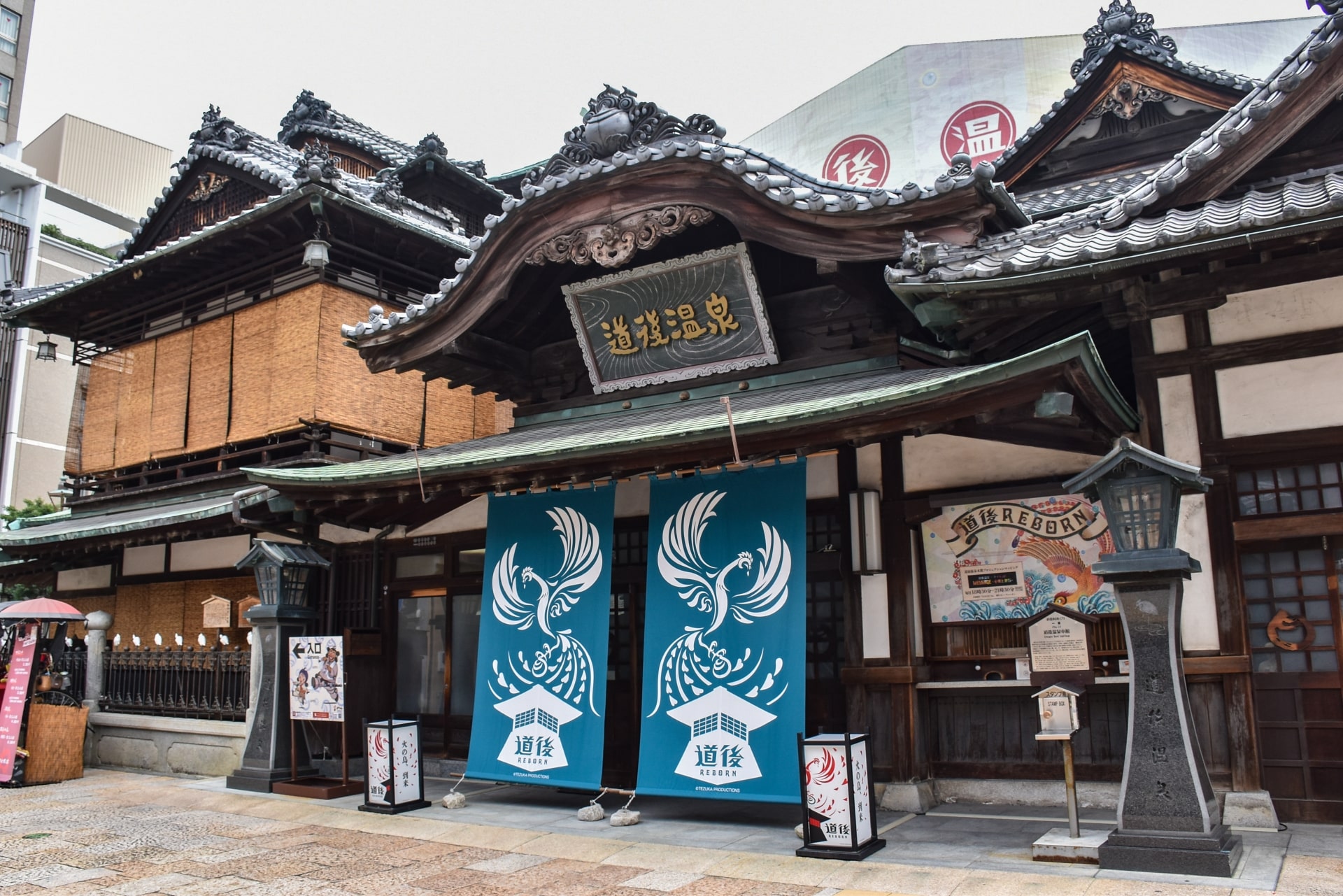 Dogo (道後温泉), located in Ehime prefecture, holds a special place as one of the country's oldest and most historically significant onsen towns. Its rich heritage dates back centuries, offering visitors a glimpse into Japan's cultural past.
The iconic Dogo Onsen Honkan bathhouse stands as a symbol of this town's allure, with its elegant architecture and traditional charm. It is said to have inspired the bathhouse depicted in the renowned Studio Ghibli film "Spirited Away".
Another thing that makes this place unique is the fact that there are 18 hot spring sources, ranging from 20-55 degrees Celsius, and by blending these sources, they can provide the perfect Onsen temperature without the need of adding water to control the temperature.
▶ Dogo Onsen Honkan official website: https://dogo.jp/onsen/honkan
10. Ibusuki, Kagoshima
Kagoshima prefecture is the second largest hot spring source prefecture in the country (about 2,700). One of the most popular spots in this southern area is the town of Ibusuki (指宿). This is a beloved hot spring destination renowned for its unique offerings.
The town entices visitors with its captivating sand baths on the beach, a truly one-of-a-kind experience. Buried in the warm, mineral-rich sand, guests can enjoy the therapeutic benefits of the heated sand, promoting relaxation and improved circulation. The gentle ocean breeze and the soothing warmth of the sand create a harmonious environment, perfect for unwinding and rejuvenating. Ibusuki's extraordinary sand baths make it an irresistible destination for those seeking a distinctive and stimulating hot spring experience.
For more information about this Onsen town, be sure to check the following article!
11. Shibu Onsen, Nagano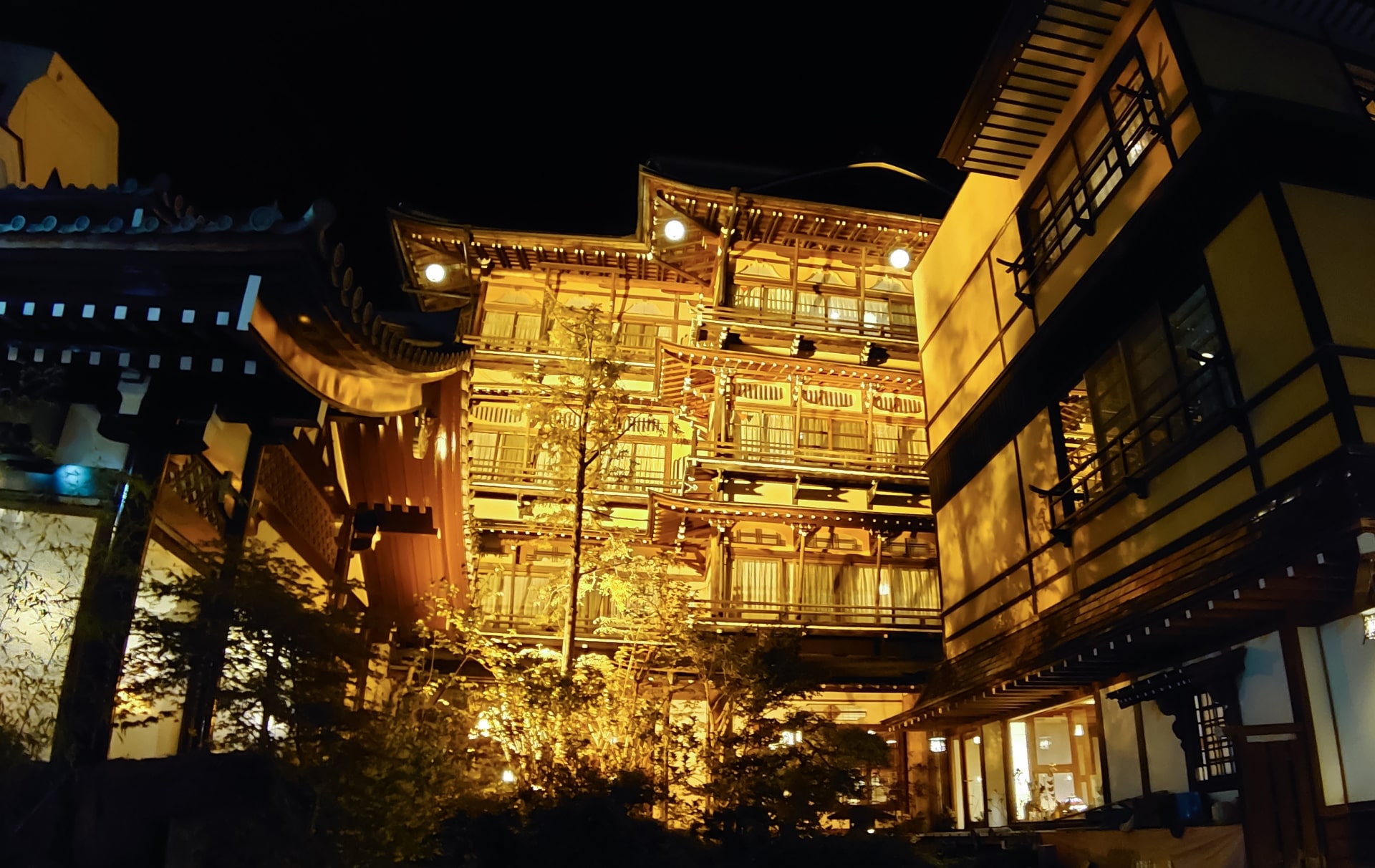 Shibu (渋温泉), nestled in the captivating Nagano region, is a charming onsen town that exudes historic charm. Its cobblestone streets and traditional ryokan transport visitors to a bygone era.
But what truly sets Shibu apart is its proximity to the Jigokudani Monkey Park. Here, in a magical winter wonderland, adorable snow monkeys can be seen soaking and frolicking in natural hot springs, a sight that has captured the hearts of visitors worldwide. After witnessing this enchanting spectacle, return to Shibu and immerse yourself in the soothing hot springs, continuing the tradition of relaxation and rejuvenation that has defined this town for centuries.
For more information about Jigokudani monkey park, check out the following article.
12. Kinosaki Onsen, Hyogo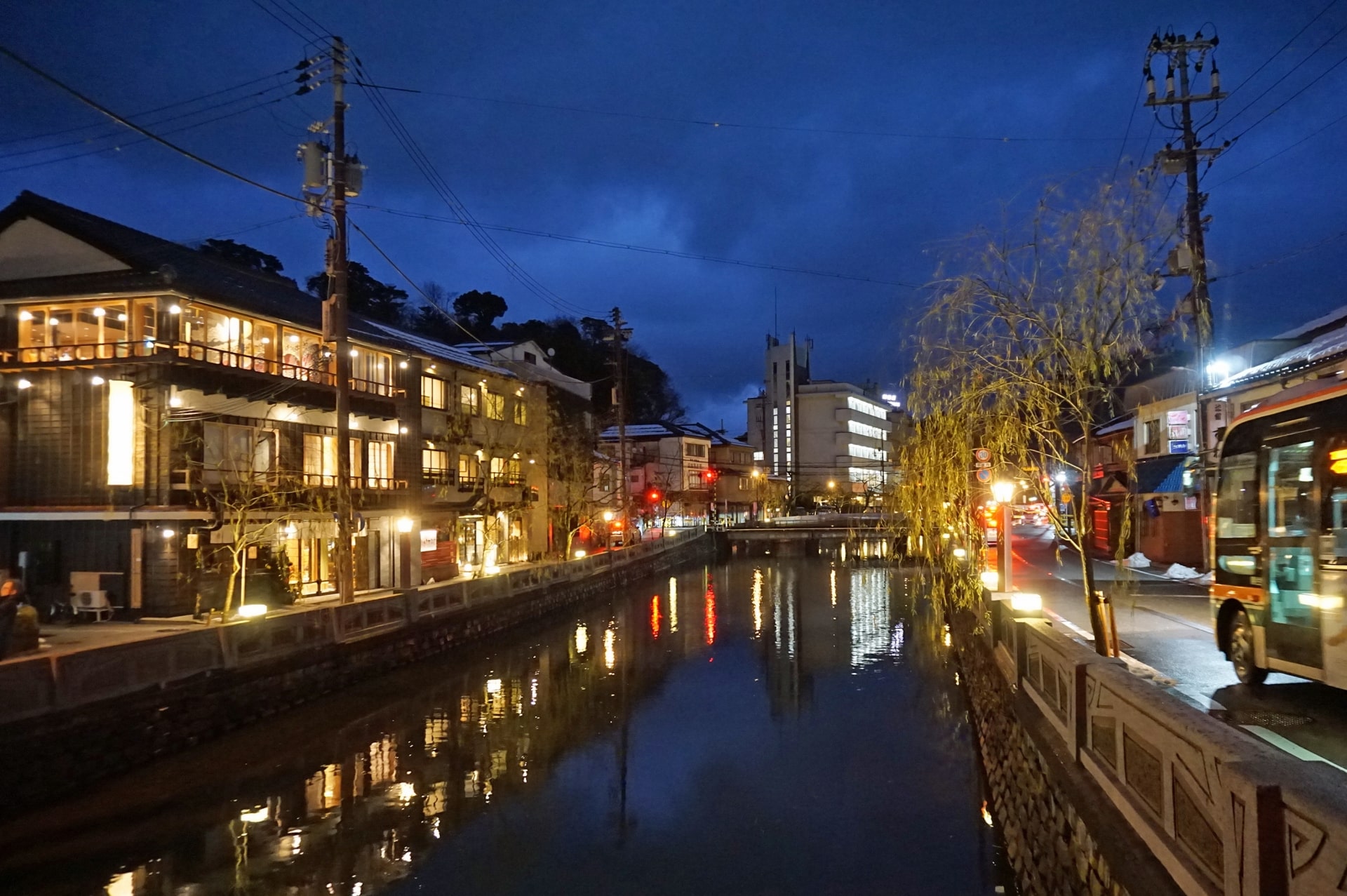 If you're looking for a traditional Japanese city atmosphere, then Kinosaki (城崎温泉) is the place for you. Located in the picturesque Hyogo region, this is a captivating onsen town known for its traditional atmosphere and quaint charm. Its streets, adorned with graceful willow trees, create a serene ambiance.
Kinosaki is famous for its seven public bathhouses, each with its own unique character and healing waters. To fully immerse in the local customs, visitors can don a yukata, a light cotton kimono, and stroll through the town, hopping from bathhouse to bathhouse. This delightful ritual provides a relaxing and authentic experience, allowing travelers to unwind and soak in the rich traditions of Kinosaki Onsen.
For more information about this Onsen town, be sure to check the following article!
13. Nozawa Onsen, Nagano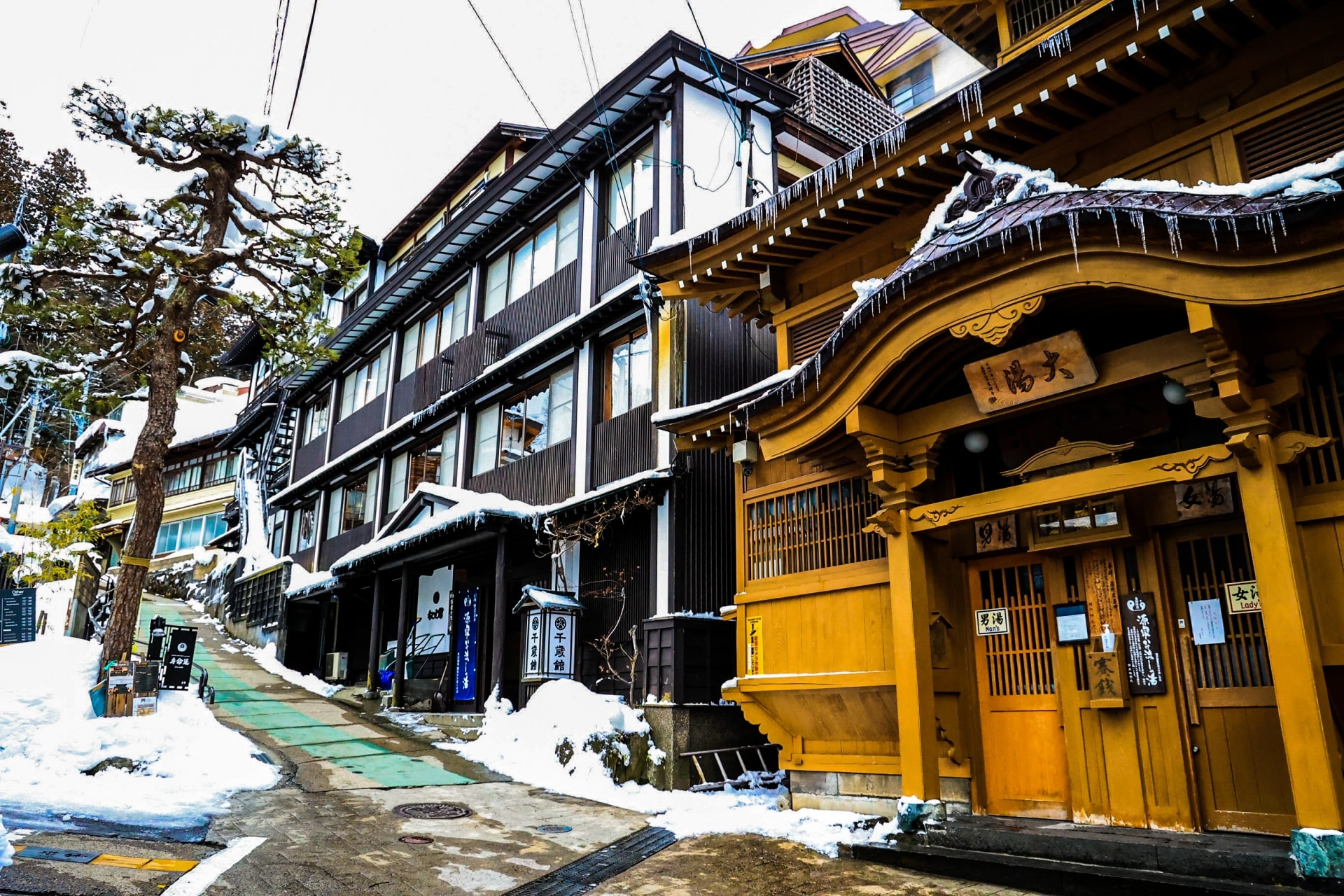 Another highly popular onsen town in Nagano is Nozawa (野沢温泉). This is a delightful onsen town and also a renowned ski resort. This charming destination offers a perfect blend of relaxation and outdoor adventure.
Nozawa is famous for its numerous free public baths, known as soto-yu, where visitors can unwind and soak in the mineral-rich hot spring waters.
Additionally, what sets Nozawa apart is its unique hot spring water used for cooking. Visitors can savor the traditional experience of "yu-mushi," where fresh ingredients are cooked in bamboo steamers using the natural hot spring steam, enhancing the flavors in a truly unique way.
▶ Nozawa Onsen official website: https://nozawakanko.jp/about/hot_spring/
14. Aizu Wakamatsu, Fukushima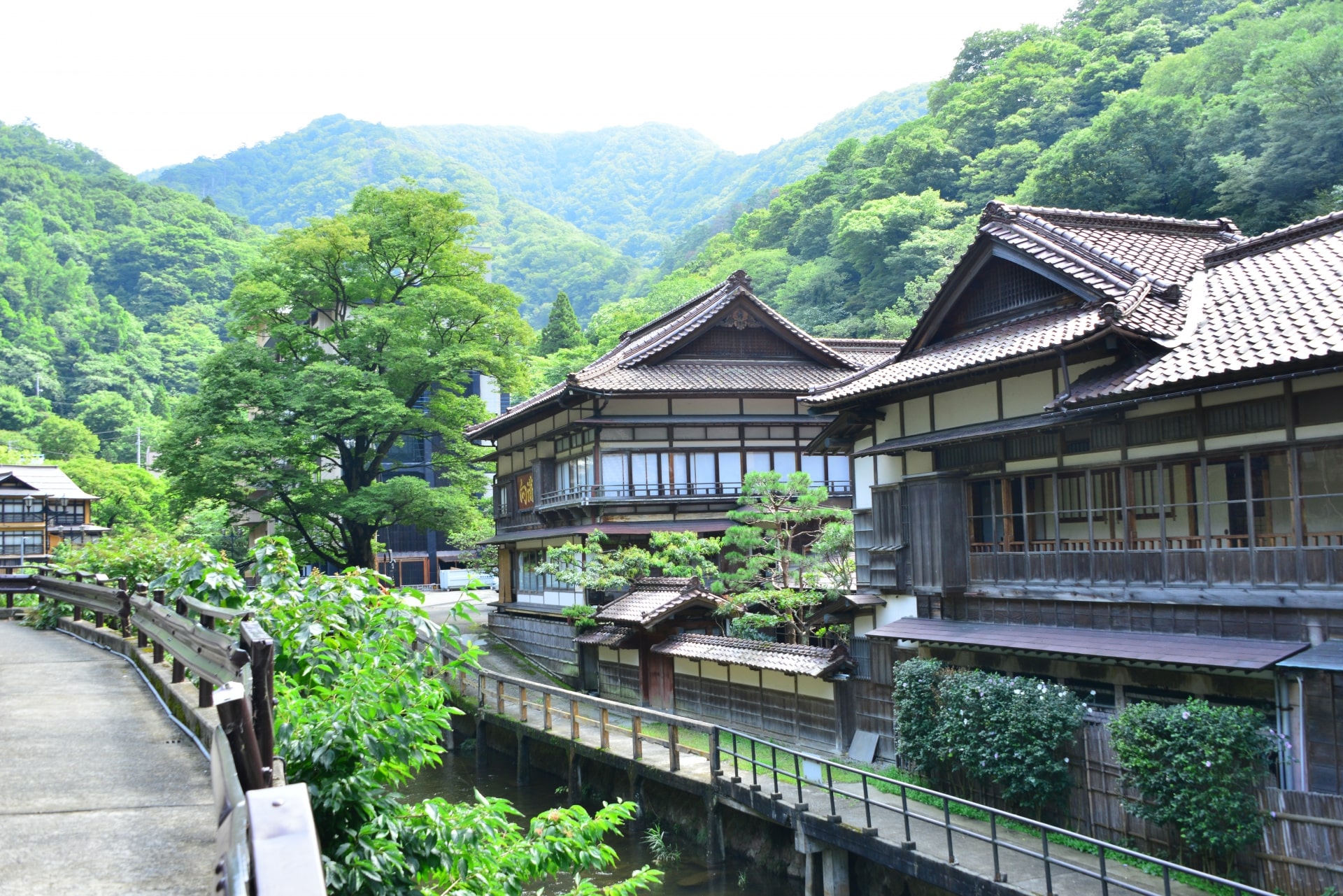 Aizu Wakamatsu (会津若松) in Fukushima prefecture is an onsen town steeped in rich history and cultural heritage. The town is adorned with the magnificent Tsuruga Castle, a symbol of resilience and strength. Amidst this historical backdrop lies Higashiyama Onsen, a hot spring district known for its clear, skin-softening waters.
Immerse yourself in the rejuvenating baths and let the healing properties of the hot springs soothe your body and soul surrounded by the stunning beauty of the nature surroundings. As you wander through the charming streets, you'll discover traditional ryokans, inviting tea houses, and a tranquil ambiance that transports you to a bygone era.
For more information about Aizu Wakamatsu, check out the following article.
15. Takaragawa Onsen, Gunma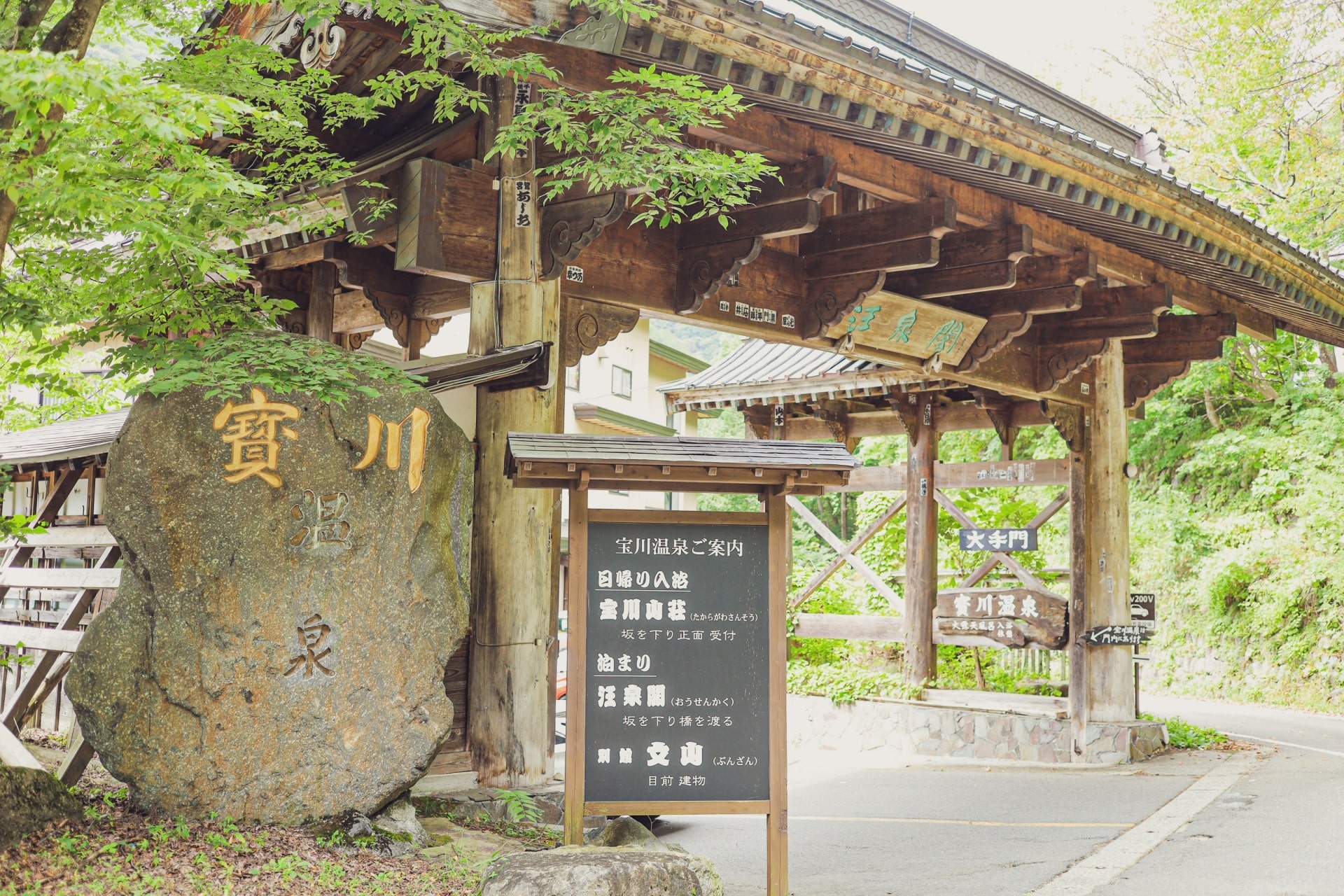 And lastly, on our list of Onsen towns, we have Takaragawa (宝川温泉), located in the remote Gunma region. This is another hidden gem for onsen enthusiasts seeking a tranquil retreat in nature's embrace. This secluded hot spring destination offers a serene escape from the bustling world.
What sets Takaragawa Onsen apart are its scenic mixed-gender outdoor baths, known as rotenburo, nestled alongside the picturesque river. Immerse yourself in the warm, therapeutic waters while surrounded by breathtaking natural beauty. The soothing sound of flowing water and the harmony of nature create a truly immersive and rejuvenating experience.
For more information about this Onsen town, be sure to check the following article!
Author's Top Recommendation
I hope this article was helpful to you. What I would recommend doing, if you're an Onsen enthusiast, is not only visit one onsen town but at least two. As I previously mentioned, Onsen towns are located all across the country, and each town has its own unique charm that will most certainly leave a good impression on those who visit.
I personally love going snowboarding in winter, so Nozawa Onsen is one of my favorite places to go. The feeling when you bathe in the hot springs after spending a full day at the snow slopes is something indescribable.
---
▽Subscribe to our free news magazine!▽

For more information about Onsen and other Japanese cultures, be sure to check the articles below.
▽ Related Articles ▽
▼ Editor's Picks ▼
---