10 Best Things to Do in Beppu
Beppu Travel Guide: What to Do in Beppu, Oita Now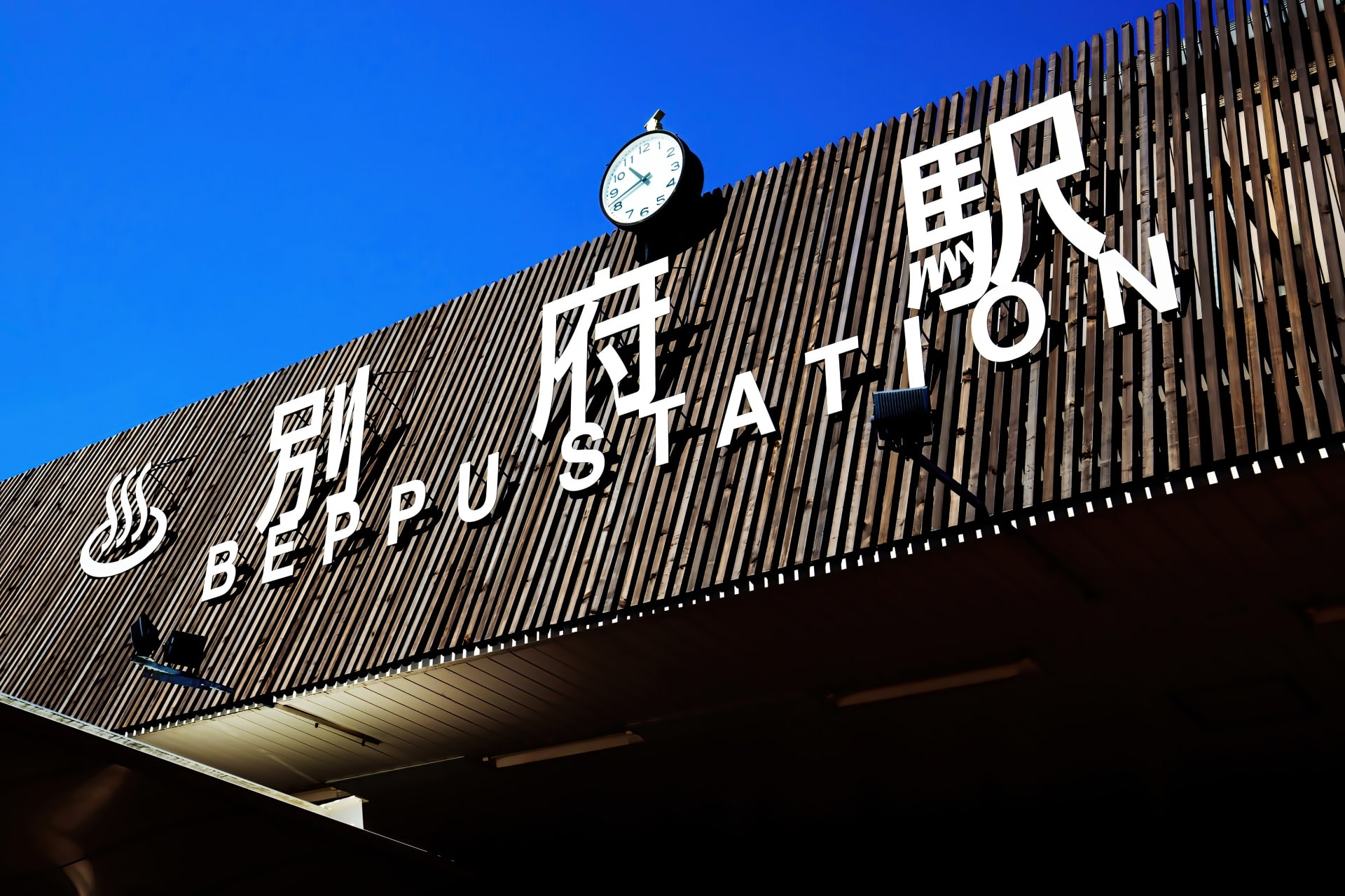 Beppu City is the 2nd largest city in Oita Prefecture and one of the most famous Onsen towns in Japan. Beppu has more than 8,000,000 tourists every year and is designated as an International Tourism Onsen Culture City.
There are more than 2,300 hot spring sources in Beppu. So you would smell sulfur as soon as you arrive in Beppu. A lot of hot springs are used not only for tourism but also for geothermal electric power generation, fish breeding, and beauty care.
Here, I'm gonna introduce the 10 best things to do in Beppu. Not to mention visiting hot springs, a tour of "Jigoku" hells is another attraction you shouldn't miss. Jigoku tour is seeing hot springs whose temperatures are around 100℃. In addition, there are other places worth visiting.
Let's check it out!!
1. Soaking in one of the most authentic Onsens in Japan, Beppu Onsen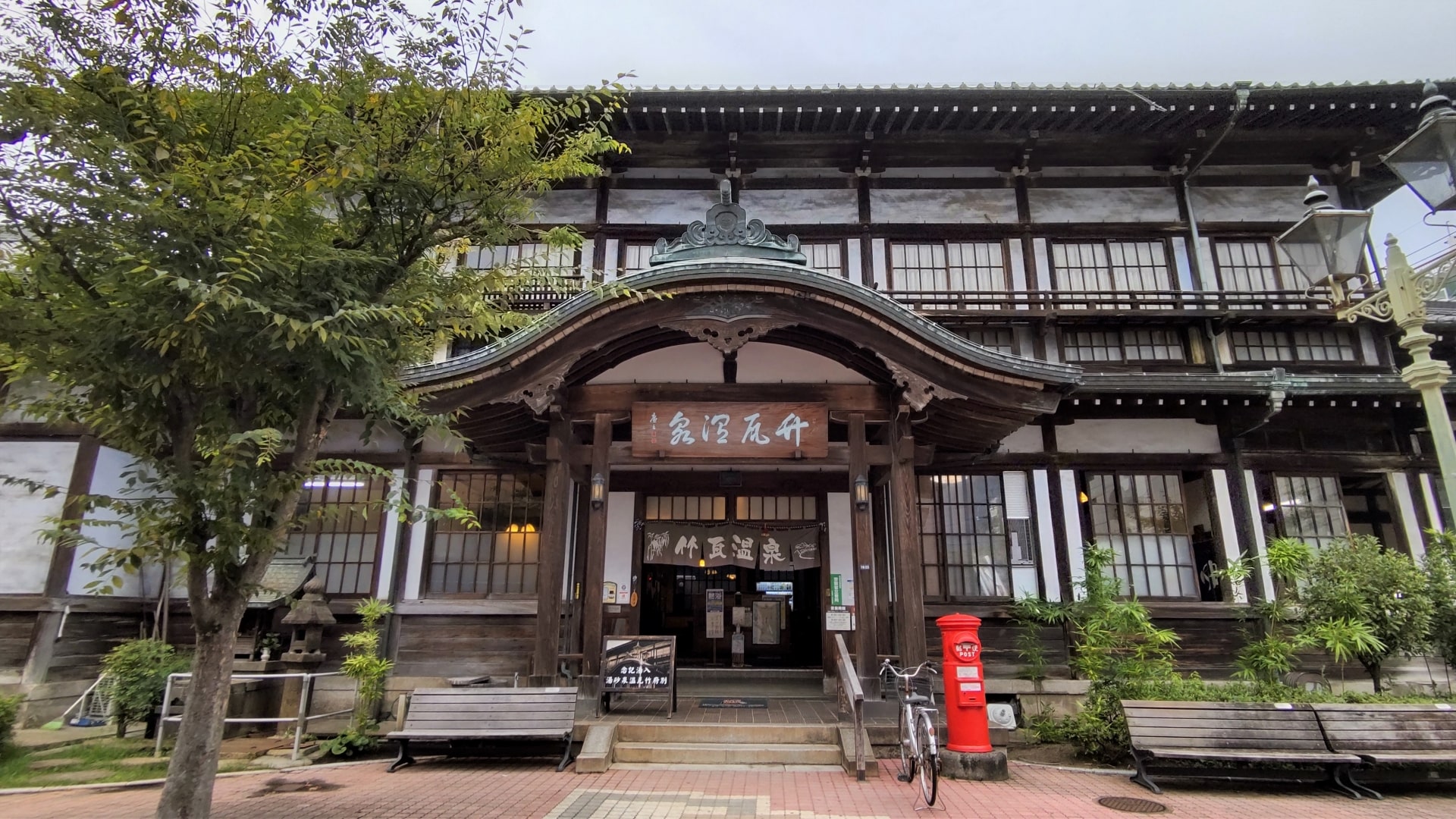 Beppu Onsen is a general term for the Onsens in Beppu City and one of the most popular Onsen spots in Japan. Beppu Onsen is composed of 8 Onsen towns, which are called "Beppu Hatto": Beppu, Hamawaki, Kankaiji, Horita, Myoban, Kannawa, Shibaseki, and Kamegawa Onsen.
There are lots of authentic Onsens in each town. Takegawara Onsen is a municipal hot spring having an old Japanese house-style appearance. Sunayu, soaking in sand steamed by a hot spring is a popular attraction. Takegawara small street is the oldest arcade in Japan through Takegawara Onsen to Nagarekawa Street. It was established in 1921 so people could get to Takekagawara Onsen without getting wet. Now there are some restaurants and bars in a Showa-era retro atmosphere.
2. Trying a tour of Jigoku Hells: Beppu Jigoku Meguri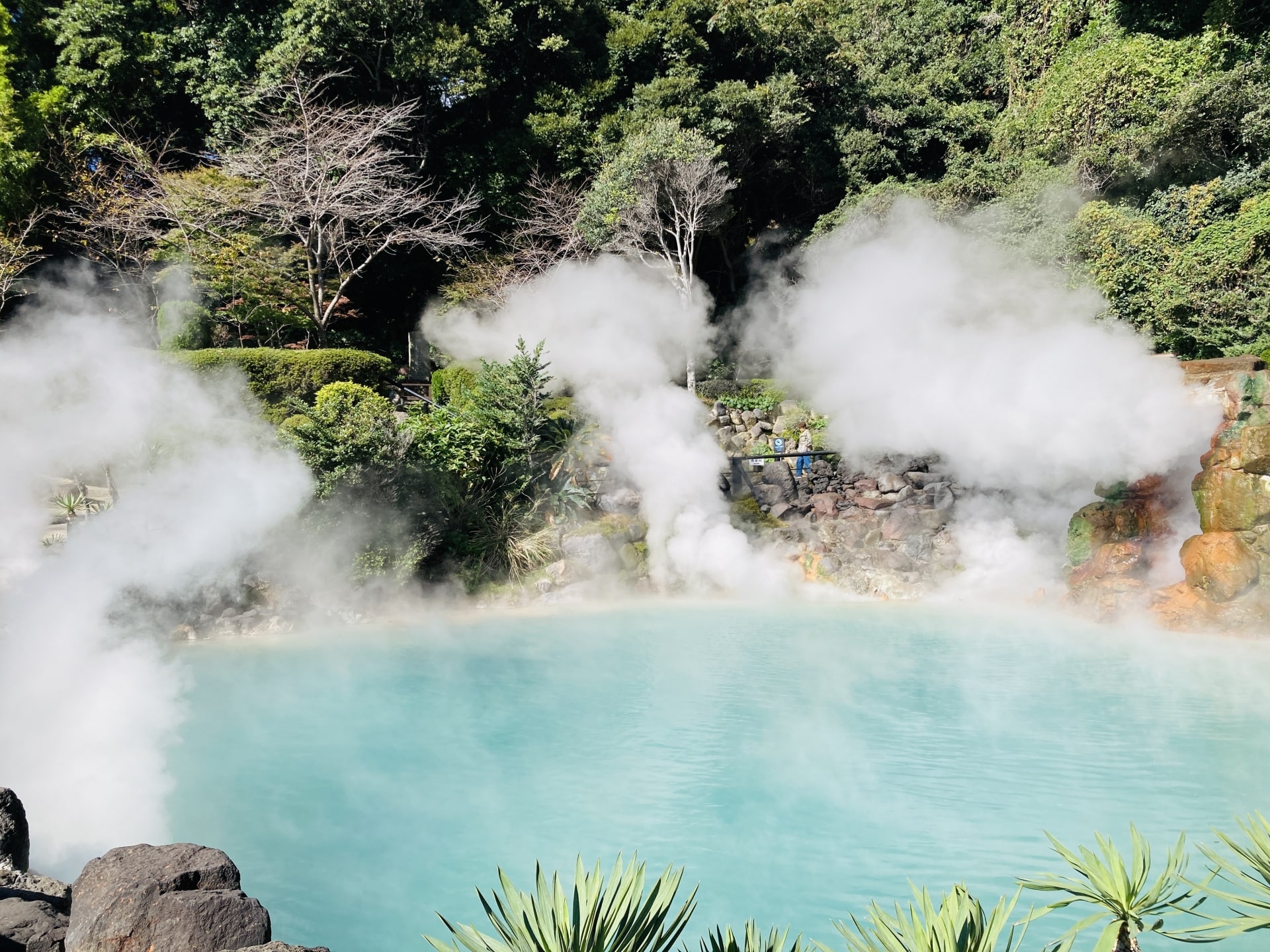 You should try a "Jigoku" tour of Beppu Onsen!!
The hot spring sources of Kannawa Onsen and Kamegawa Onsen are called "Jigoku" (meaning hells) because fumes, hot mud, and boiling water are gushing out, which looks like hell. The temperature is around 100℃ so it's not suitable for bathing. However, a tour of looking around Jigoku and some foot baths are available. Let's feel the hotness of the natural hot spring source.
There are 7 famous Jigoku, Umijigoku, Oniishibozujigoku, Kamadojigoku, Oniyamajigoku, Shiraikejigoku, Chinoikejigoku, and Tatsumakijigoku. Umijigoku, Shiraikejigoku, Chinoikejigoku, and Tatsumakijigoku are designated as places of national scenic beauty. You can get a ticket from Beppu Jigoku Association.
3. Sweating in a Beppu Beach Sand Bath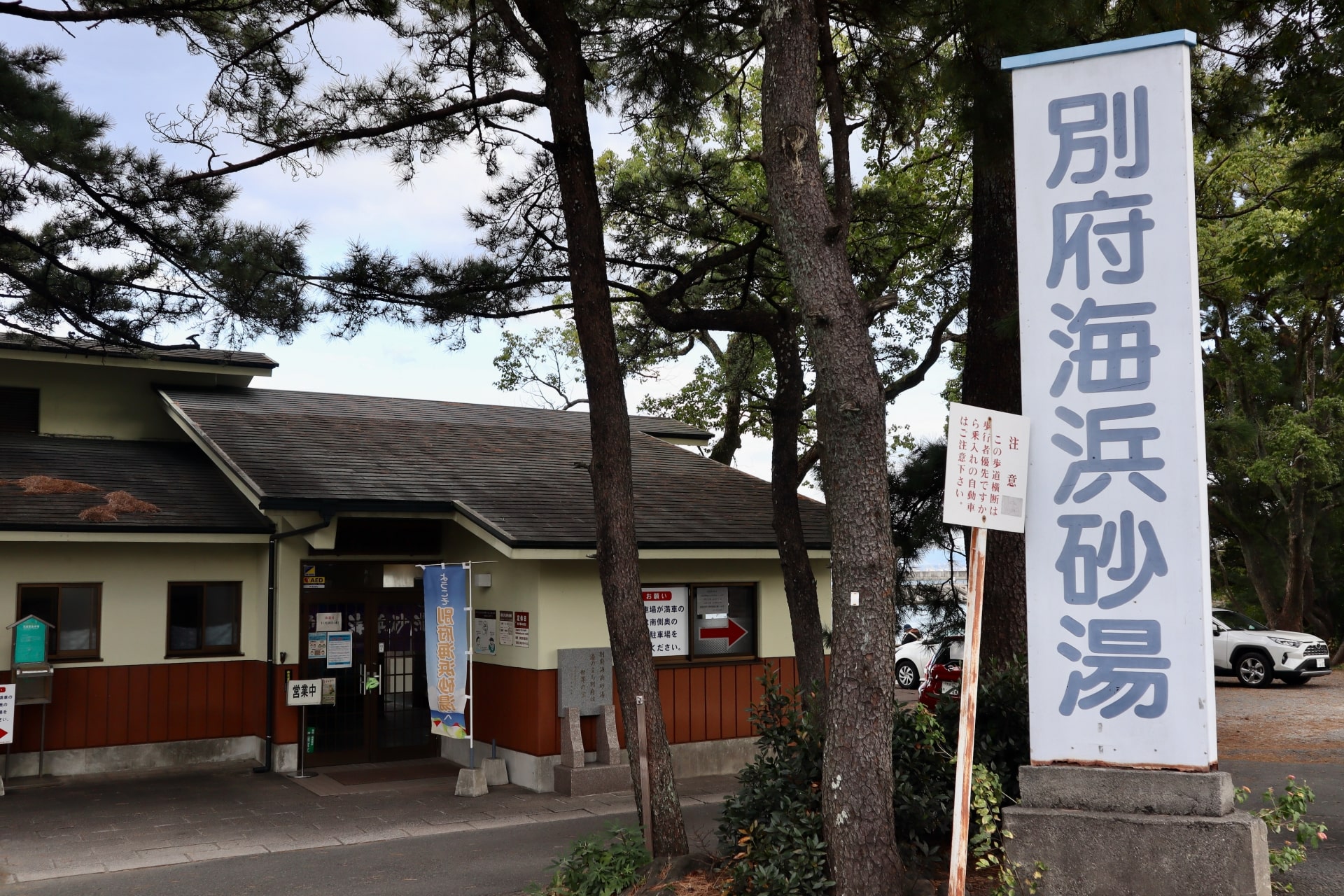 Sand Bathing (Sunayu in Japanese) is a unique way of bathing with hot sand. People wear a Yukata and lie in a hole of beach sand that is warmed by the hot spring geothermal. Then staff sand them down, except for the neck up. The temperature would be different depending on the digging way or the place of a hole, so you can choose your best temperature. You'll sweat a lot when you get in the sand bath. Sand bathing is effective for losing weight, improving sensitivity to cold, and detoxification.
Hyotan Onsen is one of the famous Sunayu places, located in Kannawa, Beppu City. Using the dry natural beach sand and being steamed by Onsen's vapor, the level of humidity is comfortable. After the sand bath, don't forget to enjoy its free-flowing hot spring.
4. Playing a lot at Kijima Kogen Park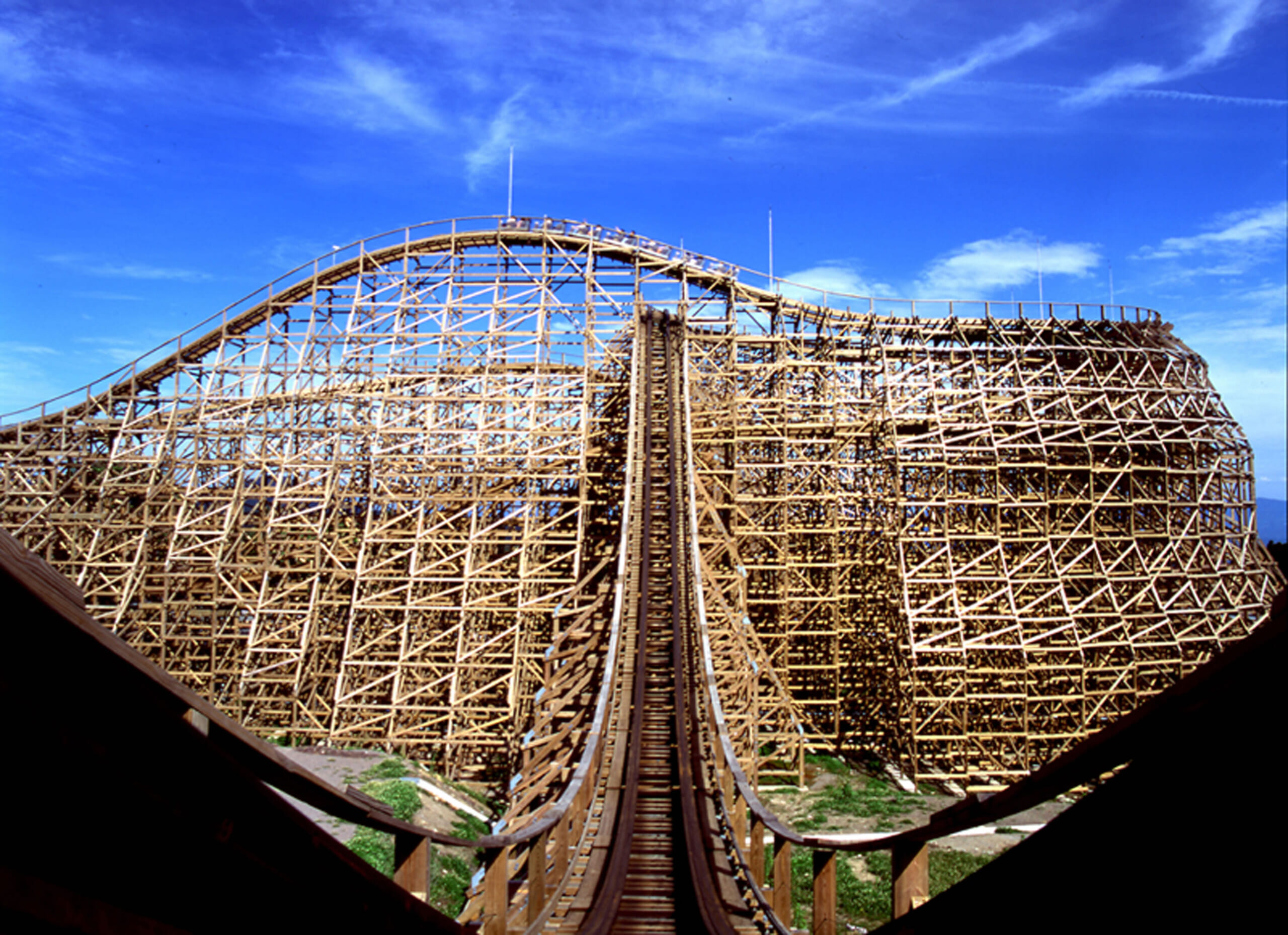 Kijima Kogen Park is an amusement park, opened in 1967. It's located between Beppu and Yufuin, one of the other large Onsen towns in Oita. There are 10 thrilling attractions and 20 mild attractions. Kijima Kogen Park can be enjoyed by kids and adults in a variety of situations.
The most popular attraction, Jupiter was installed in 1992 as the first wooden roller coaster in Japan. It lasts 1,600 m which is the 7th longest roller coaster in the world. It's composed of 60,000 Douglas fir trees. Go-kart is a driving attraction. Driving a car for 1 km throughout the forest is refreshing. It's popular, especially with kids.
After enjoying the whole park, let's soak in a natural Onsen of Kijima Kogen Hotel, located next to Kijima Kogen Park.
5. Eating Jigokumushi: cooking regional ingredients with natural hot spring steam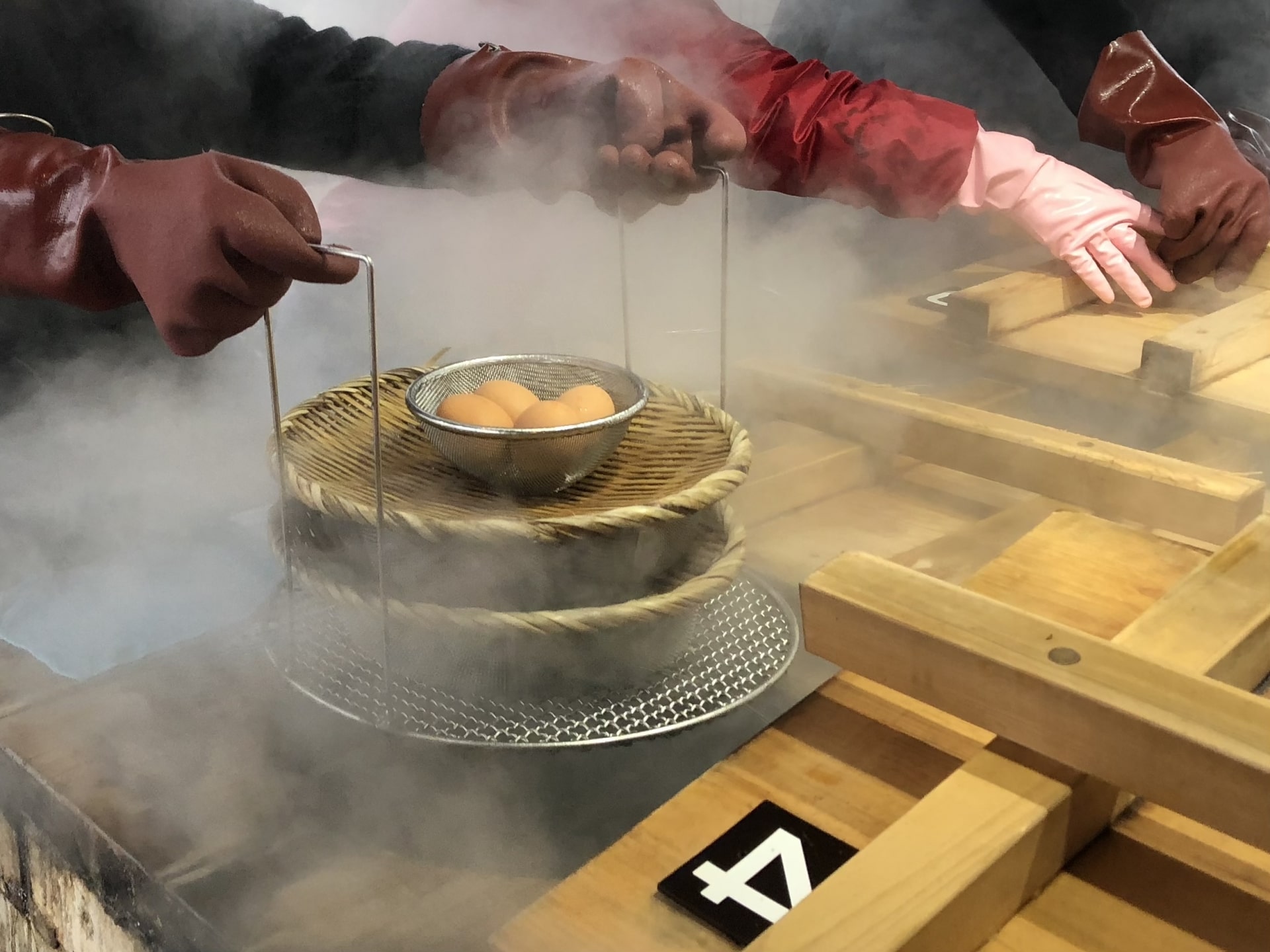 Jigokumushi is a traditional cooking way in Kannawa Onsen. People in the Kannawa area put regional ingredients like rice, vegetables, meats, and fish in an iron pot called "Jigokugama" and steam them with natural hot spring steam. The temperature of the steam is 98℃ and its energy is 100% geothermal. Because of salt included in the steam, the actual taste of the ingredients would come out much more.
Some places offer the experience of Jigokumushi. Geothermal Tourism Lab ENMA offers 12 ingredients for Jigokumushi. It purchases fresh fish from the Tsurumi market, which is one of the most famous fishing grounds, every day. The original sweet, "Chinetsu Pudding" is a steamed pudding with hot spring steam. Its rich and smooth texture and strong caramel source make an amazing taste.
6. Watching wild Japanese monkeys at Takasakiyama Monkey Park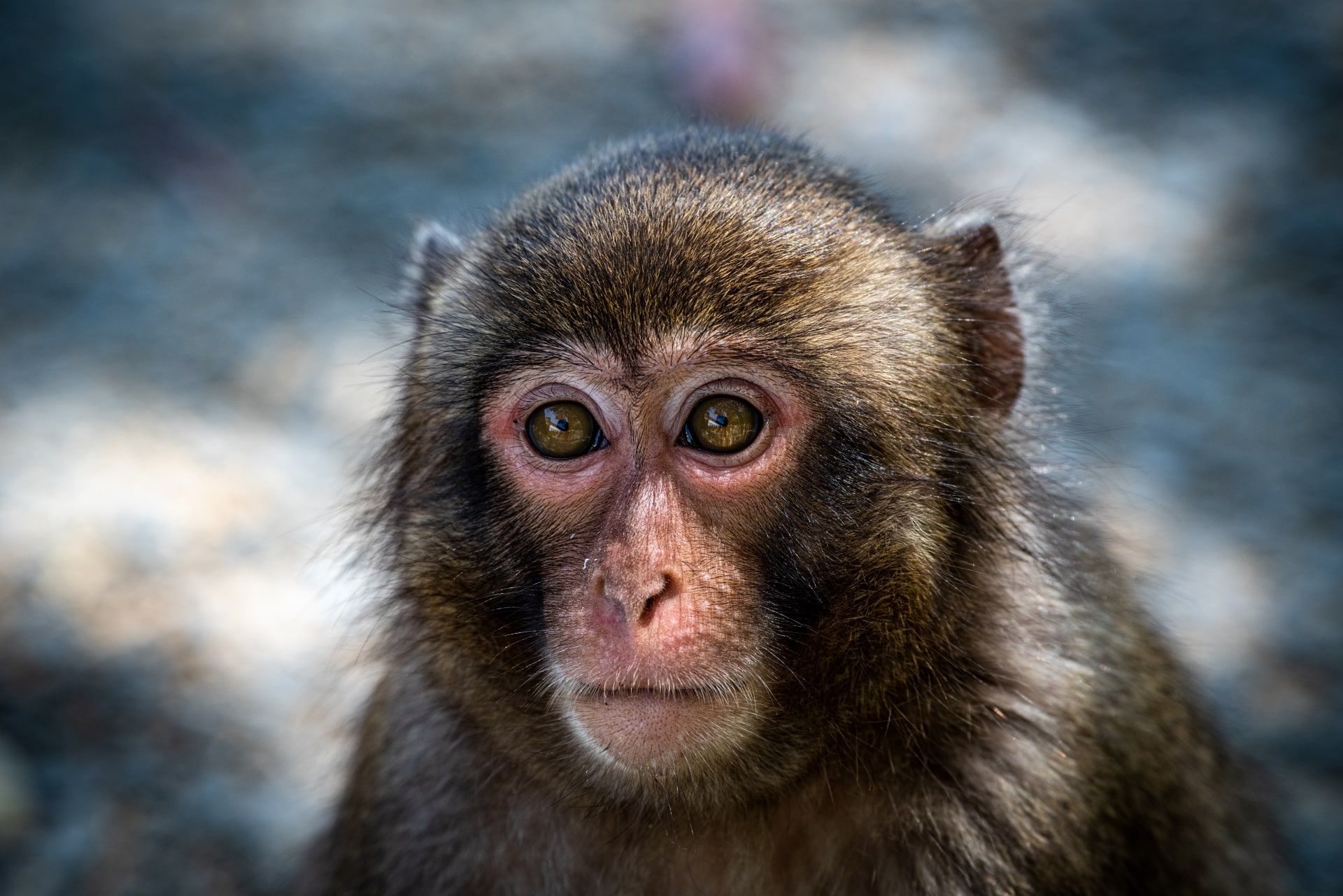 Takasakiyama Monkey Park is a natural zoological garden, located in Takasakiyama, Oita City. A lot of wild Japanese monkeys have been alive in Takasakiyama since the Edo period. In 1952, to protect crops from them, people established a brothel for monkeys at the foot of the mountain and started feeding them. In 1953, Takasakiyama Monkey Park has got popular as a tourist spot since it was designated as a national natural monument.
Tourists can see wild Japanese monkeys without cages. Feeding is held twice an hour. From a big male monkey to a cute small monkey, there are hundreds of wild Japanese monkeys. From the entrance of Takasakiyama to the monkey gathering place, it takes 4 mins by a cute monorail, "Sarukko Rail".
7. Enjoying a panoramic view of Beppu City from Beppu Ropeway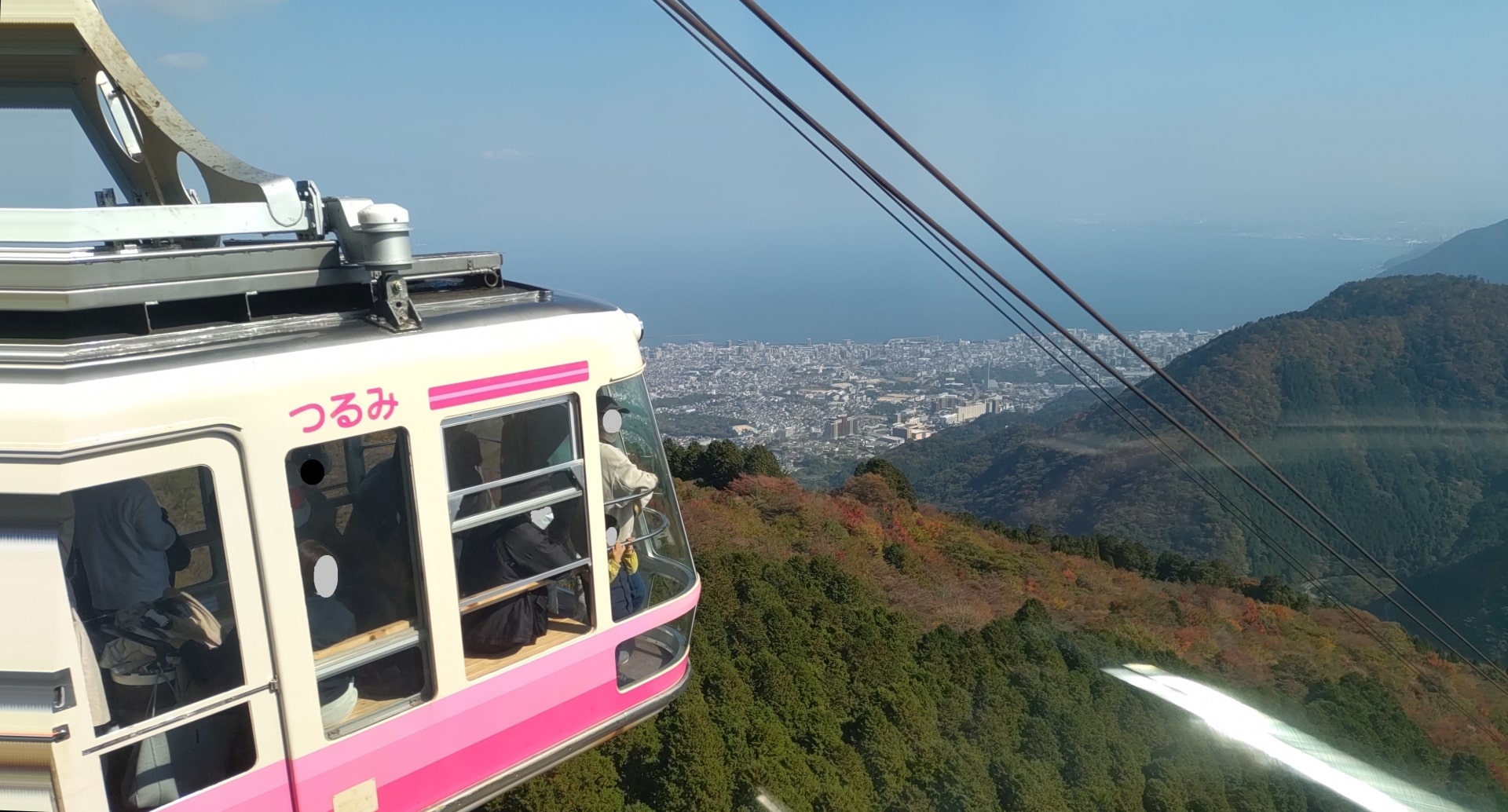 Beppu Ropeway is one of the biggest ropeways in Kyushu, connecting the foot to the top of Mt. Tsurumi whose elevation is 1374.5 m. There is a panoramic view of Beppu City and the ocean. Moreover, the seasonal scenery is awesome such as cherry blossoms in spring, colored autumn leaves, and rime in winter.
Kyushu Shochu Kan is located in front of the parking lot. It's a bottle shop correcting more than 500 kinds of Shochu from Kyushu, including Amami and Okinawa. Shochu is a kind of Japanese sake. The seven gods of good fortune from Japanese mythology are enshrined along the hiking path in Mt. Tsurumi. A tour of the seven gods of good fortune is another popular attraction.
8. Having a good night at Suginoi Palace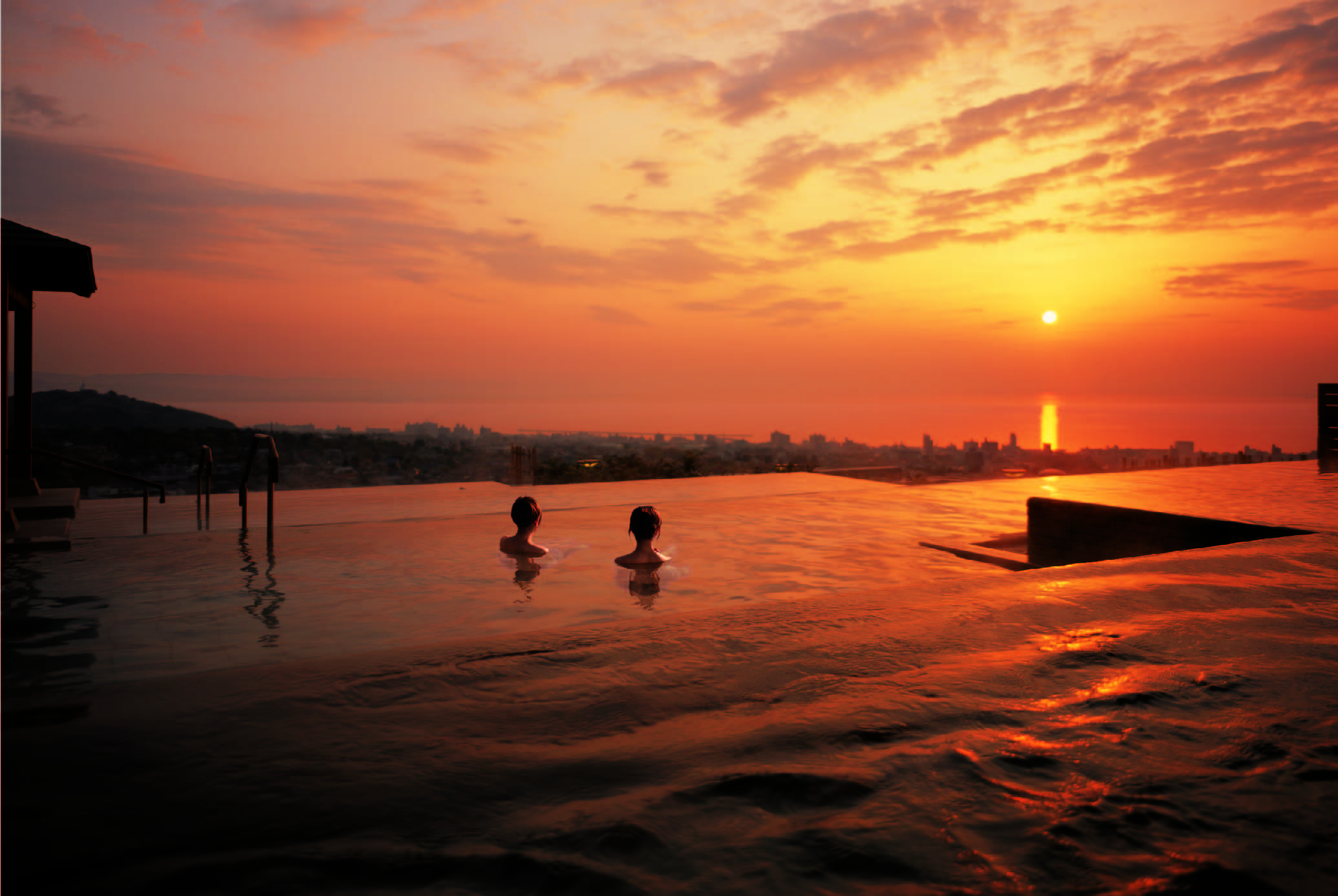 Suginoi Palace is a representative amusement area of Suginoi Hotel. Suginoi Hotel is one of the most luxurious hotels in Beppu. The most popular attraction in Suginoi Palace is its open-air bath, Tanayu. Tanayu expands 5 steps like Tanada (rice terraces). There is a panoramic view of Beppu Bay, a night view of the town, and even Shikoku Sata Misaki on a sunny day.
The aqua garden is an outside bath, where visitors can enjoy with swimwear. Let's watch a fantastic water fountain show, created with water, light, and music!! You can also experience Fungo Therapy. It is a kind of beauty care way, using a mud of hot spring for a pack.
9. Meeting cute Sanrio characters at Sanrio Harmonyland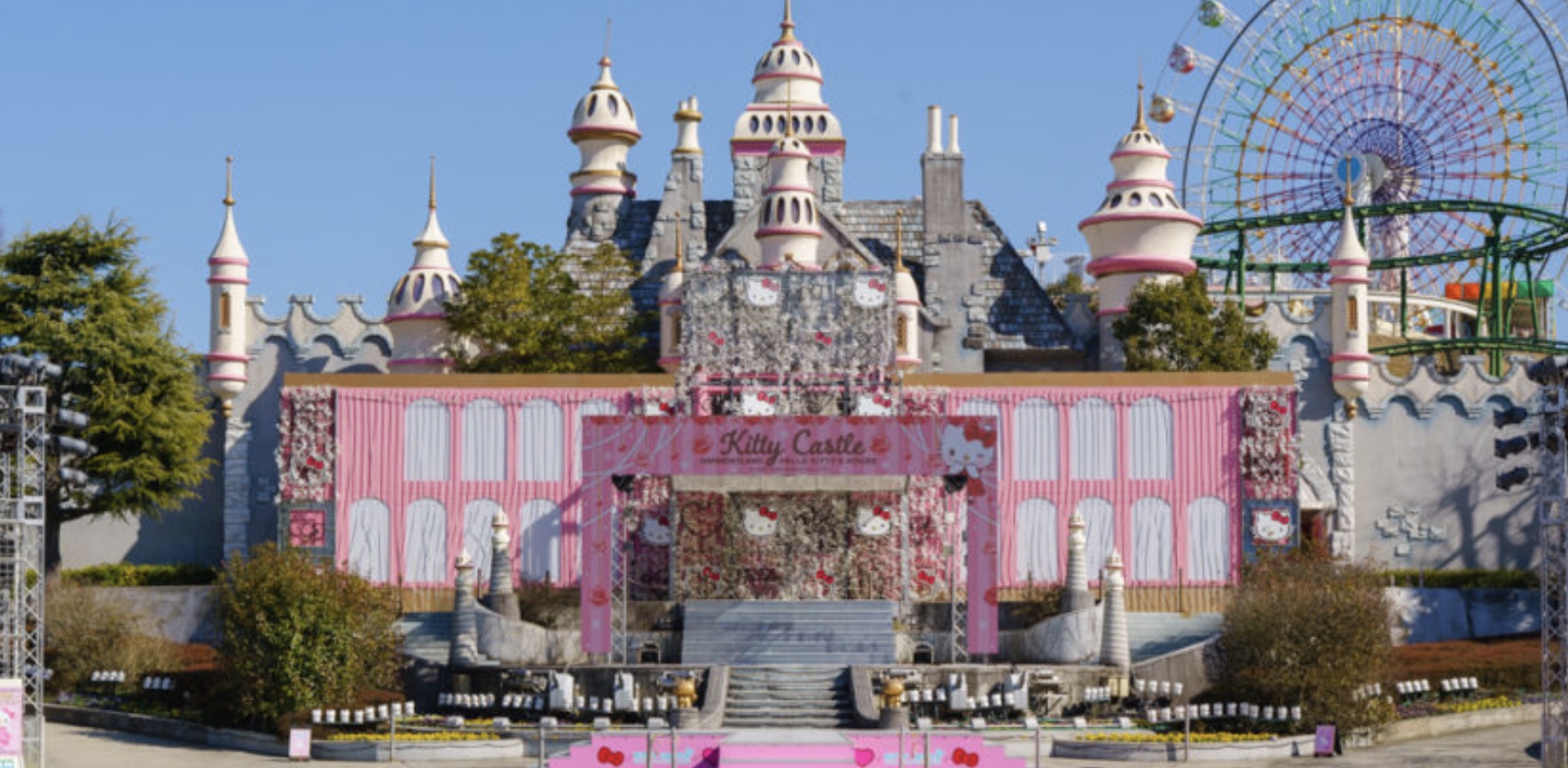 Sanrio Harmonyland is an amusement park of Sanrio characters, located in Hayamigun. Sanrio characters are Japanese iconic kawaii (cute) characters such as Hello Kitty and My Melody. Though Sanrio Puroland, Tokyo is famous, here you can meet its kawaii characters, too!!
The most popular attraction is a character show, Parade Parallel. It is played during the daytime and at night. The characters dance on the dynamic stage that has a huge 360° LED screen. The night show with shiny illumination is beautiful.
There are many kawaii photo spots inside Kitty Castle. All of the stuff and interior are pinky, cute and gorgeous.
Let's experience the world of Japanese kawaii culture.
10 Going on a side trip to Yufuin Onsen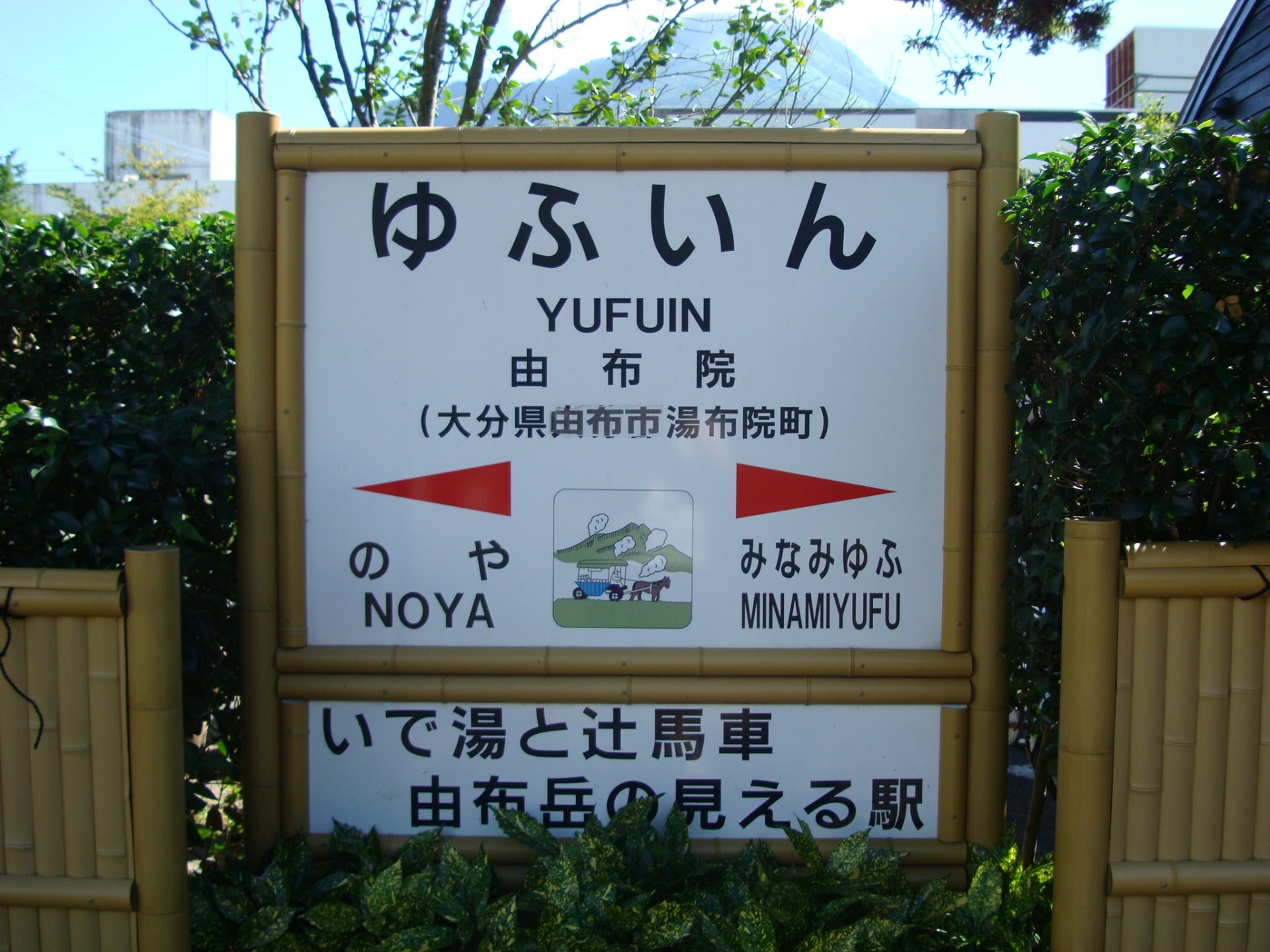 Are you satisfied with Beppu Onsen? Then, let's go on the next journey to Yufuin Onsen!!
Yufuin Onsen is another most popular Onsens in Japan, located in Yufu City, Oita. Yufuin Onsen has the second largest number of hot spring sources in Japan and was designated as a national recreational hot springs resort in 1959. Because movie festivals and music festivals have been held since the 1960s, the town remains a cultural and quiet atmosphere.
Once you get to Yufuin Station, the symbolic Mt. Yufu shows up in front of you. There are many good Onsens where you can see the panoramic view of the mountain and the beautiful nature of Oita.
It takes about 1 hour to get to Yufuin from Beppu. There are a tourist bus and a special express train. Otherwise, if you rent a car, you can enjoy driving by watching a huge scale of nature!!
---
Thank you for reading till the end!
Did you find something you want to try? Soaking in Onsen is one of the unique aspects of Japanese culture and is good for your health physically and mentally. It's the best way to heal trip fatigue. Let's have a relaxing time apart from our daily busy lives
Moreover, there are many good Onsens in Kyushu. So it's a good idea to go on a road trip around Kyushu by car if you rent a car!! Each prefecture in Kyushu also has delicious local food, too.
Where would you like to go next?
---
▽Subscribe our free newsletter!▽
For more information about traveling and living in Japan, check these articles below, too!
▽Related Articles▽
▼Editor's Picks▼
---