2 Days Itinerary in Kyoto
Things to Do in Kyoto in 2 Days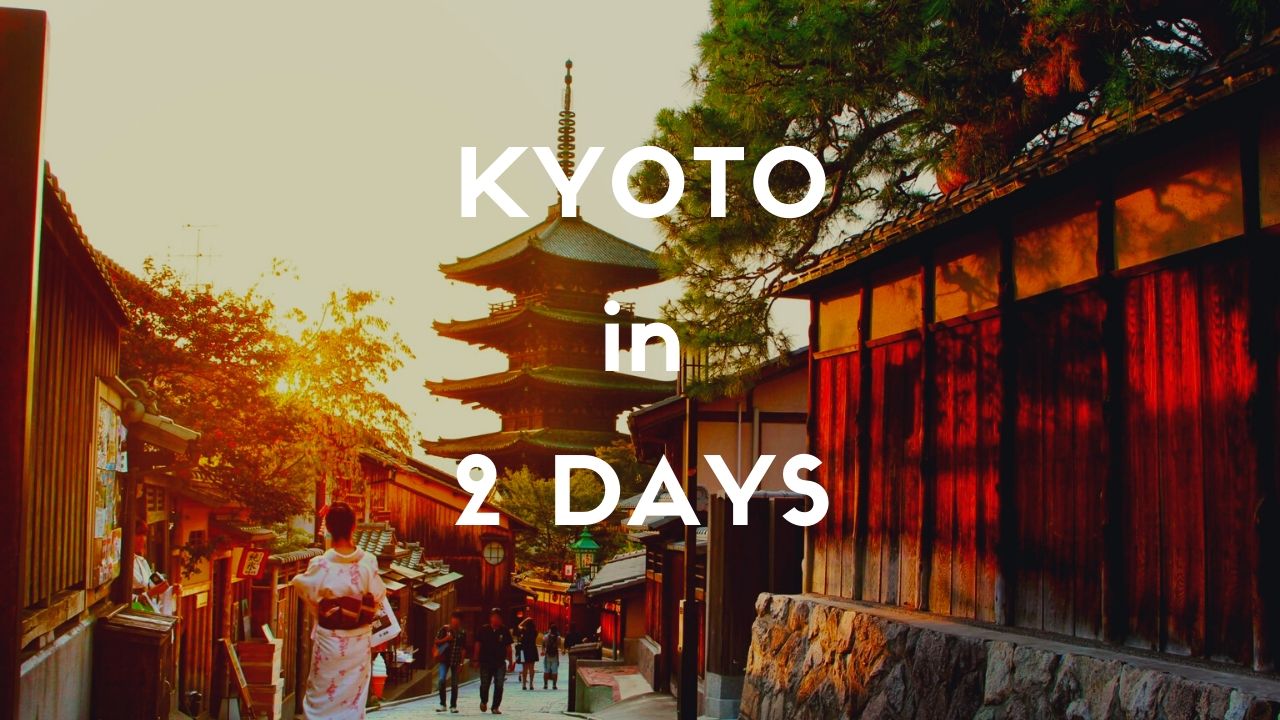 Are you planning to visit Kyoto?? While there are countless attractions and entertainments in this historic capital of Japan, it may be hard to decide where to go and what to do within a limited time.
Some tourists may have a long duration trip to see most of the attractions in the city, but the majority have very limited time of travelling especially when they try to visit as many places in Japan as possible.
Kyoto is a must-visit city in Japan for every traveller, but if you are planning to visit there for a short duration, you will need to plan your itinerary in advance and travel efficiently.
Today, I am going to share the suggest 2-day itinerary in Kyoto which includes the best highlights of the city including Fushimi Inari Taisha, Kiyomizudera Temple and Arashiyama District. By following this Kyoto 2 days itinerary, you will have a chance to visit some of the most popular historic sites, shop souvenirs and experience great nightlife in Kyoto.
Let's check out the best thing do to in Kyoto in two days!
Day 1
-Fushimi Inari Taisha Shrine
As you have only 2 days in Kyoto, I'd suggest you to start your day from early morning! The first stop is Fushimi Inari Taisha Shrine (伏見稲荷大社), known for the iconic view of vermilion torii gates that was featured on the movie Memoirs of a Geisha in 2005.
I really recommend you to visit there as early as you can since it's one of the busiest tourist sites in Japan. If you wish to explore the shrine with peaceful atmosphere and take photos of the magnificent torii gates without other tourists, you should visit there before big crowds arrive.
-Higashiyama District
After Fushimi Inari Taisha Shrine, let's head up north to the most attractive neighbourhood in Kyoto, Higashiyama District (東山).
The first stop is Kiyomizudera Temple (清水寺), one of the most spectacular historic monuments in Kyoto which should be on every first time visitor's itinerary. The Buddhist temple offers spectacular scenery of the main hall with the large wooden terrace surrounded by trees. The temple is especially popular during the autumn leaves season as if it stands above the sea of red and orange maple leaves.
After visiting Kiyomizudera Temple, let's walk down the charming streets of Higashiyama District, the well-preserved historic districts in Kyoto.
Two most iconic streets in Higashiyama District is Ninenzaka (二年坂) and Sannenzaka (三年坂), stone-paved streets are lined with shops, restaurants and cafes in traditional wooden buildings. I'd recommend you to do some souvenir shops around this area!
If you feel hungry, I'd suggest you to take a lunch break here as numbers of dining options are available!
While visiting Higashiyama area, make sure to stop to take a photo of Yasaka Pagoda (八坂の塔), the well-known landmark in Kyoto.
-Nanzenji Temple & Ginkakuji Temple
In the afternoon, I'd recommend you to visit these two temples which are both located in the northern Higashiyama District.
Nanzenji Temple (南禅寺) is a large temple complex consisting of numbers of magnificent historic buildings and monuments. It's a popular spot for autumn leaves viewing.
If it's cherry blossom season, you should head to Ginkakuji Temple (銀閣寺) via the Philosopher's Path (哲学の道) which is situated between these two temples.
Ginkakuji Temple is a temple with a beautiful halls and Japanese gardens. There is also an amazing hill-top view spot where you can see the entire temple site and the city.
After a long day of sightseeing, you may wanna head back to your hotel for a rest for a couple of hours, or I'd also recommend you to go by the Kamogawa River where numbers of riverside cafes offering a pleasant scenery can be found.
▶ Best Cafes and Restaurants at Kamogawa River
At night, you should indulge yourself with delicious Kyoto cuisine. Here are articles that you may get some ideas for where to dine in Kyoto!
▶ Best Restaurants in Kyoto
▶ Best Michelin Star Restaurants in Kyoto
If you are up for drinking or night-out, I'd recommend you to head to Pontocho Alley, an atmospheric dining street filled with Izakaya bars and restaurants.
Or Gion (祇園) area where you can experience the high-end traditional entertainments presented by Geisha and Maiko girls.
To find more great drinking spots in Kyoto, please check the link below:
▶ Best Places to Drink in Kyoto
Day 2
-Arashiyama area
Your second day in Kyoto will start in Arashiyama District (嵐山) in the outskirt of western Kyoto. It's an amazing area to appreciate Kyoto's great historic monuments with beautiful nature and serene atmosphere.
From Kyoto Station to Arashiyama area, take JR San-in Line to Saga-Arashiyama Station which takes less than 20 mins.
As we have to head back to the central area of Kyoto in the afternoon, here, I have picked only several must-see photo spots and historic monuments for this itinerary.
The first stop is Tenryuji Temple (天龍寺), one of the most important temples in Kyoto, and explore its magnificent landscape garden and inside the temple halls.
After exiting the temple from its north gate, you will reach the famous Bamboo Grove of Arashiyama. Immerse yourself in the serene magical bamboo forest and enjoy taking instagram-worthy photos.
The next stop is Jojakkoji Temple (常寂光寺), a small Buddhist temple sits on the mountainside and surrounded many trees that displays beautiful greenery scenery in summer and turn into warm colour in autumn. At the temple site, you can also enjoy the spectacular overlook view of the surrounding area.
After that, I'd suggest you to walk down towards south to the river, then stop at Togetsukyo Bridge (渡月橋), the iconic landmark in Arashiyama. At the riverbank, you can capture the beautiful view of the wooded mountains, the Katsura River and the wooden bridge.
There are also many restaurants and cafes by the river, so you can stop here for lunch before leaving Arashiyama District.
-Northern Kyoto
In the afternoon, let's explore northern Kyoto and visit a couple of more great temples.
From Arashiyama area, you may need to take a few public transportation to get to northern Kyoto and it may take around 30–40 mins. Therefore, I'd recommend you to take a taxi to save your time and travel smoothly.
The first stop at northern Kyoto is Ninnaji Temple (仁和寺), a spacious temple complex consisting several historic monuments, 5-story pagoda and a picturesque garden.
Walk about 15 mins to northeast, then stop by at Ryoanji Temple (龍安寺) which is home to Japan's finest Zen rock garden. You can sit and watch this mysteriously formed garden peacefully.
After that, continue walking to northeast for about 20 mins then you'll reach the last stop of the day, Kinkakuji Temple (金閣寺). The temple is also known as the Golden Pavilion and one of the most popular tourist attractions in Japan. The view of the temple hall covered in shiny gold is simply breathtaking.
In case you have missed out some of the most magnificent temples and shrines in Kyoto, visit them before getting dark! Check out the link below introducing must-visit temples and shrines for first time visitors.
▶ Must-Visit Temples and Shrines in Kyoto for First Timers
Moreover, there are several tourist sites and attractions that are recommended in particular seasons such as cherry blossoms and autumn leaves viewing. Here are some more recommended articles for you to check out!
▶ Best Cherry Blossom Viewing Spots in Kyoto
▶ Best Autumn Leaves Viewing Spots in Kyoto
If you are going out for dinner after sightseeing, you can also check these articles!
▶ Best Wagyu Restaurants in Kyoto
▶ Best Ramen Restaurants in Kyoto
▶ Best Places to Drink in Kyoto
Do you want to check more itineraries in Kyoto? Here are some more suggested itineraries in Kyoto according to your travel duration!
▶ 3 Days Itinerary in Kyoto
▶ 5 Days Itinerary in Kyoto
▶ One Week Itinerary in Kyoto, Osaka and Nara
Thanks for reading! I hope you have enjoyed reading my suggested 2-day itinerary in Kyoto. For more travel information, I would like to recommend you to check out these articles, too!
▽Related Articles▽
▼Editor's Picks▼
---