How to Get to Shinjuku from Nartita Airport
Train, taxi or bus: Which is the best way to go to Shinjuku from Narita Airport?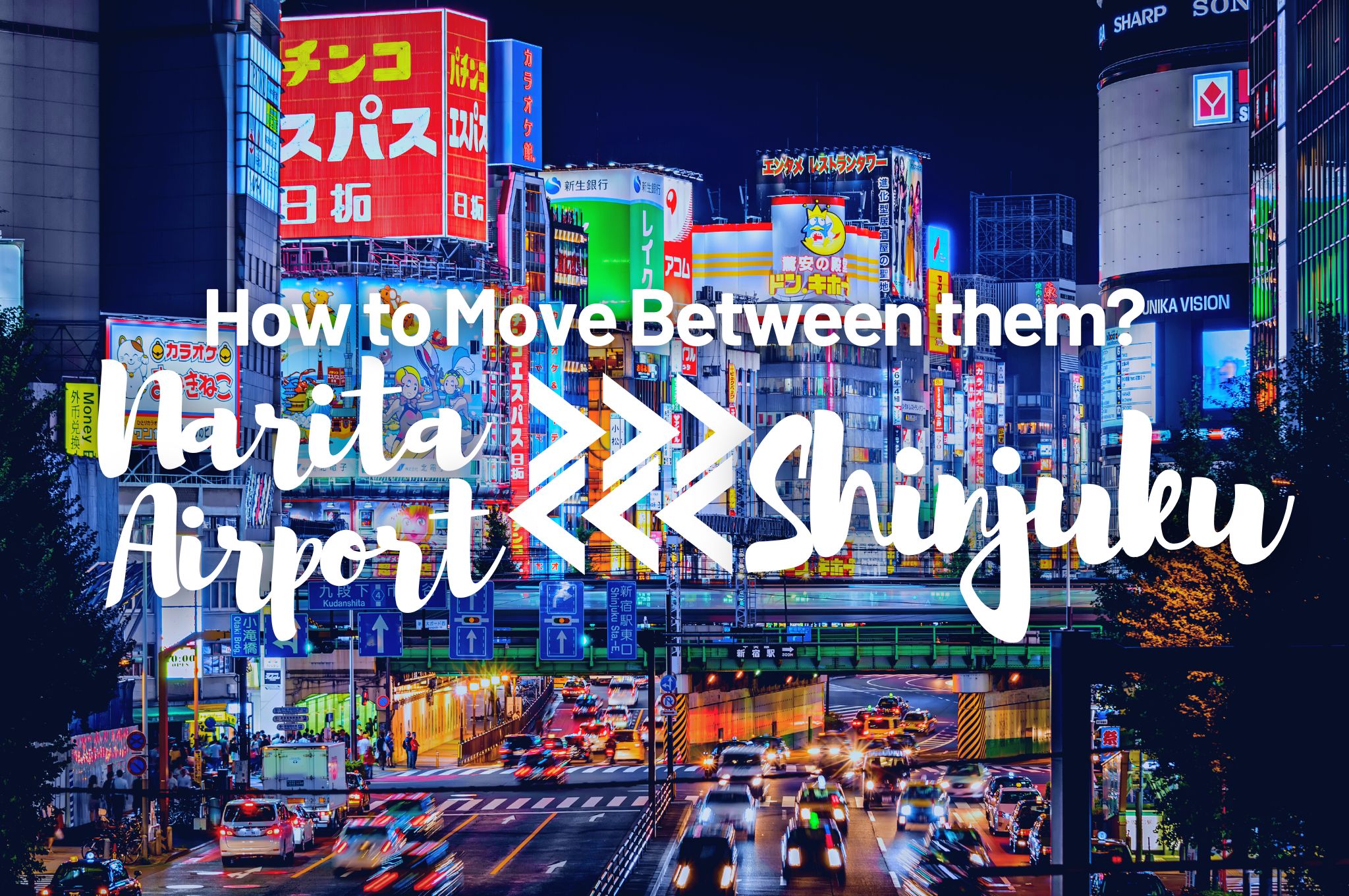 Shinjuku the largest business and entertainment area in Tokyo. Located in the heart of the city, it's the most selected neighborhood for tourists to stay in, as it's very well connected to all places. Shinjuku Station is said to be the busiest station in the world. But that also means it's the most chaotic place in Tokyo, with plenty of public transportation options including several train and subway companies and lines, different exits, etc. To be honest, even locals sometimes get lost in Shinjuku station (I myself try to avoid it as much as possible).
Are you planning to stay in Shinjuku on your trip to Tokyo and your flight arrives/depart from Narita Airport? From express trains or direct buses to cheaper options, including private transportation, they are several ways to get to Shinjuku from Narita Airport, and in this article I would like to introduce you to the best options!
If your hotel or accommodation is not in Shinjuku, but in another part of the city, you can check out this article with general information about how to get from Narita Airport to different parts of Tokyo city!
Getting from Narita to Shinjuku quick comparison
Before going into the details of each service, let's have a quick comparison to give you an idea. Basically there are three ways to get from Narita Airport: train, taxi and bus. Within these categories, there are different options and prices.
The following chart shows three of the most important points that people usually look for when deciding that are how much it cost, how many time it takes, and how many people (for example sometimes sharing a taxi can be better than going on express train, etc).
Approx fare: This is the lowest cost possible for this service. In some services prices might change depending on where your destination is or the time of day you're using this service.
Time: This is the lowest time possible for this service. Time might change in some services depending on where your destination is or the conditions (heavy rain, traffic jam, etc).
| | | | | | |
| --- | --- | --- | --- | --- | --- |
| | Skyliner | N'EX | Airport Taxi | Regular Taxi | Limousine Bus |
| Approx fare | 2,300 yen | 3,320 yen | from 22,700 yen | from 27,000 yen | 3,100 yen |
| Passengers | 1 pax | 1 pax | Up to 6 | Up to 4 | 1 pax |
| Time | 1 hour | 85 minutes | 1 hour | 1 hour | 90 minutes |
| Booking | Book here | Book here | Book here | Grab a taxi there | Book here |
---
Best Value for Money: Limousine Bus & Narita Express
If you value convenience over price, the best way to get from Narita Airport to Shinjuku is either by Narita Express or Airport Limousine bus.
The Narita Express or N'EX is one of the most convenient way to travel between Narita Airport and Shinjuku. The ticket price is 3,320 yen and takes 85 minutes approx to Shinjuku Station from Narita Airport, so it's neither the fastest nor the cheapest option. But it's a single direct train, so saves you changing trains. Plus, each carriage have a specific space to place big suitcases. These two points make it one of the most convenient options. There's free Wifi available, so even if it takes a little more time, you can just relax.
In addition, for those who have purchased the Japan Rail Pass the Narita Express train is included, so they can save some money. And for those who doesn't have the JR Pass or they aren't planning to use it on the first day, if you buy a round-trip ticket there is a 33% promotion so it costs 4,070 yen for adults or 2,030 yen for children.
Click HERE to book Narita Express Tickets online
The other convenient option is the Airport Limousine Bus, one of the most popular choice among many tourists. Time wise it takes almost the same than the N'EX, around 90 minutes and is slightly more economical, 3,100 yen for adults or 1,550 yen for children but it takes you from Narita airport to the door of your hotel.
On the plus side, the Airport Bus drops you off directly at the hotel's door, saving you from having to carry the luggage around the city (Shinjuku Station is REALLY big, with several exits etc). The downside is that although it stops at most major hotels in Tokyo, it doesn't stop at all, so depending on where you are staying you can use it or not. Also, you may be delayed if there's traffic jam.
Buy NOW Airport Limousine Discounted Tickets online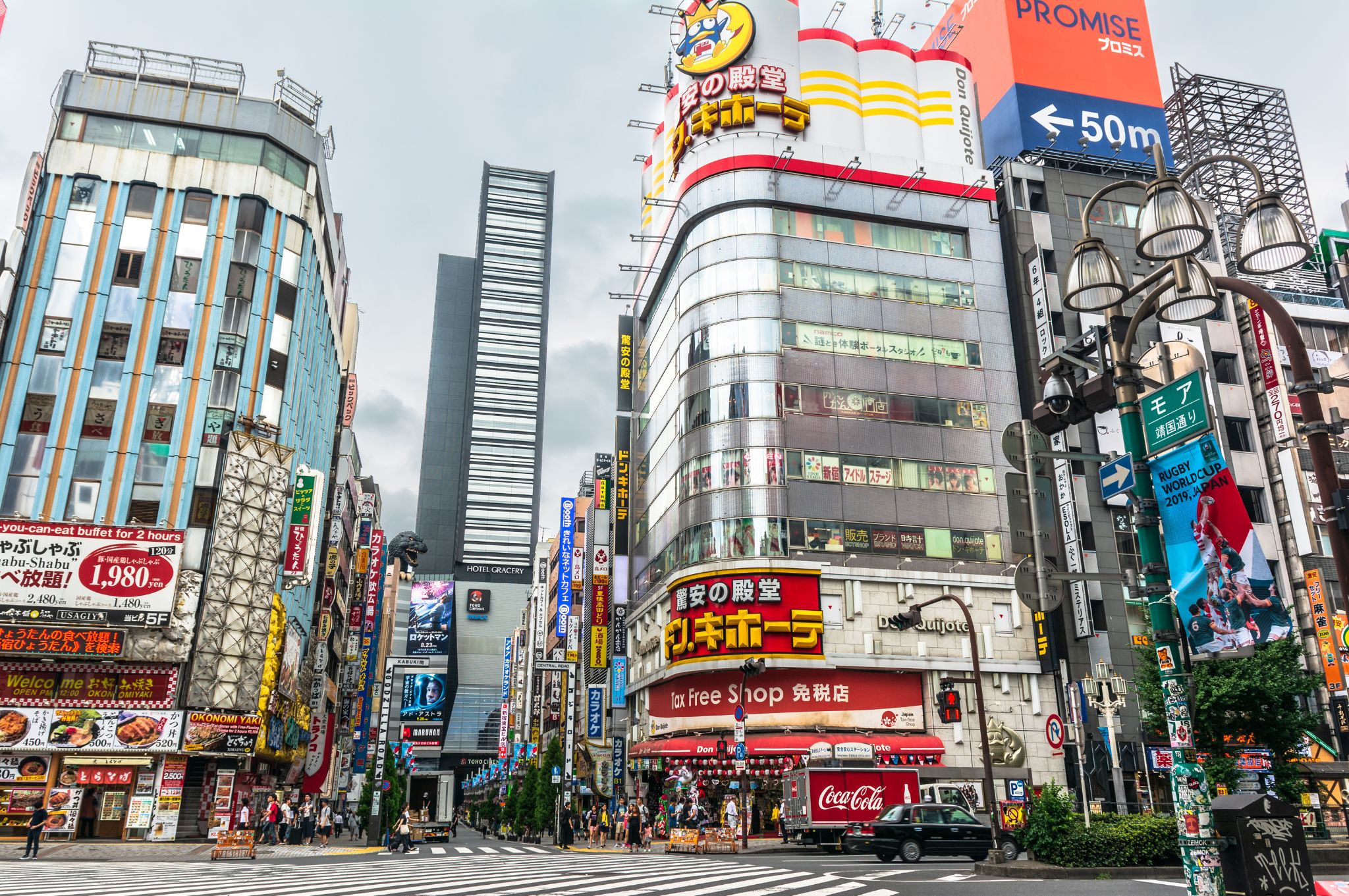 Time Saving: Keisei Skyliner
The express train of the Keisei railway company, called Skyliner is the fastest way to get from Narita Airport to Tokyo, reaching Nippori Station in only 36 minutes and Ueno Station in 41 minutes. The price is very reasonable, 2,570 yen for adults and 1,150 yen for children from 6 to 11 years old. As the Narita Express, the Skyliner have a space for the luggage and free Wifi available.
However, it only stops at Nippori or Ueno Sation, so you have to change trains to the JR Yamanote line from Nippori to Shinjuku Station. The Skyliner it's faster and cheaper than the Narita Express, so if you don't mind having to change trains with your luggage it's the best price/time option.
If you prefer save some money but yet not take too much time, then the Skyliner it would be a good option. Otherwise, I recommend you take the N'EX.
Buy NOW the Skyliner Discount Ticket online
Great Comfort: Private Transfer
When it comes to getting between the airport and the city, taxis or private transfers are the most comfortable and easy option, specially if you are in a country that you don't know much about and you don't speak the local language. It's especially a good option when you are traveling with more people, or if your flight it's really early in the morning or arrives late in the night.
But if you are planning to grab a taxi when you arrive to the airport, be careful: in Japan taxi services are more expensive than in most part of the countries. Narita airport is over one hour away from the center of Tokyo and a regular taxi can cost around 25,000-30,000 yen, but it can increase if there is a traffic jam or anything that can make the journey take more time than the usual. Additionally, you need to add the tolls fee (which is quite high).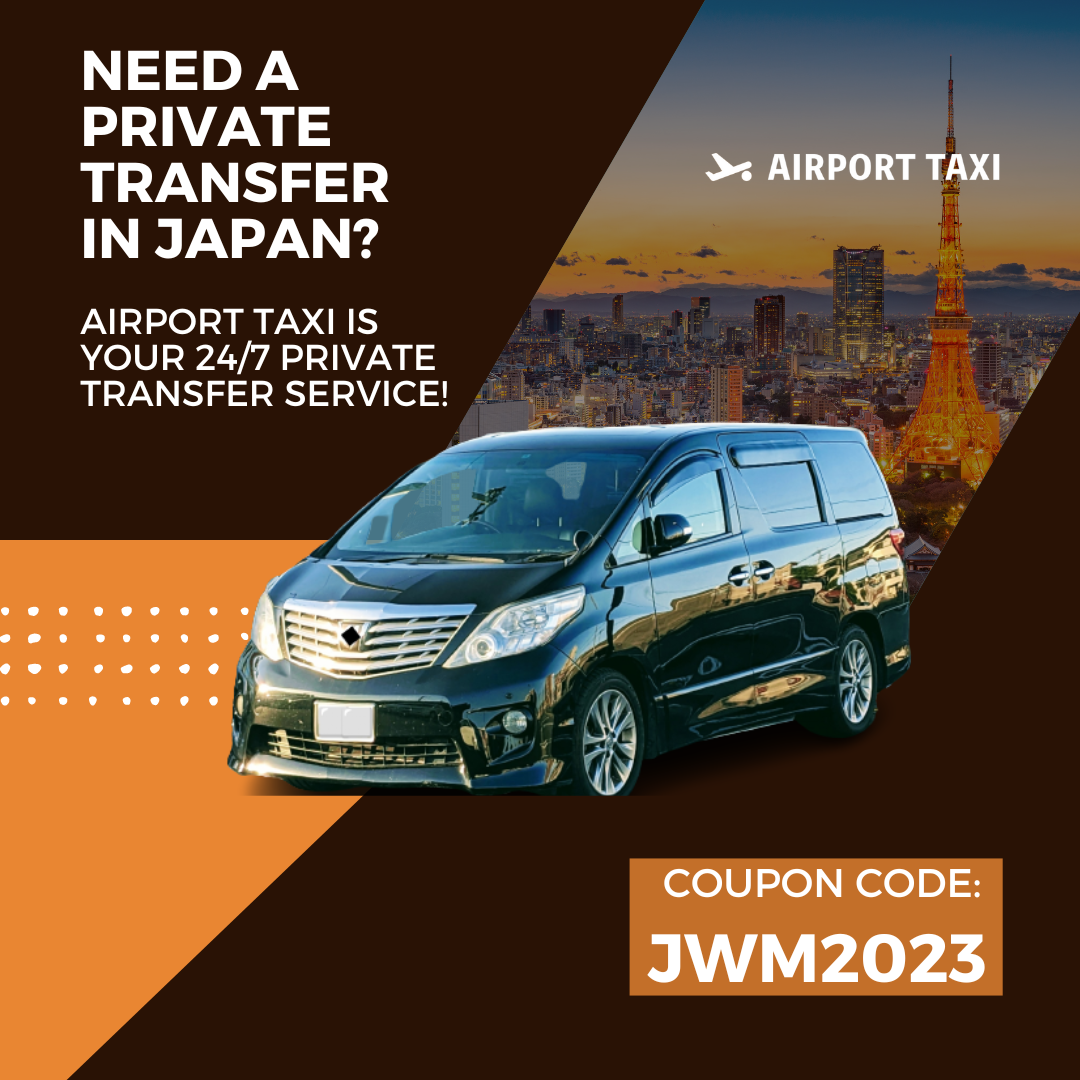 Searching for a good deal?? Airport Taxi, our affiliate provider, is one of the best services for private transfer to and from Narita and Haneda Airport. They offer a very competitive fixed price and comfortable 7-seater vehicles (Toyota Alphard and Vellfire), with more capacity than a regular taxi. Theirs customer service center is open every day from 8:00 to 23:00 and they can attend you in English, Japanese and Chinese.
Their rate from Narita Airport to any part in Tokyo is 22,7000 yen, so if you are a group of 5 people it's around 4,500 per pax, just a little bit more than the train or bus option, but saving you a lot of worries. And now Japan Web Magazine readers have an 1,000 JPY discount coupon to all the orders with Airport Taxi!
Coupon Code: JWM2023
Get the best deal right now here!
▶Check the official website: https://www.airport-taxi.tokyo/en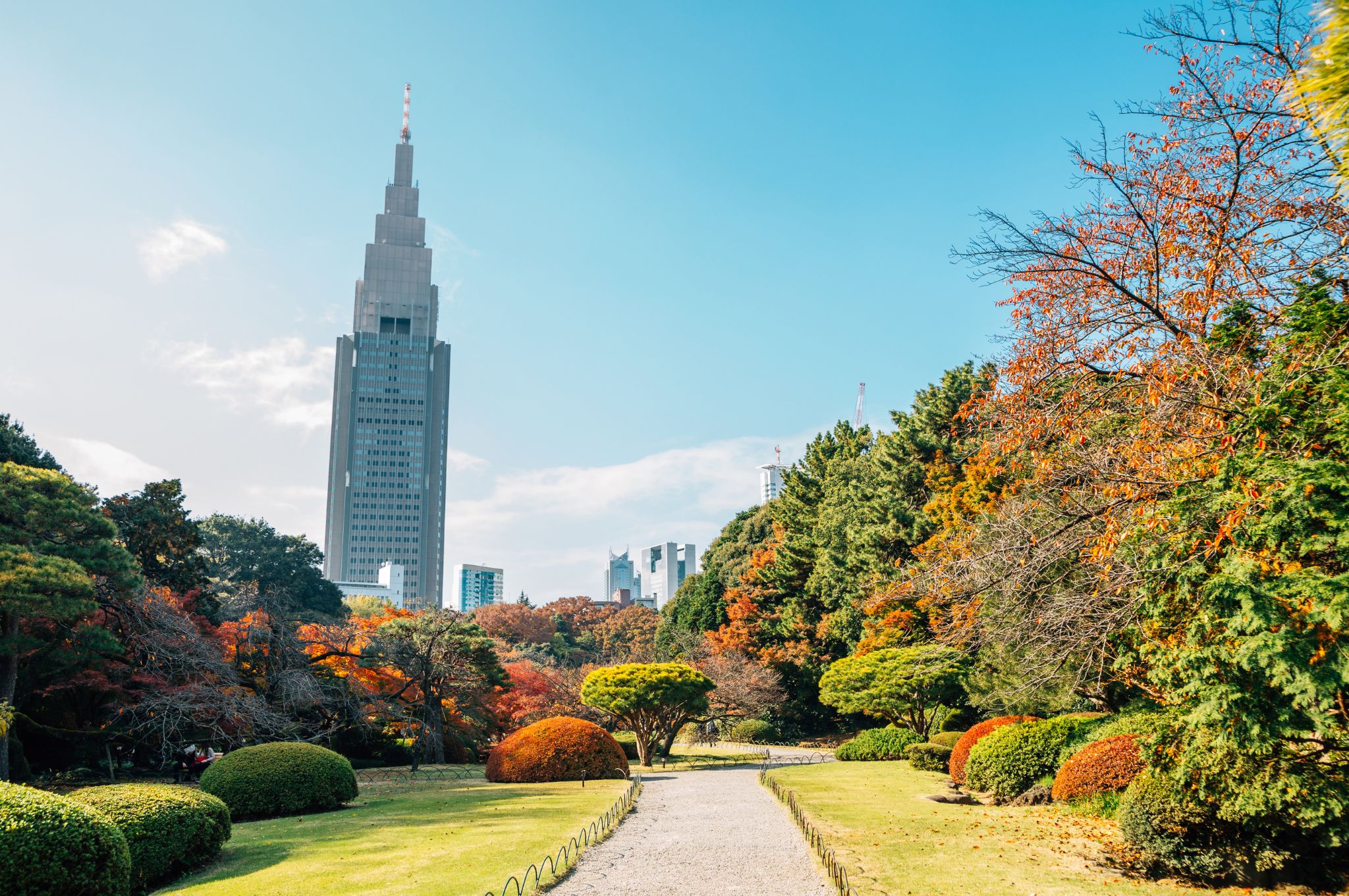 Budget Friendly: Keisei Main Line
If your top priority is to save money, then you can use the regular train from the Keisei line, instead of the Skyliner. From Narita Airport to Shinjuku Station you need to use the Keisei line to the Funabashi Station and then transfer to the JR Chuo Sobu Line. You can research Shinjuku Station for 1,330 yen, but it would take 1 hour and 40 minutes.
Also please note that the regular train have many stops along the way and no special space for luggage, so you will have to send them from the airport or carry them with you at all times watching that they don't move and don't disturb other passengers. Local people use also this line, so in peak hours may be crowded.
Do you want to get around Tokyo in the cheapest way possible? Check out this article with all the information about the Tokyo Subway Unlimited Pass!
Overall
Considering all these options, which is the best way to move between Narita Airport and Shinjuku? Here is a small comparative chart with the pros and cons of all the options to help you to decide.
Express Train
Private Transfer
Bus
Local Train
Budget Friendly

★★☆

☆

☆

☆

★★☆

★★★

Time

★★★

★★☆

★★☆

★

☆

☆

Comfortable

★★★

★★★

★★☆

★

☆

☆

Convenient

★★★

★★★

★★★

★

☆

☆

Private Groups

☆

☆

☆

★★★

☆

☆

☆

☆

☆

☆
Usually the Skyliner it's my favorite option, but in the case of Shinjuku probably the N'EX or the Limousine bus are the best ways if you don't mind arriving a little bit later. As I said, Shinjuku Station it's really difficult, especially if it's your first time, so I would recommend more the Limousine bus rather than the train. Or if you aren't in a budget and prefer a private transportation or for large groups, then Airport Taxi is the one.
In general, the best way to get around Japan is by using its train and subway lines. Here is a list of the best rail passes available for tourists in Japan and where to buy them!
---
I hope you found it useful! If you want to know the best places to visit and things to do in Shinjuku or other trips about transportation in Tokyo, these articles may interest you too!
▽Related Articles ▽
▼Editor's Picks ▼
---