5 Best Touching Drama Anime Series and Movies of All Time
5 Recommended Moving Drama Anime Series and Anime Movies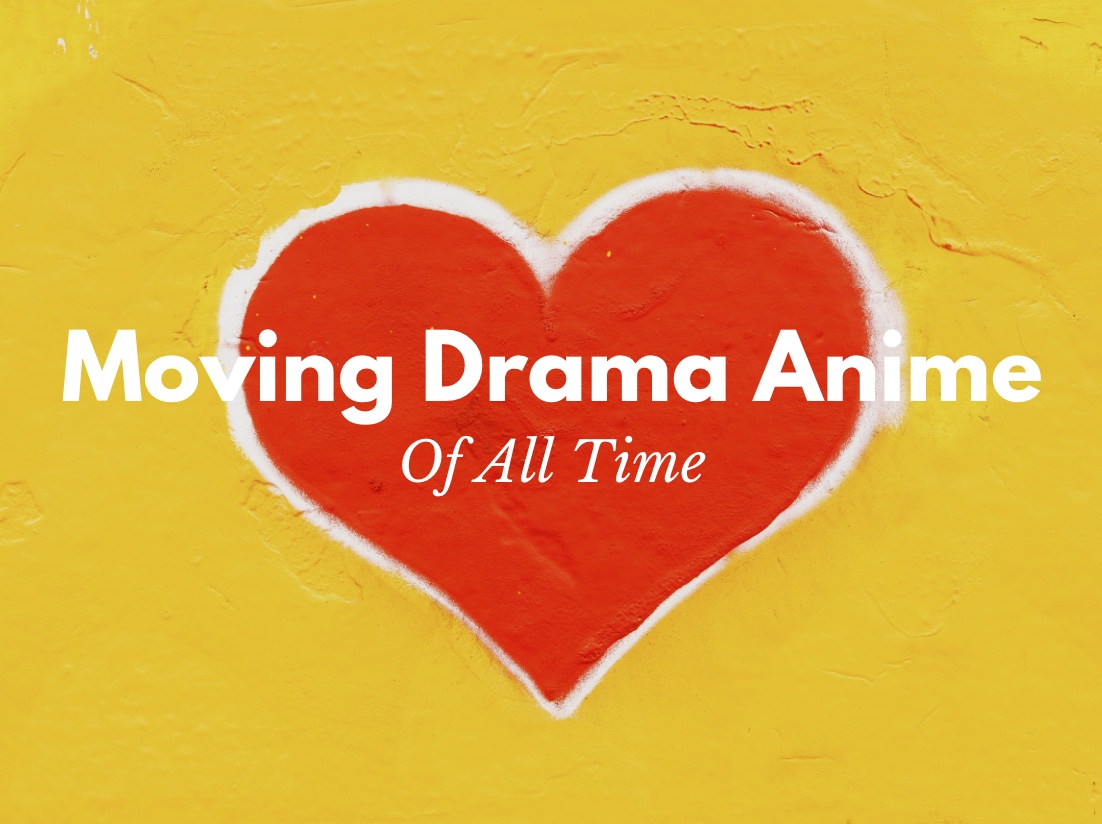 Don't you doubt you cry watching an anime since it more casual than classic movie genres and there are cultural differences between you and its homeland Japan? Anime have been more and more popular all over the world recently partly because international people feel empathy for stories and characters of the modern Japanese contents.
There are lots of drama anime titles that move impress anime fans and even beginners, and here are 5 best touching drama anime series and anime movies of all time. Of course, you can watch these moving anime with English subtitles or dubs.
1. Anohana: The Flower We Saw That Day
Anohana: The Flower We Saw That Day (あの日見た花の名前を僕達はまだ知らない。) is known as one of the most touching anime series in modern days, consisting of 11 episodes aired in 2011 and a following anime movie. The drama anime is recommended to both anime fans and beginners.
Anohana centers on a truant high school boy named Jinta Yadomi, whose nickname is Jintan. One day in summer, his childhood friend Meiko Homma (Menma) shows up before Jintan as a ghost though she died in an accident years before. In addition to the two characters, three other their old friends are focused on, and their current situation and past stories are depicted in the anime.
2. Clannad
Clannad (クラナド) is one of the most famous and popular drama anime series of all time especially in Japan. The heartwarming series was made by Kyoto Animation and was aired with the first 22 episodes in 2007-2008 and the second half in 2008-2009.
Clannad depicts the daily life of the main character Tomoya and the heroine Nagisa, who meet at the same high school. They confront various problems of their friends and families, and the touching story reaches the climax in the second season of the anime series.
3. Your Name
Your Name (君の名は。), a recent smash-hit released in 2016, is categorized as drama and fantasy. It is the 6th anime movie of the famous anime director Makoto Shinkai.
Your Name revolves around two main characters: a high schooler Taki Tachibana and a heroine of the same age Mitsuha Miyamizu. One day, they recognize that their bodies suddenly switch while Taki lives in Tokyo and Mitsuha lives in the far countryside. After some shocking incidents for them, the heartwarming story comes to the end.
4. A Silent Voice
A Silent Voice (聲の形) has received plenty of attention from not only domestic fans but also international people since the drama anime movie was released in 2016 and distributed on Netflix and many other video streaming platforms worldwide later. It was adapted from the 7-volume manga published in 2013-2014 by Kyoto Animation.
A Silent Voice follows two main characters: a deaf girl Shoko Nishimiya and a high schooler Shoya Ishida who bullied her in elementary school. The serious heartfelt story includes sensitive social themes such as teens bullying, suicide, disabilities, parental divorce and so on depicting the characters pasts and present situations.
5. Violet Evergarden
Violet Evergarden (ヴァイオレット・エヴァーガーデン) is one of the most recommended drama anime series and movies. It was adapted from a light novel written by Kana Akatsuki in 2015-2020. There are 13 episodes in the anime series's first season in 2018 and two anime movies in 2019 and 2020.
The coming-of-age drama anime focuses on the main character named Violet Evergarden who experiences a large-scale war and loses his arms. She has less feelings but develops her personality through her work as an Auto Memory Doll, which is a kind of ghostwriter for those who cannot write). The stories of her clients and herself make the anime quite touching.
▽Check the best anime recommendations by genre below!▽
▽Related Articles▽
---