5 Best Sports Anime of All Time
5 Best Sports Anime Series of All Time including the Legendary Classic and the Trendy Title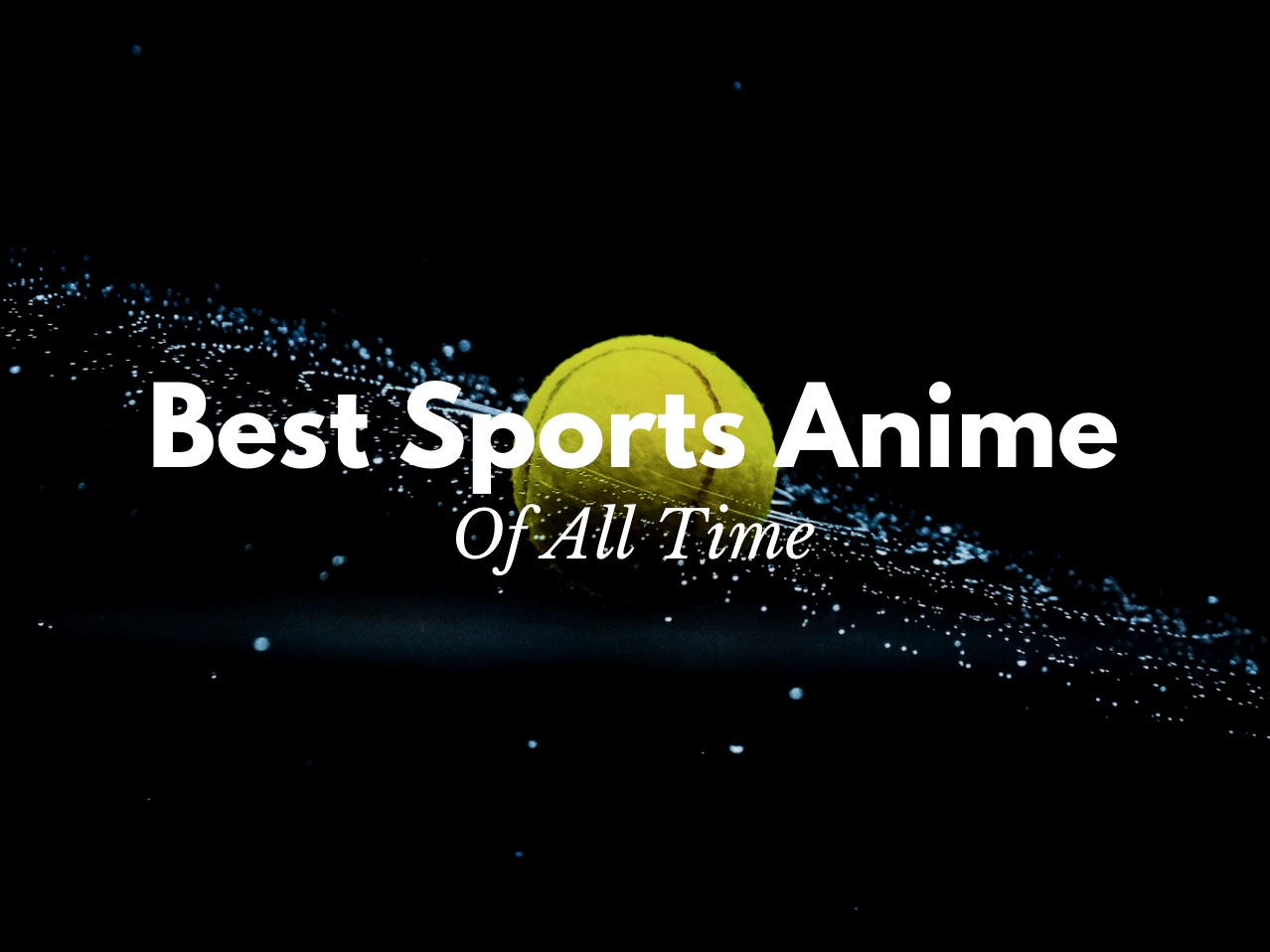 Sports anime has been familiar to many anime fans not only in Japan but all over the world for a long time. Lots of popular anime have been made with the themes of worldly popular various sports including baseball, soccer, basketball, boxing, swimming and so on, which is why sports anime is popular among a wide age group.
International people also enjoy watching the sports anime focusing on those popular and familiar sports while many well-known anime depend on Japanese unique cultures and customs. Them, which sports anime should you watch at first? Here are 5 best sports anime series of all time including the classic anime franchise and the recent series.
*Please note that this article contains affiliate links.
1. Haikyu!!
Haikyu!! (ハイキュー!!) is one of the most popular recent sports manga and anime series with the theme of volleyball. The manga series was completed with the 45th volume in 2020, which has been made into the anime adaption since 2014. There are four seasons aired until 2020 in the anime series.
Haikyu!! centers on a little volleyball player Shoyo Hinata, who joins the Karasuno High School's volleyball club and finds his rival Tobio Kageyama also joins the same club. They set a goal to win the national high school volleyball championship.
▶︎Watch Haikyu!! on Amazon Prime Video now!
2. Slam Dunk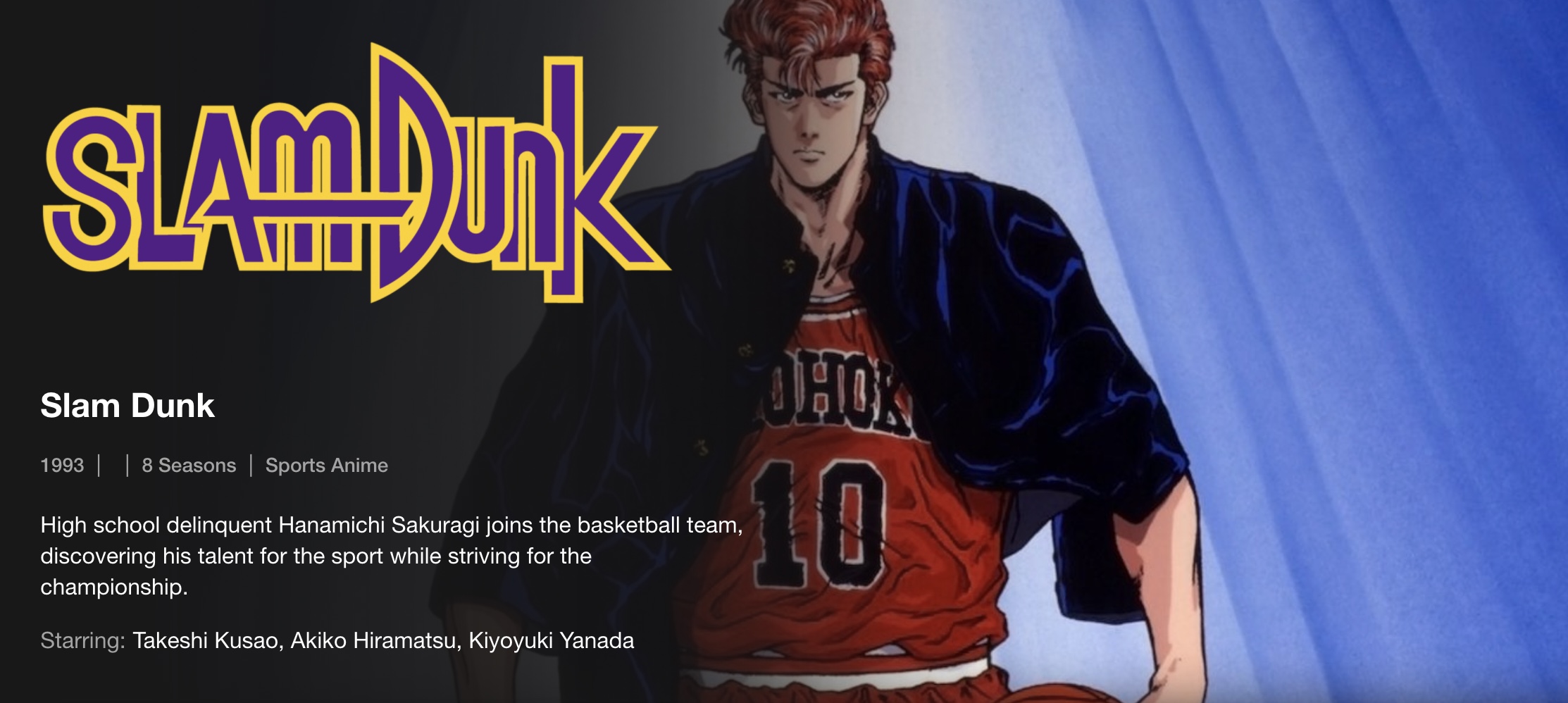 Slam Dunk is one of the best sports manga and anime series of all time focusing on basketball. The classic manga series was serialized on Weekly Shonen Jump between 1990 and 1996 and its anime adaption was aired with 101 episodes from 1993 to 1996.
Slam Dunk follows a delinquent high school boy Hanamichi Sakuragi. He is introduced to the basketball club in Shohoku High School by the heroine Haruko Akagi and decides to join it. Though he has no experience of playing basketball, but the sports anime depicts his growing-up story with his great athletic ability. In addtion to the protagonist, there are a variety of cool characters as his teammates and his rivals in other high schools.
▶︎Watch Slam Dunk on Amazon Prime Video now!
3. Prince Of Tennis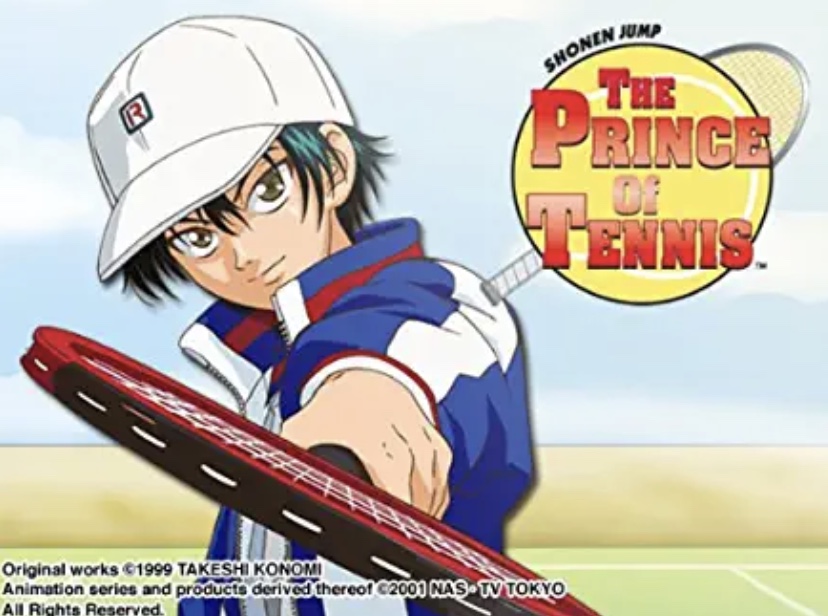 Prince Of Tennis (テニスの王子様) is a famous sports manga and anime series especially in Japan. 42 volumes of the manga series were published between 1999 and 2008 and 178 episodes of the anime series were broadcasted from 2001 to 2005. The following series The New Prince of Tennis has been serialized since 2009.
Prince Of Tennis tells the story of a middle school tennis club in Seishun Academy. The tennis anime focuses on a talented new student Ryoma Echizen, who has won some junior championships in the United States. He grows up in the competitive tennis club meeting various strong players all over the country.
▶︎Watch Prince Of Tennis on Amazon Prime Video now!
4. Eyeshield 21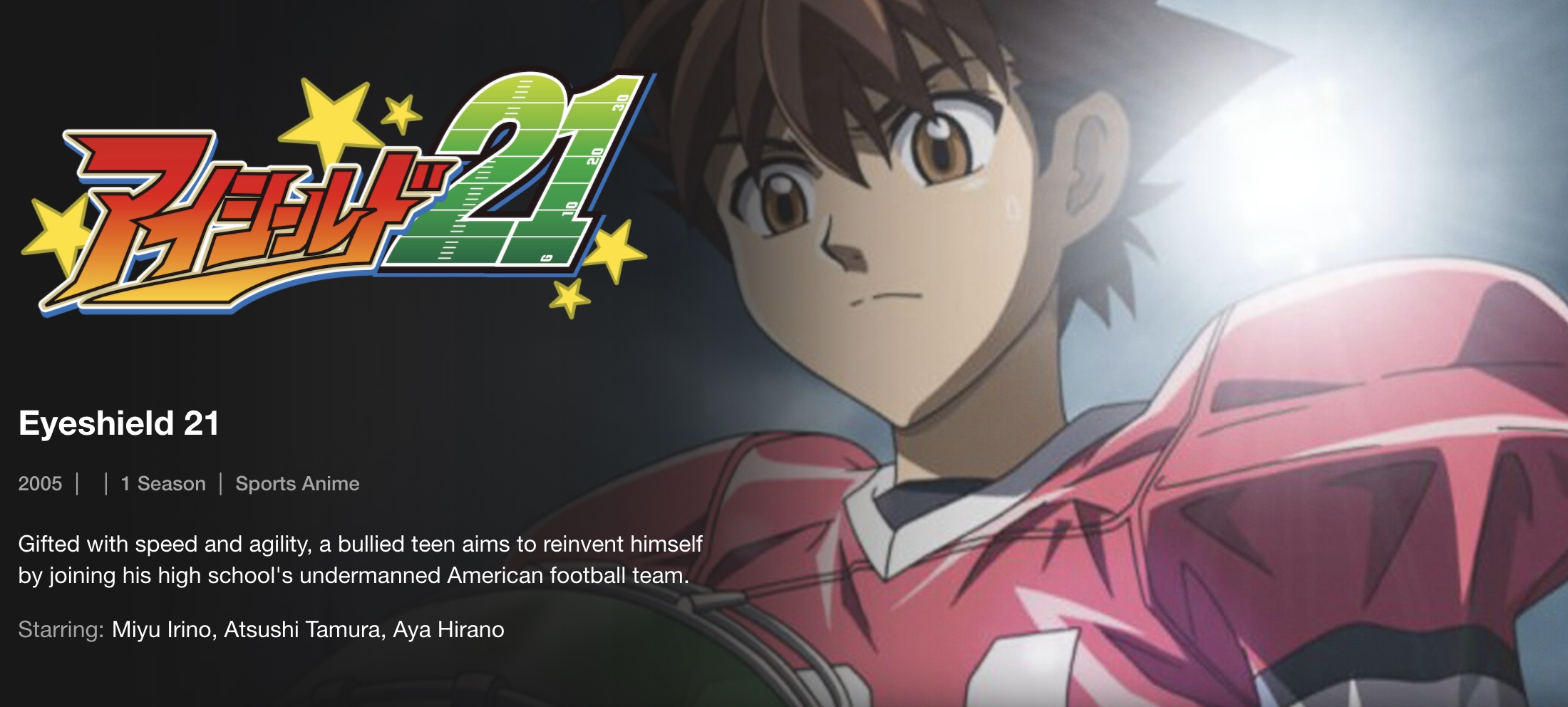 Eyeshield 21 (アイシールド21) is a popular classic sports anime, which consists of 145 episodes aired in 2005-2008. The American football anime is based on the original manga series that is written by Riichiro Inagaki, who is famous for Dr. Stone, and illustrated by Yusuke Murata, who is famous for One-Punch Man.
Eyeshield 21 is the first famous Japanese anime that focuses on American football, set in an unknown Japanese high school Deimon Private Senior High School. A timid boy Sena Kobayakawa, who becomes to known as Eyeshield 21 later, is forced to join the high school American football club Deimon Devil Bats by its captain Yoichi Hiruma. They aim to go to the Christmas Bowl, the national high school American football championship.
▶︎Watch Eyeshield 21 on Netflix now!
5. Captain Tsubasa
Captain Tsubasa (キャプテン翼) is one of the most famous and popular sports anime all over the world, which is based on the manga series written by Yoichi Takahashi. The first anime series started in 1983 and finished with the 128th episode in 1986. The football manga has inspired lots of renowned top football players in the world.
Captain Tsubasa follows a 11-year-old boy named Tsubasa Ozora, who immerses himself deep in playing soccer and has a dream to win the FIFA World Cup as a member of the Japanese national team. The story proceeds when he meets a talented goalkeeper Genzo Wakabayashi. The whole anime series presents the growing-up story of Captain Tsubasa and his friends.
▶︎Watch Captain Tsubasa on Netflix now!
---
For more info about anime and other Japanese pop cultures, check these articles below, too!
▽Related Articles▽
▼Editor's Picks▼
---