5 Best Anime like Chihayafuru
5 Most Recommended Anime Series if You Like Chihayafuru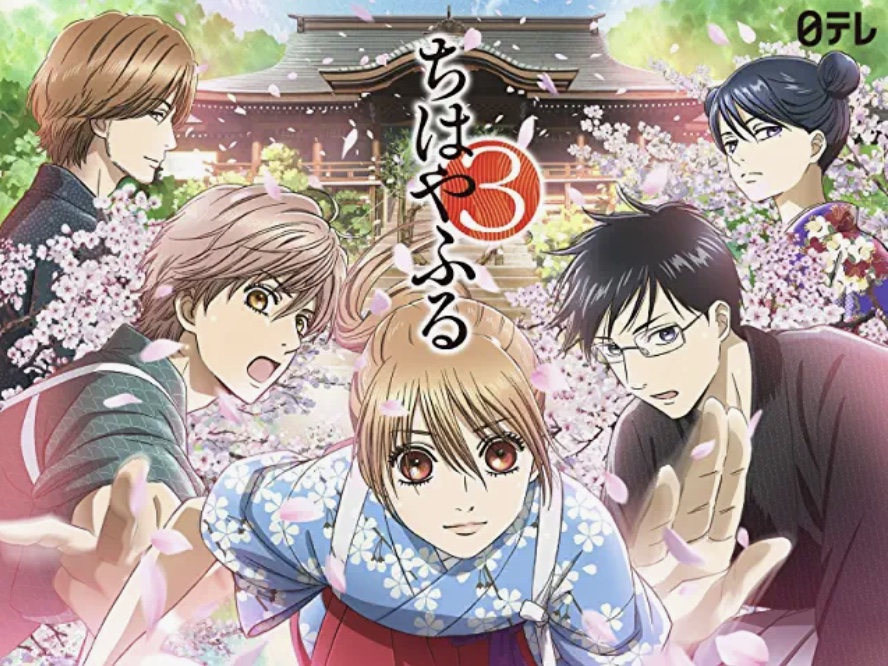 Chihayafuru is one of the most popular coming-of-age anime series, mixed with romance and sports. It has been loved by both Japanese and foreign anime fans since the first season of the anime series was released in 2011. The passionate and moving story features growing-up young Karuta players including the female protagonist Chihaya and her friends Taichi and Arata.
It is based on the same-titled manga series serialized on a Japanese manga magazine Be Love from 2007. It was first adapted into the anime series in 2011-2012, followed by the second and third season in 2013 and 2019-2020.
If you have already watched all seasons of Chihayafuru and wonder if there are some good anime similar to it, this recommendation list will help you. Here is the list of 5 best anime like Chihayafuru.
▷Check Chihayafuru on Amazon now!
1. Haikyu!!
Haikyu!! (ハイキュー!!), one of the representative recent sports themed anime, is highly recommended for the fans of Chihayafuru to watch next. Its original manga series had been serialized on Weekly Shonen Jump for over 10 years, which has been adapted into four seasons of the anime series since 2014.
Haikyu!! is set in the Karasuno High School's volleyball club, focusing on the club members and other players of other competing schools. A little volleyball player Shoyo Hinata and his rival Tobio Kageyama dedicate their high school days to training hard to win the national high school volleyball championship.
▷Check Haikyu!! on Amazon now!
2. Bakuman
A nice coming-of-age anime series Bakuman (バクマン。) will take priority if you like the passionate young characters always striving to achieve a certain thing like Ayase in Chihayafuru. Bakuman is known as the anime series adapted from the fine manga series written by Tsugumi Ohba and illustrated by Takeshi Obata, who are also famous for Death Note. It aired with 75 episodes from 2010 to 2013.
Bakuman follows young manga artists who aims at their debut on major manga magazines. Moritaka Mashiro is a junior high schooler who spend his life in a boring way. One day, his classmate Akito Takagi asks him to make quality manga together counting on Moritaka's high drawing skill and Akito's high intelligence.
3. Fruits Basket
For the fans of Chihayafuru who specifically like its romance element, there are many romantic recommendations to watch next. Fruits Basket (フルーツバスケット) is a well-known romance manga and anime series worldwide. There are two options to watch the anime series in 2001 and 2019, and it is recommended to watch the newer one consisting of three seasons airing from 2019 to 2021.
Fruits Basket centers on a high school girl named Toru Honda, who ends up losing her family and living with the Soma family. Her relationships with a variety of characters in the Soma family, who can be transformed into animals that are related to Japanese (Chinese) Zodiac called Junishi.
▷Check Fruits Basket on Amazon now!
4. Sound! Euphonium
Sound! Euphonium (響け! ユーフォニアム) is similar to Chihayafuru, having the theme of high school concert band instead of the traditional Japanese Karuta card game. The first season of the anime series was made by Kyoto Animation in 2015, followed by the second season in 2016. Enjoying some anime movies like Liz and the Blue Bird in 2018 and Sound! Euphonium: The Movie in 2019, many fans look forward to the third season coming in 2024.
Set in Kitauji High School, located in Kyoto, Sound! Euphonium tells the story of the school concert band club members. A newcomer Kumiko Oumae, who has played the euphonium for seven years, decides to join the concert band club. Kumiko and other club members develop their playing skills, confronting lots of problems teenagers tend to hold.
▷Check Sound! Euphonium on Amazon now!
https://amzn.to/3O7xwkB
5. Your Lie in April
This anime recommendation list for Chihayafuru fans should introduce the popular modern romance anime series Your Lie in April (四月は君の嘘), too. It was broadcasted with 22 episodes in 2014 and 2015, adapted from the top-rated manga series serialized between 2011 and 2015. 2016's live-action film adaptation has made it more popular among especially Japanese.
Your Lie in April presents a romantic-drama story, set in Tokyo. A 14-year-old middle schooler Kosei Arima meets his schoolmate heroine Kaori Miyazono. Kosei, who was known as a talented pianist before, loses a sense of hearing piano after his mother dies. One day, Kaori, an enthusiastic violinist, shows up in front of him, and his life is changing.
▷Check Your Lie in April on Amazon now!
For more information about anime and other Japanese pop cultures, check these articles below, too!
▽Related Articles▽
▼Editor's Picks▼
---