15 Best Anime Series for Advanced Anime Watchers
15 Greatest Anime Series for Die-Hard Fans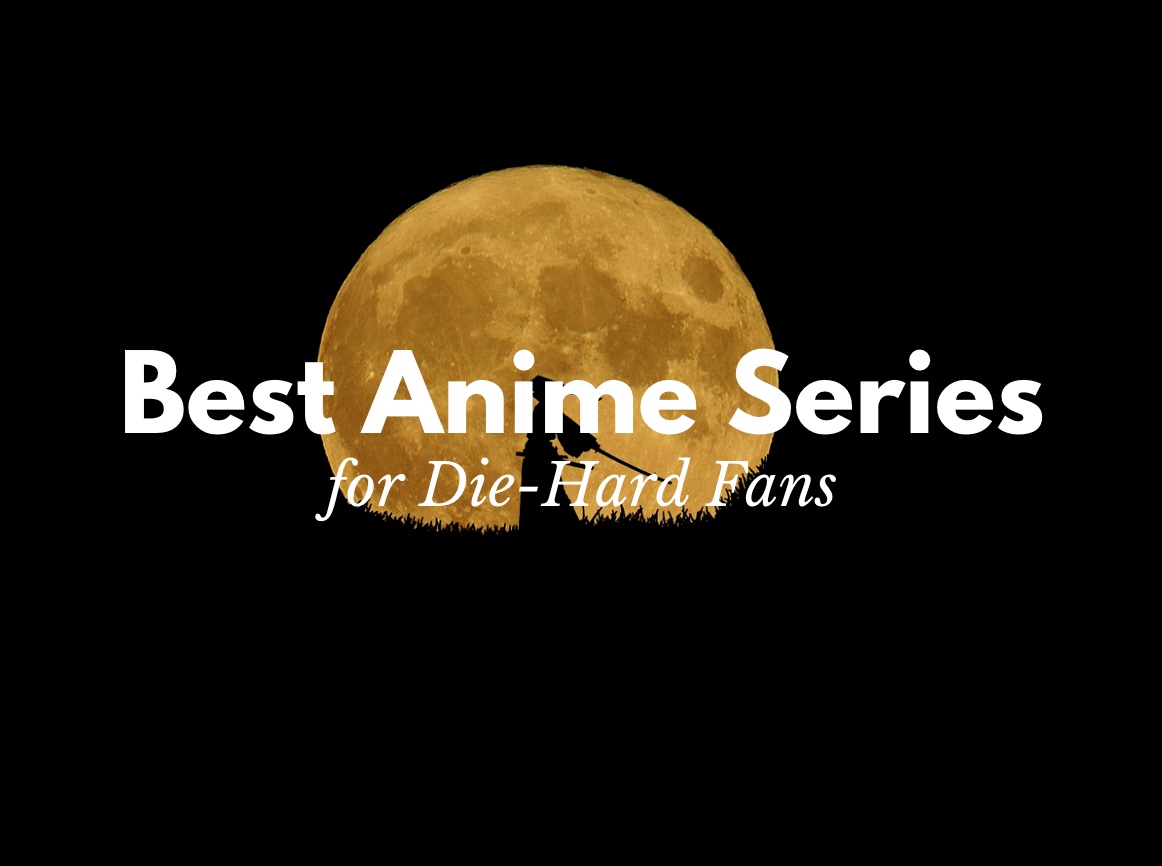 For those who have got into Japanese anime for a long time or those who have watched a large number of anime series lately, they may be running short of potential titles in their watch list. The experienced anime lovers should have completed many famous and popular anime one after another.
Here is a list of 15 best anime series for advanced anime fans who are unsatisfied with predictable choices. These advanced anime recommendations mainly consist of the anime series that are popular especially among Japanese and the less-known titles that are highly rated by some rabid anime fans, will also help beginners and mid-level watchers to make the leap to the next step.
I picked out 30 Best Anime Series of All Time before, so you want to complete them at least before moving on.
If the best collection list is just not good enough for you, let's check out these best advanced anime series for die-hard fans!
15. Sound! Euphonium
Sound! Euphonium (響け! ユーフォニアム) is a famous anime series made by Kyoto Animation, airing from 2015. Its original manga series has been written by Ayano Takeda since 2013, which was made into the anime adaptation consisting of three seasons in 2015, 2016 and 2024. New anime movies were also released in 2018 and 2019: Liz and the Blue Bird and Sound! Euphonium: The Movie – Our Promise: A Brand New Day. Set in Uji, Kyoto, Sound! Euphonium centers on a high school girl Kumiko Oumae, who has been playing the euphonium for seven years. The drama anime series vividly depicts friendship, love, and family problems among high school students.
14. Odd Taxi
Odd Taxi (オッドタクシー) is a modern anime series that aired in 2021 and became a hot topic of conversation among anime lovers while it may be less known to casual global fans. It was co-produced by OLM and P.I.C.S.. There are 13 episodes in the mystery anime series, which was followed by the anime movie Odd Taxi: In the Woods in 2022. It tells a suspenseful story of the main character, a cab driver named Odokawa. All the characters take the form of anthropomorphic animals.
13. Higurashi: When They Cry
Higurashi: When They Cry (ひぐらしのなく頃に) is a recommended mystery and psychological horror anime series to those who want to experience fear in anime. Based on a visual novel first released in 2002, the first anime series that consists of 50 episodes and some OVAs was made between 2006 and 2013. The second series Higurashi: When They Cry – Gou aired with 24 episodes in 2020-2021, followed by its second season Higurashi: When They Cry – Sotsu with 15 episodes in 2021. Set in a small village, this suspenseful story follows Keiichi Maebara, a boy who has moved from the city, his classmates, and other villagers through a series of mysterious deaths and disappearances.
12. Uncle from Another World
There are more Isekai anime series in the recent past, and some people may get tired of setting up similar stories in those anime. Categorized as Isekai and comedy, Uncle from Another World (異世界おじさん) has been loved by part of anime freaks for its outlandishly bizarre setting since it aired with 12 episodes in 2022. It focuses on a 34-year-old man, who wakes up from a 17-year coma. His nephew, Takafumi, hears that his uncle had experienced life in another world during his coma.
11. Deca-Dence
Deca-Dence (デカダンス) is a finest sci-fi action anime series airing in 2020. 12 episodes were made by a modern Japanese anime studio NUT. It is not a very well-known anime in Japan or even overseas, but it has a certain reputation among fans and is aimed at experienced anime watchers. It is set in a apocalyptic world in the late 2400s. Humanity has been living in the giant mobile fortress Deca-Dence to protect itself from the monstrous life form Gadoll. A young girl named Natsume, whose father was killed by Gadoll when she was a child and who herself lost her right arm, goes to work for Kaburagi, a Deca-Dence armor repairer.
10. Golden Kamuy
Golden Kamuy (ゴールデンカムイ) is one of the hottest manga and anime series recommended to experienced anime fans. The historical adventure anime started with the first 12 episodes in 2018, which were followed by two more seasons in 2018 and 2020. It was adapted from the popular manga written by Satoru Noda since 2014. Golden Kamuy is set in an alternative history at the end of the Meiji period (1868-1912) in Hokkaido, following the battles centering on a pile of gold hidden by the Ainu people.
9. Shirobako
Shirobako is a modern slice-of-life anime series which seems less known to foreign people except die-hard fans. A popular anime studio P.A. Works released its 24 episodes between 2014 and 2015, and its sequel movie was released in 2020. Focusing on how an anime is created in Japan, Shirobako follows 5 main characters who are an animator, a voice actress and other anime engaged workers. To enjoy Japanese anime series more, it is highly recommended to watch this anime creation-themed at least once.
8. Kids on the Slope
Kids on the Slope (坂道のアポロン), a finest coming-of-age anime series broadcasted with 12 episodes in 2012, has been watched by both anime geeks and others with applause. It was originally serialized as manga series written by Yuki Kodama from 2007 to 2012, made into the anime adaptation by Mappa and Tezuka Productions. Set in Sasebo, Nagasaki in 1966, Kids on the Slope focuses on high schoolers who become caught up in jazz and their romances.
7. Eden of The East
Eden of The East (東のエデン) is a mystery anime series directed by Kenji Kamiyama, who is famous for Ghost in the Shell: Stand Alone Complex. Its setting is also inspired by the world of the legendary cyberpunk anime. Eden of The East was aired with 11 episodes, followed by two anime films released in 2009 and 2010. The suspenseful story revolves around a young Japanese man who loses his memory and has a cell phone including about 8 billion yen as e-money.
6. Spice and Wolf
Spice and Wolf (狼と香辛料), which has been well-known to fans of light novels for a long time, aired with the first 12 episodes in 2008 and the second season in the next year. The fantasy adventure anime is based on the globally famous light novel series published since 2006. Spice and Wolf tells the story of a 25-year-old traveling merchant and a wolf deity that transforms itself into a female human.
5. Space Brothers
Space Brothers (宇宙兄弟) is a modern comedy and drama anime series that has been loved by lots of manga and anime fans especially in Japan. It consists of 99 episodes broadcasted between 2012 and 2013, adapted from the popular manga series published since 2007. Space Brothers has the theme of space, officially cooperated by the Japan Aerospace Exploration Agency. It centers on a 31-year-old man who has dreams to become an astronaut and his younger brother who is about to become the first Japanese to walk on the moon.
4. Steins;Gate
As one of the best modern sci-fi anime series, Steins;Gate has been highly appraised by some anime freaks since its first season began in 2011. The mystery science fiction was adapted from the original video game first launched in 2009. The first 24 episodes were followed by an anime movie in 2013 and the second season Steins;Gate 0 in 2018. Steins;Gate presents lots of problems happening around members of Future Gadget Laboratory, who try to invent a time machine.
3. Gurren Lagann
A famous mecha adventure anime Gurren Lagann (天元突破グレンラガン) has been top-rated by many classic anime fans all over the glove. It was produced as an original series by Gainax in 2007, including 27 episodes. There are also two anime films released in 2008 and 2009. Gurren Lagann follows three main teenagers who pilot the mecha with a face on its body called Gunmen and fight against opposing Gunmens. If you like other popular mecha anime such as Evangelion, Eureka Seven and Darling In The FranXX, Gurren Lagann will match your preference.
2. Puella Magi Madoka Magica
Anime fans cannot talk about anime apart from the finest dark-fantasy anime Puella Magi Madoka Magica (魔法少女まどか☆マギカ), which was produced by Shaft in 2011. The first season's 12 episodes were followed by three anime movies (and another upcoming title in the future). The magical girl-themed anime centers on several middle school girls who fight against enemies called witches as a magical girl.
1. Ghost in the Shell: Stand Alone Complex
Ghost in the Shell: Stand Alone Complex (攻殻機動隊 STAND ALONE COMPLEX) is one of the best anime series for die-hard fans, first broadcasted in 2002-2003. The first television series of the Ghost in the Shell franchise is exactly different from the previous 1995 anime movie Ghost in the Shell directed by Mamoru Oshii and its original manga created by Masamune Shirow. After the 26 episodes, the second season 2nd GIG and the third season Solid State Society were also released. Set in 2030, Ghost in the Shell: Stand Alone Complex presents the members of Public Security Section 9 fighting against highly-developed technological crimes.
---
For more information about anime and other Japanese pop cultures, check these articles below, too!
▽Related Articles▽
▼Editor's Picks▼
---