Hawaii vs Okinawa: Which Beach Resort to Travel?
Hawaii or Okinawa: Best Holiday Destinations in the World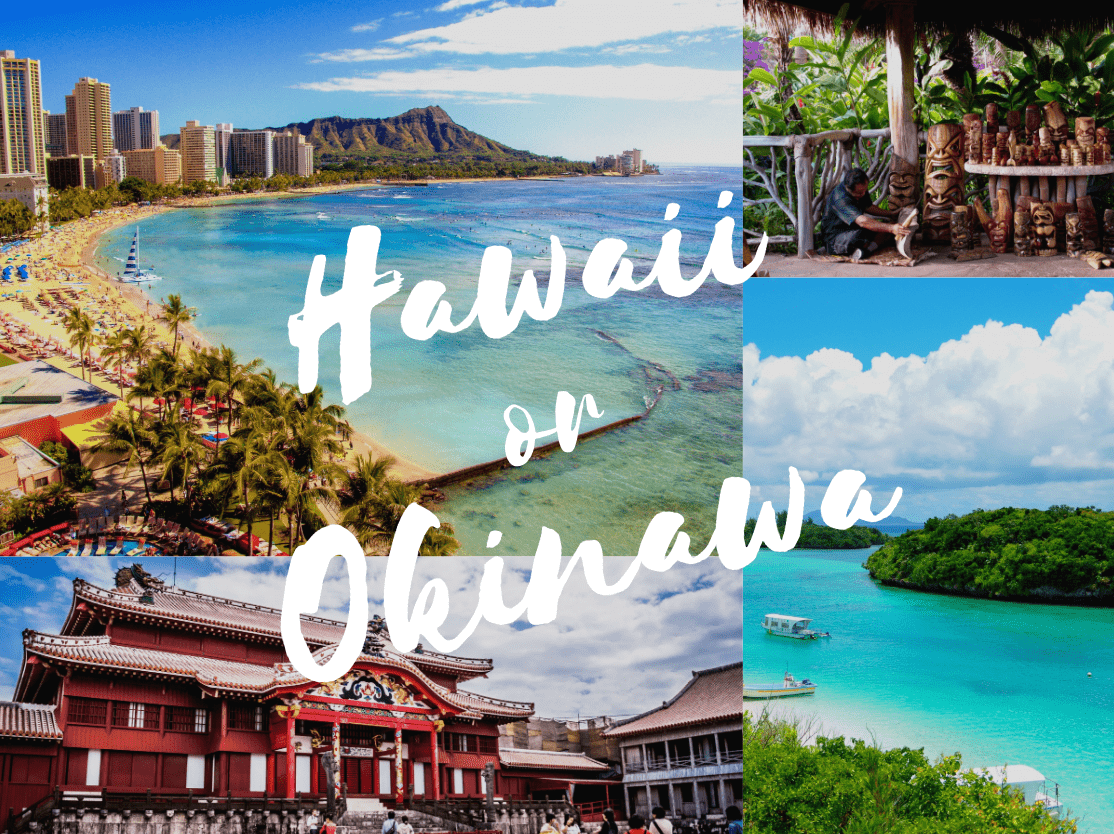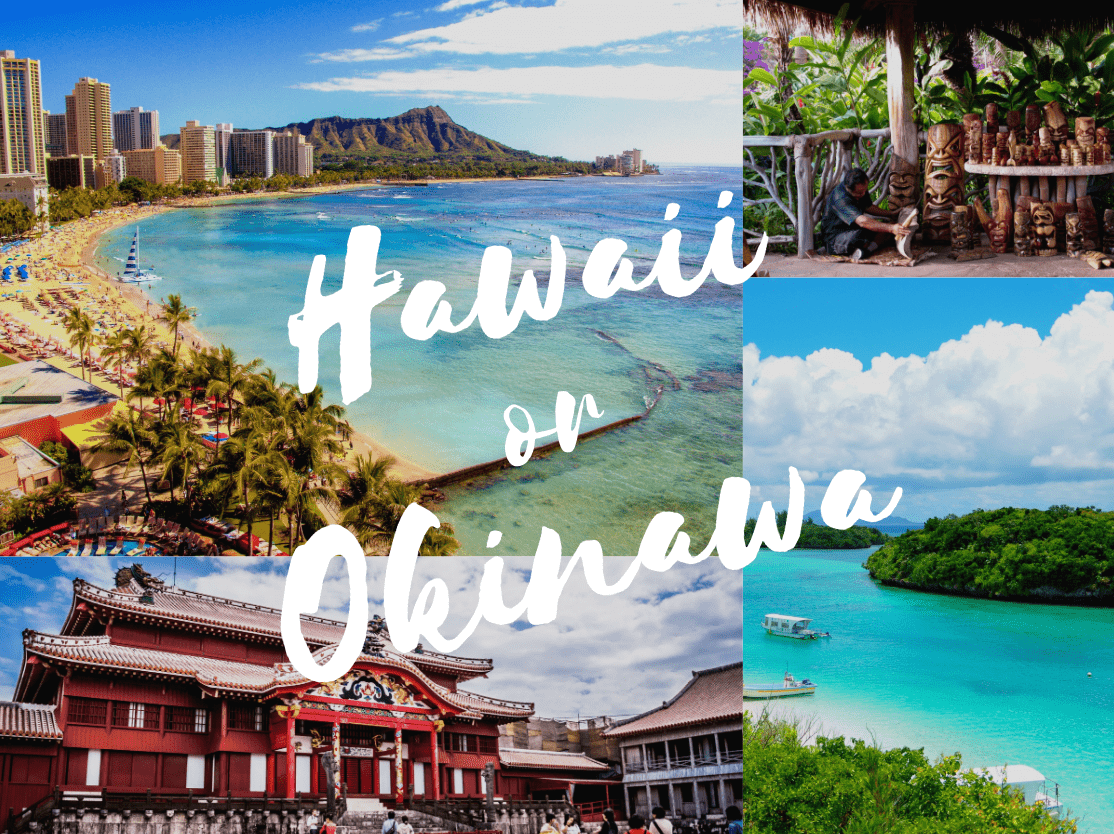 Beautiful beach resorts are one of the most popular destinations for travelers all over the world, and today, I'd like to introduce my favorite two beach resort areas Hawaii in the United States and Okinawa in Japan.
Hawaii is sometimes compared to Okinawa with these questions in Japan: "Which is the more attractive holiday destination, Hawaii or Okinawa?" or "Which one should I visit for summer vacation?". Okinawa is the most famous beach resort destination in Japan. Hawaii is also one of the most-visited vacation resorts by Japanese tourists. Japan is the second largest inbound market in Hawaii in 2017 (a total 9,404,346 visitors consists of 62.1% tourists from the United States mainland and 16.9% from Japan and the rest from other countries).
Okinawa is yet a less known beach destination worldwide than Hawaii, however, it has got more and more popular among foreign travelers recently. Ishigaki Island in Okinawa was ranked at the first place in TripAdvisor's list of destinations on the rise for 2018. It is also reported that the total number of visitors of Okinawa (over 9.5 million) overtook that of Hawaii in 2017. That is why it doesn't seem premature to compare the two beach destinations.
How should we decide on the winner? This is the introduction of Hawaii and Okinawa comparing their cultures, travel costs, tourist attractions, food, shopping and accommodations. Personally, I have traveled both Okinawa and Hawaii for several times and each is the one and only attractive vacation place. Now, let's start the comparison of Hawaii vs Okinawa with their cultures.
Culture
At the first place, Hawaii and Okinawa have totally different cultures since they belong to different countries the United States and Japan. Hawaiian culture has been developed since the islands of Hawaii were first settled by Polynesians about 1,500 years ago and immigrants came there from Tahiti with their ancient religion and culture about 500 years later. The current Hawaiian culture has been influenced by immigrants from the United States mainland, Japan, China, Philippines and so on. It is more familiar to you rather than Japanese culture but not the same as just American culture.
How about the culture of Okinawa? That also differs from the culture you see in the main island of Japan. The history of Okinawa has much longer history than that of Hawaii since human beings already inhabited Okinawa over 30,000 years ago. The present Okinawan culture is mainly based on the one from Ryukyu Kingdom (flourished around 15th-19th Century) which is one of the heights of Okinawa's prosperity. The kingdom traded deals with China and East and Southeast Asian countries, which has had a big influence on Okinawan culture as well as the United States and Japan's main island.
Conclusion: Each area has the attractive cultures, however, it is Okinawa to be filled with the unique culture consisting of diverse countries' essences and its long history. One thing is for sure: Hawaii is easier to travel for travelers who speak English and feel familiar to its culture. On the other hand, it is recommended to visit Okinawa if you want to experience undiscovered things.
Cost
One of the most important points for deciding your destination is travel costs, right? It is said that it costs about 20,000 yen (200 dollars) a day on avarage to travel in Hawaii and Okinawa excluding airfare. That is mostly accounted for by accommodations, food, transportation and shopping. Hotels in Hawaii especially in Waikiki are a little more expensive than the ones in Okinawa. Halekulani, which is one of the most famous hotels in Waikiki, opened its branch in Okinawa in 2019, and the standard room of Halekulani Okinawa is a bit more budget than the same-standard room of Waikiki. There are also budget-friendly accommodations along the beach in Okinawa from 3,000–5,000 yen (30–50 dollars). Speaking of dinner, 5,000 yen (50 dollars) allows you to only have 2 cocktails and 1-2 dishes at the bar in Waikiki and have 4 drinks and 5–6 dishes at Izakaya (Japanese style pub) in Okinawa. You don't need to tip a staff at restaurants or bars in Japan. You can hold downs the cost for moving with public transportation in both areas.
Conclusion: Okinawa is a little more budget-friendly beach resort in terms of accommodations and food although there may be some ways to spend less costs enjoying staying in Hawaii.
Tourist Attraction
There are countless things to do and places to visit in both Hawaii and Okinawa. Firstly, beautiful beaches are one of their travel highlights, and it seems difficult to clearly state which beach is more attractive. Instead, the environment surrounding beaches of Hawaii especially Waikiki may be more acceptable for you since the popular Waikiki Beach is located within just 20 mins distance by taxi or car while the popular beaches in Okinawa scatter all around the prefecture. I also like the whole atmosphere around Waikiki Beach with the sophisticated hotels, restaurants, bars and shops lined along the beaches. Of course, you can travel to other areas such as Kailua and North Shore by bus or car for breathtaking beaches.
On the other hand, Okinawa has numerous hidden remote islands, and some of them are accessible from the main island of Okinawa (you can even take a day trip there by ferry or car). Ishigaki Island and Miyako Island are especially popular these days though you can only get to those remote islands by airplane from the main island. There are less tourists, untouched nature, transparent sea in the remote islands in Okinawa.
For other themed popular spots, Hawaii has Diamond Head, Honolulu Zoo, Polynesian Cultural Center, Pearl Harbor Museum, etc. and Churaumi Aquarium, Shuri Castle, Peace Memorial Park and so on.
Conclusion: It is one of advantages to access numerous spots including beaches, bars, cafes and other tourist sites in Waikiki on foot. You can travel around Okinawa with a rental car, though. In regard to the best season to visit, beaches are open throughout the year in Hawaii, but you will feel a little too cold to swim in the sea in Okinawa in winter season (around November to February).
Food
Which food is more attractive is one of the hardest choices for me. Burgers, Loco Moco, garlic shrimps, poke bowls, BBQ, steaks, pancakes…everything in Hawaii is mouthwatering. At the same time, Okinawa also offers a variety of food such as Okinawa Soba noodles, Wagyu Beef, Sushi, Goya Champuru (bitter melon and tofu stir-fried), Awamori (Okinawa's traditional distilled spirits) and desserts cooked with tropical fruits as well as burgers and steaks. Japanese food is looked on as one of the best cuisines in the world, and you can also enjoy tasting the Japanese food mixed with the Okinawan food culture.
For those who want to enjoy eating, drinking and hanging out late into the night, there are more options in Hawaii especially Waikiki. The restaurants and shops gather in the center of the town. It is also easy to find familiar food to you in Hawaii.
Conclusion: Of course, both Okinawa and Hawaii have diverse delicious food options, nevertheless, having the regional food in Okinawa with friendly local staff and visitors will be the unforgettable experience for you. You may also choose Okinawa for dining at a more reasonable rate.
Shopping
Shopping is also an enjoyable part of your trip abroad, and you see a large number of lovely shops in the town of Hawaii and Okinawa. Here, let's compare the two resorts focusing on the major shopping spots: Kalakaua Avenue in Hawaii and Kokusai Dori Street in Okinawa. Kalakaua Street, located along Waikiki Beach, is the most famous shopping spot in the city. From clothing stores and accessory shops to large malls, a wide lineup of items satisfy you with unique T-shirts, Hawaiian jewelry, swimsuits, chocolates and coffee products. Additionally, don't forget about the gigantic mall Ala Moana Center which houses over 300 shops in it.
In Okinawa, Kokusai Dori Street, which is located in the capital city Naha and near Naha Airport, is the popular shopping street. Many souvenir shops and clothing stores are lined up along the street. The souvenir shops sell a variety of regional snacks, unique Shisa statues and regional glass craftwork, which you cannot get except Okinawa.
Conclusion: Hawaii provides you with more shopping options than Okinawa while you may get more interested in Japanese unique souvenirs in Okinawa like food, drinks and other traditional items.
---
Which beach destination is more attractive for you? Hawaii is the wonderful place to take a vacation trip, of course. If you are interested in traveling in Japan, it is recommended to add Okinawa to your itinerary. For more info about Okinawa and other beach resorts, check these articles below, too!
▽Related Articles▽
▼Editor's Picks▼
---