OKINAWA Itinerary for 3 Days
You can enjoy Okinawa for only 3 days from recommended beaches and landmarks to dining and shopping spots in the mid of the island.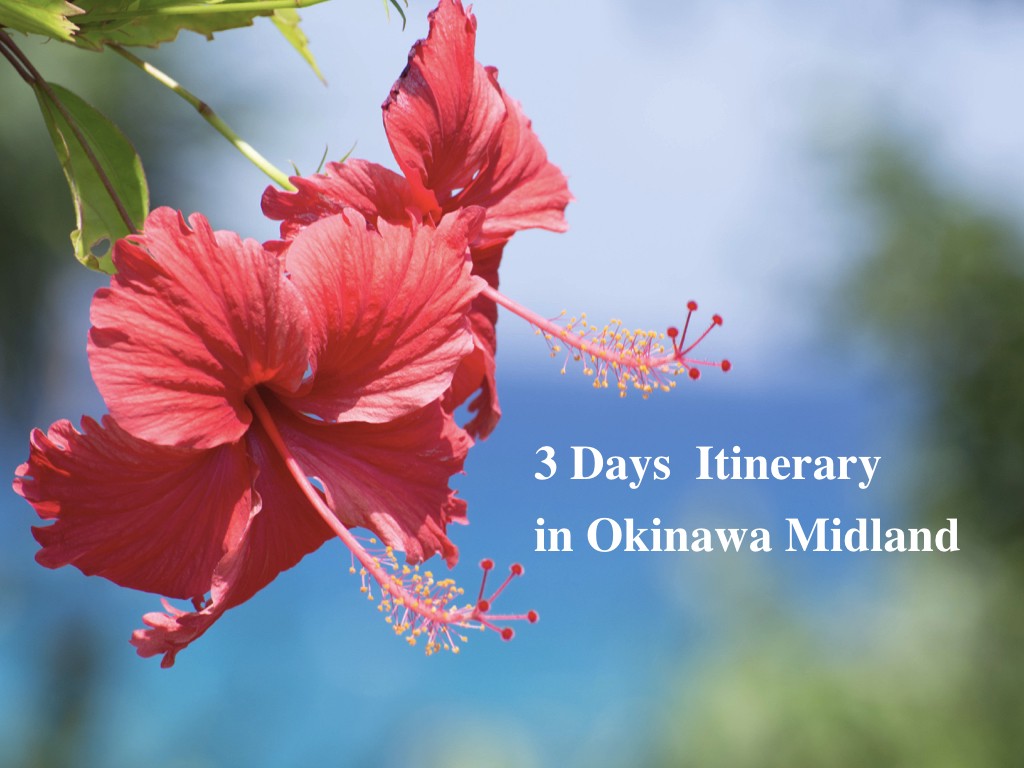 You can enjoy Okinawa for only 3 days from recommended beaches and landmarks to dining and shopping spots in the mid of the island.
I've Taken a Trip to Okinawa and Completed the Perfect Itinerary for 3 Days
All things to do in Okinawa are packed in this 3 days plan from a recommended beach and landmarks to lunch and shopping spots in the mid of the island based on my experience with the latest information (I made a trip to Okinawa on 25th-27th June 2017 more recently.)
The 3-day short term model plan in Okinawa is suggested to you who don't have so long holidays. It includes the midland of Okinawa which is far from bustle areas. Mainly Onnason (恩納村) area and Motobu Peninsula (本部半島).
This plan also spares the south area such as Shuri Castle and Himeyuri Peace Museum.
It's also one of the reasons why I recommend Okinawa to you to get to Okinawa from Tokyo just for 2.5 hours. As for the way to move around Okinawa, a rental car is the first choice. Okinawa has areas with bus and monorail available, but car is much more freely move over.
Compared with metropolitan areas, less amount of traffic and wider street in Okinawa. I often notice foreign tourists driving since car rental companies offer them the "Foreigners are Driving" sticker on cars, so that others can give a little attention to them.
DAY 1
As soon as you arrive at Naha Airport, pick up your rental car and move toward the north. Let's enjoy the island vacation at beaches and in rich nature on the Day 1.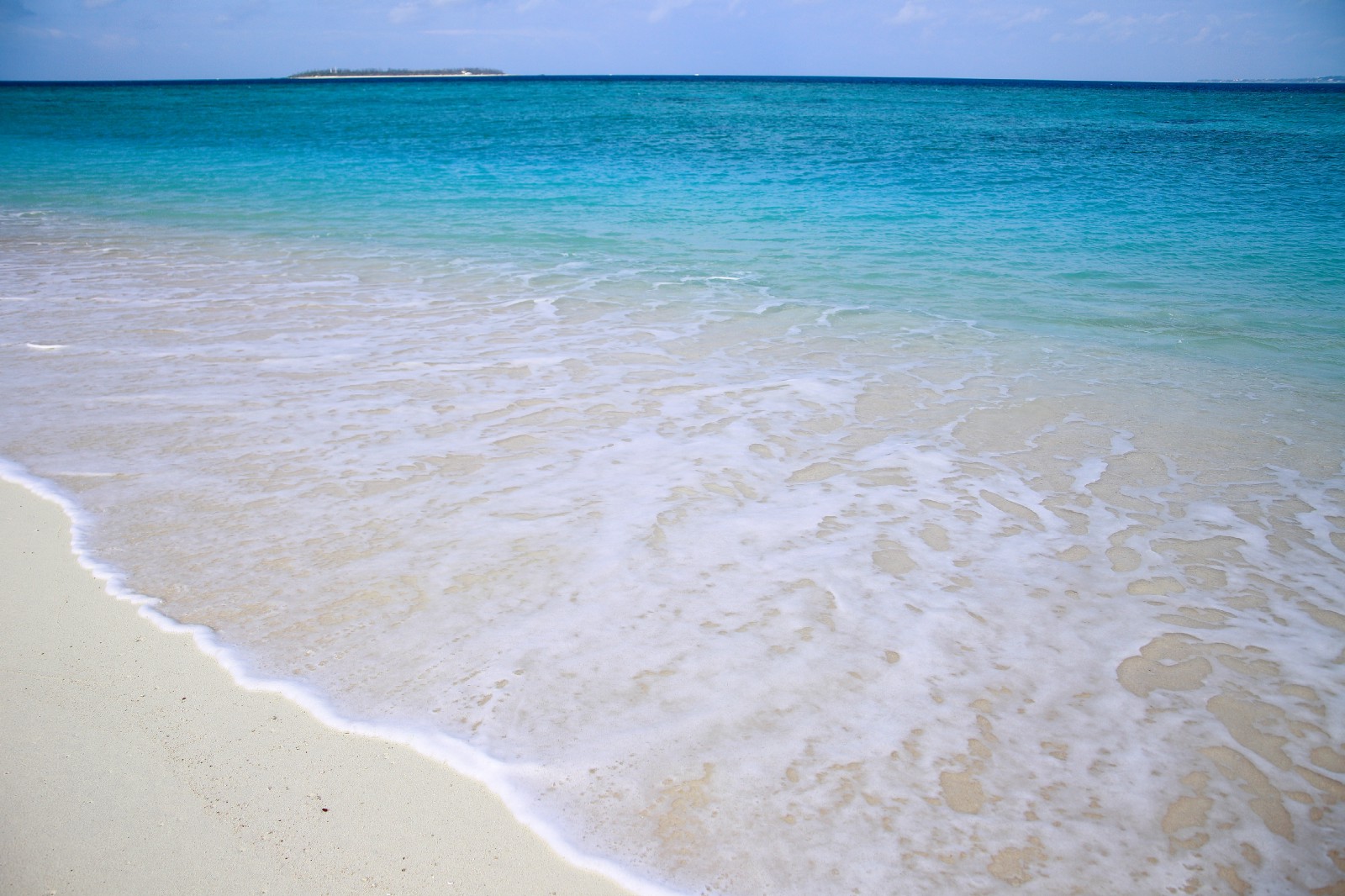 Sesoko Beach (瀬底ビーチ), one of the most beautiful beaches in Asia, is located on Sesoko Island at the tip of the north-west area. The color of the ocean is emerald green and almost 100% clear under the water. Sesoko Beach is also good for family with children because of the shoaling beach.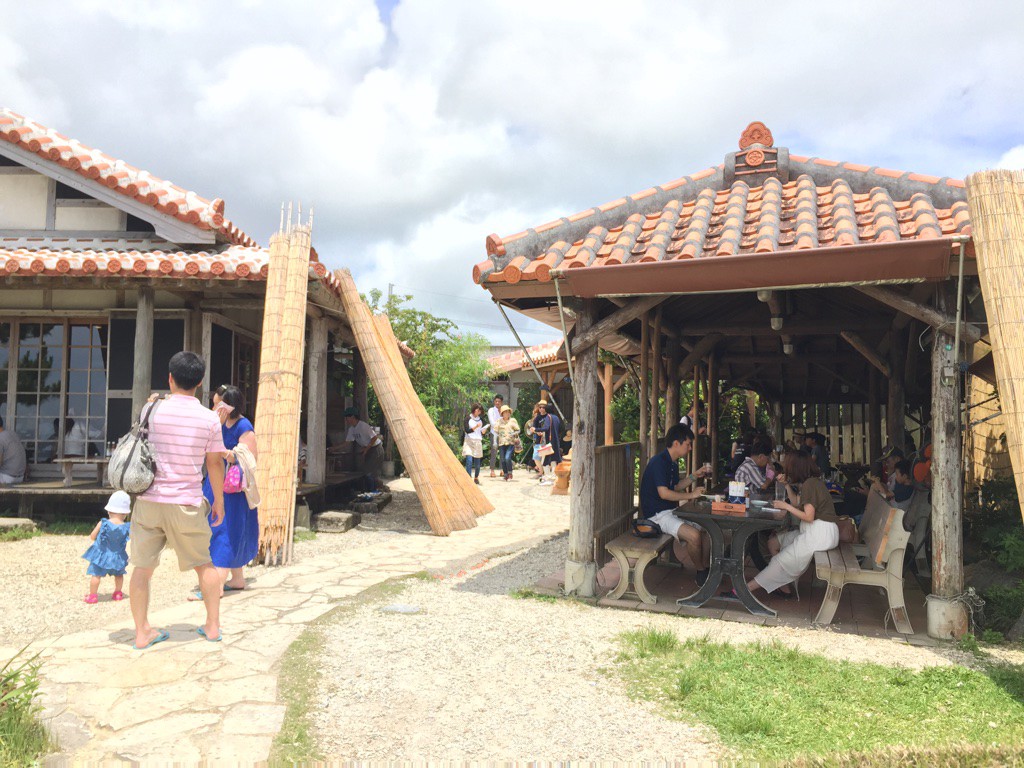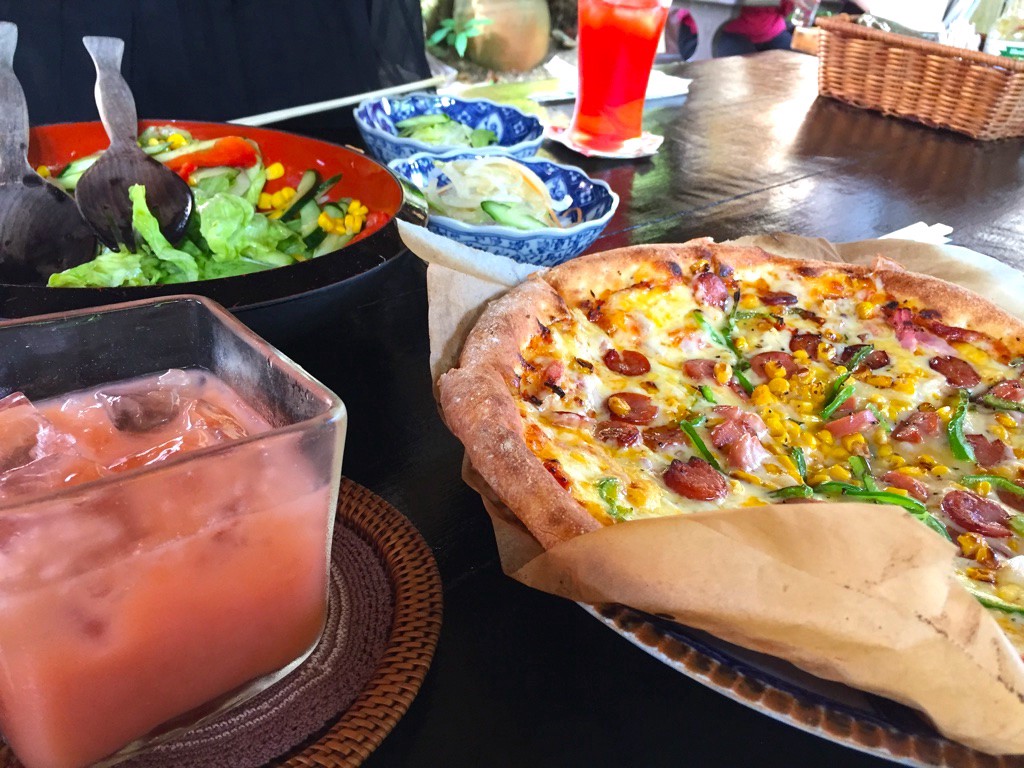 From Sesoko Beach, drive up to the hill for a little (about 20 mins) till you face Kajinho Cafe (花人逢). You can have extremely juicy pizza with melting cheese and fresh fruit juices such as acerola, guava and mango. The cafe offers seats in the Okinawa's traditional house with red-tile roof and terrace seats where you can view panorama scenery of the ocean and mountains.
▽Other best Okinawa food restaurants in the Onnason (恩納村) area and Motobu Peninsula (本部半島)▽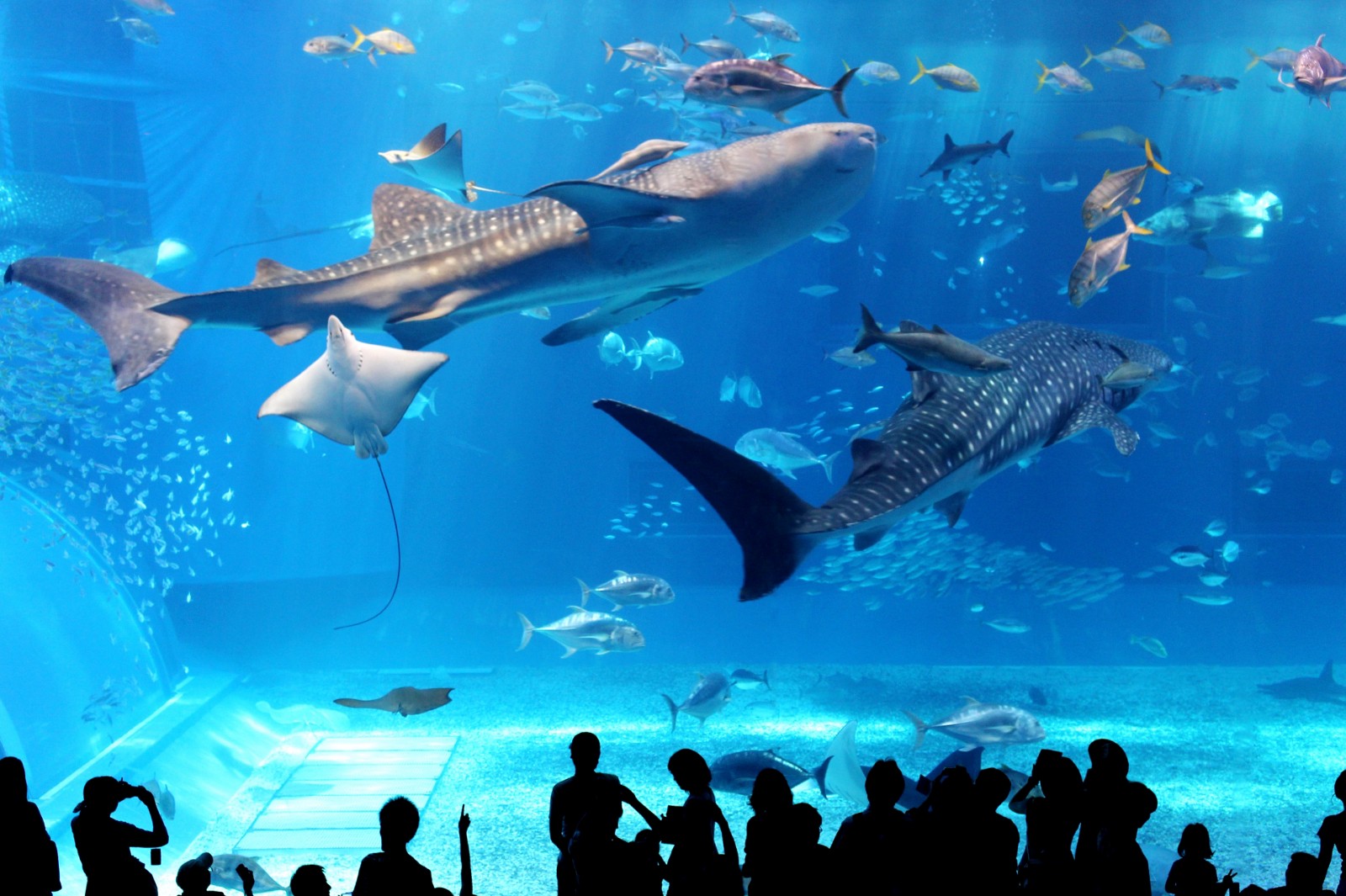 Churaumi Aquarium (美ら海水族館), a top popular sightseeing spot in Okinawa, is near the Sesoko Beach, too. The highlight is 8.7 m long whale sharks swimming in the gigantic tank. Don't miss it. Moreover, Emerald Beach is just next to the aquarium. Beach lovers should drop by.
If you won't hire a car, it's recommended to travel in Okinawa with this tour : a Full Day Tour to Churaumi Aquarium and other Highlights of Okinawa→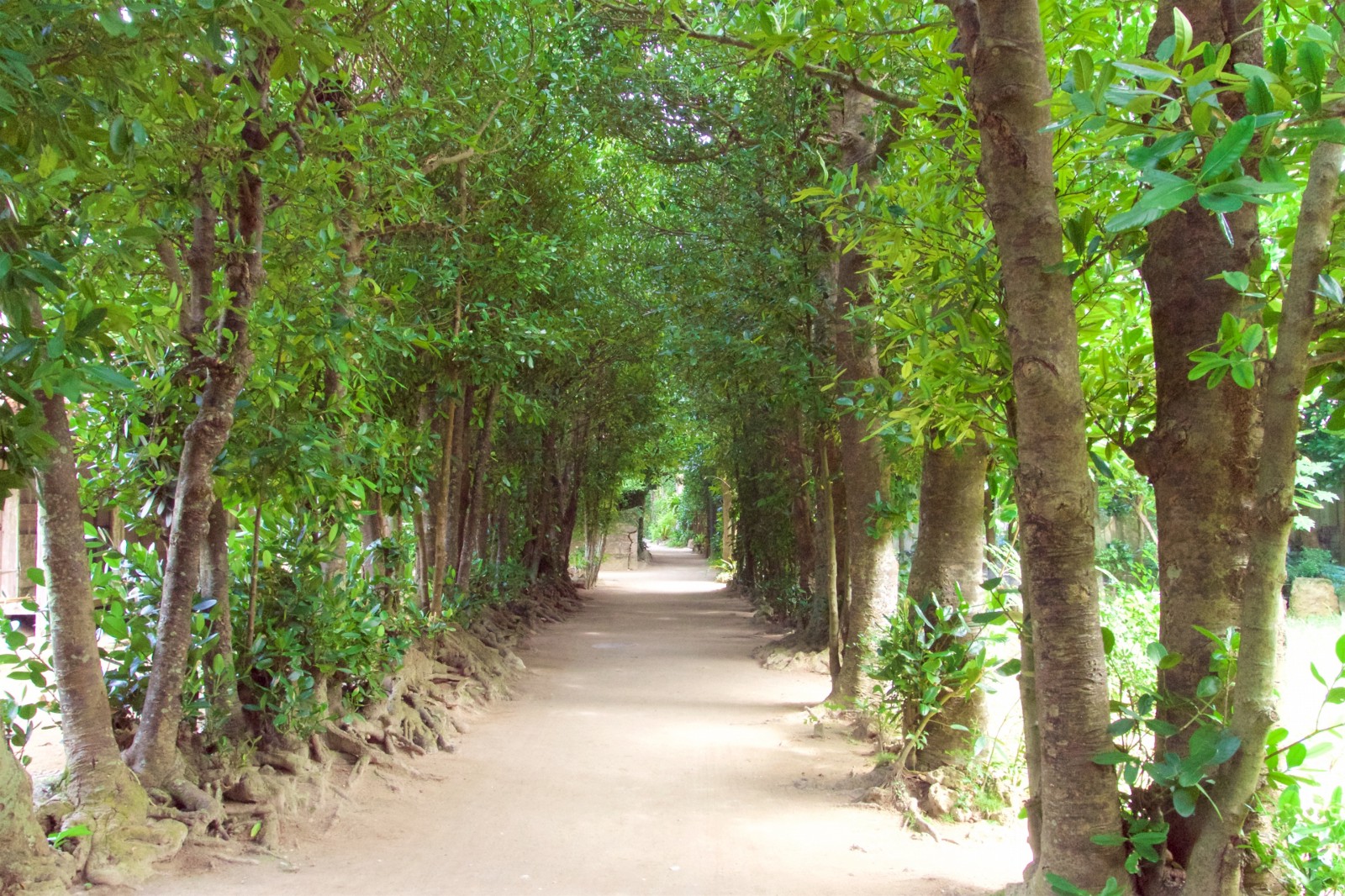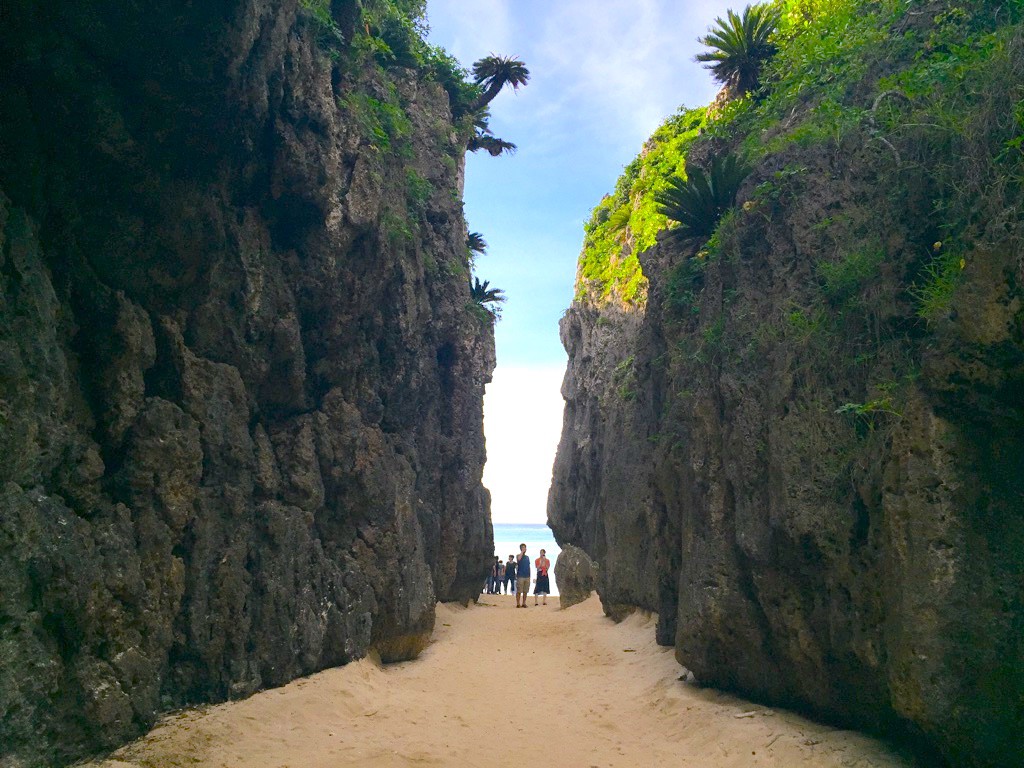 The next destination is Bise no Fukugi Namiki (備瀬のフクギ並木) and Bise no Warumi (備瀬のワルミ). The two hottest spots are also included by the above area. At Fukugi Namiki, the fukugi trees (common garcinia) which cover around the village form green tunnels over alleys. Let's cycle or ride a water buffalo in the mysterious grove.
The other one, Bise no Warumi, is the divided gigantic reefs and the beautiful beach through the crack of the reefs. It's a little difficult to find the entrance which is a kind of intricate. Once you step in the area, a little jungle lasts until the crack. Just ask friendly local people where the entrance is.
*Bise no Warumi is temporarily closed for waste dumpling by tourists since July, 2017.
DAY 2
Let's travel in Onnason area (West coast) on the Day 2. It is a choice to visit Churaumi Aquarium on the day if you have no time to go there on the first day.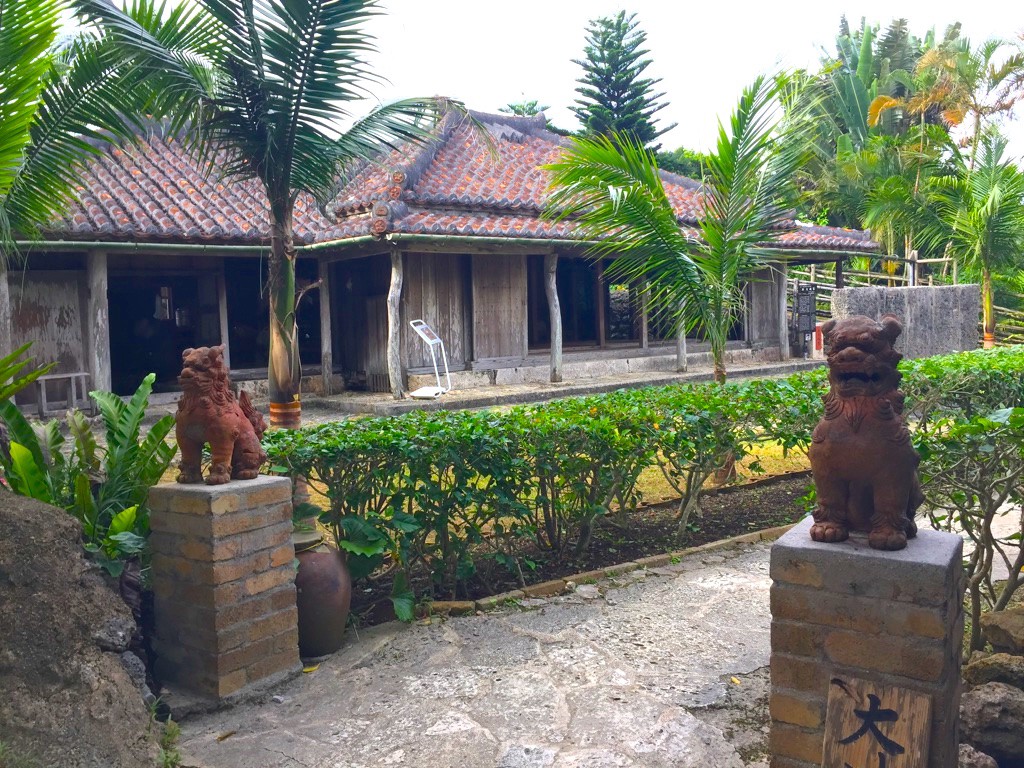 Ryukyumura Village (琉球村) is the theme park with typical Okinawa's atmosphere, and "Ryukyu" is the old name of Okinawa. This is the OKINAWA. There are traditional houses, nature like banyan trees, Okinawan dance performance Eisa and a variety of cultural experiences. The essences of the Japan's unique island are all included there.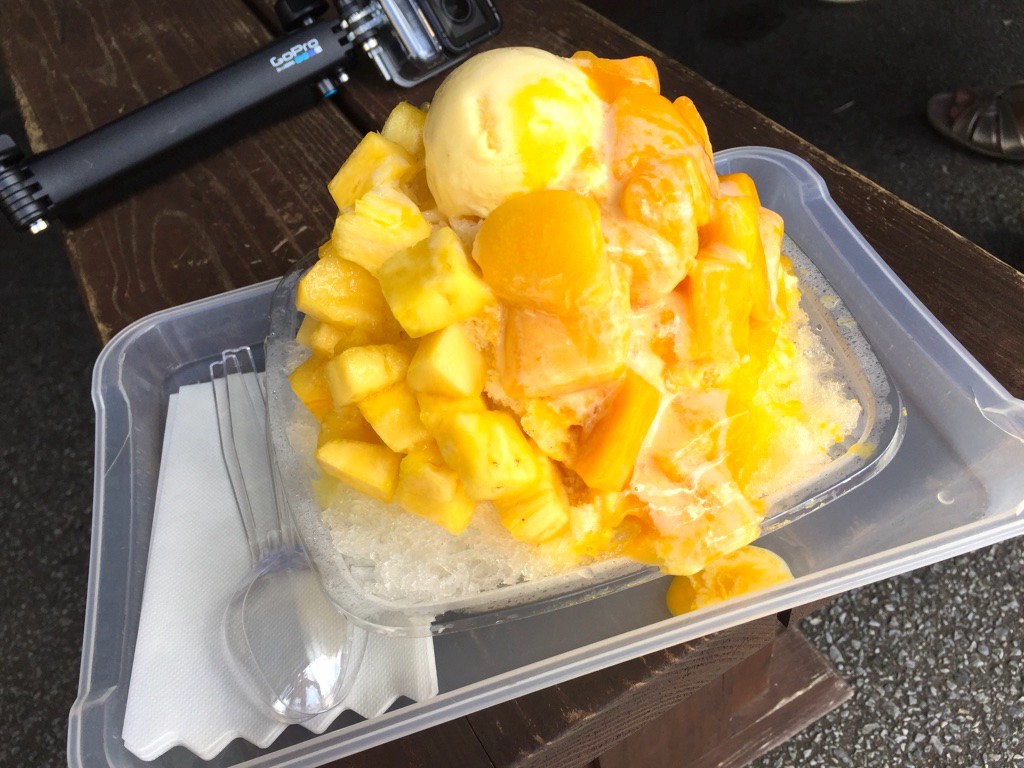 Take a break at the "Onna no Eki Nakayukui Market"(おんなの駅「なかゆくい市場), one of 8 Michi no Eki (Roadside stations) in Okinawa. It does never have shortage of Okinawa original food such as Okinawa noodle, tropical fruits and Sata Andagi (sweet deep-fries buns). Fill your stomach with the local dishes.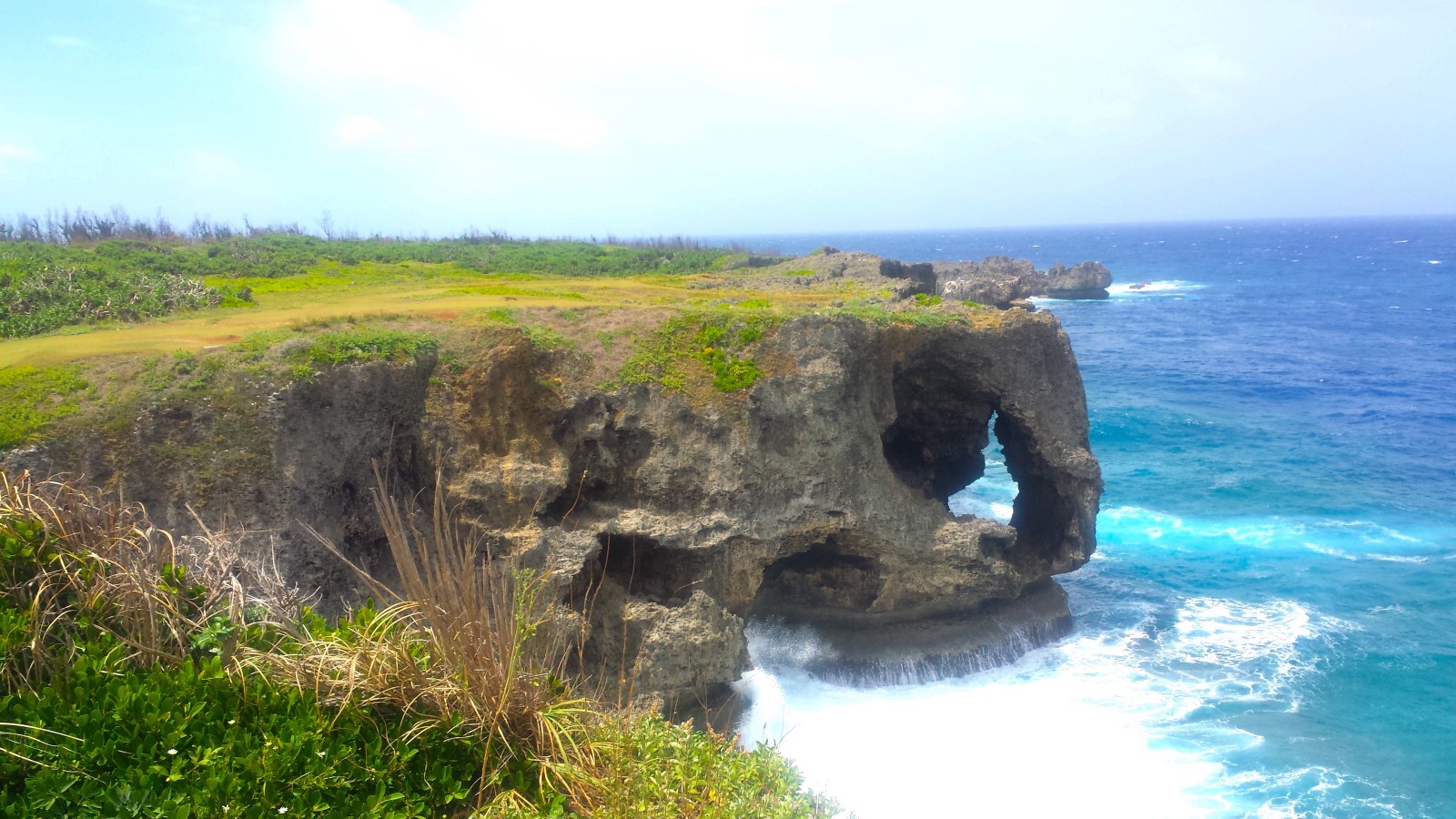 Cape Manzamo (万座毛) is known as the Okinawa's symbolic nature spot. You can view transparently blue East China Sea on the cliff of raised coral reef. The elephant's nose shaped reef viewed at the site is the chance to take the best photo!! You want to visit there sunset time.
This is also the other option: Snorkeling at Okinawa Blue Cave with Kayaking→
DAY 3
Don't forget to get special items and souvenirs you cannot get except Okinawa. This plan should be made on the final day of your trip. Otherwise, you would have troubles of carrying a lot of luggages filled with the items.
Stroll the two shopping spots while going south to Naha Airport.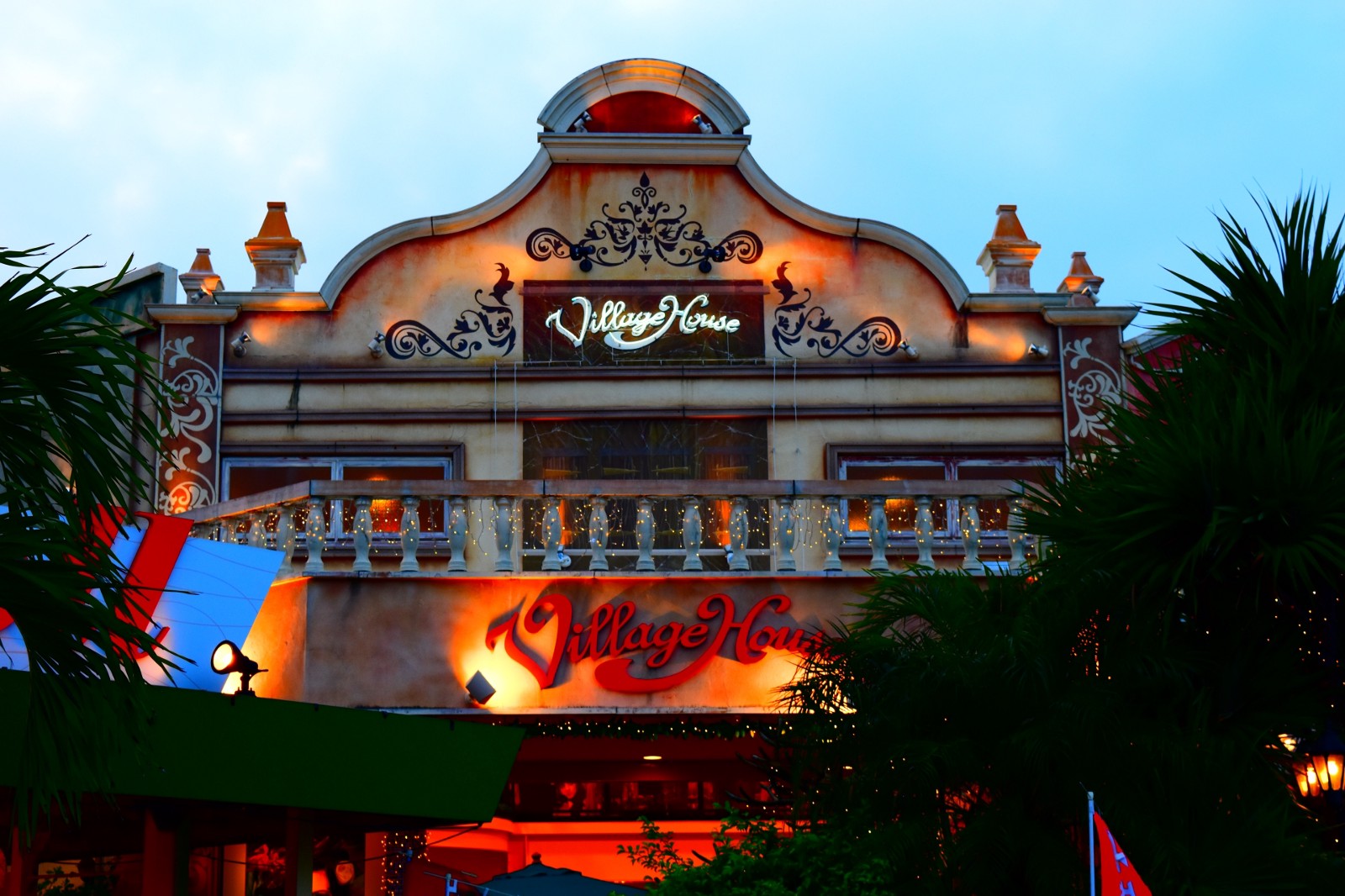 At first, head to the United States themed shopping and restaurant complex Mihama American Village (美浜アメリカンビレッジ). Okinawa has been influenced by the U.S. for a long time since it belonged to the western country and there are over 30 U.S. bases in Okinawa. You can find unique items inspired by both Okinawa and the U.S.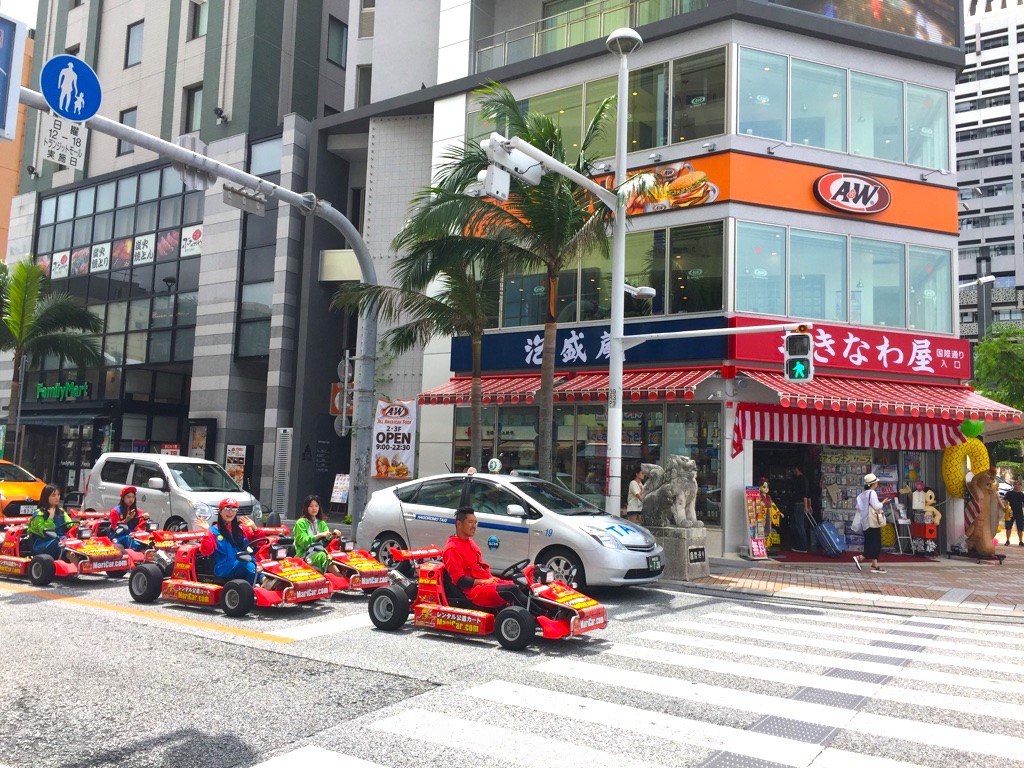 Before you get to Naha Airport, drop by another popular shopping spot Kokusaidori Street (国際通り) in Naha city. There is no Okinawa's items you cannot find at numbers of souvenir shops lined along with the street. I strongly recommend to purchase the following three things at least: Shisa (a traditional Okinawan cultural artifact), Chinsuko (various flavored cookies) and Beni-imo Tart (purple yam tarts).
Finally, completely check your bucket list to shop at Naha Airport after returning your rental car. This is the last chance to get Okinawa's souvenirs. Note not to pass the security check before that. The 2nd floor of the airport provides thousands of items.
With this 3-day plan, I would like to introduce two hotels located at the middle area of the island: Sheraton Okinawa Sunmarina Resort and Rizzan sea-park Hotel Tancha-Bay.
The two hotels are accessible to Naha and Motobu Peninsula thanks for the location between them.
<<MAP>>
Let me emphasize again that Okinawa is very easy to visit from Tokyo. If you have extra time to stay in Japan, this is a must-visit area especially in Summer. For more information about Okinawa's beaches, food and souvenirs, please check the articles below.
▽Related Articles▽
▼Editor's Picks▼
<<Special Offer Exclusively Available for My Readers>>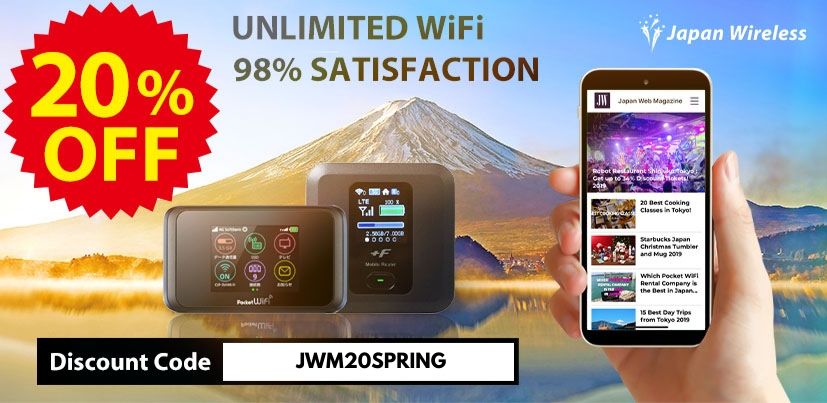 Place your order HERE with a special price!!
---