7 Best Restaurants in Okinawa
Best Okinawa Food Guide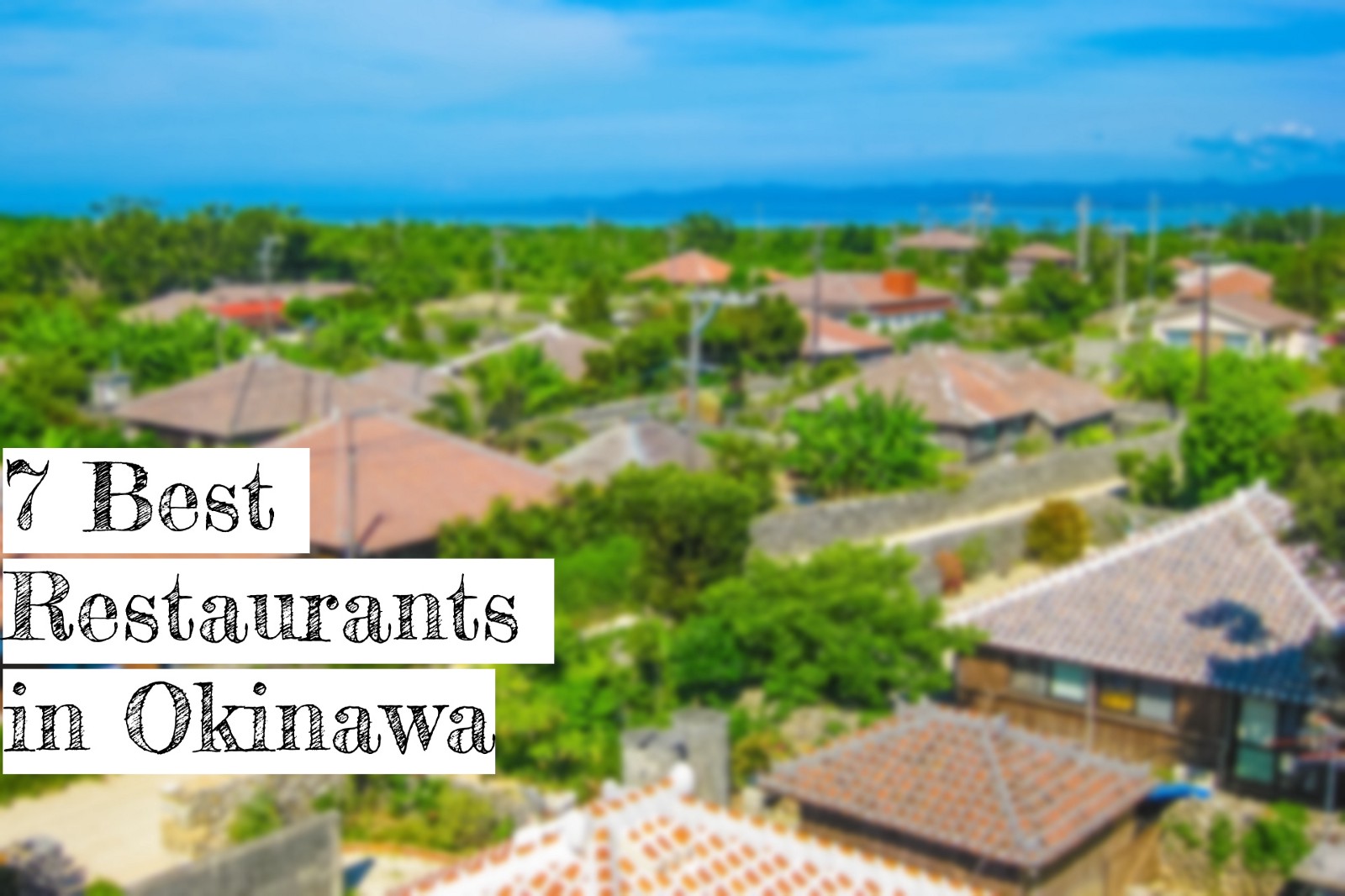 Okinawa has been maintaining its own unique food culture for a long time. This article introduces 7 best restaurants in Okinawa and Okinawan cuisine with various region exclusive ingredients!
Okinawa Prefecture (沖縄県) is one of the most popular destinations that continuously attract a great number of both domestic and international travelers in order to visit emerald-green beaches, historical heritages and local restaurants.
Okinawa has its distinct history and unique culture very different from the mainland of Japan. Food in Okinawa is especially unique and different from what you might know as Washoku ('Japanese food'). Due to its geographical location, Okinawan people have developed its own unique food culture apart from that of Japan's main island. Okinawa dishes are usually cooked with regional specialty ingredients. Okinawa soba (Okinawa's Ramen) and Goya Champuru are famous all around the country.
When you visit the southern islands, don't miss all the delicious Okinawa food!
Here are 7 best restaurants in Okinawa, which serve Okinawa's regional food. You can experience the authentic local food at these restaurants!
1. Ryukyu Sabo Ashibiuna
One of the must-eat Okinawa cuisines is Okinawa soba, a.k.a Sōki soba. Among other Okinawa soba specialty shops, one of the most popular and renowned places is Ryukyu Soba Ashibiuna (琉球茶房あしびうなぁ).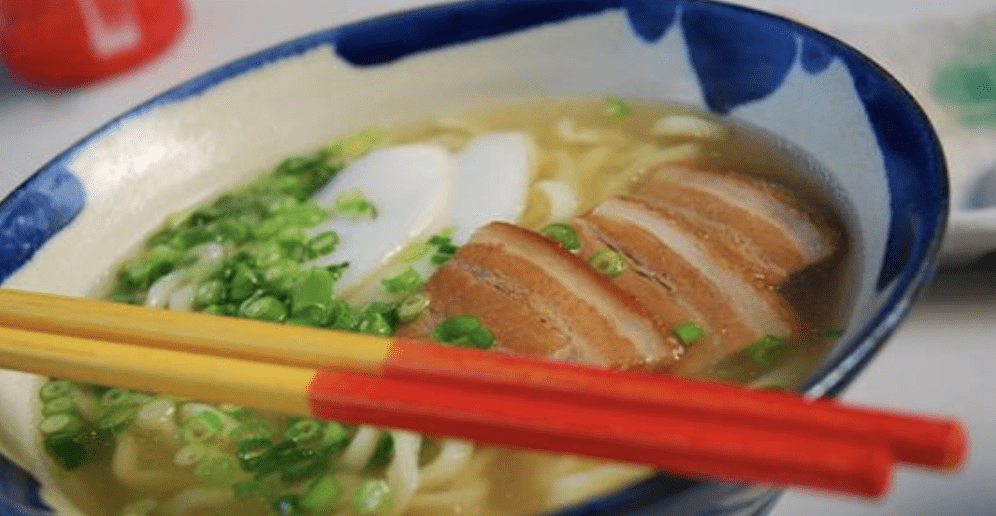 The building of Ashibiuna is a renovated version of an Okinawa traditional house built in the postwar era on the site of a royal family house of Ryukyu Kingdom. Shisa ('Okinawa mythological creature and cultural artifact') residing on the Okinawa traditional red roof tiles awaits to give you a warm welcome. From the seats on the terrace, you will enjoy the magnificent view of the well-kept stone garden. Ashibiuna provides not only Okinawa local cuisines, but also a cozy atmosphere of good old Okinawa.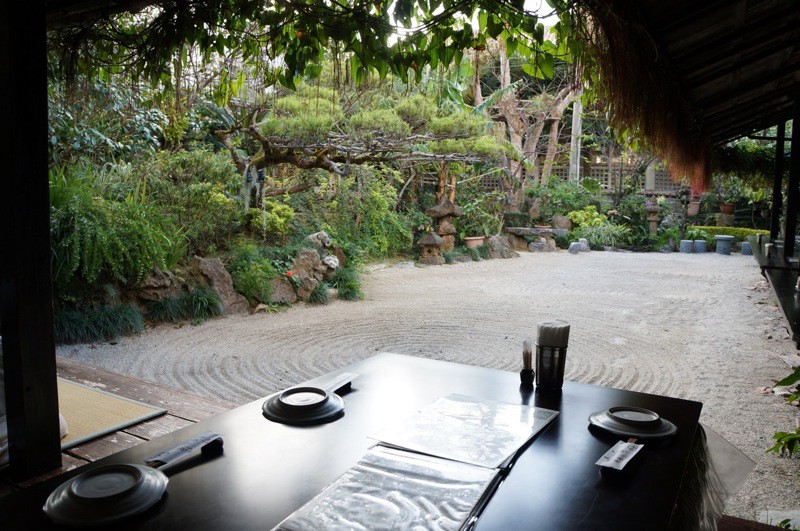 For newcomers to Okinawa food culture, Ashibiuna would be the best option as a starter. The authentic way of seasoning pork bones in the bowl will invite you to the entrance of Okinawa food culture. Also, please do not forget to try Shima-rakkyo ('Okinawan shallots'), Jimami tofu ('tofu made of peanuts'), and Umibudo ('sea grapes') as side dishes!! The set menu of Sōki soba with these side dishes are also available.
Since Ashibiuna is located close to a popular sightseeing spot Shuri Castle (首里城), why don't you take a break at Ashibiuna after your visit to Shuri Castle?
Access: 15 mins walk from Shuri Station on the Okinawa Urban Monorail
Hour: 11:00–15:00, 17:00–23:00
Close: Irregular days off
Price Range: 1,000~1,500 yen during lunch time/2,000~5,000 yen during dinner time
Official Website (Japanese): http://www.ryoji-family.co.jp/ryukyusabo.html
2. Yakiniku Hana
Yakiniku Hana (やきにく 華) is the best option for meat-eaters!! The restaurant serves Ishigaki beef, one of the highest quality Japanese Wagyu beef brands fostered in Ishigaki island in Okinawa. Hana is the luxury BBQ place where you can enjoy not only Ishigaki beef, but also other Okinawa Wagyu beef with various choices of wines.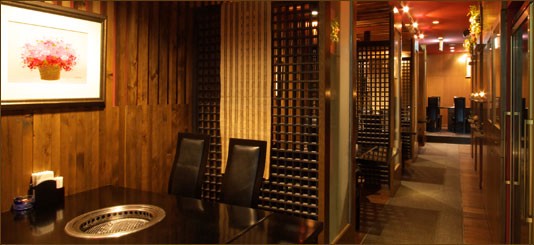 Hana also offers Special Choice Ishigaki Misuji, a rare part in between brisket and shank of Ishigaki beef, at a reasonable price. Misuji is one of the rarest parts of beef that can be taken only a few hundreds grams from a cow. That is precisely why there are numerous meat-eaters who visit Hana just to try Misuji.
Four main course menus are available at different price range. It is no doubt that you will be satisfied even with the most reasonable main course of (Ran 蘭コース), which offer a high quality Wagyu beef with a variety of Okinawa side dishes.

Another feature of Yakiniku Hana is the selection of natural sea salt. In order to maximize the taste of Ishigaki beef, Hana distinguishes the use of sea salts to match up with different parts of Wagyu beef.
Succulent Japanese Wagyu beef that almost melt in you mouth, vast selections of champagnes and wines… Why not experience a luxury and wonderful dinner at Yakiniku Hana?
Access: 5 mins walk from Prefectural Office Station on the Okinawa Urban Monorail
Hour: Mon-Sat, 17:30–24:00/Sundays or Holidays, 17:30–23:00
Close: Open seven days a week
Price Range: 10,000~14,999 yen
Please take a look at the menu down below.
Official Website: http://www.yakinikuhana.com/
3. Yunangii
Yunangii (ゆうなんぎい) is located on the most famous street of Kokusai-dori Street (国際通り) in the downtown area of Naha. There are numerous souvenir stores on Kokusai-dori Street, where all kinds of souvenirs gather from every corner of Okinawa. You will find not just souvenir shops, but also various restaurants and Izakaya ('Japanese bar/restaurant') on this boulevard.
Yunangii has been in business since its founding in 1970 even in such a area where there have been many competing restaurants. The Okinawan restaurant has been serving local cuisine as well as Awamori ('Okinawa's traditional distilled spirits').
At Yunangii, you will be able to taste every kind of Okinawa home-style dishes, with provincial ingredients of Okinawa-style tofu and vegetables, such as Goya Champuru, Jyusi ('Okinawa rice porridge'), Okinawa soba noodle, Tebichi ('stewed pork feet'). You must not forget to order Rafute ('stewed pork rib') at Yunangii since it is their speciality! Yunangii's Rafute, pork ribs stewed in their original miso based sauce, is highly evaluated as the most delicious Rafute in several tourist guidebooks. Also, if you like Japanese sake or drinking alcohol in general, give a cup of Awamori a try. Yunangii is one of the few restaurants that open during lunch time in this area as well.
Access: 10 mins walk from Prefectural Office Station on the Okinawa Urban Monorail
Hour: 12:00–15:00, 17:30–22:30
Close: Sundays and Holidays
Price Range: 1,000~1,999 yen during lunch time/2,000~2,999 yen during dinner time
4. Chatan Harbor Brewery & Restaurant
Chatan Harbor Brewery & Restaurant is a unique combination of brewery and seaside restaurant where you can enjoy Okinawa local craft beers. The concept of CHATAN BEER is "Natural flavor of Okinawa." If you are a beer lover, you shouldn't eliminate this brewery from your itinerary!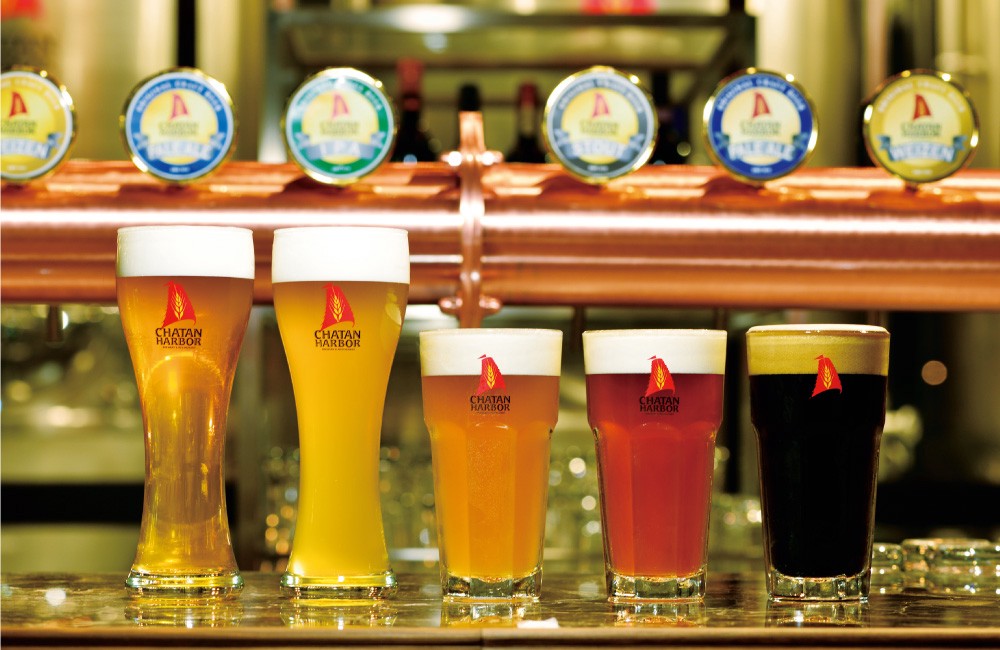 Chatan Harbor Brewery & Restaurant owns its brewery inside of the building and serves fresh craft beers from the huge beer kegs that can be seen over the bar-top. This brewery always has at least five different types of craft beers, Lager, Weizen, Pale Ale, IPA, and Stout. In addition to this variation, you will be able to try special seasonal craft beer. Chantan beers are also utilized in the dishes served at the adjacent restaurant .
The barroom is divided from its restaurant section. It is recommended to order a whole shrimp panfry with fries in conjunction with such regional beers. You'll absolutely love the combination of crispy deep-fried freshwater shrimps with Cajun sauce while drinking beers!!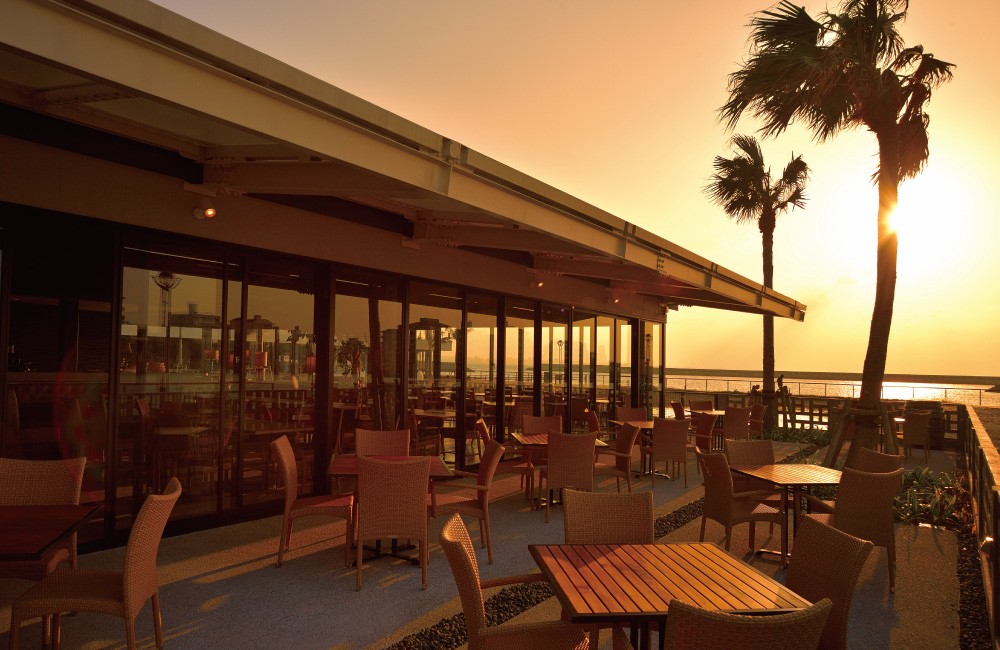 Chatan Harbor Brewery & Restaurant offers Italian seafood as well as T-bone steak that will definitely suffice your appetite.
They also have a sunset cruise plan with a dinner course at the restaurant for those who would like to have a marvelous family time on the deck board of a catamaran yacht, or for those who are planing to make a romantic dinner date…
Access: 10 mins walk from Kuwae station of Okinawa local bus or Taxi, 3,500~4,000 yen ride from Naha Airport
Hour: Restaurant, 17:00–23:00/Bar, 17:00–24:00/Shop, 17:00–22:00/Terrace Ocean's Club, 9:00–17:00
Close: Open seven days a week
Price Range: 3,000~6,000 yen during dinner time (Sunset cruise & dinner is 8,500 yen)
Official Website: http://www.chatanharbor.jp/en/
5. Marutama
Taco rice, an Okinawan fusion food of taco-flavored ground beed on white rice, became one of the staple dishes representing Okinawa food culture. Marutama (味噌めしや まるたま) gives a twist to this fusion meal by adding homemade miso to salsa sauce and transforms the dish into a brand new Japanese cuisine.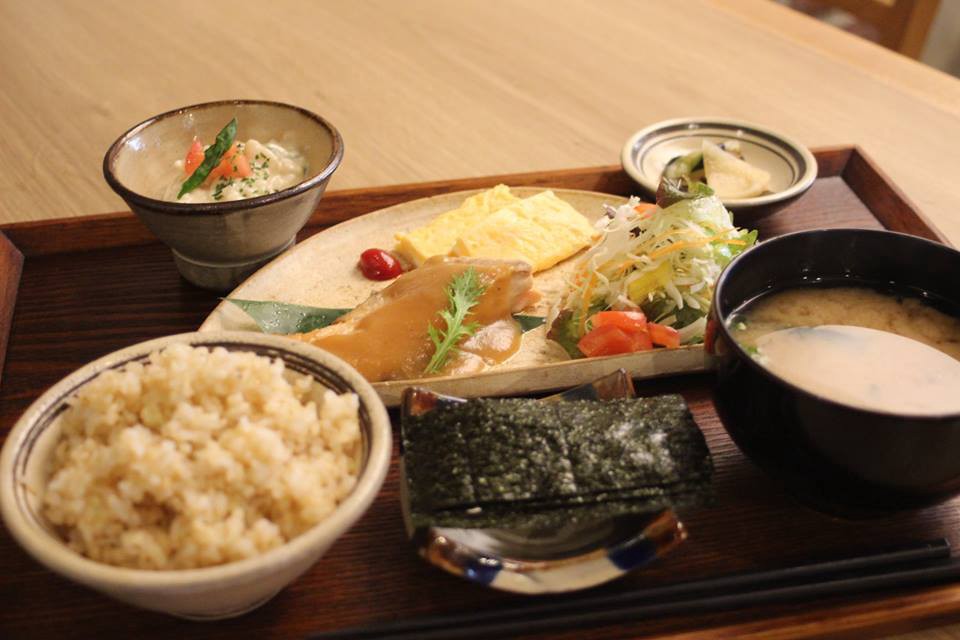 Tamanaha miso 玉那覇味噌, the special miso used for Taco rice as well as other dishes at Marutama, has been preserved and re-produced at its private and traditional miso storehouse for 170 years since its founding.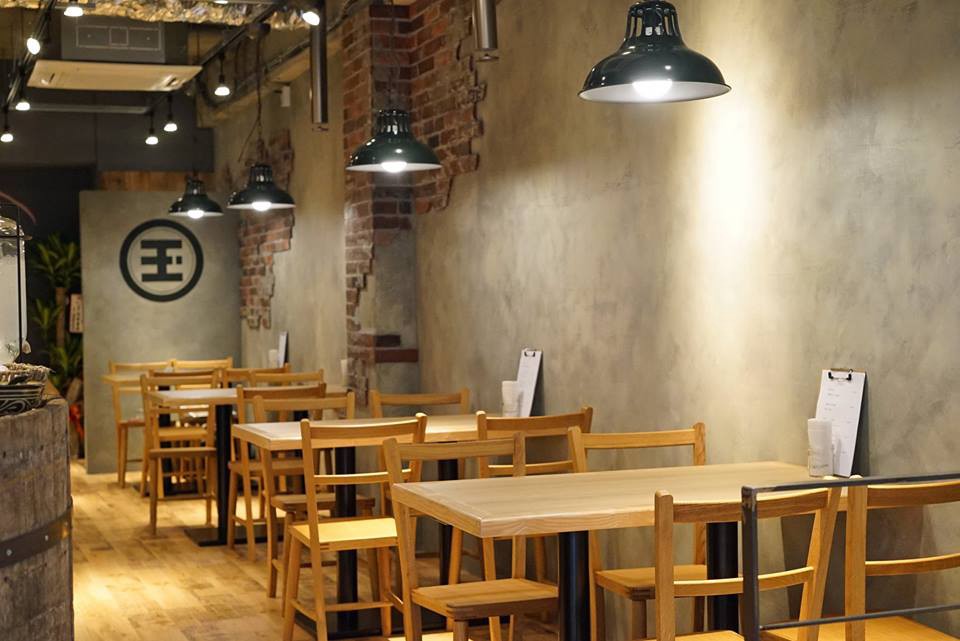 Depending on the time of the day, you will be able to enjoy different kinds of Okinawan cuisine. Most of the Okinawan dishes offered at Marutama contain this home-prepared miso. This is the only place you can appreciate the unique combination of Okinawan food with Tamanaha miso. The natural Tamanaha miso is also sold at its own store as a souvenir.
Access: 8 mins walk from Prefectural Office Station on the Okinawa Urban Monorail
Hour: 7:30–20:00, (Thursday, 7:30–14:00)
Close: Sundays
Price Range: 1,500~2,500 yen
Official Website (Japanese): http://marutama-miso.com/
6. Kin Aguu Shabushabu: Kin
As another option for meat-eaters, Kin Aguu Shabushabu: Kin (金武アグーしゃぶしゃぶ 金武) serves Kin Aguu, one of the high-quality Japanese pork raised in Okinawa. Kin Aguu is a hybrid species of Okinawa pigs that were imported from China a long time ago. It is highly rare to get a hold of a pure-blooded Aguu pig since most of them available in the open market are usually bled with Western white pigs.
Aguu Shabushabu Kin is one of the few places where you can enjoy pure-blooded Aguu pigs that are raised in Okinawa. With its tender texture and faint aroma, you will definitely lick your lips in front of a Shabushabu hotpot.
When it comes to having Shabushabu at home in Japan, you will usually eat porks with a rich sesame sauce or Ponzu, a citrus-based sauce. However, for the purpose of maximizing the genuine taste of Kin Aguu, Aguu Shabushabu Kin provides pork meat only with salt, miso, and black pepper flavored with Citrus depressa.
In addition, Aguu Shabushabu Kin will satisfy you with various fresh vegetables harvested in Okinawa. You will also try a unique way of eating Kin Aguu with Umibudo ('sea grapes') at Shabushabu Kin.
Access: 8 mins walk from Prefectural Office Station on the Okinawa Urban Monorail
Hour: 18:00–23:00
Close: Sundays
Price Range: 5,000~9,999 yen
Official Website (Japanese): http://www.kinagu.com/agu.html
7. C&C Breakfast Okinawa
Under the theme of "Okinawa meets Hawaii," C&C Breakfast Okinawa introduces a brand new fusion cuisine of Okinawa and Hawaiian food. C&C Breakfast Okinawa values the concept of "Delicious breakfast on one's trip." As a tropical resort, you'll be able to enjoy popular menus such as pan cakes, Eggs Benedict, Sandwiches, and acai bowl.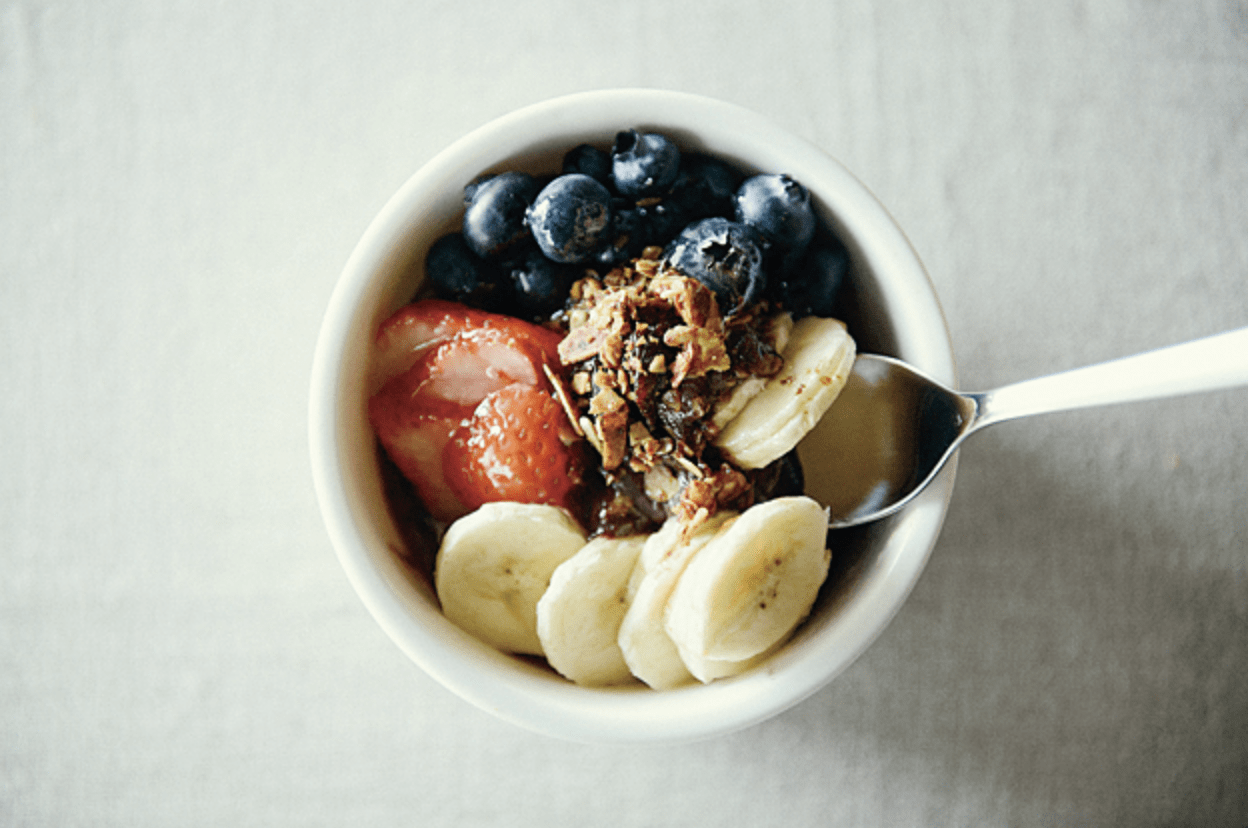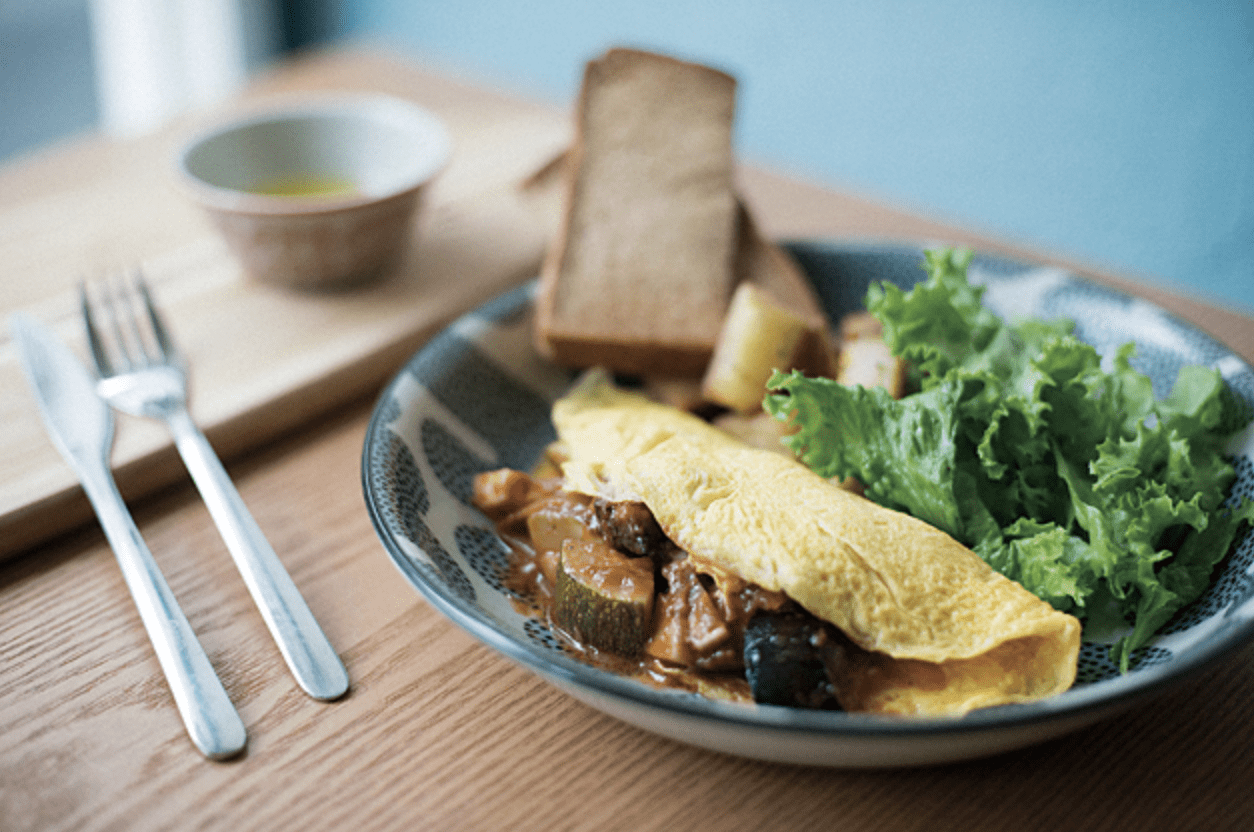 All the ingredients including fresh fruits that are served at C&C Breakfast Okinawa are purchased from Makishi Public Market (牧志公設市場). This market a.k.a "the Kitchen of Okinawa" has been functioning as an essential hub of ingredients in Okinawa for more than 60 years.
As an intriguing menu, you should try a special Okinawa-style sandwich with avocado and Shima tofu.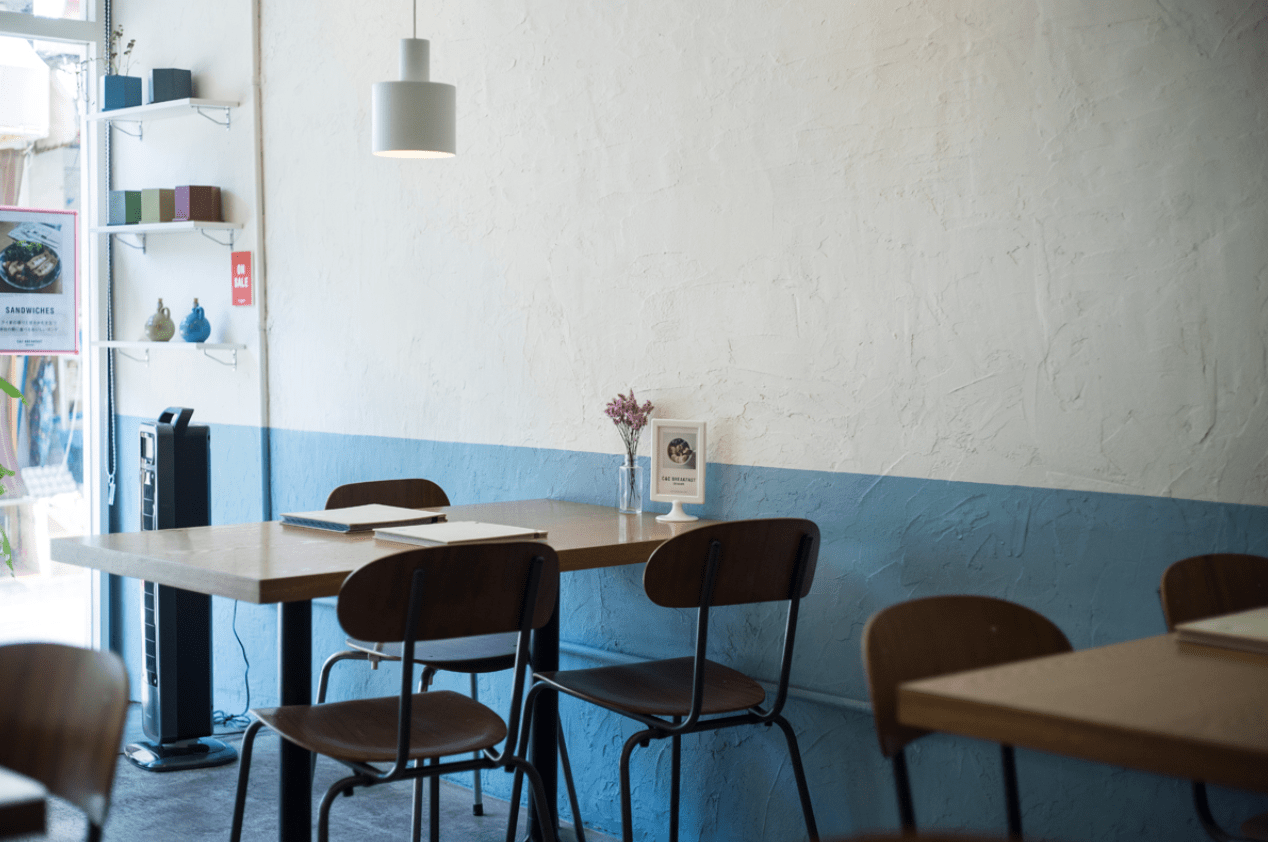 The sense of oneness inside the restaurant is derived from Northern European furniture and decorations. C&C Breakfast Okinawa will offers you a unique experience of a Okinawa and Hawaiian food in the atmosphere of Northern Europe.
Access: 10 mins walk from Makishi Station 牧志駅 on the Okinawa Urban Monorail
Hour: Weekdays, 9:00–15:00/Weekends (+Holidays), 8:00–15:00
Close: Tuesdays
Price Range: 1,000~1,999
Official Websites: http://www.ccbokinawa.com/
---
▽Another best restaurants Okinawan local people really love▽
It would be no surprise that you have never encountered those distinct Okinawa dishes even if you eat Japanese food on a daily basis. Those local cuisine developed in a unique island culture of Okinawa has been gaining popularity throughout the country. Please try out some delicious Okinawa meals!! You might also like these articles about Okinawa below!!
▽Related Articles▽
▼Editor's Picks▼
---