10 Best Things to Do in Kyoto in March 2023
What to do in Kyoto in March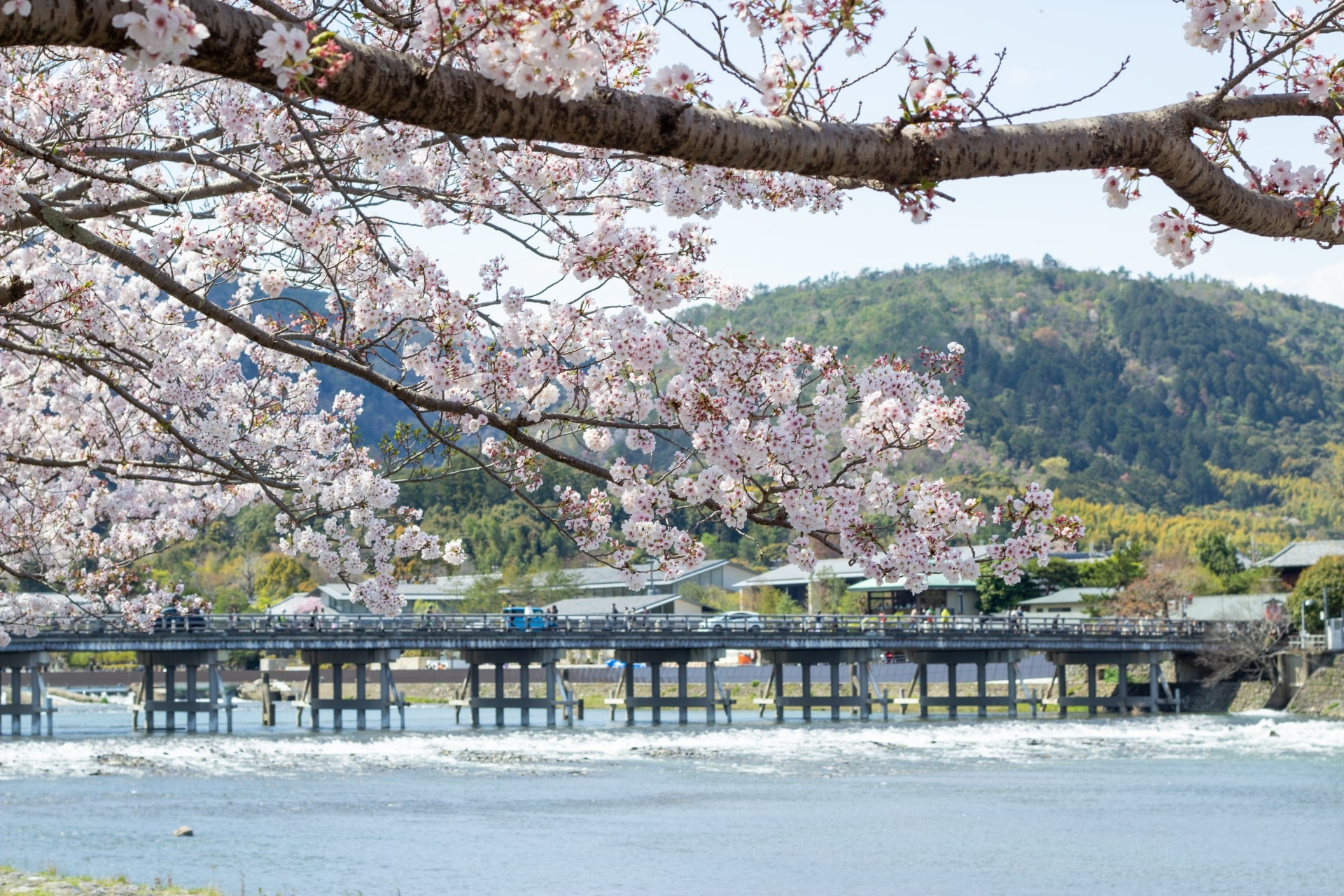 Are you planning to visit Kyoto in March? And thinking about what to see and where are the nice places to go? Kyoto is wealthy in Japan's ancient culture and was Japan's capital for a long period of time. It is also known for its numerous traditional temples, gardens, and shrines. If you want the ambiance of old Japan, Kyoto is one of the best places you can visit in Japan.
And in this article, I would like to share with you some places you can visit in March where some events, festivals, and other activities that are held in Kyoto.
March in Kyoto
March in Kyoto is the beginning of spring. There are different types of climates, but definitely not hot weather; sometimes it's cold, cool, or warm. it is one of the best times to visit and explore Kyoto. Aside from Tokyo and Osaka, Kyoto is one of the best places in Japan with many hotspots to see the beauty of the cherry and plum blossoms.
Many tourists visit Kyoto during this season to experience the viewing of Sakura blossoms that last a week in full bloom. Aside from that, you can also enjoy unique foods that are only available during spring or cherry blossom season. Many festivals are also held in the month of March and some events are held in famous places. Here are the 10 best things to do in Kyoto in March.
. . .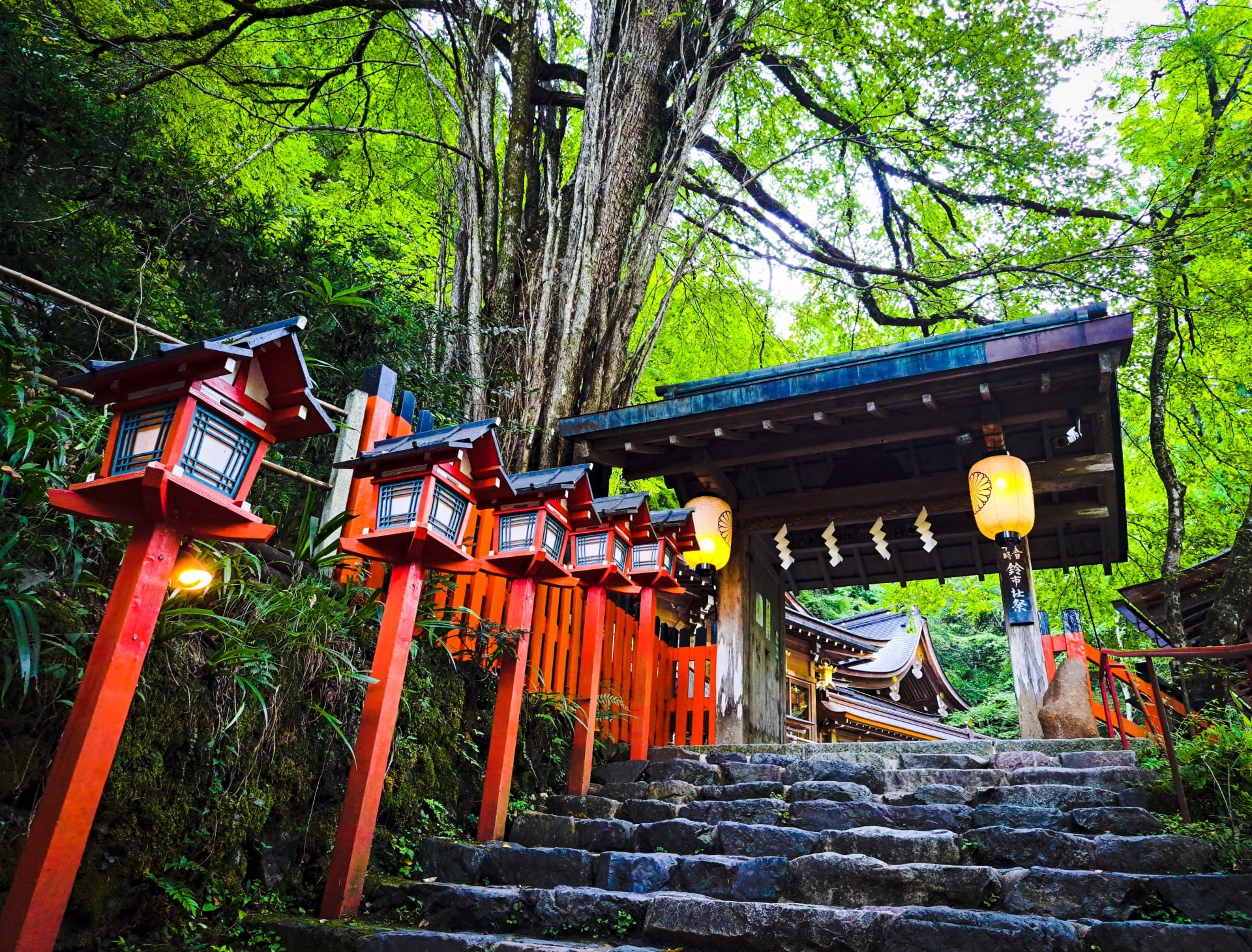 Kifune Shrine (貴船神社) is open throughout the year. All seasons are a good time to visit (spring, summer, autumn, and winter), and it is well-known for having stone stairs with red lanterns that most tourists enjoy. Kifune shrine has three shrines which are the Main Shrine, Rear Shrine, and Yui no Yashiro Shrine.
Official Website: https://kifunejinja.jp/en/info/
For more information about the Kifune Shrine, check out the following article!
2. Cherry Blossoms Viewing Spots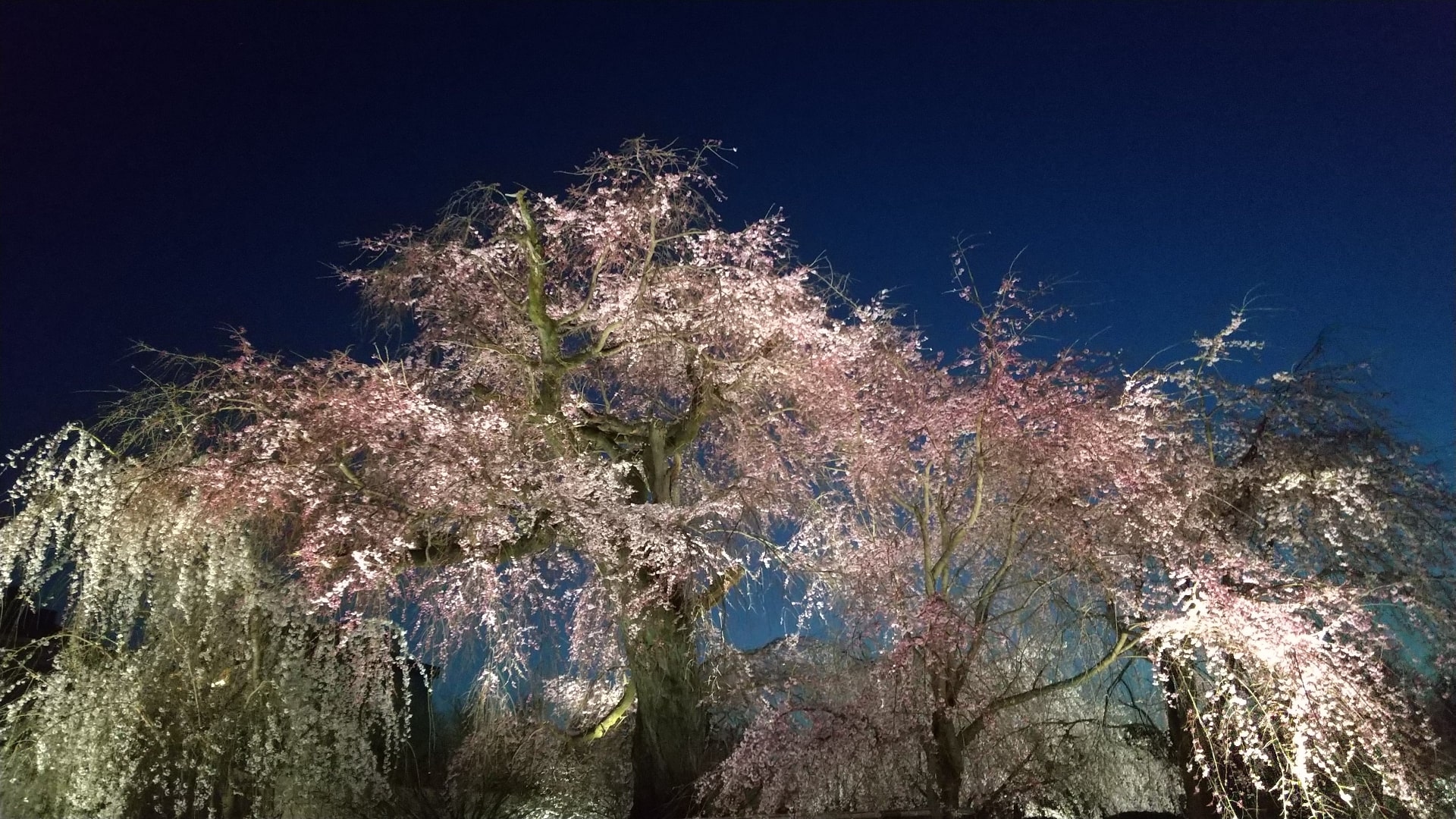 Usually, the first cherry blossoms in Kyoto are around mid-March. However, there are the best seasons to view the cherry blossom depending on the area and climate, and the peak season the full bloom of the cherry blossom last only one week.
Many tourists visit during this time to experience and see the cherry blossom. There are many beautiful places around Kyoto which has great cherry blossom viewing spots. Here are some places in Kyoto for viewing cherry blossoms, some of them fully bloom in early April.
Maruyama Park– is the oldest park in Kyoto and is also known as a main spot for cherry blossom viewing. Beautiful during spring and a great place to walk around.
Tetsugaku no Michi– or also known as "Philosopher Walk" is a pedestrian path along with a cherry tree-lined canal of Lake Biwa canal. One of the good spots for viewing cherry blossoms.
Check out the following article for more information about cherry blossom hotspots in Kyoto.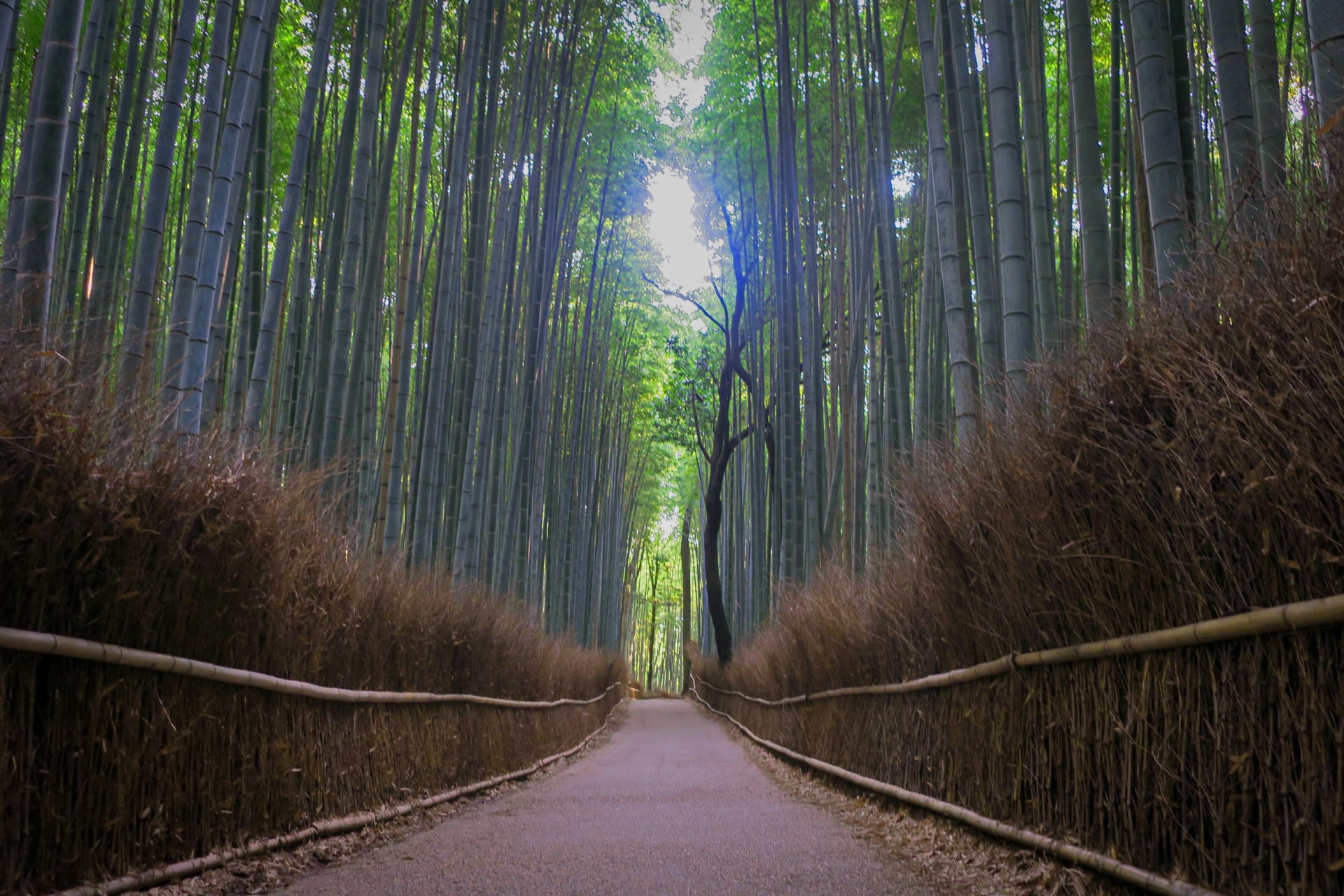 One of Kyoto's most famous sights. The Arashiyama Bamboo Grove (竹林の道) is filled with mystical bamboo paths, making it one of the popular spots along with the Fushimi Inari Shrine and Kinkakuji Temple. It is also nice to visit during the spring. Apart from the amazing towering bamboo around, there are also beautiful spots in the area where you can view cherry blossoms.
For more information about the Arashiyama Bamboo Grove, check out the following article!
4. Cherry Blossoms Festivals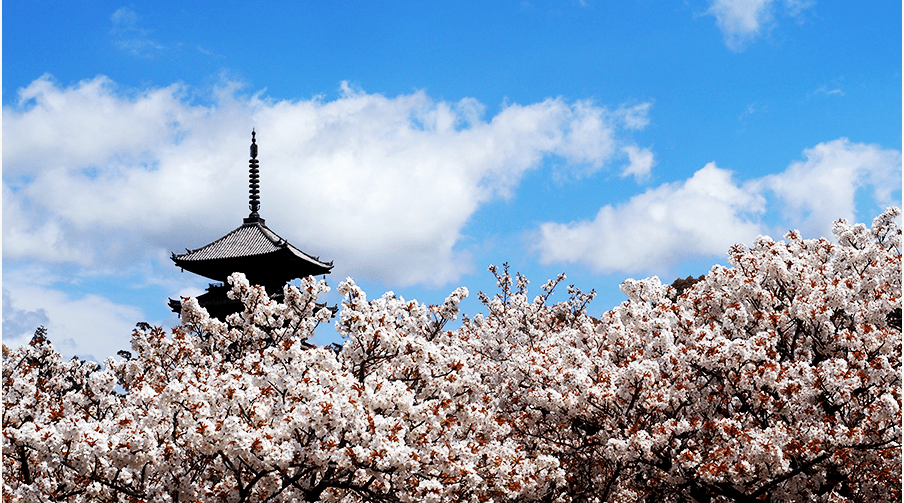 In the Spring season there are cherry blossom festival held in various areas of Kyoto and it usually starts in the month of March. And here are some festivals that you can visit.
Nijo Castle Sakura Festival 2023: This is one of the top cherry blossom viewing in the city with almost 500 cherry trees of different types. The festival is held from late March to Mid of April and you can also view the cherry blossoms at nighttime with its illuminated cherry trees.
Ninnaji Flower Festival– The Ninnaji Temple in Kyoto is known for its cherry blossoms called Omuro Sakura which are one of the families of cherry trees with the characteristic of large blossoms of flower and sweet scent. The Ninnaji flower festival is usually held from mid-March to early May.
5. Okazaki Canal Boat Rides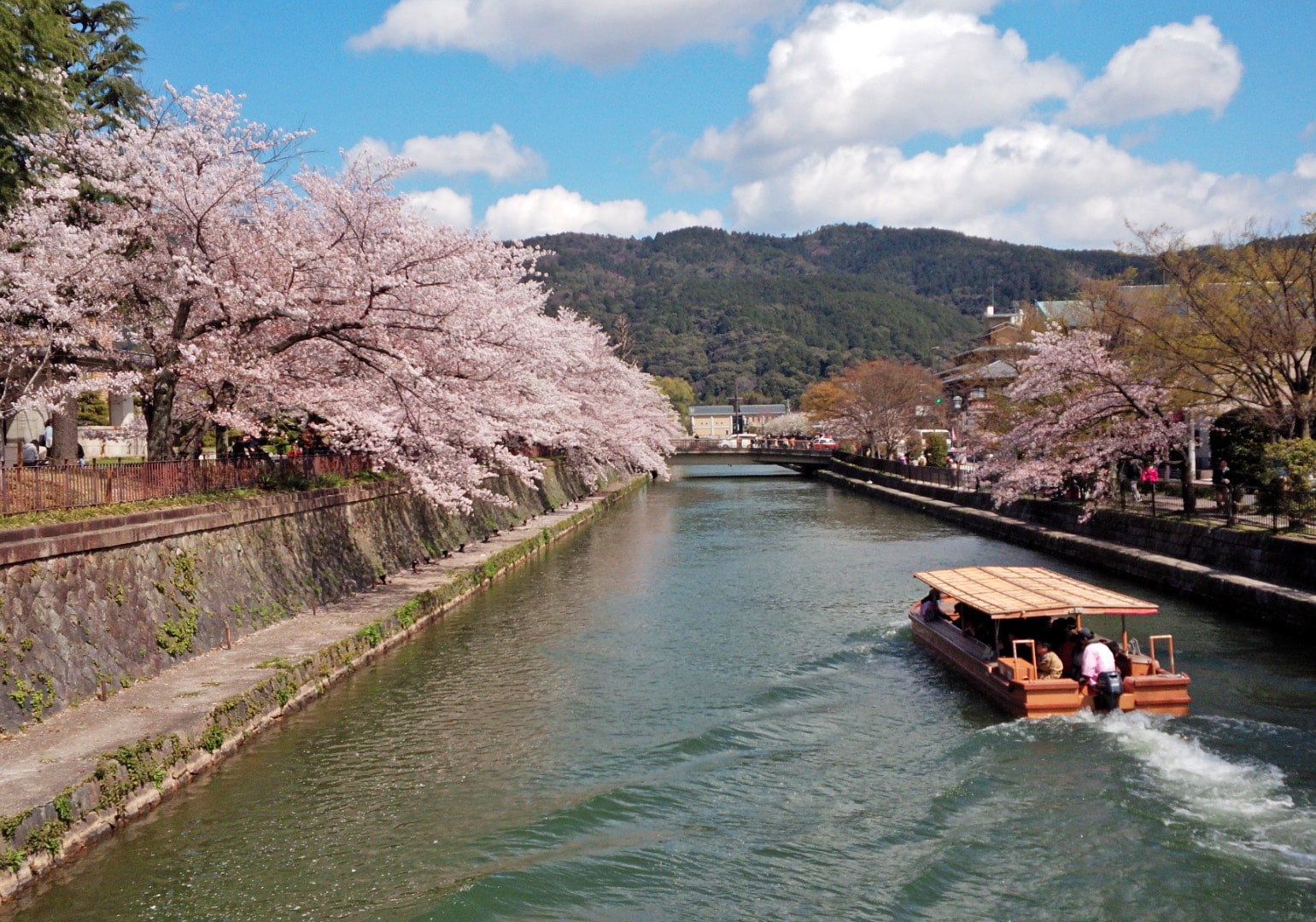 Jikkokubune is a traditional style boat in Kyoto during the cherry blossom season and is also one of the tourist hotspots in the area. The canal connects Lake Biwa and Kamo River in Kyoto. This canal boat ride is one of the best you can experience when you visit Kyoto and one of the best ways to see the cherry blossom.
There are cherry trees that bloom early in the spring season and this March they have a new arrival plan from March 18 to April 13, 2023. The Jikkokubune boat will leave every 15 minutes from the Nanzenji boat pier. It is better and recommended to book in advance.
Official Website: https://kyoto-tabi.or.jp/events/jkkfn/_en/
6. Night Temple Illuminations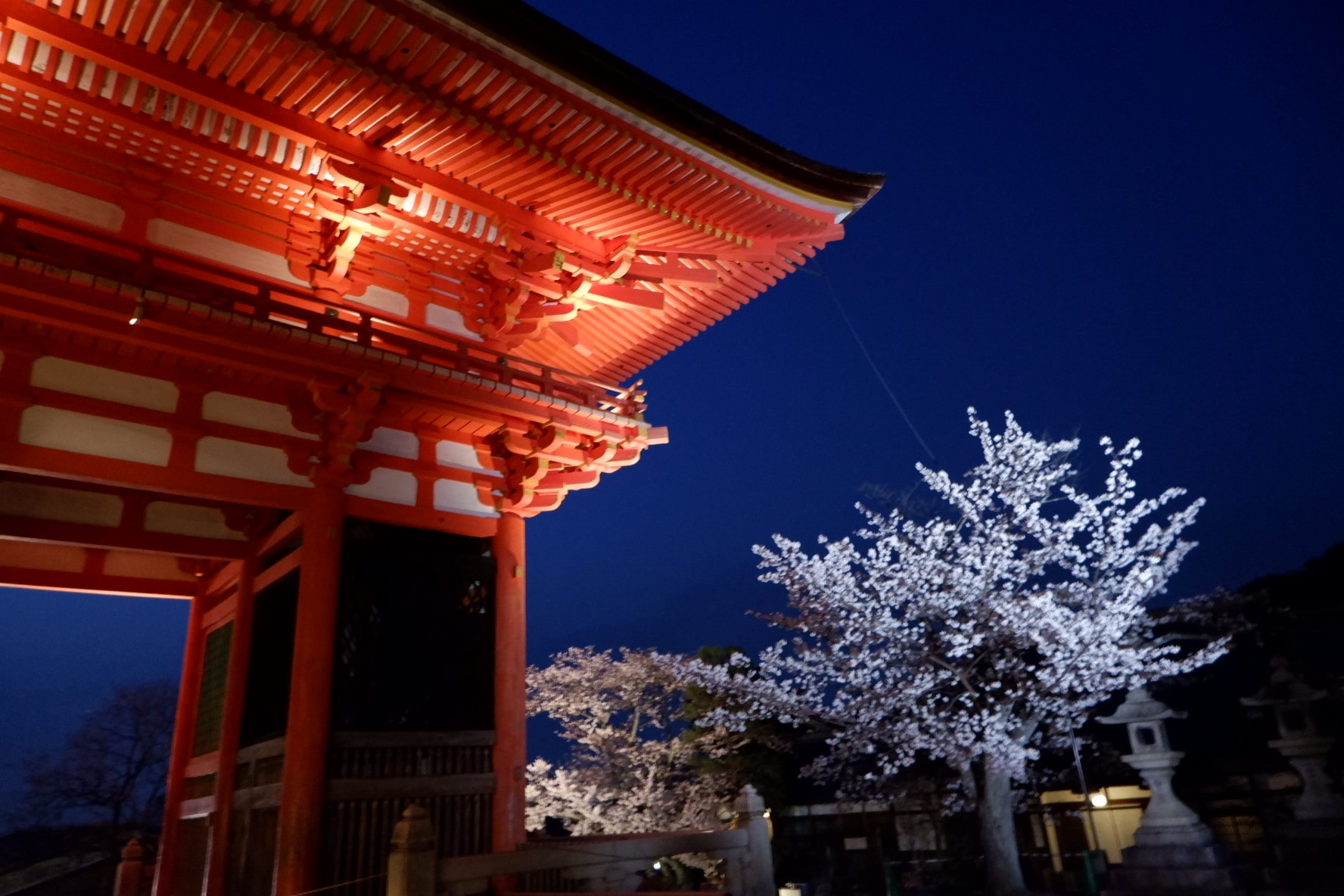 You can see the cherry blossoms not only during daytime but also during the nighttime. There are several temples that you can visit and holds special evening events for viewing cherry blossoms.
Kiyomizudera Temple: A popular Buddhist temple in eastern Kyoto Japan. And well-known for its large wooden terrace, which is a great spot to see the cherry and maple trees, especially during spring and fall. This March Kiyomizudera will hold special evening illumination.
Website: http://www.kiyomizudera.or.jp/en/visit/special_night_viewing/
Shoren-in Light Up- The Shoren Temple holds special night visits and light shows during spring and autumn. An amazing garden where the trees and flowers are illuminated. During the light show the whole place will look like a magical world full of amazing flowers and trees in the middle of the night will you can see the elegant history of the temple.
Website: http://www.shorenin.com/english/night/
7. Visit Uji City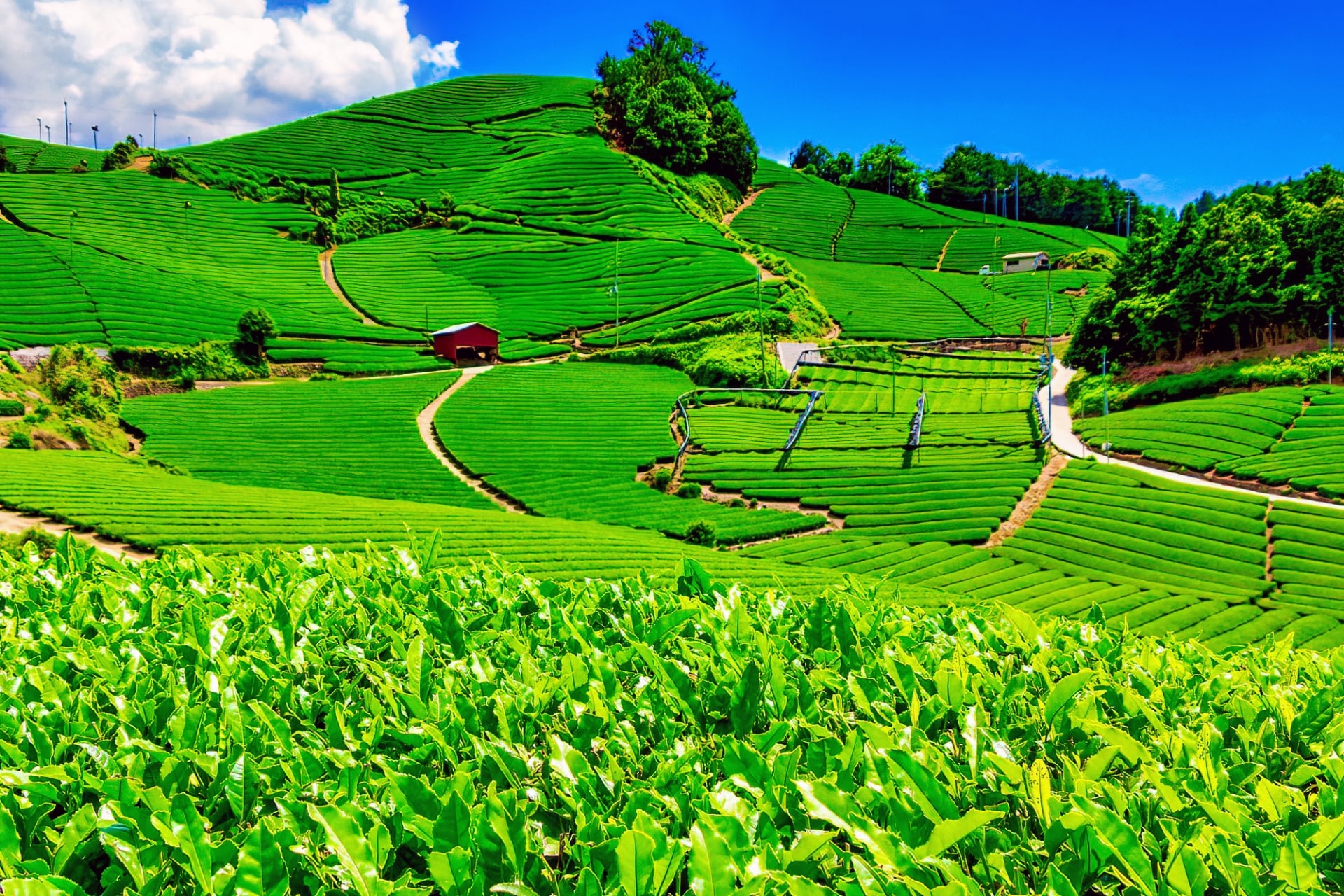 Uji city (宇治市) is one of the places in Kyoto Prefecture that has many beautiful places to visit and is rich in historical structures. It is also known for Uji tea: one of the main industries of the city. Here are some places you can visit around Uji city.
Wazuka Tea Farm – If you love tea and want to experience organic tea, this place is perfect to visit. They offer a tour of the farm and will teach you about tea, tasting various types of tea, farming, and processing.
Uji City Botanical Garden – A huge garden with various types of flowers and plants. Many exhibitions are held in the area every year. It has flowers that can be seen depending on the season such as cherry blossom in spring and colored leaves in autumn.
Website: https://uji-citypark.jp/botanical/
Byodo-In Temple and Ujigami-jinja Shrine – Two designated UNESCO world heritage sites. These are historic monuments of ancient Kyoto within Uji city.
Website: https://www.byodoin.or.jp/
Website: https://ujikamijinja.amebaownd.com/
8. Enjoy Seasonal Foods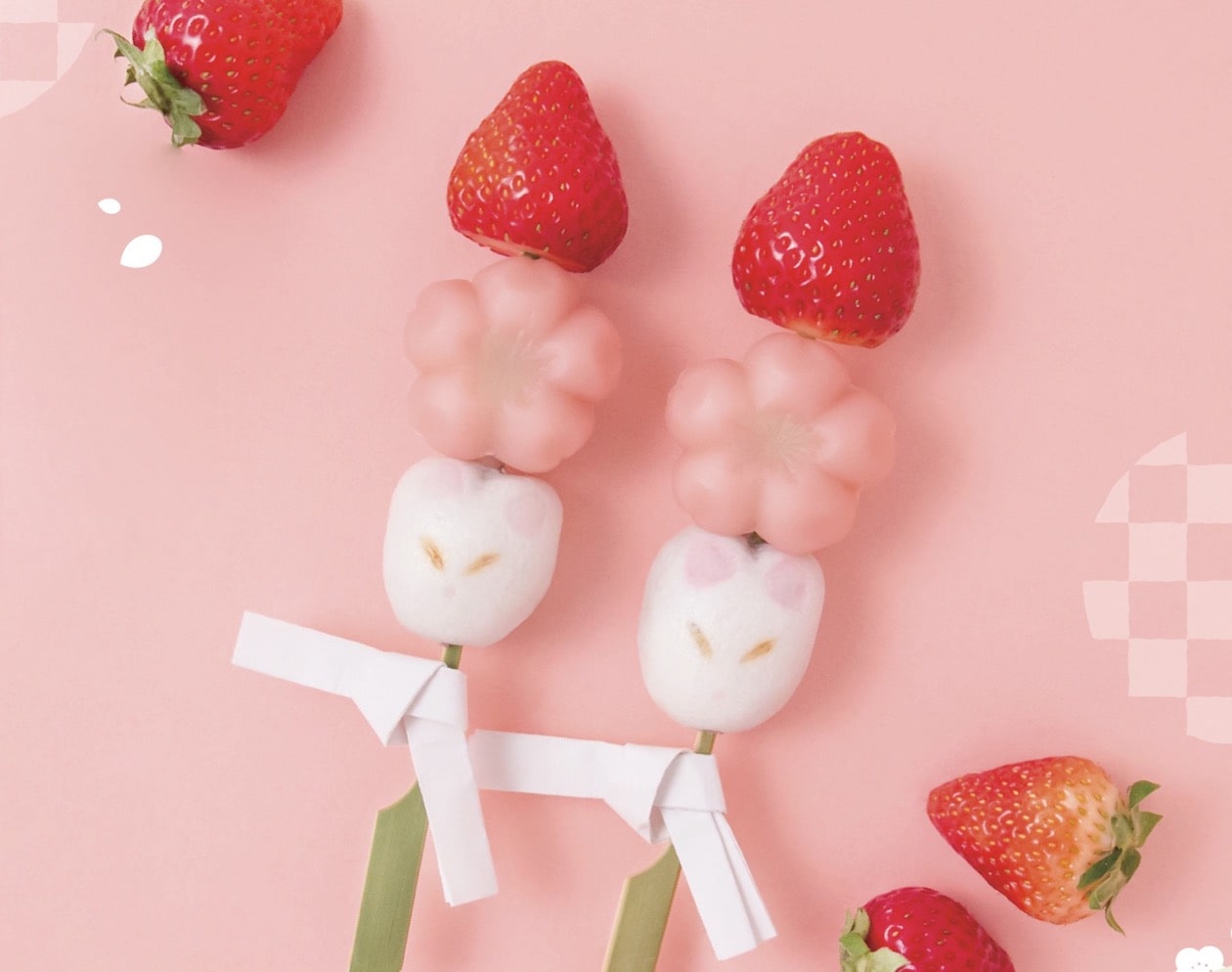 Apart from many historical places in Kyoto, they also have a variety of delicious foods that are especially popular during spring. Spring is when the weather starts to get nice, making it perfect to purchase some street foods. Here are some of the foods in Kyoto that you will want to taste.
Kyo Yasaka Pudding – A small shop with a variety of soft and creamy pudding, ice cream, and drinks. Their special pudding with different flavors to suit your taste, a must-try when visiting Kyoto.
Website: https://www.kyo-yasaka-pudding.co.jp/
Kushiwagashi: One of the most popular menus of Kaka Itoken, it consists of strawberry and two Japanese confectionery on a stick, the strawberry on the top, a seasonal Japanese sweet in the middle that change every season, and a sweet bun with a fox face on the bottom. A must-try when visiting Kyoto.
Website: https://www.kyoto-itoken.co.jp/
Sweets in Can: The Arashiyama Misora is a dessert restaurant that serves unique sweets in cans limited to 30 per day. With different flavors depending on the season, also a must-try when you visit Kyoto.
Website: https://www.hotpepper.jp/strJ001286366/
9. Kyoto Antique Fair 2023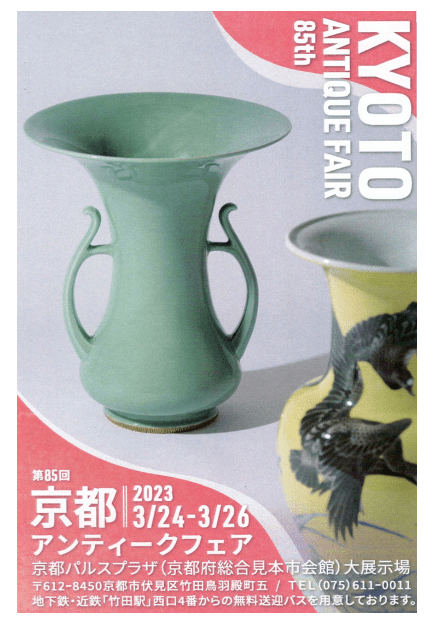 This antique fair is a unique event in Kyoto and many second-hand markets are held in various areas of Kyoto.
Kyoto is known for its many ancient traditions from the early days of Japan. That is why the antique fair in Kyoto is so popular and crowded with many customers and almost 300 exhibitors as well as many tourists that come to Kyoto for the antique fair as part of their travel.
This March 24 to 26, 2023, there will be many antique fairs held in Kyoto (Pulse Plaza), you can include this event in your itinerary of what you can do to Kyoto in March.
Official Website: http://www.gomoku-do.com/
10. Hanezu Odori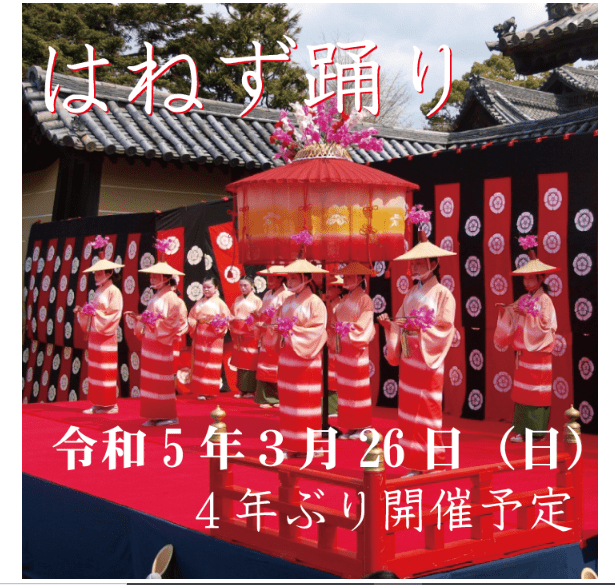 Hanezu Odori (はねず踊り) is one of the famous festivals in Kyoto that is held every year on the last Sunday of March when the plum trees are in full bloom. Hanezu refers to pink plum blossom and Zuishin-In temple is popular for its plum tree blossom. The girls dance in pink Japanese costumes with bamboo hats and plum flowers. the dance shows the story of Ono no Komachi and the man who fell in love with her; Fukakusa no shosho. It is also nice to experience when visiting Kyoto.
Official Website: https://www.zuishinin.or.jp/2023/02/hanezuodori2023/
. . .
Thank you for reading, I hope this article helps and provide information on the events and festivals that can be visited in Kyoto in March.
Check more things to do in March in other popular areas in Japan, too!
▽Subscribe to our free news magazine!▽

For more related articles, please check the following links.
▽Related Articles▽
▼Editor's Picks▼
---