Nijo Castle Cherry Blossom Light-Up by NAKED 2023
NAKED FLOWERS 2023 Cherry Blossoms at Nijo Castle, a World Heritage Site in Kyoto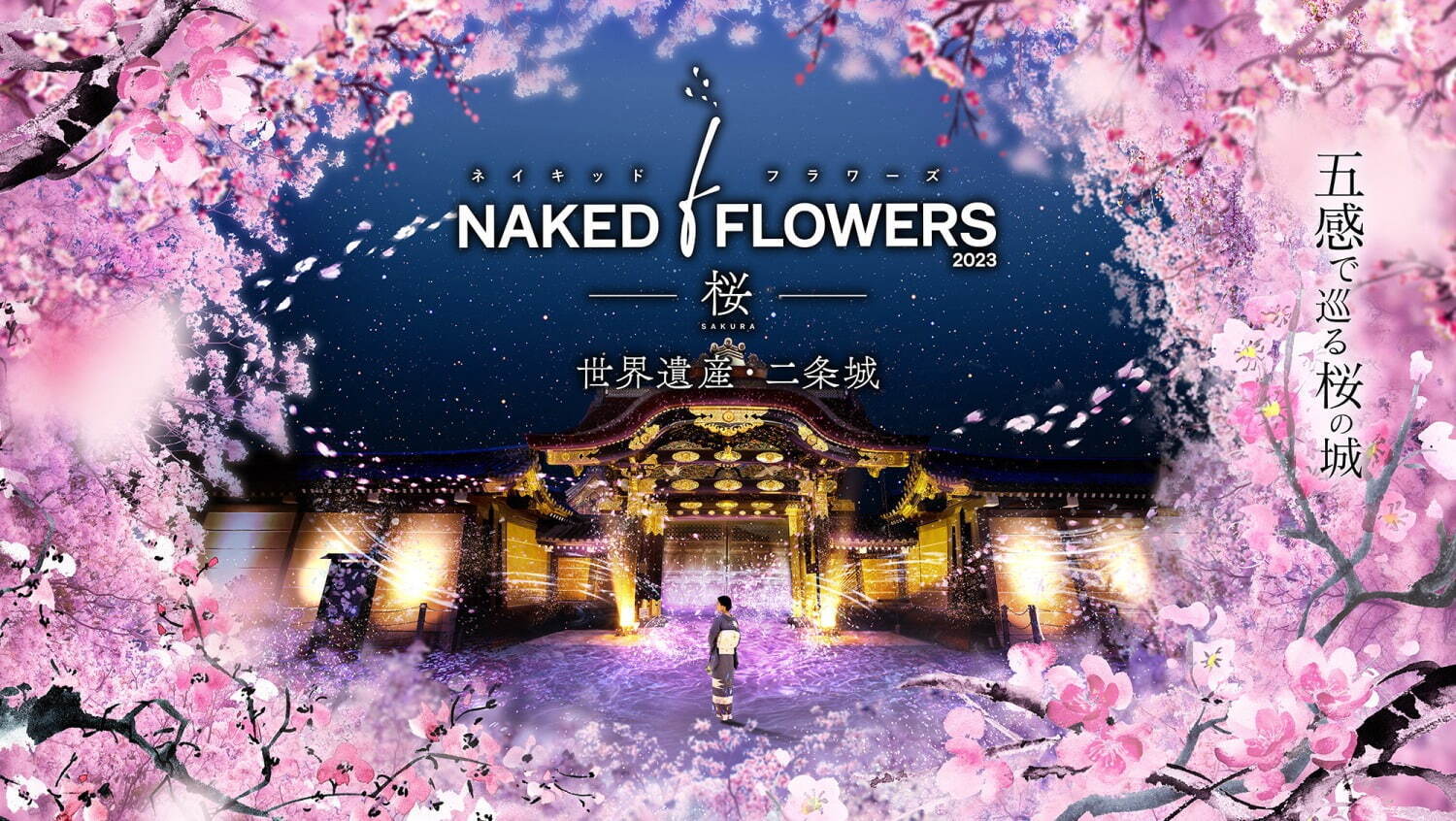 Spring is just a month away in Japan, and with it one of the most anticipated events of the year: the cherry blossom season. The popular cherry blossoms are one of the favorite events of the year for both Japanese and foreigners. The entire country is covered in shades of white and pink. An ephemeral beauty that lasts only a few weeks before disappearing again until next year.
There are different places where you can enjoy the beauty of sakura or cherry blossoms, but one of everyone's favorites is Kyoto. Japan's ancient capital, Kyoto is one of the most popular tourist cities in the country, just after Tokyo. After several years with closed borders, Japan has opened up to tourism again, and in Kyoto there are new attractions waiting!
One of Kyoto's main attractions is its rich historical heritage, with numerous temples and shrines dating back many years. Although forgotten in many city guides, one of my favorite sites in the city is undoubtedly Nijo Castle. Built in 1603 as the Kyoto residence for the first shogun of Japan, Tokugawa Ieyasu, Nijo Castle offers something different from temples and shrines and has a pretty and photogenic garden.
In Spring 2023 you can enjoy a new and unique experience, NAKED FLOWERS 2023 Cherry Blossoms at Nijo Castle, a World Heritage Site in Kyoto will be held from Friday, March 17 to Saturday, April 15, 2023.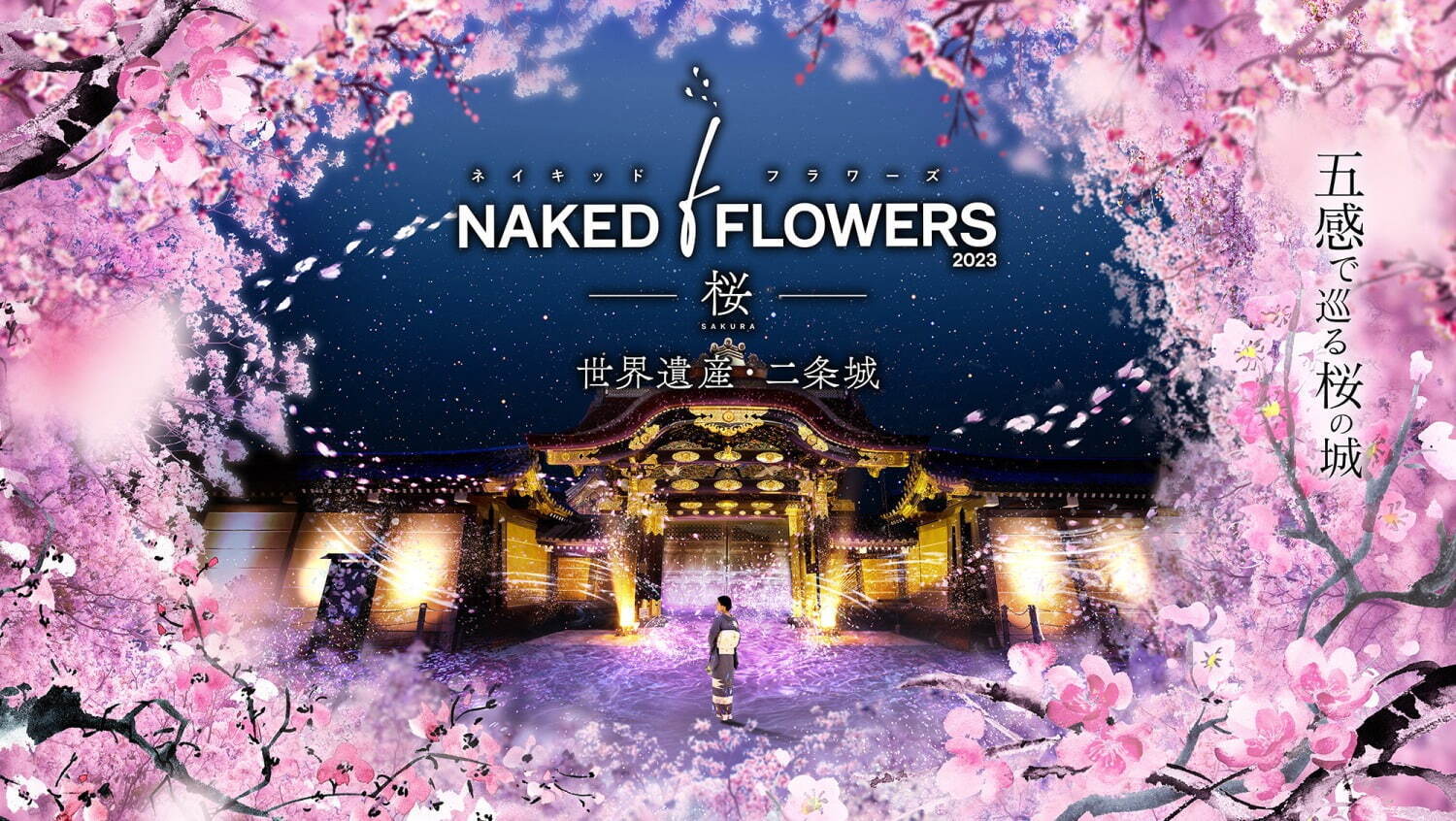 NAKED FLOWERS, by the creative company NAKED, INC. is an interactive art exhibition with a floral motif. This annual event is held at Nijo Castle, one of the most famous cherry blossom viewing spots in Kyoto, where beautiful scenery is created by the lush cherry blossoms and Naked art.
The theme for 2023 is cherry blossoms and traditional Japanese culture. In addition to the projection mapping of the Karamon Gate, an Important Cultural Property, visitors will be able to enjoy the various expressions of the nighttime cherry blossoms with all five senses through the fragrant breezes and sounds of spring and the gourmet food available at the venue.
Moreover, for the first there will be a space where people can enjoy tea while watching the cherry blossoms projected on the white wall by the projection mapping. Visitors can experience traditional Japanese culture as the entire space is enveloped in a fantastic spring scene.
---
NAKED FLOWERS 2023: Cherry Blossoms at Nijo Castle, a World Heritage Site
Venue: Nijo Castle
Access: By bus
Date: March 17 (Friday) to April 15 (Saturday), 2023
Hours: 18:00 ~ 22:00 (last admission 21:00)
Normal Tickets
From Monday to Thursday: 1,600 yen for adults/1,000 yen for elementary school students
Friday, Saturday, Sunday and holidays: 2,000 yen for adults/ 1,400 yen for elementary school students
Tickets for specific days
From April 1 (Saturday) to 8 (Saturday): 2,400 yen for adults/ 1,800 yen elementary school student
Free admission for preschool children.
Discounts are available for persons with disabilities.
*Additional fee is required for purchase at the ticket counter on the day of the show.
*There is a limit to the number of tickets available depending on the ticket type.
Ticket on sale: Scheduled for February 15, 2023 (Wed.) 10:00
Ticket handling: Various play guides (Ticket Pia, Lawson Ticket, e-plus, CN Playguide, Seven Ticket, Rakuten Ticket, Asobu, kkday) and Seven-Eleven, Lawson, Family Mart, Mini Stop nationwide
Official Website: https://flowers.naked.works/nijojo/
Official Instagram: https://www.instagram.com/naked_inc/
Official Twitter: https://twitter.com/naked_staff/
---
Thanks for reading! If you are planning to visit Kyoto during Spring, you may wanna check the articles below!
▽Related Articles▽
▼Editor's Picks▼
---