14 Days Winter Itinerary in Japan for Skiing
Japan Winter Itinerary: 14 Days for Skiers and Snowboarders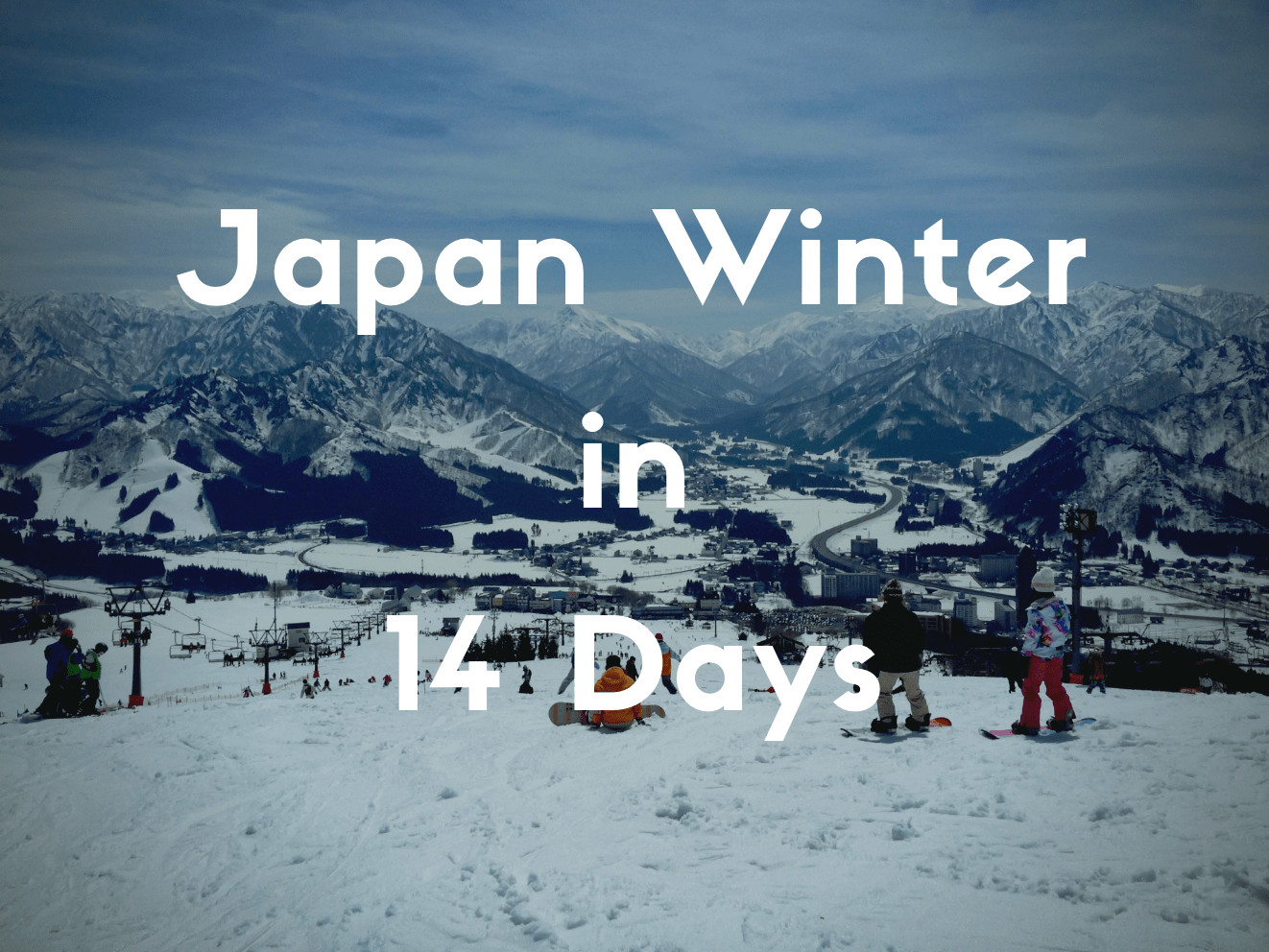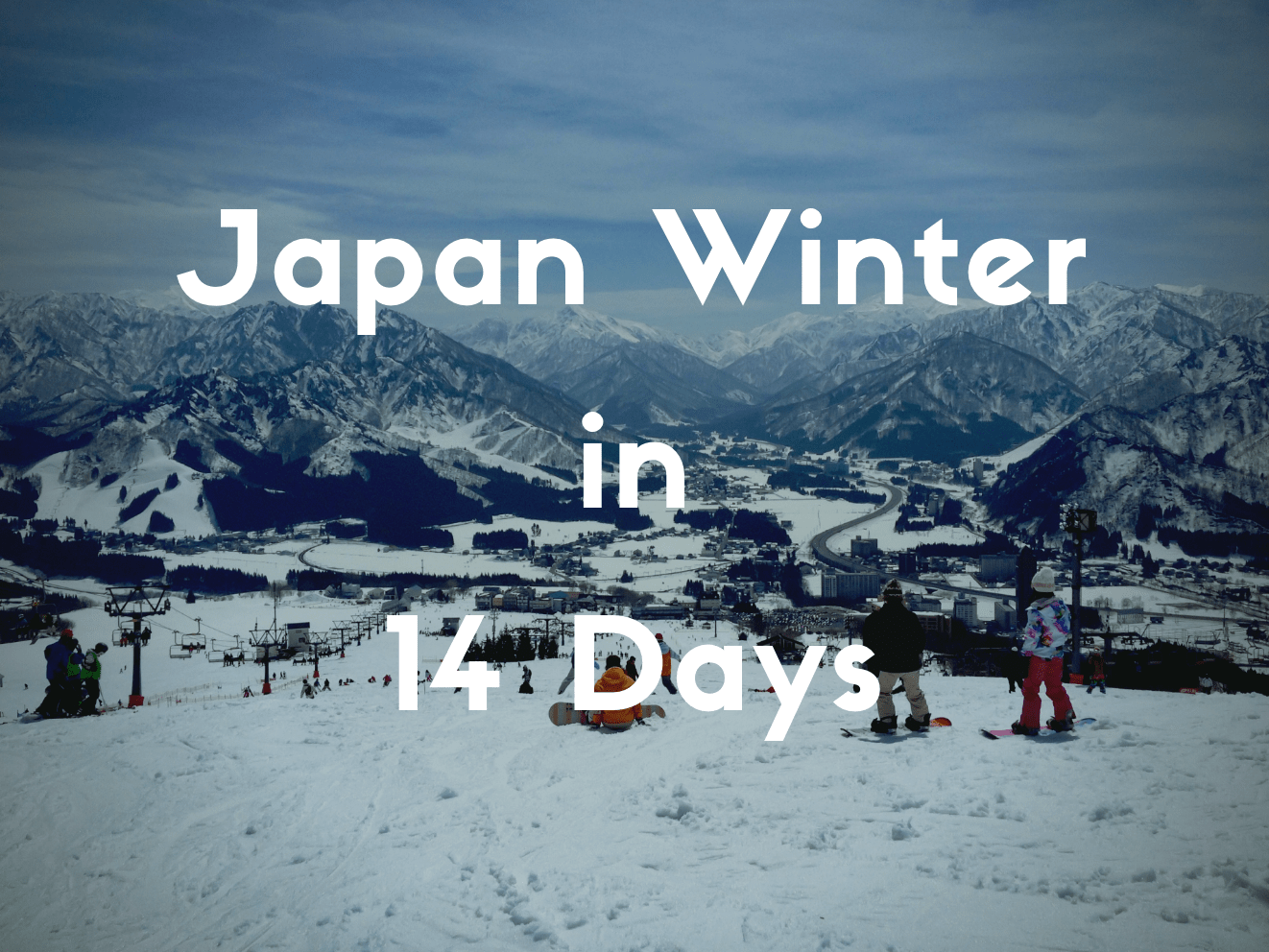 Japan is one of the best counties to enjoy skiing and snowboarding with powder snow in the world. There are numerous high-quality ski resorts all over Japan such as Niseko in Hokkaido and Hakuba in Nagano. For ski lovers, this is an ideal 14 days itinerary to enjoy skiing in Japan in winter season. The best season for skiing in Japan is January and February though many ski resorts are open from December to March. The winter itinerary consists of popular ski resorts you should visit from Hokkaido to Tokyo and Central Japan. Of course, this itinerary also partly helps short-term winter travelers to enjoy skiing for 7 days or shorter.
*Please note that this article contains affiliate links.
14 Days in Japan Winter (In/Out Tokyo Narita Airport)
Day 1. Tokyo
Arriving at the largest international airport Narita Airport. Things to do in Tokyo on the first day depend on your arrival time. It is possible to move to the first ski destination on this itinerary Hokkaido on the same day, however, how about staying overnight in Tokyo to relieve your tired body. If you arrive at Tokyo early and have time enough to travel a little, there are many things to do in Tokyo in winter. For travelers who land on the airport after the evening, it is recommended to stay at a hotel near Narita Airport.
Day 2–6. Hokkaido
On the 2nd day, you move to the first ski destination Niseko which is one of the most popular ski resorts in Japan among foreign visitors. There are 4 main ski resorts in Niseko: Niseko Hanazono Ski Resort, Niseko Grand Hirafu Ski Resort, Niseko Village Ski Resort and Niseko Annupuri Ski Resort. You need 3–4 days at least to fully enjoy skiing with the finest powder snow at those ski resorts. Niseko Ski Resort is surrounded by gorgeous accommodations, restaurants, bars and other facilities, so you will never get bored there how long you stay in Niseko.
After several days in Niseko, you head to New Chitose Airport in Sapporo. It is recommended to stay in Sapporo for a few days. The city has the accessible ski resort named Sapporo Teine Ski Resort, which is located within approximately 30 mins by car from the center of Sapporo. In addition to skiing at the resort, there are many attractions including fresh seafood and illuminations. If you visit Sapporo around the beginning of February, don't miss the chance to experience Sapporo Snow Festival. For recommended hotels to travel in Sapporo or visit Sapporo Snow Festival, check out these hotels.
▽Check more details of Niseko and Sapporo Teine Ski Resort!!▽
Day 7. Tokyo
Get back to Tokyo from Hokkaido. You will have much time to travel in Tokyo on the day or relax at your hotel for the next day. If you want to enjoy exploring Tokyo, check out this Tokyo Bucket List. It is recommended to stay near transportation hub such as Tokyo Station and Shinjuku Station since you will get to the next ski destination Niigata by Shinkansen or bus from those stations.
Day 8–9. Niigata
Niigata has been also known for nice ski resorts accessible from Tokyo. It only takes about 1.5 hours to get from Tokyo to the ski resorts in Niigata by Shinkansen. There are 3 recommended ski resorts in Niigata: Gala Yuzawa, Naeba and Kagura. All of them are located very close to each other. Why don't you experience some ski resorts while staying for a few days? Gala Yuzawa and Naeba have been very famous for a long time where everyone from advanced skiers to kids can enjoy. On the other hand, Kagura is less known and not so crowded. Anyway, they offer high-quality powder snow.
▽Check more details of Gala Yuzawa and Naeba Ski Resort!!▽
Day 10–12. Nagano
Move to the 3rd ski destination which is one of the highlights on this skiing itinerary. Nagano has been famous for the top-rated ski resorts since Winter Olympics 1998 was held there. There are a large number of ski resorts in Nagano, and Hakuba is what you should visit for skiing on this winter itinerary. Hakuba Valley, consisting of 10 ski resorts, is one of the best skiing destinations. You can enjoy not only fluffy powder snow but also other attractions like Onsen and regional food and drinks. If you want to ski at some ski resorts, Hakuba Valley Ticket allows you to access all of them and take a lift from anywhere in Hakuba Valley.
▽Check more details of Hakuba Valley!!▽
Day 13. Tokyo/Mt.Fuji
Finally, you get back to Tokyo for the flight of the next day. If you still have time and the physical strength, it is an option to take a day trip to ski resorts near Mt.Fuji from Tokyo. You can gliding on the slope with the breathtaking views of Mt.Fuji at these ski resorts near Mt.Fuji.
▽Check more details of ski resorts around Mt.Fuji!!▽
Day 14. Leaving Tokyo
Before departing, don't forget to buy souvenirs at Narita Airport. There are various souvenirs from traditional Japanese items to snacks that you cannot get except there. Enjoy shopping and eating in the airport till your departure!
This is just an example for traveling in Japan in winter while skiing though you should add Hokkaido, Niigata and Nagano to your itinerary for skiing in Japan. Almost all ski resorts offer rental gears for skiing and snowboarding, so you don't need to travel without heavy equipment.
▽For more recommended ski resorts in Japan, check out this best ski resort list and personalize your skiing itinerary▽
Before staring your trip, make sure to rent some helpful items to help you to travel all over the country smoothly and comfortably. If you are a first time traveler in Japan, it is strongly recommended to rent a pocket WiFi at least. Check out which the best rental option is in this article below.
▽Related Articles▽
▼Editor's Picks▼
---