10 Best Things to Do in Higashiyama
Higashiyama Travel Guide: What to Do in Higashiyama, Kyoto Now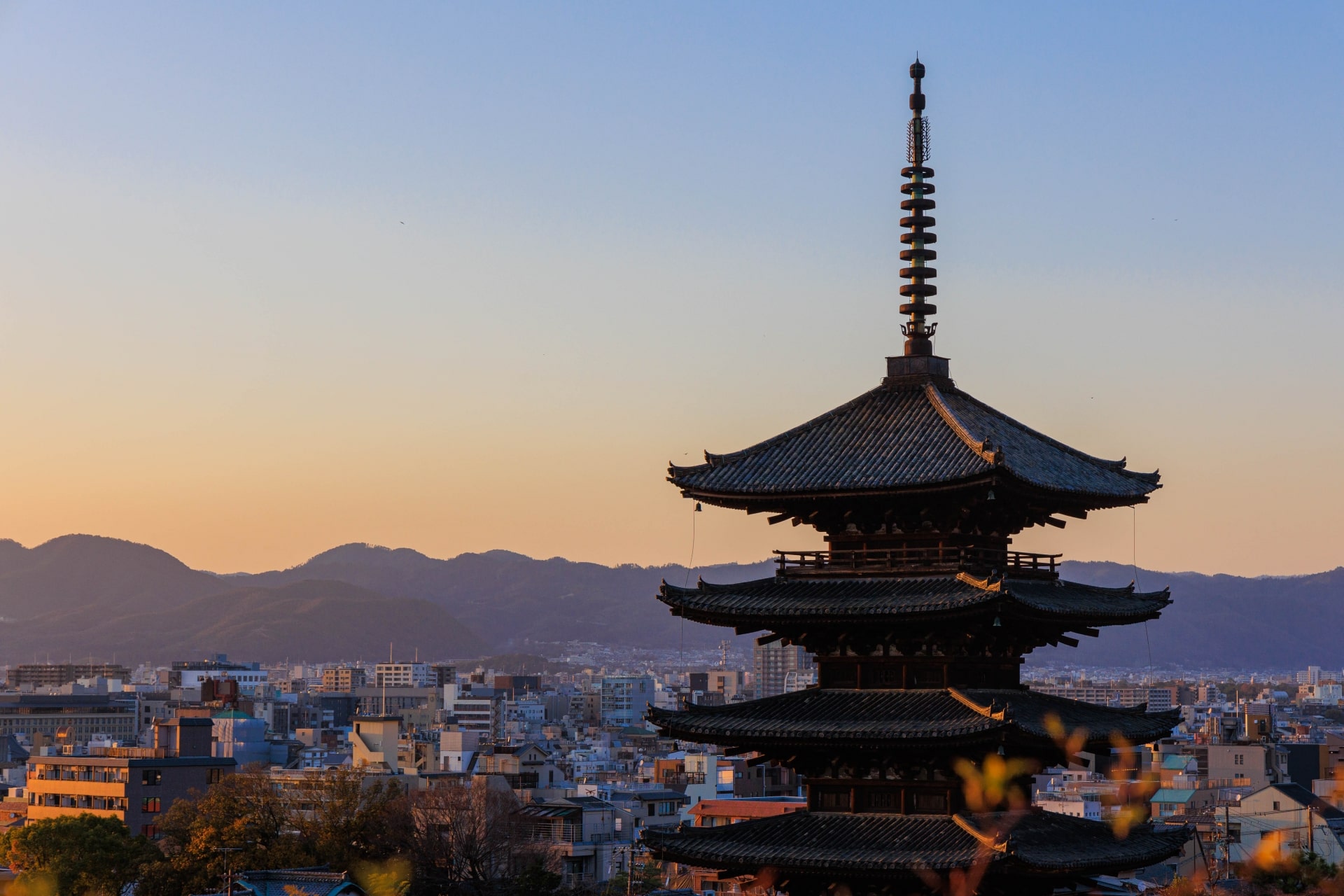 A lot of foreign tourists visit Kyoto to see traditional Japanese culture while they visit Tokyo to see modern Japanese culture. Kyoto has various traditional cultures and historical buildings, as it's known as an old capital of Japan.
Higashiyama, located in the center of Kyoto, is one of the most popular tourist areas in Kyoto surrounded by historical buildings. Higashiyama includes the famous entertainment district Gion and the iconic Kamogawa River. Moreover, Kiyomizudera Temple, one of the most famous temples in Japan, is also located in the Higashiyama area.
There are many buses to get to each tourist spot easily. Once you get a one-day pass at Kyoto Station you can go around everywhere I'm going to introduce to you below. Check out 10 best things to do in Higashiyama, Kyoto!
1. Kiyomizudera Temple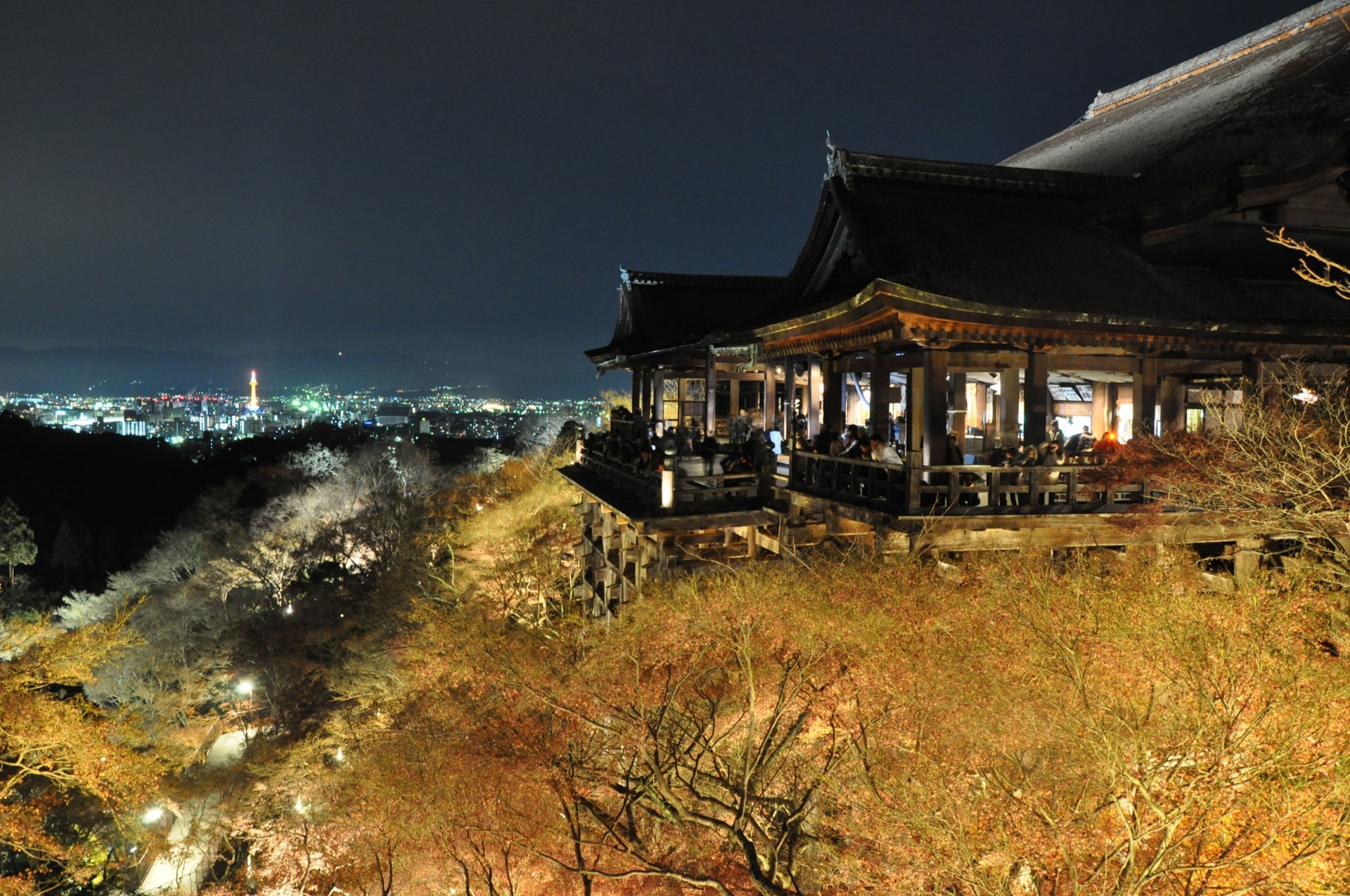 Kiyomizudear Temple is one of the most popular temples in Japan. It was built in 778 as a part of East Asian Yogacara Buddhism and was listed on the UNESCO World Heritage Sites in 1994. When people make an important decision, they say "as if I jumped off the stage of Kiyomizudera Temple". From the great stage of Kiyomizudera Temple, which was renovated in 2021, you can see the amazing town view of Kyoto.
The red main gate, Niomon, is the iconic gate of Kiyomizudera Temple. There is a pair of the statues of Vajrayaksa on both sides of the gate. The three-storied pagoda is a symbolic building of the Kiyomizudera Temple as it can be seen from the center of Kyoto city. These buildings are registered as a National Important Property.
2. Kodaiji Temple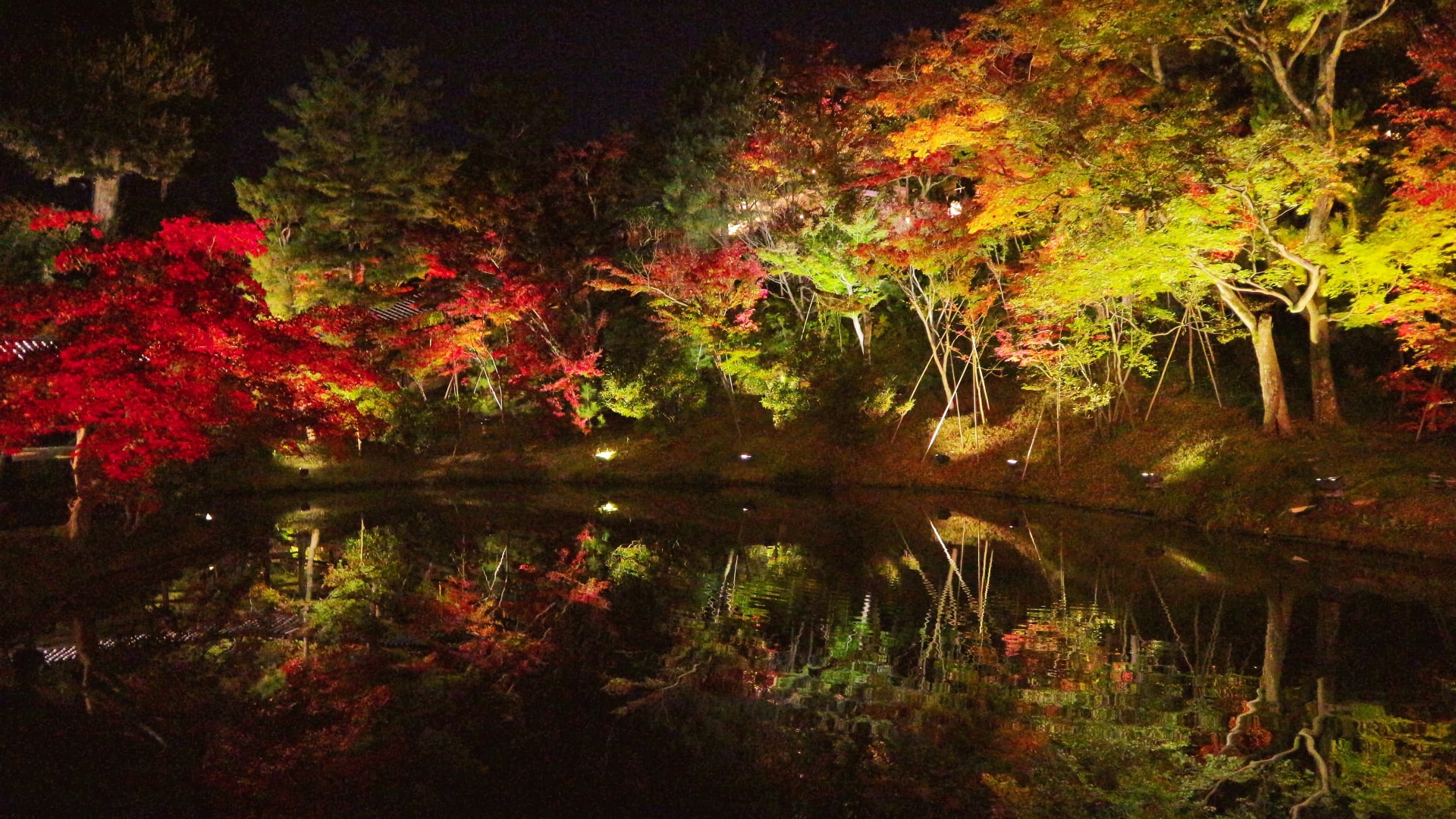 Kodaiji Temple is one of the most famous Zen Buddhist temples built in 1606. It enshrines Hideyoshi Toyotomi and his wife Nene. A room called Otamaya, where Nene is enshrined, is decorated with Maki-e. Maki-e is one of the traditional Japanese lacquer arts. Kodaiji preserved a lot of Maki-e artworks from 1568 to 1600 as they were. Kodaiji Maiki-e attracts many people with its elegance and originality and is designated as a National Important Property.
The most popular event in Kodaiji is the night light up. Kodaiji is the first temple which started accepting a night visit in Kyoto. Its main precincts are lit up according to each seasonal theme. People can enjoy different faces between daytime and nighttime through the 4 seasons.
3. Yasaka Shrine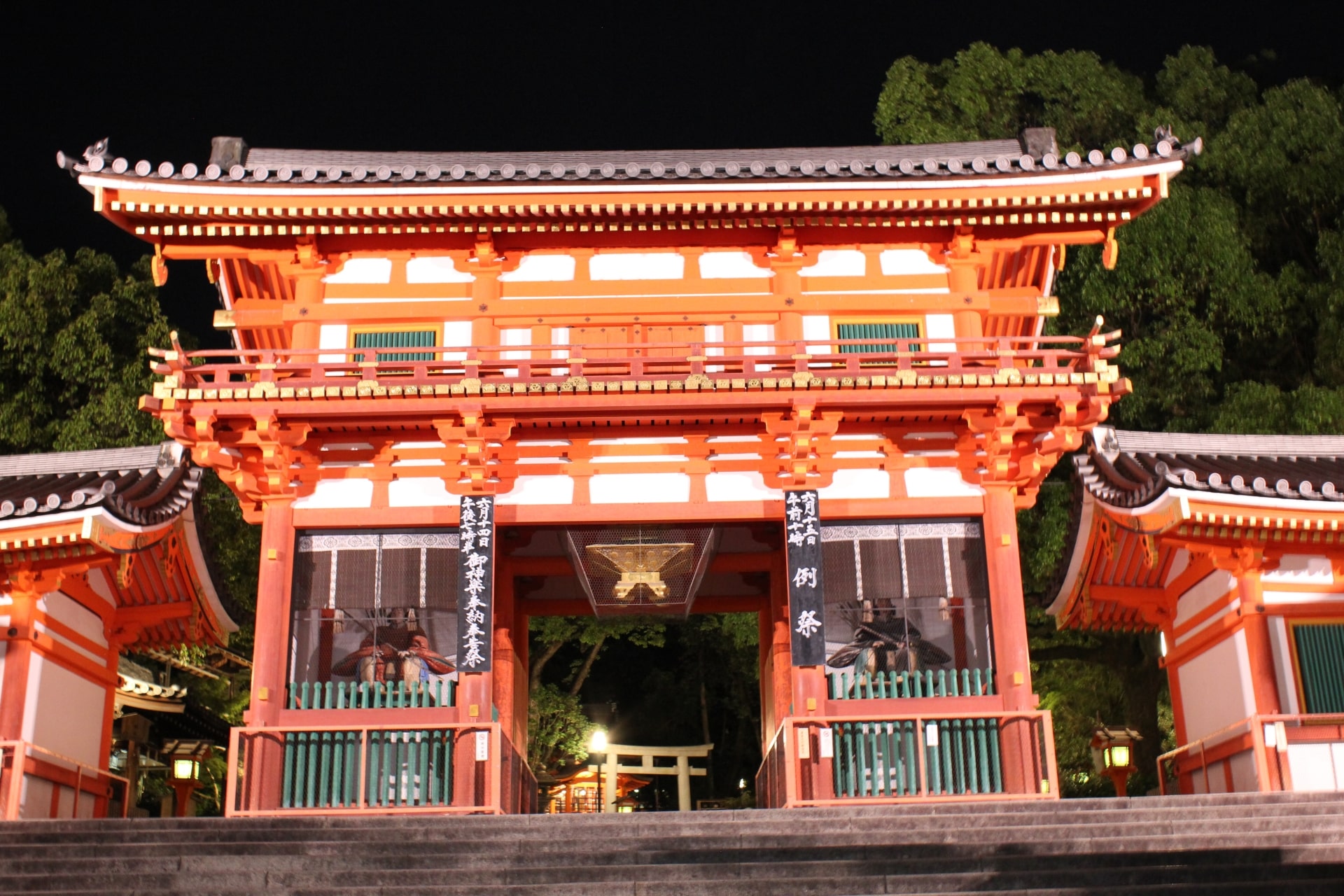 Yasaka Shrine is the head shrine of Yasaka and Gion shrines in Japan. Its main shrine was built uniquely and with the Gion Zukuri style and was registered as a National Treasure in 2020. The main shrine and prayer room are covered with one big roof and surrounded by many rooms. Yasaka shrine has kept this architecture way since it was established and even reconstructed for many times. Its huge scale and vivid orange outlook have attracted many people till now.
There are many beneficial shrines for beauty, betrothal, and health inside Yasaka Shrine. Utsukushigozensha is believed to bring beauty benefit. The water called Beauty Water in front of the shrine is said the water makes you beautiful both in appearance and mental. Ookuninushisha is a shrine for betrothal. Many people come to pray for keeping a good relationship between couples or for finding someone good to go together with.
4. Gion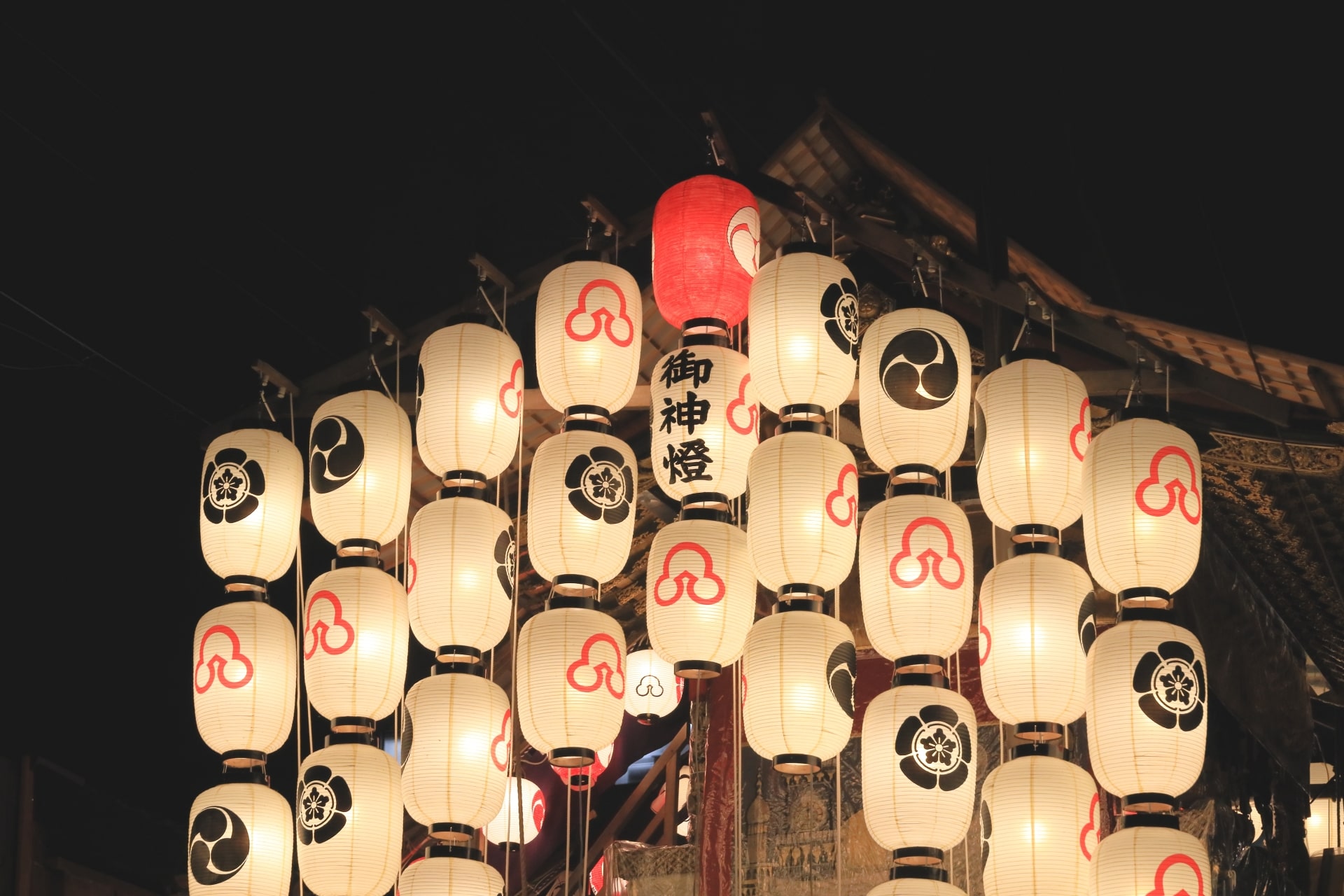 Gion is a traditional entertainment district ranging from Yasaka Shrine to the Kamogawa River. It's famous as a town of Geisha, which is one of traditional Japanese cultures. They wear kimonos and dance or play instruments during customers' meals.
There are many cultural facilities and halls such as the Kabuki theater (Minami-za) and Gion hall. In addition, various Japanese cafes and traditional Japanese cuisine restaurants stand in the Gion area. In summer, many restaurants along the Kamogawa River offer terrace seats which are called Kawadoko. Outside dinner in the elegant town would be an unforgettable memory.
The most popular event in Gion is Kyoto Gion Matsuri. Kyoto Gion Matsuri is one of the 3 biggest festivals in Japan. It has been held for a month every July for more than 1,000 years. The festival is held by Yasaka Shrine and Yamabiko Town, which is registered as a UNESCO Intangible Cultural Heritage. Many people come to see gorgeous Mikoshi floats.
5. Yasaka Pagoda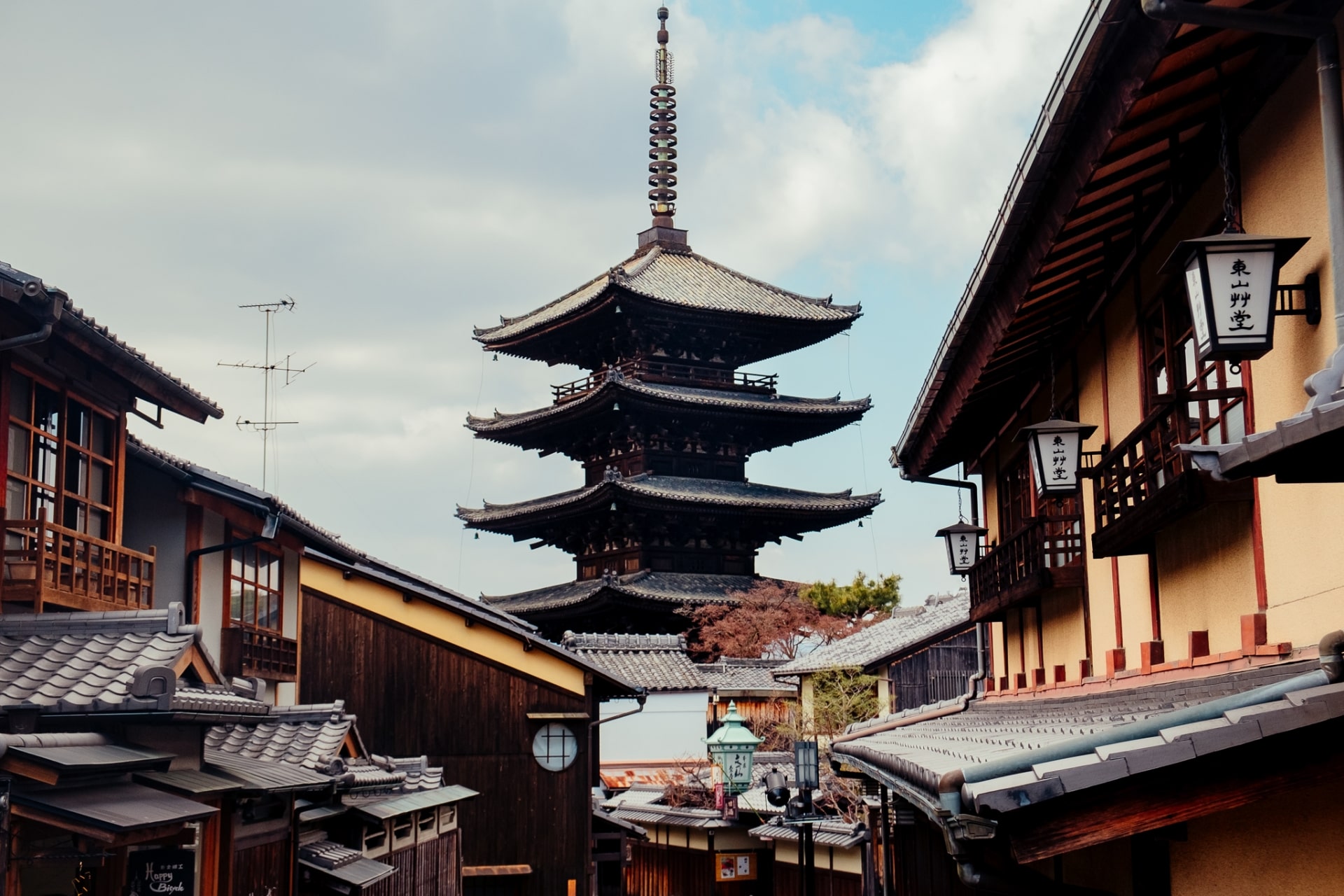 Yasaka Pagoda is a five-storied pagoda of Hokanji Temple and is registered as a National Important Property. It's located between Kiyomizudera Temple and Yasaka Shrine. Built in a traditional Japanese architectural style of the period from 645 to 710, Yasaka Pagoda is popular as a landmark of the Higashiyama area for its 46 m majestic appearance. This must be one of the best photo spots in Higashiyama, especially at nighttime.
Moving 60 m from Yasaka Pagoda, there is another photo spot, Yasaka Koshindo. Yasaka Koshindo belongs to Kongoji Temple and is one of the 3 best spots of the Koshin faith. With the Koshin faith, some people believe they can live longer if they stay up all night on the Koshin day. There are many colorful amulets called Kukuri Zaru, which means if you want to make one desire true you need to regulate another desire. These colorful amulets are very popular as photogenic stuff.
6. Ninenzaka and Sannenzaka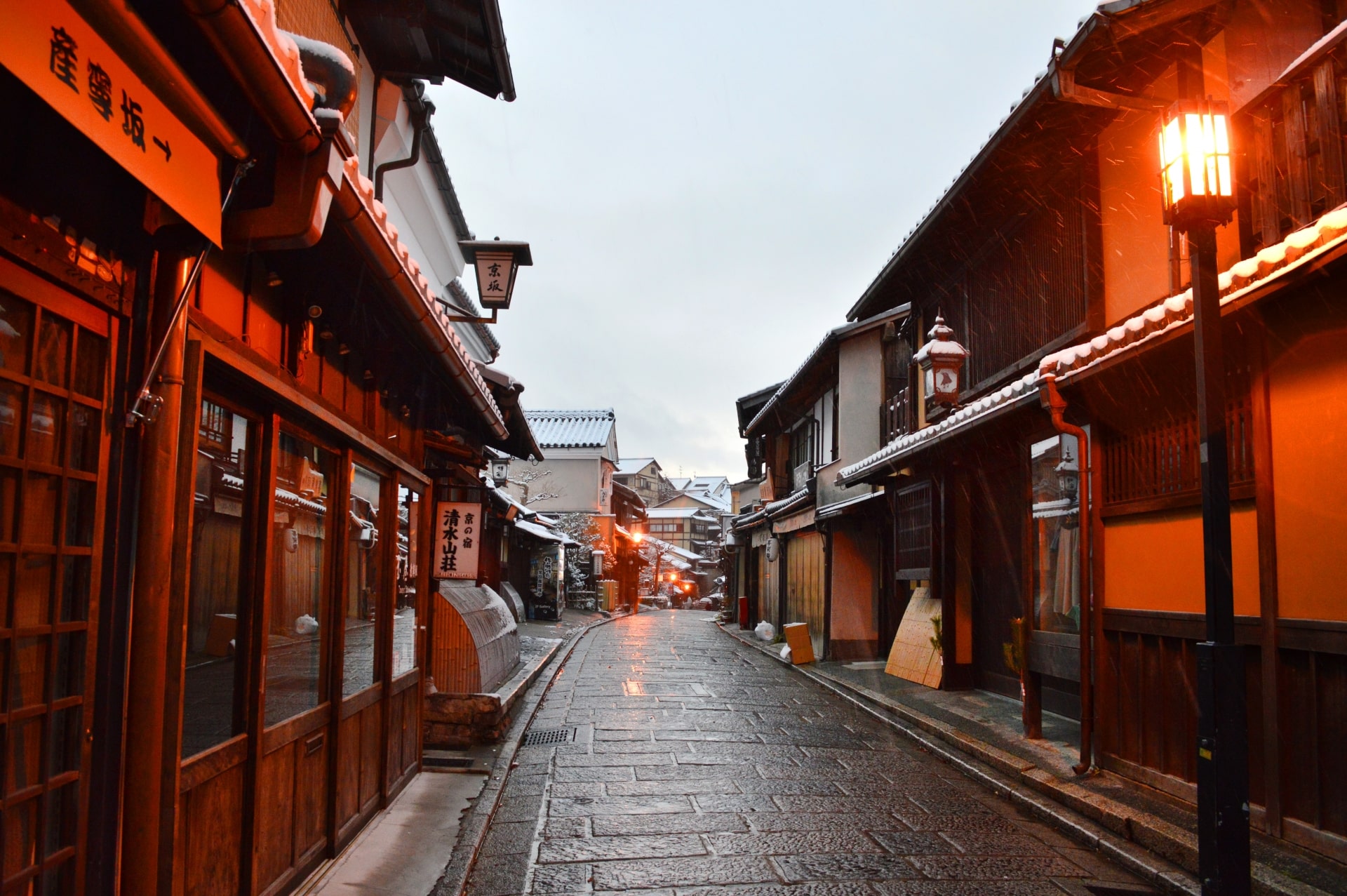 Ninenzaka and Sannenzaka have developed as a road approaching Kiyomizudera Temple. Sannenzaka is believed as a road of praying for safe childbirth. The road under the Sannnenzaka is called Ninenzaka. Because these two streets connect the Kiyomizu Temple and Yasaka Shrine, Kodaiji Temple, and Yasaka Pagoda, there are always a lot of tourists. On both sides of these roads, old Japanese-style buildings of restaurants and souvenir shops make a Kyoto-like atmosphere.
Niimi on the Ninenzaka is an incense shop. Niimi has various original incense flavors. Its incense is popular for a luxurious and high-quality smell produced by professionals. Its flower flavor cosmetics like lip cream and perfume are popular too.
Ukiya Kiyomizu Kisseian , a Soba noodle restaurant on the Sannenzaka, has been loved by not only tourists but also local people since 1929. Since the third owner received a special medal from the Emperor of Japan, Ukiya has been known as the only handmade Soba noodle restaurant in the world which is approved by Japan. While it's such a great restaurant, Ukiya serves its Soba noodles at a reasonable price. Don't miss a chance to try amazing Soba noodles!!
7. Maruyama Park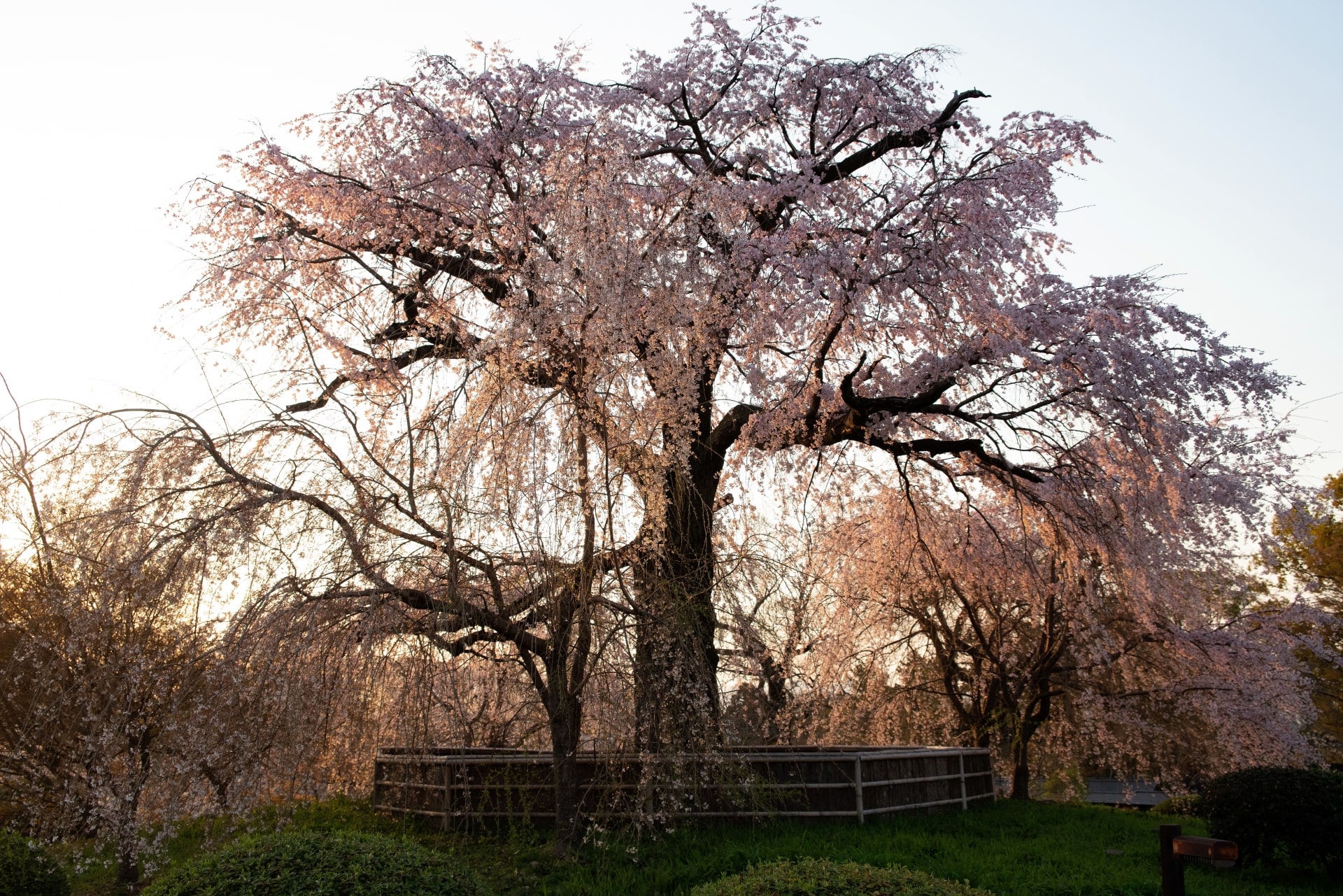 Maruyama Park is the oldest park in Kyoto, built in 1886. It has a huge land of 8,600 square meters and is next to many tourist spots like Yasaka Shrine and Kodaiji Temple.
Maruyama Park is famous as the best spot to view cherry blossoms in Kyoto. The biggest cherry blossom tree is called Gion Shidare Cherry Blossom. In spring, many people come to see the cherry blossoms amazingly blooming, which are lit up at night. In autumn, maple trees' leaves dye the whole park red. On a sunny day, beautiful red leaves reflect on the transparent Hyotan pond.
The Japanese garden at the center of Maruyama Park was established in 1912 and is designated as one of the most scenic places in Japan. In the garden, you can see the awesome view of Maruyama Park which has seasonal different faces. At Maruyama Park Music Hall, music events and cultural events are sometimes held.
8. Kamogawa River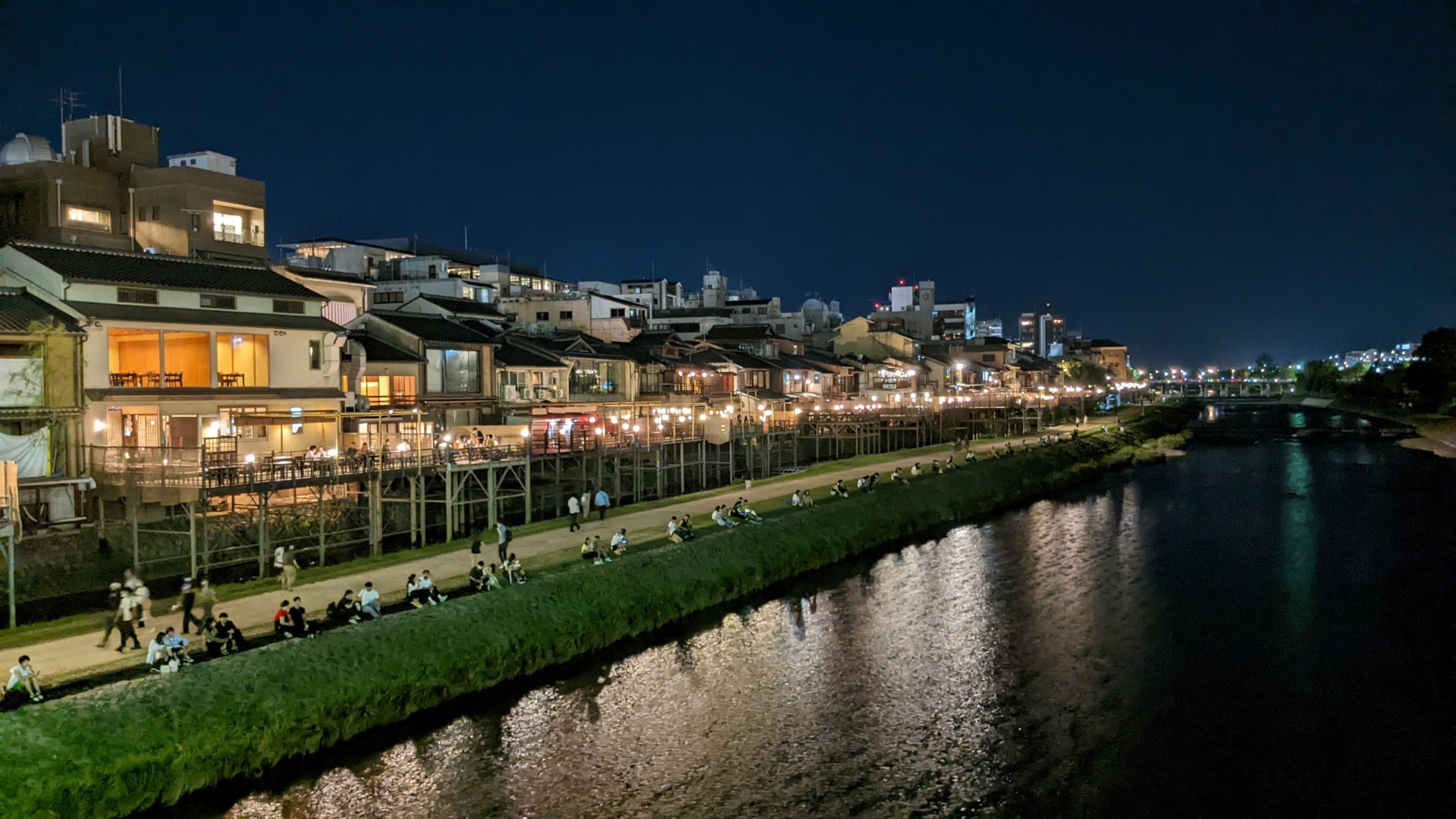 Kamogawa River is one of the biggest rivers branching from the Yodo River, which runs through Shiga, Kyoto, and Osaka. It's an iconic river in Kyoto. Many people walk along the river and enjoy seasonal different faces. In spring lots of cherry blossoms bloom dramatically. In summer, many people are playing in the river; kids especially like playing in this water. In autumn, various leaves turn red and yellow. In winter, the river view from the Shijo Bridge behind snowy mountains is awesome.
The most popular thing in summer around Kamogawa River is outside tables of many restaurants and cafes along the river, called "Kawadoko". Kawadoko started in the Edo period. There are various restaurants along the river from traditional Kyoto cuisine to French and Italian, for both reasonable and expensive prices. The riverside amazing meals would make your trip a precious one.
9. Gorgeous Desserts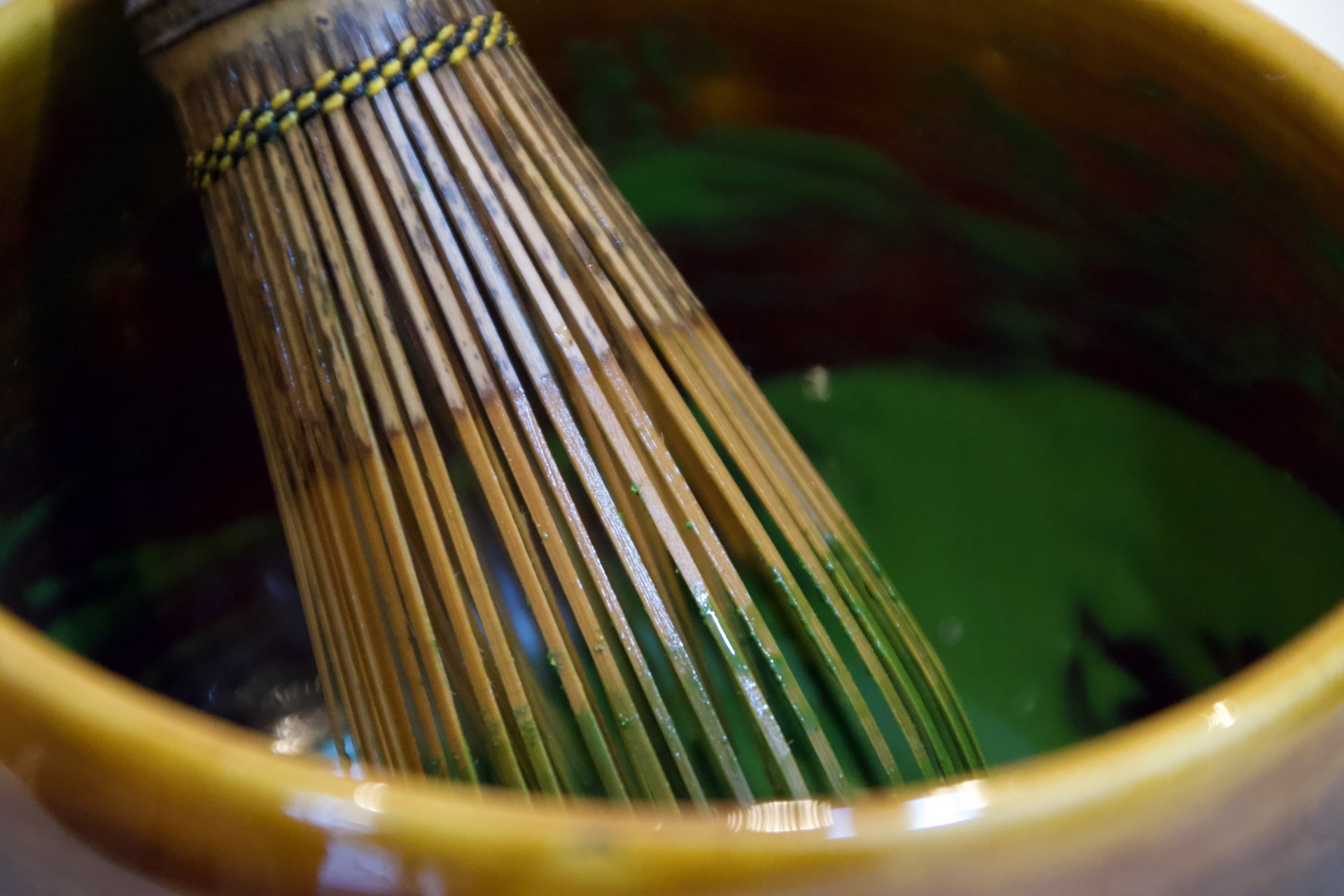 Speaking of Kyoto, you may come up with many delicious foods and desserts. Here are some beautiful cafes you shouldn't miss.
Higashiyama Saryo is one of the most popular matcha cafes in the Higashiyama area. It uses high-quality matcha (only 40 g are available in 1 hour of grinding). You might fall in love with its deep taste and wonderful smell. Higashiyama Saryo is also particular about the cups. It uses Japanese ceramics like Kiyomizu-yaki so that the green color of matcha looks more vivid.
Kissho Karyo is a Japanese-style cafe featuring Kinako sweets. Kinako is roasted soybean flour used in Japanese cuisine. Kissho Karyo selected the 6 best soybeans for Kinako to serve the best Kinako sweets and to tell the attractive point of Kinako. Kinako parfait is the most popular menu. Various ingredients and Kinako would make a surprising taste in your mouth.
10. Bar-hopping on Pontocho Alley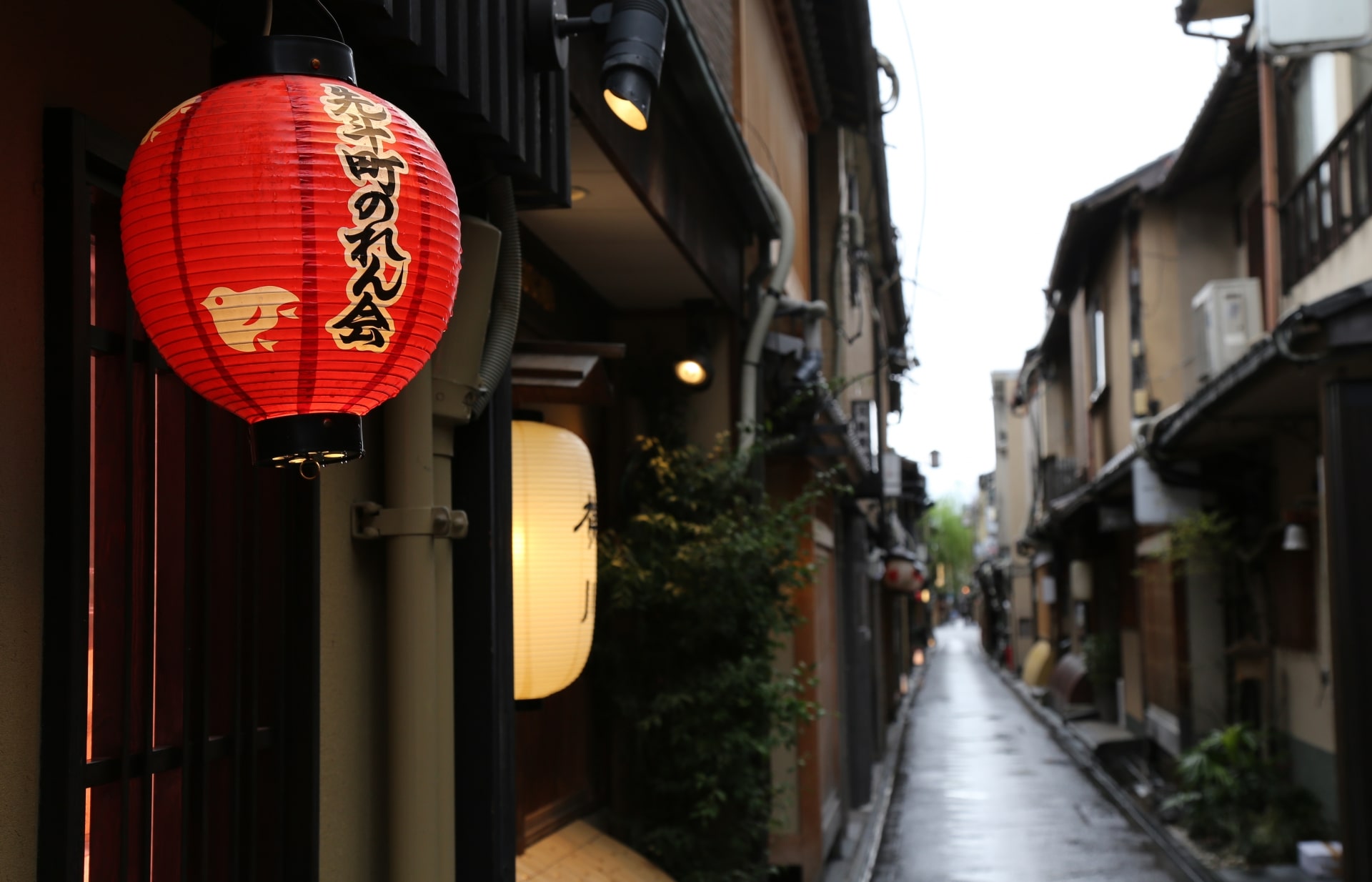 Pontocho Alley is one of the most famous traditional downtowns in Kyoto along Kamogawa River. There are many traditional restaurants, training halls of Maiko, and bars. Let's go bar-hopping on Pontocho Alley.
Izakaya Ponto is a traditional Japanese style Izakaya. The red lantern welcomes people at the entrance and the price is reasonable. On the second floor, you can enjoy eating with a great view of Kamogawa River. Don't miss the original Kyoto Tofu deep-fried.
Rokudenya can be enjoyed not only by yourself but also a big group as it has a bar counter on the 1st floor and tatami rooms on the 2nd floor. The featured menu is a Soft-shelled turtle hot pot. Its light soup and ginger would match with Japanese sakes. In addition, Tantan noodle is also popular for finishing drinking.
---
Thank you for reading till the end!!
As we see above, Higashiyama has many historical and cultural buildings and attractions. If you want to learn Japanese history or traditional culture, Higashiyama is the best place in Kyoto.
In addition to the places I wrote about above, there are many tourist spots in Kyoto such as Arashiyama, Kinkakuji Temple, and Fushimi Inari Shrine. You can get there easily by bus from Kyoto Station.
I hope this article helps you make your journey an amazing memorial one.
---
▽Subscribe our free newsletter!▽
For more information about traveling and living in Japan, check these articles below, too!
▽Related Articles▽
▼Editor's Picks▼
---