Tea Ceremony Kyoto: 5 Best Experiences
5 Best Tea Ceremonies in Kyoto in English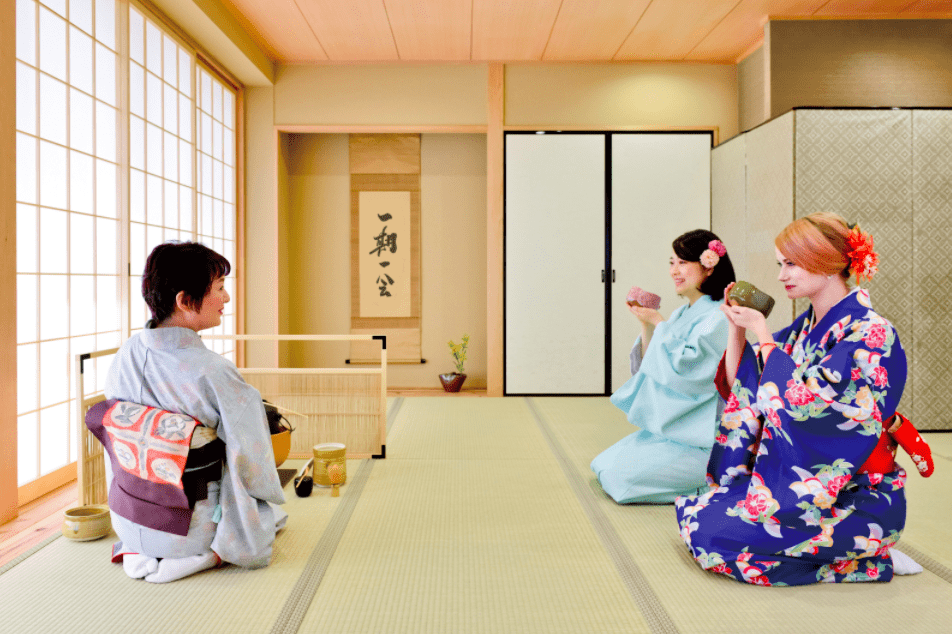 Tea ceremony in Kyoto is perhaps one of the best memories one can have in a lifetime. Kyoto is the cultural capital of Japan and home to the 3 main schools of tea ceremony. Whether it is the cherry blossom season or the fall leaves season, the matcha drinking ritual in this ancient city is surely a mystical experience.
While many travelers think an old teahouse is an ideal place to have a tea ceremony, the fact is you can experience tea ceremony in English at only special venues. Before we go over the best 5 tea ceremony locations in Kyoto, let's learn a little bit about Japanese tea ceremony, a.k.a. sado, chado, chanoyu. Here, check out the best tea ceremonies in Kyoto!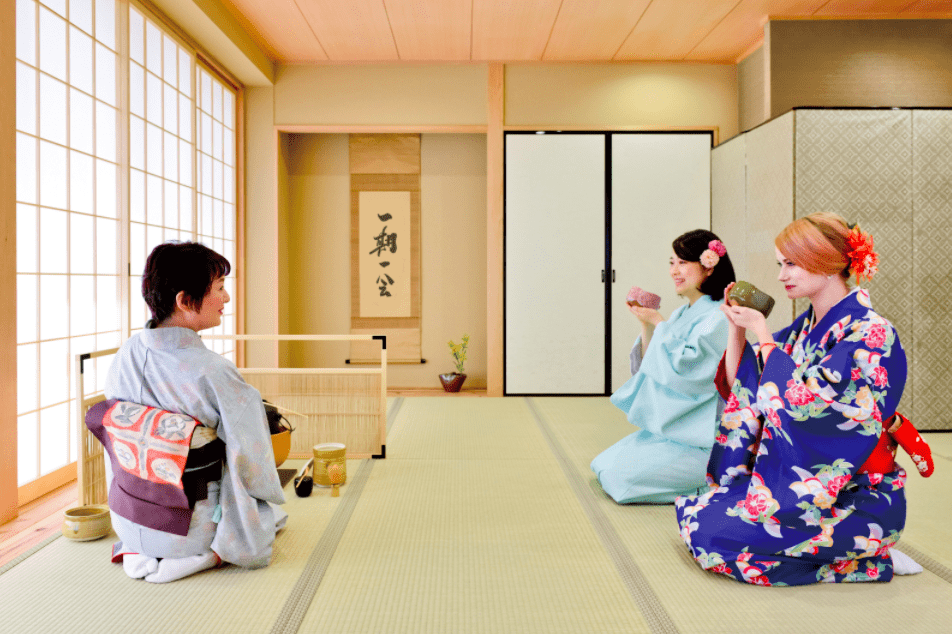 Maikoya Tea Ceremony Downtown Kyoto is the best experience we reviewed, where visitors can wear a kimono, learn the culture and history of the ritual from the exhibitions and actually make their own tea led by the host. The location is also perhaps the most convenient as it is a walking distance from both the Gion District and Nishiki market, right in the middle of downtown Kyoto. The hosts who serve the guests seem to have great people skills and English skills as this place currently the top rated tea room in Kyoto. Chikage and Kabuto usually greet you at the entrance and make you feel very comfortable for the whole time you are in there. There are many exhibitions and artifacts in the facility that explain the connection between the zen philosophy and tea ceremony.
The tea ceremony at Maikoya costs 2,400 yen without a kimono and 5,000 yen with a kimono and hairdo. If the guests choose to wear a kimono, cultural aspects of kimono (why kimonos are only 1-size, why kimonos have sleeves, etc.) are also kindly explained. One of the things that sets Maikoya apart is, after the tea ceremony you can walk outside in kimono or get many pictures taken inside the facility which has many Kyoto related backgrounds. Maikoya accepts same day reservations, requests for PRIVATE sessions or walk ins but guests without online bookings may be asked to wait. You can easily reserve both on Maikoya's website or Tripadvisor with instant confirmation. This is a good option if you'd like to do a relaxing tea ceremony near your hotel, before or after visiting main Kyoto sightseeing spots. The first sessions start at 09:30 am and run every hour until 7 pm.
The latest information: the exclusive coupon of 20% off coupon is now available. Please enter the coupon code "winter" when ordering.
<<Book on Maikoya>>
Location: Downtown Kyoto
Cost: ¥2,400 regular/¥5,200 kimono
User Reviews Ratings: 5 (Best rated)
Tea Ceremony Avg. Group Size: Around 6 people
Address: Root-Kawaramachi blg.5F, 407–2 Shimomaruyacho (Kawaramachidori), Nakagyo-ku, Kyoto, Japan
Phone : 075–606–5303
email: kyoto@mai-ko.com
Camellia Flower is located near Ninenzaka, a famous district for the visitors of Kiyomizudera Temple. The traditional streets makes it good option as it give you the old Japan feeling but it may be difficult to find the place as it is located on a dead-end street. Similar to other tea ceremony venues, there are friendly hosts who explain the meaning and culture of tea ceremony and let you make your own tea. Camellia has just raised its price from 2,000 yen to 3,000 yen per person where you join a group of 14 though the group may sometimes be smaller. Camellia Flower also gives you an option to jin the tea ceremony by wearing a kimono at a separate location. Despite the large group size and no on-site kimono option, this is a good choice for those who are traveling to Yasaka and Kiyomizudera Temple.
Location: Higashiyama
Cost: ¥3,000 regular
User Reviews Ratings: 4.6
Tea Ceremony Avg. Group Size: Around 14 people
Address: Camellia, 349 Masuya-cho, Higashiyama-ku, Kyoto City
Phone: 525–3238
email: camellia.teaceremony@gmail.com
This is a tea ceremony house not far from the Kinkakuji temple. You can stop by the place before or after visiting the temple and enjoy the Japanese green tea leaves served with wagashi sweets. Rie-san speaks good English and makes you feel at ease. The owner of the house follows the Urasenke style who changes the ro and furo based on the season. You may not be able to see the temple from the windows of the house but the tea room has a quiet and calming environment. It is a bit pricy compared to others where the group option starts from 2,700 yen and the private kimono option with ikebana is around 12,000 yen. The first session is at 10:30 am and the last session is at 5:30 pm. This is a good option if you want to do the tea ceremony before or after visiting the Kinkakuji temple.
Location: Kinkakuji Area
Cost: ¥2,700 regular/¥12,000 kimono*
*Premium plan including Premium Tea Ceremony, Kimono wearing and Ikebana experience.
User Reviews Ratings: 4.9
Tea Ceremony Avg. Group Size: NA
Address: 37 Kinugasa-Nishigoshonouchi-cho, Kita-ku
Phone: 090–9624–5164
This is a tea ceremony venue located near Gojo Street. This tea ceremony venue recently moved out from its location that was located near Kyoto Station. Masumi-san is the lead tea host and she has been conducting tea ceremony sessions for more than 3 years. The explanations about the tea ceremony has been properly done sometimes by only the host or sometimes with the presence of another tea host making the demonstration and another person interpreting it. It is a bit difficult to book as you need to have Paypal or make a phone call, the first session starts at 11:00 am and the last session is at at 5:30 pm. The price is different for advance bookings and walkings which is 2,800 yen on the day. The kimono option costs between 7,000–10,300 yen. There is also a discount for kids. This is not a bad option if you are not far from the Gojo Street.
Location: Higashi Honganji
Cost: ¥2,400-2,800 regular
User Reviews Ratings: 4.8
Tea Ceremony Avg. Group Size: Around 10 people
Address: 556, Gojo-sagaru, Tominokoji Dori, Shimogyo-Ku, Kyoto
Phone: 9011384480
Located about 8 minute walk from the Yasaka shrine, En welcomes the guests in a brown house that hosts tea ceremonies daily. This tea ceremony place has a convenient location and OK pricing but seemingly does not focus much on the explanations of the tradition. There are a number of customer reviews that mention the sessions skipped the explanations and did not necessarily follow the common tea ceremony procedure. The summer style kama with the electric heater cable may be a bit turn off for authenticity seekers but the neighborhood is pretty good as the house is not far from the temples and shrines. En only accepts reservations for the morning sessions and costs 2,500 yen per person.
Location: Chionin area
Cost: ¥2,500 regular
User Reviews Ratings: 4.1
Tea Ceremony Avg. Group Size: NA
Location: En is located at the intersection of Higashioji St. & Shinbashi St. Address: 272, Matsubara-cho, Higashiyama-ku, Kyoto City
Phone: 08037822706
email: info@teaceremonyen.com]
Comparison Table
1. Kimono Tea Ceremony Maikoya Kyoto

2. Camellia Flower

3. Tea ceremony Koto

4. Tea Ceremony Juan

5. En Tea Ceremony

Rate

¥2,400 (Regular)

¥5,200 (Kimono)

¥3,000 (Regular)

¥2,700 (Regular)

*¥12,000 (Kimono)

¥2,400-2,800 (Regular)

¥2,500 (Regular)

User Reviews Ratings (Tripadvisor + Google /2)

5.0

4.6

4.9

4.8

4.1

Location

Downtown Kyoto

Higashiyama

Kinkakuji Area

Higashi Honganji Area

Chinoin Area

Kimono On Site

Yes

No

Yes

No

No
About Japanese Tea Ceremony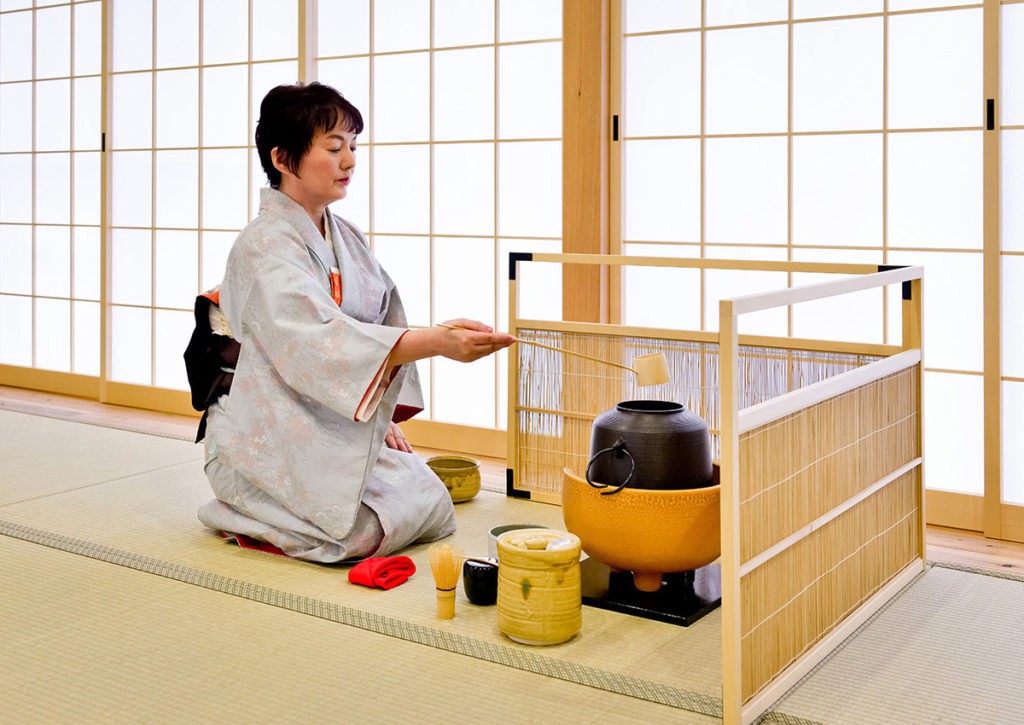 What is Japanese tea ceremony?
It is drinking hot matcha tea (ground tea leaves) after eating Japanese sweets. It has a set of rules: the bowl must be held in a certain way, the utensils must be cleansed in a ritualistic way, the room must have a certain architecture, the water must be boiled in a certain way, etc. Usually the host and guest do not talk much during the drinking session so the process is meditative.
What is the purpose of tea ceremony?
To create bonding between the host and the guest and have a peaceful mind in our busy daily lives.
When do Japanese people do tea ceremony?
Different from the Chinese, Japanese people do tea ceremony to celebrate the arrival of different seasons and celebration of social events (marriage, new year, the new tea harvest season, etc.) and social gatherings.
What is the history of tea ceremony?
Japanese people have been drinking ground matcha tea leaves for about 800 years.The simple rules of tea ceremony that are followed today was introduced by Sen No Rikyu who lived in the latter half of the 1500's.
What is the relationship between geisha and tea ceremony?
Especially during the sakurai (the cherry blossom season in April) maiko and geiko are expected to lead publicly held tea ceremony under the sakura trees. Historically geiko served tea to the pilgrims who visited the Yasaka shrine. During part of their training, the geisha must know traditional arts such as ikebana and tea ceremony. Japanese consider tea ceremony as a form of art.
What is the relationship between the samurai and tea ceremony?
Before the Meiji restoration, religious monks and the samurai were pretty much the only ones who performed the tea ceremony. One of the most valuable possessions of a samurai was his tea caddy. Many rules of tea ceremony were influenced by the samurai (kneel when entering the tearoom, extra cleaning for poisons, etc.)
How long does a tea ceremony last?
Almost all the tea ceremony venues in Kyoto state that the tea ceremony sessions usually last 45 minutes. A formal tea ceremony with kaiseki meal may last up to for 4 hours.
What kind of tea used in the tea ceremony?
Ground matcha leaves. Best tea leaves are grown in Uji.
What is the etiquette of tea ceremony?
Be quiet, don't check your phone or watch, don't talk to others, forget all the materialistic thoughts, drink the tea in 3–4 sips and slurp during the last sip (to indicate that it was delicious and you enjoyed it), follow the instructions from the host. It is OK to ask for a speacial tatami-room chair if you can't sit on your knees. Proper way is wearing a kimono during the ceremony but travelers may be excused.
---
After all, Kimono Tea Ceremony Maikoya Kyoto is the best tea ceremony in Kyoto as users in Tripadvisor appraise. If you want to make exclusive memories in Kyoto or taste authentic Matcha, it is highly recommended to experience Maikoya's one, which is also the most affordable!
▽Find the best tea ceremony in Tokyo, too!▽
For more info about Kyoto, you might also like these articles below, too.
▽Related Articles▽
▼Editor's Picks▼
---