10 Best Yokohama Tours and Activities
Popular day trip tours and activities in Yokohama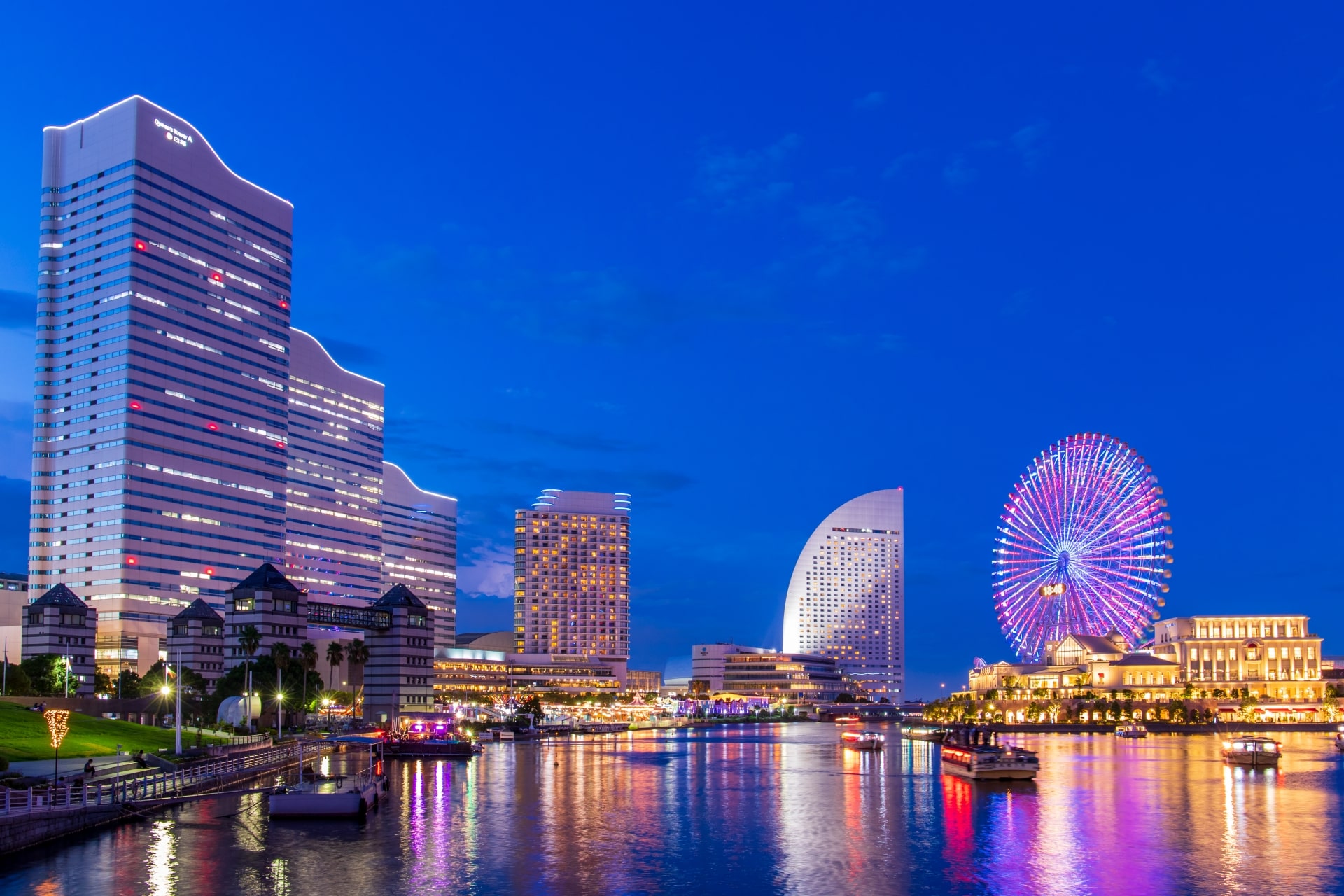 Yokohama is home to a numbers of tourist attractions and landmarks in the central area as well as outside of the city which you can take a day trip. Yokohama is a transportation hub connecting numbers of destinations so you can extend your trip within or outside of the city easily! In this article, I'd like to share the recommended day-trip tours and unique activities in Yokohama which you can maximise your trip. From Onsen day trip to a food tour, here are the best Yokohama tour and activities!
1. Bar Hopping Tour
Bar hopping tours are now one of the top attractions among foreign visitors as they could explore the real Japanese food culture and local nightlife by hopping hidden bars and trying authentic Japanese dishes and drinks with a local guide. One of the best bar hopping tours could be found at Yokohama's Noge are, the district with atmospheric old-fashioned streets filled with many retro Izakaya (Japanese style pubs) and bars. It's a great hidden gem for foodie travellers to try delicious food and explore the local nightlife in Yokohama!
2. Watch a Yokohama DeNa Baystars Baseball Game!
If you want to explore the modern Japanese culture, watching baseball games could be one of the most unique options! Baseball is the most popular sports here in Japan, and exciting professional baseball games can be watched at several stadiums in Japan during the league season. Yokohama DeNa Baystars is a professional baseball team in the Japan Central League, and its home ground is Yokohama Stadium in Naka Ward, Yokohama. The team is extremely popular among local fans and on every games, the stadium is filled with passionate fans and an energetic atmosphere. Let's support Baystars with passionate fans while staying in Yokohama!
3. Yokohama Night from the Sky
The urban area of Yokohama Minato Mirai district offers one of the most attractive night views in Japan with modern high-rise buildings by the ocean illuminated at night. There are several great viewing spots within the neighbourhood but the most extraordinary way to see the view would be from the sky! Take a great opportunity to gaze the spectacular night view from the sky with the exclusive helicopter tour over the Yokohama Bay and the cool urban area!
4. Be a Ramen Mania
Yokohama is one of the most notable cities in Japan as a Ramen battleground as it's home to over 500 Ramen restaurants and also related facilities such as Cup Noodle Museum and Yokohama Ramen Museum. If you like Ramen, it's the city you have to visit, and also the below tour is highly recommended as you can explore the 3 famous Ramen spots in Yokohama in one day and taste delicious bowls of Ramen. The tour also includes Yokohama Chinatown, the biggest Chinatown in Japan where hundreds of restaurants gather with a vibrant atmosphere.
5. Play by the Water All Day!
Yokohama Hakkeijima Sea Paradise is a popular amusement park located on Hakkeijima Island, Yokohama which can be accessed by Kanazawa Seaside Line. The park consists of multiple amusement facilities including an aquarium, shopping mall, hotel, marina and amusement rides. From couples to families with small kids, visitors can easily spend a whole day or two with a variety of attractions at the park. There are two main areas at the park: the Aqua Resort, one of Japan's biggest aquariums and the Pleasure Land with over 15 kids-friendly and thrilling rides and attractions.
You can get discount tickets from the link below!
6. Cooking Class
Cooking Classes are highly popular activity among tourists today as they can enjoy delicious Japanese cuisine and also learn Japanese food culture through the process of making the dishes. Numbers of cooking classes are held in Yokohama today with a choice of various Japanese dishes including Sushi, Tempura, Japanese home-cooking dishes, Vegan dishes and more. Take a look at the list of cooking classes available today via the attached link below!
7. Doraemon Museum
Doraemon is one of the most beloved Japanese anime characters created by Fujiko F Fujio, the legendary manga artist. Over 100 million copies of Doraemon's manga series have been sold worldwide, and its anime series has been broadcasted in over 30 countries. A lot of people in the world have grown up watching Doraemon, and until today many kids enjoy watching its anime and movie series.
The Fujiko F Fujio Museum a.k.a. Doraemon Museum opened in 2011, featuring Doraemon as the main highlight of the museum. The museum is located in in Kawasaki City, Kanagawa Prefecture, which is the neighbouring city of Yokohama which can be accessed within 15 mins by train. If you are a Doraemon fan, or into Japanese manga culture, you should definitely extend your trip to Doraemon Museum to meet Doraemon and other famous manga characters!
8. Day Trip to the Historic Capital of the East
Kamakura is a top tourist destination in Kanto Region. It's a seaside town of Kanagawa Prefecture, and can be accessed from Yokohama within 30 mins. Kamakura is often called the Kyoto of the East as numbers of well-preserved historical monuments and the charming streetscape can be enjoyed. There are dozens of beautiful temples and shrines surrounded by pleasant nature, and an attractive shopping street filled with souvenir shops and street food vendors. The historical town of Kamakura is the perfect destination to explore after visiting the modern city of Yokohama!
9. Play at the Shonan Coast! SUP Experience
SUP (Stand-up Paddle Board) has been a trending water sports around the world today, and it's very popular here in Japan, too! If you wish to try SUP near Tokyo or Yokohama, Shonan could be the best destination. The Shonan area is the region in Kanagawa Prefecture along the coast of Sagami Bay including Kamakura City, and can be accessed within 30 mins from Yokohama City. With this SUP experience tour, you can explore the city of Kamakura, the charming coast town of Shonan area, and try SUP on the ocean and enjoy the beautiful scenery from the water! The SUP experience is available through the year.
10. Onsen Theme Park in Hakone
Hakone is one of Japan's leading Onsen resorts which is located on the mountain of west Kanagawa Prefecture. The town is known for natural hot springs, rich nature, the Lake Ashi and the astonishing view of Mt Fuji. A variety of tourist attractions are available in Hakone including scenic nature spots, museums, shrines, parks, shops and restaurants. One of the top visited tourist sites in the area is Hakone Kowakien Yunessun, an Onsen themed park/spa resort where visitors can enjoy a huge variety of Onsen baths with swimwear! (some of the Onsen baths do not allow swimwear). There are unique Onsen baths such as wine bath, coffee bath, outdoor Onsen water slide and more. If you are interested in Onsen culture in Japan, yet hesitate to bath completely naked, Yunessun is a perfect Onsen destination for you where you can enjoy with a whole friend group, family or partner.
Click the link below for discount tickets to Hakone Kowakien Yunessun!
Wanna check out the best things to do and places to visit Yokohama City?? Then check out the article below!
Thank you very much for reading! If you are staying in Yokohama and looking for fun activities and amazing places to visit for a day trip, these tours and activities may be the perfect option for you! For more travel information in and around Yokohama, here are some more articles for you to check out!
▽Related Articles▽
▼Editor's Picks▼
---