Yokohama: Best Things to Do
Things to Do in Yokohama: Chinatown, Minato Mirai 21 and more!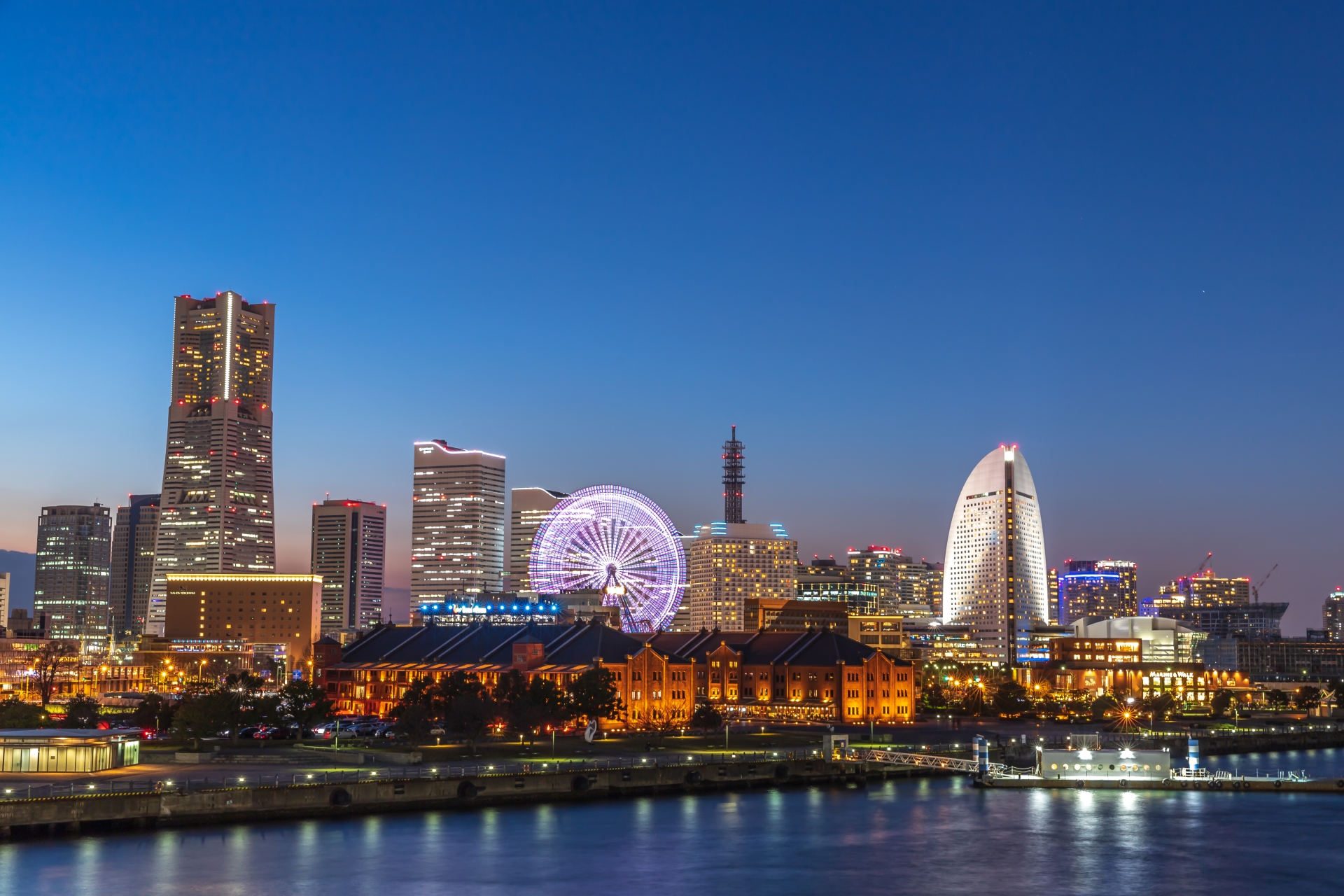 Yokohama is the third largest economic city in Japan after Osaka, and is located very close to Tokyo, filled with a lot of tourist attractions. Also, the city was chosen as the Rugby World Cup's main venue back in 2019, Yokohama has been attracting increasing number of tourists in these few years. In this article, I would like to introduce this beautiful port city's famous sightseeing spots and traditional historical places to show you how much potential this city has got.
1. Red Brick Warehouse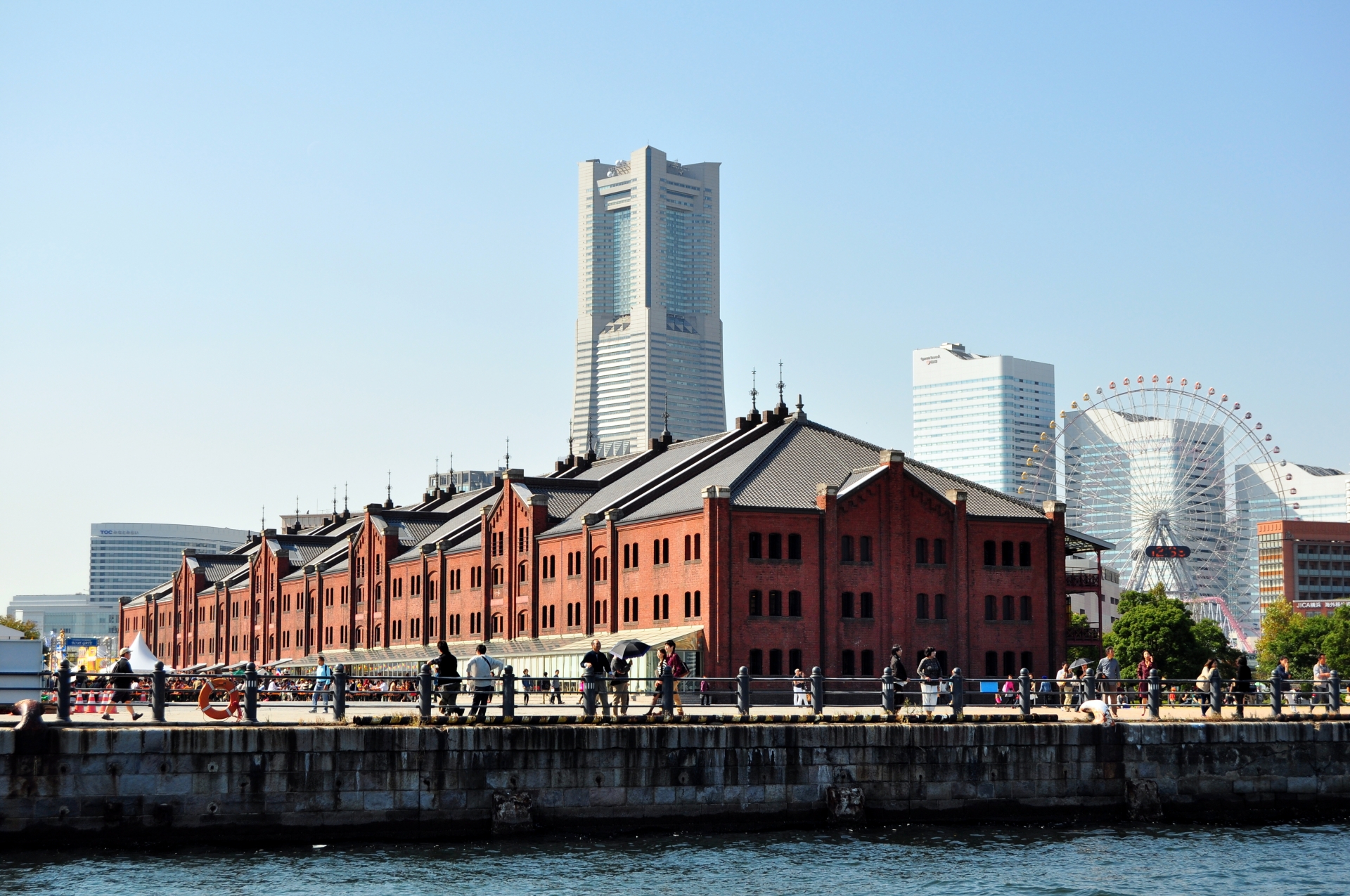 The Red Brick Warehouse (Akarenga in Japanese) is a popular landmark building in Yokohama Minato Mirai area. The historic building made with red bricks used to be an actual warehouse in past, and it's been converted to one of the most popular spots in the city, serving as a complex for shipping, dining and a venue for special events such as Oktoberfest and Christmas Market. The atmospheric building is also a popular spot for photography.
2.Yokohama Landmark Tower
Yokohama Landmark Tower is a symbolic high-rise building in Minato Mirai area, Yokohama. This 296.3 m tall tower used to be the tallest building in Japan when it was built in 1993 until Abeno Harkas in Osaka was made in 2012. Landmark Tower Sky Garden Observatory is one of the highest observation decks in Japan which is situated on the top floor of the building at 273 m above the sea, and the visitors can reach there by the world's second fastest elevator that runs 45.0 km/h (28.0 mph). The impressive view of the surrounding area can be gazed as well as the sight of Mt Fuji when visibility is good.
3. Queen's Square Yokohama
Queen's Square Yokohama is large shopping, dining and entertaining complex buildings standing next to the Landmark Tower in Minato Mirai area, Yokohama. It consists of hundreds of shops, restaurants, cafes, office buildings, a concert halls, a hotel, etc, and Minato Mirai Station is located at the basement of the building.
4. Cosmo World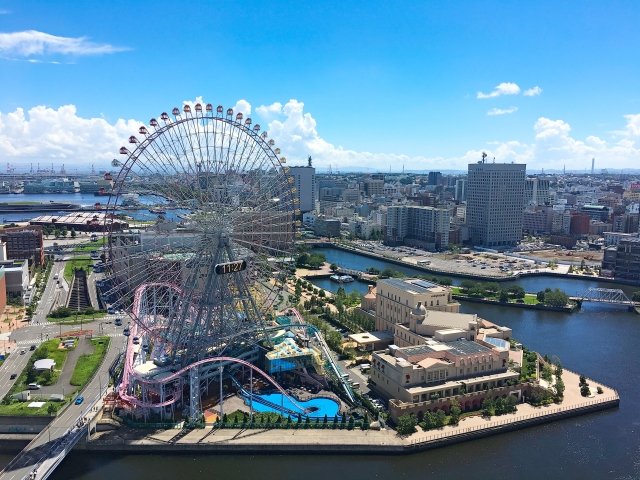 Cosmo World (コスモワールド) is an amusement park located in Minato Mirai 21 area. The park has various fun rides and entertainment facilities for both kids and adults such as roller coaster, haunted house, merry-go-round, etc. The most popular attraction at the park is the Cosmo Clock 21, the 112 m tall and one of the biggest ferris wheels in the world which can hold 450 passengers at once.
5. Manyo Club
If you seek a quick Onsen getaway from the city, Manyo Club could be a perfect spot to visit. Manyo Club (万葉俱楽部) is a huge spa/relaxation complex located in Minato Mirai area. The place offers bathing facilities with real hot spring water that is brought from Izu Peninsula by a tank lorry daily. At the open-air terrace, there is a long foot bath that can be enjoyed with the stunning view of the Minato Mirai urban area. Besides hot spring baths, many kinds of relaxation services are offered such as various kinds of massage and reflexology salons, private rooms, a lounge, restaurants, overnight accommodation, etc.
Website: http://www.manyo.co.jp/mm21/eng/
6. Osanbashi Pier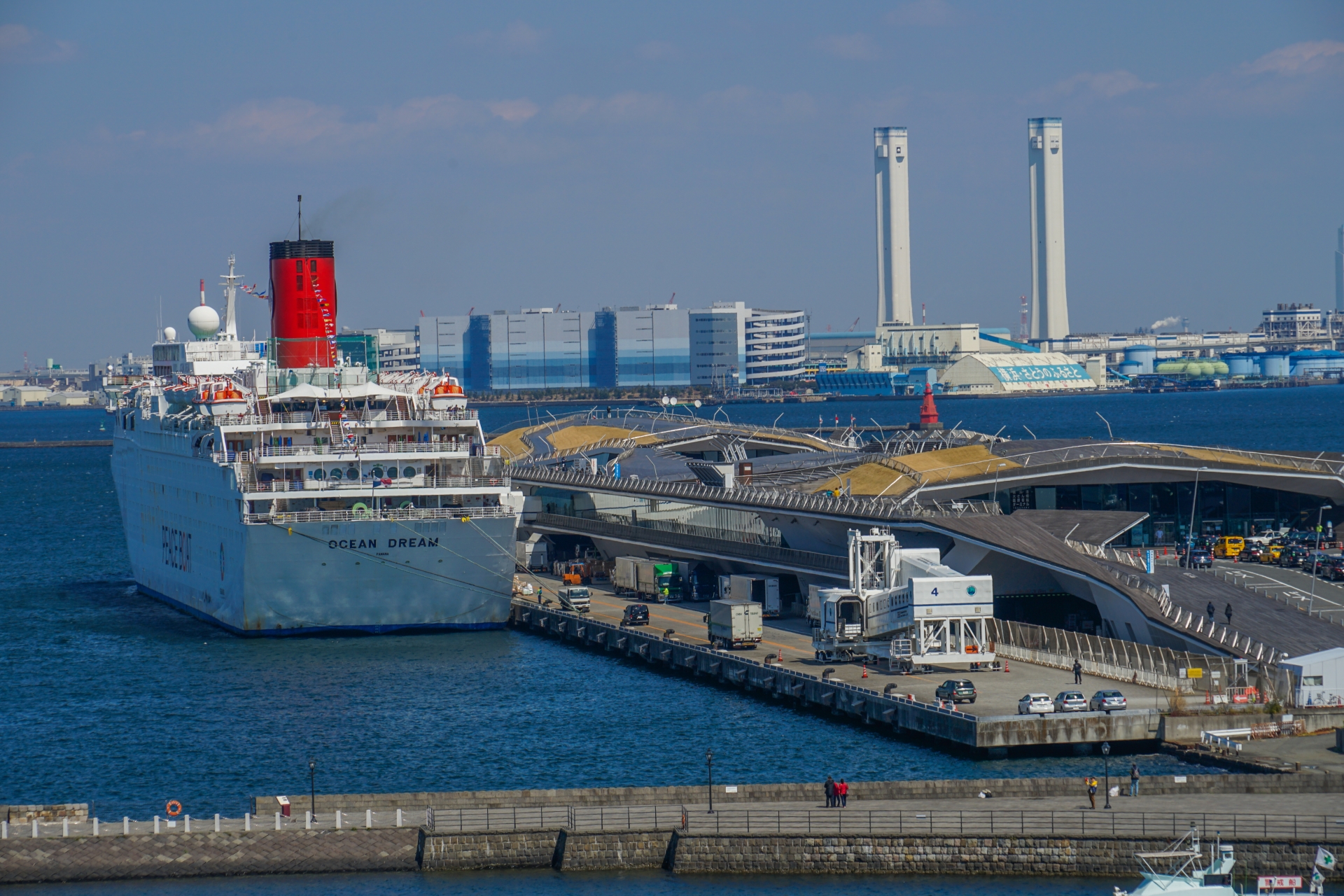 Osanbashi Pier (大桟橋) is an international passenger ship terminal at Yokohama Port where international cruise ships stop by such as Queen Elizabeth 2. The pier is approx 400m long and has a specious space with a walkway and lawn. It's also a popular spot to observe the night view of skyscrapers of the Minato Mirai 21 urban area which is right opposite the pier across the ocean.
7. Yamashita Park
Yamashita Park (山下公園) is a popular public park situated along Yokohama's waterfront, stretching almost 700 m from Osanbashi Pier to Yamashita Pier. The park consists of green space, flower beds, memorials, fountains and several landmarks and attractions such Hikawa Maru (the old ship now serves as a museum) and Yokohama Marine Tower (the tower with an observatory offering a 360 degrees panoramic view of the city).
8. Yokohama Chinatown
Yokohama is a large port city developed by foreign trades and the city has a lot of influences from multiple countries. Yokohama Chinatown (横浜中華街) is one of the significant places to present Yokohama's unique mixed culture and it's a popular place for eat out. It's Japan's largest Chinatown and there are hundreds of Chinese restaurants, food stalls and shops within the district. There are also some Chinese landmarks such as temples and colourful gates.
Related article:
9. Ramen Museum
Shin Yokohama Raumen Museum (新横浜ラーメン博物館) a.k.a The Ramen Museum is the world's first food museum dedicated to Ramen, the popular noodle dish in Japan. At Ramen Museum, visitors can learn the history and the facts about Ramen as well as be indulged by various Ramen dishes. There are nine selected Ramen stores across Japan inside the museum serving their signature regional Ramen dishes. If you are a Ramen lover and wish to try famous regional Ramen dishes, Ramen Museum is a perfect place to do so without travelling far!
Related article:
10. CUP NOODLE MUSEUM
The relation shop between Yokohama and Ramen is pretty tight with the long history of trading with China which the dish originally came from. CUP NOODLE MUSEUM (カップラーメンミュージアム) is an unique museum dedicated to instant cup noodles owned by NISSHIN, the world famous food company who first invented the instant noodles back in 1958. The museum exhibits the history of instant Ramen as well as hands-on activities to create your own instant noodles.
Related article:
11. Yokohama Hakkeijima Sea Paradise
Yokohama Hakkeijima Sea Paradise (横浜八景島シーパラダイス) is a large amusement park on Hakkeijima Island in Yokohama, which consists of multiple entertainment facilities such as an aquarium and pleasure park with a variety of attractions. It's a great spot to spend an entire day and be entertained even on a rainy day.
Click the link below to get discounted tickets for Yokohama Hakkeijima Sea Paradise!
Related article:
12. Sankeien Garden
Sankeien Garden (三渓園) is a traditional Japanese landscape garden in Yokohama. The spacious garden consists of several historic buildings curated by Sankei Hara, the wealthy silk trader who founded the garden. There are also a pond, small river, trees and flowers that displays pleasant scenery in each season. The garden is especially popular for cherry blossom viewing, and the light-up of the cherry trees can be enjoyed at night during the season.
Access: Bus from Yokohama Station, Negishi Station, Sakuragicho Station or Motomachi Chukagai Station to "Sankeien Iriguchi Stop"
Fee: 700 yen
Hours: 9:00~17:00 (Light-up: Sunset~21:00)
13. Watch Yokohama DeNa Baystars Baseball Games
The Yokohama DeNa Baystars is a professional baseball team based in Yokohama City, and its home stadium Yokohama Stadium is located in Naka Ward, Yokohama. Baseball is very popular in Japan, and numbers of exciting games are held at Yokohama Stadium during the league season. It's a great way to learn the modern Japanese culture with passionate local fans!
Check out the link below for the ticket information!
14. Noge Area
Yokohama is best known for the modern urban cityscape, but there are a few places that still remain nostalgic and rustic atmosphere. Noge (野毛) is one of the best kept secrets of Yokohama City, which is a low-key riverside district filled with small rustic and Izakaya and pubs. It's a popular area for night-out among locals, and becoming a hot attraction among foreign visitors as you can experience the authentic nightlife by sipping on drinks and delicious snacks.
If you want to explore Noga district, I'd highly recommend you to join a bar hopping tour with a local guide! Click the link below for more details.
15. Yokohama International Stadium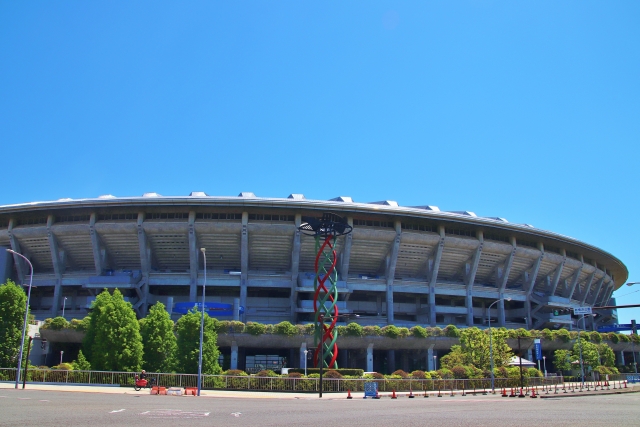 Yokohama International Stadium a.k.a Nissan Stadium is a large sports venue in Yokohama City which hosts numbers of sports events including the 2002 FIFA World Cup as well as serving as the home stadium of Yokohama F.Marinos from Japan Professional Football League. Yokohama International Stadium hosted Rugby World Cup 2019 along with other 11 cities in Japan, and honorably the venue for the final match of the tournament. Map:
http://bit.ly/2XXtPDd
---
Thanks for reading! Yokohama is arguably the most attractive cities in Japan that offers plenty of diverse attraction for any types of travellers! Moreover, there are several tourist spots in Kanagawa Prefecture which can be accessed from Yokohama within 30 mins such as Kamakura, Enoshima and the beach area of Shonan! It would be an ideal if you spend a couple of days in Yokohama and the surrounding areas to explore Kanagawa Prefecture in depth!
If you are wondering what to do in Kanagawa, check this article below!
▶︎Top Things to Do in Kanagawa
Are you also looking for the things to do in the areas near Yokohama?
▶︎Best Things to Do in Kamakura
▶︎Best Things to Do in Hakone
▶︎Best Things to Do in Shonan
For more information about Yokohama and other cities in Kanagawa Prefecture, here are some more articles for you to check out 🙂
▽Related Articles▽
▼Editor's Picks▼
---