10 Best Spots to View Cherry Blossoms in Kanagawa
Kanagawa Sakura Guide: Where to See Beautiful Cherry Blossoms in Kanagawa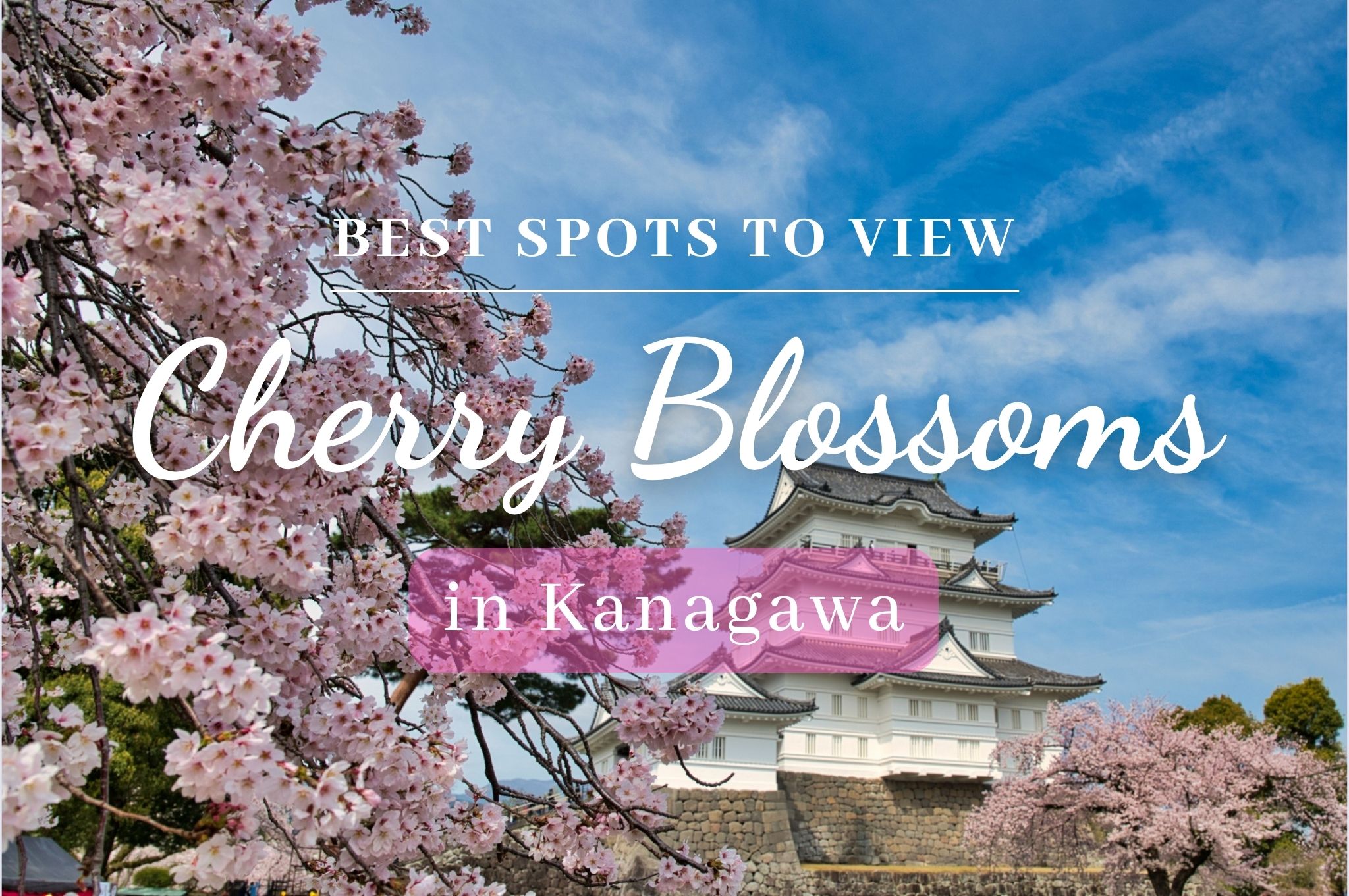 Springtime in Japan is one of the most wonderful seasons. A time for new beginnings after the cold winter, marked by the arrival of cherry blossoms. This is especially true for Kanagawa Prefecture, because of the abundance of early sakura, bringing the beauty and warmth of spring a little earlier compared to other regions, allowing visitors to enjoy the season for a bit longer as regular sakura varieties start to bloom after the early ones. Which is why Kanagawa is one of the best places in all of Japan for die-hard sakura lovers. This is our selection of places to enjoy the pink blossoms in all their glory.
▽Check this list of best places to see cherry blossoms all over Japan, too!▽
---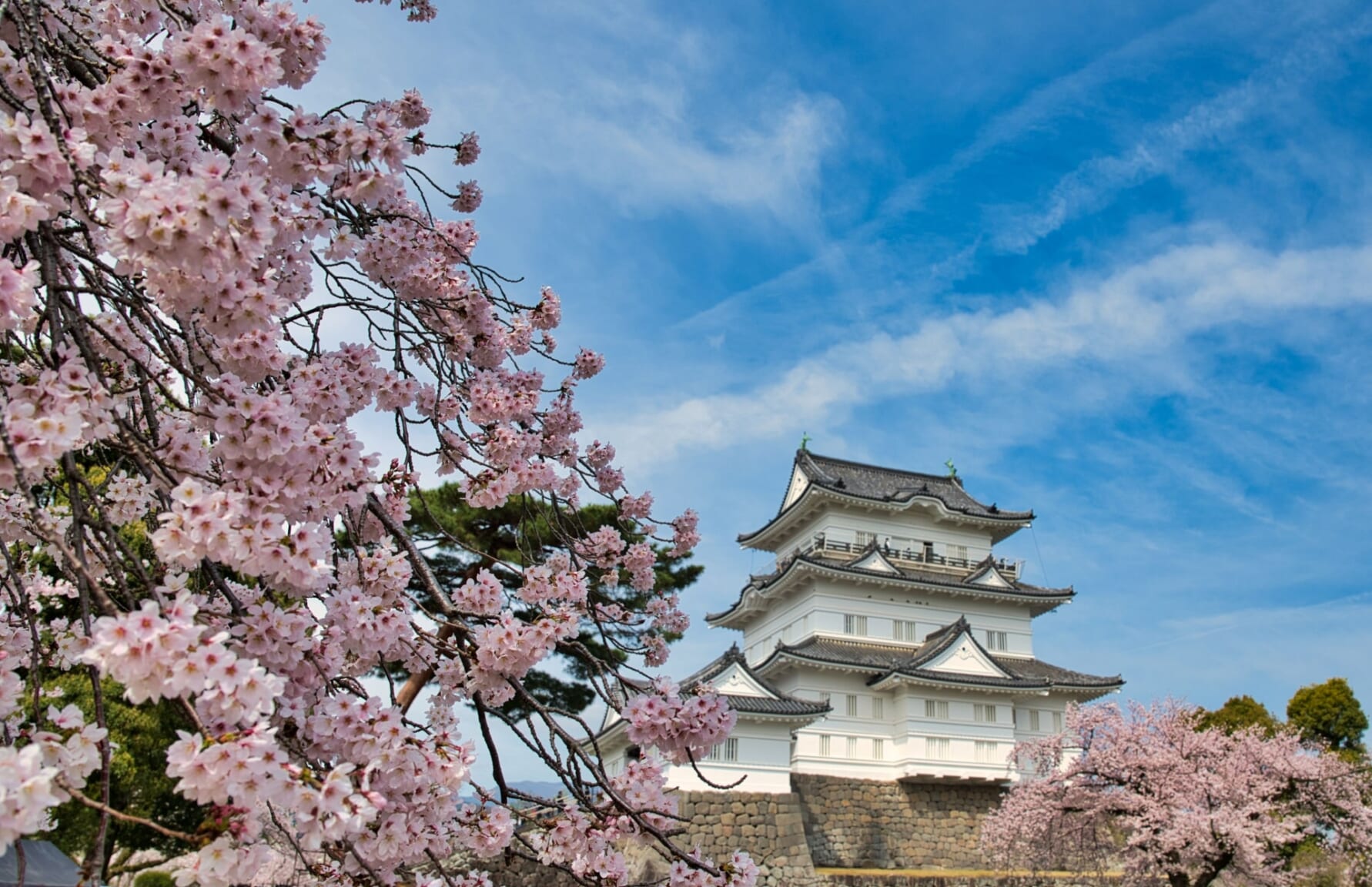 Odawara Castle (小田原城) is a national historic site and Odawara City's main hub for tourism, featuring numerous events throughout the year. But it's the 300 cherry trees in the park that steal the show and offer a striking backdrop to Odawara Castle's moat and tower, which was once the seat of power for the Hōjō clan during the Sengoku period. During the sakura season, the park is transformed into a colorful wonderland, lit up with LED lights that change colors with the time of day. This famous spot draws more than 300,000 tourists who flock to witness the annual sakura festival, where visitors can enjoy events such as kimono strolls and a procession of young children. So make sure to stop by on public transportation, you don't want to spend your day stuck in traffic!
▶ Odawara Castle official website: https://odawaracastle.com/
For more information about Odawas Castle cherry blossoms, check out the following article.
2. Kinugasayama Park
Kinugasayama Park (衣笠山公園) in Yokosuka City, a memorial site for soldiers who died in the Russo-Japanese War, is now home to 2,000 cherry trees and one of the prime spots from Kanagawa Prefecture for enjoying cherry blossoms, making it one of Japan's 100 best cherry blossom viewing sites. Kinugasa Sakura Festival usually takes place between late to early April. Visitors can enjoy various events during the festival, mostly held on weekends, and take the hiking trail from the park to the 242-meter Mount Ōgusu, the highest peak on the Miura Peninsula. Along the way, you can explore the Kinugasa castle ruins, adding a touch of history to your cherry blossom adventure.
▶ Kinugasayama Park official website: https://www.kinugasayamapark.com/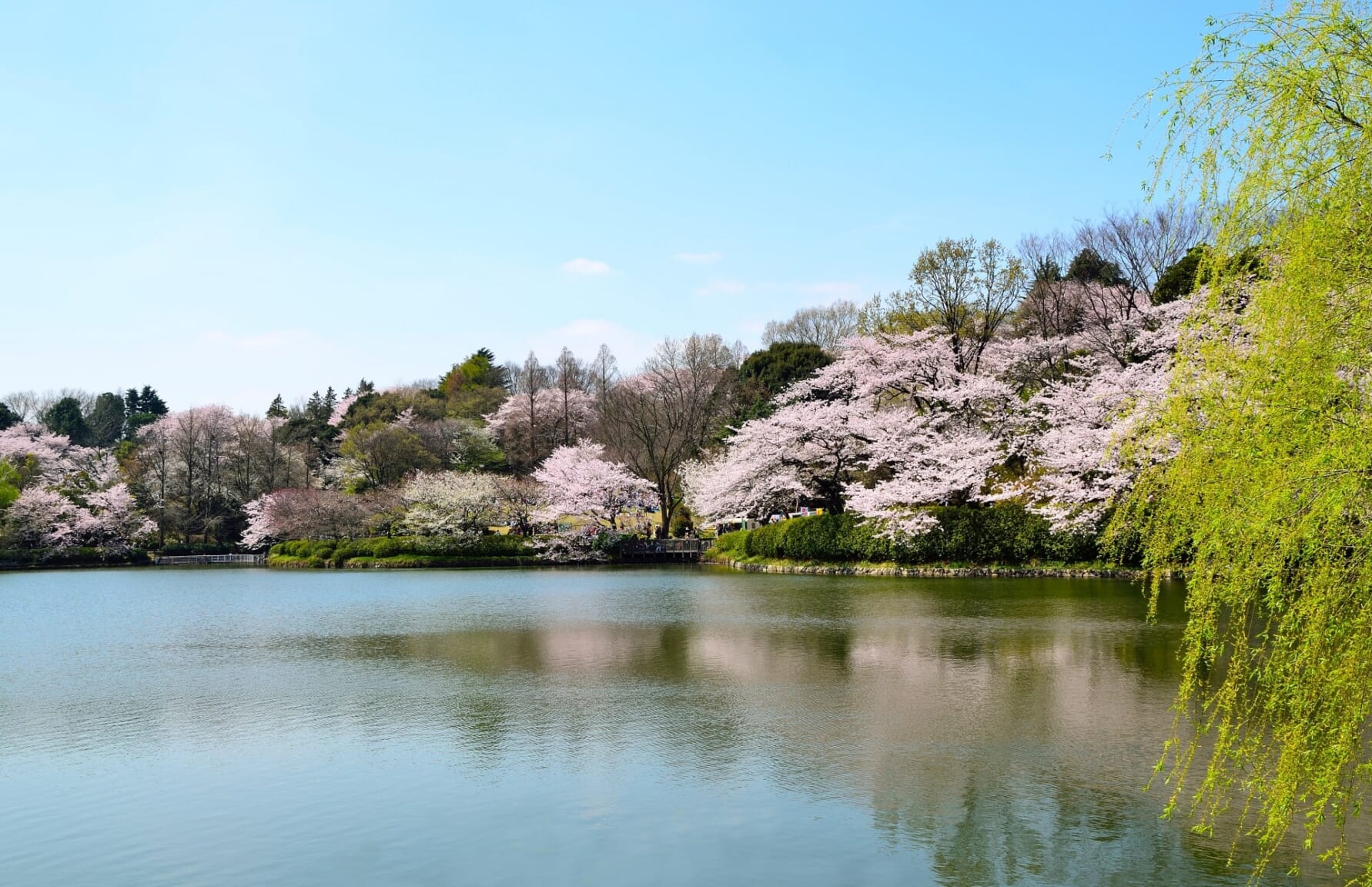 Mitsuike Park (三ツ池公園), also known as the "three-pond park," is a beautiful oasis featuring 78 cherry blossom varieties, including the famous somei yoshino, yokohama hizakura, and okamezakura. The park's sakuras bloom at different times, offering an extended period of enjoyment. Mitsuike Park is located in Kanagawa Prefecture and is one of Japan's top 100 cherry blossom viewing spots. With over 1,000 cherry trees of various varieties, the park offers an array of bloom times starting as early as mid-February with the cold cherry blossoms. Experience the beauty of the changing seasons at this famous cherry blossom viewing destination.
▶ Kanagawa Prefecture official website with practical information about Mitsuike Park: https://trip.pref.kanagawa.jp/destination/mitsuike-park/4
For more information about Mitsuike Park cherry blossoms, check out the following article.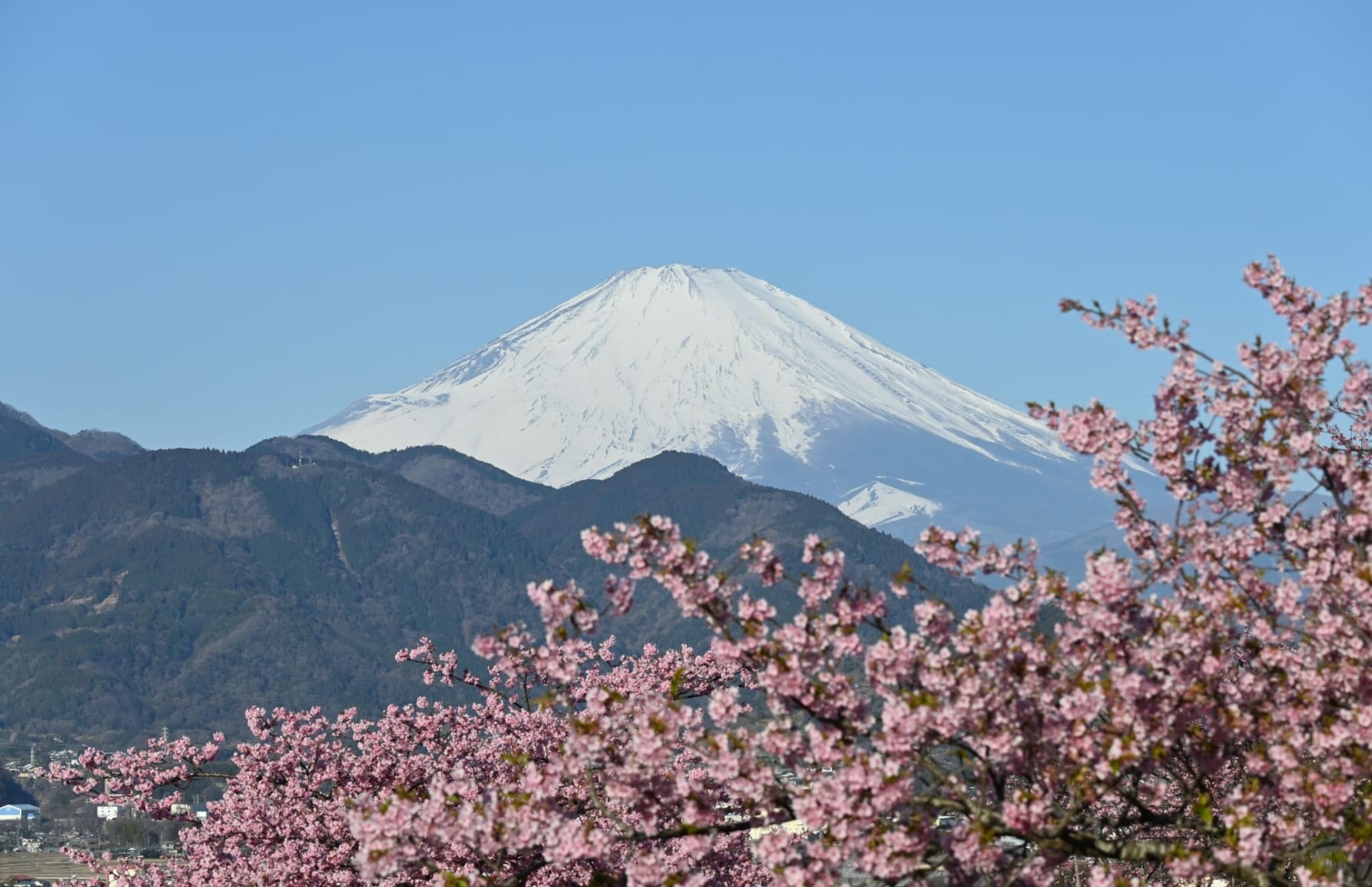 At Nishiharabatake Park (西平畑公園) the vibrant Kawazu cherry trees, which are famous for blooming earlier around mid-February, signify the onset of spring. The view of Ashigara Plain, Sagami Bay, and the Hakone mountain range from the garden is breathtaking, not to mention the spectacular views of Fuji framed by sakura, which is the reason why the park's viewpoint has been recognized as one of the top 100 views of Mt. Fuji. These pink Kawazu cherry blossoms not only bring us joy before the end of winter, but they also have a long blooming period of about 10 days after they reach full bloom. The Matsuda Cherry Blossom Festival will take place from February 11 to March 12, showcasing the stunning collaboration of pink Kawazu cherry blossoms and yellow rape blossoms, making it a fantastic spectacle.
▶ Nishihirabatake Park official website: https://nisihira-park.org/
For more information about Nishiharabatake Park cherry blossoms, check out the following article.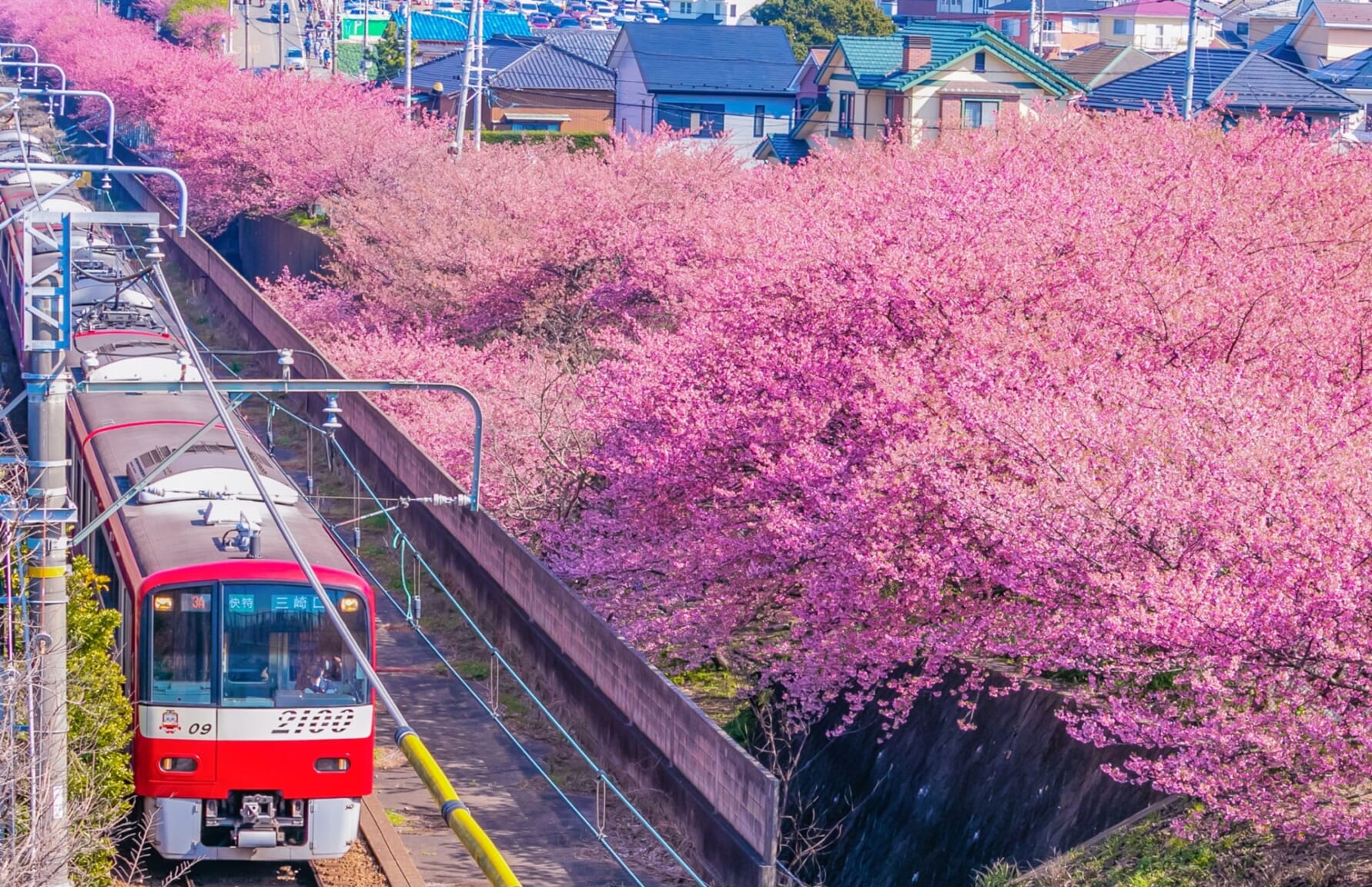 Experience the beauty of early-blooming Kawazu cherry blossoms and colorful rape blossoms on a scenic 1 km walk from Miura Kaigan Station (三浦海岸駅) to Komatsugaike Park (小松ヶ池公園). The Miura Kaigan Sakura Festival runs from mid-February to mid-March with approximately 1,000 kawazu-zakura trees planted along the railroad, where local products are sold. Stand on the overpass near the station for a unique view of the juxtaposition between the red trains and soft pink flowers. At night, enjoy the fantastic illuminated cherry blossoms that emit a different atmosphere from daytime along the railroad track, making for a spectacular sight.
▶ Kanagawa Prefecture official website with information about Miura Kaigan Cherry Blossom Festival: https://trip.pref.kanagawa.jp/destination/miura-kaigan-cherry-blossom-festival/556
For more information about Kaigan Station cherry blossoms, check out the following article.
6. Sankeien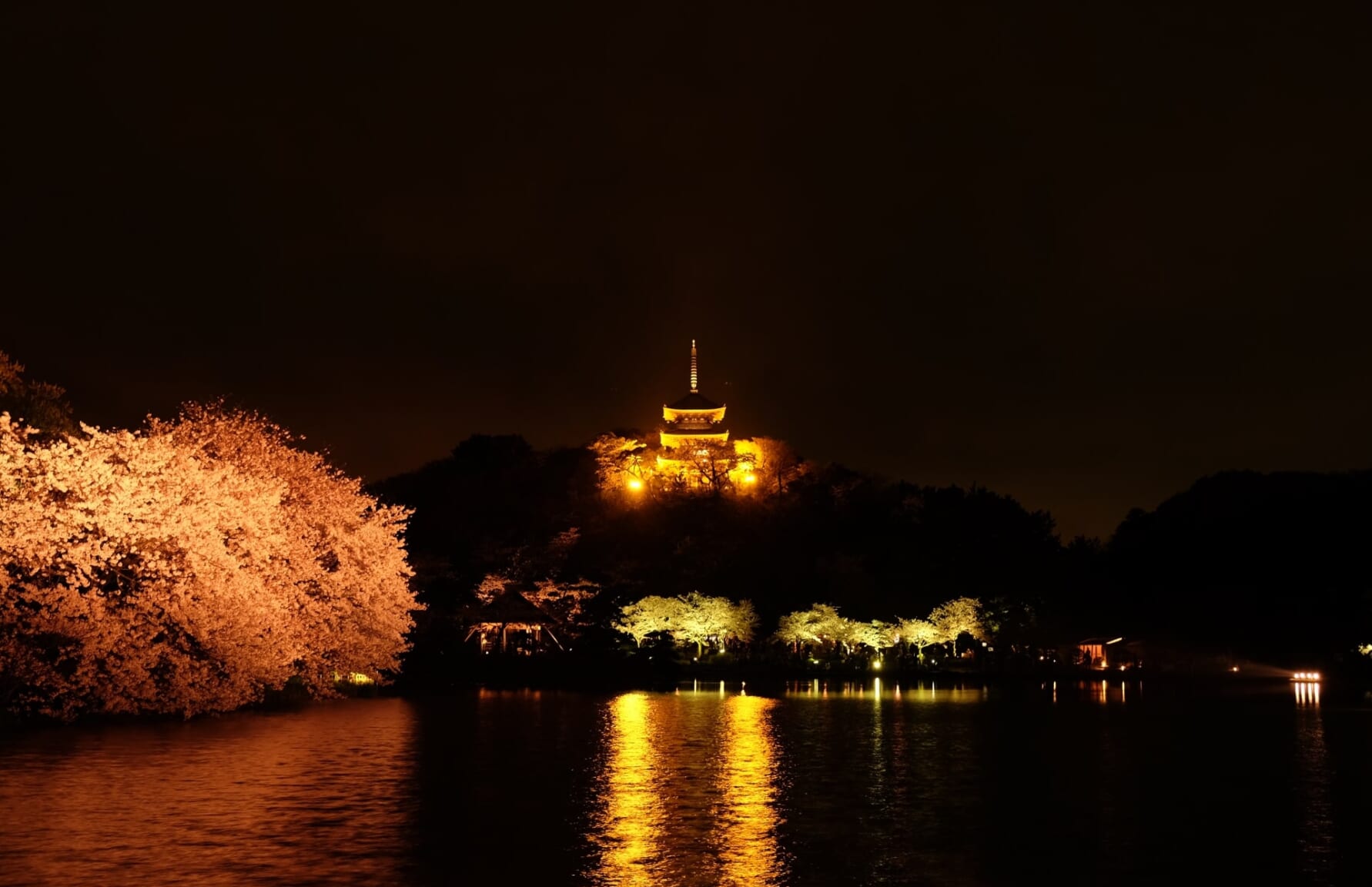 Sankeien Garden (三溪園), an 18,000 square-meter classical Japanese garden, is a perfect blend of history, culture, and natural beauty. The garden is home to 17 historic buildings from Kyoto and Kamakura, including a three-story pagoda, which offers visitors a glimpse into the past. The park's cherry blossoms, which bloom around a large pond, provide a picturesque view that's perfect for strolling. After they fall, the petals form a flower raft that reflects on the water's surface, adding to the park's beauty. Additionally, Sankeien's teahouse serves up delicious sakura-themed desserts, including handmade dumplings and soft-serve ice cream. During the night event, visitors can see the garden's lit-up cherry blossoms and historical buildings.
▶ Sankeien official website: https://www.sankeien.or.jp/en/
7. Hasedera Temple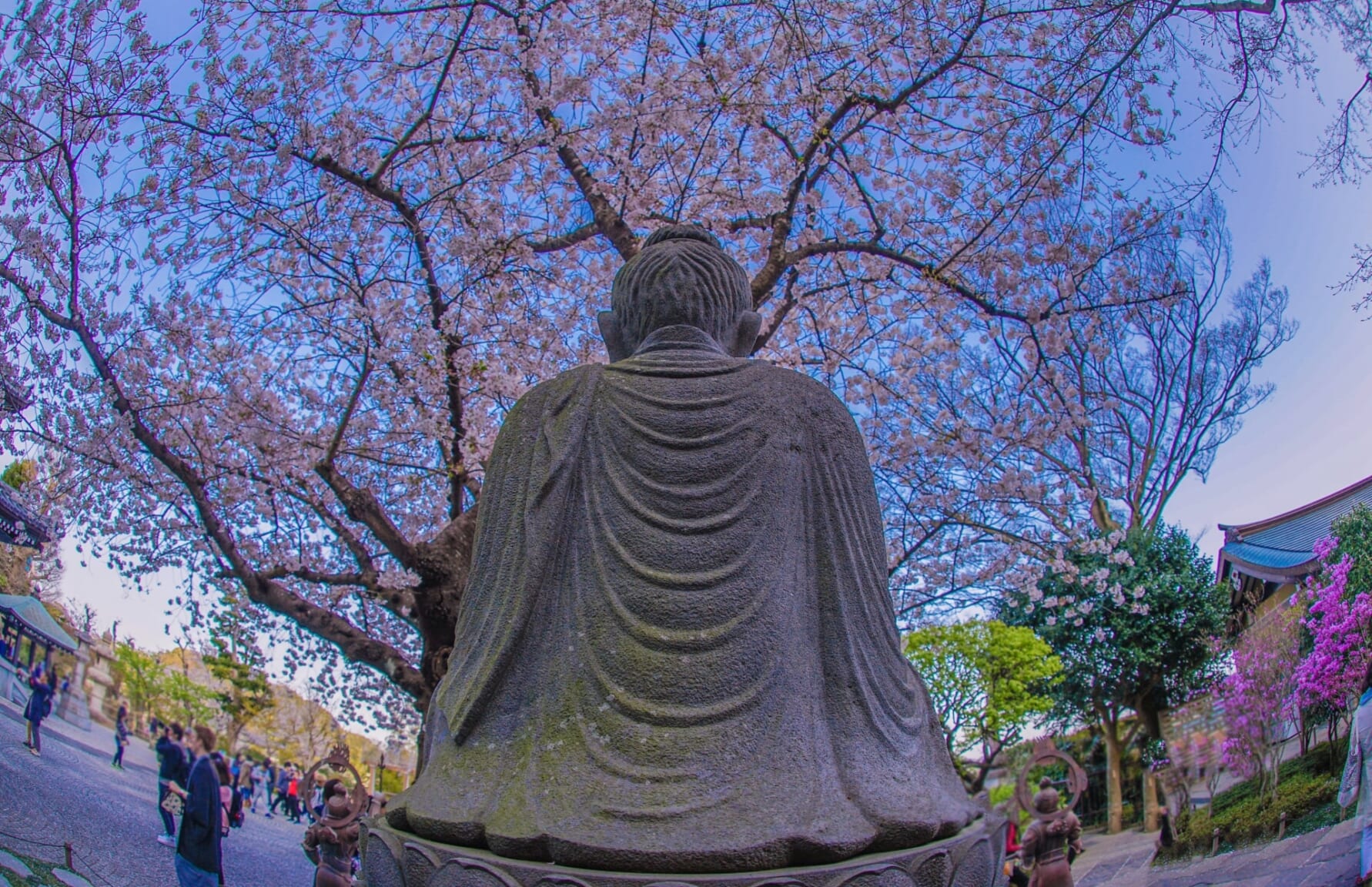 Hasedera Temple (長谷寺), known as the "Paradise of the West in Kamakura", becomes an actual floral paradise from mid-February to late April, when the temple is awash with a beautiful display of cherry blossoms. The early-blooming Kawazu cherry blossoms in mid-February give way to the Someiyoshino and Shidare-zakura cherry blossoms from late March. The temple grounds, dotted with Buddhist statues, provide a stunning backdrop for the vibrant pink blossoms. Visitors can also marvel at the cherry blossom reflection on Myochi Pond on the lower grounds.
▶ Hasedera official website: https://www.hasedera.jp/en/
For more information about Kamakura cherry blossoms, check out the following article.
8. Yamashita Park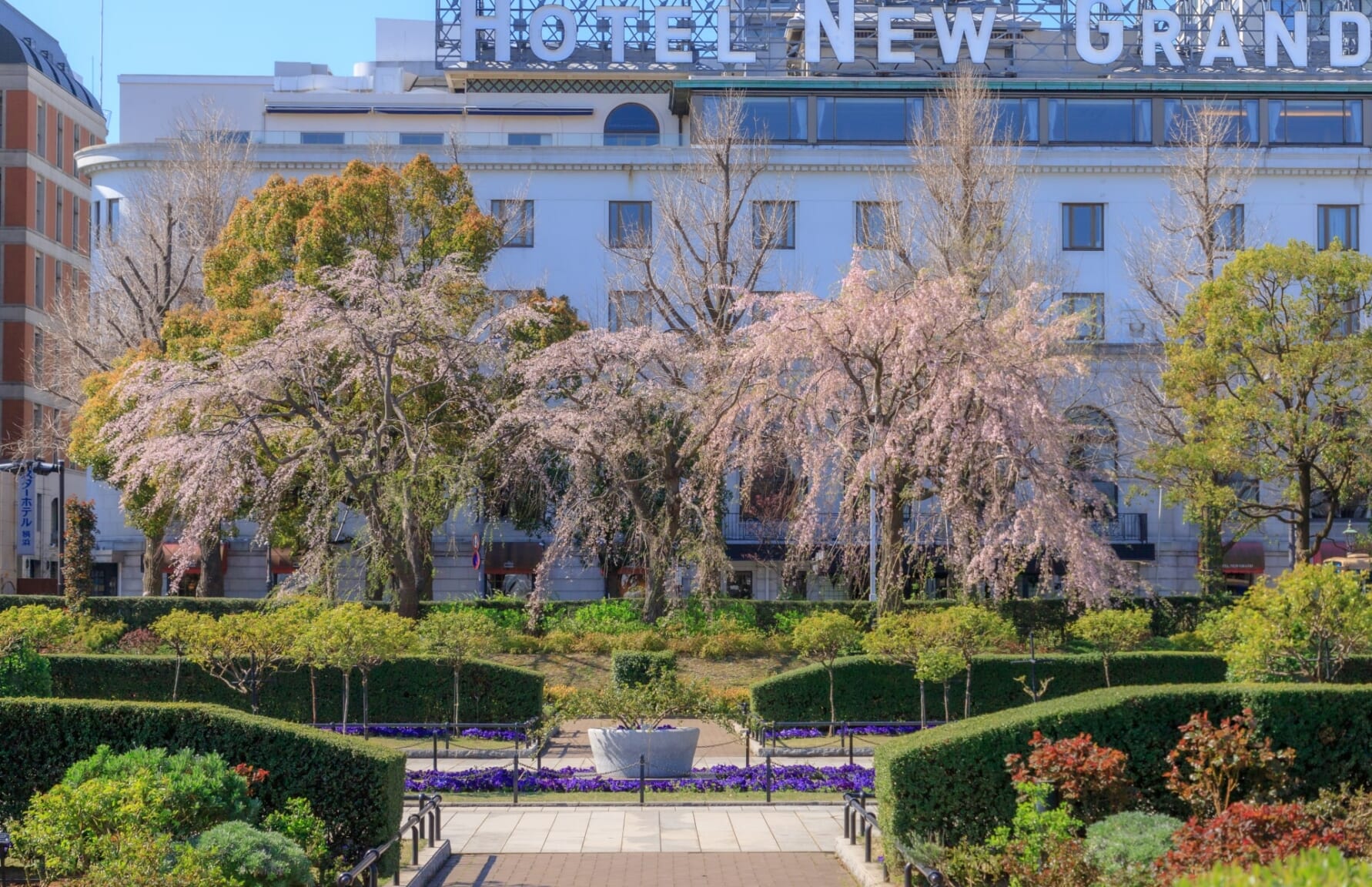 Yamashita Park (山下公園), Yokohama's famed attraction, offers a stunning view of the sea with 30 cherry trees, some of which are Someiyoshino and weeping cherry trees, planted in the park. Visitors can bask in the pink sea of petals and admire the NYK Hikawamaru and Yokohama Marine Tower in the backdrop. The park's beautiful flower beds and rose garden bloom seasonally, but in spring, capturing a unique shot of cherry blossoms with the iconic landmarks is a must. Head to the east side of the park to witness the magnificence of the cherry blossoms around "Sekai no Hiroba."
▶ Yokohama City official website with information about Yamashita Park: https://www.city.yokohama.lg.jp/kurashi/machizukuri-kankyo/midori-koen/koen/koen/daihyoteki/kouen008.html
9. Onshi-Hakone Park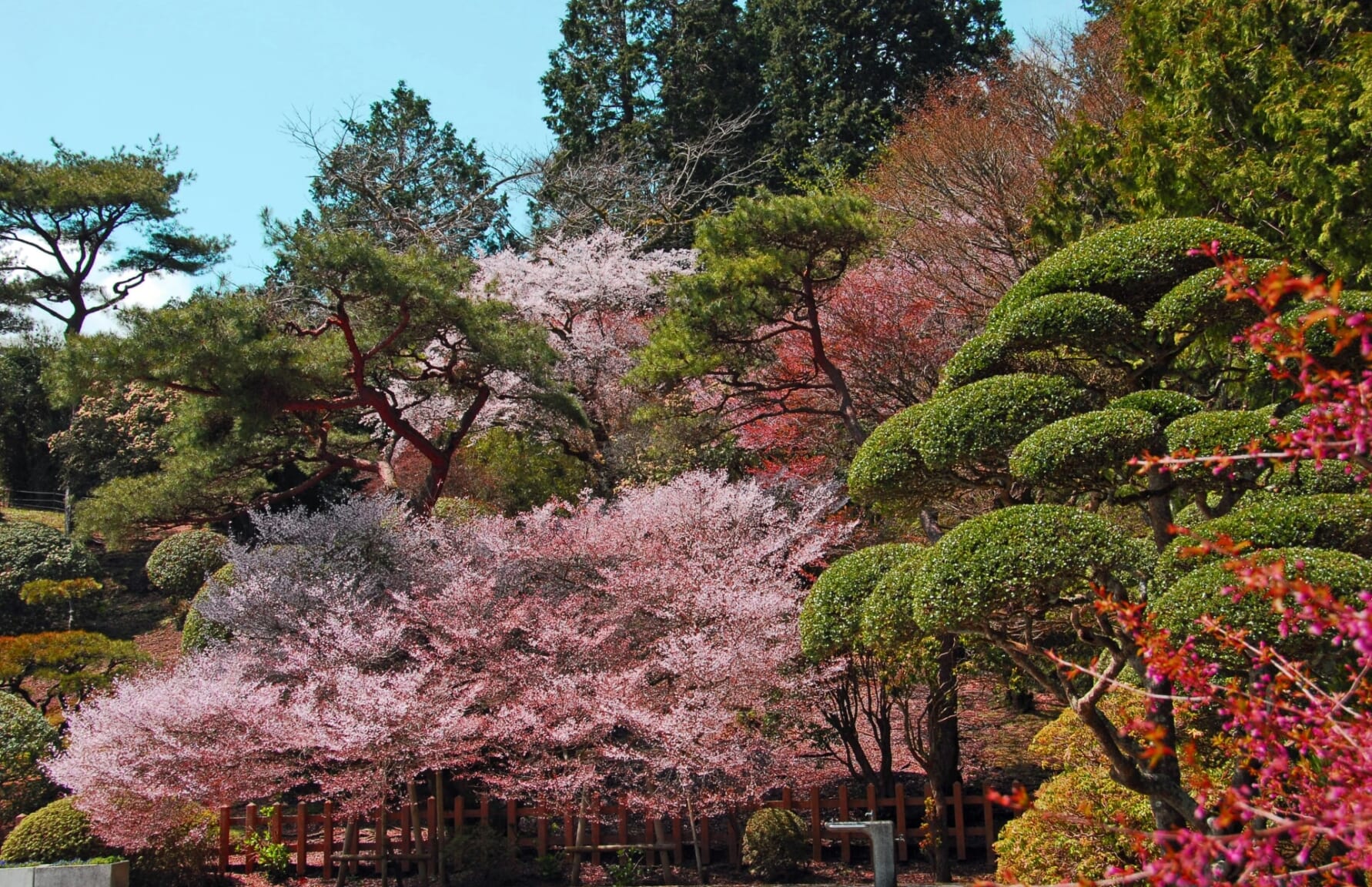 Onshi-Hakone Park (箱根公園), once the site of a former detached palace, overlooks Lake Ashi and offers spectacular views of Mt. Fuji, earning it a spot on the "50 Best Scenic Spots in Kanagawa" list. The Lakeside Observation Pavilion, modeled after the Western-style pavilion of the detached palace, is the park's symbol. The garden is well-maintained and features various seasonal flowers and trees, including mame-zakura, oshima-zakura, and someiyoshino cherry trees. From the lakeside observation pavilion, visitors can enjoy a stunning view of cherry blossoms, the lake, pirate boats, and Mt. Fuji. Free guided tours are available on the fourth Saturday of each month from April to November.
▶ Kanagawa Prefecture Parks official website with information about Onshi-Hakone Park: http://www.kanagawa-park.or.jp/onsisite/english.html
10. Ooka River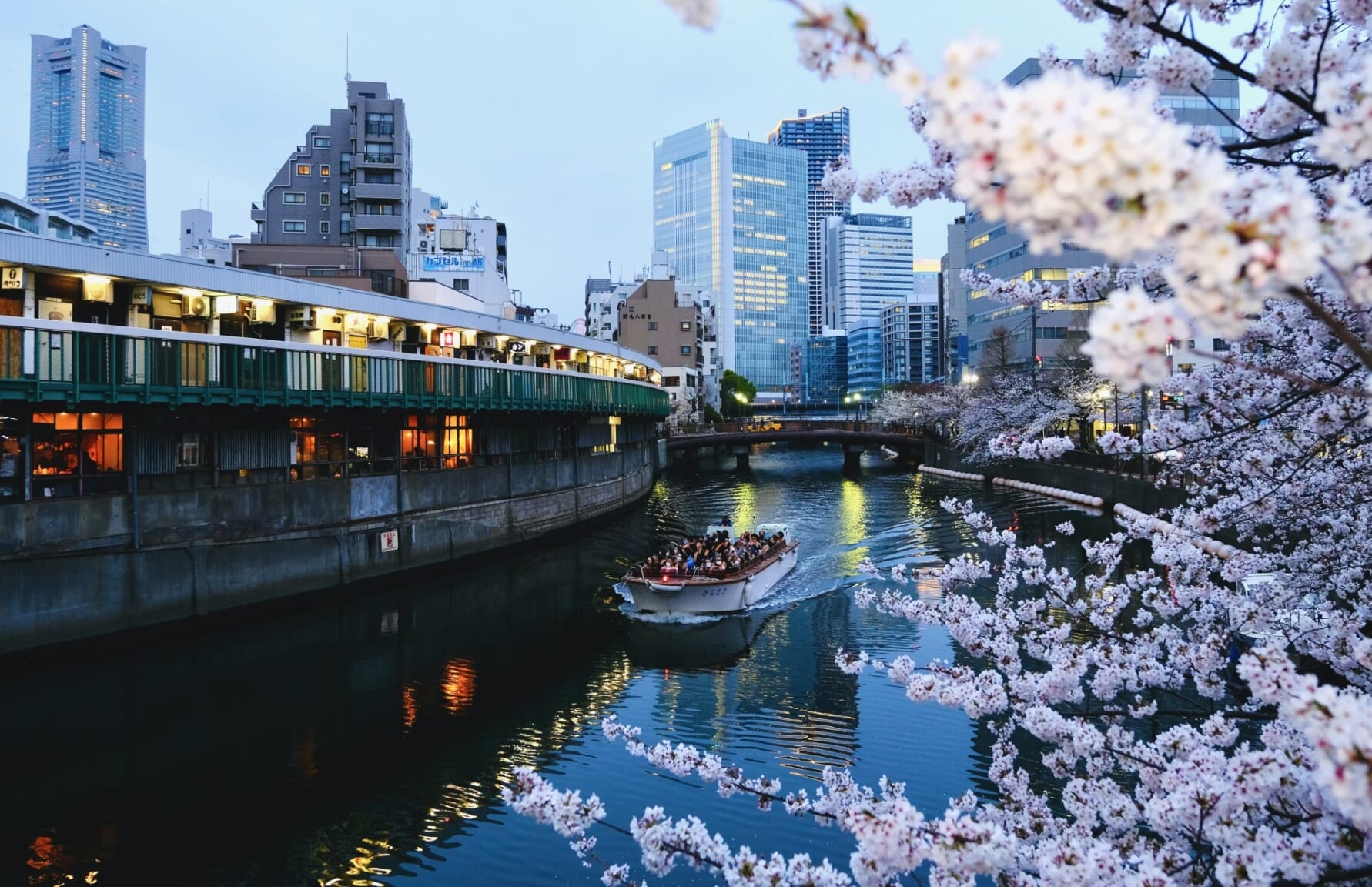 In Yokohama, the Ooka River (大岡川) is a top cherry blossom viewing spot, with 800 cherry trees lining the riverbanks. Visitors can join the Cherry Blossom Festival, where the "Cherry Blossom Viewing Cruise" is a must-try experience. Cruising down the river, surrounded by blooming cherry trees, is like traveling through a magical tunnel. Besides the springtime cherry blossoms, the Ooka River is also renowned for its vibrant fall foliage. Don't miss the chance to see the historic Urafune Aqueduct, among the top 100 bridges in Kanagawa, on this delightful cruise and discover another charming side of Yokohama.
▶ Kanagawa Prefecture Travel website with information about cherry blossoms in Ooka River: https://trip.pref.kanagawa.jp/destination/o-okagawa-cruise/220
---
This is the excuse you needed to go and explore some of the best spots in Kanagawa, right? Now don't just take my word for it, go and experience them yourself!
Here are more beautiful places for cherry blossom viewing in Kanto Region!
▽Subscribe to our free news magazine!▽

For more information about exploring Japan during spring, check these articles below, too!
▽Related Articles▽
▼Editor's Picks▼
---