10 Best Places to Visit in Japan in Spring 2024
Most Beautiful Places in Japan in Spring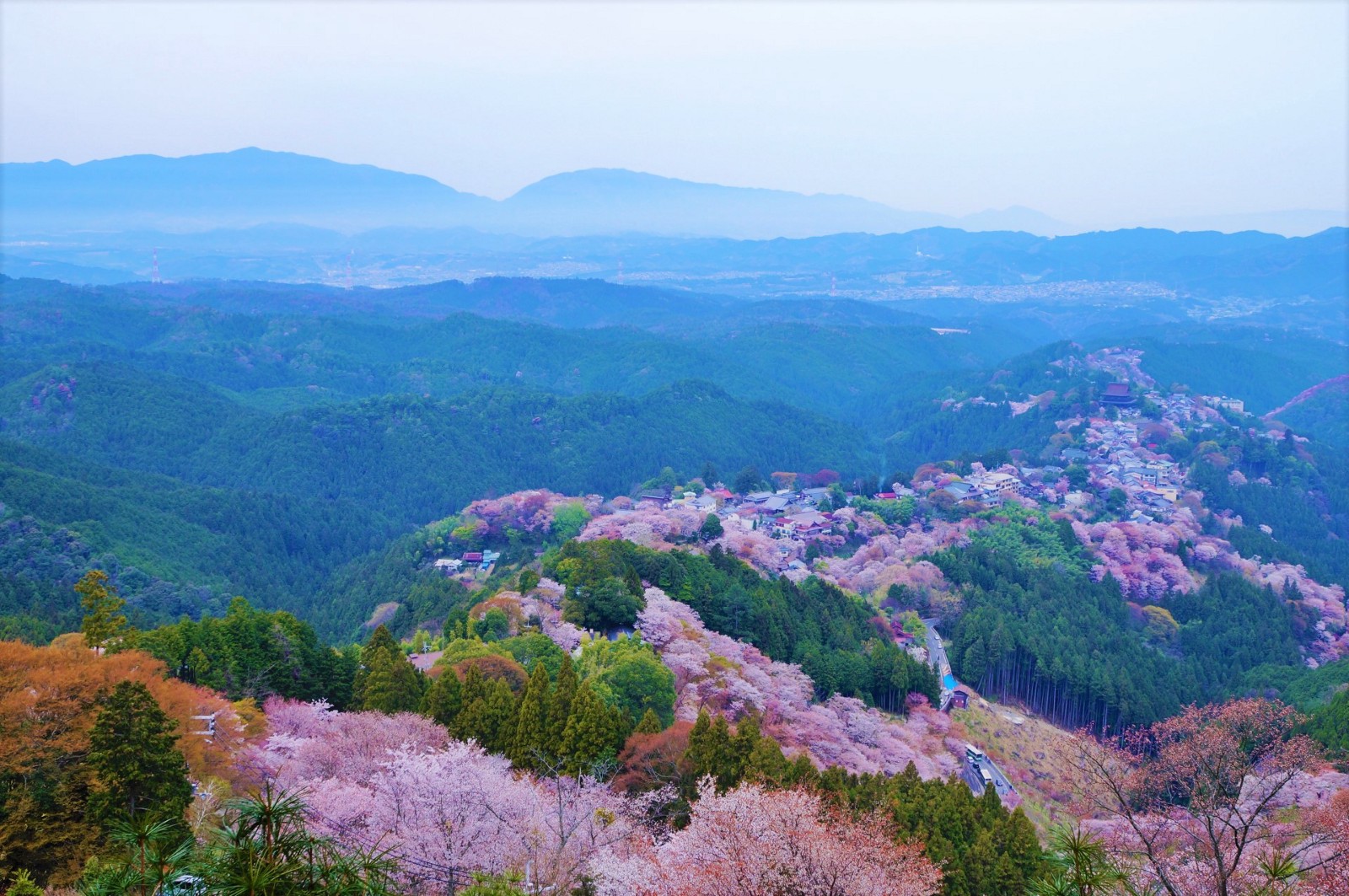 Spring is the most popular season to visit in Japan, and the main tourist attraction is the stunning cherry blossoms blooms across the country. But there are many other amazing things to see in Japan in spring.
Today, I have picked some of the most spectacular spring scenery in Japan which you should definitely see once in your lifetime! Here are 10 Best Places to Visit in Japan in Spring 2024!!
---
1. Hirosaki Castle Cherry Blossoms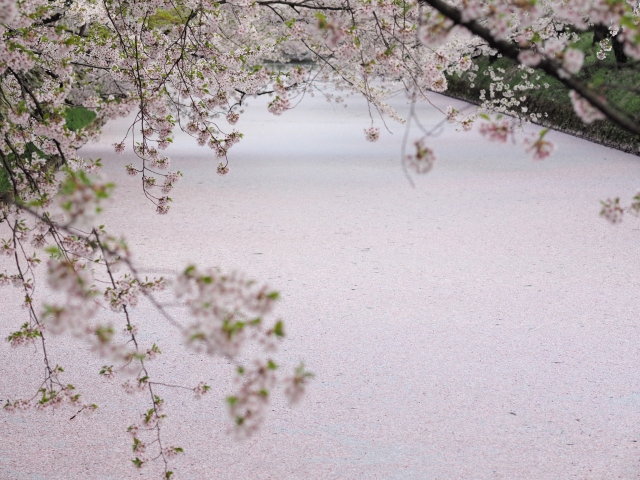 Hirosaki Castle is one of 12 remaining Japanese castles, located in Hirosaki Park, Hirosaki City, Aomori Prefecture. It's one of the most popular destinations for cherry blossom viewing in Japan, and there are approx 2600 cherry trees with over 50 different types. The cherry blossom festival is held during the season every year.
The highlights of cherry blossoms around Hirosaki Castle is not actually during the peak time of blooming, but after petals start falling down. The petals fall over the castle moat and the surface is covered with light pink colour, which creates an astonishing pink petal carpet.
Related article: Hirosaki Cherry Blossoms: Pink Petal Carpet
2. Nemophila Harmony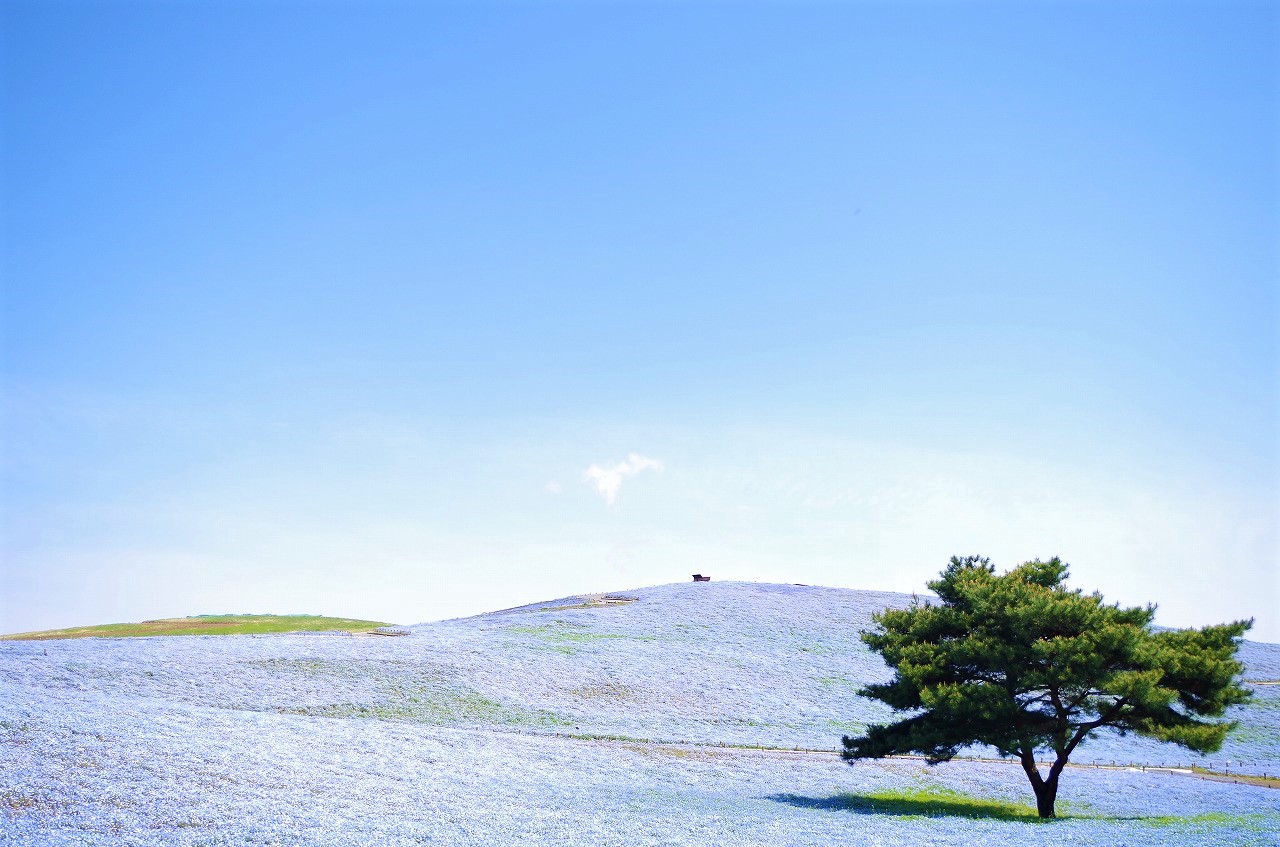 Blue nemophila flowers is a beloved flower that flourish in spring in Japan. The sea of blue nemophila flowers can be captured at Hitachi Seaside Park in Ibaraki Prefecture. The Namophila Harmony is held when nemophila is in season and is one of the most popular spring events in Japan today. Approx 4.5 million nemophila flowers are displayed at the 3.5 ha Miharashi Hills in the park and create amazing scenery together with the blue sky.
Hitachi Seaside Park can be easily visited from Tokyo and it's a popular side trip destination. Recommended day trip tour from Tokyo ▷ See Spring Flowers at Hitachi Seaside Park from Tokyo!
More info: Nemophila Harmony at Hitachi Seaside Park
3. Chidorigafuchi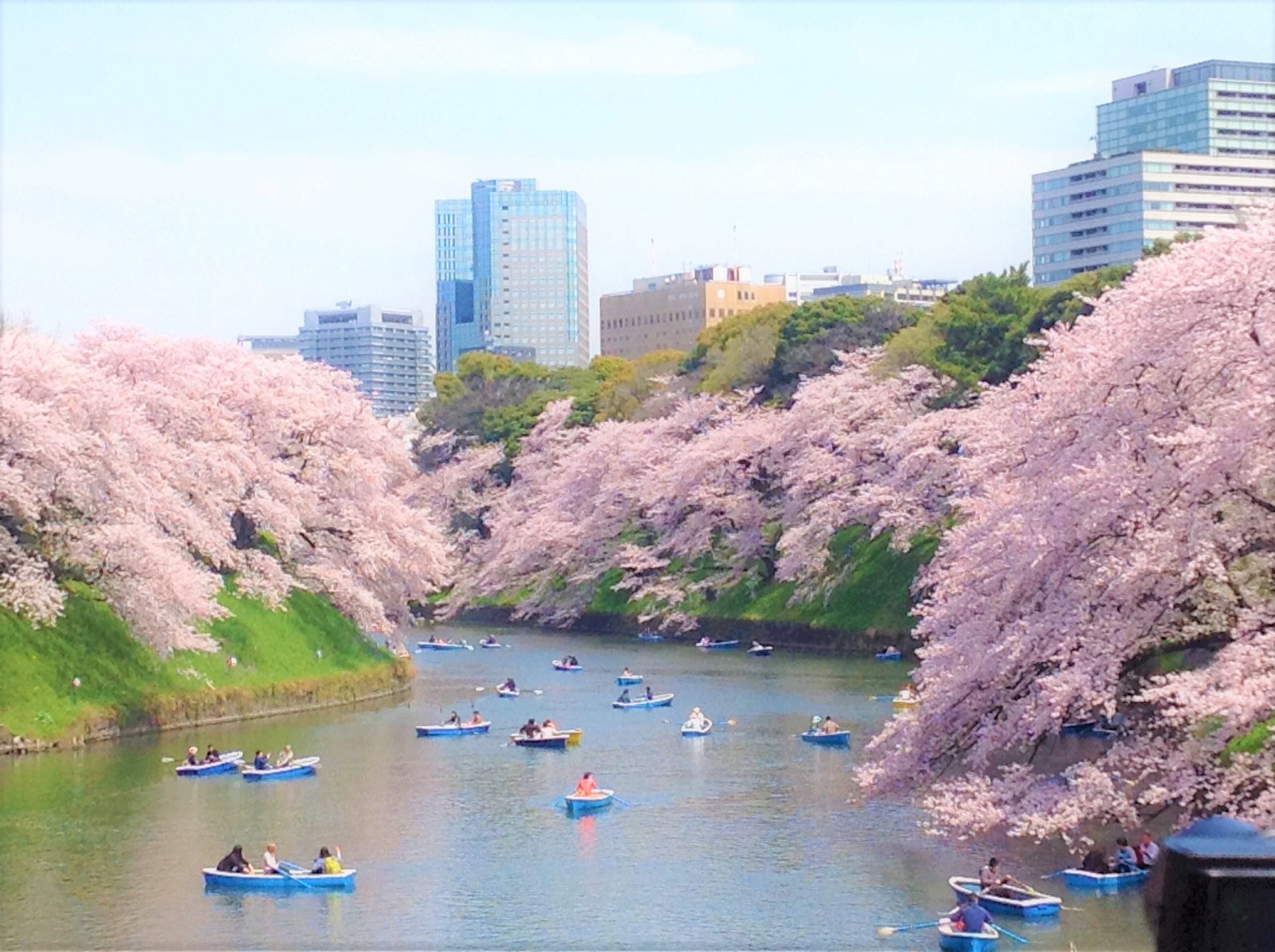 Chidorigafuchi is a top cherry blossom viewing spot in Tokyo, offering a picturesque view together with the moat and the green walkway in spring. The moat and waterway of the former Edo Castle is situated at the northwest of the Imperial Palace. There are approx 200 cherry trees stretching for 700m along the walkway, creating a spectacular contrast of pink cherry blossoms, green walkway and blue water in the heart of the city.
A cherry blossom festival is held during the season, attracting over one million visitors every year. It features various fun contents including a special light-up for cherry blossoms at night. The most unique and relaxing way to enjoy cherry blossoms of Chidorigafuchi is the boat ride. Visitors can rent a boat and paddle on the moat surrounded by cherry blossoms.
More info: Chidorigafuchi Cherry Blossoms
4. Fuji Shibazakura Festival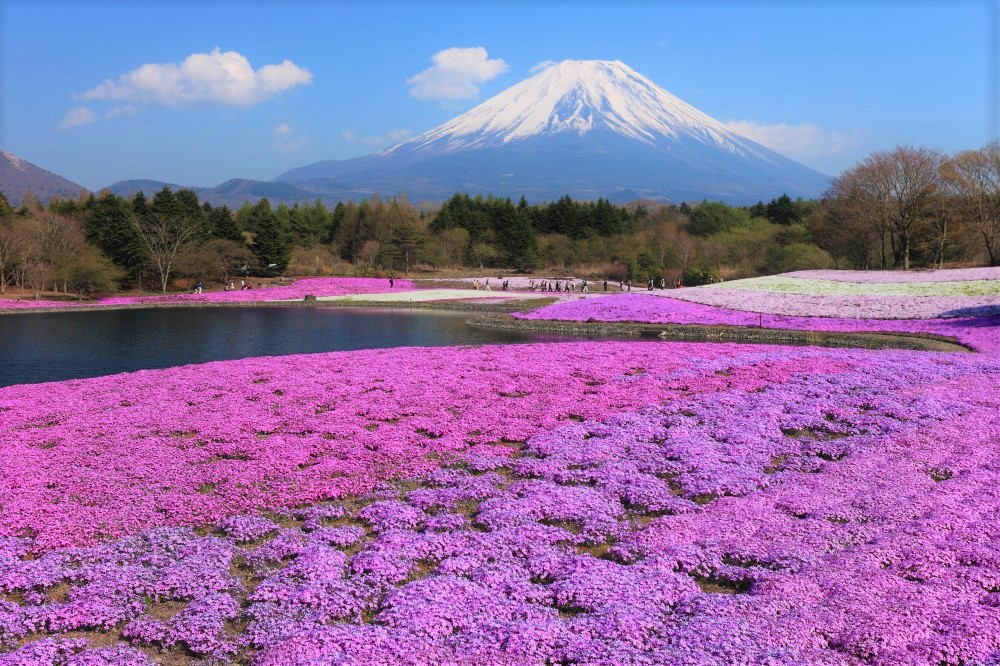 Shibazakura (Pink Moss) is one of the most appreciated flowers in Japan that flourishes in pink, red and white and covers the ground. The season of Shibazakura is usually from late April to mid May after cherry blossom season, and there are Shibazakura festivals held across the country.
Fuji Shibazakura Festival is a popular flower event held annually at the foot of Mt Fuji and attracts approx 500,000 visitors every season. It's held near Lake Motosu, one of 5 lakes around Mt Fuji. Approx 500,000 colourful pink moss plants are planted in the vast 2.3ha field, creating an astonishing scenery of the pink flower carpet with Mt Fuji in the background.
More info: Fuji Shibazakura Festival
Check out more shibazakura festivals in Japan: Best Shibazakura Festivals in Japan
5. Chureito Pagoda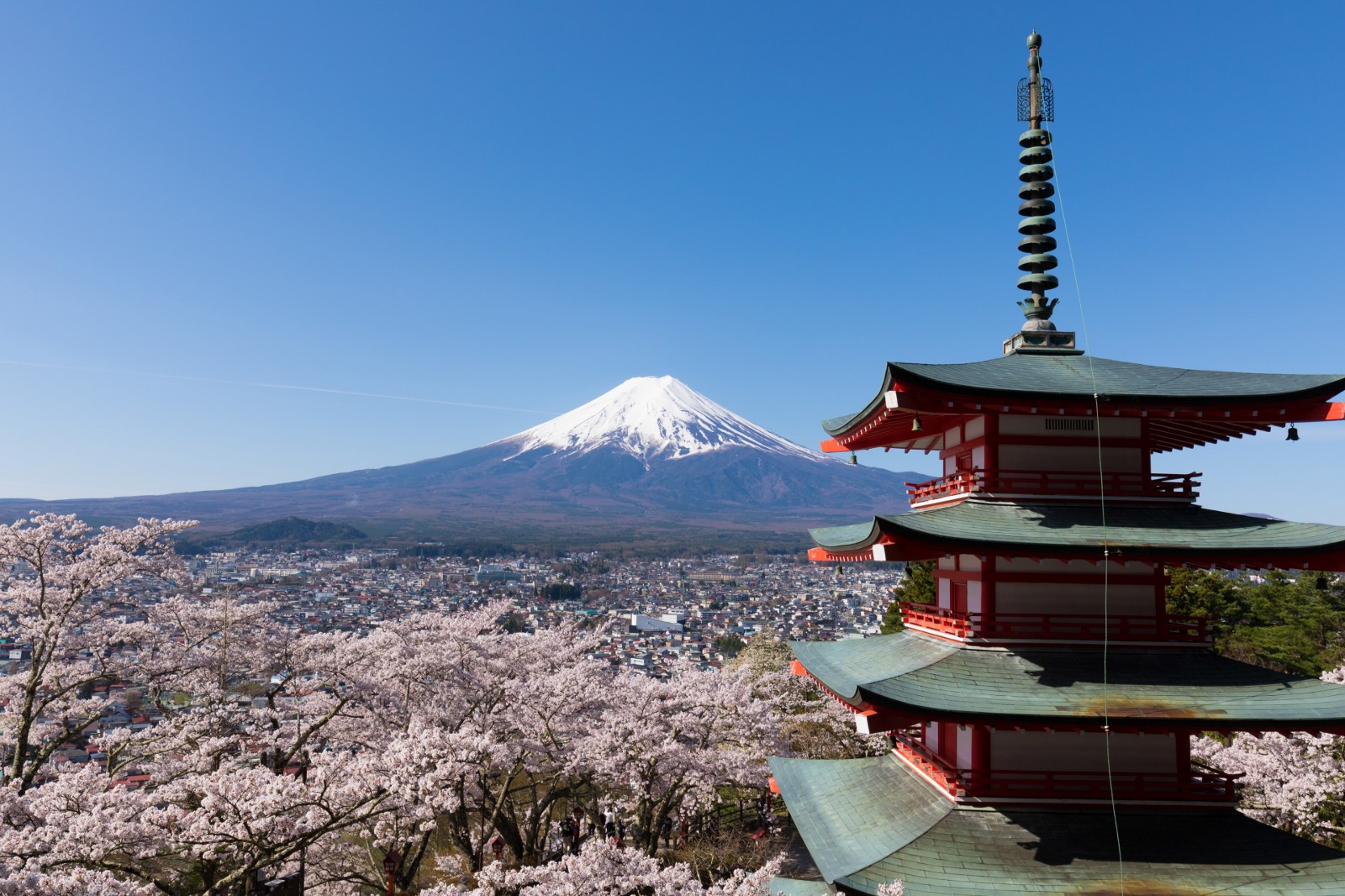 Chureito Pagoda is a picturesque, five storied red pagoda situated at Arakura Sengen Shrine within Arakurayama Sengen Park in Fuji Yoshida City, Yamanashi Prefecture. It's one of the most scenic spots in Japan, attracting a large number of visitors over the past years since it's been often featured on social media and travel guides.
Chureito Pagoda displays an amazing view together with Mt Fuji and the panoramic view of the city in each season, but the most spectacular one would be during the cherry blossom season in spring. There are over 650 cherry trees planted at the site, creating a magical spring scenery. It takes 398 steps to climb up to the pagoda in the hilltop park, but the view offered on the top is totally worth an effort!
More info: Chureito Pagoda: the Best View Spot of Mt Fuji
6. Tateyama Kurobe Alpine Route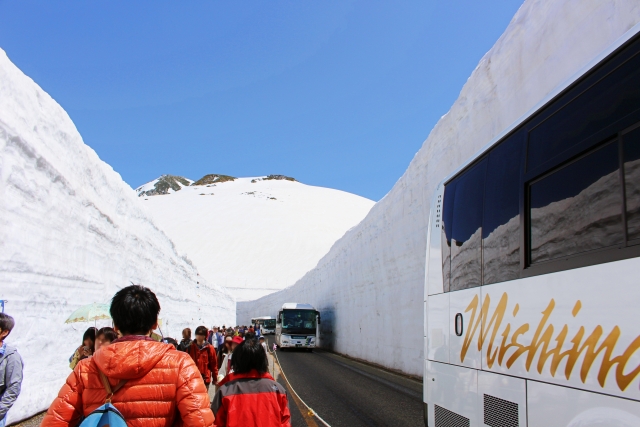 Tateyama Kurobe Alpine Route is a sightseeing route through the Northern Alps mountain between Tateyama, Toyama Prefecture and Omachi, Nagano Prefecture. The 37km long scenic route is travelled by 7 different transportation including cablecar, ropeway and bus, and it's closed for public vehicles.
The route is only open in spring, summer and autumn from mid April to late November and amazing mountain scenery can be enjoyed in each season, however, some spectacular views can be captured only certain times of the year. One of top attractions of the route is the Snow Wall that can be only seen in spring before the snow melts. The bus trail is lined by snow walls that reach up to 2m high and some part is open to pedestrians to walk freely.
Related article: Tateyama Kurobe Alpine Route Guide
7. Inabe Plum Grove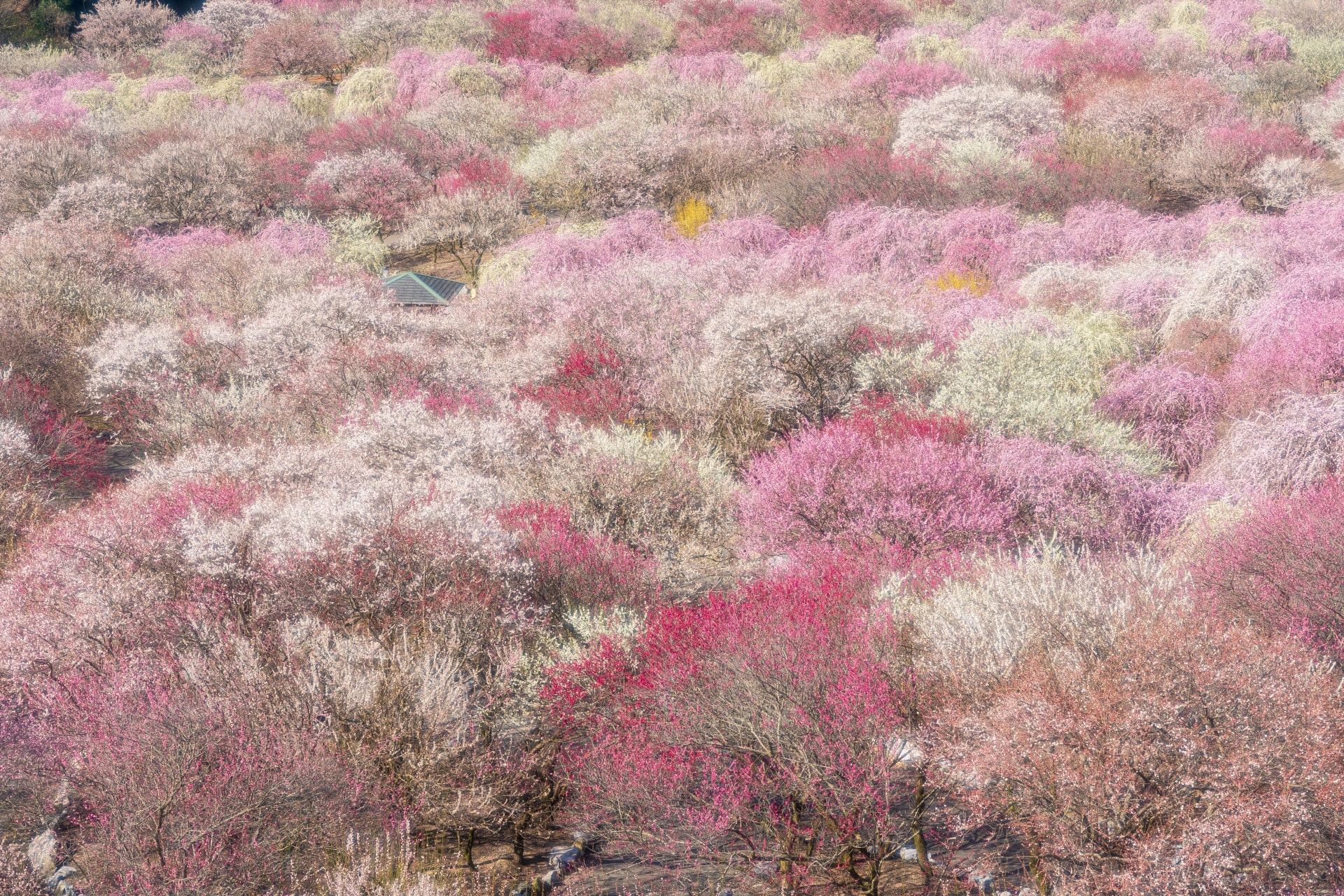 One of the first flowers that you can enjoy in Japan in spring is plum (Ume in Japanese). The season of plum blossoms is usually from mid February to early March before cherry blossoms and there are plum blossom festivals held at several locations across the country. One of the biggest plum blossom event, Inabe Plum Festival is held at Inabe Plum Grove in Inabe City, Mie Prefecture.
Approx 4,500 plum trees with 100 kinds are planted in the vast 380,000 sqm space, creating a picturesque pink forest. Visitors can enjoy strolling through the pink plum grove and appreciate the view of plum blossoms with the Suzuka mountain range on its background.
Related article: Inabe Plum Festival
8. Mt. Yoshino
Mt Yoshino or Yoshinoyama is a mountain in Nara Prefecture which is considered as Japan's most spectacular cherry blossom viewing spot. The mountain is located within Yoshino-Kumano National Park and part of UNESCO World Heritage Site under the name "Sacred Sites and Pilgrimage Routes in the Kii Mountain Range" since 2004.
Mt Yoshino offers the wonderful scale of cherry blossom scenery with approx 30,000 cherry trees that flourish and cover the mountain slopes. There are a variety of cherry trees so the view of cherry blossoms can be enjoyed for a long period. You can enjoy the spectacular view of the mountains from distance or walk and picnic under the cherry trees on the mountain. Also light-up of the trees is held during April for night viewing.
More info: Mt Yoshino Cherry Blossoms
9. Himeji Castle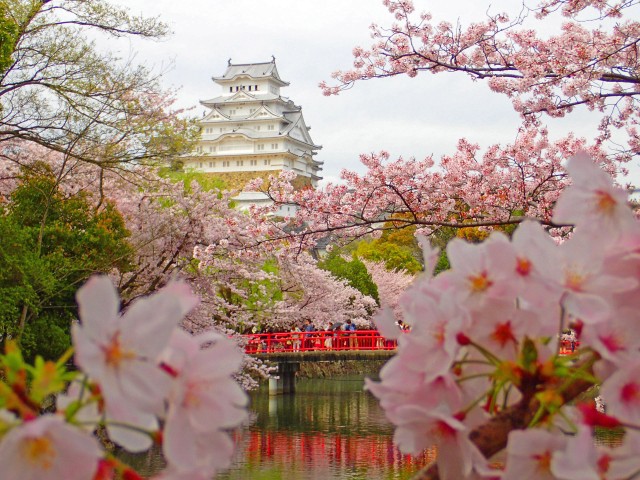 Himeji Castle is a Japanese castle located in Himeji City, Hyogo Prefecture. It's regarded as the finest surviving example of Japanese castle architecture and designated to UNESCO World Heritage Site since 1993. Along with Matsumoto Castle and Kumamoto Castle, Himeji Castle is considered one of Japan's three premier castles.
The castle is also called Shirasagi-jo (White Heron Castle) because of its brilliant white exterior and supposed resemblance to a bird taking flight. The exterior of the castle was refurbished in 2015 and restored the original white colour. Himeji Castle is a popular site for cherry blossom viewing and there are around 1,000 cherry trees at the castle site, which decorates the majestic castle beautifully during the season.
More info: Himeji Castle: UNESCO World Heritage Castle in Japan
10. Kawachi Wisteria Garden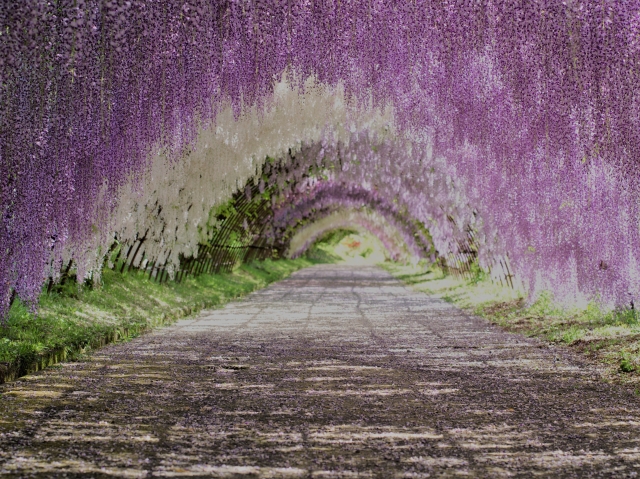 The incredible scenery of the wisteria tunnel can be captured at Kawachi Fujien (Kawachi Wisteria Garden), a private garden located in Kitakyushu City, Fukuoka Prefecture. The garden is only open for public twice a year during the wisteria season and autumn leaves season. The peak viewing time of wisteria is usually from late April to early May depending on the weather condition.
The garden displays over 20 varieties of wisteria in 10,000 sqm space, which the owner and his family have been taking care for over 50 years. There are two wisteria tunnels (110m and 80m long) in the garden, which are created by colourful wisteria in pink, purple and white. Visitors can enjoy walking under the beautiful tunnel and being surrounded by wisteria and its scent.
More info: Kawachi Wisteria Garden
---
Check more things to do in spring in popular cities in Japan!
How did you enjoy the list? For more beautiful places in Japan in other seasons, please check out listed articles!
▽Related Articles▽
---