Plum Blossoms in Japan: Best Places to See 2023
5 Best Plum Blossom Viewing Spots in Japan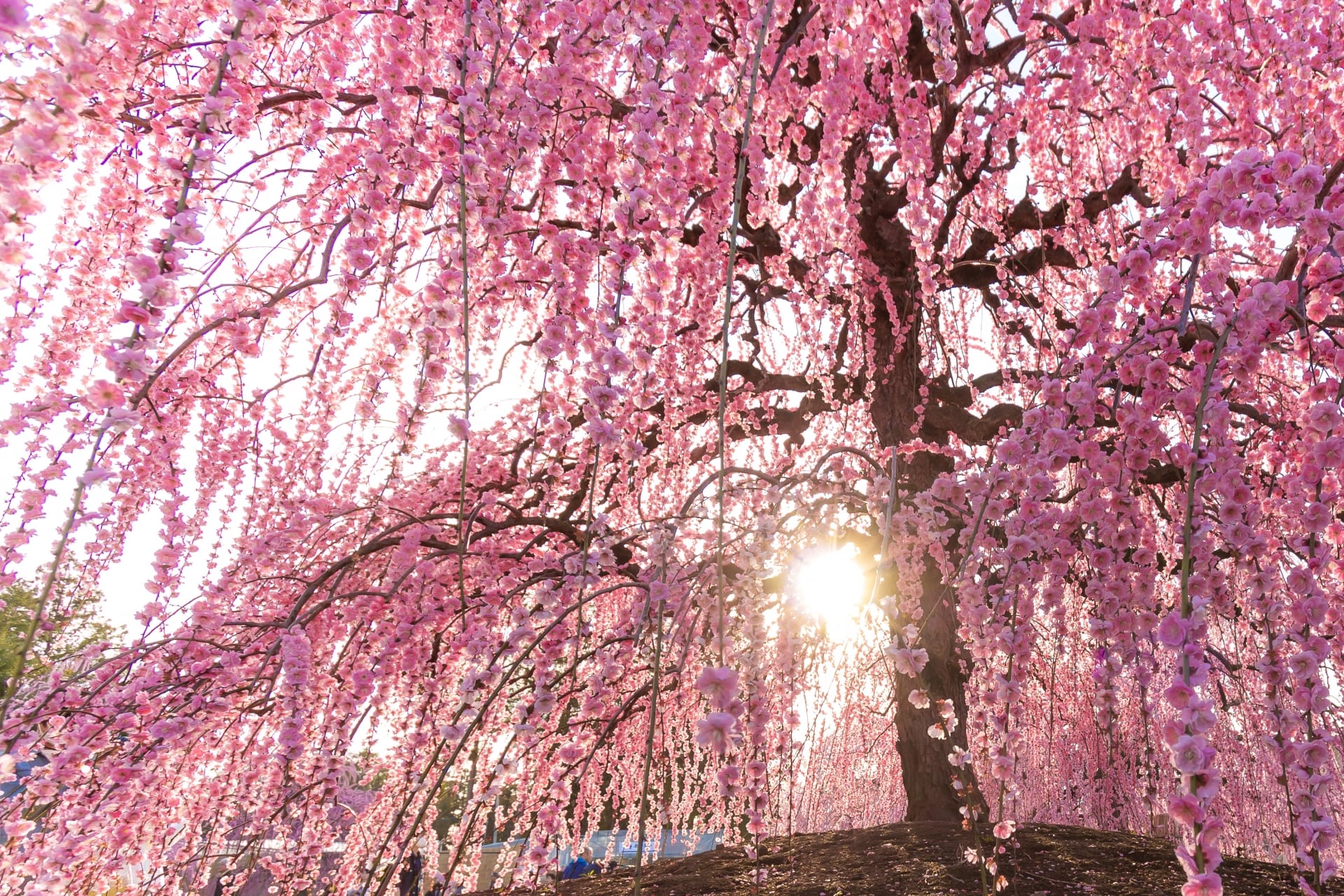 Plum blossoms (Ume in Japanese) are popular seasonal flowers in Japan which bloom before cherry blossoms (from February to March).
Plum blossoms seem to be overshadowed by cherry blossoms in the past years, and haven't been under the spotlights of tourists attention, however, plum blossoms are equally as beautiful as cherry blossoms.
While cherry tree's blooming period is usually around 7–10 days, plum blossoms can be enjoyed with much longer period for about a month.
If you wish to avoid huge crowds during the cherry blossom season in Japan, viewing plum blossoms could be an amazing option.
There are numbers of great places with plum trees in Japan, and also plum blossom festivals are held across the country from mid February through March. If you are planning to visit Japan during the period, don't miss a chance to indulge yourself by viewing pleasant plum blossoms.
In this article, I would like to introduce some of the most stunning plum blossom spots in Japan, so let's check them out 🙂
1. Hanamiyama Park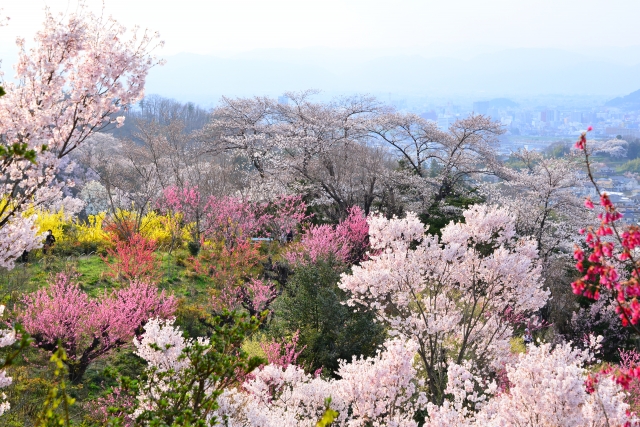 Hanamiyama Park (花見山公園) is a privately owned park on the slope of the mountain located outside of Fukushima City.
It's one of the best places to enjoy flower viewing in Japan, especially cherry blossoms, and the park is open to public for free during the season.
The park is home to a wide variety of flowers including plums, peaches, cherries, forsythia, magnolia and camellia that flourish colourfully and cover the hillside of the mountain from March to April. The picturesque view of the flower-filled mountain is often described as a Shangri-La in real life.
Approx 300 plum trees are planted at the site and they are the first flowers to bloom in the park, delivering us the announcement of arrival of spring.
For more information about Hanamiyama Park, check the link below:
2. Kairakuen
Kairakuen Garden (偕楽園) is a spacious Japanese landscape garden is located in Mito City, Ibaraki Prefecture.
Kairakuen Garden is counted as one of the three greatest gardens in Japan along with Kenrokuen Garden in Kanazawa City and Korakuen Garden in Okayama City.
Impressive 3,000 plum trees in over 100 variety are planted in the garden site and bloom colourfully from February to March. Mito Plum Blossom Festival is held during the peak season of the blossoms for about 45 days.
The gorgeous collaboration of plum blossoms and traditional Japanese landscape garden is simply breathtaking. During the festival, there are also some special events such as light-up of the trees at night, food vendors, tea ceremony and more.
See the link below for more information about Mito Plum Blossom Festival at Kairakuen Garden:
3. Yushima Tenmangu
While many spectacular plum gardens are located countryside in Japan, you can still enjoy beautiful plum blossoms within Tokyo, too.
Bunkyo Plum Blossom Festival at Yushima Tenmangu Shrine (湯島天満宮 ) is one of the most popular flower events in Tokyo, featuring over 300 plum trees blooming beautifully at the historical shrine. Festival is held from early February to early March, featuring special events, performances and light-up of trees at night.
If you don't have time to travel outside of the city, you should definitely visit Bunkyo Plum Blossom Festival in Tokyo!
Check the link below for more details about Bunkyo Plum Festival:
4. Inabe Plum Grove
Inabe Plum Grove (いなべ梅林) is located within the Agriculture Park near the base of Suzuka Mountain Range in Inabe City, Mie Prefecture.
It's one of the largest plum gardens in the country with over 4,500 plum trees in 100 varieties planted in the vast space of 38ha. The plum trees flourish colourfully throughout March, and Inabe Plum Festival (or Inabe Ume Matsuri) is held every year, attracting visitors from all over Japan.
Visitors can walk through the pink forest of plum blossoms, and enjoy the magnificent view of colourful plum blossoms with the great mountain on background. There is also a market offering local products during the festival.
Check more information about Inabe Plum Festival:
5. Suzuka Forest Garden
About 40km southwest of Inabe Plum Grove, there is another spectacular plum blossom viewing spots, Suzuka Forest Garden (鈴鹿の森庭園) which is situated near the famous motor racing course, Suzuka Circuit.
Suzuka Forest Garden is a landscape garden and known for the spectacular Weeping Plum (Shidare Ume). There are about 200 weeping plum trees in the garden, blooming in white, pink and red with beautiful gradation. The plum trees at the garden is maintained regularly by highly skilled gardeners and of trees are as tall as 6 meters.
Suzuka Forest Garden Plum Blossom Festival is held from late February throughout March every year. During the peak season, the garden is open till 9 pm for light-up of plum trees.
Check the link below for more information about Suzuka Forest Garden:
Thanks for reading! Which plum blossom viewing spot do you want to visit most?? As you can see from these photos above, plum blossoms are absolutely gorgeous and as beautiful as cherry blossoms!
As plum blossoms are not as hugely famous among tourists in Japan comparing to cherry blossoms, it's very possible that you can enjoy viewing the blossoms with more pleasant and peaceful atmosphere without big crowds 🙂
There are many more amazing seasonal flower spots during spring and summer in Japan. If you are interested, please check out these articles, too!
▽Related Articles▽
▼Editor's Picks▼
---