Hanamiyama Park: Flower-Filled Shangri-La in Fukushima
Hanamiyama Park: Amazing Place to Enjoy Cherry Blossoms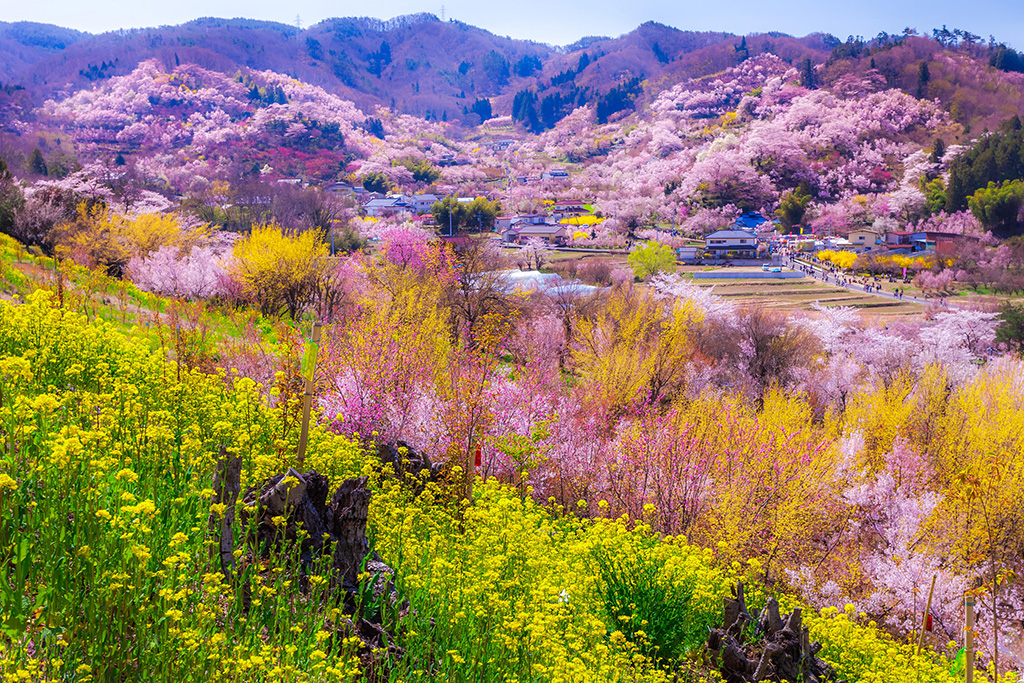 Hanamiyama Park (花見山公園) is a privately owned park situated on the slope of the mountain. It's located outside of Fukushima City, Fukushima Prefecture in Tohoku Region.
The park is best known for flowers that flourish beautifully and paint the entire hillside colourfully during spring. The astonishing scenery of the flower-filled mountain fascinates numbers of photographers and it's often described as "a real-life Shangri-La".
The flower plantation at Hanamiyama Park originally started around 60 years ago by a local farmer, then he opened it to public for free in 1959 to give the opportunity to the local community to enjoy the beautiful flowers.
A wide range of flowers can be seen at Hanamiyama Park including plum, cherry, peach, forsythia, magnolia, camellia and many more. When they are in full bloom, the vast park of 5ha is entirely covered by colourful flowers in pink, yellow, red and white, creating surreal scenery.
The park is especially popular during the cherry blossom season and it's known as one of the best cherry blossom viewing spots in the country.
The cherry blossoms at Hanamiyama Park usually start flourishing in early to mid April which is about 2 weeks later than most of the parts in Japan. Also the viewing time of cherry blossoms at the park is relatively longer than other places as a wide variety of flowers bloom gradually through the month.
There are some suggested walking routes and view points at the park, and visitors can enjoy a pleasant walk by the colourful flowers and spectacular scenery with surrounding rural areas.
The magnificent view of the Azuma Mountain Range can be also enjoyed from the park when the visibility is good. The pink cherry blossom-filled mountain, the snow covered mountains in distance and the blue sky make the perfect combination.
During the peak season for flower viewing in Hanamiyama Park (early to late April), the park tends to get very busy and there are some traffic restriction in the surrounding area.
Visitors can take the temporary shuttle bus running between Fukushima Station and Hanamiyama Park which takes 15 mins and costs 250 yen one way. A temporary visitor center is also set outside of the park during the peak season, and several food stands are also available around the park.
-Hanamiyama Park (花見山公園)
Access: 15 mins from Fukushima Station by bus
Best Cherry Blossom Viewing Time: early to late April
▽Check more beautiful places to view cherry blossoms in Fukushima!▽
Thanks for reading! If you wish to capture the most amazing cherry blossom scenery this spring, Hanamiyama Park is absolutely recommended!
For more information about amazing places to see cherry blossoms in Japan this spring, here are some more articles for you to check out 🙂
▽Related Articles▽
▼Editor's Picks▼
---