10 Best Cherry Blossom Festivals in Japan 2023
Best Sakura Festivals in Japan in Spring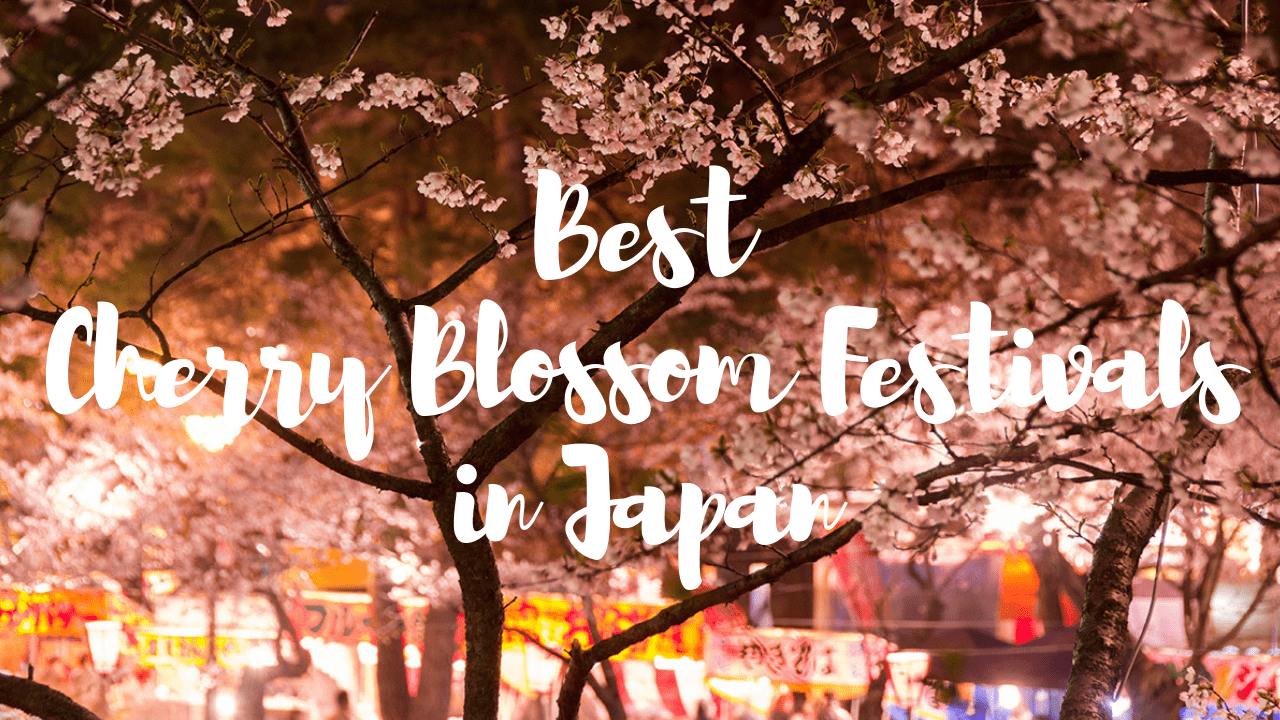 Cherry blossom festivals (Sakura Matsuri) are held across the country during cherry blossom season. Guests can enjoy the amazing view of cherry blossoms with delicious food and drinks as well as the light-up at night.
In this article, I'd like to share my picks of 10 best cherry blossom festivals in 2023 Spring!
Note: Some of cherry blossom festivals and events in Japan may be cancelled due to coronavirus. Please check the latest information on official websites before visiting.
-Hirosaki Castle
Known as one of the most beautiful places to see cherry blossoms in Japan, Hirosaki City in Aomori Prefecture holds the annual cherry blossom festival at Hirosaki Park (弘前公園). Beautiful cherry blossoms can be enjoyed at the foot of glorious Hirosaki Castle at day and night with delicious street food and drinks, and the site is also popular after the peak blooming period as the stunning view of moats covered by pink petal can be enjoyed.
-Ueno Park
Ueno Park is Tokyoite's favourite Hanami Party spot for decades. The large park has about 800 cherry blossoms that can be enjoyed along with park's attractions and special events. Ueno Sakura Matsuri is held at Ueno Park annually from late March to early April, featuring delicious food, drinks, markets and music events.
-Meguro River
Meguro River is voted for the best cherry blossom viewing spots in Japan several times, and it's one of the most crowded viewing spots in Tokyo. About 800 cherry trees line for 4km along the river and display the spectacular scenery. Numbers of local food stalls, cafes, bars and restaurants are available at day and night.
-Satte Gongendo Park
One of the best cherry blossom spots in Kanto Region, Satte Gongendo Park (幸手権現堂桜堤) in Saitama Prefecture offers the charming collaboration of pink cherry blossoms and yellow rapeseed flowers during the season. Satte Sakura Matsuri is held during from late March to early April featuring about 100 stalls, special events and light-up at night.
-Takada Castle
Takada Castle (高田城) in Niigata Prefecture is counted as one of the three greatest places for cherry blossom night viewing. Takada Cherry Blossom Festival welcomes over 1 million visitors during the season. The impressive 4,000 cherry trees flourish around Takada Castle and they are lit up by 3,000 lanterns at night. Food stalls and special events are also available. The best viewing time at Takada Castle is usually mid April, so it's an ideal place to visit if you miss out the peak season in other cities in Japan.
-Odawara Castle
Odawara City is the city in the southwest of Kanagawa Prefecture, which is often used as a stopover for Hakone City. The main attraction of the city is Odawara Castle (小田原城) which was built during Sengoku Period, and it's a top spot for cherry blossom viewing. There will be special events and stalls available during the season as well as lantern which illuminate cherry blossoms at night.
-Izu Highland
Izu Highland (伊豆高原) is famous for the scenic 3 km long arch tunnel formed by pink cherry blossoms. Approx 600 cherry trees are planted both sides of the road, creating the stunning Sakura tunnel when flowers are blooming in full. Izu Kogen Sakura Matsuri is held from end March to early April for a week, and it take place at several locations within Izu Highland area. The light-up of the cherry blossoms are also available.
-Fuji Kawaguchiko Cherry Blossom Festival
Fuji Five Lakes are popular travel destination during spring as the magnificent view of cherry blossoms and Mt Fuji can be captured. The Fuji Kawaguchiko Cherry Blossom Festival is a popular Sakura Matsuri held at the north shore of Lake Kawaguchi. Enjoy the stunning scenery with delicious food and drinks. After sunset, light-up of cherry blossoms is also available.
-Yodogawa Riverside Park Sewaritei District
The most popular cherry blossom viewing spots in western Japan, the Sewaritei District of Yodogawa Riverside Park (淀川河川公園背割堤地区) is situated at the border between Osaka and Kyoto. The astonishing Sakura Tunnel stretches for about 1.4 km. Sawaritei Sakura Matsuri is held at the site with a lot of vendors selling food, drinks and local crafts.
-Himeji Castle
Himeji Castle offers one of the best spring scenery in Japan with the stunning combination of the glorious white castle and pink cherry blossoms. There are about 1,000 cherry trees on the foot of the castle and there are several viewing spots surrounding area. Himeji Castle Cherry Blossom Viewing Festival in early April, and cherry trees illumination is also available for several days.
Did you enjoy the list?? Which cherry blossom events would you like to visit this year?? Sakura Matsuri is the best way to enjoy beautiful scenery of cherry blossoms with delicious food and drinks in festive atmosphere!
For more information about cherry blossoms in Japan, here are some articles you may be interested in!
▽Related Articles▽
▼Editor's Picks▼
---