Shiroishi River Cherry Blossoms
Ogawara Cherry Blossom Festival at Shiroishi River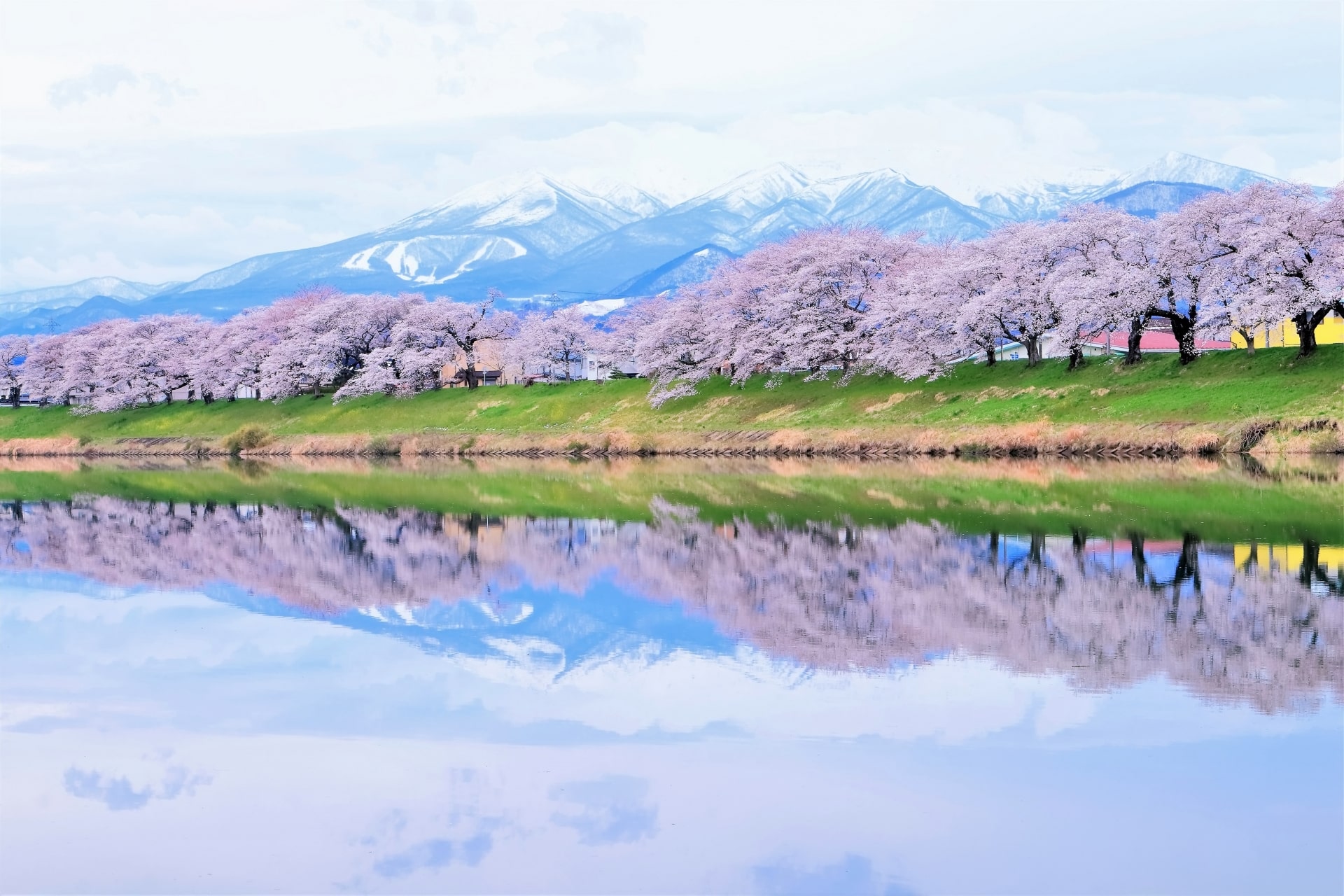 This dynamic view can be captured at Shiroishi River at Ogawara Town, Miyagi Prefecture in Tohoku Region. It's one of the most popular cherry blossom viewing spots in Japan, attracting over 200,000 visitors every season.
Ogawara Town is located about 35 km away from Sendai City and takes around 30 mins by train.
The astonishing scenery of the cherry blossoms is called "Shiroishi Gawa Tsuzumi Hitome Senbon Sakura (白石川堤一目千本桜)", which approx 1,200 cherry trees stretch for about 8km along the riverbank of the Shiroishi River.
The cherry blossom season in Tohoku Region is later than Tokyo or Western Japan (Kyoto, Osaka, etc), which is usually early to mid April. Ogawara Cherry Blossom Festival (おおがわら桜まつり) is held at the riverbank of Shiroishi River during the cherry blossom season. Visitors enjoy strolling down under the pink tunnel formed by over 1,000 cherry blossoms on the riverbank.
During the festival, there are stalls offering food and local products, and the illumination for cherry blossoms will be available every night between 18:00~22:00. There is also a cherry blossom viewing cruise running only during the festival period and offering a 2.3 km ride down the river. (Price: 1,500 yen for adult)
On the other side of the river, there is a popular photo spot, a river weir where you can capture the astonishing view of a row of tinted cherry trees across the river with snow-capped Mount Zao in the distance. The contrast of blue of the river, pale pink of cherry blossoms and white of the snow on the mountain range is simply breathtaking.
There are numbers of great cherry blossom viewing spots across the country, but this one is especially popular among photographers. When you see the scenery, you'll surely know why 🙂
-Shiroishi River Hitome Senbonzakura (白石川堤一目千本桜)
Access: 3 mins walk from JR Ogawara Station
Best Time to Visit: early to mid April
Hours: 9:00~22:00 (light-up after 18:00)
Thanks for reading! There are numbers of amazing cherry blossom spots in Japan! If you wish to avoid crowds in Tokyo or Kyoto during cherry blossom season, how about visiting countryside of Japan and be indulged with cherry blossoms with peaceful atmosphere??
For more articles about cherry blossoms in Japan, check these links!!
▼Related Articles▼
▽Editor's Picks▽
---