10 Best Spots to View Cherry Blossoms in Fukushima
Fukushima Sakura Guide: Where to See Beautiful Cherry Blossoms in Fukushima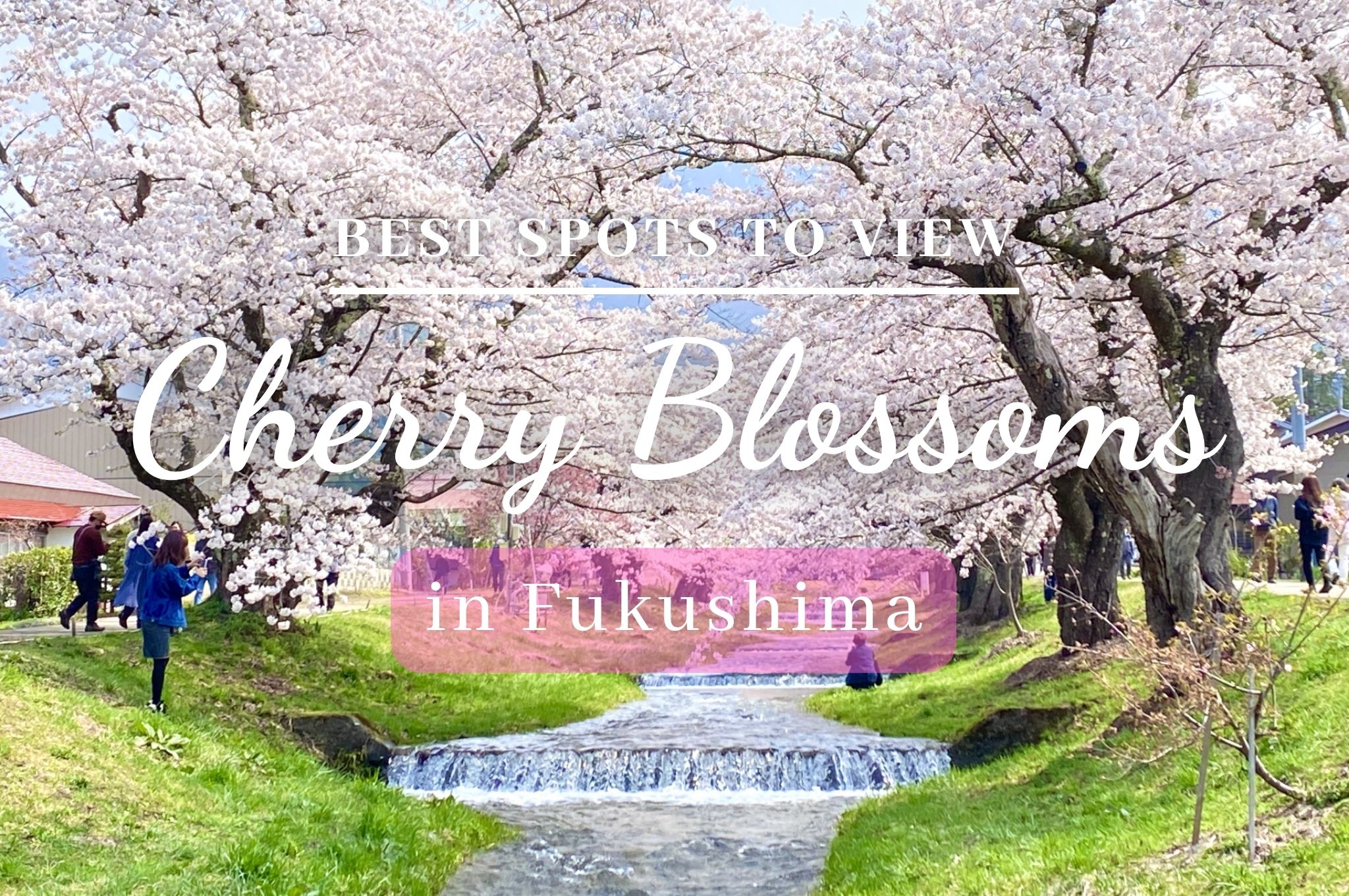 Fukushima Prefecture is a stunning destination any time of year, but during cherry blossom season, it comes alive with vibrant bursts of pink shades. Suppose you're lucky enough to visit during this special time of year. In that case, you won't want to miss the opportunity to witness the sakura spring magic, which also takes place slightly later than Tokyo because of the northern Tohoku climate. There are so many great spots to choose from, from the ancient and awe-inspiring to the modern and scenic, so we've narrowed down the top ten places you should add to your Fukushima sakura bucket list!
---
1. Miharu Takizakura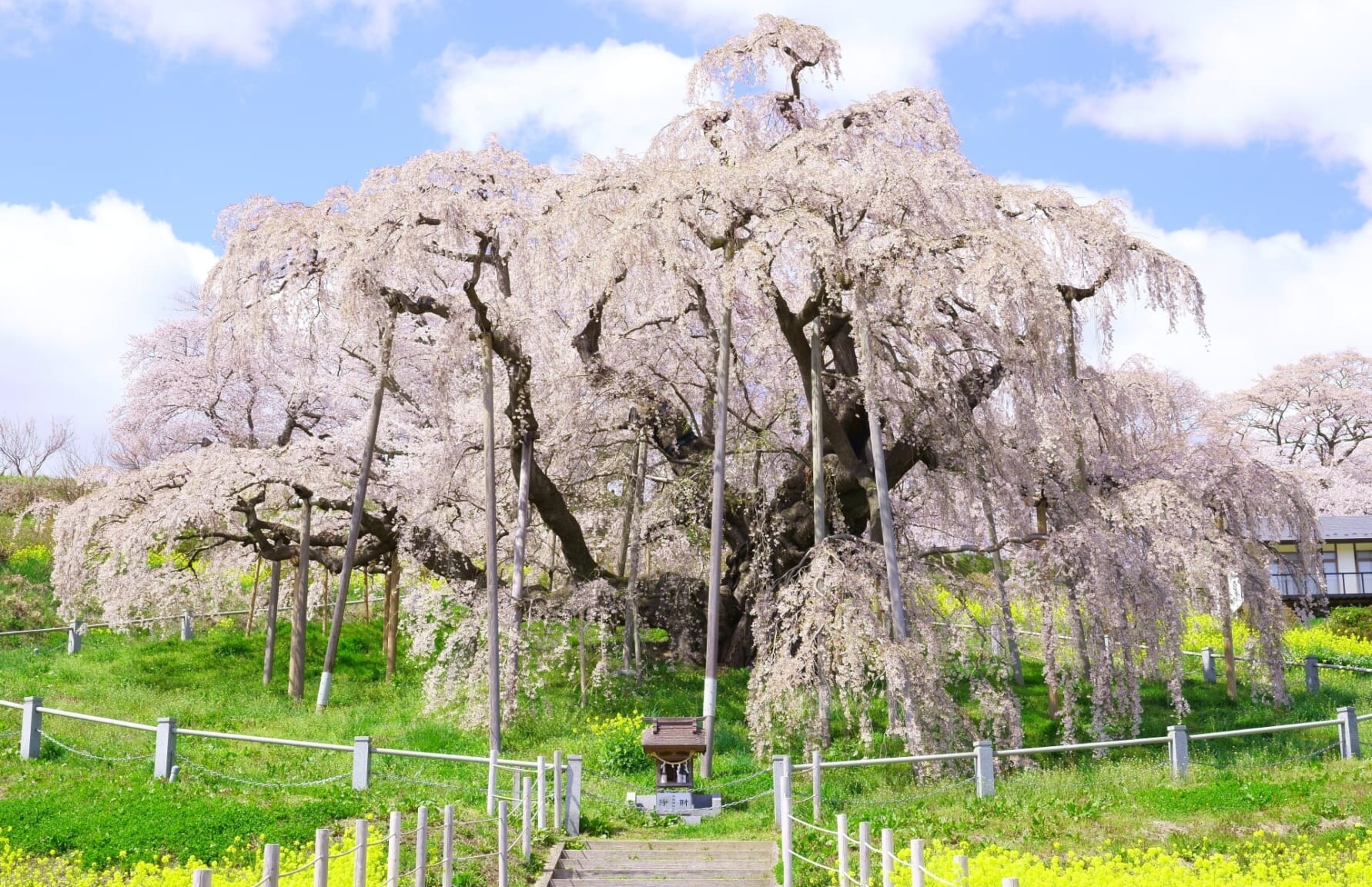 The Miharu area of Fukushima is home to the majestic Miharu Takizakura (三春滝桜), or "waterfall cherry" tree, known for its magnificent, light pink petals that resemble a cascading waterfall. This famous weeping cherry tree, known as shidarezakura, is estimated to be over 1,000 years old and stands 13.5 meters tall with branches reaching 25 meters east to west and 20 meters north to south. This impressive tree was designated a national natural monument in 1922 and is one of the three most famous cherry trees in all of Japan. In addition, Miharu boasts 70 other shidarezakura trees that are over one hundred years old, so it's worth it to explore the town after paying your respects to the venerable Takizakura.
▶ Fukushima travel official website with information about Miharu Takizakura: https://fukushima.travel/destination/miharu-takizakura/7
2. Kasumigajo Park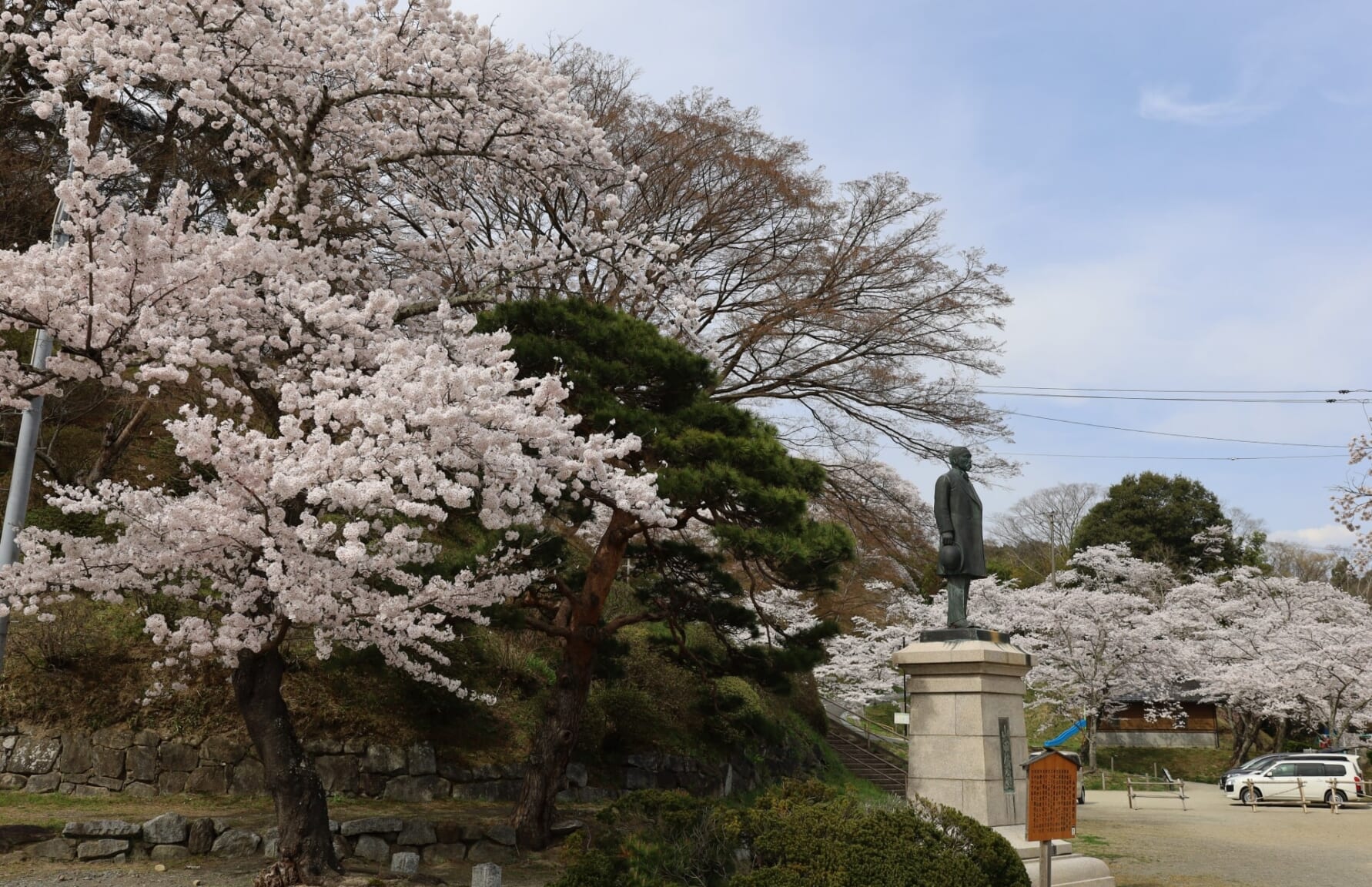 Kasumigajo Park (霞ヶ城公園) is home to Kasumigajo, also known as Mist Castle, which was once the residence of the lord of the Nihonmatsu domain, and it's named after the mist-like profusion of pink petals that envelop the park in spring. Visitors can enjoy the beauty of over 2,500 cherry trees, including the famous Someiyoshino, during the park's annual Cherry Blossom Festival and one of Japan's top 100 cherry blossom sights. Additionally, the park is famous for its fall chrysanthemum festival, which showcases beautifully displayed flowers and autumn colors. The park also pays homage to the Nihonmatsu Shōnentai, a group of teenage boys who died defending the castle during the Boshin War. Don't miss the park's stunning nighttime illumination from 18:00 to 22:00 during the festival.
▶ Nihonmatsu City official website with information about Kasumigajo Park: https://www.city.nihonmatsu.lg.jp/travel_guide/tourist_attractions/page002702.html
3. Tsurugajo Castle Park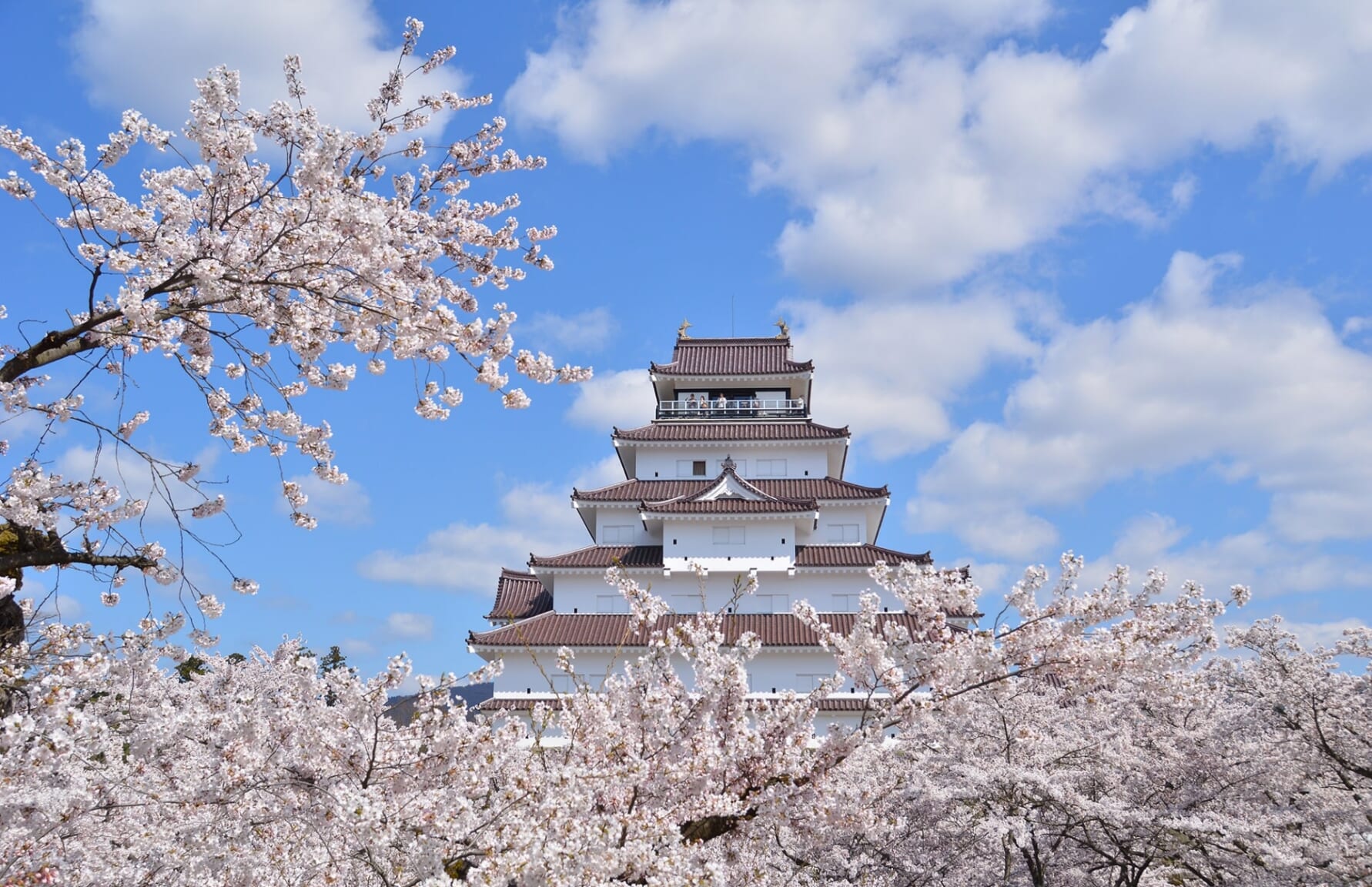 Tsurugajo Castle (鶴ヶ城), a symbol of the Aizu region, stands out with its unique red-tiled roof, contrasting beautifully with the light pink sakura blossoms in spring. The castle and its park, home to about 1,000 cherry trees, are illuminated at night during the Sakura festival, offering a spectacular sight. Visitors can enjoy the blossoms up close, from viewing platforms atop the castle, or relax in a traditional Japanese tea house. Free English-guided tours are available by booking through the Aizu-Wakamatsu City International Association but they must be booked 2 weeks in advance. Designated a national historic site, the castle's moats and earthworks have remained intact for over 400 years.
▶ Tsurugajo Castle official website: https://www.tsurugajo.com/language/eng/
4. Natsui Senbon Zakura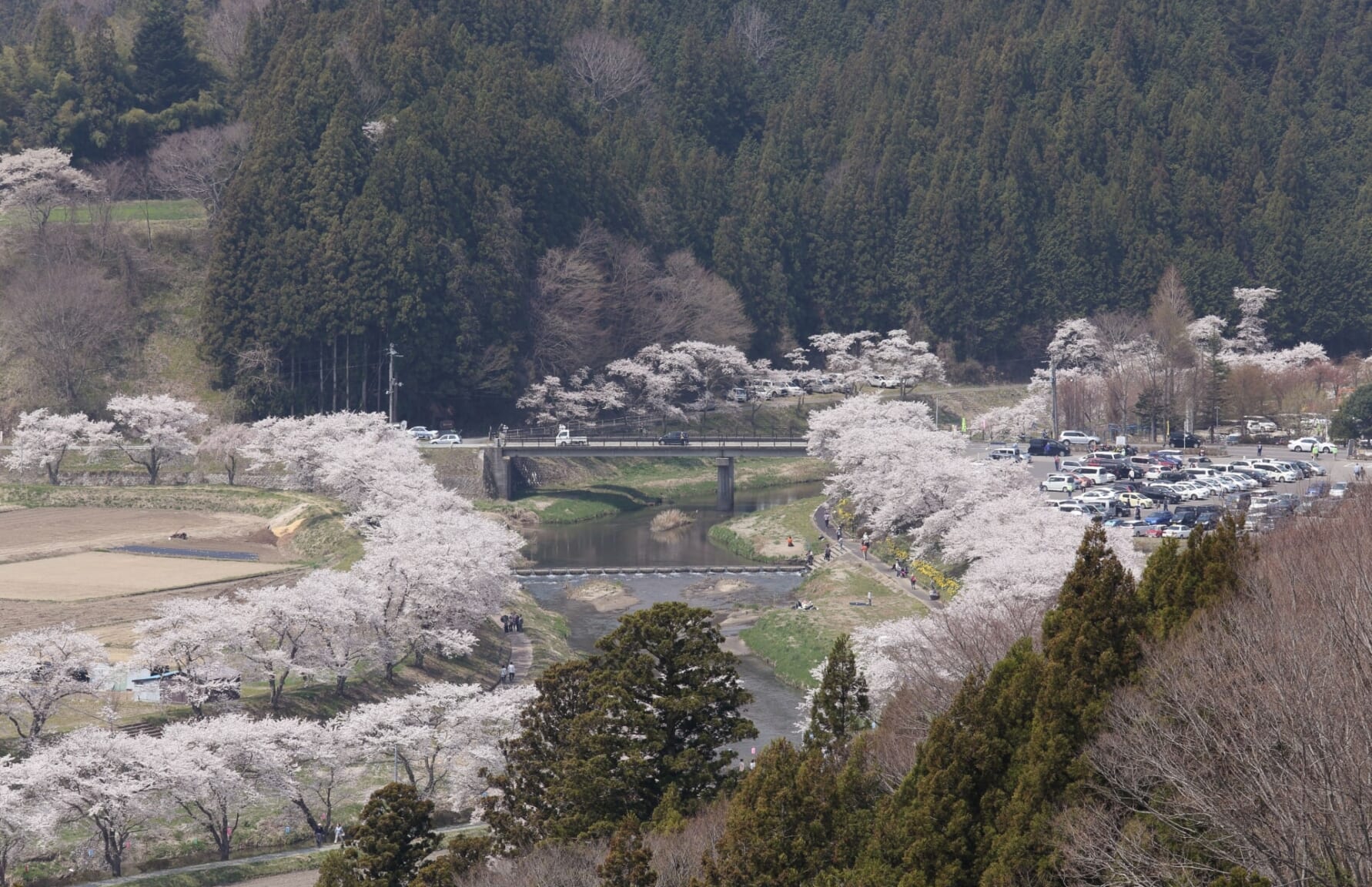 The Natsuigawa River in Ono Town is home to 'Senbon-zakura', or '1000 cherry trees', with over a thousand Yoshino cherry blossom trees lining the riverbank. This serene location is perfect for taking peaceful walks and capturing stunning photos. The cherry blossoms continue for a remarkable 5 km stretch, known as Natsui Senbon Zakura (夏井千本桜). The view of the river as it winds its way through the cherry blossoms is calming and picturesque. Visitors can take a leisurely stroll along the promenade to capture the sparkling river alongside the cherry blossoms. Don't forget to look out for the daffodils that also bloom alongside the river in springtime.
▶ Ono Town official website with information about Natsui Senbon Zakura: https://onokankou.jimdofree.com/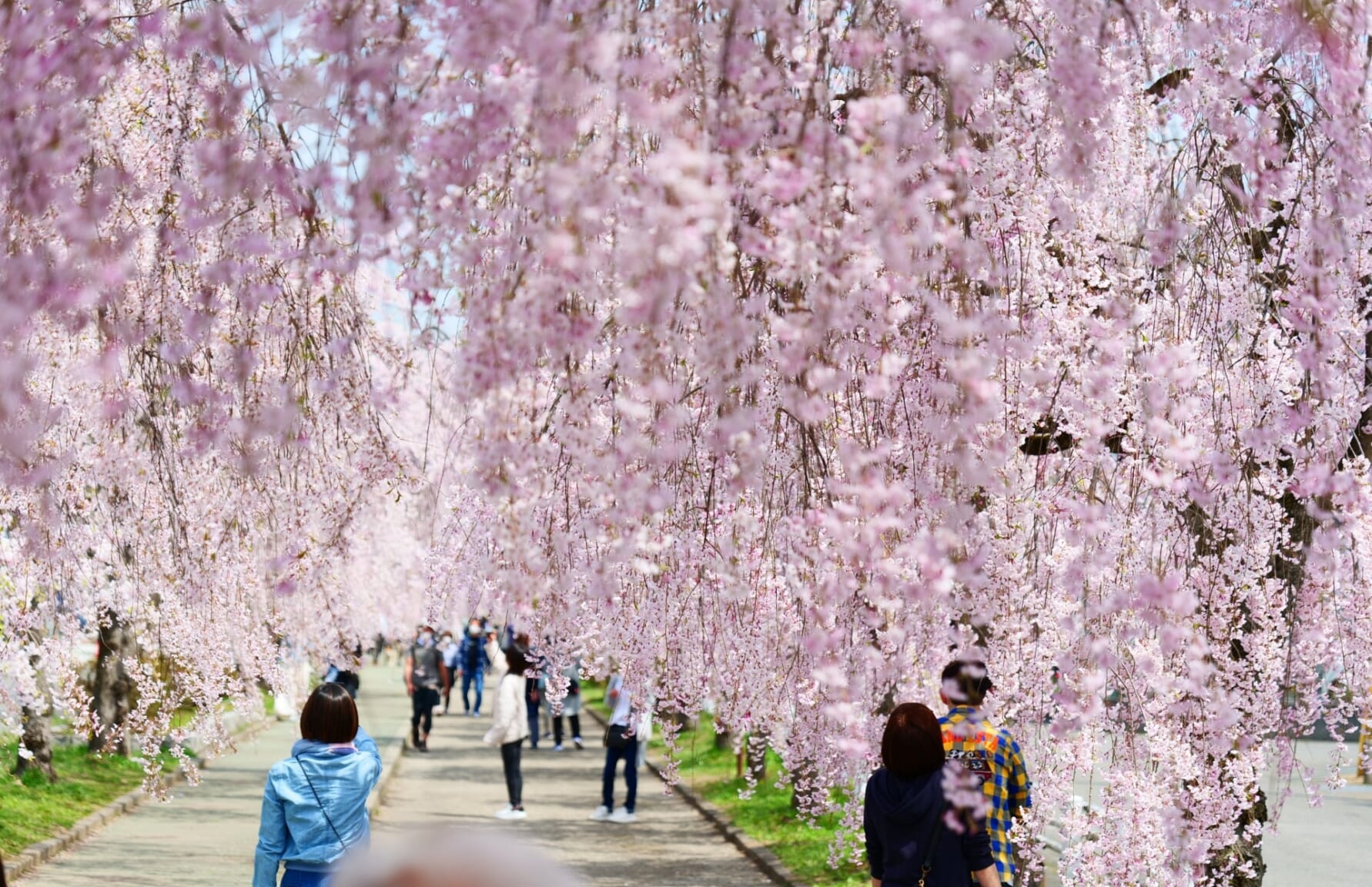 The former Nicchu Line (日中線) train tracks in Kitakata City, which were closed down in 1984, have been transformed into a stunning 3 km walking and cycling path surrounded by 1,000 weeping cherry trees, one of the longest rows of weeping cherry blossoms in Japan. The restoration of the train tracks now offers a unique walking experience in a path that transforms in a neverending cherry blossom tunnel during sakura seasons. There's also the chance to see the antique steam train currently on display along the way, which used to run on the Nicchu Line.
▶ Kitakata City official website with information about Nicchu Line Cherry Blossoms: http://www.kitakata-kanko.jp/category/detail.php?id=104
For more information about Nicchu Line cherry blossoms, check the following article
6. Kannonji River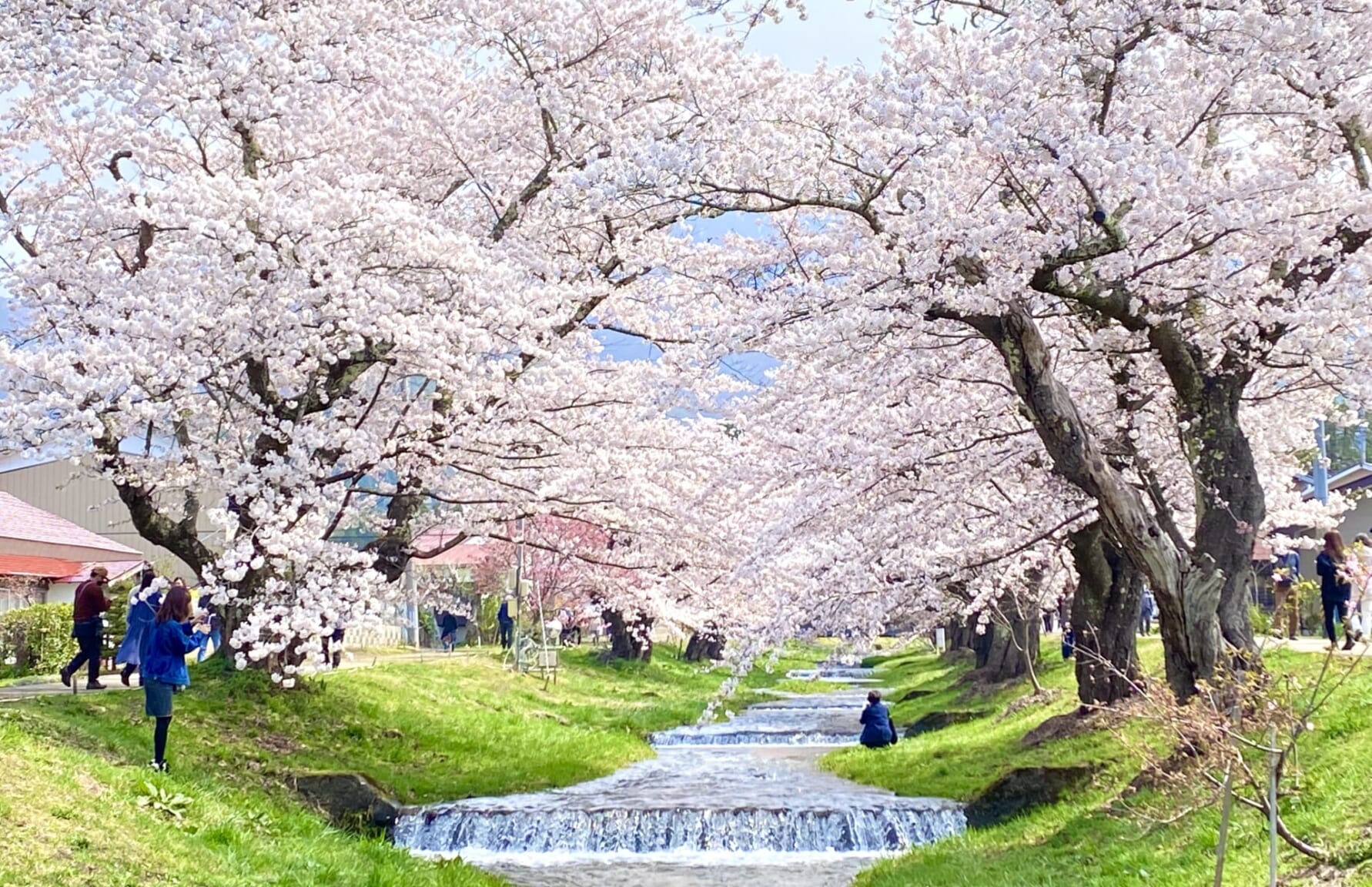 One of the most spectacular sights in Fukushima during springtime, Kannonji River (観音寺川)in Inawashiro Town offers a picturesque 1 km path lined with Yoshino and weeping cherry tree blossoms, making visitors feel like they're walking through an explosion of pink petals. The river maintains its natural curves and bends, and the cherry trees rank as the 11th best place to see cherry blossoms in the entire Tohoku region. During cherry blossom season, street vendors provide tasty food, perfect for a riverside picnic. In the evening, the flowers are illuminated, creating an even more stunning display where the night river landscape transforms into a magical dreamscape.
▶ Iwashiro Town Tourist Association official website with information about Kannonji River: https://bandaisan.or.jp/ib/en/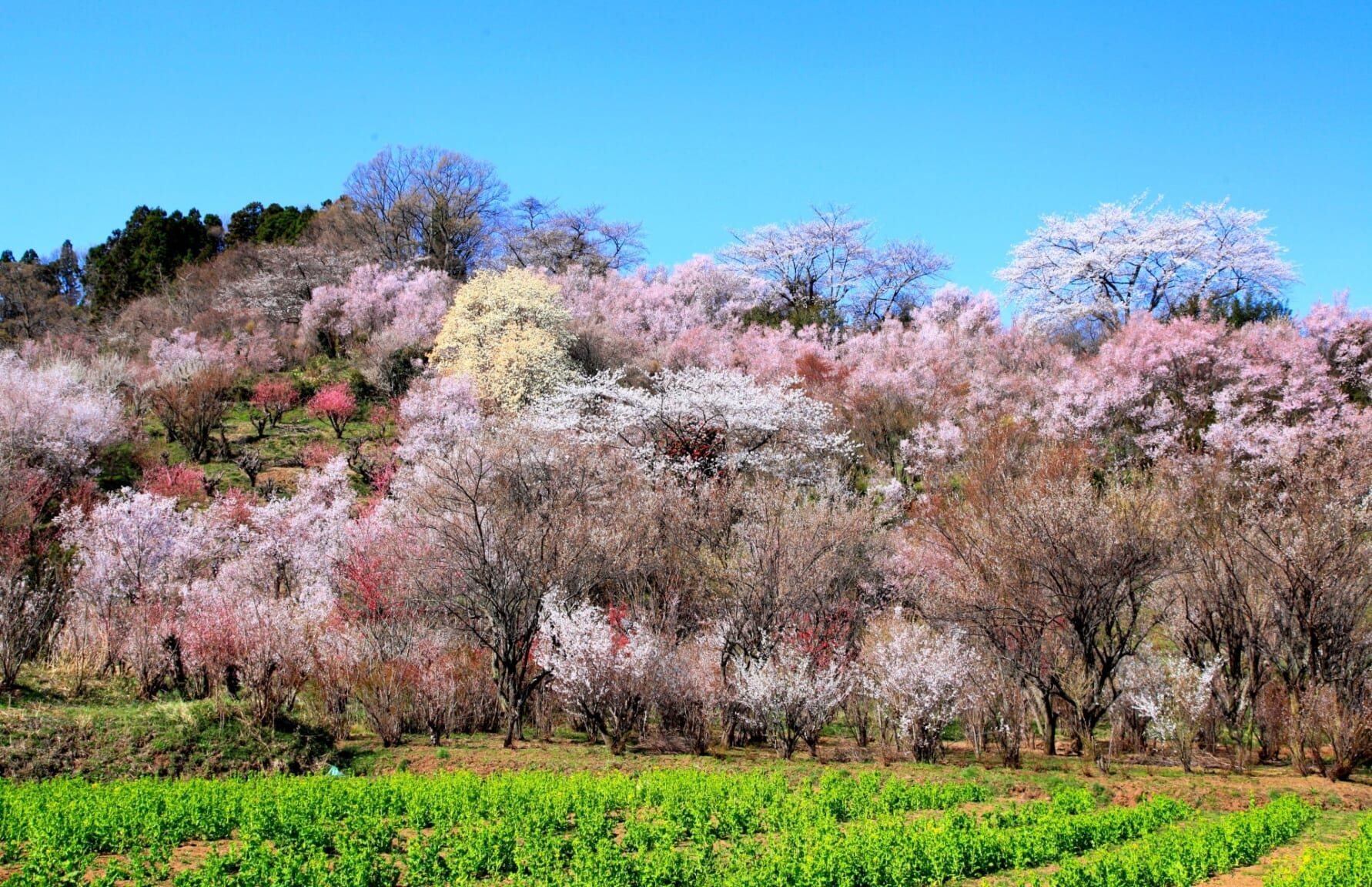 Hanamiyama (花見山) is a paradise for nature lovers and photographers alike. Opened to the public in 1959 by the Abe family, it was originally a private field where local farmers planted ornamental trees and flowers, where now visitors can enjoy the incredible results of decades of loving efforts, including 70 different types of blooming flowers in the spring, like Japanese apricot and cherry blossom. Renowned photographer Shotaro Akiyama even called it a "peach garden". The contrast between the colorful flowers and the snow-capped Azuma mountains is a sight to behold. Guides are available to help visitors make the most of their visit, but finding a favorite spot to take in the scenery is always an option. With gorgeous scenery in every season, Hanamiyama Park is a must-visit destination.
▶ Hanamiyama official website: https://www.hanamiyama.jp/en/
For more information about Hanamiyama Park, check the following article:
8. Fujita River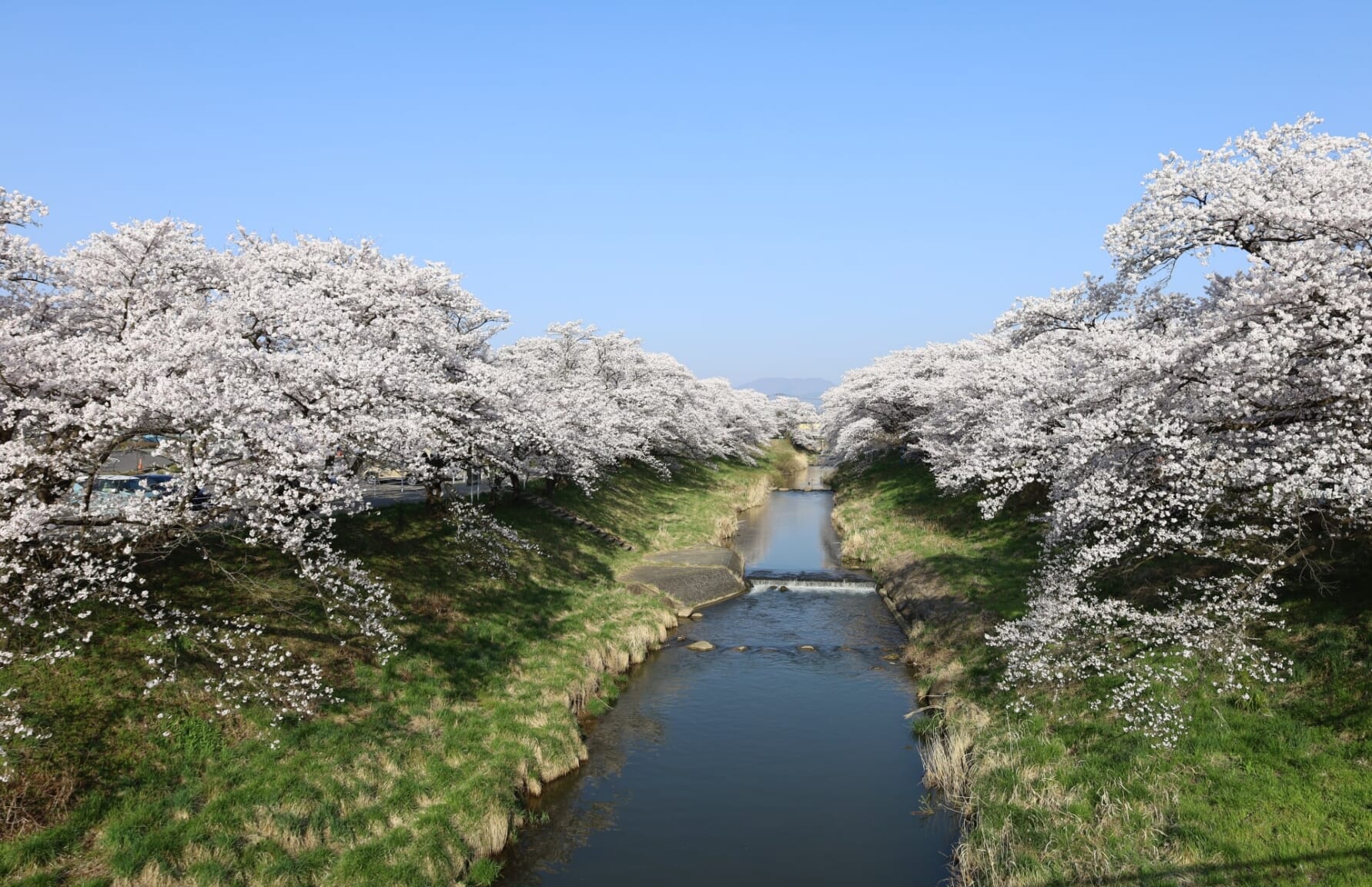 Fujita River (藤田川) in Koriyama City is the perfect place to walk along the serene river and immerse yourself in the dreamy scenery of over 500 Someiyoshino cherry trees that stretch for about 3 km along both banks, near Kikuta Station. During the cherry blossom festival, the area transforms into a vibrant carnival of singing, dancing, and street vendors. The best time to catch the trees in full bloom is from mid to late April, and if you're lucky, you may catch the sight of the cherry blossoms reflected on the surface of the river.
▶ Koriyama City official website with information about sakura in Fujita River: https://www.kanko-koriyama.gr.jp/tourism/detail5-1-426.html
9. Kaiseizan Park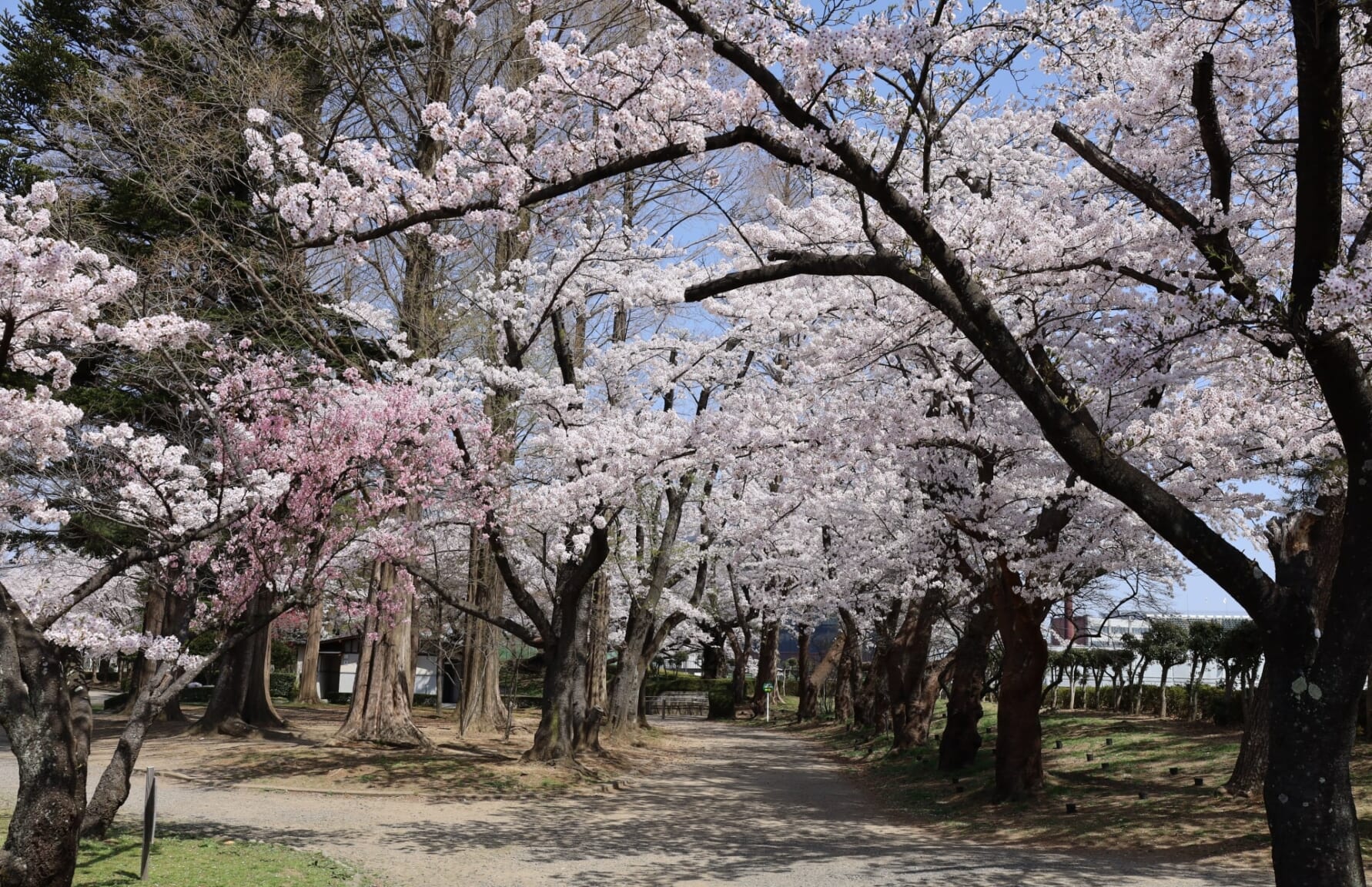 Kaiseizan Park (開成山公園) in Koriyama City is renowned for its stunning cherry blossom trees, including some of the oldest Somei Yoshino variety in Japan, planted during the Meiji Period. The park boasts approximately 1,300 cherry trees, which cover the sky when in full bloom. During the cherry blossom festival in April, visitors can enjoy the sights both during the day and at night, with light displays and food stalls. The Kaiseizan Grand Shrine, which is situated nearby, is also a popular spot for cherry blossom viewing. Don't miss the opportunity to experience this breathtaking sight.
▶ Koriyama City official website with information about Kaiseizan Park: https://www.kanko-koriyama.gr.jp/tourism/detail2-1-349.html
10. Sasahara River Senbonzakura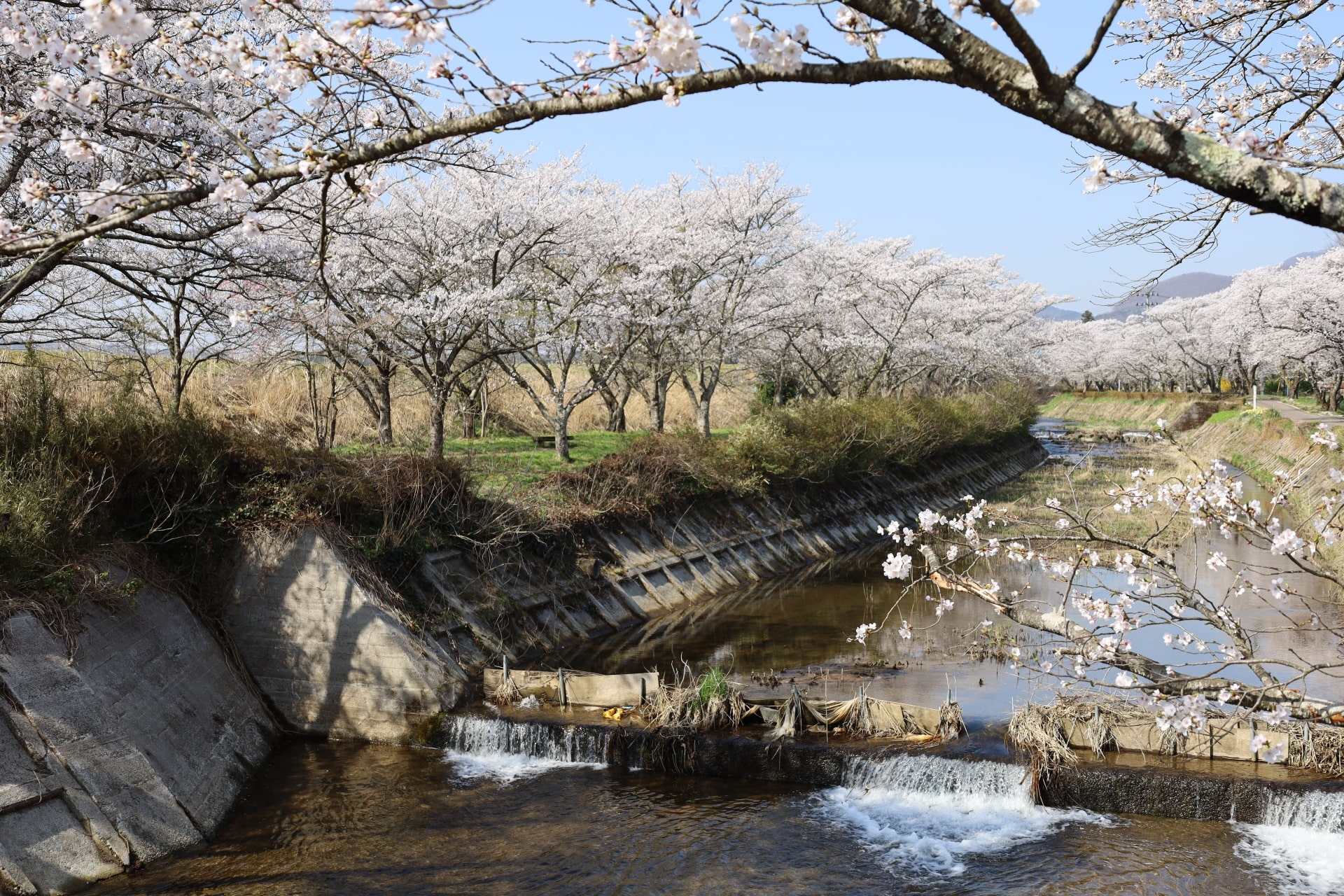 Sasahara River which runs along the border between Koriyama City and Sukagawa City, boasts a 2 km stretch of approximately 1,000 Someiyoshino cherry trees, which is why the spot is known as Sasahara River Senbonzakura (笹原川千本桜) as "senbonzakurka" means 1,000 sakura. The trees were planted by locals along the repaired embankment after the river was reconstructed in the 1950s to prevent flood damage. The area's outstanding beauty was recognized with the Cherry Blossom Merit Award from the Japan Cherry Blossom Society in 1996. During the Sasahara River "Thousand Cherry Trees Festival," held when the cherry blossoms are in full bloom, the area is illuminated at night, making for a breathtaking view.
▶ Koriyama City official website with information about sakura in Sasahara River: https://www.kanko-koriyama.gr.jp/tourism/detail5-1-431.html
---
▽Subscribe to our free news magazine!▽

If you ever wanted to explore around Fukushima Prefecture, now is the best time to plan for it!
For more information about spring in Japan, check out the following articles!
▽Related Articles▽
▼Editor's Picks▼
---