10 Best Spots to View Peach Blossoms in Japan
Enjoy the Japanese Spring scenic views of Peach blossoms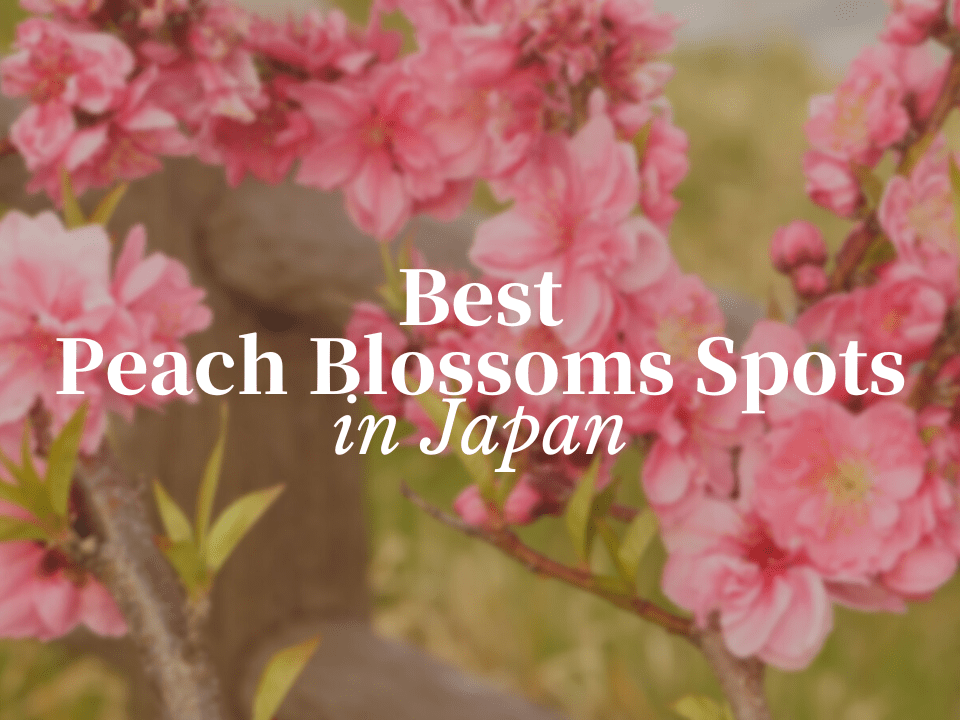 "What is a symbolic flower of Japan?". Your answer will probably be "cherry blossom". That is correct, but that is a beginner's answer.
There are many more flowers that symbolize Japan other than cherry blossoms. One of which is peach blossom. They bloom from mid-March to Late April. Actually, China is the origin and they were brought to Japan. Can you really call them Japanese icons? Let me explain. Although no one knows when exactly they were brought to Japan, these trees were mentioned in the Kojiki (古事記) which is the Japanese oldest extant literary work, written in 710. Seeds were found in a prehistoric site in Nagasaki prefecture which was from over 7,000 years ago.
Even though they may not be Japanese original trees, they have a very strong historical and cultural connection with Japan. We will be listing the 10 best spots to view peach blossoms in Japan.
---
1. Iizaka Momonosato (Fukushima)

Iizaka Hana Momonosato (飯坂 花ももの里) is located in Fukushima prefecture. In April, 300 peach trees with 40 different species bloom in various shades of pink and other colored flowers.
It opened in 2007 with the direction of Mr.Masao Yoshida, a former professor of the Agricultural faculty of Utsunomiya university. The professor collected 40 species from all around the world and planted them all together here in this 4,000 ㎡ (43055 ft²) field.
The park asks those who are over 18 years old to donate 200 yen to maintain the park. They offer you an English version of the official website, so if you would like further information, please check it out. There is an English leaflet on the website as well.
▶Iizaka Hana Momonosato official website: https://iizaka.com/join/hanamomonosato/
2. Dateno Momobatake (Fukushima)

Another peach blossom spot from Fukushima prefecture is Dateno Momobatake (伊達の桃畑). "Date" is a city that is in the middle of Fukushima Valley, which means it has a great climate for fruits to be produced. The city especially puts an effort into producing many kinds of peaches.
Peach blossoms here bloom from mid-April to early May and when they are fully bloomed, all of the fields in the city of Date get colored in pink peach color. "Momobatake" means "peach farm" so delicious and juicy peaches get harvested in the summer. The contrast between the blue sky, a field of green grass, and the thousands of pink peach blossoms are breathtaking.
3. Koga Park (Ibaraki)

Koga park (古河公園) has as many peach trees as 1,500 trees being planted including five different species. They claim that this peach park is the best in Japan.
The park becomes very busy when the Koga Peach festival (古河桃祭り) is held. The festival is held every year from late March to early April and more than 200,000 people come to visit every year. The time when trees bloom varies from one species to another. However, this one particular species that occupies 80% of the trees reaches its full bloom around the time when the festival is held.
They offer an official website in foreign languages including English so check out the website for more information.
▶Koga city tourism official website: https://www.kogakanko.jp/english
4. Shimpu Togenkyo (Yamanashi)

A huge peach field that is 600㎢ (231 sq. mi), Shimpu Togenkyo (新府桃源郷) is located in the northwest part of Yamanashi prefecture. Togenkyo in Japanese means "otherworldly", or "utopia".
The size of this peach field is 600㎢. Many mountains surround the area including Mt.Fuji, Yatsugatake, and Kayagatake; with the beautiful south of Japan Alps, still coated with snow in the background, peach blossom looks exceptionally beautiful. The marvelous view is worth calling it "utopia".
The best time to enjoy peach blossom here is mid-April to late April. It is the area where flowering time is late among Yamanashi.
▶Yamanashi tourism official website: https://www.yamanashi-kankou.jp/kankou/spot/p1_4259.html
5. Marukita Hanamomoen (Yamanashi)

Marukita Hanamomoen (まるきた花桃園) is a peach farm not for harvesting peaches but to admire the beauty of their blossoms. There are 700 trees planted including 140 different species.
This peach field is one of the most valuable farms where you can appreciate many rare species of peaches for the public. Many species here were commonly cultivated in the Edo period (1600-1868) but when the Meiji period started, they almost became extinct.
Peach blossom here blooms from late February to mid-April. The entry fee is 500 yen for adults and people younger than 16 years old are free. Pets are allowed to enter as well.
▶Marukita Hanamomoen official website: https://www.marukita-hanamomoen.jp/
6. Chikumagawa River (Nagano)

Chikumagawa river (千曲川) is a nickname that People who live in Nagano prefecture call Shinanogawa river (信濃川). It is the longest river in Japan and it runs through three prefectures: Nagano, Niigata, and Gunma. The name Chikuma comes from the fact that the river has so many curves.
Late May is when the peach blossoms bloom as well as plum blossoms which have white flowers. There are around 8,000 peach trees planted along the river. Apple trees and rape flowers are planted along the line too. When peach and plum flower season is over, the white flowers of apple trees and the vibrant yellow rape flowers start to bloom in early May.
7. Hanamomo Kaido and Hanamomo no Sato (Nagano)

Hanamomo Kaido (はなもも街道) and Hanamomo no Sato (はなももの里) are in Achi village, Nagano prefecture. The village is known for its clear sky at night to see the stars.
As I mentioned previously, hanamomo trees are for just enjoying watching the flowers and not for harvesting edible peaches. Kaido (街道) means "road" which is about 40km (25 miles) long and there are about 5,000 peach trees with red, pink, and white flowers on the sides of the road. They bloom from early April to early May, after cherry blossoms.
Hanamomo no sato is around 16 minutes by car away from the road. Buses driving between them are available. They offer you the official website in foreign languages including English, Chinese, and Korean. For further information, please check the website.
▶Hirugami Onsen official website: https://hirugamionsen.jp/hanamomo/
8. Godo Station (Gunma)

Godo station (神戸駅) operated by Watarase Keikoku Railway (わたらせ渓谷鐵道) is famous for its 300 peach trees that are planted in the station yard. If you are lucky, you can see cherry, and peach blossoms with the local train simultaneously.
If you get hungry, there is a restaurant called Seiryu (清流) where you can get ekiben (駅弁), a lunch box sold on a train or at a station, such as "Yamato pork bento" and "Torocko bento".
The Japanese government registered the building and the platform as tangible cultural property. Peach blossoms bloom from late March to early April. They suggest you visit by train.
Just a disclaimer before you search for the station; the Japanese name in Kanji of the station has the same spelling as Kobe station (神戸駅) in Hyogo so please be careful not to get mixed up.
9. Arakawa no Momo (Wakayama)

Arakawa no Momo (荒川の桃), Peaches from Arakawa is the most well-known peach brand that Japan offers. The reason behind that is the warm climate and the perfect soil for good water drainage. Along the side of Kinokawa river (紀の川) in north Momoyama-Cho, Kinokawa city, there are so many peach trees in the area that the land gets covered in the color pink when they reach full bloom. It is said that there are "a million trees at a glance".
The trees bloom from late March to early April. Please refrain from entering the peach farms for they are private properties and not tourist attractions.
10. Kamikuki (Kochi)

People say Kamikuki (上久喜) in Kochi prefecture is the most beautiful village. Villagers had been planting peach trees for 15 years to make the village renewed and revitalized. Peach trees here are strong and don't bother the cold. The whites and the pinks of the flowers cover the whole mountain and village. The pictures of the marvelous view of the village got posted online and got famous.
The peach trees bloom from late March to early April. Paths in between houses get opened and free to go through during the season, so people are welcome to take walks. The local cuisine can be enjoyed in shops on the streets on a weekend.
---
How was the list? I hope you found even just one place that interests you and gets added to your "want to list". Most of us go and see cherry blossoms only, but there are plenty of other kinds of flowers that bloom in spring. We want to recommend to you not to see flowers by themselves, but to enjoy the whole scenery because Japan is not the only place in the world where you can see cherry blossoms or peach blossoms bloom. There are many spots in the world if you want to just see the flowers. However, the atmosphere here is irreplaceable: the air, the buildings behind them, the food, and the people around you. Just everything. We really hope you found another new way of enjoying spring in Japan.
▽Subscribe to our free news magazine!▽

For more information about the best spots for viewing flowers in Japan, check these articles below, too!
▽Related Articles▽
▼Editor's Picks▼
---