Sakura Food and Drinks in Japan 2021
Best Cherry Blossom Food and Drinks in Japan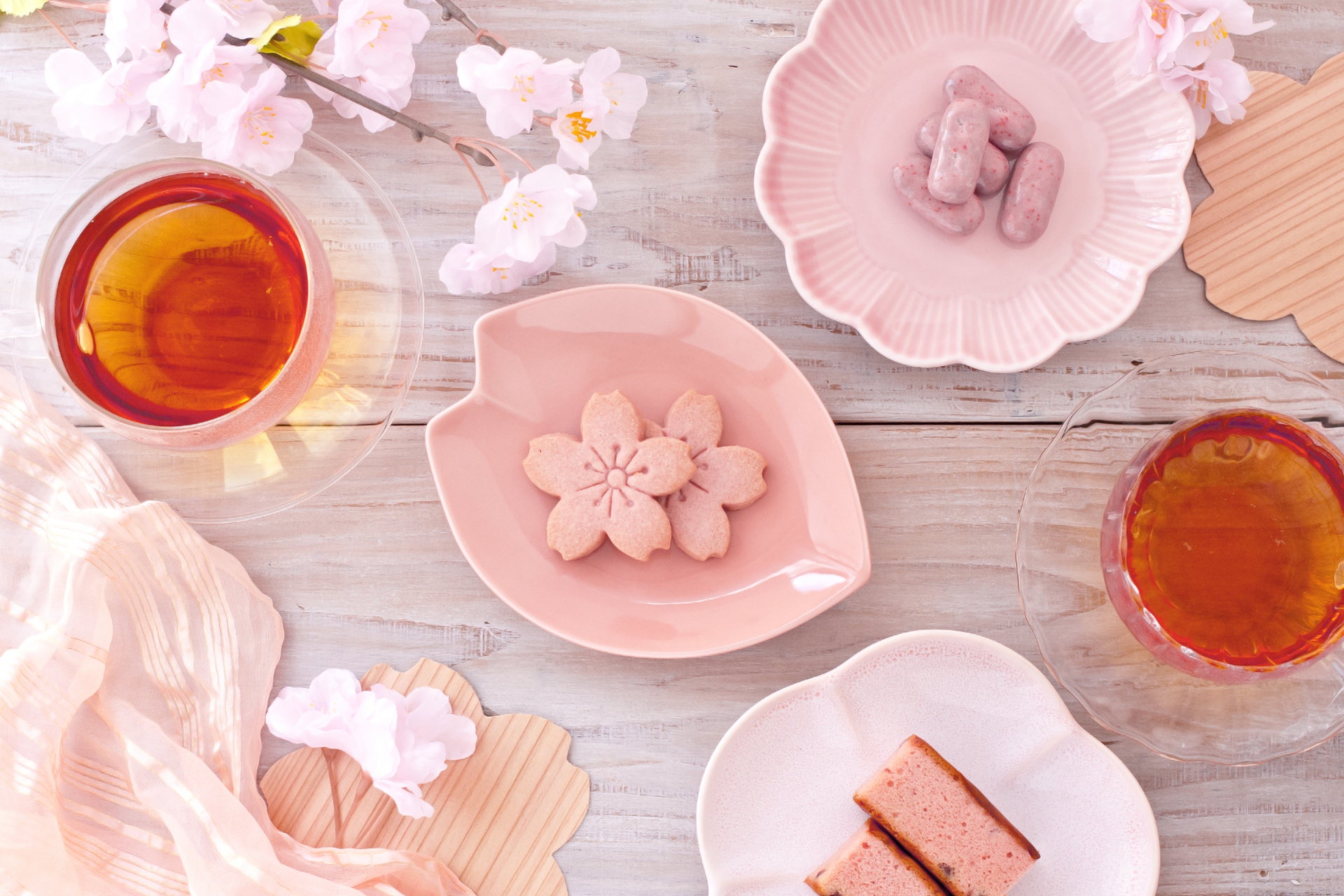 Japanese cherry blossoms can be enjoyed not only by viewing but in various ways. Every year, numbers of Japanese brands, shops and restaurants release cherry blossom themed products for a limited time before or during the cherry blossom season. Especially, cherry blossom flavoured food and drinks are highly popular including Starbucks Japan's spring frappuccino and Sakura flavour Pocky.
Today, I'd like introduce some of the best Sakura food and drinks released in 2021 spring. If you are in Japan this spring, indulge yourself with beautiful cherry blossoms as well as delicious cherry blossom food and drinks, only available this time of the year!
-Pocky
The popular Japanese chocolate snack, Pocky by Glico released limited-edition flavours for 2021 spring. Pocky Sakura Matcha (cherry blossom and matcha) offers the delightful taste of Japanese spring with cherry blossom flavoured pretzel stick coated by rich Uji matcha chocolate.
Order Online ▶ Glico Pocky Sakura Matcha
-Starbucks Japan
Starbucks Japan releases limited-time cherry blossom frappuccino and hot beverage every year and they are extremely popular. The new Sakura drinks for 2021 are Sakura Fuwari Berry Frappuccino and Sakura Fuwari Berry Milk Latte.
You can check more details about Starbucks Japan Sakura Collection 2021 including spring-limited beverage and cherry blossom theme merchandise.
-STARBUCKS RESERVE® ROASTERY TOKYO
STARBUCKS RESERVE® ROASTERY TOKYO is the largest Starbucks store in Japan, which is located in Meguro, Tokyo. The store offers exclusive cherry blossom themed merchandise that you can't find anywhere else as well as a variety of cherry blossom inspired drinks and pastries.
See more details about 2021 Sakura Collection of STARBUCKS RESERVE® ROASTERY TOKYO
-Starbucks Chilled Cup
The spring-edition of Starbucks Japan Chilled Cup series is "Sakura Vanilla with Strawberry Jelly", the creamy milk blended with Sakura and vanilla and the strawberry jelly is added to provide an unique and enjoyable texture. The product is widely available at convenience stores across Japan from early February for a limited time.
Price: 219 yen (180g)
-Mister Donut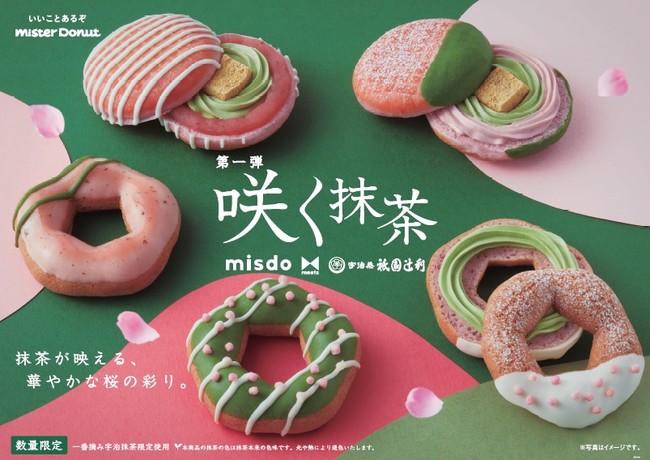 Mister Donut teams up with the long-established teahouse from Kyoto, Gion Tsujiri for their spring doughnut collection "Blooming Matcha" series with 5 kinds of matcha and cherry blossom doughnuts. Sakura Mochitto Doughnut is a mochi-textured Sakura flavour pink doughnut available with 3 different toppings and filling. Warabi Mochi Sakura & Uji Matcha Whip comes with a cherry blossom flavoured pink dough filled with matcha whipped cream and warabi mochi. Available from 12 March 2021.
Price:
Sakura Mochitto Doughnut 180 yen
Warabi Mochi Sakura & Uji Matcha Whip 200 yen
Shop list: https://www.misterdonut.jp/shop_data/ (Japanese)
-Krispy Kreme
Krispy Kreme releases a Japan-limited Sakura flavour doughnut "Muchi Mochi Sakura" for a limited time. The doughnut with soft and chewy mochi-like texture is coated with sweet and sour Sakura sauce and topped with smooth Sakura milk cream, pastel pink Sakura shaved chocolate and white sugar powder. Available from 1 March to late April 2021.
Price: 259 yen
Shop list: https://krispykreme.jp/store/ (Japanese)
-Cinnabon
The Seattle based cinnamon roll company, Cinnabon offers "Japan limited" cinnamon roll with cherry blossom flavour in 2021 spring. The Sakurabon is a Minibon topped with Sakura flavoured cream cheese frosting and crunches. Available at Cinnabon stores across Japan until mid March.
Shop list: http://www.cinnabon-jp.com/store/area.php (Japanese)
-Asahi Super Dry
The top-selling Japanese beer, Asahi Super Dry joins the cherry blossom celebration by releasing the limited-edition cans (350ml & 500ml) with the bright pink and cherry blossoms design. It's perfect beer for Hanami party!
-Lipton
The famous tea company, Lipton offers various unique flavour teas in Japan which are served as tea bags or drinks in paper containers. The spring-only "SAKURA TEA LATTE" is served with rich and aromatic tea with milk and the gentle flavour of cherry blossoms.
Price: 128 yen
-Mt. RAINIER
Japan's leading brand of chilled cup coffee, Mt. RAINIER offers their signature cafe latte with cherry blossom flavour. Sakura Latte is a cafe latte made with aromatic espresso and rich milk, and blended with domestic cherry blossom leaf extract. You can feel the taste of Japanese spring from the bitter coffee with sweet flavour of cherry blossoms.
-LUPICIA
The Japanese tea and teaware retailer, LUPICIA offers a wide range of teas including seasonal and regional-limited flavours. In 2021 spring, the brand offers the Sakura Tea series with various teas with cherry blossom flavours which comes in beautiful and elegant packages.
Shop list: https://www.lupicia.co.jp/shop/ (Japanese)
-Lindt
The popular Swiss chocolatier, Lindt offers the spring-only cherry blossom flavoured chocolate drink available with hot and cold. Two types of cherries are blended with Lindt's white chocolate to create a sweet and sour Sakura-like taste. It's topped with whipped cream with salty cherry leaves, cherry blossom sauce with syrup-pickled petals, cherry blossom crunches and petal-shaped chocolate. Available from mid February to late April.
Price: 780 yen
Shop list: https://www.lindt.jp/contents/shop/ (Japanese)
-PABLO
PABLO is a popular Japanese bakery, known for freshly baked cheese tart. PABLO offers a variety of limited-edition cheese tarts using seasonal ingredients through the year including spring-limited Sakura Mochi tart. Their classic mini cheese tart is topped soft mochi paste with Sakura leaves flavour. Available at most PABLO and PABLO mini stores in Japan.
Price: 300 yen
Shop list (Japanese):
PABLO https://www.pablo3.com/shop/
PABLO mini https://www.pablo3.com/pablomini/
-Comma Tea
One of the most popular tea stands in Japan, Comma Tea offers a variety of bubble tea and cheese tea using carefully selected ingredients. Their spring-edition tea is "Comma Sakura Peach Latte" which is a cute and photo-worthy pink drink with cherry blossom and peach flavour topped with whipped cream and pink flakes. You can customize it by adding tapioca pearls or nata de coco.
Price: 600 yen (small)/650 yen (medium)
Shop list: https://www.comma.tea-co.jp/shops/ (Japanese)
Thanks for reading! Which Sakura food and drinks do you wanna try this spring?? For more information about Japanese cherry blossoms, please check out these articles, too!
▽Related Articles▽
▼Editor's Picks▼
---