Mito Plum Blossom Festival 2023
Mito Ume Matsuri at Kairakuen Garden in Mito City, Ibaraki Prefecture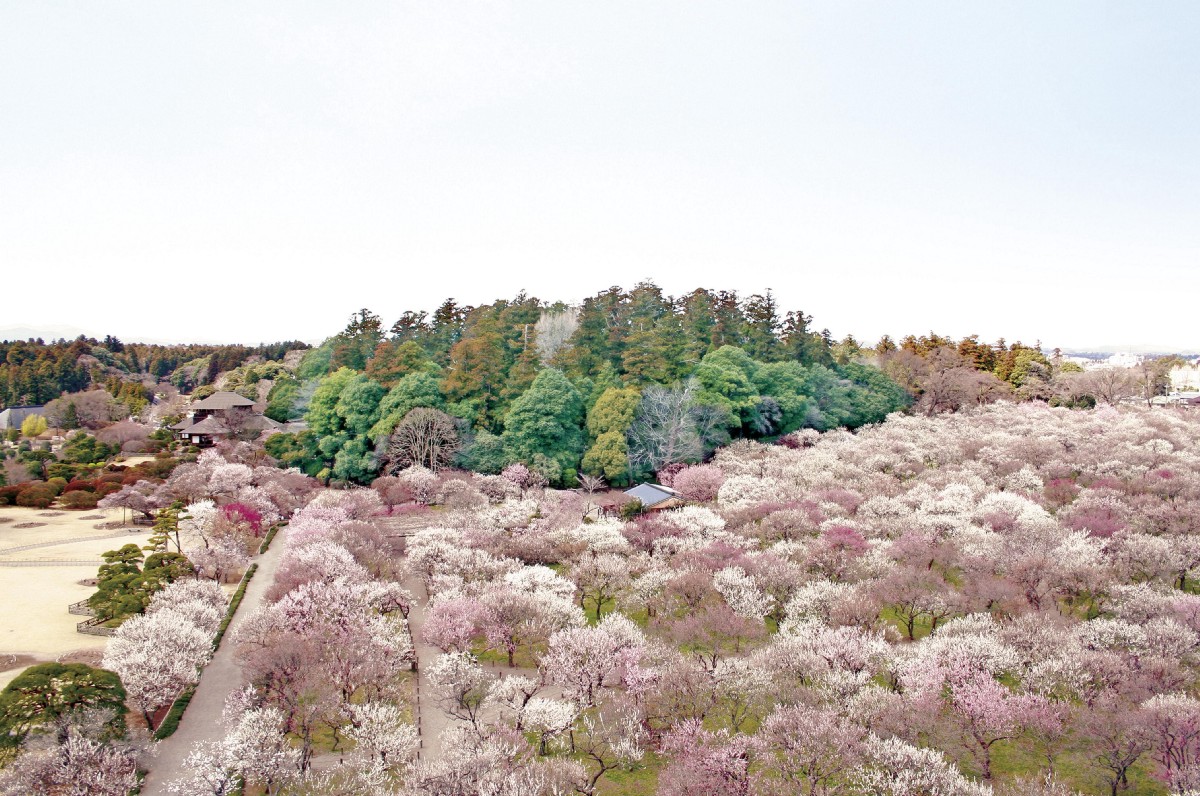 Kairakuen Garden (偕楽園) is a spacious traditional Japanese garden located at Mito City, Ibaraki Prefecture. It's counted as one of the three greatest Japanese landscape gardens along with Kenrokuen Garden in Kanazawa City and Korakuen Garden in Okayama City.
The garden was built in 1841 by the local lord Tokugawa Nariaki to be served for the enjoyment of the public. Therefore, the garden's name "Kairakuen" literally means "A park to be enjoyed together" in Japanese.
Kairakuen Garden is best known for plum blossoms which display astonishing scenery in early spring (February to March). The vast garden of 300 ha is home to over 3,000 plum trees in about 100 varieties.
Mito Plum Blossom Festival or Mito Ume Matsuri (水戸の梅まつり) is held annually at the garden, and it's one of the most popular places in Japan for plum blossom viewing.
Visitors can enjoy various plum blossoms in white, pink and red, and the spectacular view collaborating with the beautiful Japanese garden in serene atmosphere.
The festival is held from mid February to late March. Because there are many different kinds of plum trees, so the viewing time of the blossoms at Kairakuen Garden is relatively longer than most of the plum blossom spots in Japan.
Plum trees are lit up after sunset, and different scenery from the day time can be enjoyed at night. During the festival, special events are also held including candle lights art, plum wine festival and tea ceremony. Vendors with local food and drinks are also lined the venue.
Besides plum blossoms, the garden also features traditional landscape garden, historical Japanese building and bamboo grove.
Kairakuen Garden can be enjoyed through the year, and besides the Plum Blossom Festival, the garden holds various flower festivals such as the Cherry Blossom Festival in April, the Azalea Festival in May and the Bush Clover Festival in September.
Mito City is about 100 km away from central Tokyo, and can be accessed by the limited express JR HITACHI and TOKIWA within 70 mins. Kairakuen Garden can be accessed by bus from Mito Station which takes around 20 mins. On weekends during the festival (9:10~15:30), JR Joban Line temporarily serve at Kairakuen Station which is located next to the garden.
-Mito Plum Blossom Festival 2023 (水戸の梅まつり 2023)
Access: 20 mins bus ride from Mito Station or short walk from Kairakuen Station (only open during Mito Plum Blossom Festival)
Date: 11 February to 19 March 2023
Hours: 6:00~17:00
Admission Fee: 300 yen
Official Website (Japanese): https://www.ibarakiguide.jp/kairakuen.html
Kairakuen Garden could be one of the best options for day trips from Tokyo in early spring! If you are planning to visit Japan before the cherry blossom season (late March to early April), plum blossoms are amazing alternative to it that can be enjoyed for even longer period, and they are as beautiful as cherry blossoms 🙂
Thanks for reading! For more information about plum blossoms in Japan, you should also check out these articles, too!
▽Related Articles▽
▼Editor's Picks▼
---