3 Beautiful Cherry Blossom Spots in Kamakura
Let's take a spring trip to Kamakura from Tokyo for viewing cherry blossoms with shrines and temples!!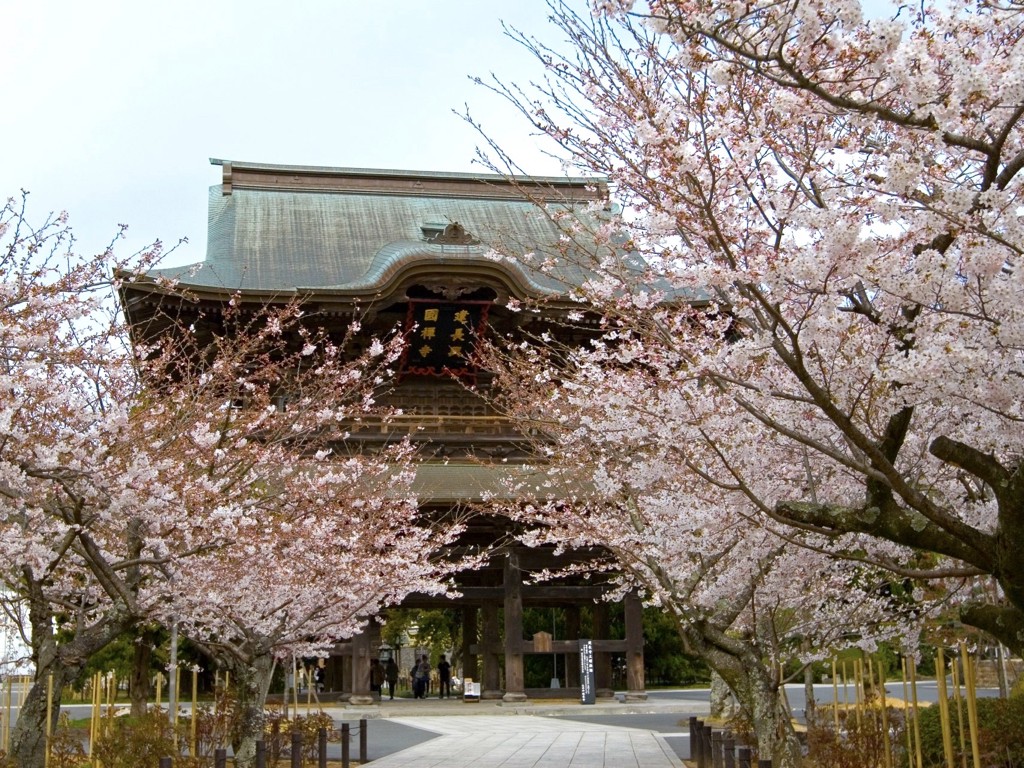 Kamakura is one of the best areas near Tokyo to view rich cherry blossoms. There are numbers of tourist spots including historical shinto shrines and Zen temples and beaches in Kamakura. The old city also offer other sightseeing options from eating Japanese food to shopping traditional souvenirs, so Kamakura itself is a popular destination for foreign travelers and tokyoites.
Here are 3 nice sakura viewing spots at old shrines and temples in Kamakura.
---
1. Kenchoji Temple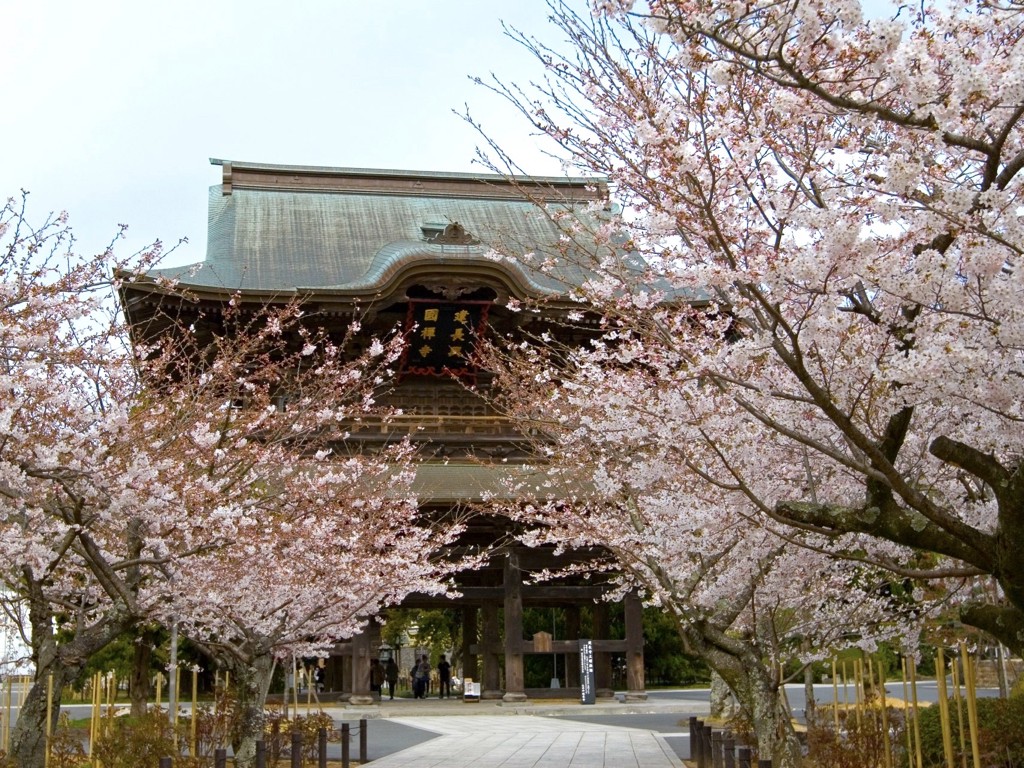 Kenchoji Temple (建長寺) was constructed in 1253 by Hojo Regents who had much power on Kamakura area. There are the Kamakura Five Great Temples in Kamakura, and Kenchoji Temple has been ranked first as the most powerful one. The most beautiful photo spot with cherry blossoms in the site is the majestic temple gate called Sanmon. Light pink cherry blossoms form a tunnel on the way to the gate. Sanmon is registered as national important cultural properties. Kenchoji Temple is less known place for foreign visitors, so visits the hidden gem.
Apart from cherry blossom, there are many historical structures and garden. Bonsho, the temple bell, is designated as national treasure. Inside Hatto which is the large Buddhist wooden building, a dragon painting with Japanese traditional art. You can rest viewing the relaxing garden Hojo Teien.
Ascetic monks actually train in the site, so a part is no trespassing area. They keep Zazen (seated concentration) for about 9 hours per a day. Zazen experience program is held in the evening on almost Fridays and Saturdays. You may be able to get a chance to join it.
2. Tsurugaoka-hachimangu Shrine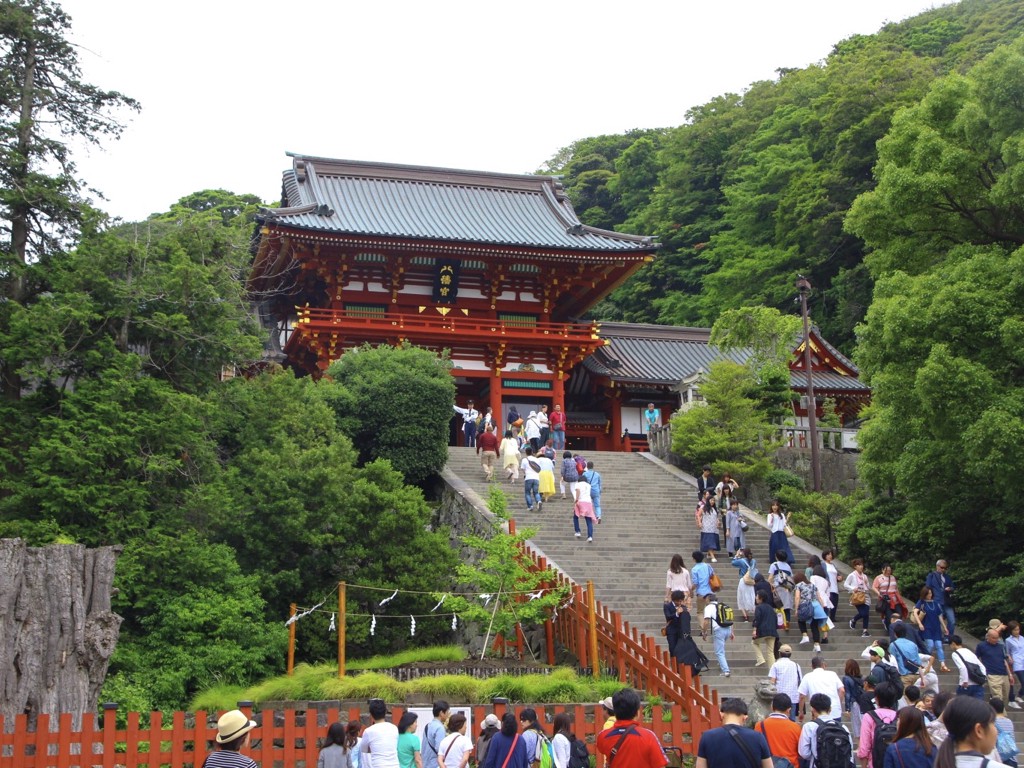 Tsurugaoka-hachimangu Shrine (鶴岡八幡宮), built in 1063, is one of the largest and most popular shrines in Japan. The shrine is also famous for a variety of seasonal flowers off course including cherry blossoms. Rich cherry blossoms flourish inside and outside the shrine.
There is a big pond named "Genpei Pond" and seven small islands in the site. Sakura blooms around the pond, and this is the best photo spot of cherry blossom in the shrine.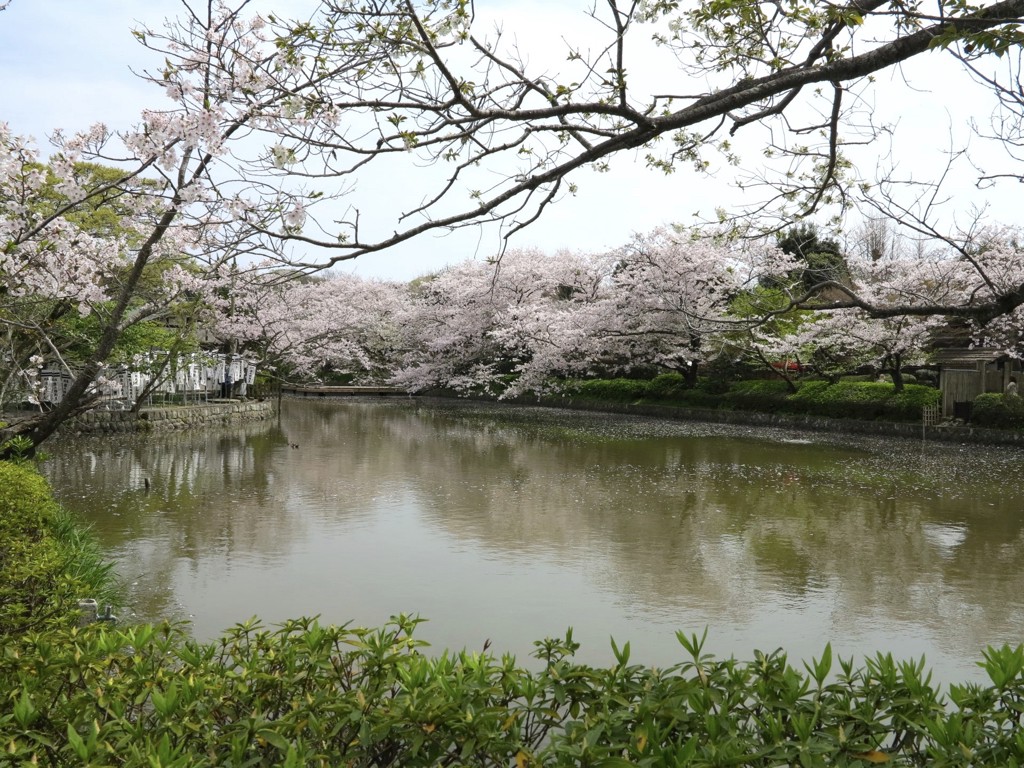 You can also enjoy cherry blossom before entering the shrine. Dankazura, the approach to the shrine, offers over a hundred cherry blossom trees. The improvement of the approach was completed in 2016 to rearrange the unordered trees. Also, recommended to buy Japanese traditional souvenirs and have lunch or dinner at old restaurants. Numbers of restaurants and souvenir shops stand along streets around there
Yozakura (viewing cherry blossom at night) is another fun. During the season (around early April), cherry blossom trees on the approach are lit up. Don't miss it before 9PM.
3. Hase-dera Temple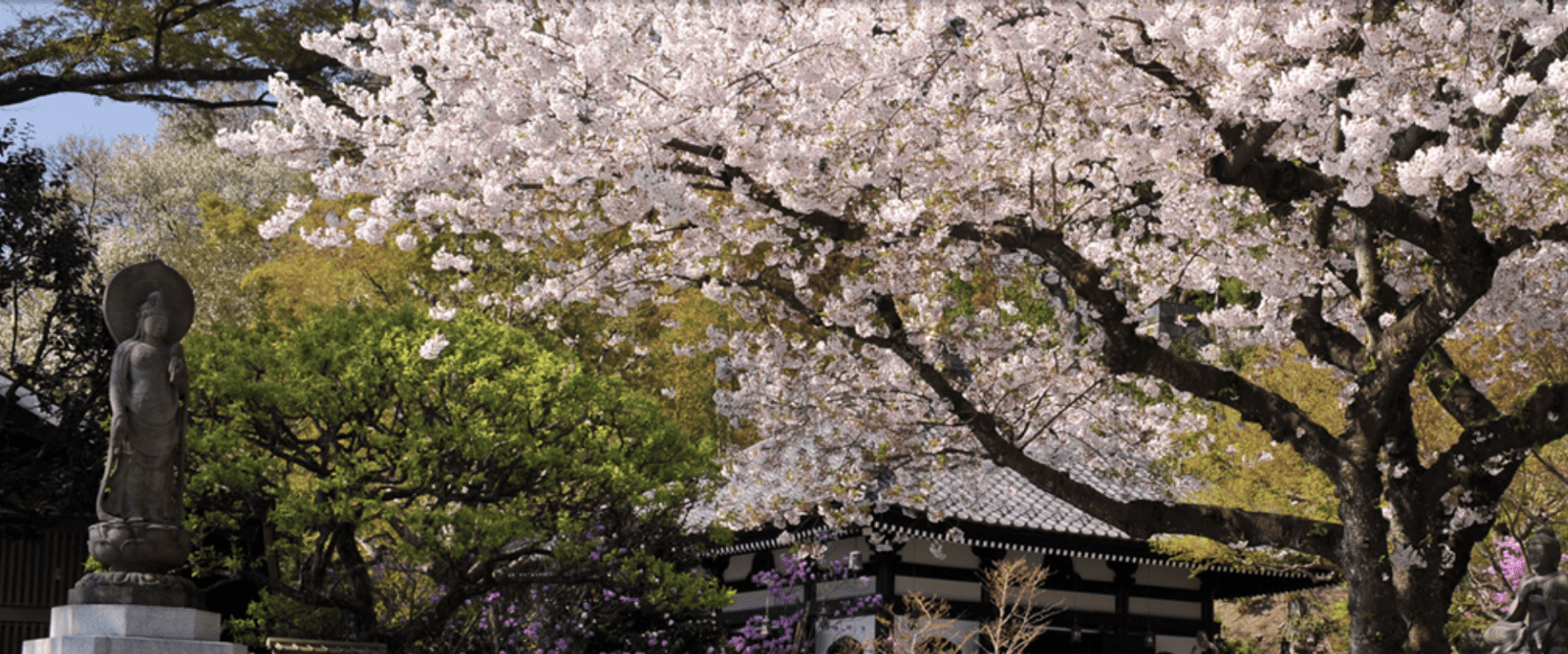 Hase-dera Temple (長谷寺) is one of the best spot to view various cherry blossoms. Early-blooming cherry blossoms Kawazu-sakura start blooming from early February. Others bloom at the peak around late March to early April.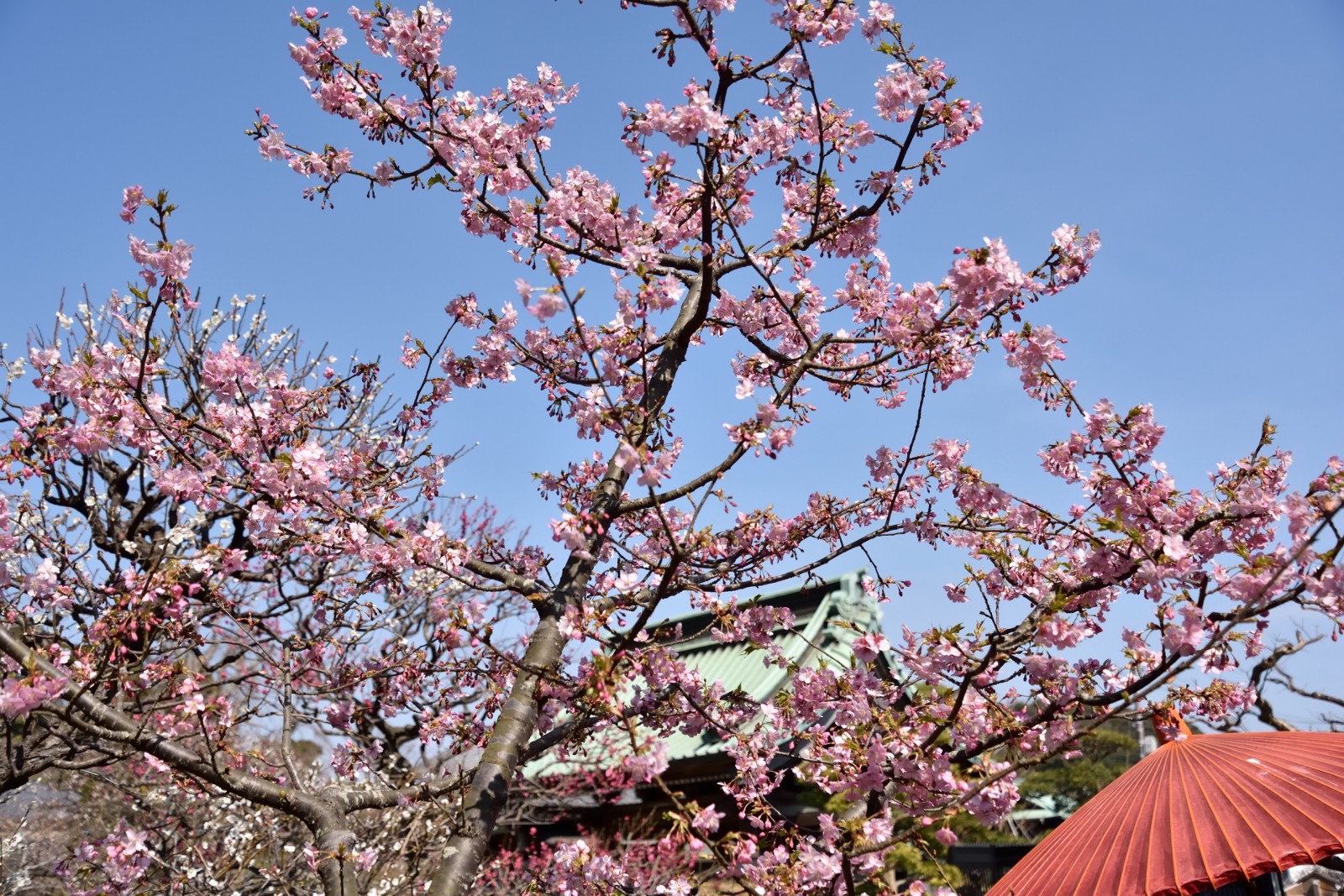 The old buddhism temple built in the 8th century also has other seasonal flowers such as hydrangeas and autumn leaves. You can also enjoy seeing nice scenery of towns and sea in Kamakura from the observatory of the temple.
<<MAP>>
<<Kenchoji>>
Access: 20 mins walk from Kita-kamakura Station (北鎌倉駅)
Best time to visit: mid April to early May
Hour: 8:30–16:30
Rate: JPY300
<<Tsurugaoka-hachimangu Shrine>>
Access: 10 mins walk from Kamakura Station (鎌倉駅)
Best time to visit: late March to early April
Hours: 6:00 to 21:00
<<Hase-dera Temple>>
Access: 5 mins walk from Hase Station (長谷駅)
Best time to visit: mid March to early April
Hour: 8:00–17:00 (March to September)/8:00–16:30 (October to February)
Rate: JPY300
For more articles about cherry blossoms near Tokyo and about Kamakura, check these articles below!!
▽Related Articles▽
▼Editor's Picks▼
---