Kamakura: 10 Best Things to Do
Kamakura Area Guide: Best Things to Do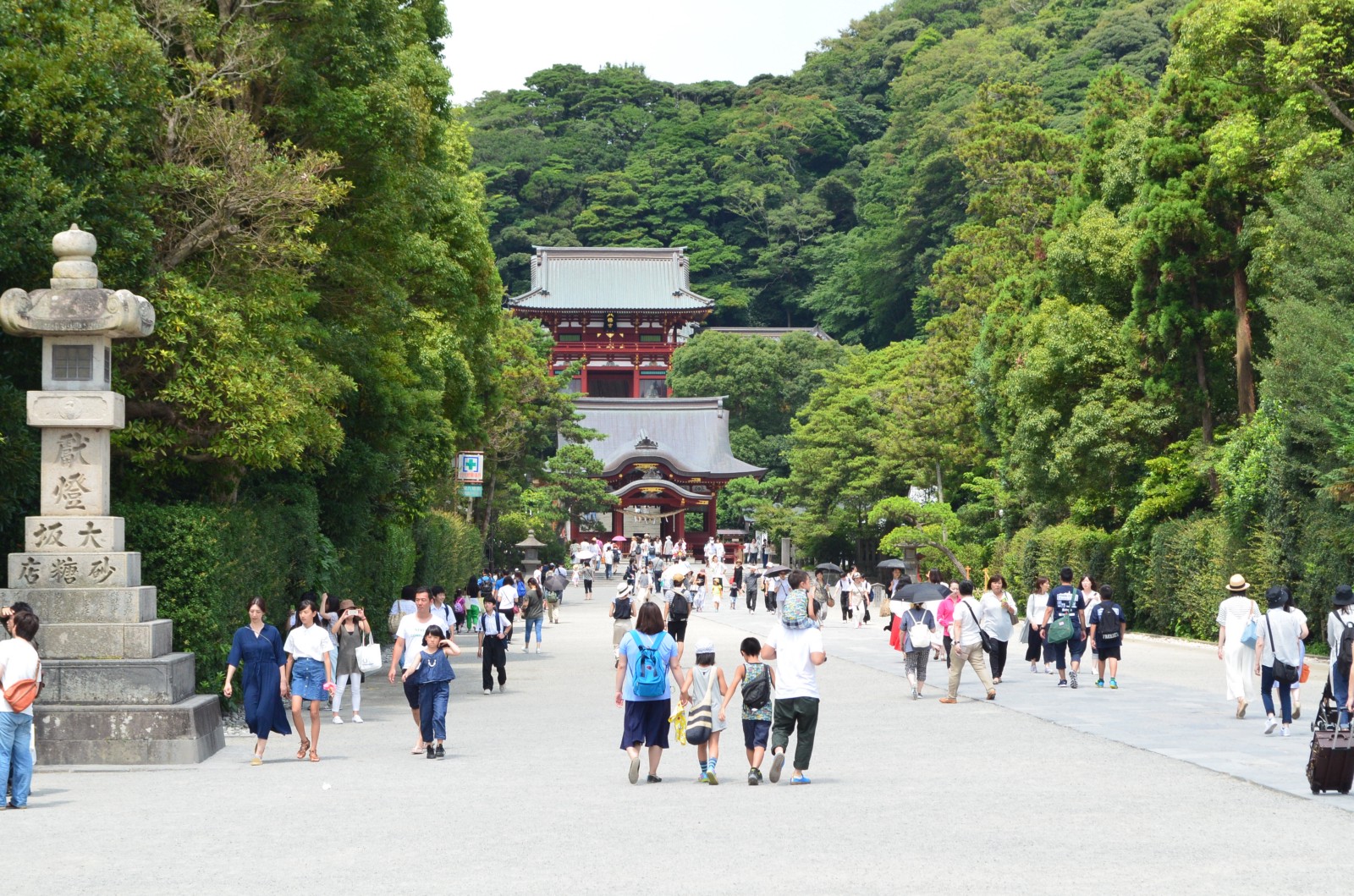 The center city of Japan in medieval age, Kamakura is a historical town in Kanagawa prefecture which is known as " the Kyoto of Kanto region". It's a very popular tourist destination from both Japanese and foreigners. Kamakura attracts us by over 100 temples and shrines, great buddha and other historical monuments. Take one day off from Tokyo and visit this historical and charming town!
---
– How to get to Kamakura??
If you are planning a short getaway from Tokyo, Kamakura is in a perfect location. It can be reached within an hour from Tokyo by train.
JR Yokosuka line– from Tokyo (920 yen)/Shinagawa (720 yen) station (If you are taking JR Tokaido line or JR Kehin Tohoku line, change to Yokosuka line at Ofuna station. It's only two stops to Kamakura station after Kita-Kamakura station)
JR Shonan Shinjuku line– from Shinjuku (920 yen)/Shibuya (920 yen)/Ebisu (800 yen)
Odakyu line– from Shinjuku. If you purchase "Odakyu Kamakura-Enoshima free pass" (1470 yen), it's a great option to travel around Kamakura town since each temples and tourist attractions are pretty far to each others to walk if you wish to see many of them. This pass offers rides of small retro train around the town and to Enoshima island which is a pretty and touristy small island nearby Kamakura.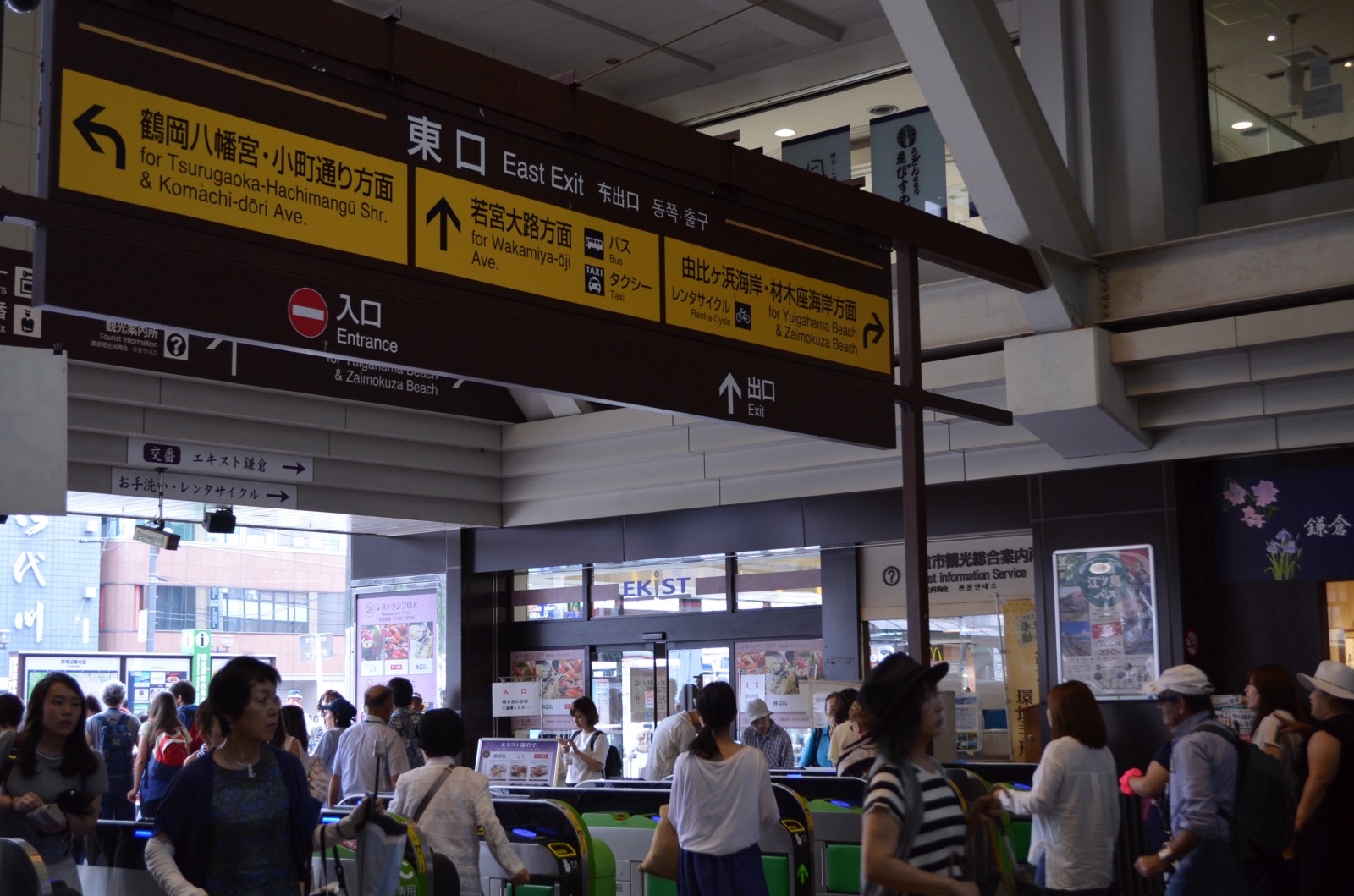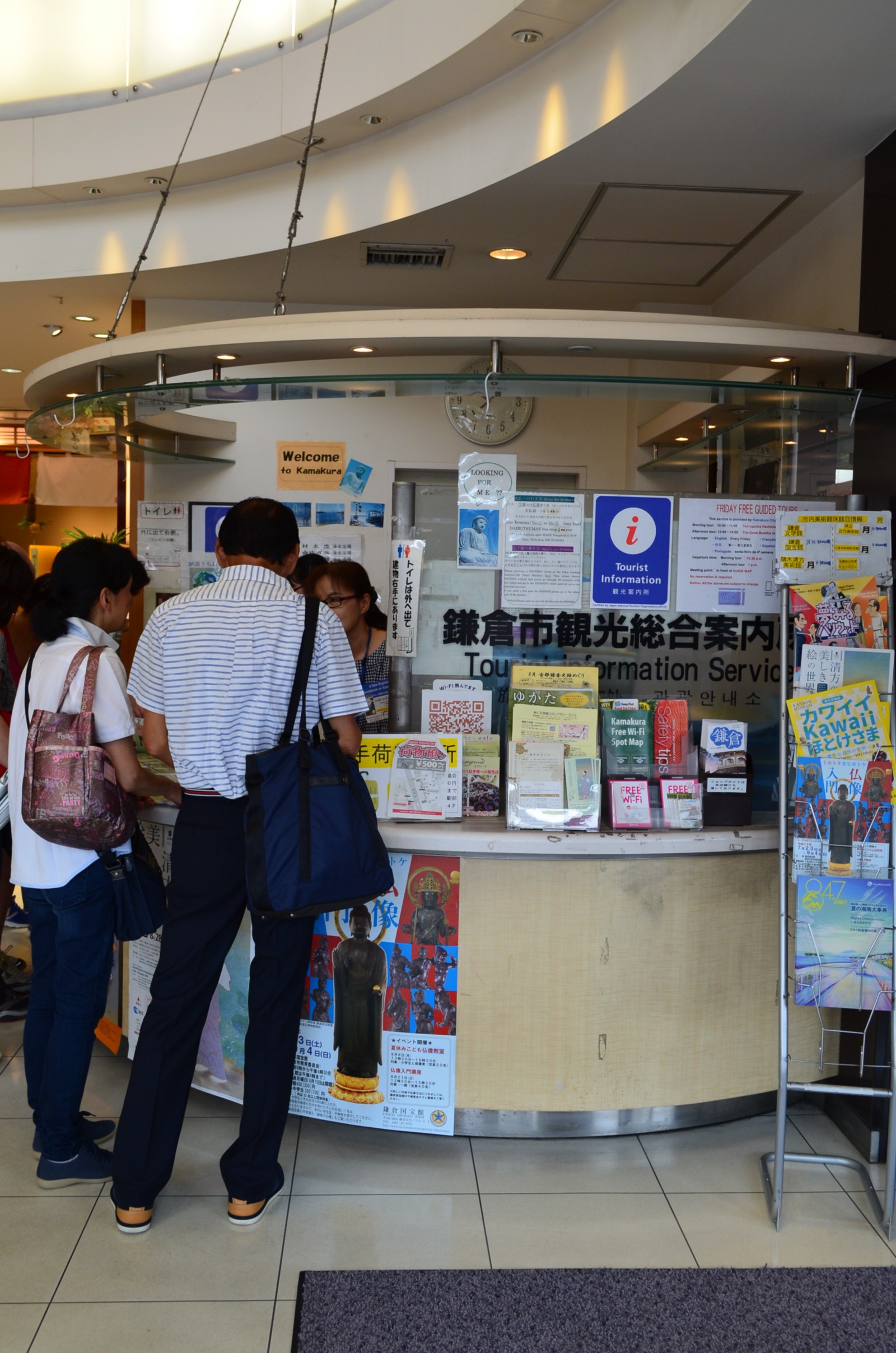 The tourist information is located at East exit of JR, the building on the right-hand side. English guides are available,too! Cycling around the town would be a great option,too! Several rental bicycle shops are in Kamakura town but the nearest one is right next to the station. When you get out from the east gate, keep walking to the right.
– Best Things to Do in Kamakura
1. The Great Buddha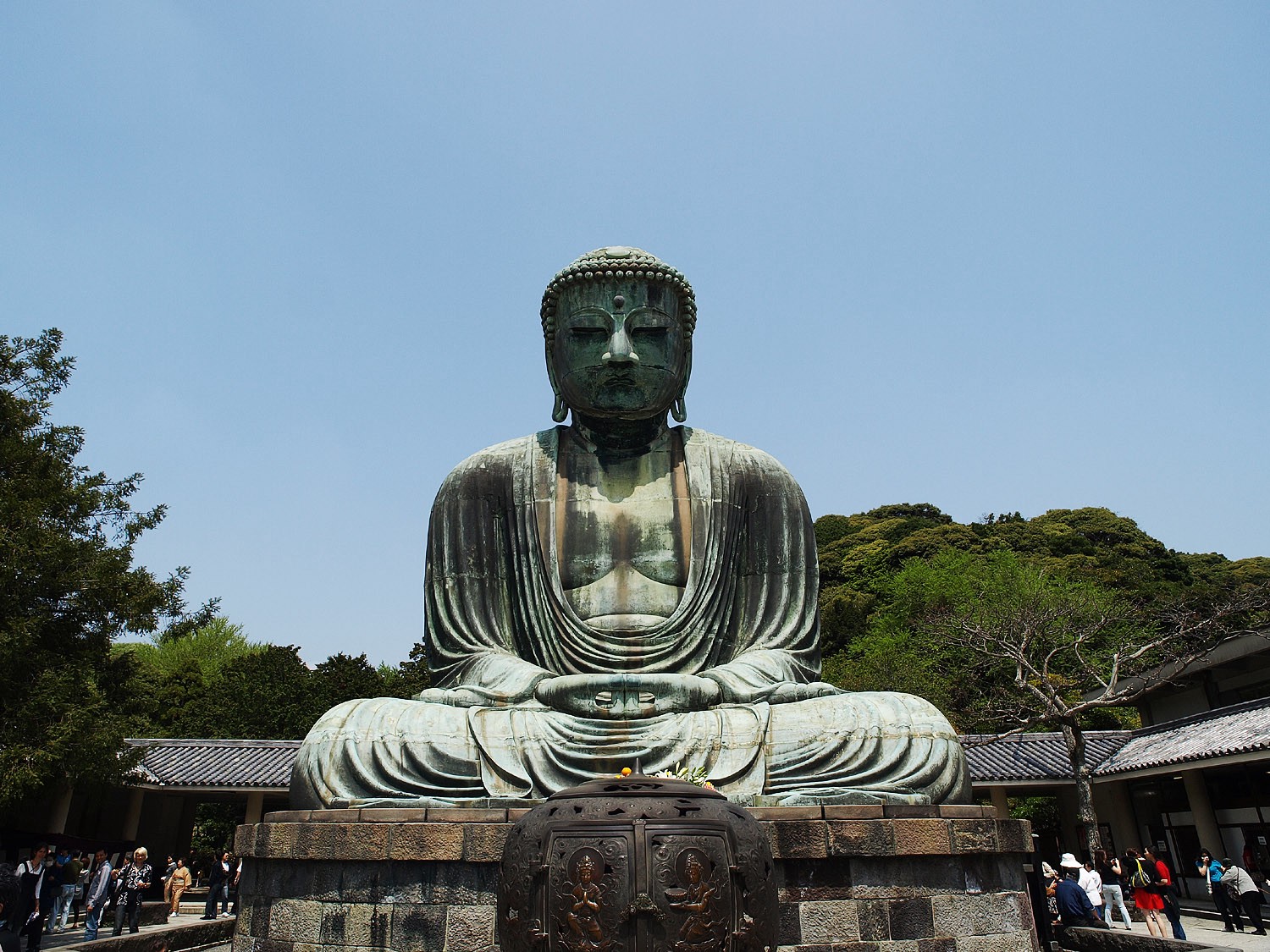 The famous symbol of Kamakura, and considerably the most popular tourist attraction in town, the Great Buddha is situated at Kotoku-in Temple (高徳院). The 11.4m tall statue was originally built in 1252, and it's the second tallest Buddha statue in Japan after the one in Todaiji Temple in Nara. You can actually enter inside the Buddha's body, too!
Hours 8:00 to 17:30 (until 17:00 from October to March)
Fee: 200 yen
2. Hasedera Temple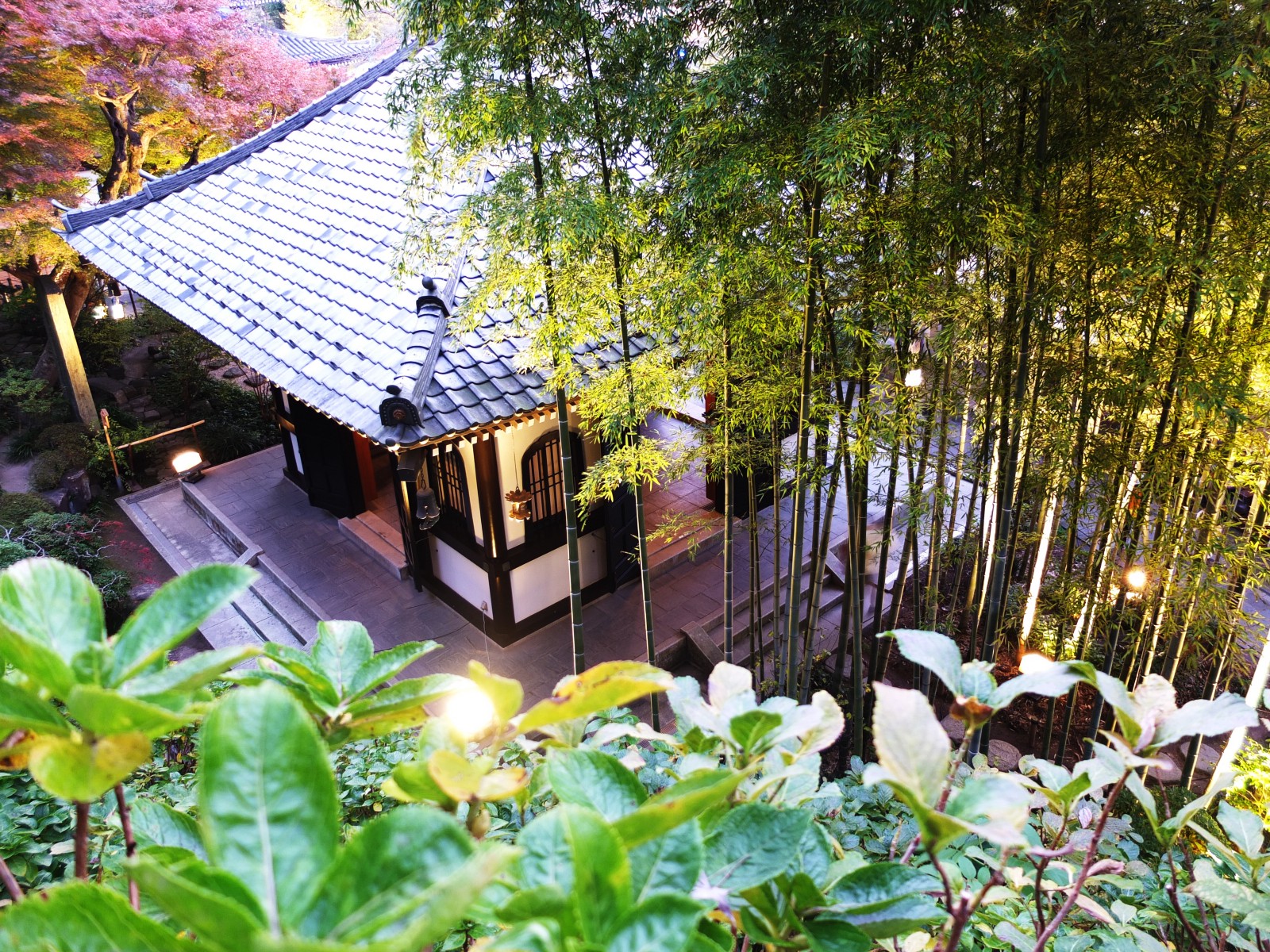 Hasedera Temple (長谷寺) is a large Buddhist temple complex in Kamakura City. The temple is built on the hill where you can gaze the stunning view of Kamakura City and the Sagami Bay. It's one of the most popular places to visit in town, yet the busiest time is during the rainy season in June and July when hydrangea flower blooms in full. The Ajisai Matsuri (Hydrangea Festival) is held at the temple during the season. The temple also has a beautiful garden with a pond.
Hours 8:00~17:30 (until 17:00 from October to February)
Fee: 300 yen
3. Megetsuin Temple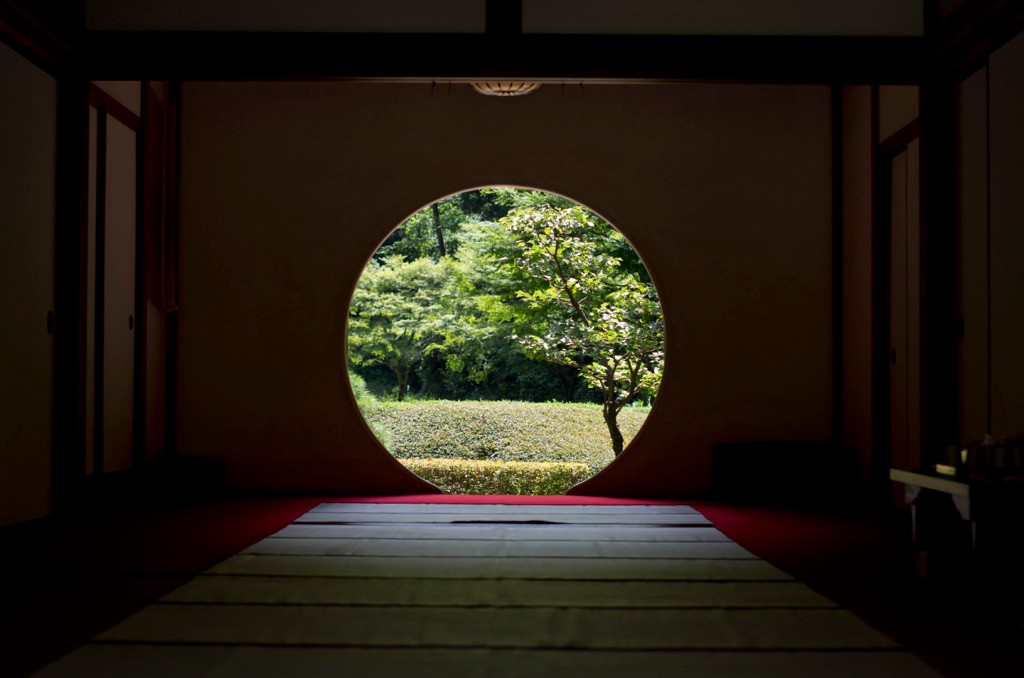 The temple with an elegant round window and a beautiful inner garden. Megetsuin (明月院) is also known as "Hydrangea Temple (Ajisai Dera)" as it displays the stunning hydrangea flowers during the season, and attracts a large number of visitors. The temple is located in Kita Kamakura area.
Hours 9:00~16:00 (8:30 to 17:00 in June)
Fee: 300 yen (500 yen in June)
4. Engakuji Temple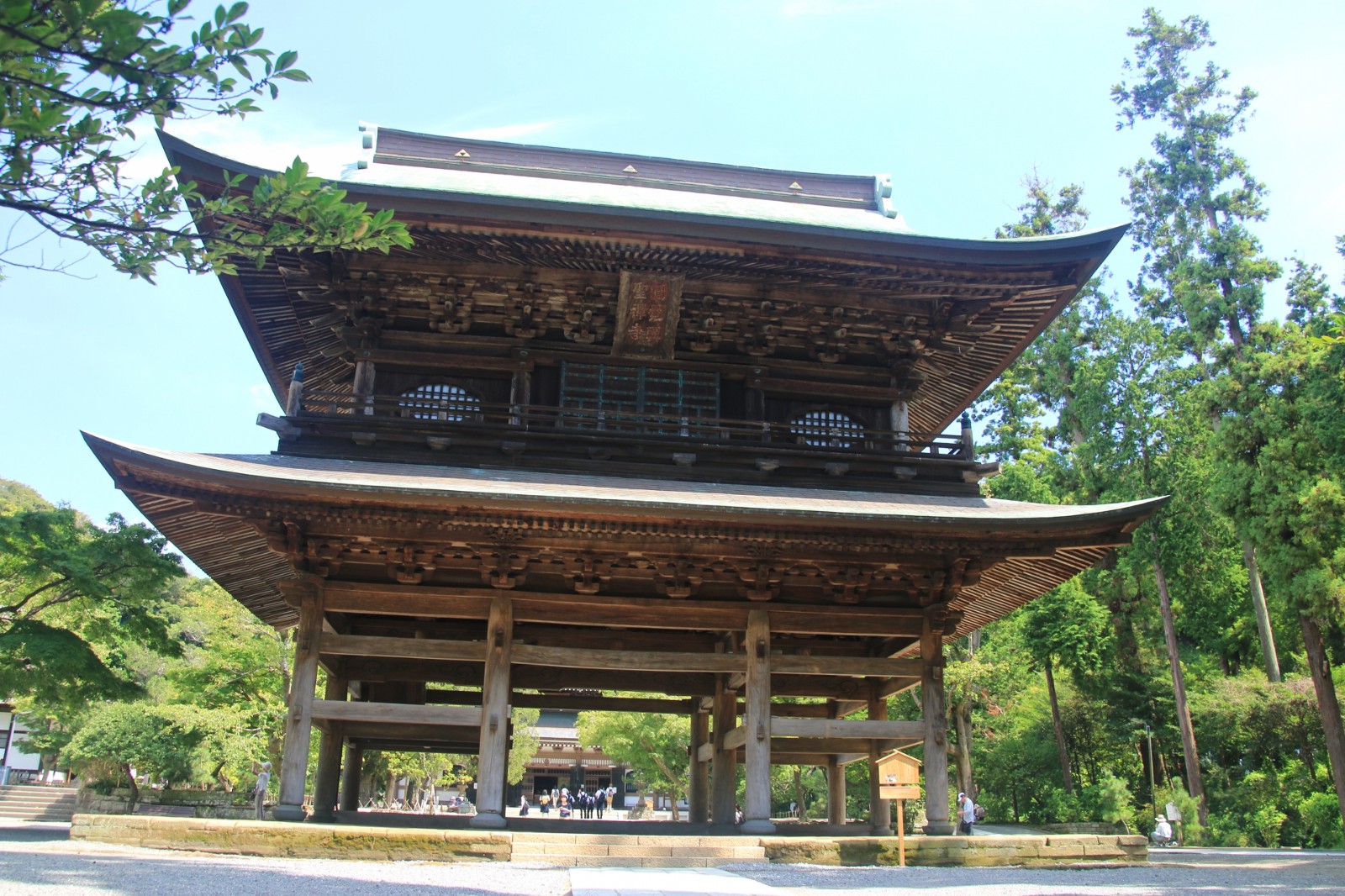 Engakuji Temple (円覚寺) is one of most important temples in eastern Japan, and the number two of Kamakura's five great Zen temples. It's located in Kita Kamakura area, and it's especially a popular site for autumn leaves viewing.
Hours:8:00~16:30 (till 16:00 from Dec to Feb)
Admission: 300 yen/Matcha tea: 500 yen
5. Hokokuji Temple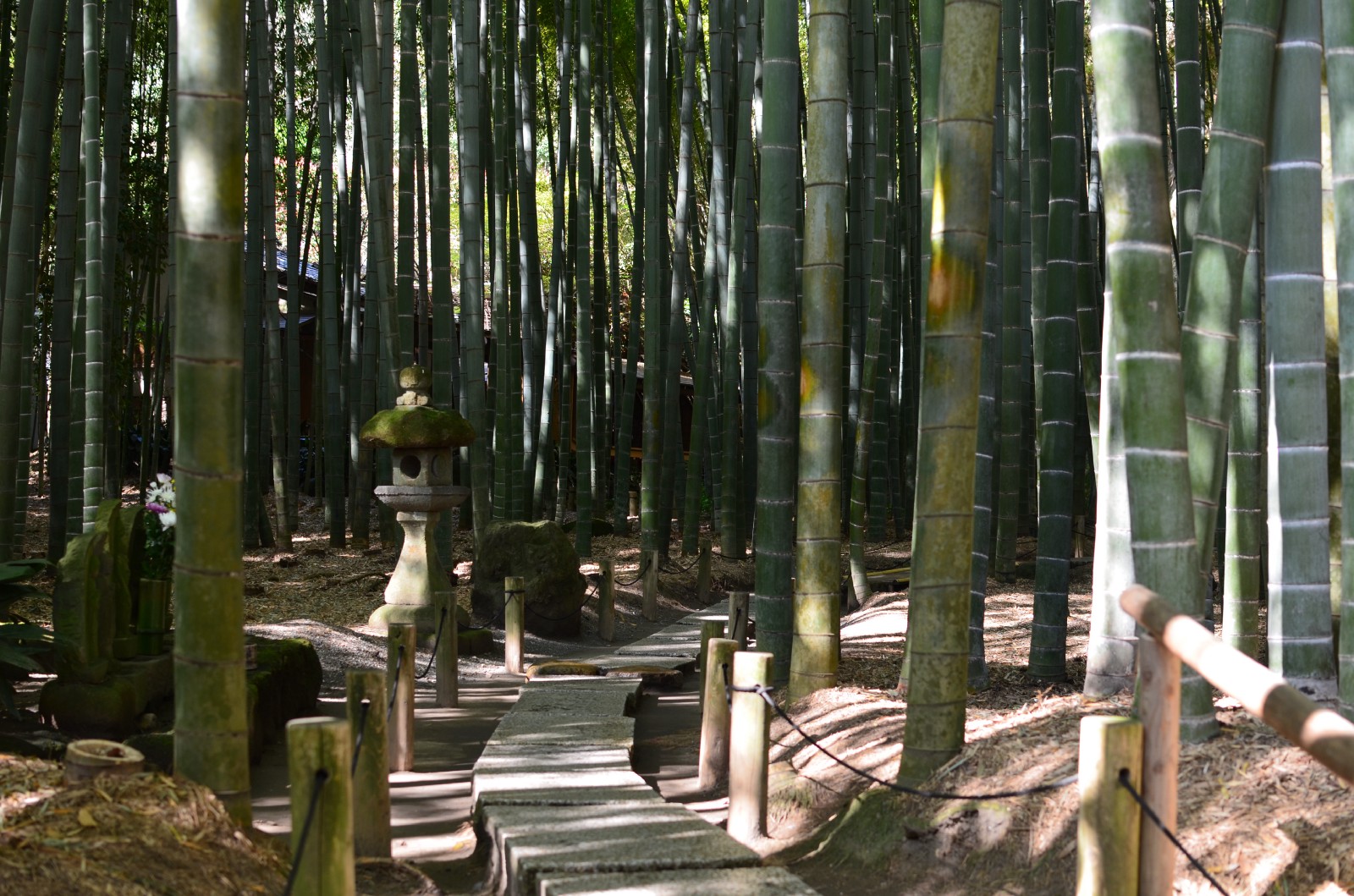 Hokokuji Temple (報国寺) is a small Zen temple known for its bamboo grove formed with about 2,000 bamboo trees. Visitors can have a pleasant walk through the green bamboo forest.There is also a small Japanese style cafe inside the garden where you can enjoy the fresh green tea and the view of bamboos. How delightful.
Hours 9:00 ~16:00
Fee: 200 yen (additional 500 yen for tea service)
6. Tsurugaoka Hachimangu Shrine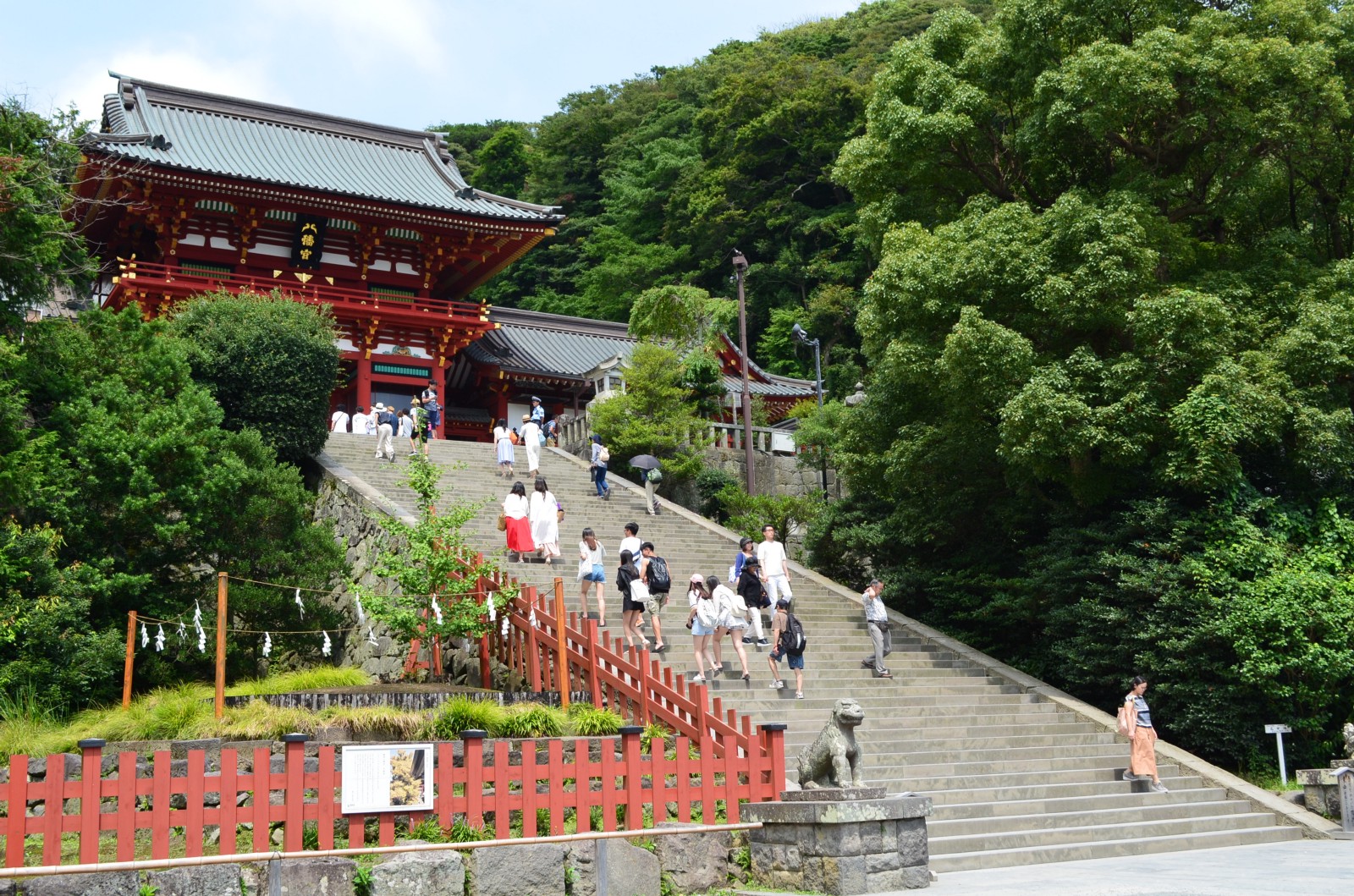 The most popular shrine in Kamakura, Tsurugaoka Hachimangu (鶴岡八幡宮) can be accessed easily from JR Kamakura station through the Komachi Dori shopping street. The shrine is fully crowded on 1st-3rd January when people go there for Hatsumoude (New Year's first visit).The shrines complex is famous for the magnificent red torii gate on front and the main hall after climbing on stairs.
Hours 5:00 to 21:00 (Open 24 hours from January 1 to 3)
Fee: Free
More info:
7. Zeniarai Benten Shrine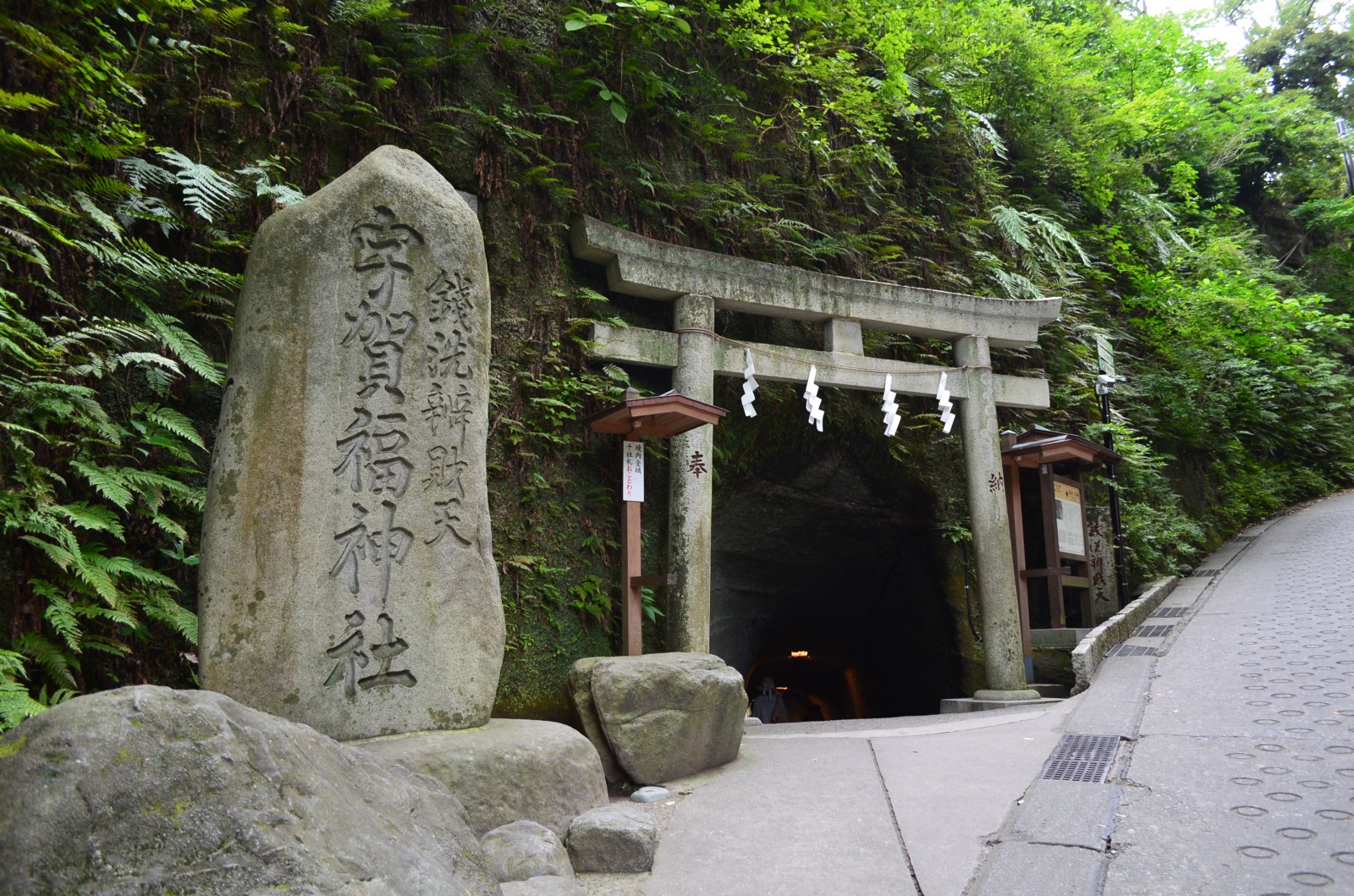 Zeniarai Benten Shrine (銭洗弁天) is an unique shrine in Kamakura which is believed to make worshippers rich when they wash their money with the spring water of the shrine. Zeniarai Benten Shrine is located between Kamakura and Kita Kamakura Station, and there is no public transportation available, and takes around 20–30 mins walk from each station.
Hours: 8:00~16:30
Fee: Free
More info:
8. Komachi Street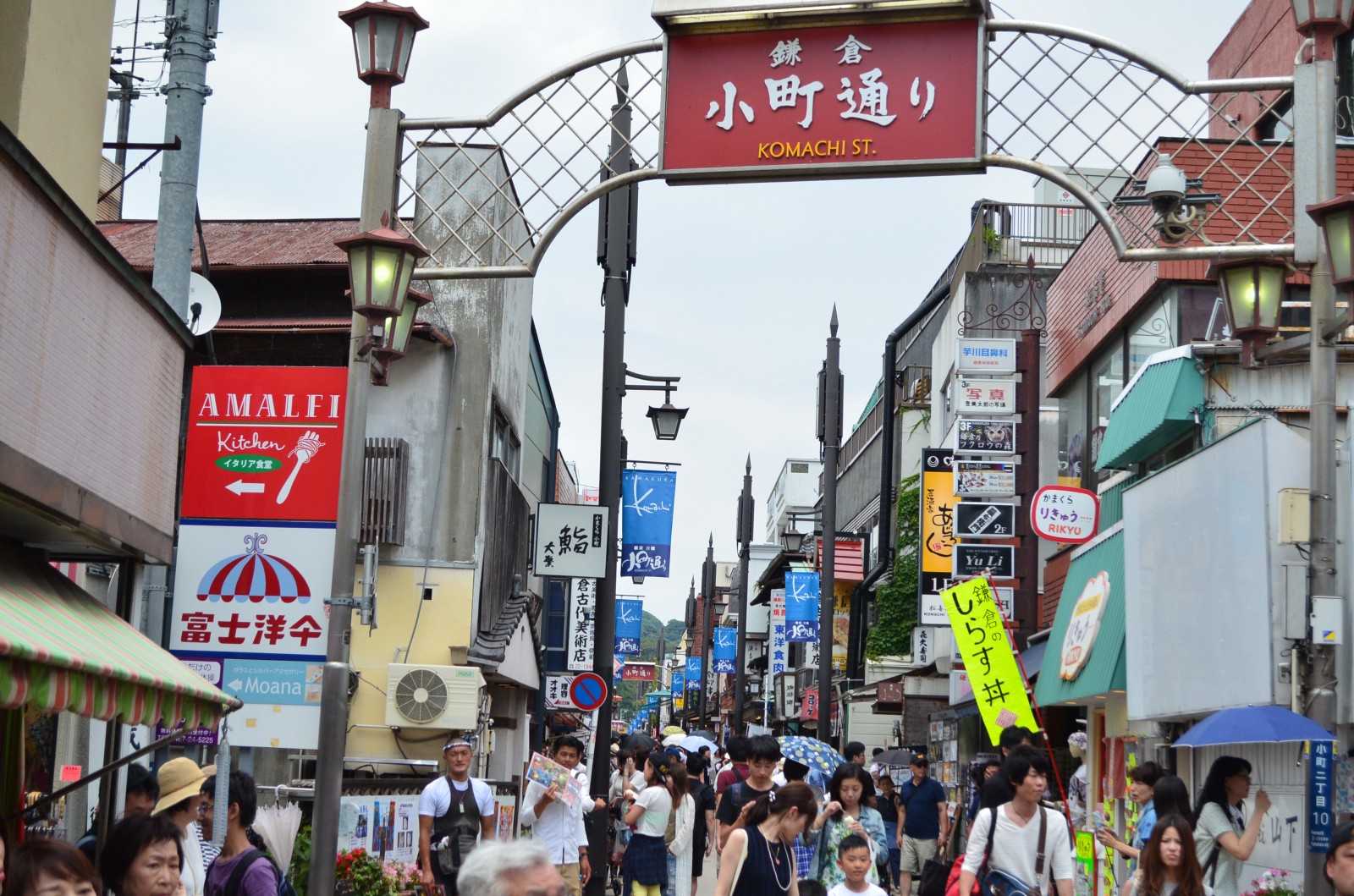 Komachi Street (Komachi Dori) is a shopping street located near Kamakura Station and stretches towards Tsurugaoka Hachimangu Shrine. There are hundreds of shops, cafes and restaurants lined along the street. It's the best places to eat out and shop souvenirs. A lot of shops offer handy street snacks which you can enjoy while strolling down the street.
More info about Kamakura souvenirs:
9. Yuigahama Beach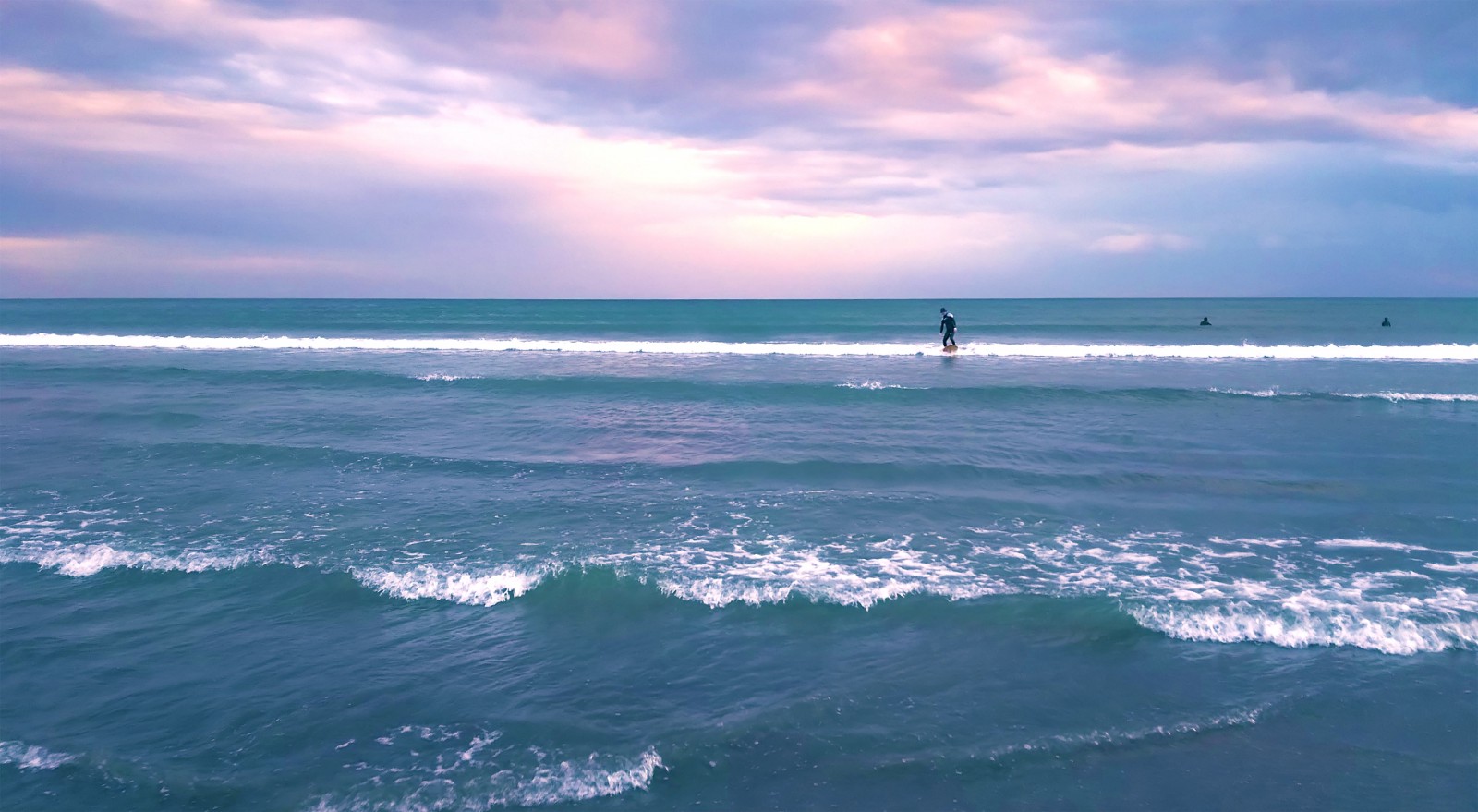 Yuigahama Beach (由比ヶ浜) is a 3.2 km long beach located at the southcoast in Kamakura City. It can be accessed from Kamakura station by 20 mins walk. During summer, beach is extremely crowded by beach bums and lined with beach houses serving chilled drinks and food.
10. Enoshima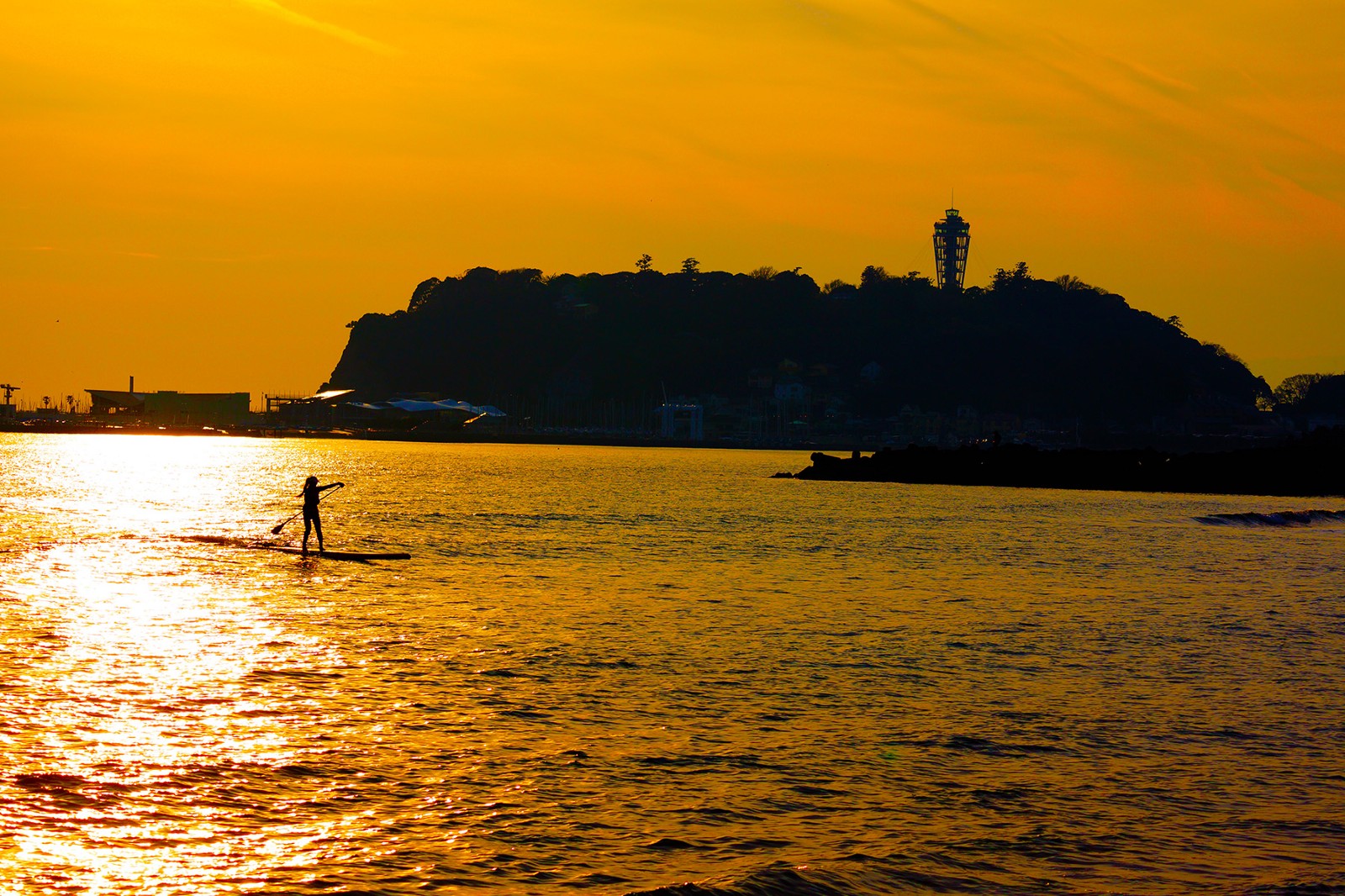 If you have time to extend your trip to a bit farther from Kamakura, visiting the coastline of Shonan area is highly recommended, especially Enoshima Island (江の島). The small island offers numbers of attractions such as beautiful shrines, observatory, shops and restaurants. There is a big aquarium (Enoshima Aquarium) near the island, too. Enoshima can be accessed by the local train from Kamakura, which takes around 20 mins.
More info about Shonan area:
---
If you are wondering what to do in Kanagawa, check this article below!
▶︎Top Things to Do in Kanagawa
Are you also looking for the things to do in the areas near Yokohama?
▶︎Best Things to Do in Hakone
Did you enjoy the list of best things to do in Kamakura?? Beach, autumn leaves, cherry blossoms viewing, etc.. Kamakura also offers amazing seasonal activities along with the beautiful historical sites! It's recommended to visit all year around 🙂 For more information about Kamakura area, please check out these articles, too!
▽Related Articles▽
▼Editor's Pick▼
---