3 Best Temples in Kamakura for Hydrangea Viewing
Kamakura's Best Hydrangea Viewing Spots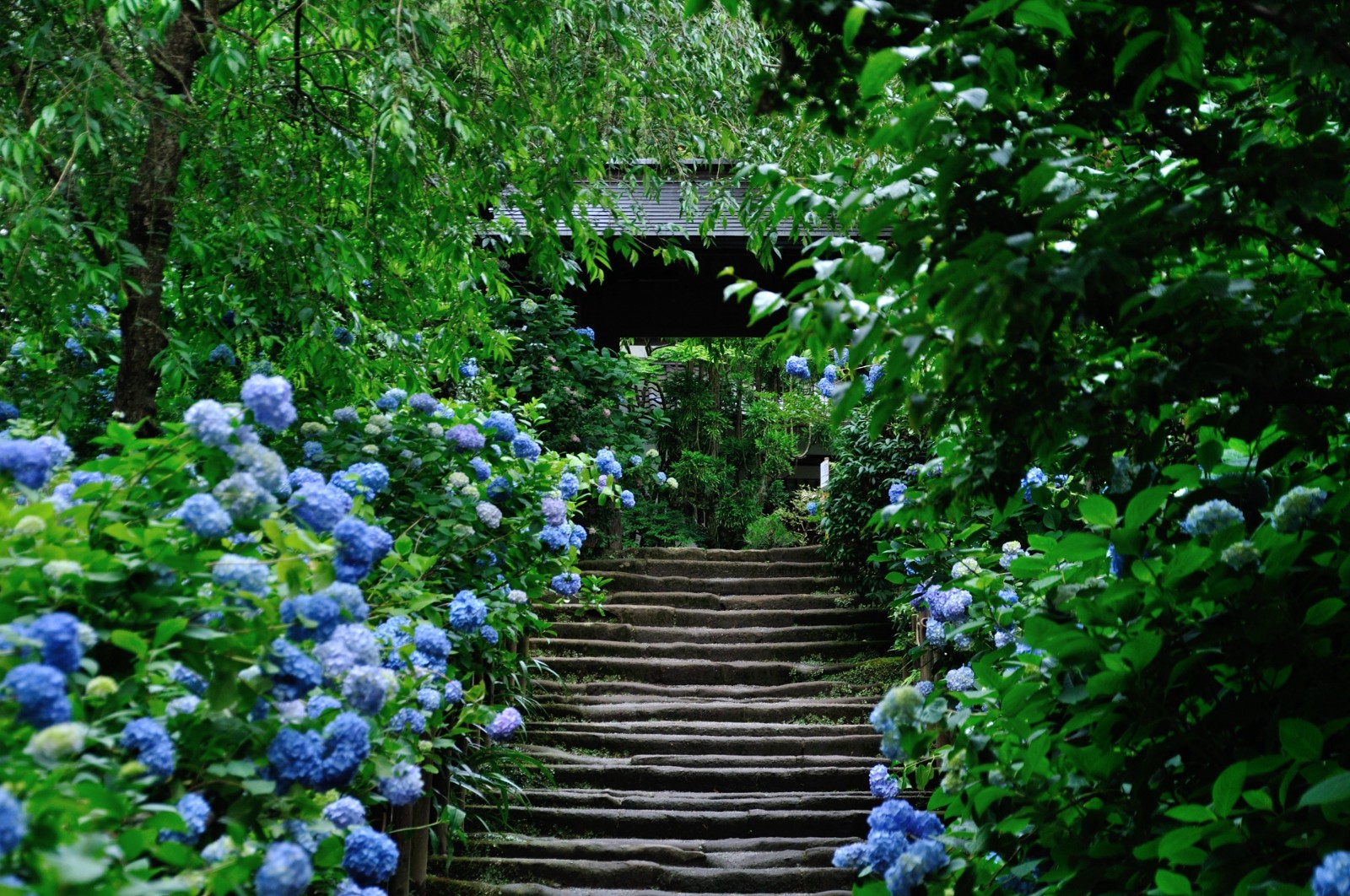 Rain season (from mid June to early July) is considered to be the most depressing season in Japan since there are many rainy days with uncomfortably high humidity which continues for about a month. But let's think about something very special about the rainy season that we can only enjoy this time of the year!
Hydrangea (Ajisai) is symbolic flower of the rainy season in Japan, and there are several great spots for hydrangea viewing. Kamakura is possibly the most famous city for hydrangea viewing and it's very accessible from Tokyo for a day trip.
Kamakura has several beautiful temples which are specially known for Hydrangea, and hydrangea festivals are held annually during the season (usually from mid June to mid July). They are very popular destinations during rainy season.
In this article, I am sharing the 3 best temples in Kamakura where you can enjoy the beautiful view of hydrangea. Let's turn a miserable rainy day to the most amazing one 🙂
1. Meigetsu-in Temple (明月院)
Meigetsu-in Temple (明月院) is one of the most popular temples in Kamakura City, best known for the iconic circle window and the stunning garden which displays the beautiful scenery in each season. Meigetsu-in is also called Ajisai-dera which means "the Hydrangea Temple" and approx 2,500 hydrangea flourish in baby blue colour at the temple site from early to late June. It's extremely busy during the season so I's recommend you to avoid going there on weekends.
Access: 10 mins walk from Kita Kamakura Statin
Hours: 8:30~17:00
Admission fee: 500JPY
2. Hase Temple (長谷寺)
Hase Temple or Hase-dera (長谷寺) is another top visited site in Kamakura area through the year, and the temple is known for the stunning complex built on the hilltop. There are over 40 kinds of 2,500 hydrangeas at the temple site attracting a large number of visitors every season. From the top of the hill, the stunning view of Kamakura City and Sagami Bay can be enjoyed with colourful hydrangeas. Again, this temple gets really busy, too during the hydrangea season, so I'd suggest you to visit there during the week, preferably in the morning.
Access: 5 mins walk from Hase Station
Hours: 8:00~17:00
Admission fee: 400JPY
3. Jochiji Temple (浄智寺)
Jochiji Temple (浄智寺) is a Buddhist Zen temple in Kita-Kamakura area which belongs to the Engakuji school of the Rinzai sect and is ranked fourth among Kamakura's Five Mountains. Comparing to those two temples above, Jochiji Temple offers less number of hydrangea flowers, however the temple itself is very beautiful and you can enjoy charming hydrangea flowers in a magnificent collaboration with the historical building. It's also much less crowded than other two temples.
Access: 5 mins walk from Kita Kamakura Station
Hours: 9:00~16:30
Admission fee: 200JPY
Recommended Tours in Kamakura:
▶ Kamakura Craftsmanship and Culture 1-Day Luxury Bus Tour
▶ Get into Zen Garden and Drink Green Tea in Kamakura
▶ Enjoy a 1 Day Private Tour Around Kamakura!
---
Thanks for reading! If you are planning to visit Japan in June, make sure to take a day trip from Tokyo to Kamakura to see the beautiful hydrangeas 🙂 For more information about travelling in Kamakura area, here are some more articles for you to check out 🙂
▽Related Articles▽
▼Editor's Picks▼
---