10 Best Spots to View Cherry Blossoms in Saitama
Saitama Sakura Guide: Where to See Beautiful Cherry Blossoms in Saitama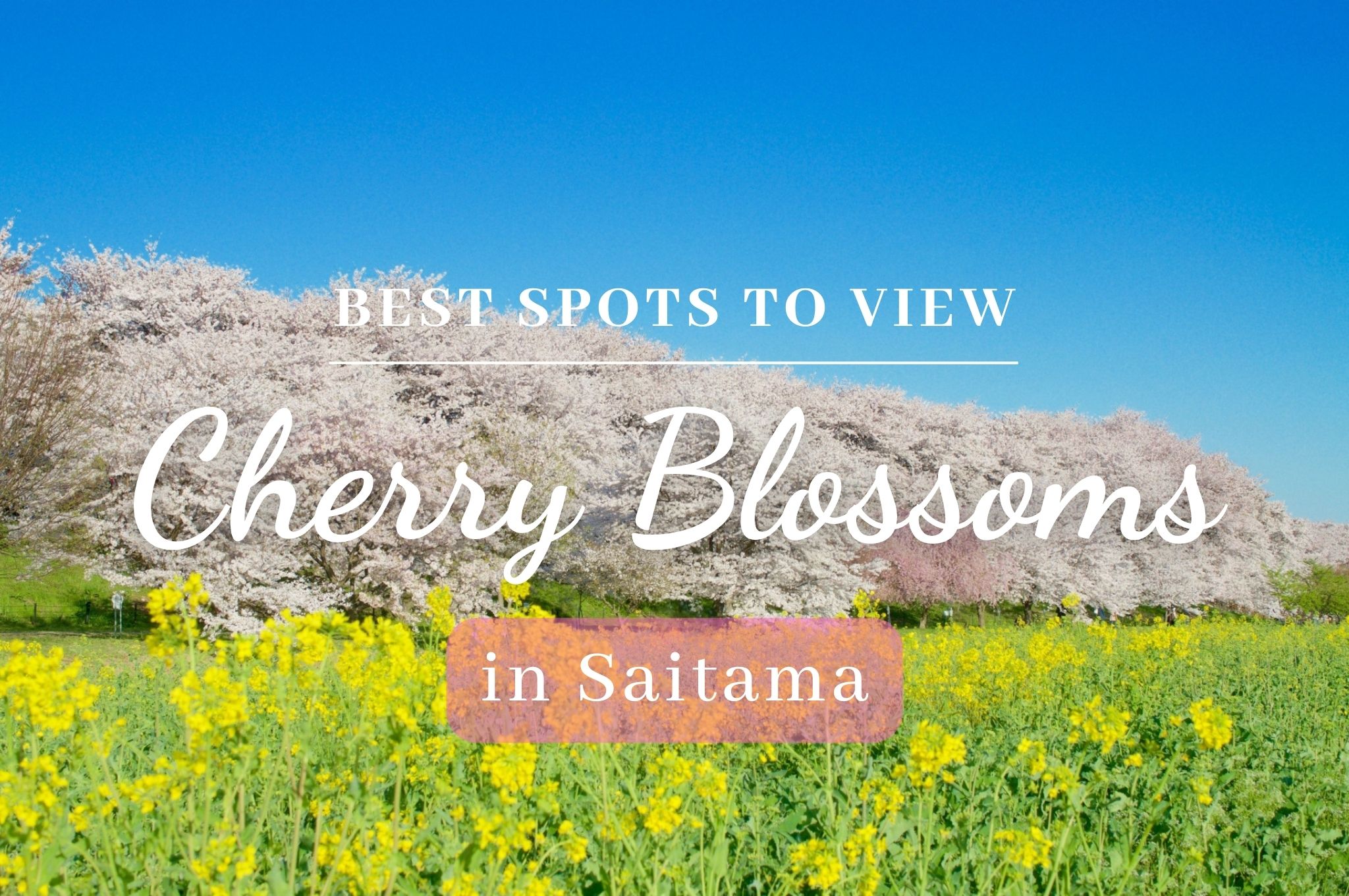 Saitama Prefecture, just a stone's throw from bustling Tokyo, is probably the smart choice for many Tokyo dwellers when it comes to feasting their eyes on the single most awaited season of all in Japan: Sakura season! Springtime comes warming up the temperatures and painting it all with soft shades of pink, filling all surroundings with the sweet scent of spring. Not as famous as its southern neighbor, Saitama still boasts some of the country's most impressive cherry blossom spots, where we can stroll relaxedly in less crowded places, perfect for long-winded picnics with friends, romantic dates or just a quick getaway from the Metropolis' hustle and bustle. We're presenting you a selection from some of the most famous spots and also some lesser-known hidden treasures to make the most of sakura blossoms in Saitama!
▽Check this list of best places to see cherry blossoms all over Japan, too!▽
---
1. Omiya Park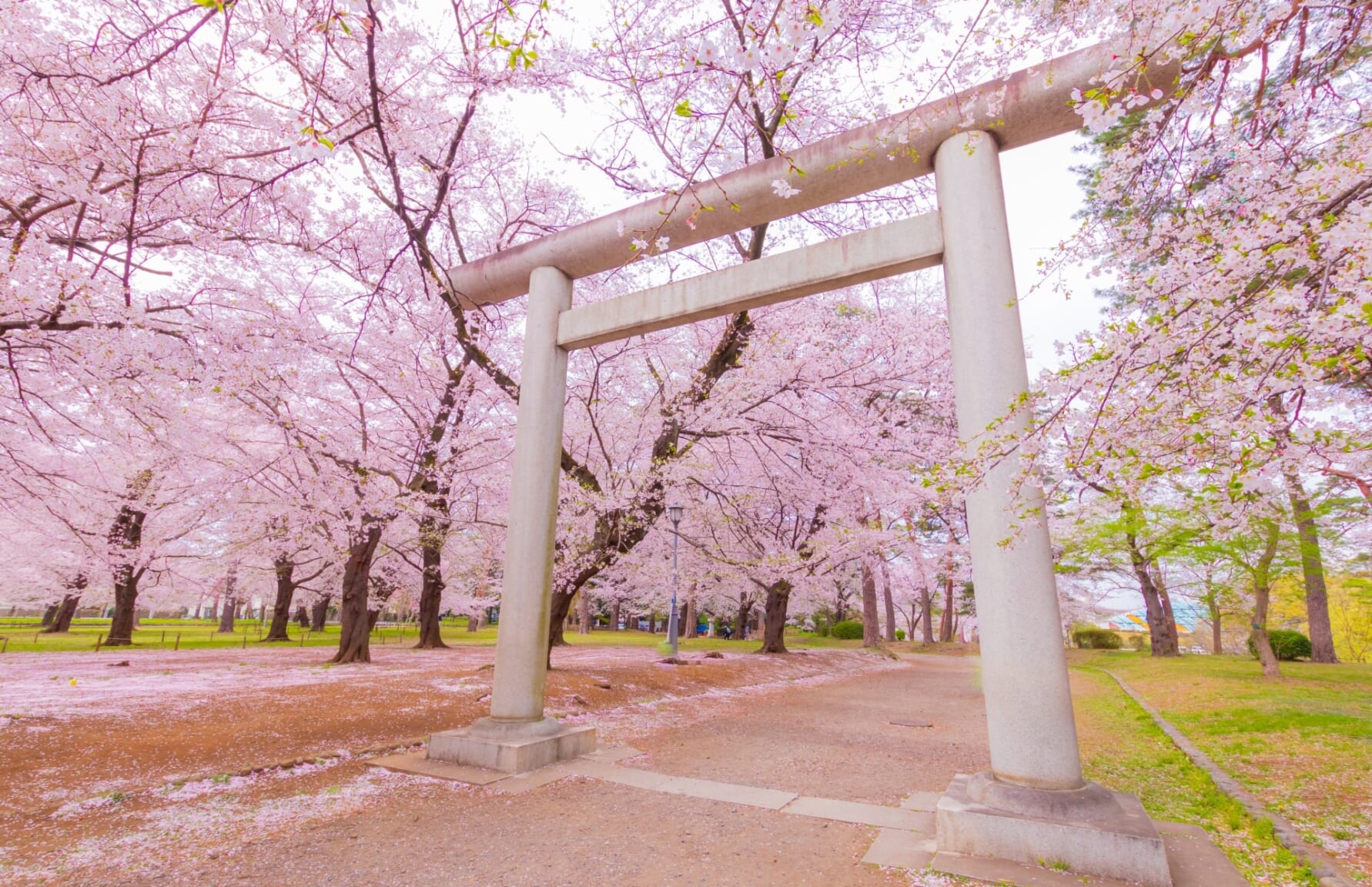 Omiya Park (大宮公園), one of the oldest and most popular cherry blossom viewing spots in Saitama Prefecture, boasts around 1,200 cherry trees, including a 120-year-old weeping shidarezakura transplanted from Yokohama. A hub of sakura preservation efforts, the park is lit up at night during the festival and is voted as one of the top 100 places to see cherry blossoms in Japan, as well as one of the best urban parks. The vast grounds create a picturesque pink-blue tunnel of blooms, and the park is conveniently located a 10-minute walk from the Tobu Urban Park Line Omiyakoen Station. A Japanese garden and the nearby Musashi Ichinomiya Hikawa Shrine make Ōmiya Park a must for anyone seeking a dreamy hanami experience.
▶ Saitama Prefecture official website with practical information about Omiya Park: https://www.pref.saitama.lg.jp/a1105/910-20091204-92.html
2. Kumagaya Sakura Tsutsumi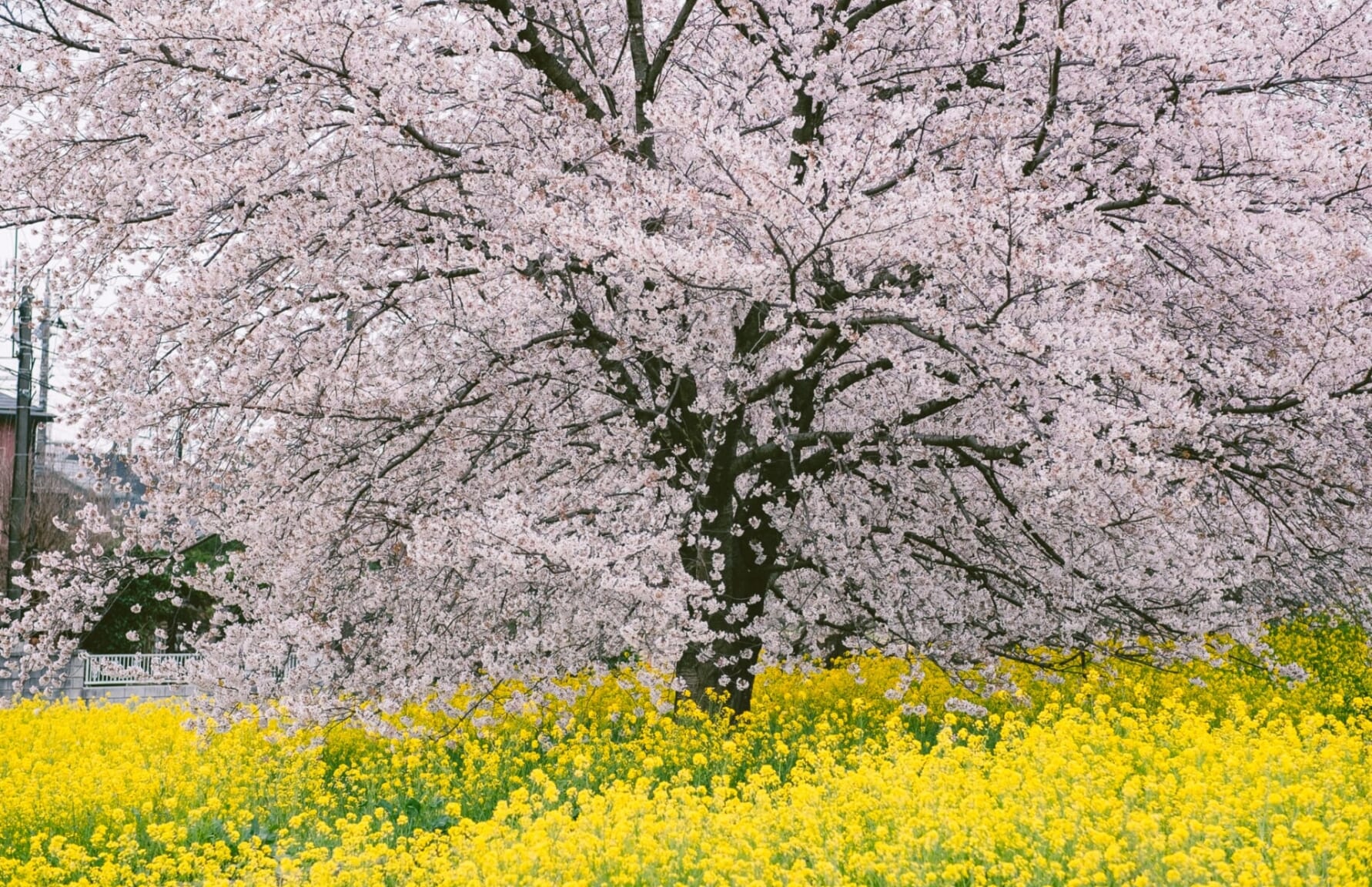 Kumagaya Sakura Tsutsumi (熊谷桜堤) is also one of the greatest historical cherry blossom spots in Saitama, that's made it to the list of the 100 best cherry blossom viewing spots in Japan. There's an impressive festival, held from March 24 to April 6, where over 500 Yoshino cherry trees line a 2-km long walkway filled with bright yellow rapeseed flowers, creating a stunning sight. The festival includes a nighttime illumination from 18:00 to 22:00 that's really worth visiting. Located near the Kumagaya Rugby Stadium, which hosted matches during the 2019 Rugby World Cup, and close to Omiya Park, Kumagaya Sakura Tsutsumi is the perfect place to spend a day filled with hanami (cherry blossom viewing) magic.
▶ Kumagaya City official website with practical information about Kumagaya Sakura Tsutsumi: https://www.city.kumagaya.lg.jp/kanko/midokoro/sakuratutumi.html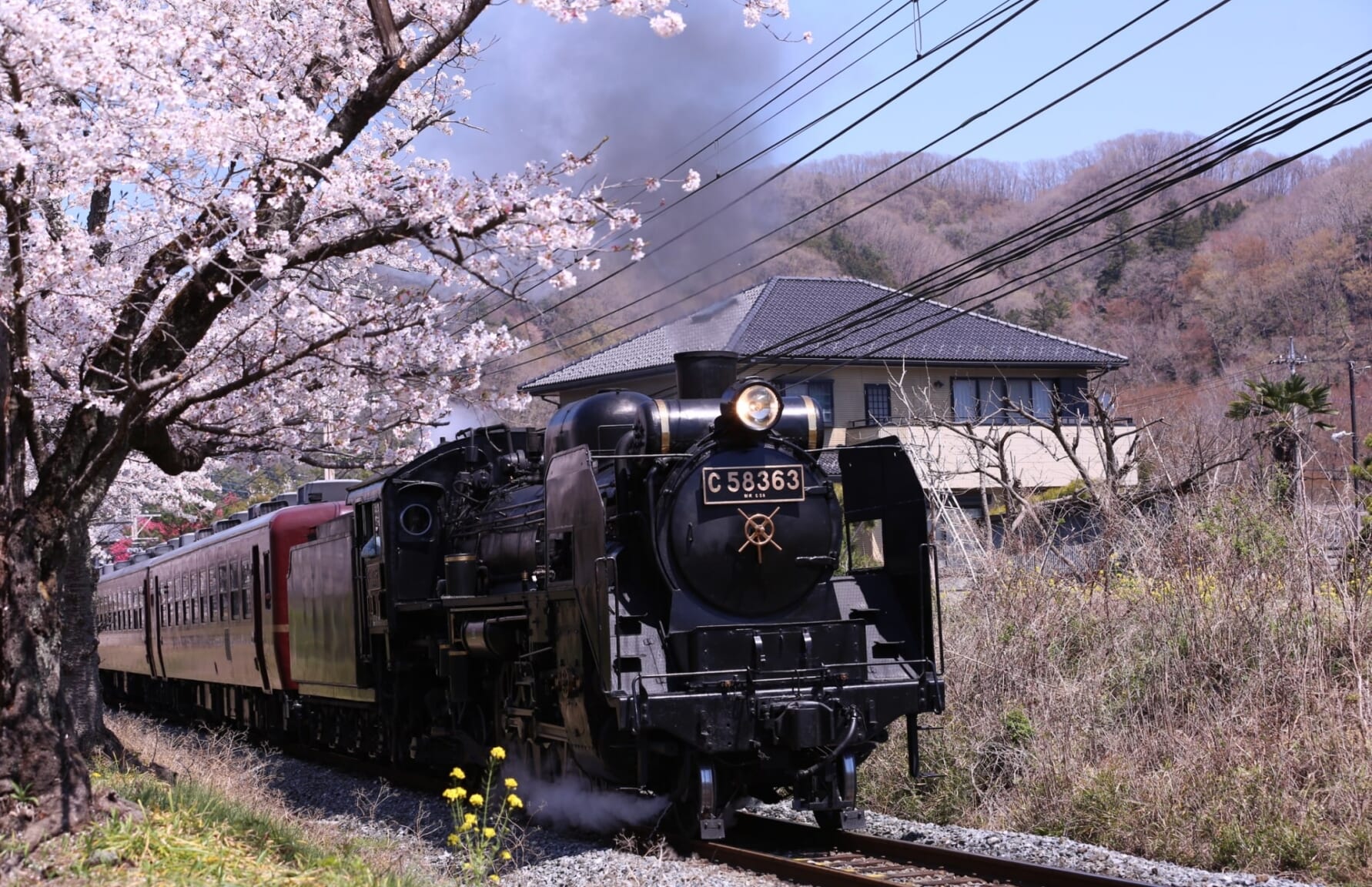 Nagatoro (長瀞) is a national scenic beauty spot that is renowned for its impressive cherry blossom display during the spring, earning it another place for Saitama in the renowned list of 100 Best Cherry Blossom Spots in Japan. During this time, the town transforms into a sea of pink and white with over 3,000 cherry trees in full bloom. Visitors can enjoy cherry blossom tunnels along Kitazakura-dori, cherry blossoms along the street, and weeping cherry blossoms. The best time to visit is between early and mid-April when cherry blossoms appear all over town. The town also features a hundred-year-old shidarezakura on the grounds of Hozen-ji Temple and the boat ride down the rapids of the Arakawa River, which pass along the Iwadatami layered rock formations.
▶ Nagatoro Town Tourist Association official website with information about Nagatoro Cherry Blossoms: https://www.nagatoro.gr.jp/en/sights/index.html#a01
For more information about Nagatoro cherry blossoms, check out the following article.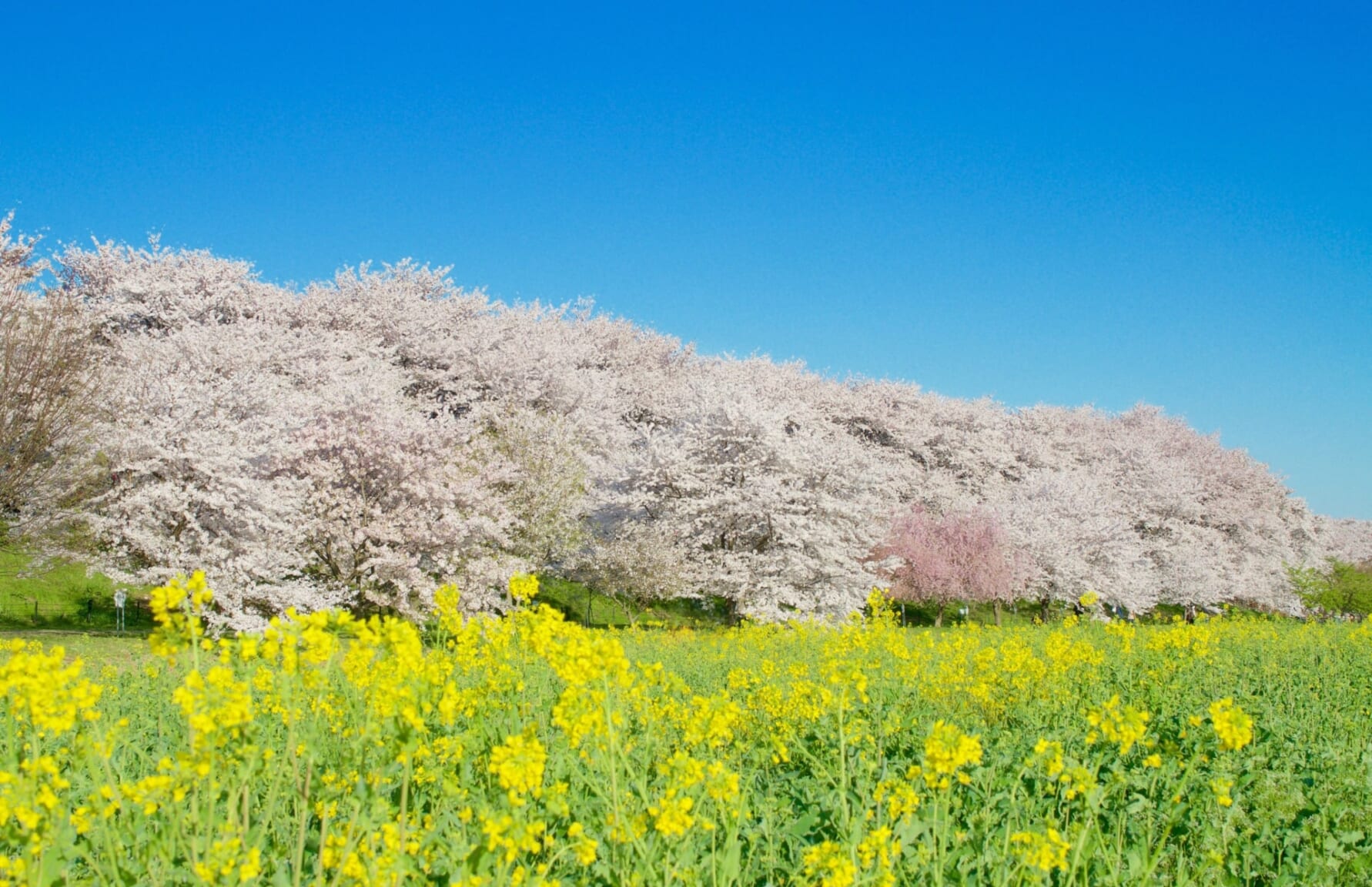 Satte Gongendo Sakura Tsutsumi (幸手権現堂桜堤), also known as the Prefectural Gongendo Park (県営権現堂公園), is a top recommended cherry blossom viewing spot in Kanto, known for its magnificent contrast between pink cherry blossoms and yellow rapeseed blossoms. With over 1,000 Yoshino cherry trees stretching for 1 kilometer, the park offers a beautiful flower tunnel that's become quite a popular spot for photographers. During the cherry blossom festival, the park is illuminated at sunset and attracts visitors from all over for some nighttime enjoyment. During this season, it's advisable to rely on public transportation rather than private transportation because of probable traffic congestion.
▶ Gogendo Park official website: https://gongendo.jp/park-map/#map-4gou
For more information about Satte Gongendo cherry blossoms, check out the following article.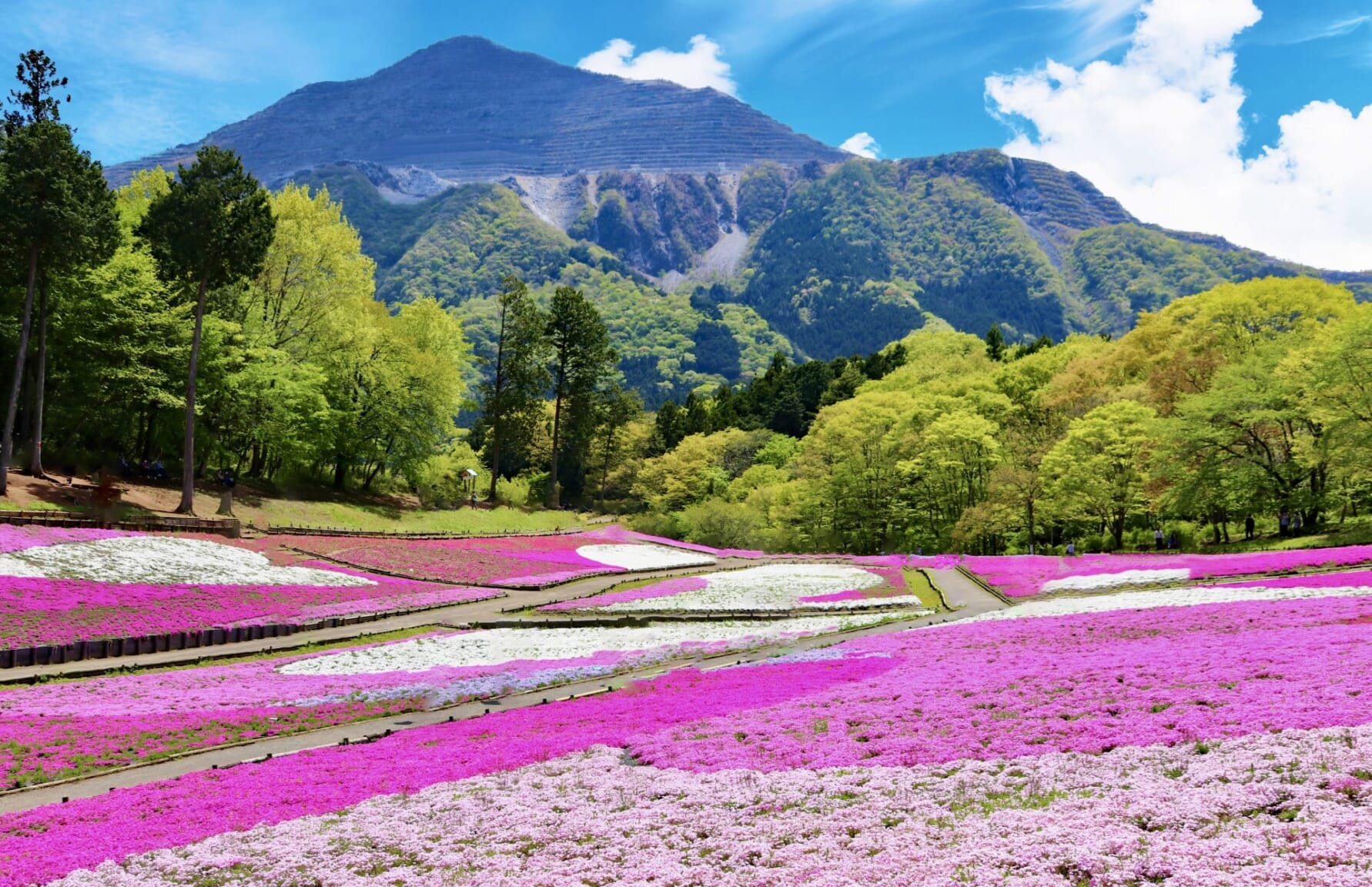 Hitsujiyama Park (羊山公園), located in Chichibu, northern Saitama, is famous for its springtime cherry blossoms, including Someiyoshino, Koyadaru, and Yaezakura. With over 1,000 cherry trees, the park is a popular cherry blossom viewing spot with a hill and grassy lawn that attract visitors during peak season. Hitsujiyama is also renowned for its Shibazakura (moss phlox), a type of cherry blossom that grows on the ground, laying a gorgeously colorful carpet effect. The park offers more than just flowers, with a sheep farm, art museum, and other blooms like tulips. It's a perfect day trip for families, solo travelers, or friends.
▶ Cichibu City official website with practical information about Hitsuhiyama Park: https://www.city.chichibu.lg.jp/1853.html#itemid1638
For more information about Hitsujiyama Park cherry blossoms, check out the following article.
6. Cherry blossoms along Shingashi River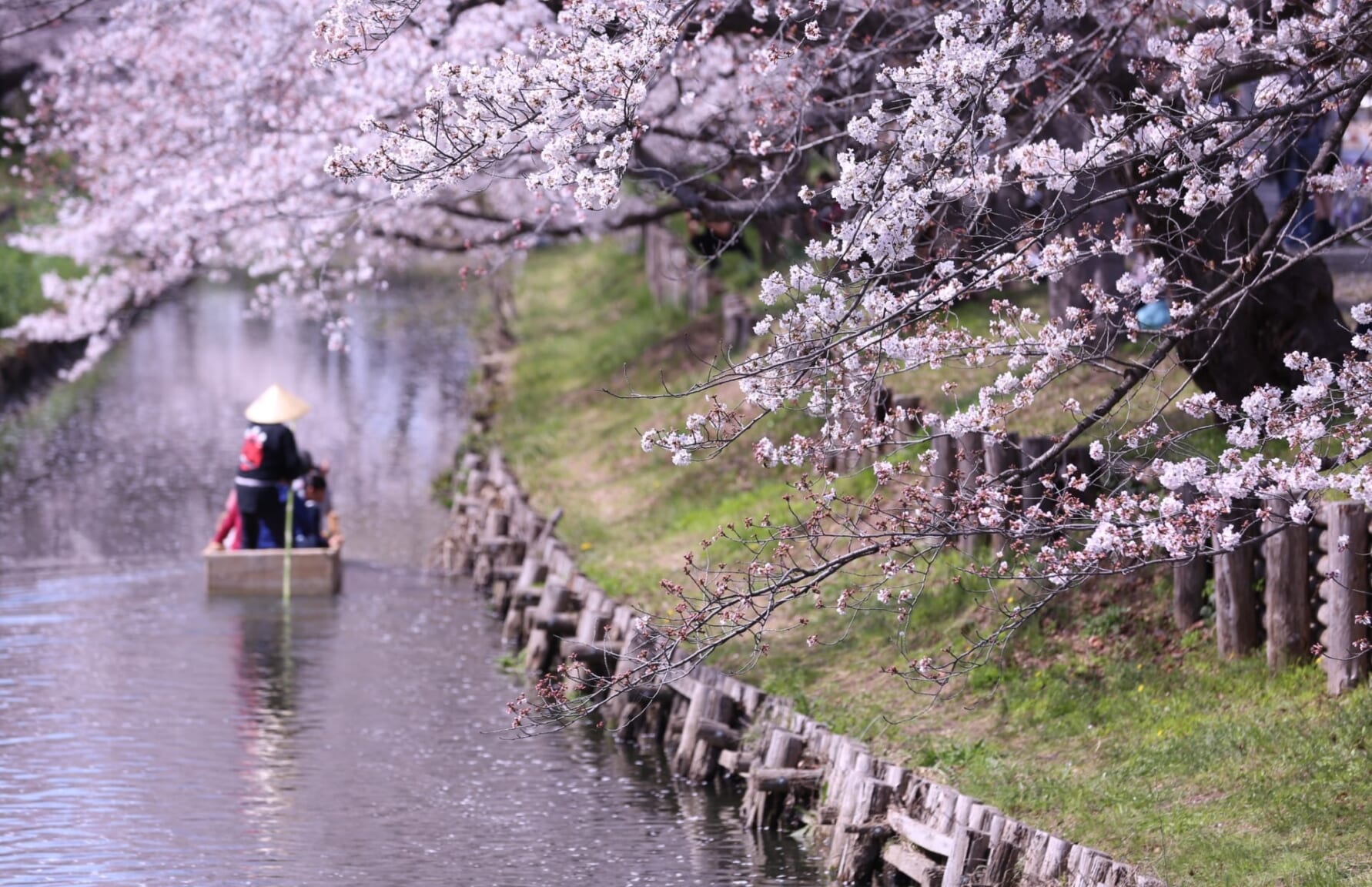 Shingashi River (新河岸川) in Kawagoe, just a 30-min train ride from Ikebukuro, is a picturesque location with over 100 Homarezakura and Someiyoshino cherry blossom trees along its 500-meter stretch. The trees were planted in 1957 as a memorial to those who lost their lives in the war and are located close to the Hikawa Shrine. It's a popular spot for those looking for an Edo-style cherry blossom picture, with wooden boats ferrying small groups along the river during the blossom season.
▶ Kawagoe City Tourism official website with information about cherry blossoms around Shingashi River: https://www.kawagoe-kankou.net/sakura/shingashi-river-hikawa/
7. Motoara river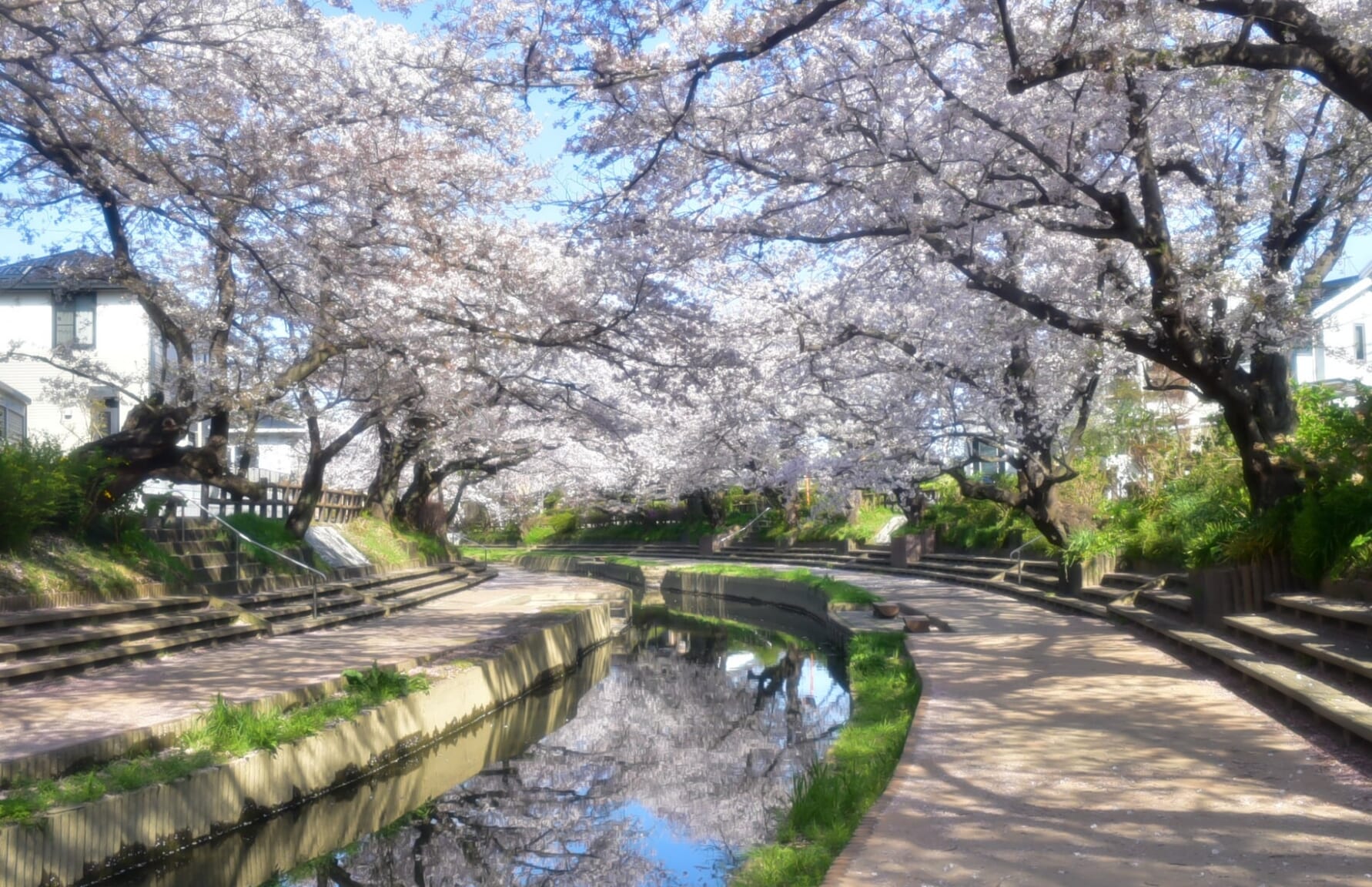 The Fukiage area in Japan boasts 500 Someiyoshino cherry trees along both banks of the Motoara River (元荒川), which flows through the city center. The Fukiage Cherry Blossom Festival is held in early April when the trees are in full bloom, providing a relaxing and tasteful experience for visitors to stroll along the promenade amidst a blizzard of cherry blossoms. The retro bridges near the river offer great photo opportunities and the cherry blossoms at night, lit up with lanterns, is a must-see event. Another cherry blossom viewing spot rising in popularity is the Motoara River in Konosu City, where visitors can enjoy a riverboat cruise and an annual cherry blossom festival. This location is conveniently located close to a train station.
▶ Konosu City official website with information about http://www.city.kounosu.saitama.jp/kanko/hana/1455525779050.html
8. Minoyama Park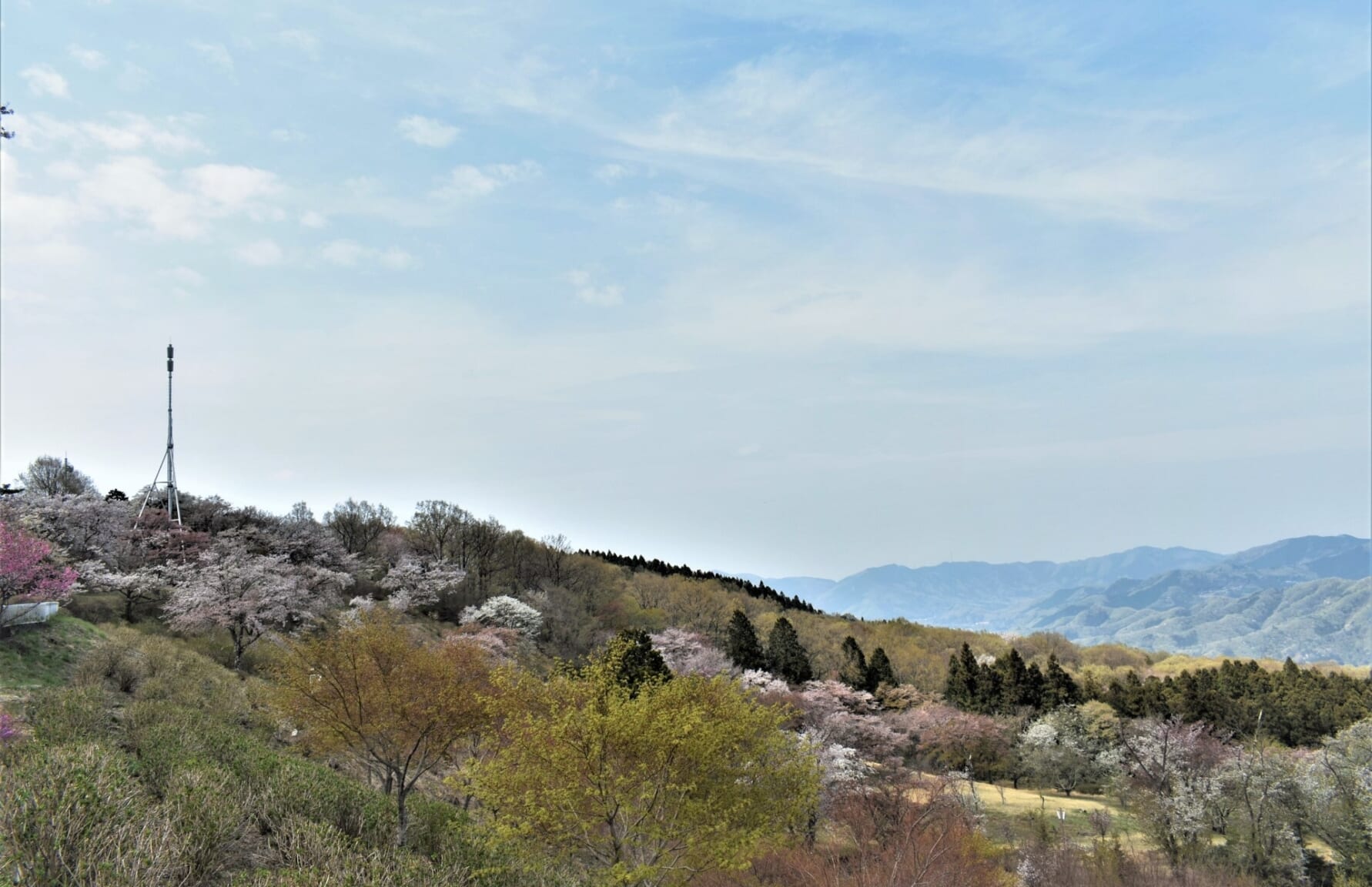 Minoyama Park (美の山公園), a nature park located on the summit of Mt. Mino, is a comprehensive outdoor recreation facility designated as a national recreation area by the Ministry of the Environment. With over 8,000 cherry trees, including Someiyoshino, mountain, and various horticultural varieties, the park offers a spectacular view of the Chichibu, Akagi, and Nikko mountains. In the "Flower Forest," visitors can admire over 250 cherry trees of about 60 species, including the rare Gyoikou cherry tree. The park is at its best from mid-April to early May during the Binoyama Cherry Blossom Festival. Take a leisurely hike in the nature-rich park, surrounded by cherry blossoms, and enjoy the views from the top of the mountain.
▶ Minano town official website with information about Minoyama Park https://www.minano.gr.jp/minoyama/
9. Inariyama Park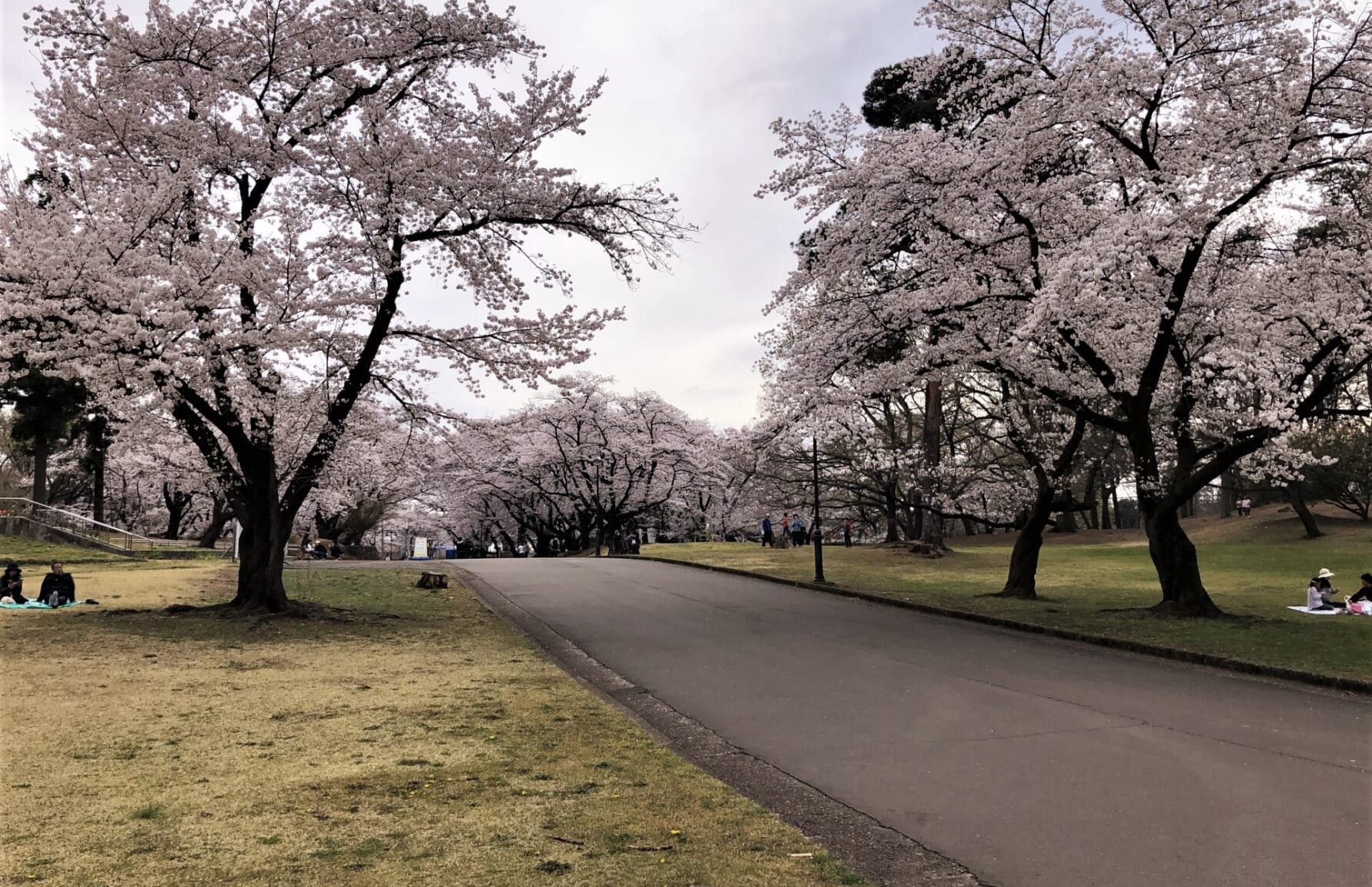 Sayama Inariyama Park (営狭山稲荷山公園), once an airfield for the U.S. Armed Forces, has now been transformed into a popular cherry blossom viewing spot. With about 300 Someiyoshino and Yaezakura cherry trees, the park offers a picturesque and relaxing environment with a large lawn area and a lush green backdrop of red pine and konara oak trees. It is the perfect destination for those seeking to escape the city and immerse themselves in nature.
▶ Inariyama Park official website: https://www.seibu-green.co.jp/inariyama/
10. Jigenji Temple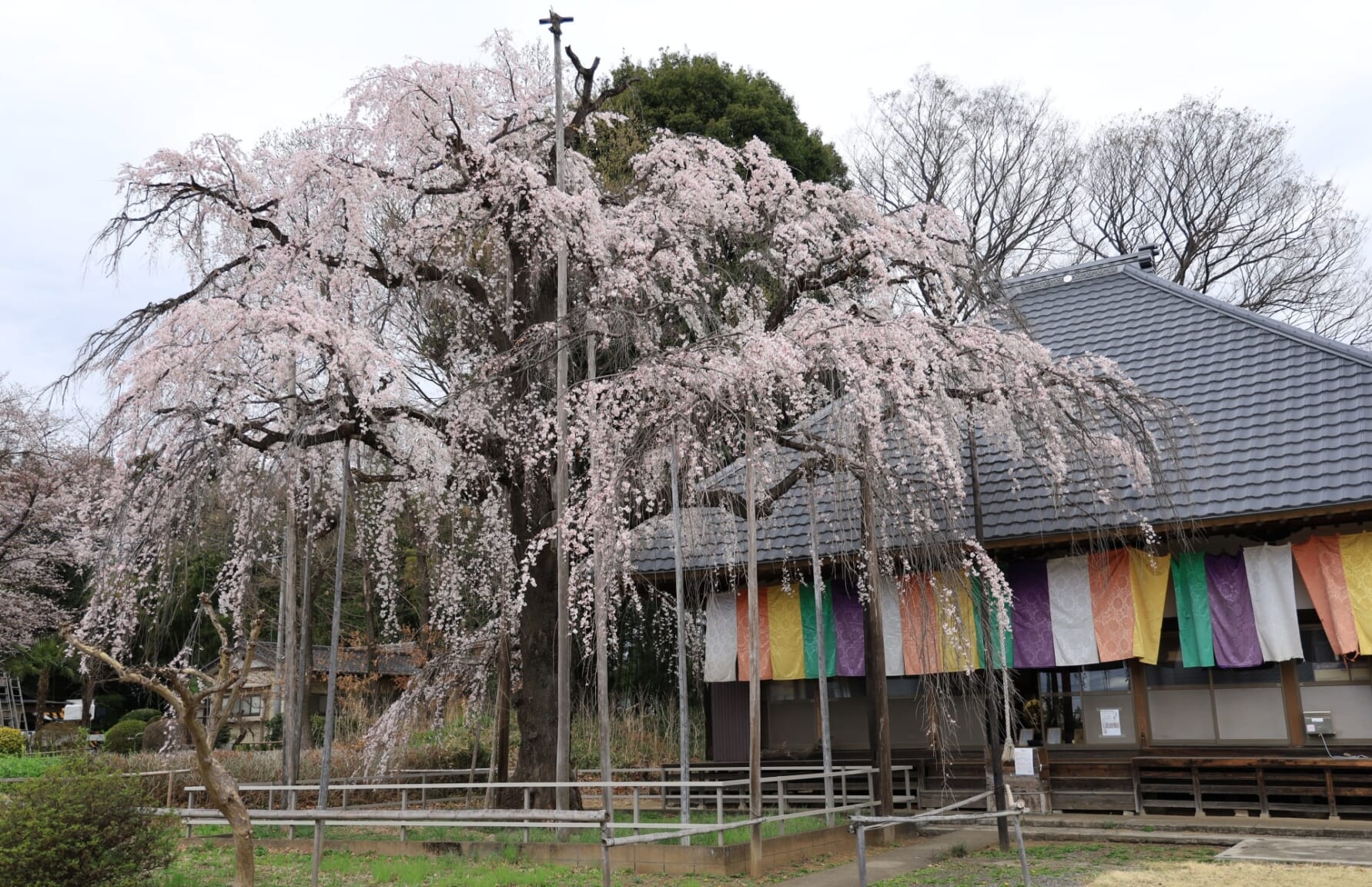 Jigenji Temple (慈眼寺), a 250-year-old Buddhist temple of the Shingon sect in Sakado City, is a must-visit for all visitors. The temple houses a unique statue of the thousand-armed Kannon with musical notes and rests, a.k.a. the Jazz Kannon. The temple is also home to a natural monument, a 15-meter-tall weeping cherry tree that blooms in spring and draws visitors from all over for the annual Weeping Cherry Blossom Festival, which features concerts, tea ceremonies, and other events. Accessible via a short 2-minute walk from Kawagoe Sakai Station, Jigenji Temple is a rich cultural and natural wonder in one.
▶ Jigenji Temple official website: http://www.sakado-jigenji.jp/
---
Here are more beautiful places for cherry blossom viewing in Kanto Region!
▽Subscribe to our free news magazine!▽

What are you waiting for before exploring Saitama during cherry blossom season?
For more information on what to see during spring in Japan, check these articles below, too!
▽Related Articles▽
▼Editor's Picks▼
---