Sakura Food and Drinks in Japan 2022
Best Cherry Blossom Food and Drinks in Japan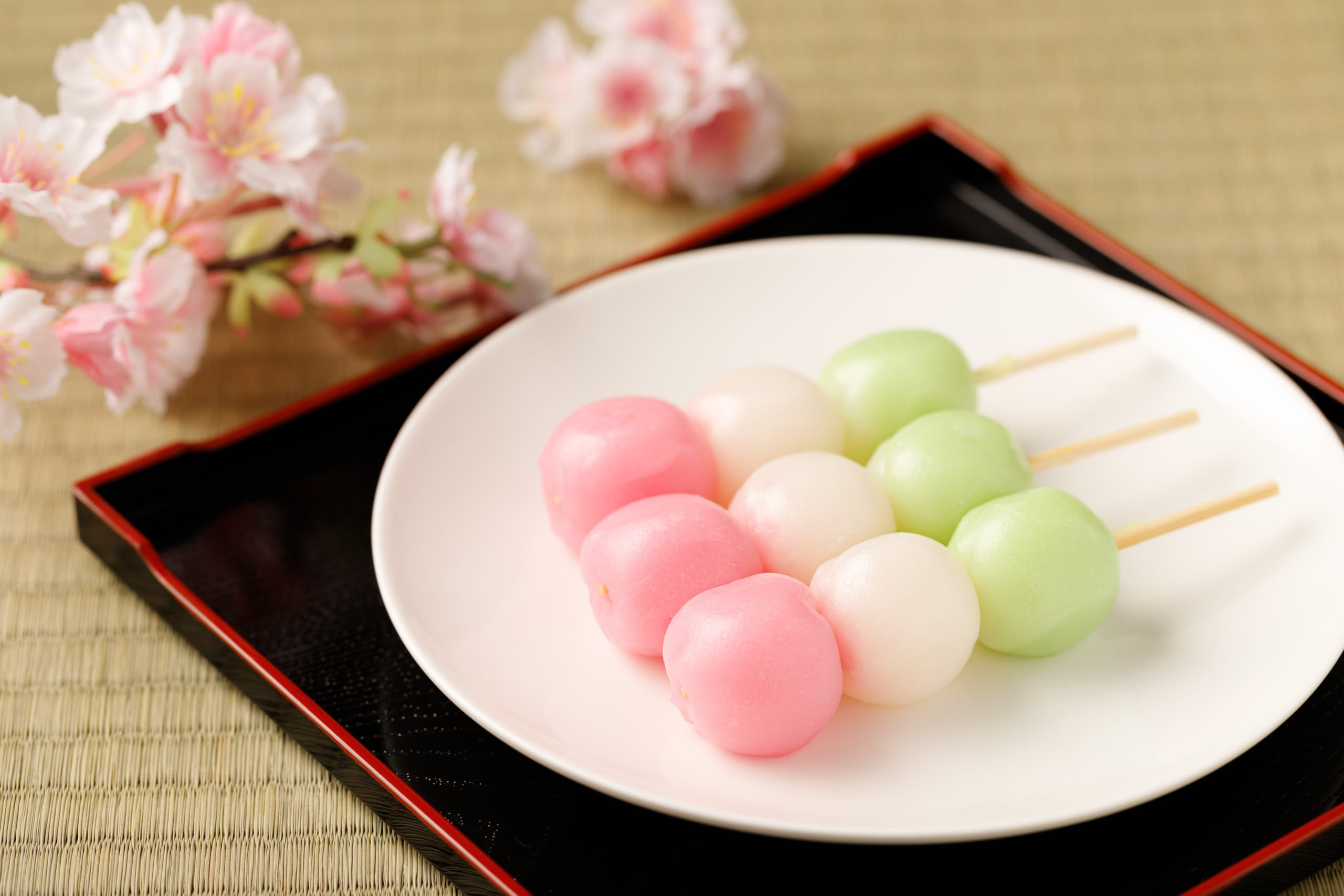 In Japan you can enjoy cherry blossoms not only by viewing them but in several ways. Spring is without a doubt the peak season in Japan, since everyone loves the ephemeral beauty of the cherry blossoms, called sakura in Japanese. So every year numerous Japanese brands, shops and restaurants release sakura themed products for a limited time before or during the cherry blossom season. Especially, cherry blossom flavoured food and drinks are highly popular.
Here I'd like to introduce some of the best Sakura food and drinks released in Japan this spring 2022. So if you are in Japan in this season, indulge yourself with beautiful cherry blossoms as well as delicious cherry blossom food and drinks, only available this time of the year!
---
-Starbucks Japan
Every year Starbucks Japan releases limited-time cherry blossom merchandise, drinks and food and they are extremely popular among Japanese and foreigners. This year the Sakura drinks are Sakura Strawberry Sticky Rice Cake Frappuccino & Sakura Cassis Strawberry Shiratama Frappuccino (cold) and Sakura Blooming Milk Latte (hot).
You can check more details about Starbucks Japan Sakura Collection 2022 including spring-limited beverage and cherry blossom theme merchandise.
-STARBUCKS RESERVE® ROASTERY TOKYO
The largest Starbucks store in Japan, STARBUCKS RESERVE® ROASTERY TOKYO is offering exclusive cherry blossom themed drinks, pastries and merchandise. The products are different from the ones in Starbucks Japan and they can't only be find in the store located in Meguro.
See more details about 2022 Sakura Collection of STARBUCKS RESERVE® ROASTERY TOKYO
-Lindt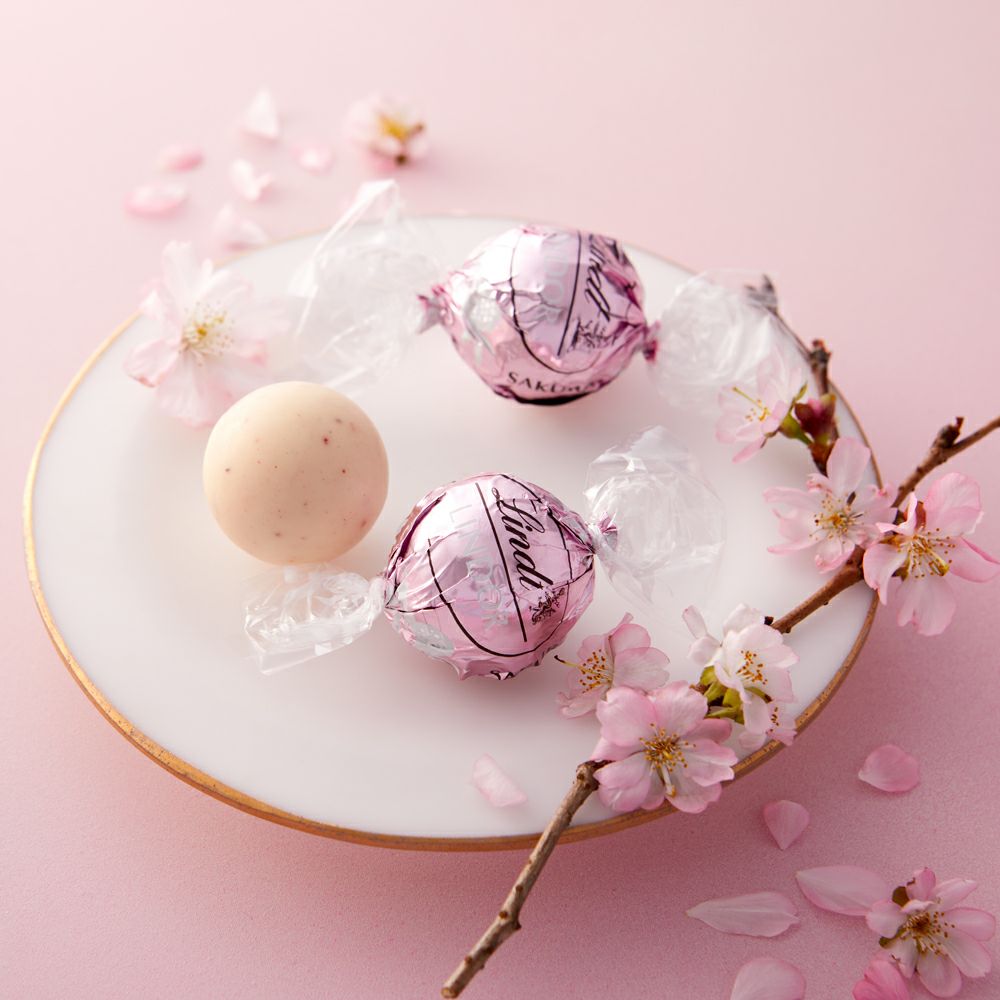 The worldwide famous Swiss chocolatier, Lindt offers in Japan some exclusive flavors of its popular LINDOR chocolates, such as a green tea flavor. It also offers some time-limited flavors as LINDOR Sakura & Cream, a special edition for the cherry blossom season. A white chocolate with strawberry-powder cover and cherry blossom cream filling.
Price: 993 yen (10 pieces)
-Pocky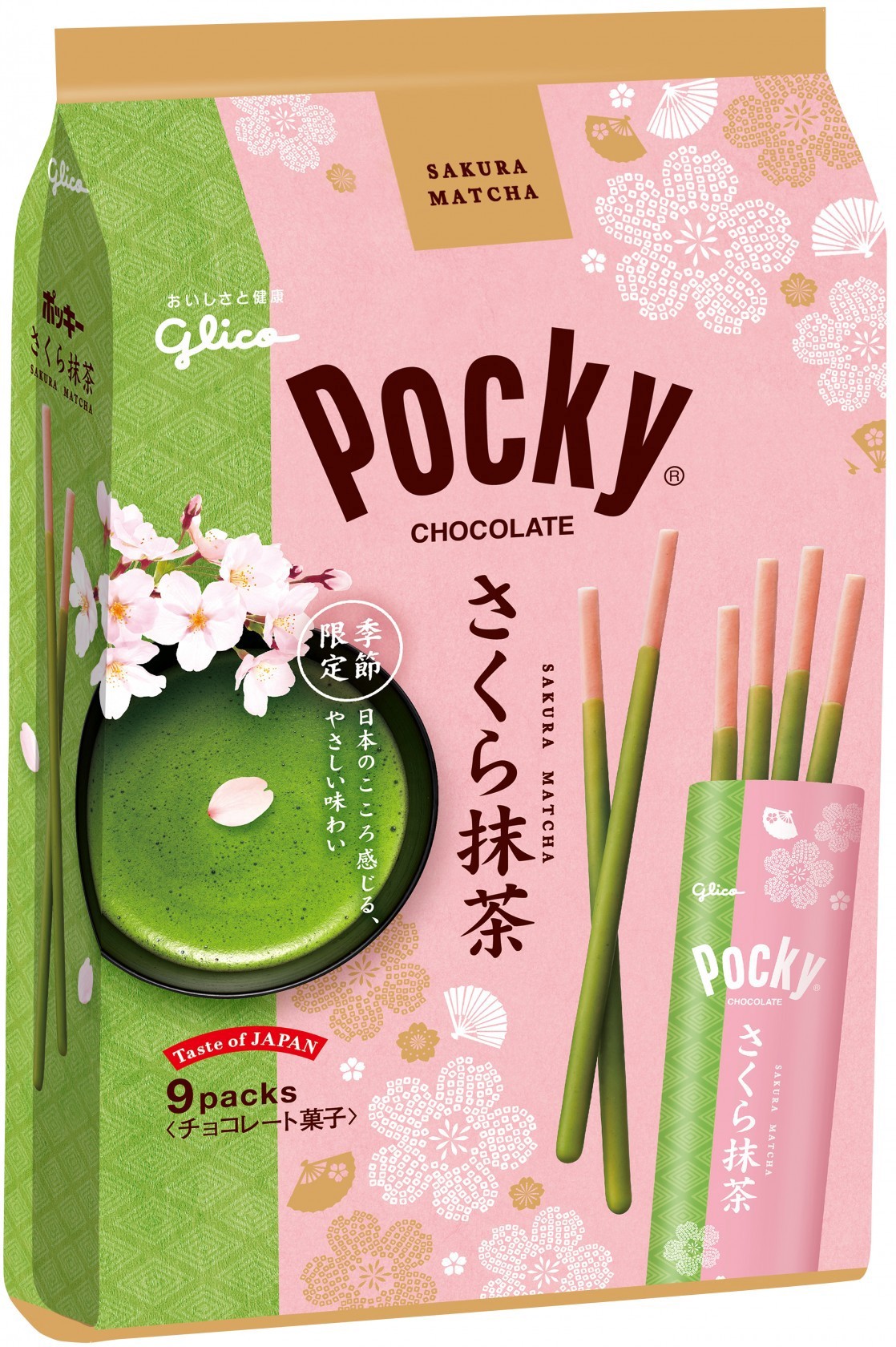 The best-selling chocolate snack Pocky by Glico sells their most loved product by customers in Spring. Pocky Sakura Matcha is a limited-edition flavour only available during sakura season. The pretzel stick is flavoured with cherry blossom and covered by Uji matcha chocolate. An irresistible combination of two of Japan's most traditional flavors.
-Tully's Coffee Japan
Tully's Coffee Japan has surprised its customers this year with a time-limited cherry blossom collection, collaborating with Tom and Jerry cartoons. Called "Tom and Jerry Sakura Dance Special Coffee Time", the collaboration have cherry blossom latte and tea served in original cute design cups.
You can check more details about Tully's Coffee x Tom and Jerry Collection 2022 including spring-limited beverage, food and cherry blossom theme merchandise.
– Starbucks® Spring Blend
If you're thinking you'd like to enjoy Starbucks' delicious Sakura Latte even at home or at the office, I have good news for you. Starbucks Spring Blend is a spring-only product developed to make coffee at home with a gorgeous Spring-taste available at supermarkets and online shops other than Starbucks stores. They are for different types of products, including a collaboration with Nestlé to its Dolce Gusto coffee machine, Sakura Latte capsules.
And while supplies last, they sell a set with a bag and a reusable cup with cherry blossom motifs!
– Q-pot CAFE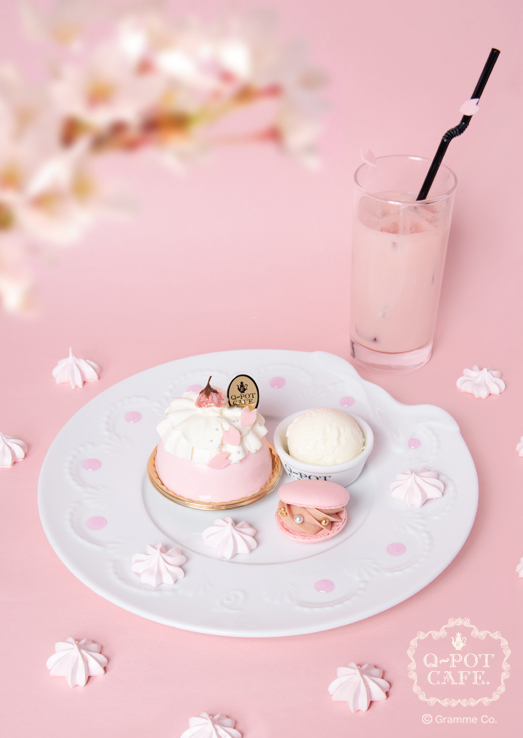 Q-Pot Cafe is a lolita-style sweets jewelry brand with a store in Omotesando. In front of the store they also have a cafe, Q-pot CAFE, where they serve drinks and sweets inspired by the jewelry in their collection. It's famous for its multiple collaborations, such as the Sailor Moon one. For this season they are releasing a super cute soft pink cherry blossom mousse made of pistachio, strawberry and almonds inside, served with a cherry blossom flavored macaron and salted milk ice cream. The plate is decorated with cherry blossom merengue in the shape of cherry blossom leaves. You can accompany this delicious plate with a sakura berry tea.
Price: 2.100 yen (plate)/ 850 yen (drink)
-Godiva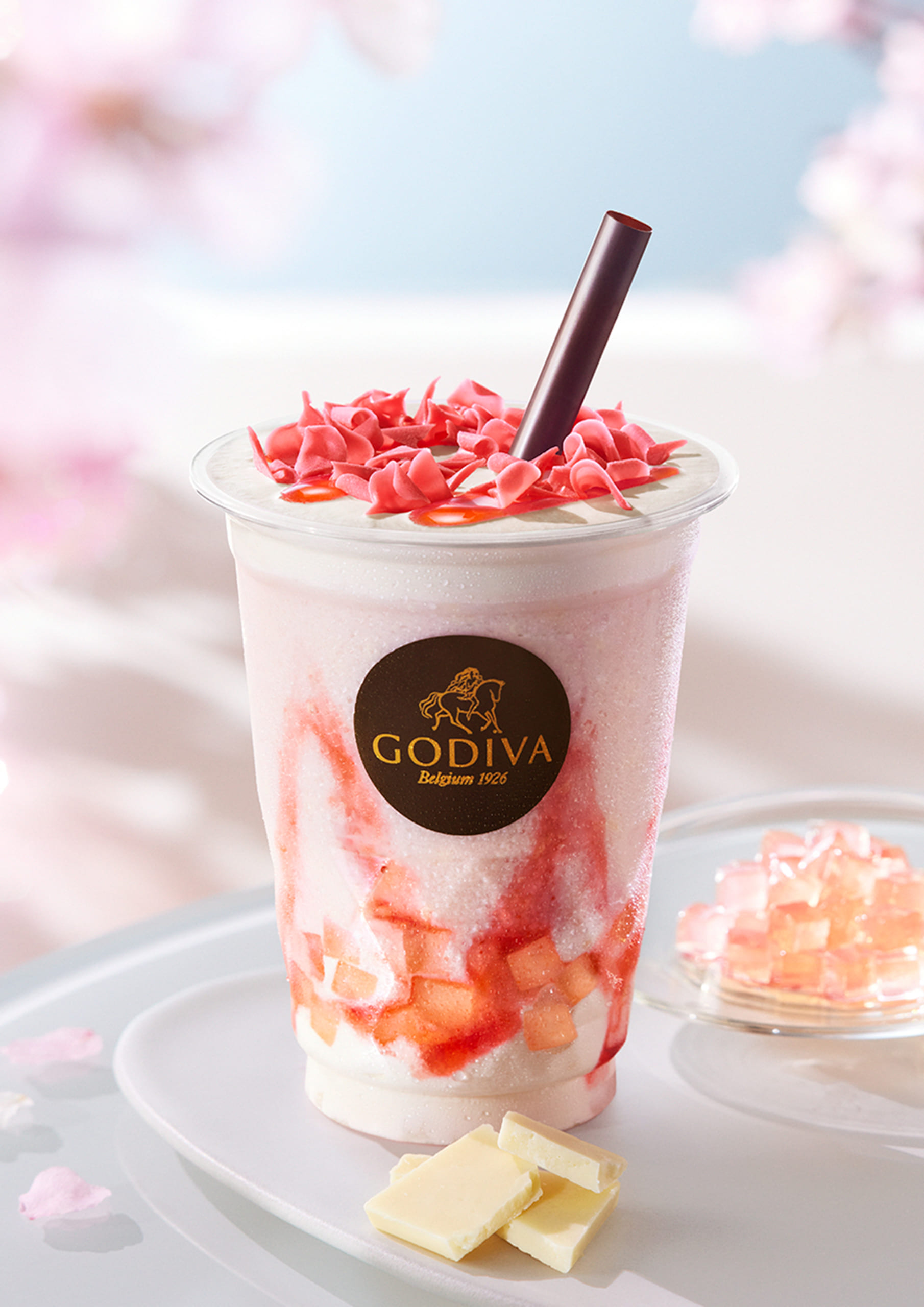 The popular Belgian chocolatier, Godiva offers the spring-only cherry blossom flavoured white chocolate drink. "Sakura Blooming Chocolixer" is a frozen drink with a gentle and fluffy scent of cherry blossom and white chocolate. The whipped cream is topped with pink chocolate chips that look like the petals of cherry blossoms, and in the inside you will find cherry jelly and cherry sauce.
Price: 680 yen (regular size)/ 780 yen (large size)
-Flower Miffy Juice Garden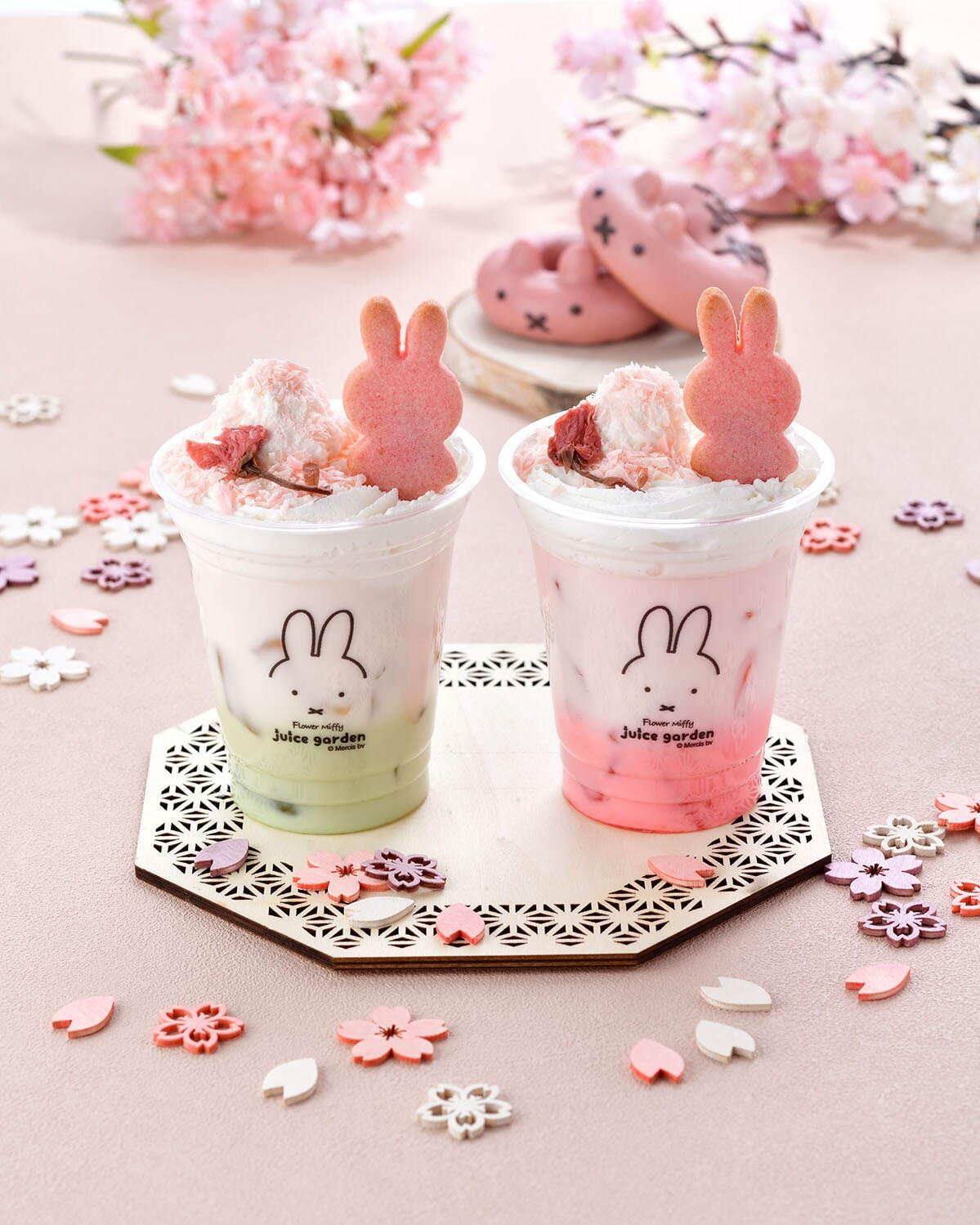 The drink stand "Flower Miffy Juice Garden" produced by the flower shop "Flower Miffy" will release "Sakura Slightly Drink" at the Asakusa store from March 1, 2022. Miffy is a picture book character born in the Netherlands, and in Japan she have their own flower shop called "Flower Miffy".
There are two types of drinks, strawberry flavor and green apple flavor (sorry, is not green tea!). Both drinks use a cherry-flavored milk and have a mountain of whip with a shaved sakura-colored chocolate and salted cherry blossoms topping. It comes with a decoration on top of a super cute Miffy shaped cookie.
Price: 648 yen
-Mister Donut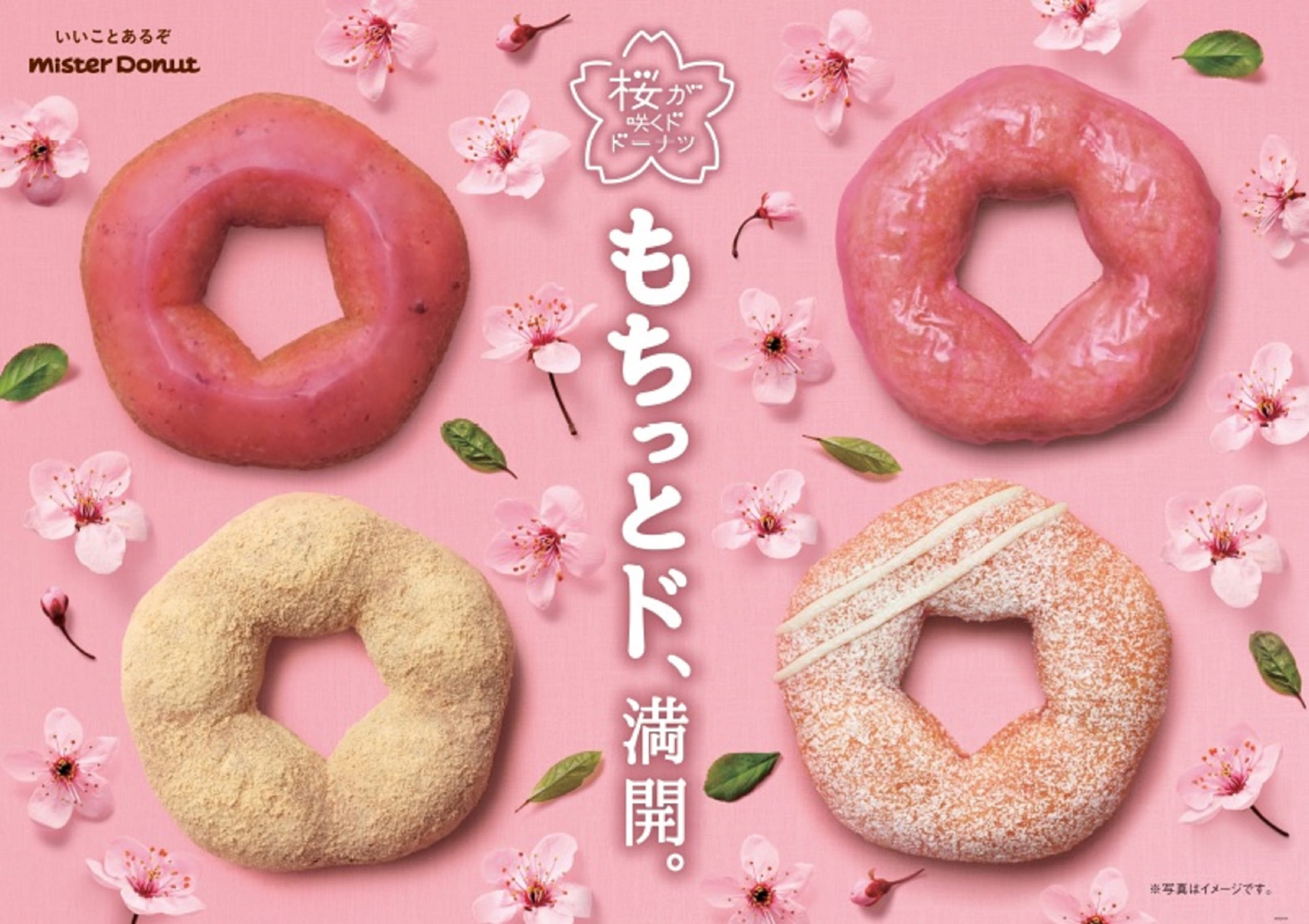 This year Mister Donut choose a combination of sakura bean paste and kinoko (roasted soybean powder) for their spring doughnut collection "Cherry Blossom Blooming Donuts Series". A classic but delicious combination bringing together two of the most traditional elements of Japanese sweets. Sakura Mochitto Doughnut is a mochi-textured cherry blossom flavour doughnut available with 4 different toppings and filling.
Check this article for more information about this serie.
-MINI SOF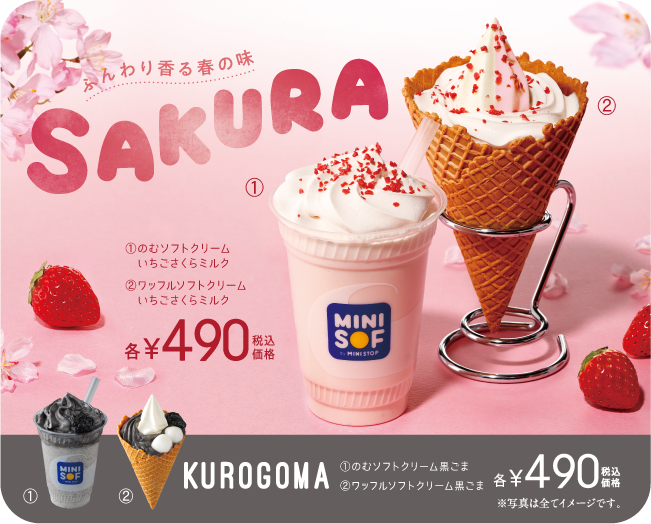 The convenience store franchise chain operated by AEON group Ministop, have a soft serve speciality store MINI SOF where they sell simple but delicious soft cream drinks and waffle wrapped ice creams. For Spring 2022 they are including two special flavours in their menu: strawberry cherry blossom-flavored milk and black sesame.
For the Sakura version flavor they use a mix of strawberry sweetened with condensed milk ice cream finished with whipped cream and cherry blossom syrup. On top it's sprinkled with flake-shaped freeze-dried strawberries.
Price: 490 yen
-PABLO
PABLO is well-know to have one of the best freshly baked cheese tart in Japan. Their star product is their PABLO mini, a small version of their cheesecake, perfect for a little treat without feeling too guilty. In addition to the original plan tart, offer a wide range of flavors including some limited-edition. In Spring you can enjoy their Sakura Mochi tart, a classic mini cheese tart topped with soft mochi paste mixed with Sakura leaves flavour.
Price: 300 yen
-THE ALLEY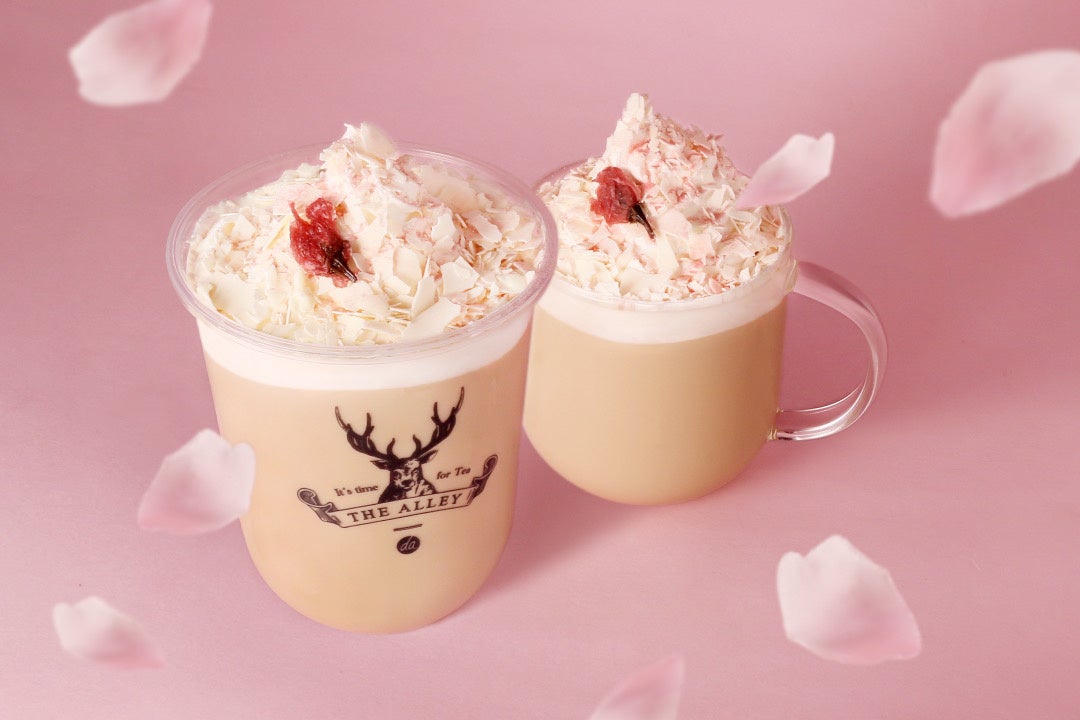 One of the most popular tea stands in Japan, THE ALLEY offers a variety of tea using carefully selected naturally roasted tea leaves and their own sugar cane syrup. Their Spring-edition tea is "Sakura-scented Royal No. 9 milk tea" which is a cute and photo-worthy drink inspired by the petals of cherry blossoms dancing in the spring breeze. The base is made of the popular tea leaf royal No. 9 milk tea with a cherry syrup pickled and a slightly fragrant cherry powder, topped with white chocolate. Available with hot and cold.
Price: 648 yen
-Lipton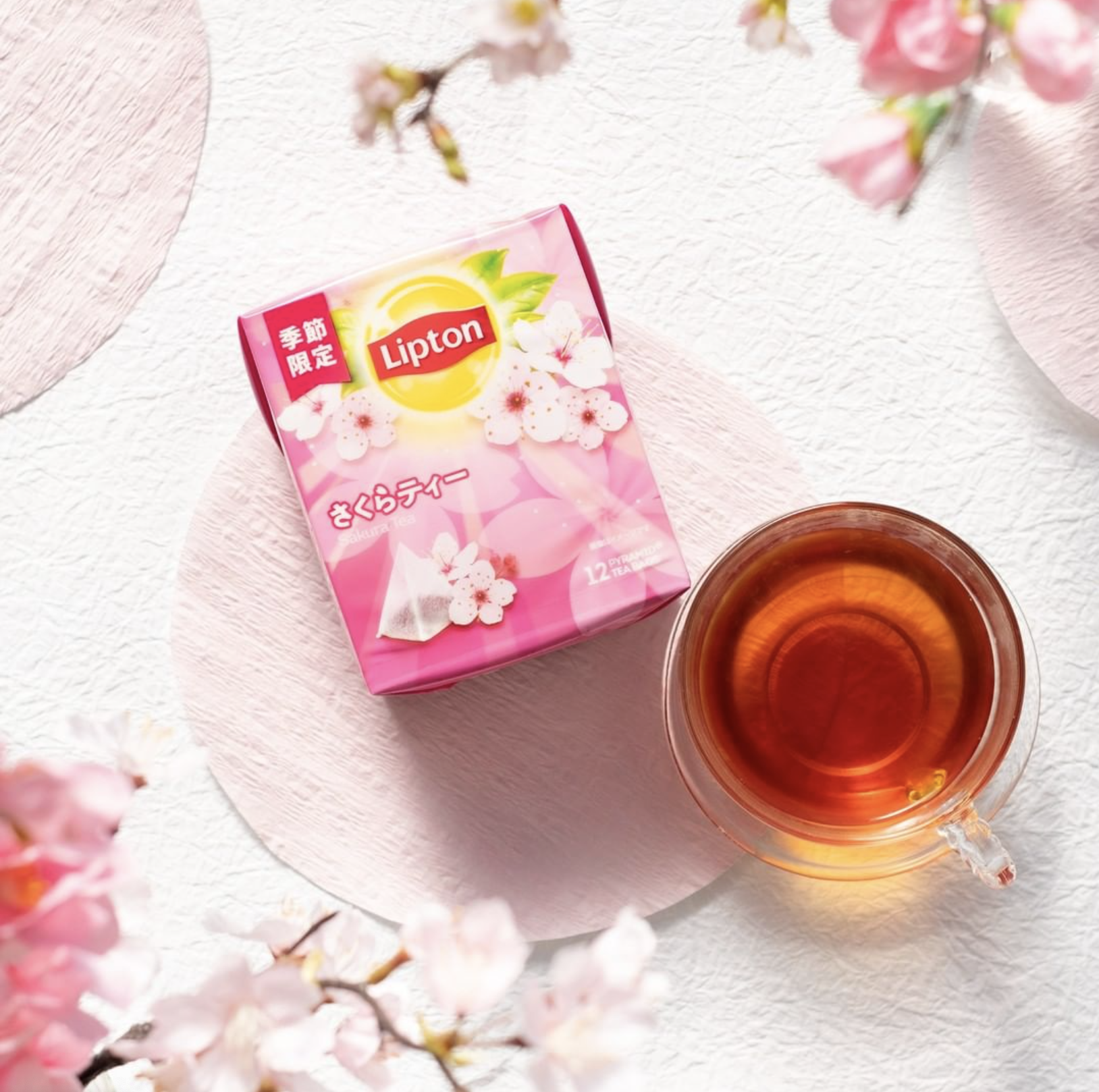 Lipton, the famous tea company, offers various unique flavour teas in Japan which are served as tea bags or drinks in paper containers. The spring-only "SAKURA TEA" is a rich and aromatic tea with the gentle flavour of cherry blossoms.
Price: 324 yen (12 tea bags)
-Mt. RAINIER
For busy people without much time but that still want to feel the taste of spring with a Sakura Latte, each year for this season Mt.RAINER launches their signature cafe latte with cherry blossom flavour. Mt.RAINER is the leading brand of chilled cup coffee in Japan with a good quality but affordable products, made with aromatic espresso and rich milk. For their Sakura Latte they add domestic cherry blossom leaf extract.
-Asahi Super Dry
Asahi Super Dry is the top-selling Japanese beer. In addition to its types of beers available throughout the year, they also have special beers for each season of the year. For the spring edition they release a limited-edition cans with a pink and cherry blossoms design. If you are planning go to a Hanami party with your friends, this is the perfect beer to bring!
▽Related Articles▽
▼Editor's Picks▼
---