What is Hanami?
How to enjoy view cherry blossoms in Japan as a local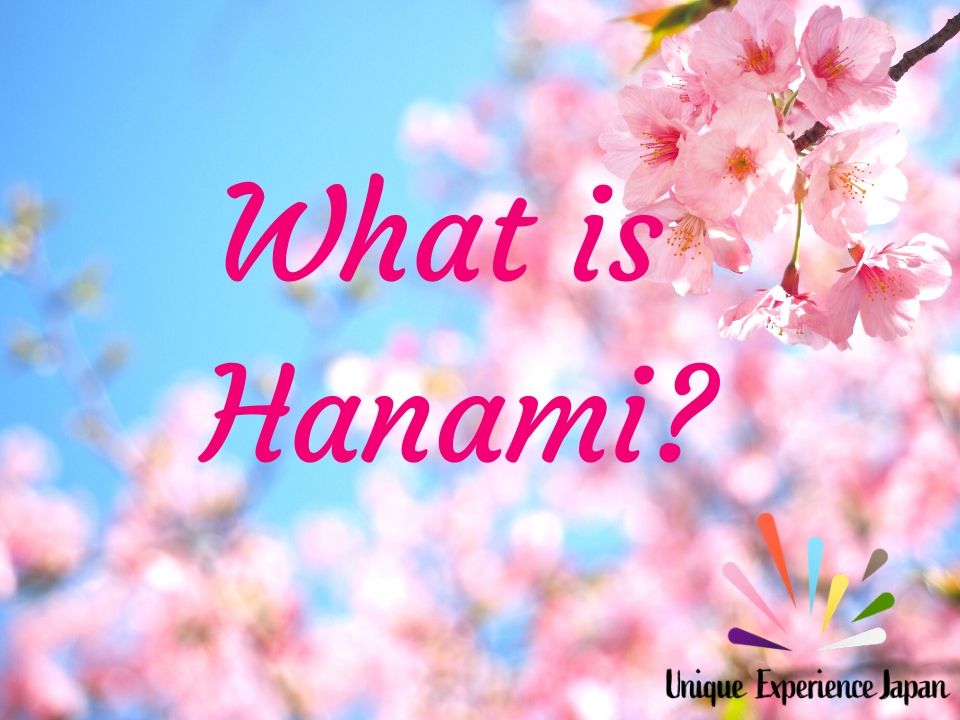 One of the biggest attractions of Japan for tourists is the season of cherry blossoms or sakura (桜・さくら). It has become almost another tourist attraction, which attracts millions of tourists every year. From south to north, the country is dyed pink and white colors. It's undoubtedly the most waited season (despite allergies).
Surely you have seen millions of photos of beautiful places full of cherry blossoms in Japan, and you may have heard of the word hanami, one of the words that Japanese people use most in spring. But do you know what that word means and what is hanami?
What is the Hanami?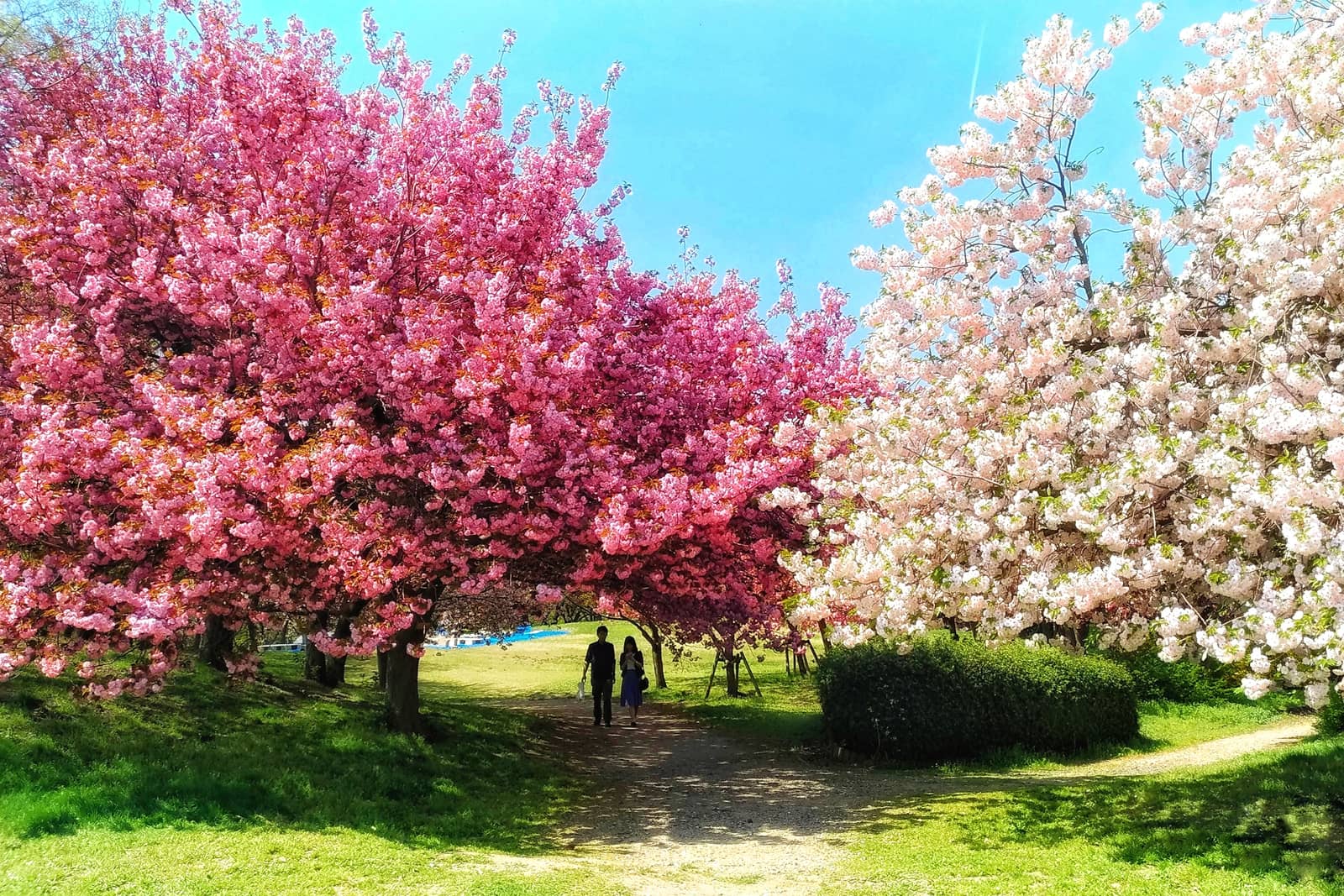 The word hanami (花見・はなみ) in Japanese is composed of the kanji "flower" (花) and "see/watch" (見), so the translation is quite simple: contemplate the flowers. Although the word refers more specifically to cherry blossoms.
If something characterizes the Japanese is that they really know how to enjoy small things and nature. They give a lot of importance to the ephemeral and to live every moment or season. For example, in October there is the momiji-gari that consists of going for a walk or excursion to enjoy the redness of the leaves and in spring there is the famous hanami. Momiji-gari is easier to enjoy because it lasts several weeks, but for example the hanami lasts only a few days since it's done just at the moment when the cherry blossoms are at their maximum splendor, and these flowers tend to fall a few days later. But precisely because it lasts so short, because it's ephemeral, it's so beautiful.
Foreign tourists aren't the only ones who are attracted to the cherry blossom season in Japan. In spring we can see the parks and gardens of Japan full of Japanese having a picnic, enjoying cherry blossoms with family, friends or co-workers. This is what is known as "go for hanami" or "do hanami", not only to contemplate the flowers while you are on the way to work or school but to meet with your important people and enjoy a walk or picnic under the flowers.
It's a scene that appears in many anime, manga or doramas. It's also common for some people to end up drinking too much and play some funny scenes, although obviously they're not all. You have to go very early in the morning if you want to get a good place, (especially if it's done on the weekend) and people usually stay there until the afternoon, before it starts getting dark.
When to enjoy the Hanami?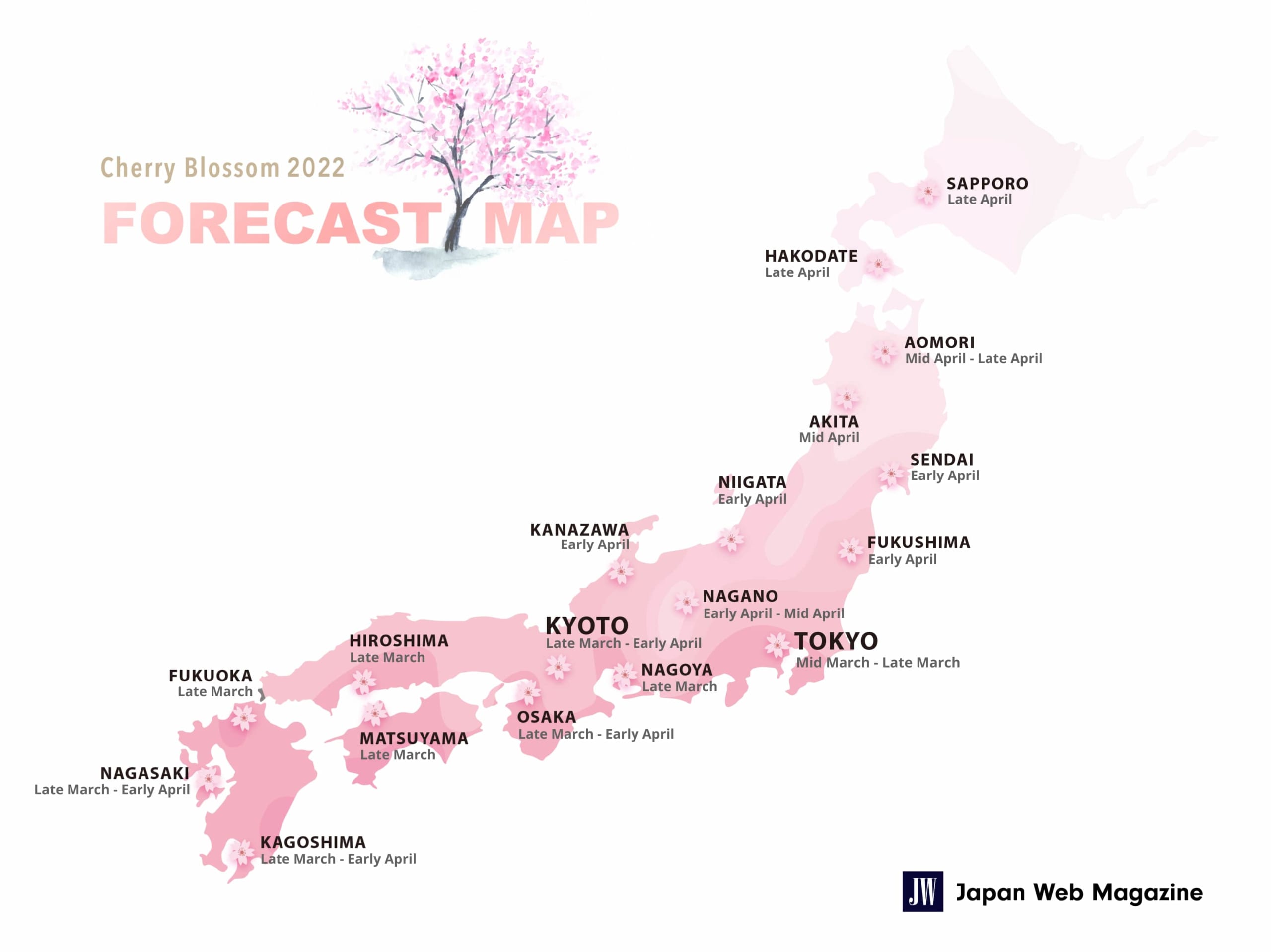 As I explained above, unlike what happens with momiji, which appears slowly and stays for several weeks, cherry blossoms appear and disappear relatively quickly. In the previous map you can see the dates of when they begin to bloom, approximately. However, the best viewing time it is not until 5 -7 days after the first bloom, when the cherry blossoms reach their maximum splendor. The full blooming period can be enjoyed for about one week, depending on weather condition as rain.
But even knowing this, it's difficult to accurately predict the best time to see cherry blossoms since the first bloom date depends on weather conditions around spring of the year. Also as you have seen in the previous maps, it depends a lot on what area you are in. Normally flowering begins from south to north of the country, unlike the momiji, which is from north to south. This means that in the southern zone the cherry blossoms begin to bloom before, usually for March, while in the northern zone they bloom towards May, being there the last place where you can find them.
We are updating cherry blossoms information every season. If you want to keep updating Japan's spring information, please like and follow our Instagram account: https://www.instagram.com/japanwirelesstokyo/ or save in favorites this article: Japan Cherry Blossom Forecast
For more info about when to enjoy cherry blossoms: Cherry Blossom Forecast in Japan: When is the Best Time to View Sakura

Where to enjoy the Hanami?
If cherry blossoms are so famous in Japan it's partly because of the large number of places throughout the country where you can enjoy this beautiful beautiful spectacle of nature. Some of the places are truly beautiful and leave you breathless. Unfortunately, many of the best sites are far from the main tourist cities or a car is needed to access. On our website you can find many articles with several of the best places to see cherry blossoms in Japan. However, in this article I'm going to focus only on Tokyo and Kyoto, since they are the two main tourist cities and in a short trip probably you don't have time to go far places. But don't worry, Tokyo and Kyoto have also really beautiful places so you can enjoy the main tourist spots and the cherry blossom viewing at the same time!
Tokyo
Tokyo is a large metropolis full of huge skyscrapers, neon lights, train stations and people. So perhaps you may think that it's not the best place to enjoy cherry blossoms, but that is not true. The fact is that the capital of Japan has a lot of beautiful places to enjoy cherry blossoms or go for a hanami. In this list I will show you my 5 favorite places after more than 3 years living in the city!
For more cherry blossoms spots in Tokyo you can check this article too:
▶︎Tokyo Sakura Guide: Best Hanami Spots in Tokyo
▶︎15 Best Places to See Cherry Blossoms in Tokyo
Ready? These are my 5 favorite sites in Tokyo for enjoy cherry blossoms!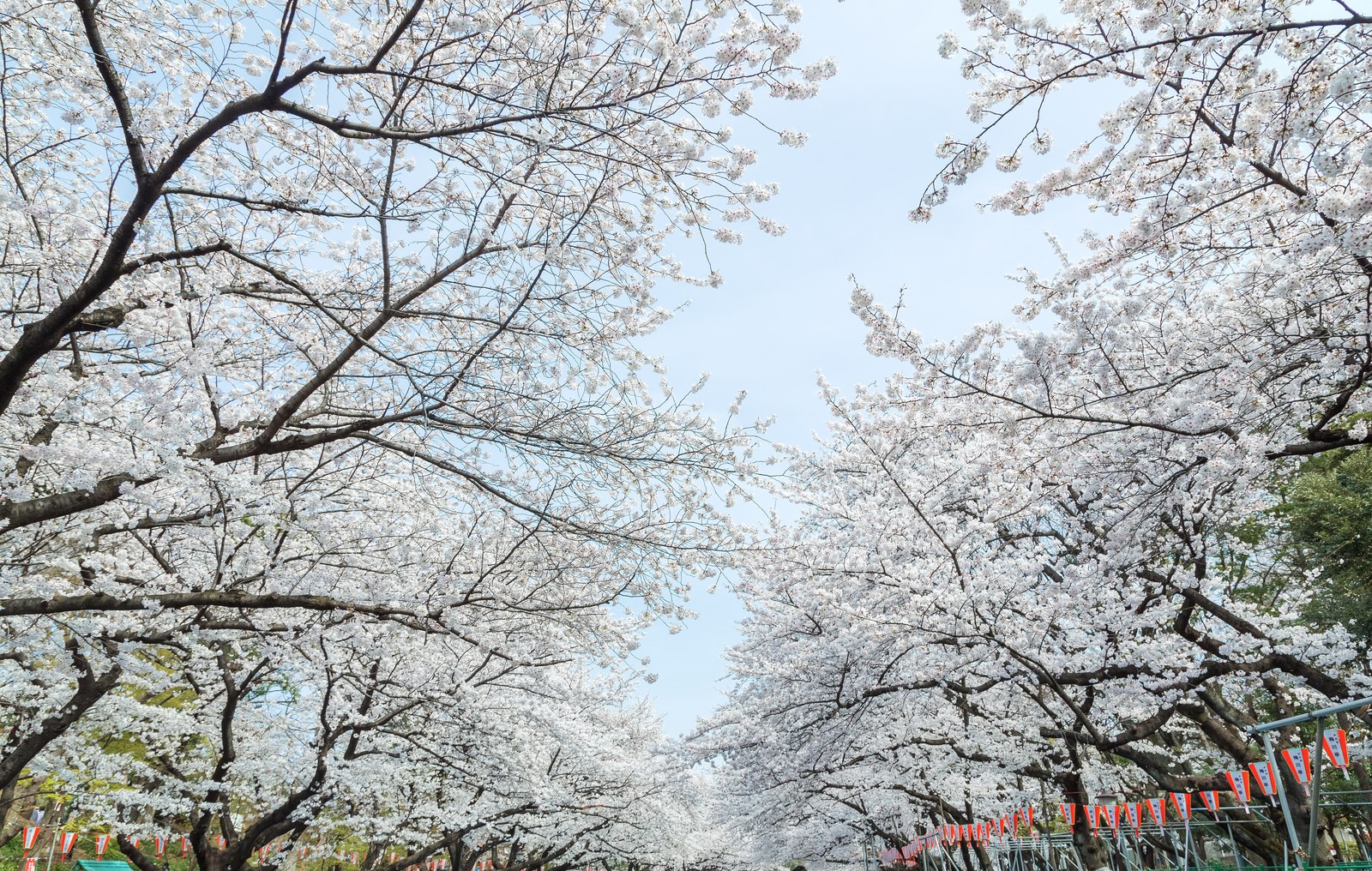 Ueno Park is one of the largest and most famous parks in Tokyo. Many families go there throughout the year, but especially in the time of the hanami its popularity increases and is the site preferred by many tokyoite. Its strong point is the nearly 1000 trees along the main street until you reach the Tokyo National Museum. Another favorite point is the Shinobazu pond. Here you can take pictures of the cherry trees on the pond, or rent a small boat to walk around the pond and take pictures from inside.
For more details: Ueno Park Cherry Blossoms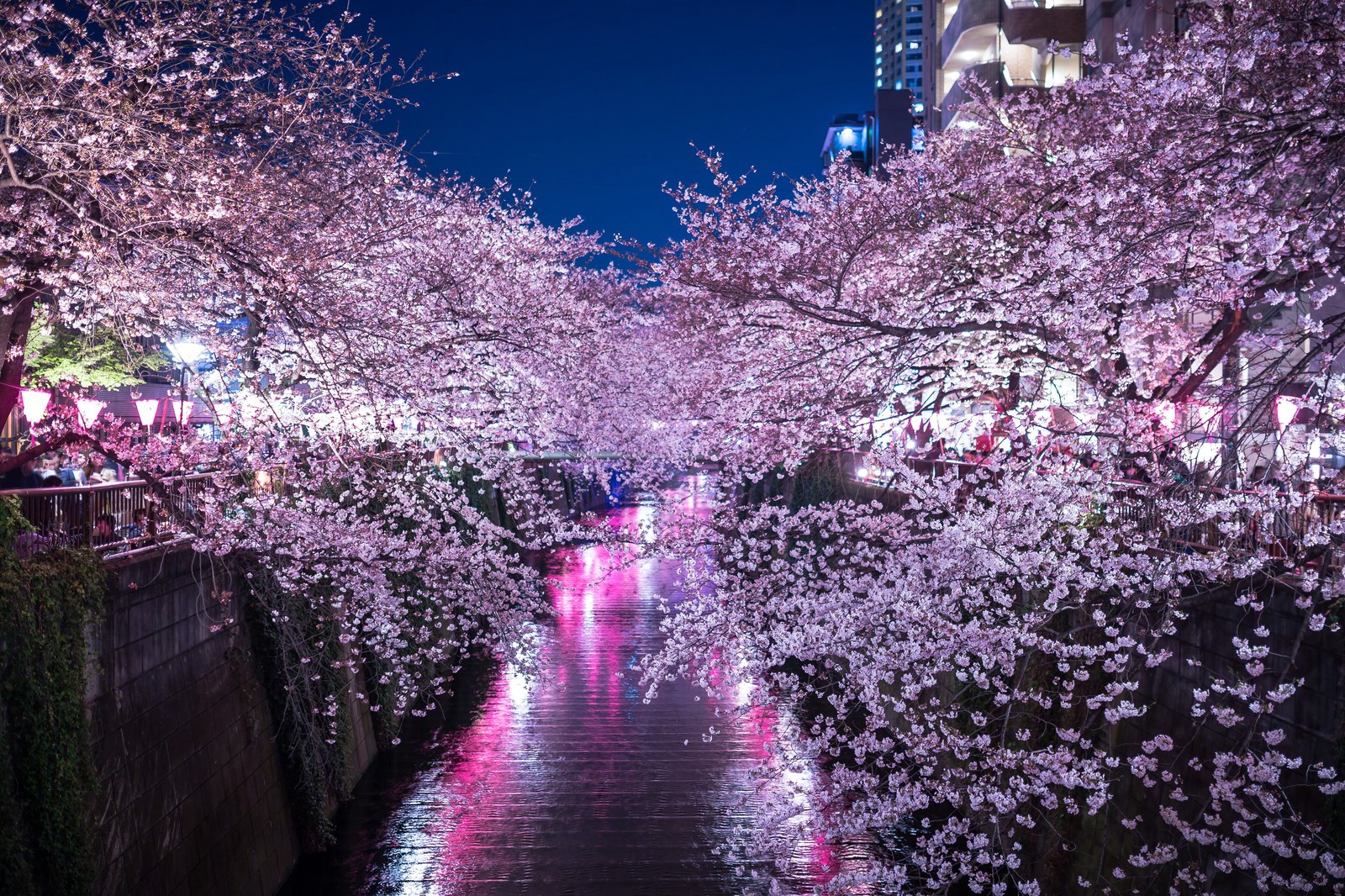 Along four kilometers of the Meguro River are more than 800 cherry trees, which offer a unique view of a canal surrounded by cherry blossoms. This area is even more beautiful at night when the trees light up, making it one of the favorite places of the Japanese on this date to go on a date.
For more details: Meguro River Cherry Blossoms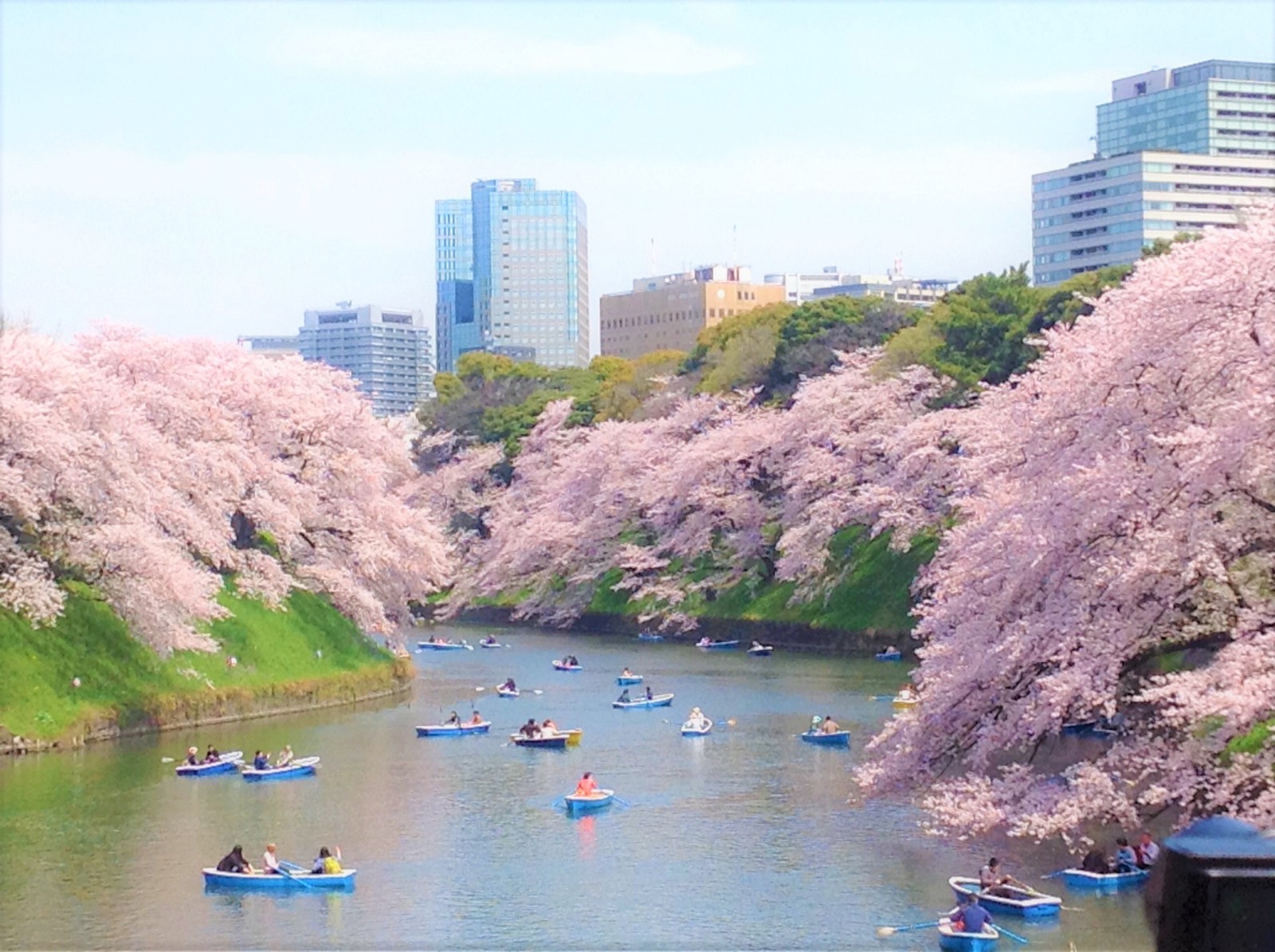 Hundreds of cherry trees decorate the moats of the old Edo Castle in the vicinity of Kitanomaru Park, creating one of Tokyo's most beautiful images in spring. There are boats available for rent, but picnics are not allowed on the lawn. Visitors can go to the nearby shrine of Yasukuni, with another thousand cherry trees. Also for these dates they put food stands in the sanctuary. At night, the cherry trees surrounding the river light up.
For more details: Chidorigafuchi Cherry Blossoms
4th: Jindaiji Temple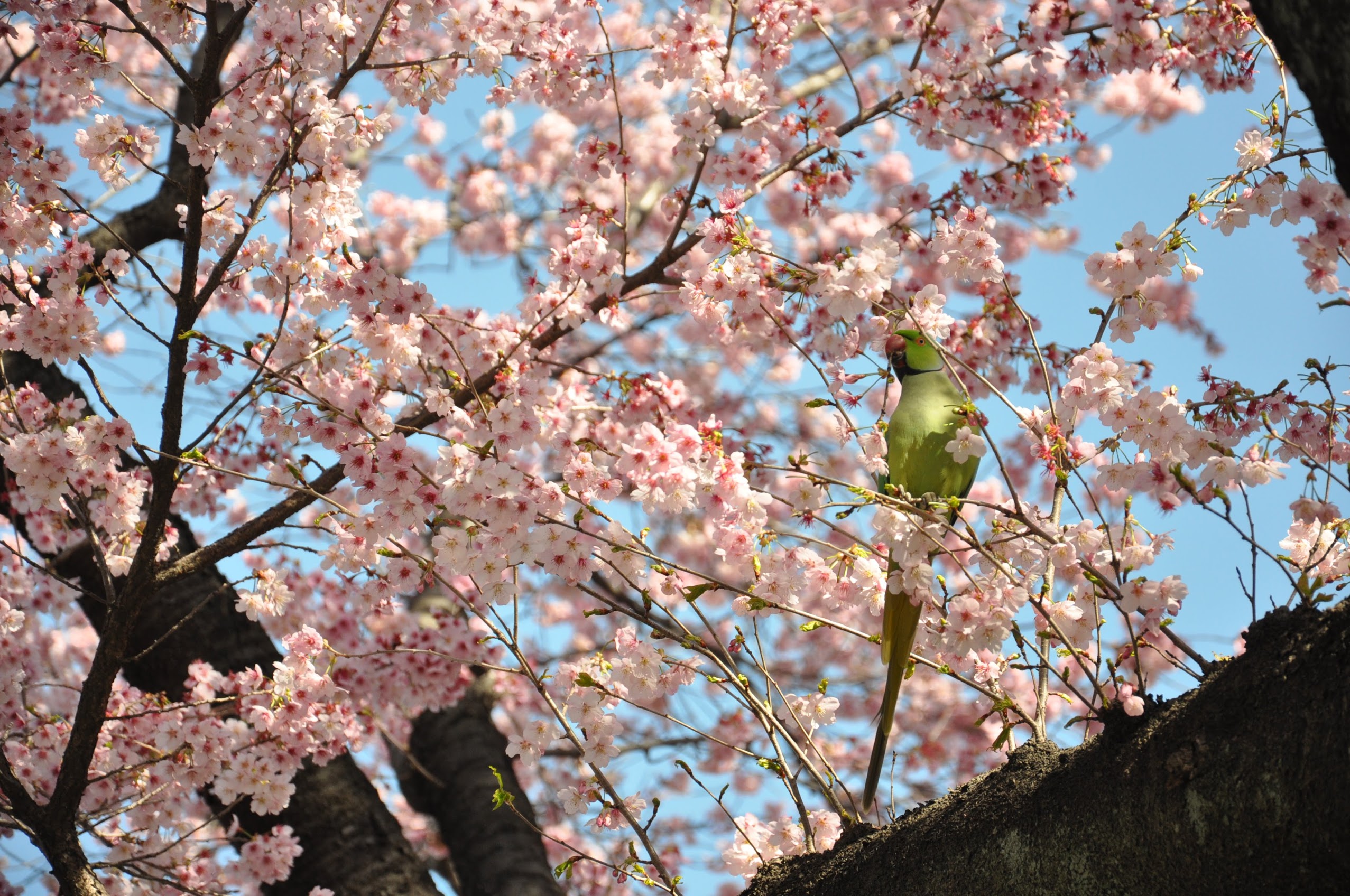 Being the most populous city in Japan, seeing cherry blossoms in Tokyo can be a bit overwhelming. The main cherry blossoms view spots are always crowded, and it's difficult to take good photos or relax while enjoying cherry blossoms. If you are looking for a quieter and less known place, the Jindaiji Temple and its surroundings is a good option.
In addition, to have a more complete and unique experience, I highly recommend you book this tour, which in addition to showing you the Jindaiji Temple and the neighborhood by the hand of a local Japanese expert includes a visit to a vast botanical garden which has roughly 100,000 plants of 4,500 types, practicing ceramic painting, try the delicious Jindaiji Soba noodles and much more!
Book the tour now with my exclusive coupon "5DC2FHGN" and get 1,000JPY discount!!▶A Cultural and Spiritual Experience @Jindaiji Temple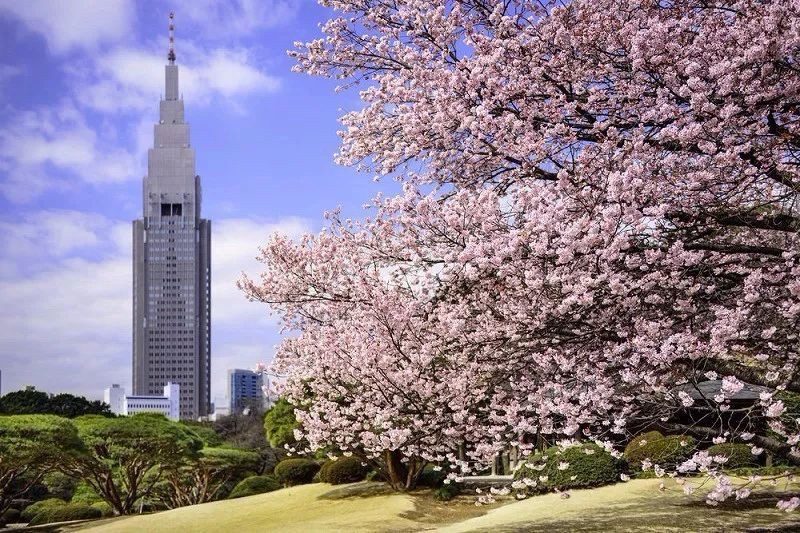 The Shinjuku Gyoen or Shinjuku National Garden, being paid, is less crowded than the other parks such as Ueno or Yoyogi. It's a good place to go to enjoy cherry blossoms in spring. It has three types of gardens: Japanese, English and French garden.
For more details: Shinjuku Gyoen Cherry Blossoms
Kyoto
The ancient capital of Japan is undoubtedly one of the most beautiful cities in the country. In spring, the combination of cherry blossoms and Kyoto's historical places makes it one of the most popular and beautiful cities for cherry blossom viewing in Japan. There are many places where you can enjoy cherry blossoms, but with a trip of two-three days to enjoy the city there is no time to see them all and maybe you are wondering which are the best places. Next I will show you my 5 favorite places to see cherry blossoms in Kyoto.
If you want to know not only my favorite places but 13 best places please read this article:
▶︎13 Best Places to See Cherry Blossoms in Kyoto
Let's check my list of the most recommended cherry blossom viewing spots in Kyoto!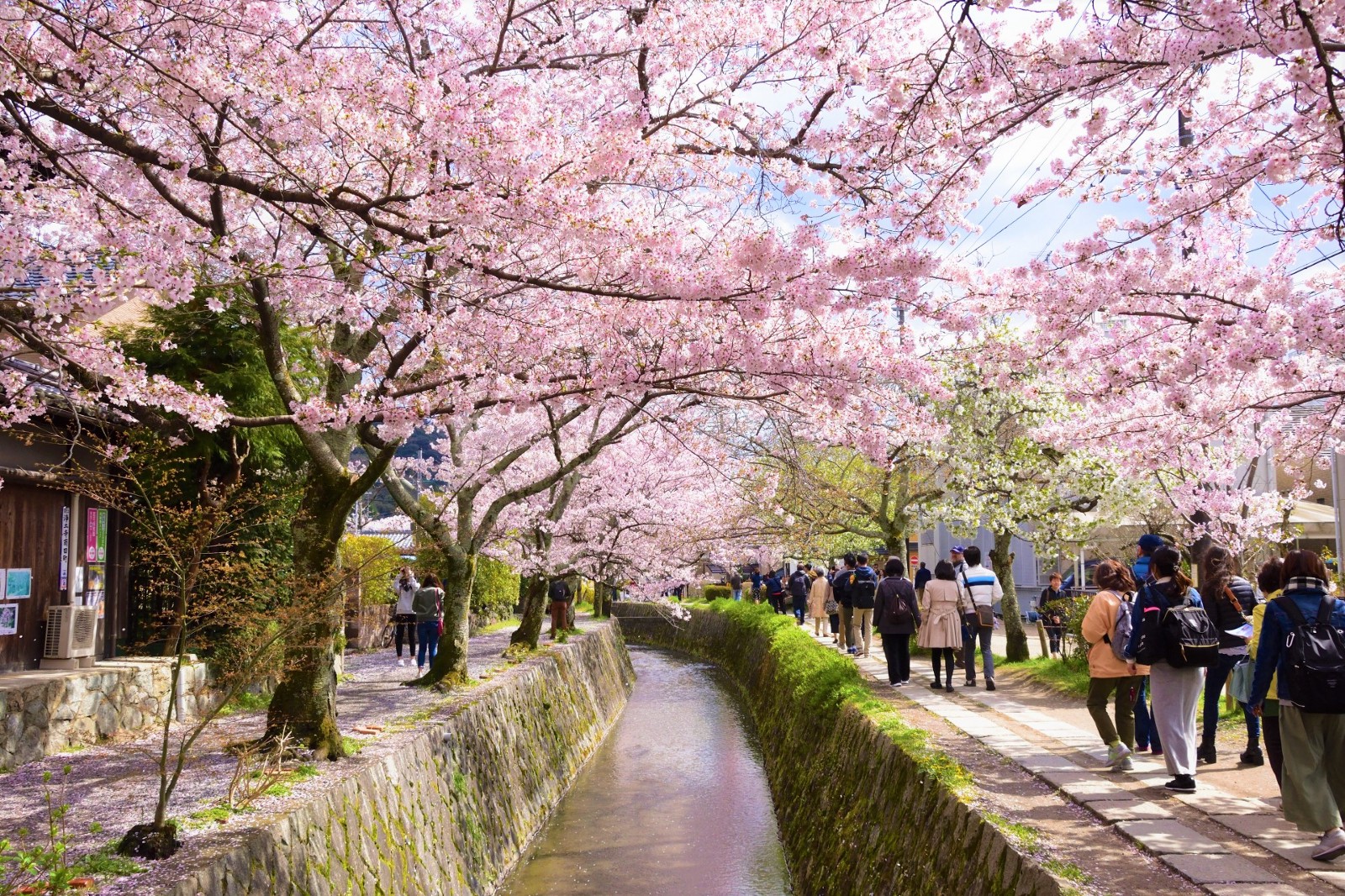 The Philosopher's Path is a stoned paved walking trail and is probably the most popular cherry blossom view spot in Kyoto. The approx 2 km stoned path along the canal is lined with over 500 cherry blossom trees and visitors can enjoy a pleasant walk under the cherry blossom tunnel.
For more details: Philosopher's Path Kyoto Cherry Blossoms
If you don't have much time in Kyoto and want to enjoy as much as possible, a good way to save time is to let yourself be guided by a local expert. In addition to teaching you popular sites such as the Philosophers' Path or the Ginkakuji temple, on this tour you can visit other lesser-known temples and shrines, secret corners of Kyoto and even a cool cafe and a gallery.
Check out the link below for more details about the tour, and don't forget to use the exclusive coupon code "5DC2FHGN" available ONLY for my readers!
A Chilling Walking Trip at the "Philosopher's Path"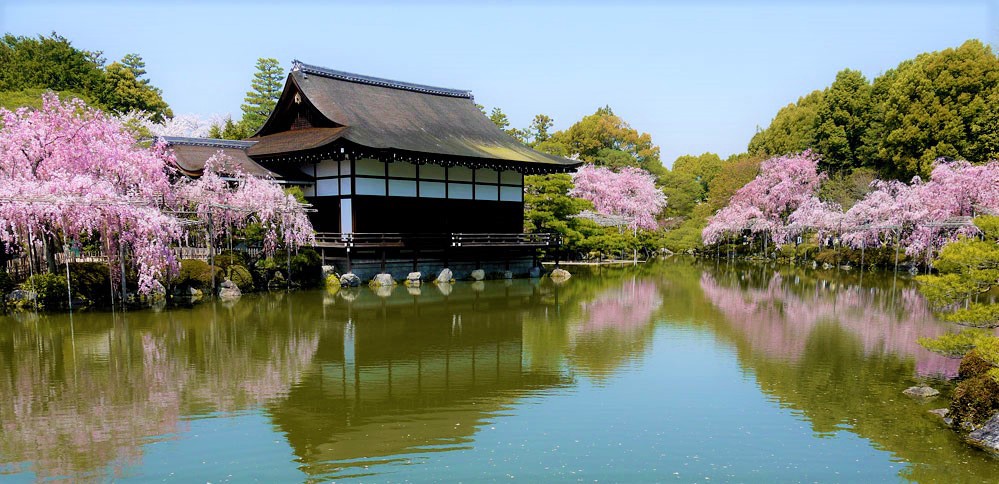 Heian shrine is one of the most important shrine in Kyoto and a popular cherry blossom viewing spot. Heian shrine is not only a normal shrine, but also a beautiful garden. In spring large numbers of weeping cherry trees are planted in the garden of the shrine. Also it's one of the best place in Kyoto to see the cherry blossoms at night.
For more details: Heian Shrine: Kyoto's Best Weeping Cherry Blossom Spot
3rd: Mt.Yoshino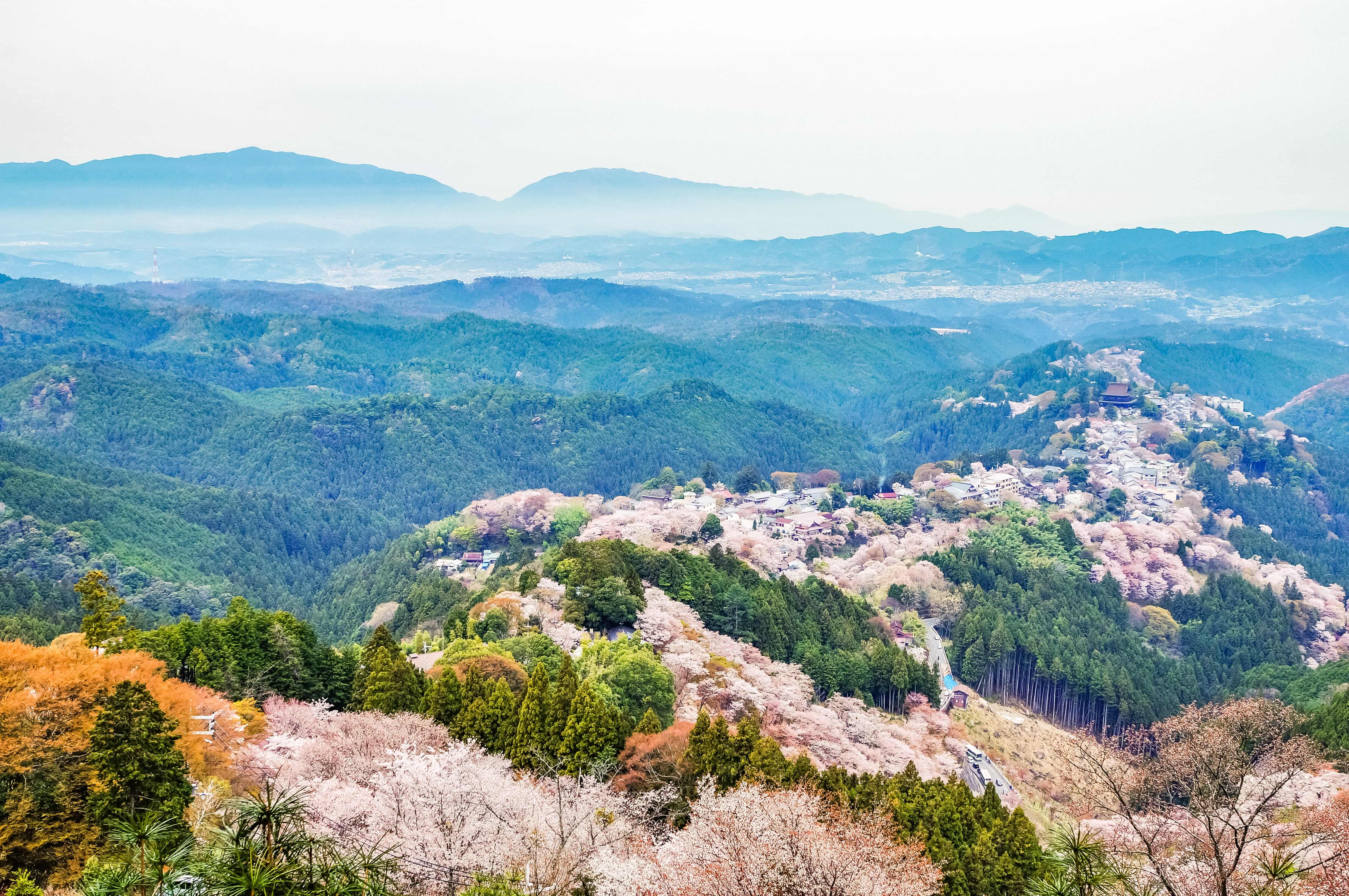 Mount Yoshino is located in Nara, near Kyoto. It's a spiritual place where monks used to practice to gain enlightenment. Registered as a UNESCO World Heritage, Mt. Yoshino has some of the oldest and most beautiful shrines and temples in Japan, such as the Yoshino Mizukake Shrine or the Kinshiyama Temple, both World Heritage places. And the view from the top is just speechless! Specially in spring, with the cherry blossoms in full bloom, the view are really amazing.
Something away from the city and known to very few, Mt. Yoshino is the perfect place for those who want to enjoy cherry blossoms in a calm place away from the noise and the crowd. But being a mountain, knowing the best route to reach the top or which route to follow for not miss the best temples and shrines can be complicated. That's why I recommend you book a tour and let a local expert guide you through the place.
Book the tour now with our coupon "5DC2FHGN" and get 1,000JPY discount!! ▶Climb a world heritage@Mt.Yoshino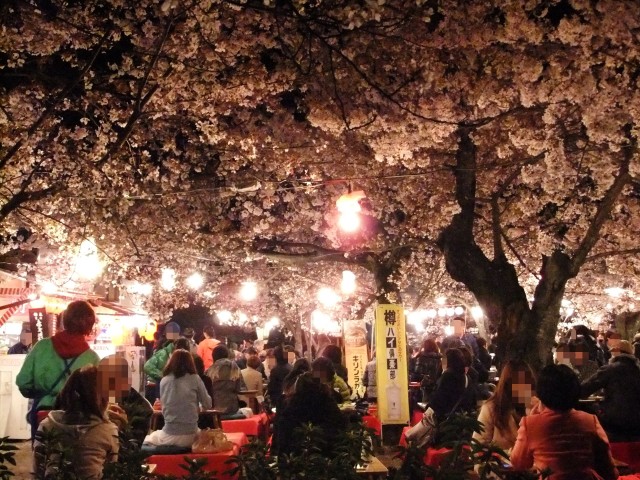 Maruyama Park is a public park really popular among Japanese for cherry blossom viewing in Kyoto. With over 680 cherry trees in the park including a significant massive weeping tree which is over 12 m tall, the visitors can enjoy the cherry blossoms viewing till late night.
For more details: Maruyama Park: Kyoto's Best Park for Cherry Blossom Viewing
5th: Arashiyama
Arashiyama is a city near Kyoto known for its famous bamboo forest, its monkey park and for having some of the oldest temples and shrines in Japan. But also because of the vision of the beautiful river that runs through the city, where there are usually small traditional Japanese boats taking tourists for city cruise.
During the spring the surroundings of the river are filled with cherry blossoms, leaving a beautiful image with the combination of flowers, the river and the small boats.
For other places: 5 Best Cherry Blossom Spots around Mt.Fuji
I hope my article has helped you to know and understand more about the sakura season in Japan. If you're in Japan this spring, don't miss the chance to going for a picnic in a park or joining some of the tours I have proposed and enjoying the hanami like a local!
---
About Unique Experience Japan
Unique Experience Japan is a tourism project that has come true by the collaboration beyond industry between a tour operator who provides unique tour experiences for visitors to Japan and media with the impressive knowledge of travel.
We have a strong will to provide one of a kind tours and activities for international tourists to have unforgettable travel experiences in Japan. To achieve the vision, we deliver tourist information in the form of the travel themes reviewed from the point of view like no one has done before, and provide tour plans to travellers to enjoy Japan according to each theme.
There are numbers of attractive places and experiences existing at various locations in Japan. Besides, visitors can have completely different experiences even at the same location by changing the timing or perspective of visiting. However, many of the attractions in Japan are not well-recognized by tourists yet, as most of them only visit classic or popular tourist destinations and did not reach such attractions during their trip. Our mission is to assist tourists to discover the wonderful diversity of unknown parts in Japan.
We believe that our vision and action will help you to enrich your travel experience in Japan.
For more information about cherry blossom and spring in Japan, please check this articles too!
▽Related Articles▽
▼Editor's Picks▼
---