Yokohama Ramen Museum: Best Place to Eat Ramen in Japan
Shin Yokohama Ramen Museum: Best Ramen Experience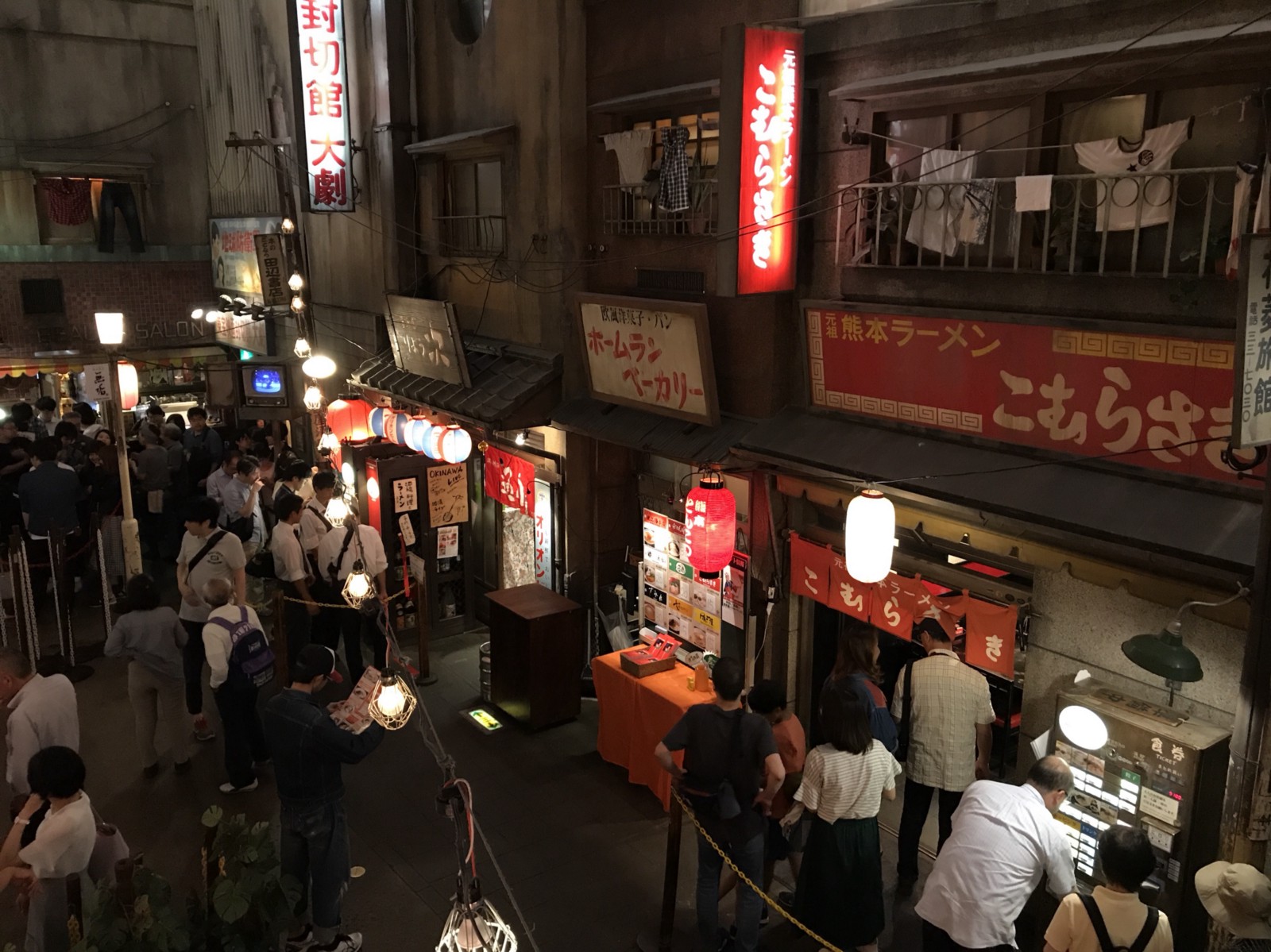 Yokohama Ramen Museum: Introduction and Review
---
– Introduction of Yokohama Ramen Museum
Shin Yokohama Ramen Museum (新横浜ラーメン博物館) is a food amusement park dedicated to Ramen which is located in Yokohama, Kanagawa Prefecture. Founded in 1994, Yokohama Ramen Museum has been offering various Ramen dishes from north to south Japan, so visitors can enjoy the taste bowls of great regional Ramen (Gotochi Ramen) without actually travelling there.
Only selected Ramen shops can be showcased at Yokohama Ramen Musuem, and every 3–12 months new shops come to replace others. This means the only very best of Ramen stores are curated in this museum. There are usually 8–9 Ramen shops there, and each shop offers a variety of Ramen dishes including vegetarian and Halal option.
The museum is themed as the old downtown of Tokyo from the post-war period, and visitors can enjoy the nostalgic atmosphere with an old-style bar and a few shops to buy traditional snacks and food. On the ground floor level, there is a souvenir shop where you can purchase instant Ramens.
-Yokohama Ramen Museum
Access: 5 mins away from JR Shin-Yokohama station
Hours: 11:00 to 22:00 (Open at 10:30 on Sundays and Holidays)
Cost:
Admission Fee, 310 yen (approx. $3).
An average of a ramen bowl would be around 8–1,000 yen.
Accessibility: Free Wifi is available. The ID and password is on the official website of Ramen Museum.
Official Website: http://www.raumen.co.jp/english/
<< Enjoy 3 kinds of ramen noodles in Yokohama >>
---
-Review of Yokohama Ramen Museum
Ramen (ラーメン) has established its status as a Japanese soul food, and it's been occupying a significant portion of our daily diet for these past few decades. In every big cities in the United States, you'll find that there will always be a ramen store or a Japanese restaurant serving a bowl of ramen noodle. It is obvious that ramen, as an established genre of Japanese cuisine, has been increasingly drawing global attention in the late 2010s.
Although ramen might not be considered as a refined or sophisticated genre of gastronomy compared to Sushi (寿司), it is more than just a bowl of noodle in a soup with various toppings. In fact, it is an art. The unique combination and its meticulous selection of a noodle, thick or thin, straight or wavy, with various soups based on miso, shio ('salt'), soy sauce, or tonkotsu ('pork bone broth') can potentially bring ramen to a level of art. Works of art need to be collected, anthologized, and curated in a certain place to share its uniqueness and beauty with a wider audience. This is precisely why Japan has a museum dedicated to ramen!!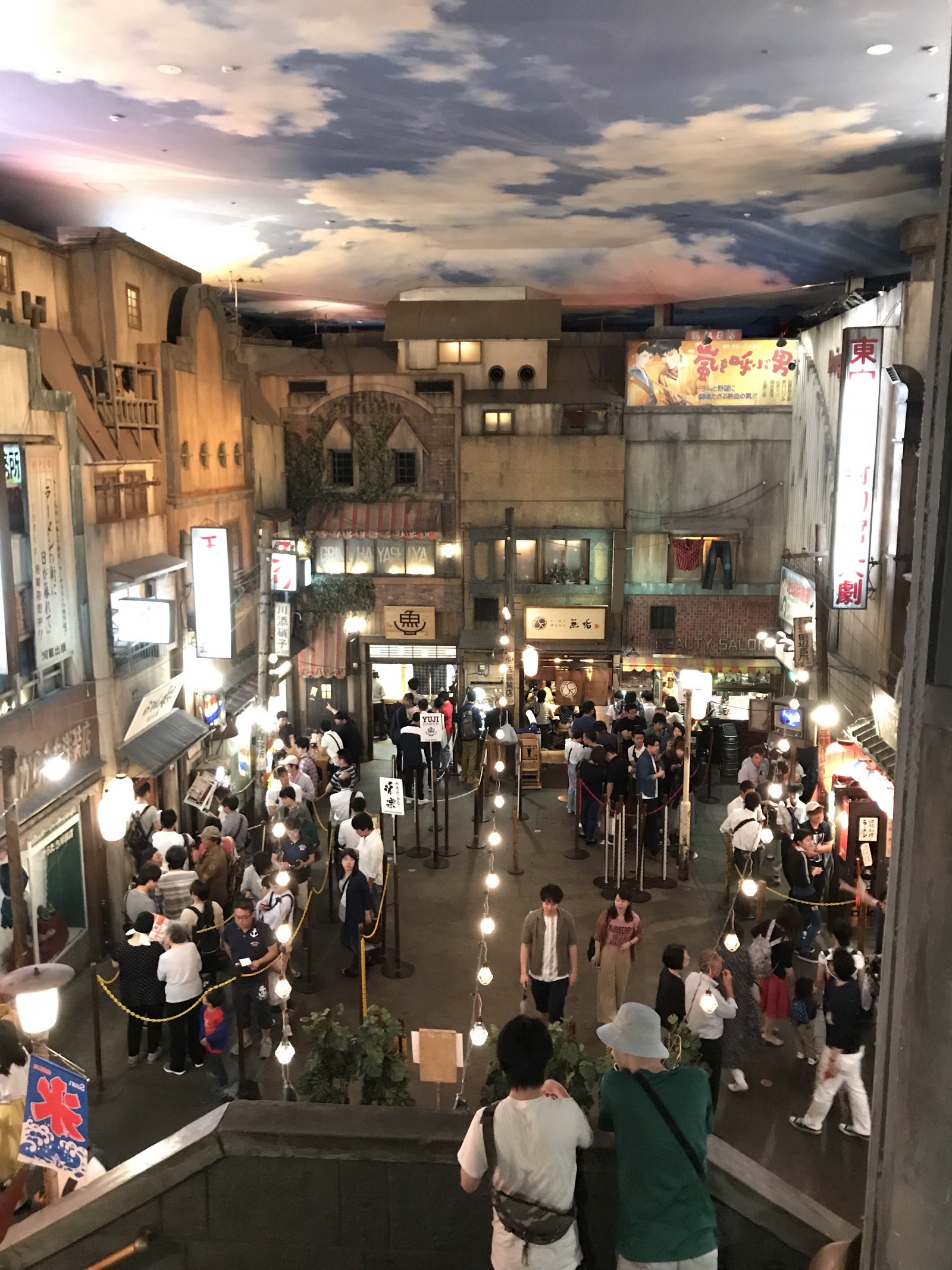 Shin-Yokohama Ramen Museum (新横浜ラーメン博物館), located close to Yokohama, Kanagawa prefecture (神奈川県), is a food-themed amusement park specifically dedicated to ramen. Founded in 1994, Yokohama Ramen Museum has been showcasing a variety of ramen from the north to the south of Japan. The Museum states its intention to provide a "one-stop place to enjoy the flavors of this national dish from renowned shops across Japan without stepping on a plane."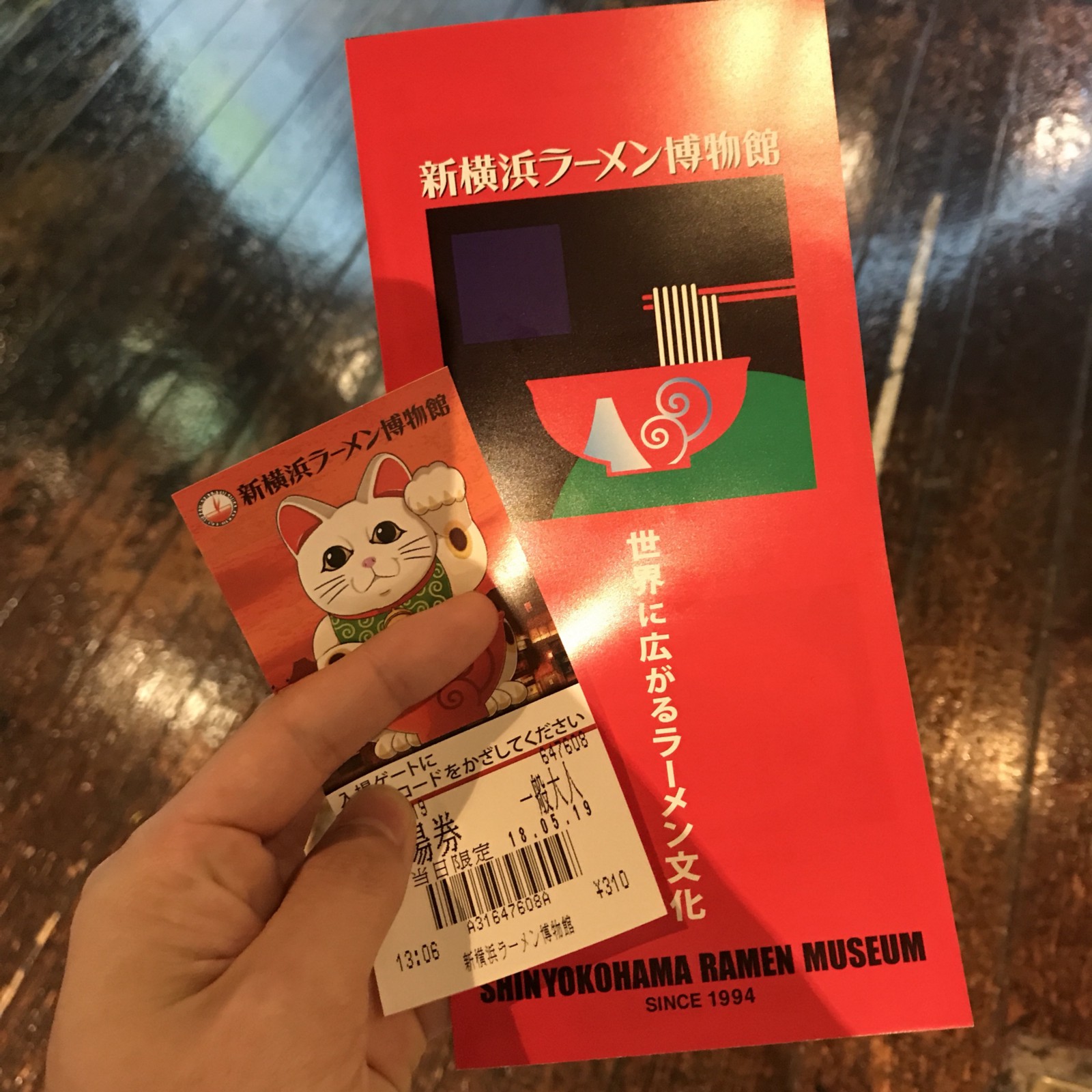 On the 1st floor, a huge collection of ramen magazines is displayed on the wall in order to demonstrate how ramen has been playing an essential role in Japanese food culture for a long time. Since Yokohama Ramen Museum is a major tourist attraction around the area, the information desk helps visitors decide which ramen store to try first based on the waiting time displayed on the screen. On your way back, you could always take a look at the souvenir section where you can pick up an instant version of what you have just eaten at the food court of the museum.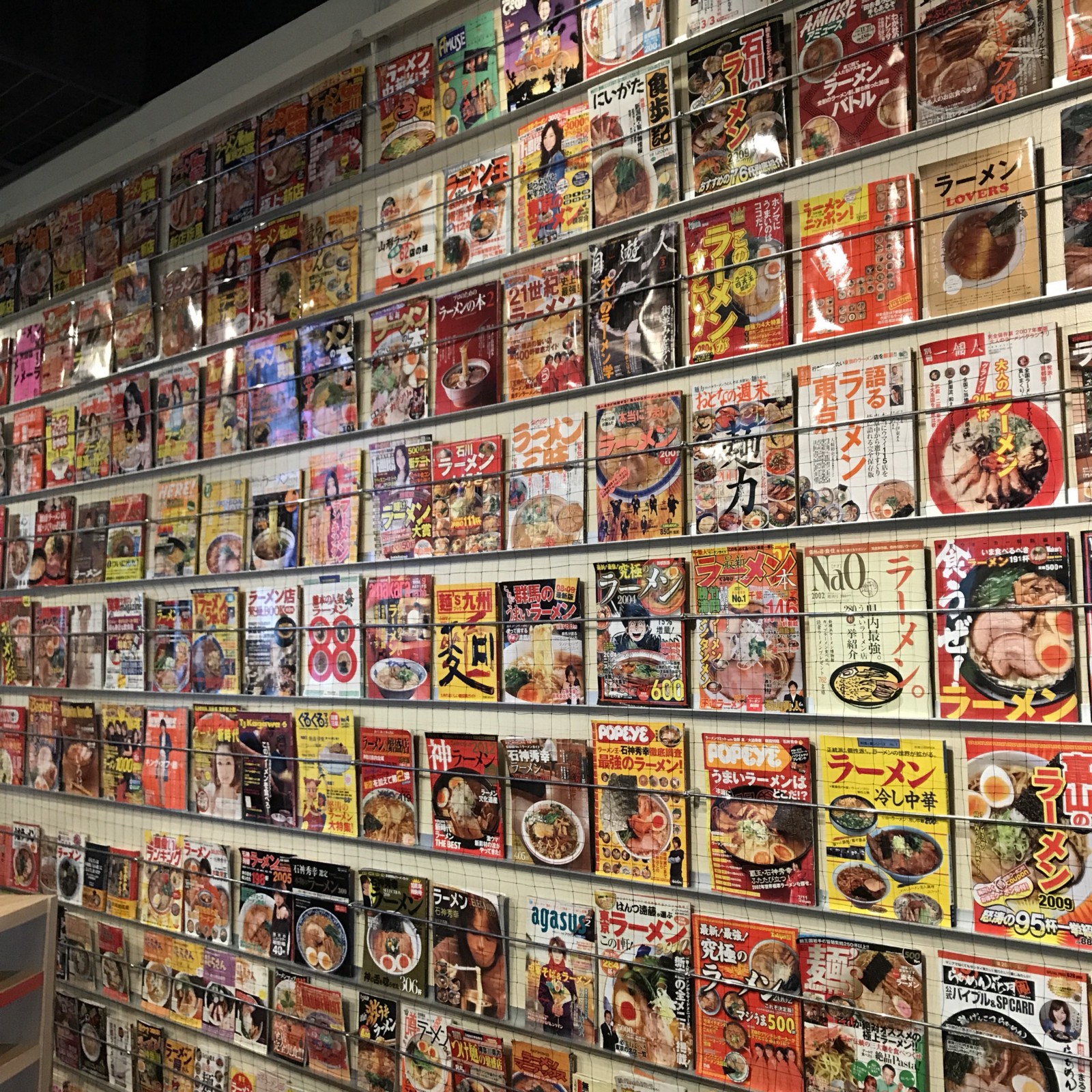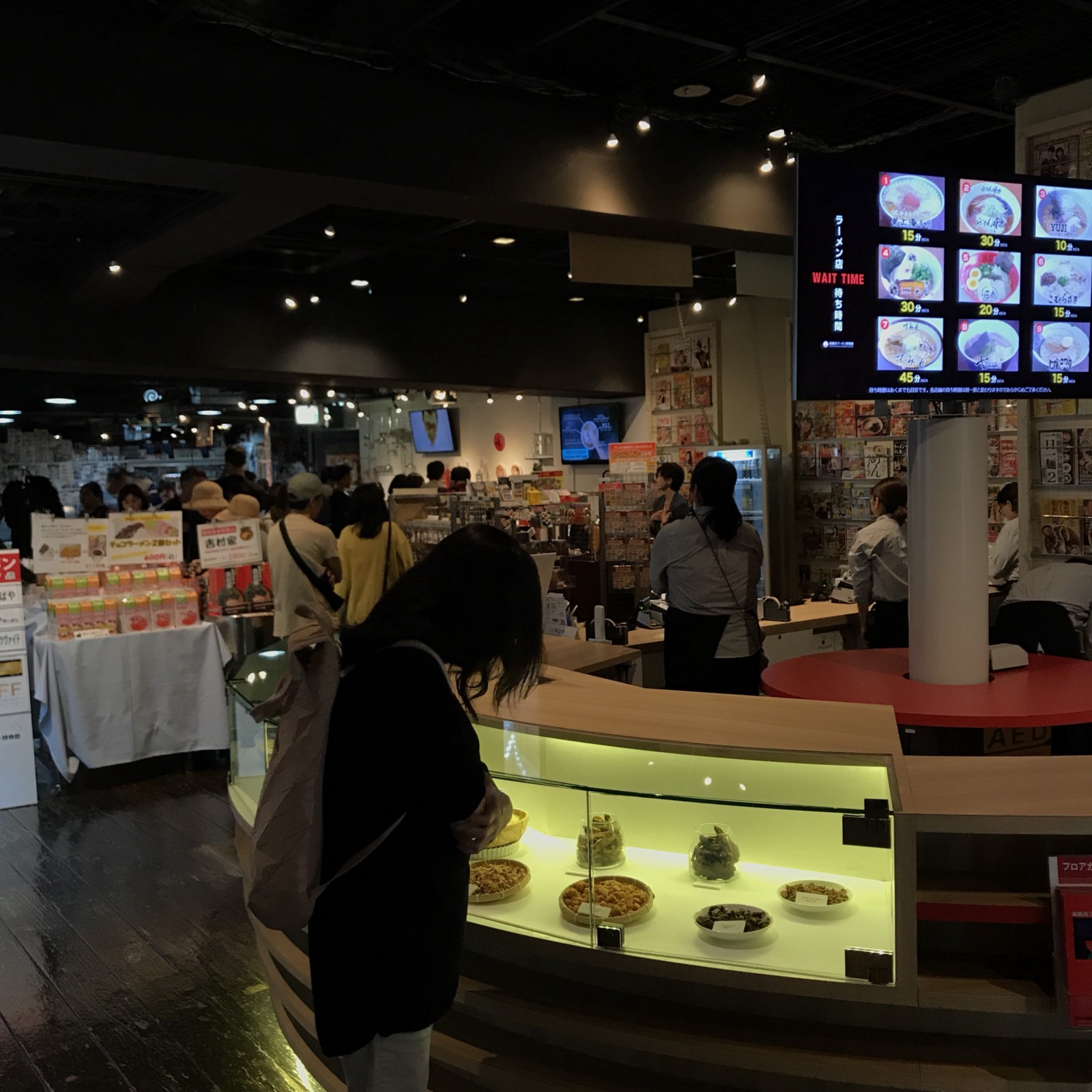 Also, the 1st floor of Yokohama Ramen Museum provides visitors with basic background information about the origin and history of ramen in Japan. This history section explains the development, diversification, and globalization of Japanese ramen. All these informative contents are available both in Japanese and English.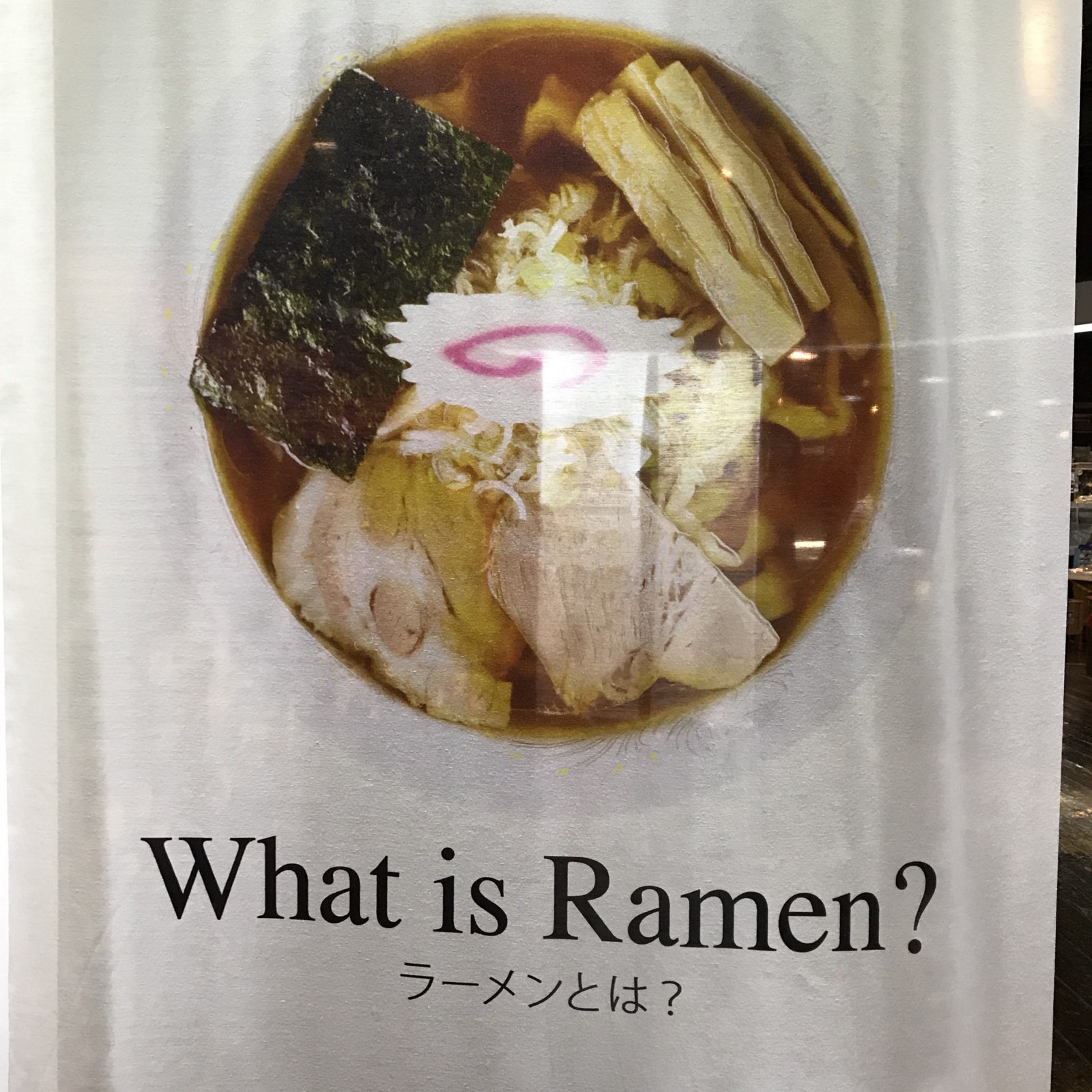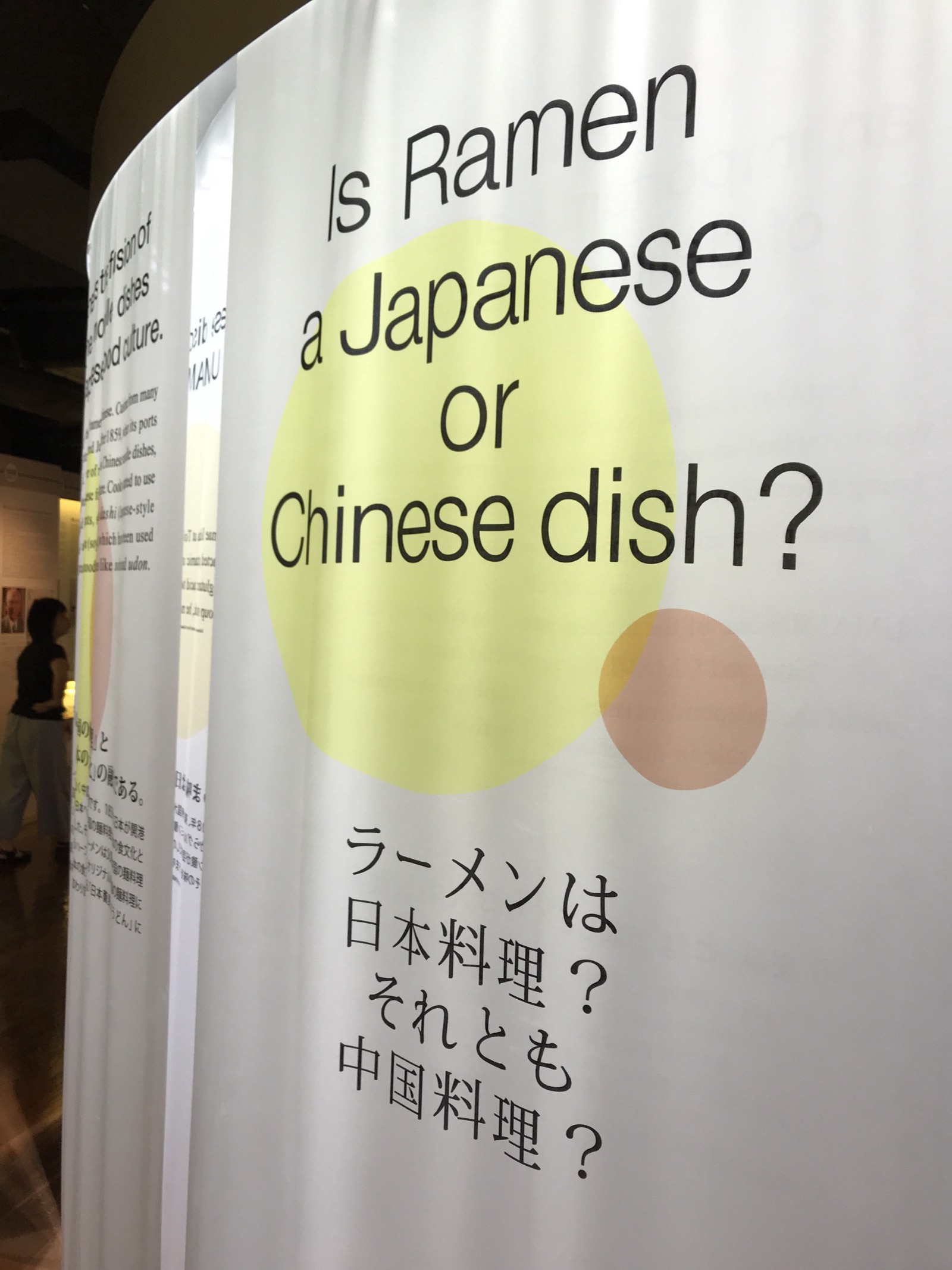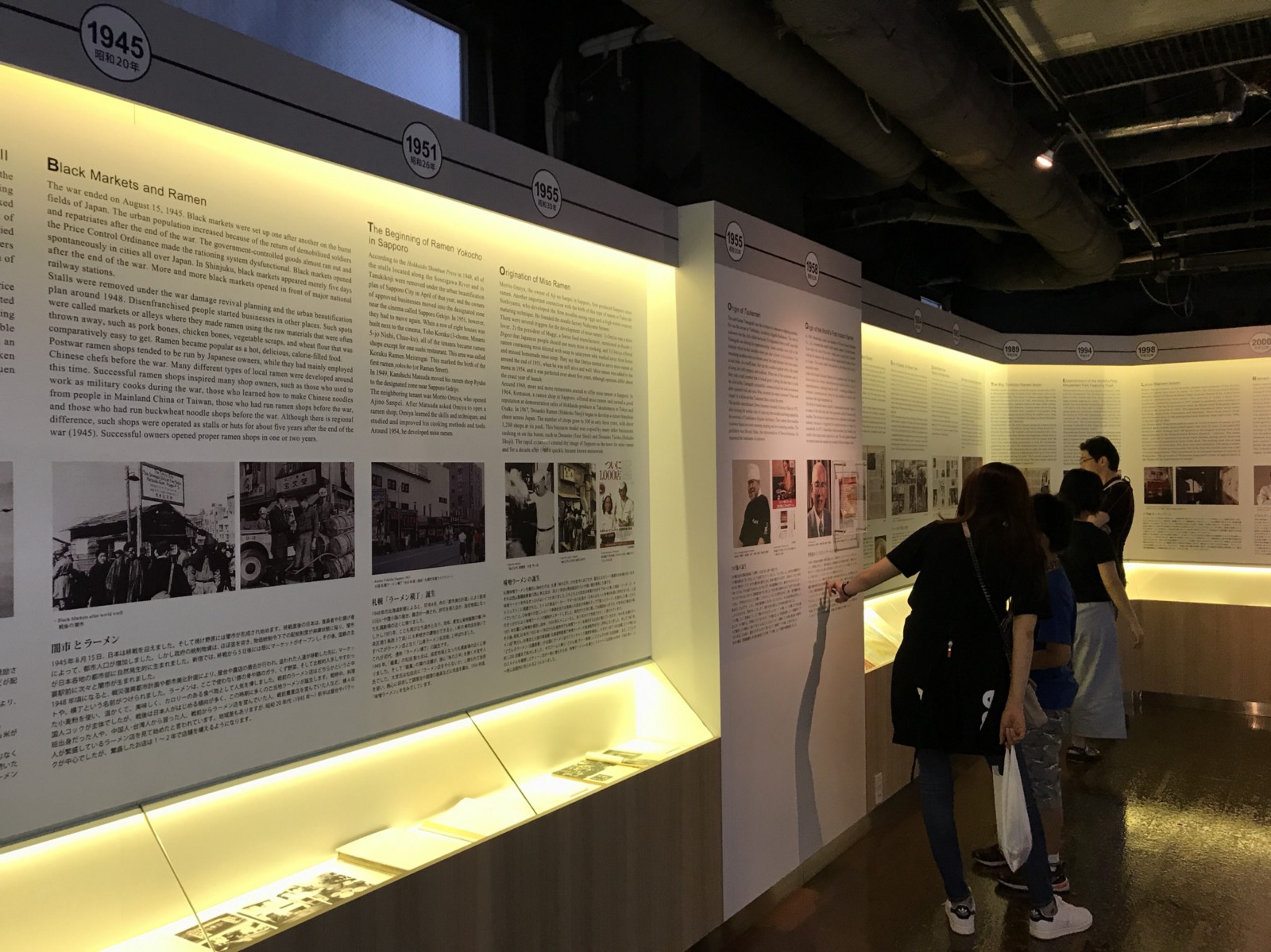 The 2nd floor in the basement is the food court or 'ramen court' where you can step into 9 different ramen stores not only from various regions of Japan, but also from overseas. As a theme park, the entire museum functions as a sort of time machine where you can enter into the future section (1st floor) and travel back to the Showa (昭和) year of 1958 (2nd floor in the basement), when the very first instant noodle was invented.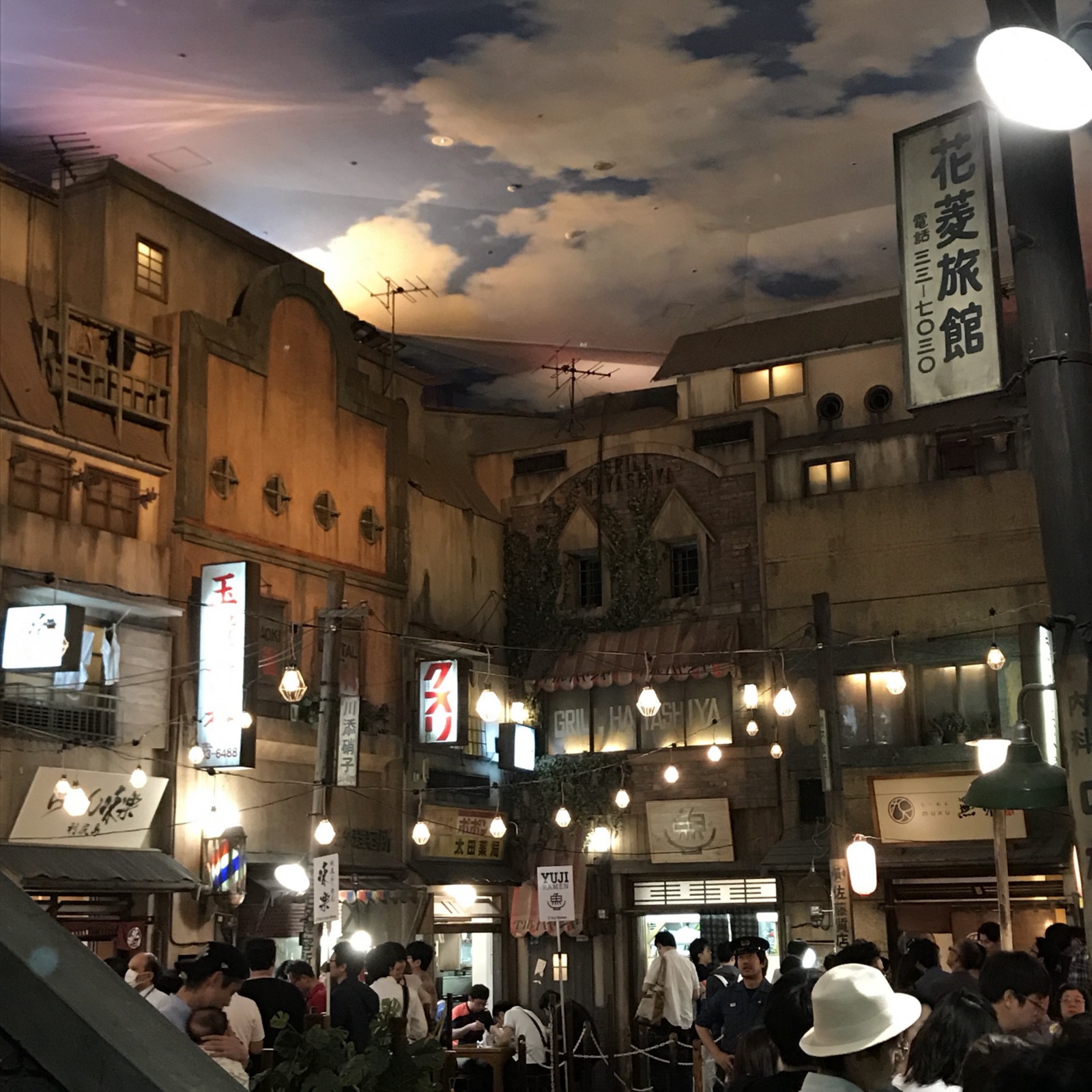 When you finish your bowl of ramen, you will notice the sign of 未来 ('future') on the side wall of the stairs. In other words, you can literally climb up to the future. The biggest invention throughout human history!!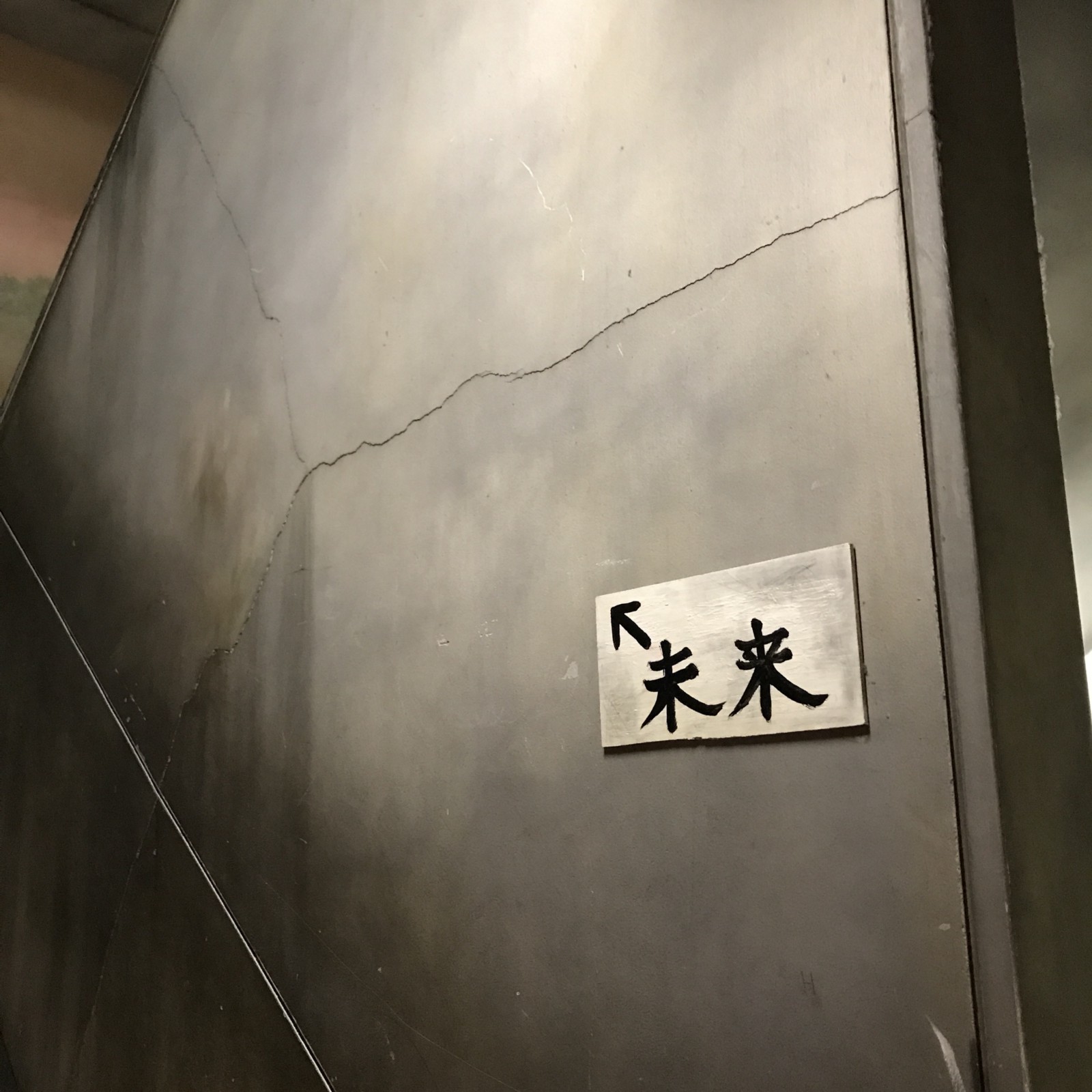 During my recent visit, I tried Osama ramen (王様ラーメン), a special tonkotsu ramen of Komurasaki (こむらさき), a historic ramen restaurant founded in 1954 in Kumamoto prefecture (熊本県). Komurasaki was one of the fewer options for tonkotsu ramen shop at the moment of my visit. All the stores will be usually replaced with other local ramen stores once in a while. However, it is no doubt that whenever you come to the museum, you will be able to enjoy all kinds of ramen from different regions without buying a domestic flight ticket!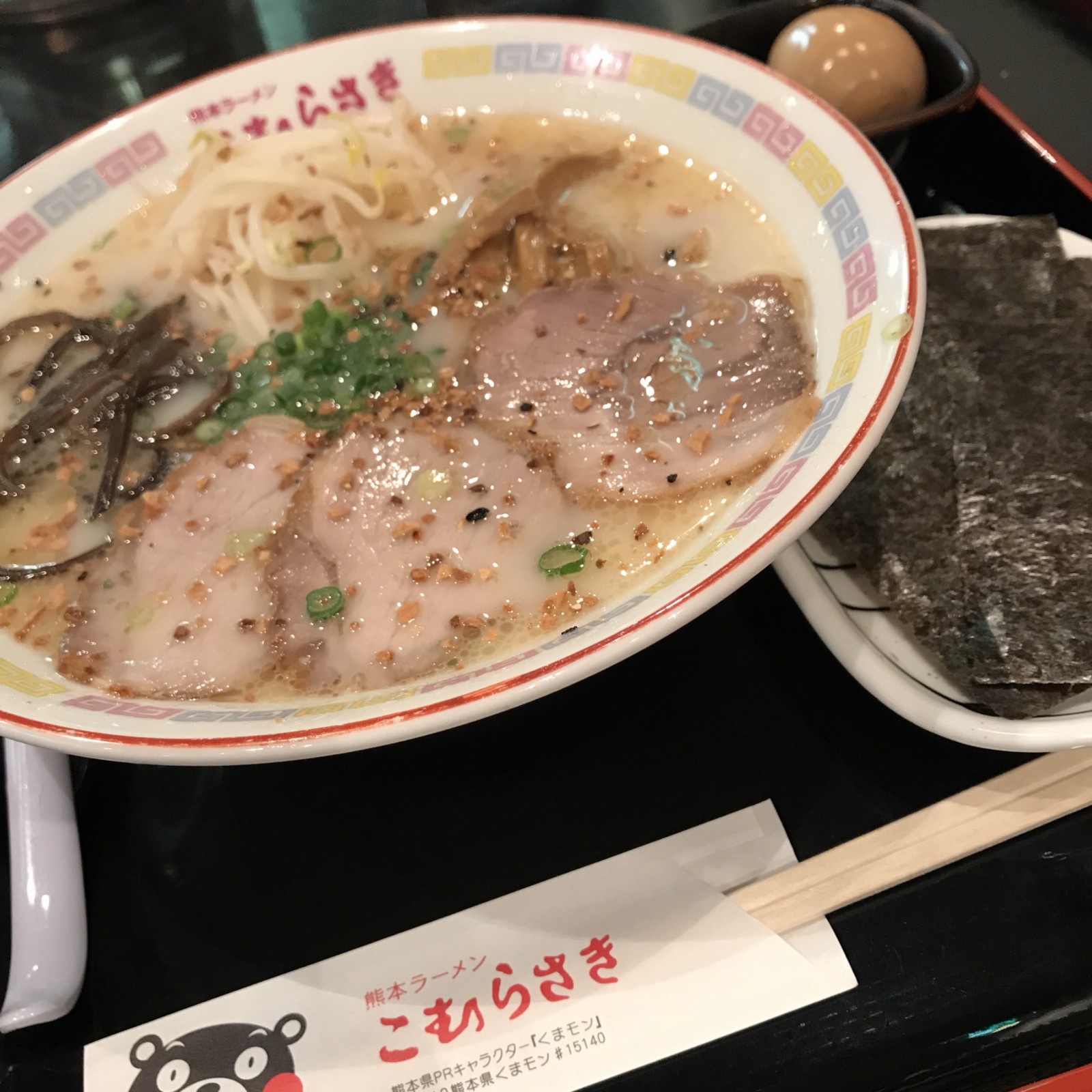 In my opinion, Osama ramen was scrumptious!! It was a great combination of slightly light tonkotsu soup with a thin straight noodle, widely used in the Kyushu region (九州). The roasted garlic on the top added an excellent flavor to the entire bowl. I would say that the pork belly was another strength of Osama ramen due to its tenderness.
This time, I was only able to eat one bowl of ramen due to my schedule on that day. If you have a whole day or half day to visit Yokohama Ramen Museum, make sure to order a half-size ramen so that you could taste every single ramen of the food court! If you are a big-eater, do not hesitate to order a full-size bowl of ramen at each ramen shop!
Last but not least, as a little reminder, Yokohama Ramen Museum is an amusement park as well as a major tourist attraction in Shin-Yokohama. Therefore, you will have to wait for a bowl of ramen at least 20 mins for each during lunch time. However, this interval will help you digest in preparation for another bowl of ramen!!
For those who are vegetarians or non-pork eaters, the little icons on the brochure will help you navigate to the ramen shop where your bowl of ramen awaits.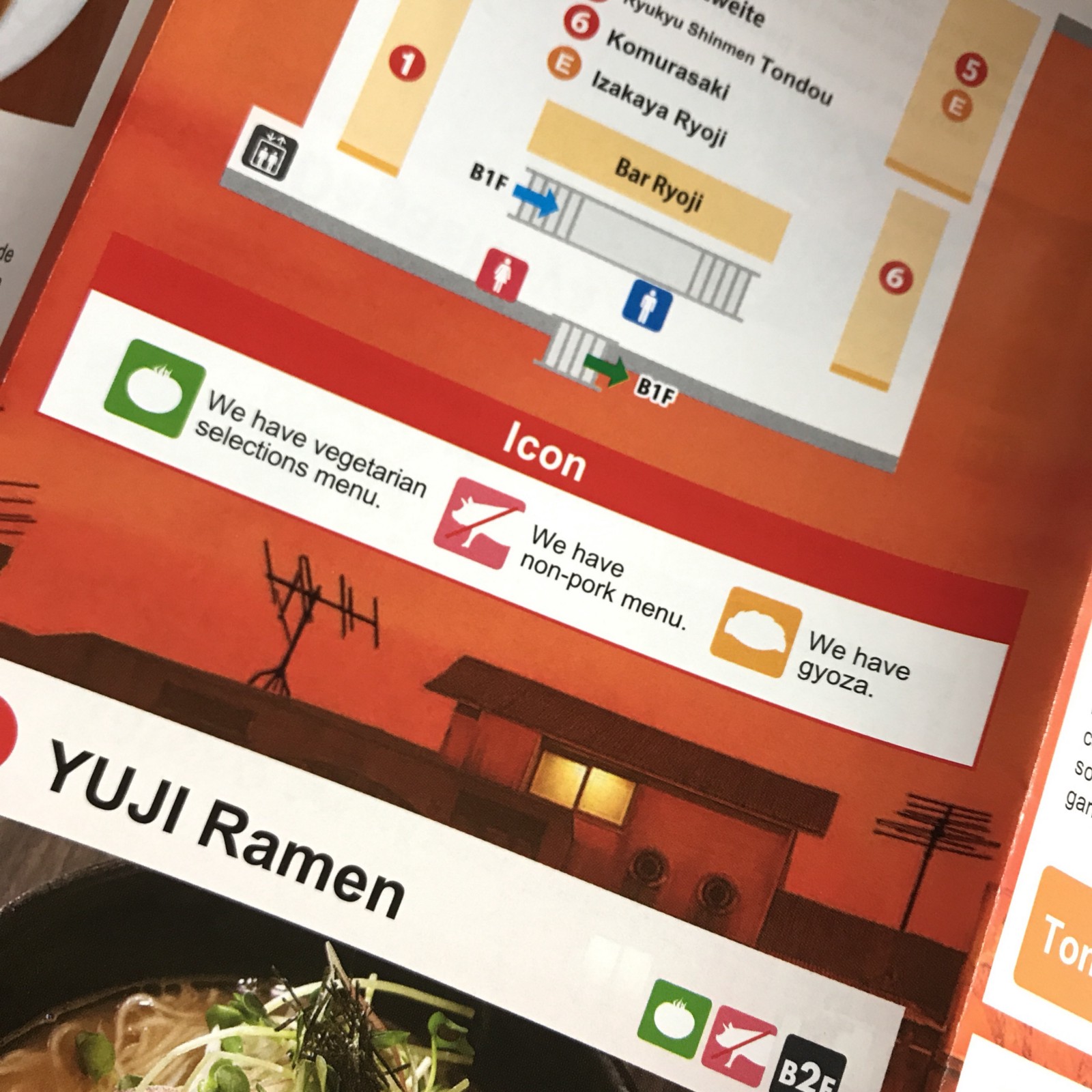 After championing all the ramen shops, you will become not only a curator of Yokohama Ramen Museum, but also a time traveler! I will have to go back there and try another bowl of ramen to become a curator of Japanese ramen!
---
For more information about Ramen, check these articles below!!
▽Related Articles▽
▼Editor's Picks▼

---