Michelin Star Ramen Restaurants in Tokyo 2021
Best Michelin Star Ramen in Tokyo!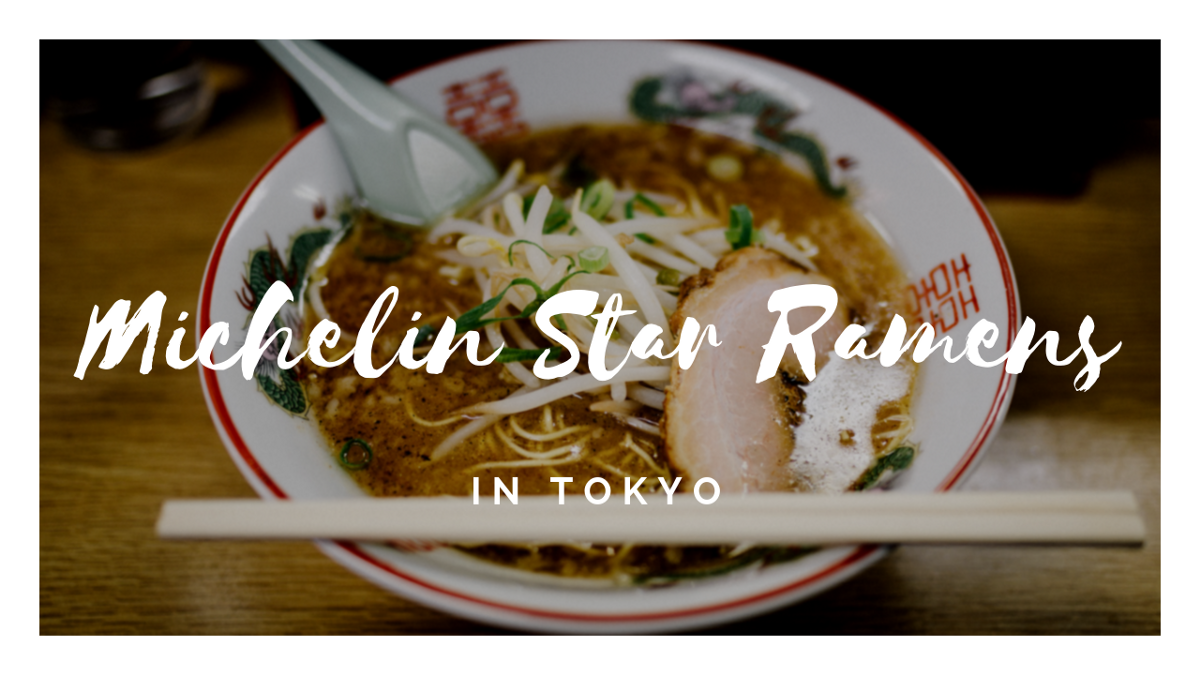 Tokyo has over 200 Michelin starred restaurants, which is the most in the world. While the most of Michelin starred restaurants in Tokyo are fine dining such as Sushi, Kaiseki course and French cuisine, there are also some affordable restaurants on the list including Ramen restaurants. Ramen is one of the most significant Japanese dishes today and recognisable all around the world. There are currently three Ramen restaurants in Tokyo awarded with one Michelin star. This is a guide to the Michelin star Ramen in Tokyo 2021!
---
-Japanese Soba Noodles Tsuta
Japanese Soba Noodles Tsuta (Japanese Soba Noodles 蔦) in Sugamo area, Koto-ward, Tokyo is the first Ramen restaurant in the world which received one Michelin star in 2016. The founder/chef of Tsuta, Yuki Onishi first started his career in 2008 at the Ramen restaurant run by his father, then opened his own shop, Japanese Soba Noodles Tsuta in 2012. Since then, it did not take him long until receiving multiple honorable awards in the country, then becoming the world's very first Michelin stared Ramen restaurant only after 4 years. Tsuta has taken Ramen to a whole new level. Noodles, broth and toppings, every item in the bowl of Ramen is made with selected fine ingredients to perfection.
Tsuta has only 9 seats on the counter, and it's extremely busy especially after receiving a Michelin star. Currently the restaurant operates a ticket system in order to avoid long waiting time during lunch time. The tickets with set time slots are given away at 7 am in the morning (1,000 yen deposit is required). Dinner time (17:00~) is slightly less busy and no tickets are required.
▶︎Check the review of Japanese Soba Noodles Tsuta!
UPDATE: Japanese Soba Noodles Tsuta has relocated its location to Yoyogi area in December 2019
Access: 3 mins walk from Yoyogi Uehara Station
Hours: Lunch 11:00~17:00
Closed: Thursday
-Nakiryu
Nakiryu (創作麺工房 鳴龍) is the second Ramen restaurant to receive a Michelin star in 2017, after Tsuta. The restaurant is located in Otsuka, Tokyo, serving various Ramen dishes. The signature dish of Nakiryu is Dan Dan Noodles (Tantanmen in Japanese), the classic noodle dish from Szechuan in China, which costs only 850 yen, making one of the cheapest Michelin star dishes in the whole world. The dish comes with home-made noodles, delightful sesame and red pepper soup, and pork mince. If spicy noodles are not for you, there are Shoyu (soya sauce base) and Sio (salt base) Ramen on the menu, too. The restaurant also offers a variety of side dishes such as wonton, boild dumplings and fried rice.
Nakiryu is open for lunch and dinner. The long queue usually start before the opening time and the waiting time can be up to 2 hours during lunch time. Also if you arrive there at late lunch/dinner, there might be no soup or noodles left as only limited number of dishes are served.
Access: 6 mins walk from JR Otsuka Station
Hours: Lunch 11:30~15:00/Dinner 18:00~21:00 (Dinner is closed on Monday)
Closed: Tuesday
-Sobahouse Konjiki Hototogisu
Sobahouse Konjiki Hototogisu (Sobahouse 金色不如帰 新宿御苑本店) joined Tsuta and Nakiryu in late 2018, becoming the third Michelin star Ramen restaurants in Tokyo. The restaurant is located in Shinjuku area which is the most competitive Ramen district in Tokyo where approx 200 Ramen shops gather. While the mainstream of Ramen flavour in Tokyo is rich pork Tonkotsu broth, Sobahouse Konjiki Hototogisu served light, complex and delicate soup with clear pork broth blended with Hamaguri clams and fish stock. The bowl of Ramen is topped by the sauce blended with porcini mushroom and truffle. A single bowl of Ramen at Konjiki Hototogisu costs only 850 yen which is as cheap as Nakiryu.
Sobahouse Konjiki Hototogisu has been one of the busiest Ramen restaurants in Shinjuku area, but ever since receiving one Michelin star, it's been exceedingly busy. The waiting time could be around 1 hour during the peak time.
Access: 3 mins walk from Shinjuku Gyoenmae Station
Hours: Lunch 11:30~15:00/Dinner 18:30~21:30 (Dinner is closed on Sunday)
Closed: Monday
---
Thanks for reading! Which Michelin star Ramen restaurants in Tokyo do you wanna visit most?? All three restaurants are busy, but I bet they are totally worth waiting in a long queue!
If you love Ramen, here are some more articles introducing the best Ramen restaurants in Tokyo!
▽Related Articles▽
▼Editor's Picks▼
---