10 Best Things to Do in Osaka in Winter
Osaka Winter Travel Guide: What to Do in Osaka in Winter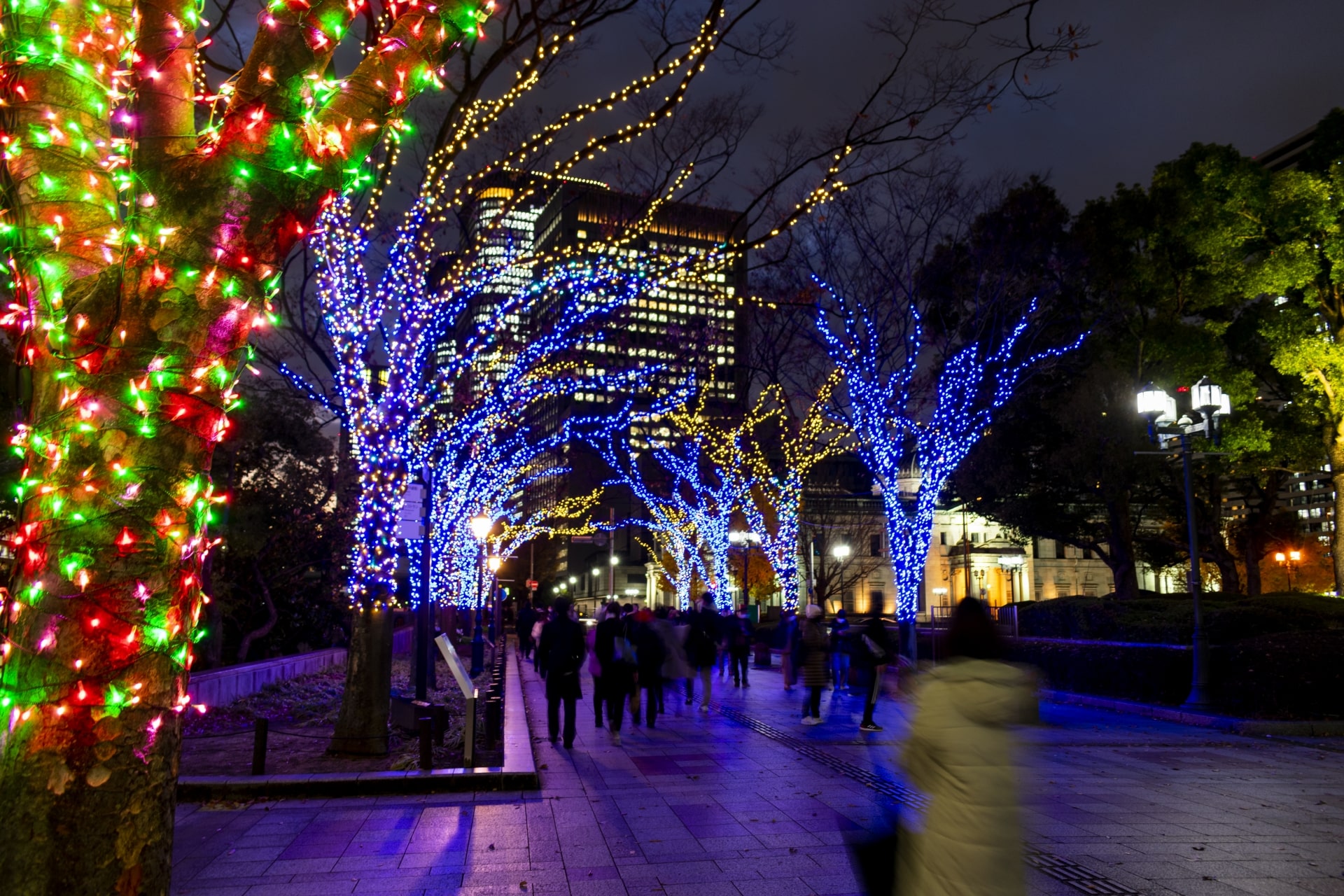 Many people travel to Japan in winter seeking good snow and winter sports like skiing and snowboarding. Though the northern part of Japan is popular among such people, there are many winter events everywhere in Japan such as Christmas illuminations, countdown events, and Hatsumode (the first visit of the year to a shrine or temple).
Have you been to Osaka in winter? The climate in Osaka in winter is not as cold as in other western parts of Japan like Kyoto and Shiga. The average temperature from December to February is around 5-10℃ but it rarely snows and it's very dry. So don't forget to prepare for moisturizing and keeping yourself warm.
As Osaka has good access to Kyoto and Hyogo, you can enjoy not only city events but quiet things like soaking in Onsen and a short skiing trip. In addition, there are many choices of temples and shrines you go to for the first visit of the year.
Let's check out the 10 best things to do in Osaka in winter.
1. Spending a great time at Christmas and Countdown Events at Universal Studio Japan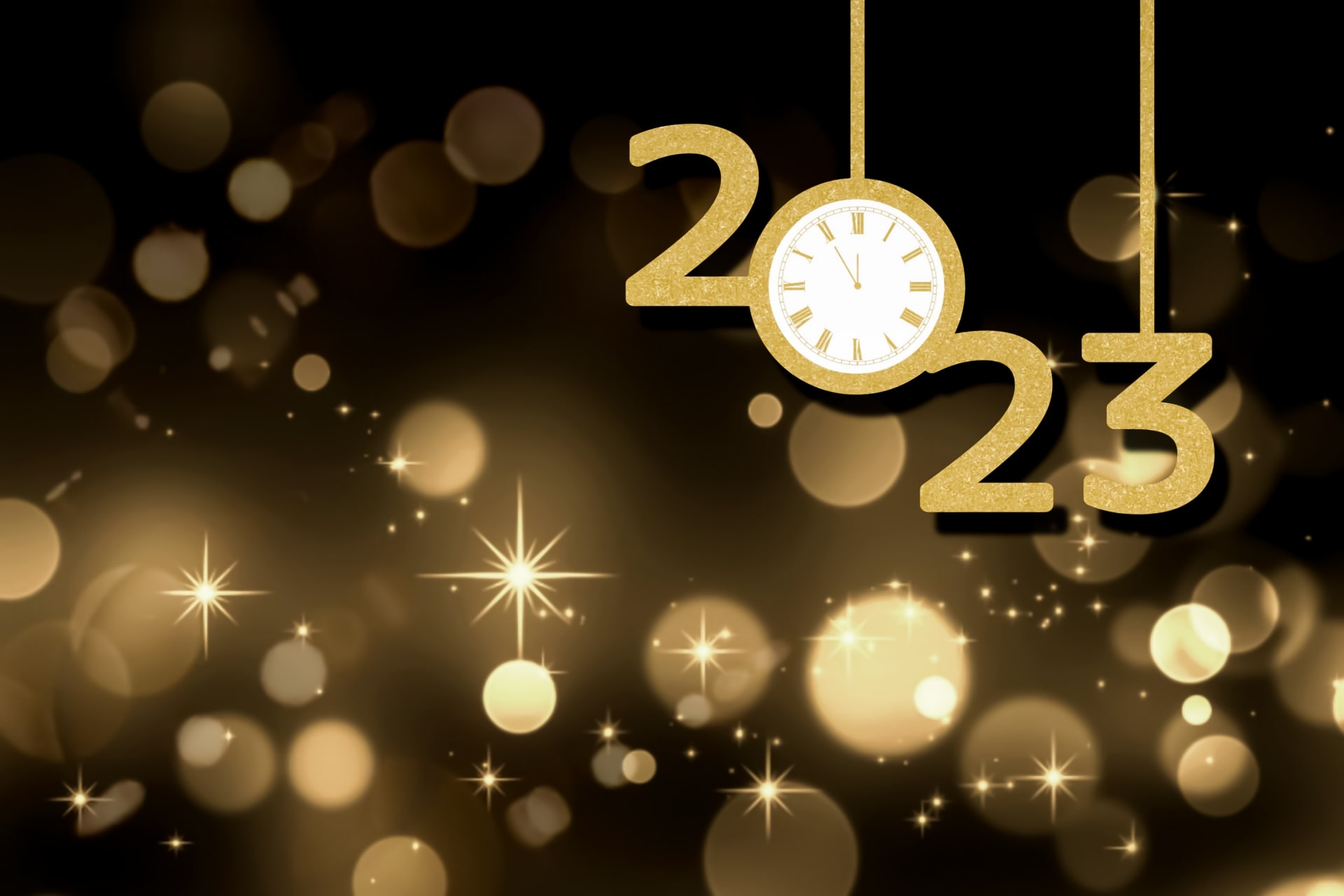 Universal Studio Japan is one of the most popular tourist spots in Osaka. The special Christmas event, NO LIMIT! Christmas is held from Nov 11, 2022 to Jan 09, 2023. The NO LIMIT! Crystal Tree is back for the first time in 3 years. The tree has won the GUINNESS world record for the number of lights decorating it for 9 years. At the Glamacy Park in the New York area, there is a projection mapping show, Spectacle of Lights.
The countdown event, NO LIMIT! Countdown 2023 is held from Dec 31, 2022 at 19:00 to Jan 01, 2023 at 21:00. At the main event, Countdown Moment, dynamic 4,000 fireworks are displayed with music and lights. It must be a memorable moment welcoming the new year!!
Let's spend a great time with people you love and make an unforgettable memory♡
2. Walking around and shopping at Christmas Markets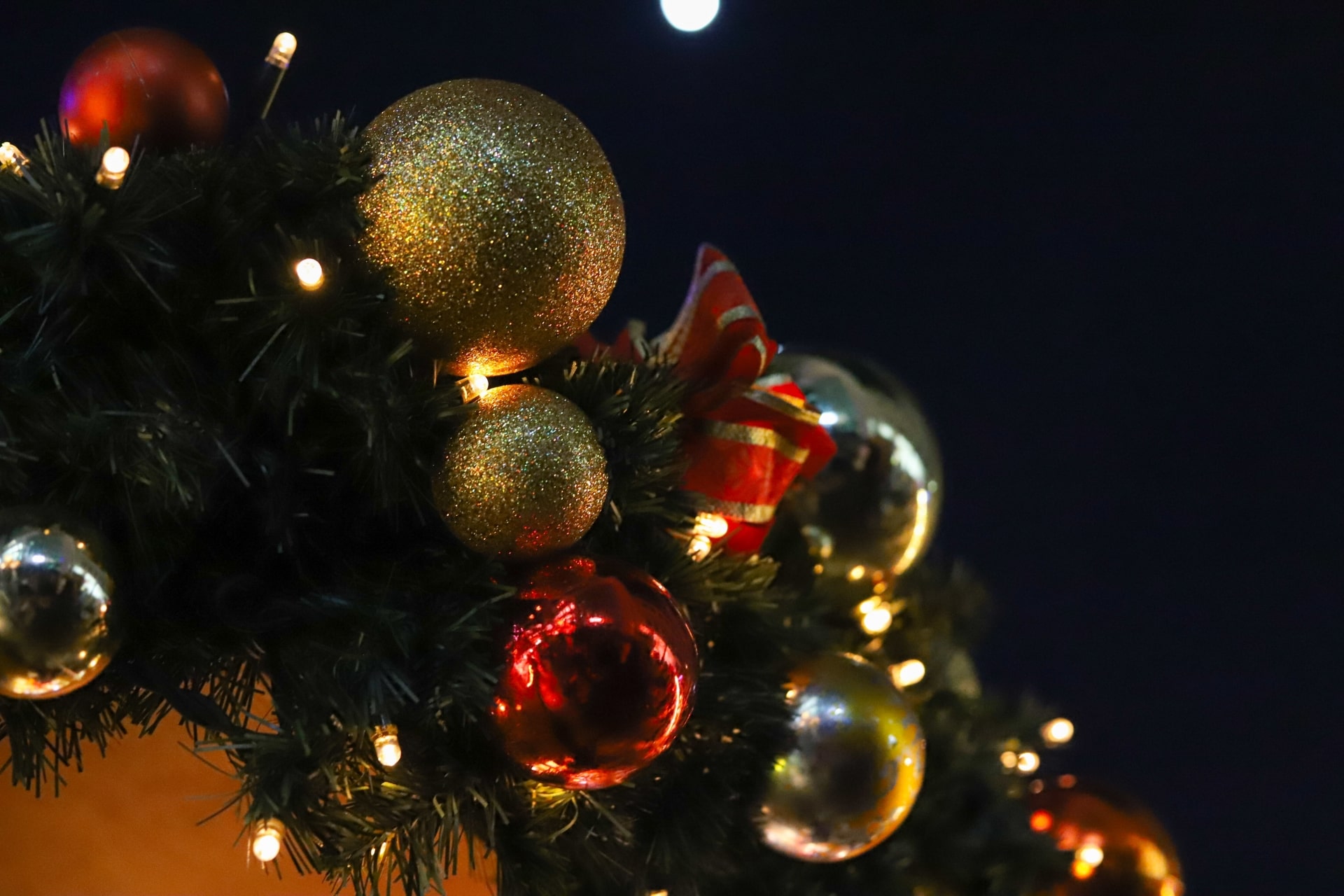 Speaking of Christmas, Christmas Markets are one of the main events you shouldn't miss. Christmas markets originated in Germany and have many shops of traditional German toys and Christmas food.
Water and Light Wonder Night in Nakanoshima is held from Dec 14, 2022 to Dec 25, 2022. There is a Christmas Market that has German‐style shops selling toys, beer, and sausage. After shopping let's watch a dynamic dance performance collaborating with water and LED light. The show is produced by MPLUSPLUS, which is one of the pioneers in the LED performance industry.
Christmas Market 2022 on the 9th floor of Hankyu Umeda is based on Alice in Wonderland. There are lots of stuff of characters in Alice in Wonderland from accessories to tea cups and letter sets.
3. Going for Hatsumode (The first visit of the year to the shrine) and wishing you luck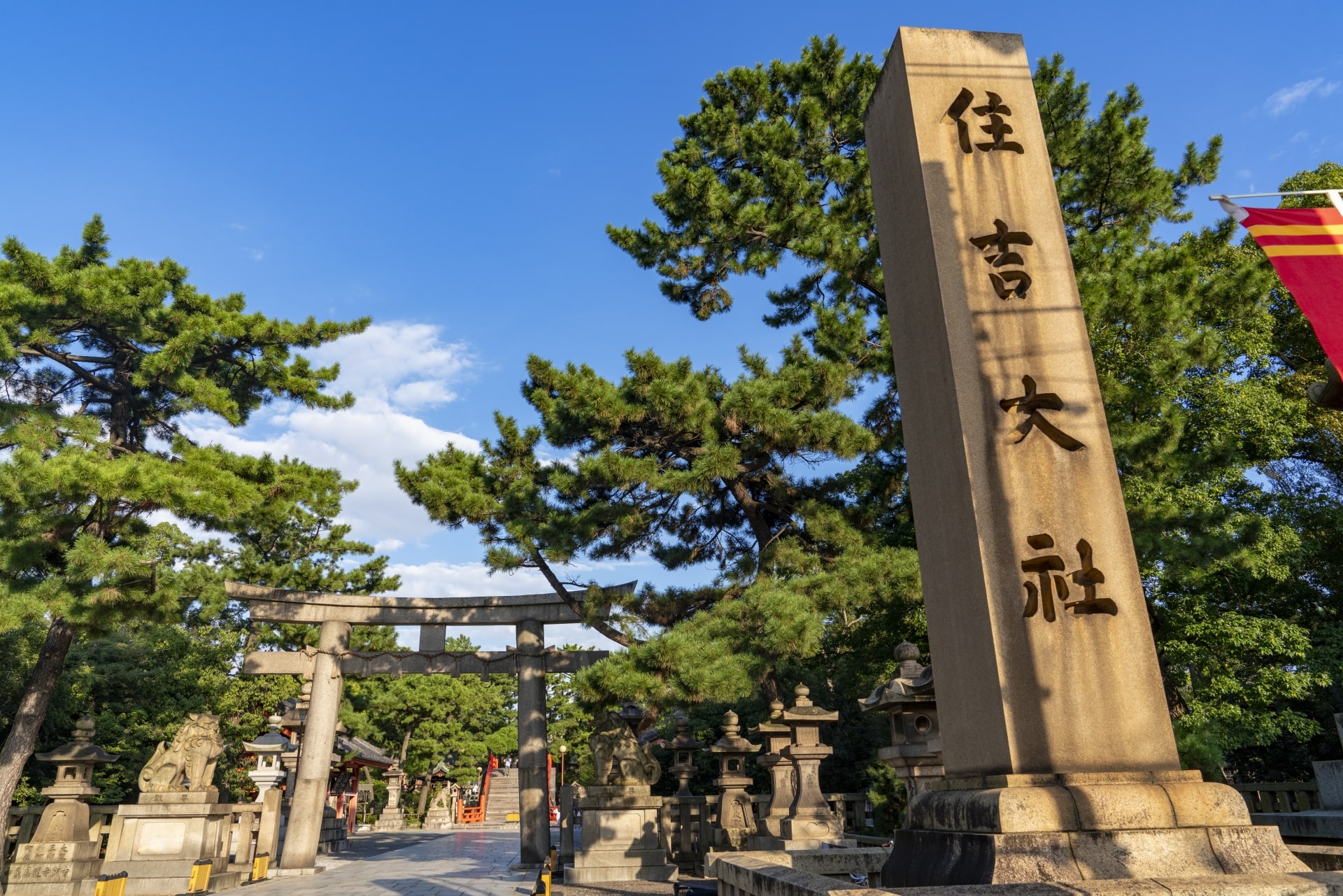 Hatsumode (the first visit of the year to a shrine or temple) is the biggest event on new year's day in Japan. Hatsumode is a traditional Japanese custom to go to a shrine or temple and wish you luck for a whole year.
Sumiyoshi Taisha is one of the most popular spots for Hatsumode in Osaka. It's also famous as the best spiritual spot in Osaka, where more than 2,000,000 people come for Hatsumode from the 1st to the 3rd of January every year. The main hall was built in 1810 and registered as a national treasure. Some Shinto rituals that pray for huge harvests, physical health, and a rush of business are held during the new year season.
Shitennoji Temple, which was built in 593, remains the oldest architectural style in Japan. People visit the temple looking forward to hearing Joya-no-Kane, which is the temple bell rung 108 times on New Year's Eve. If you want to hear the traditional Japanese bell sound, you should queue before 23:00 on New Year's Eve. There are also 20 food stalls around the temple.
4. Seeing Winter illuminations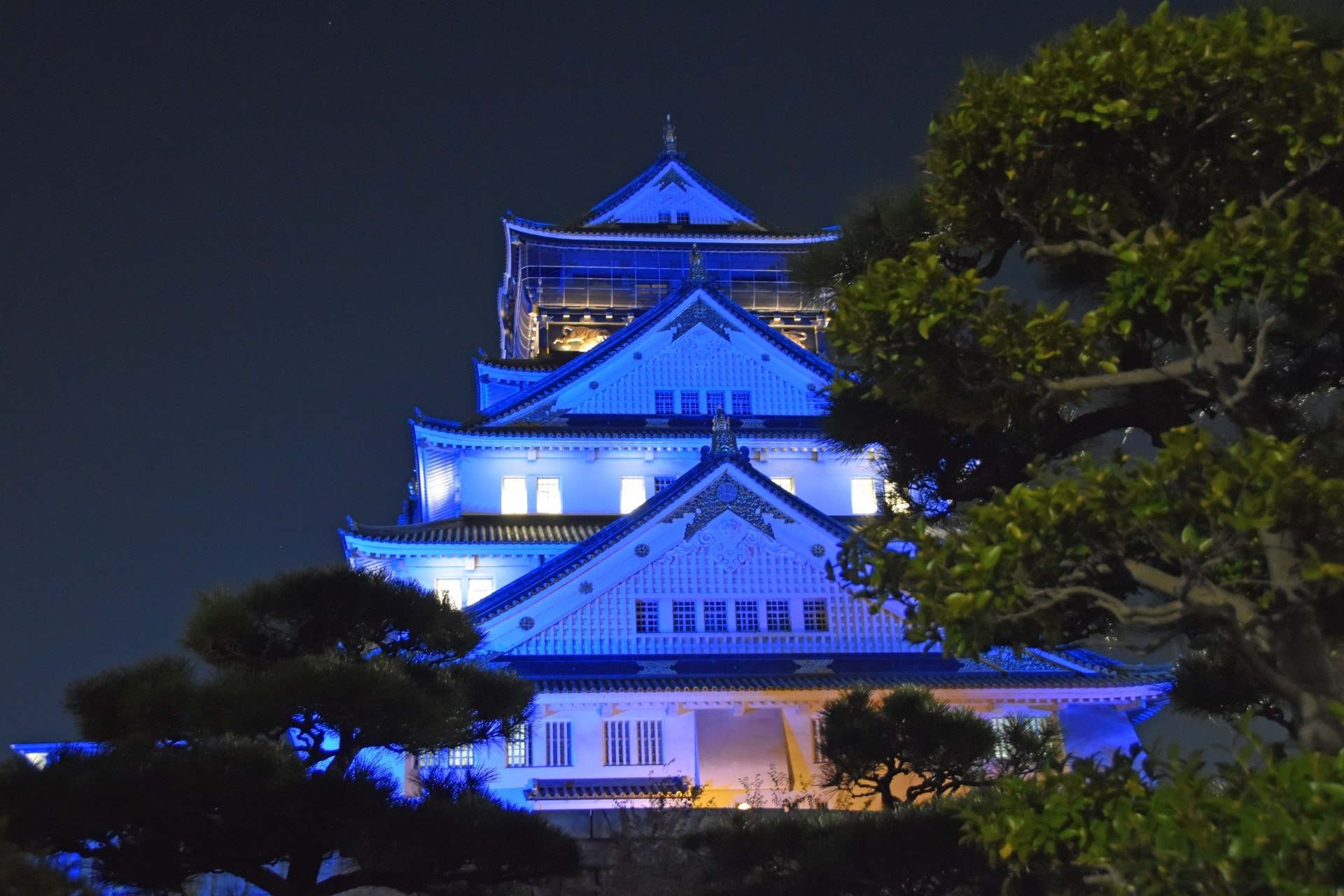 In winter, towns are shiny and lit up with thousands of lights. It makes us feel romantic or sometimes nostalgic. Many people are somehow attracted to shiny and beautiful things.
Osaka Castle Illuminage is an illumination event at Osaka Castle Park. It presents Osaka's history from the Edo period to the current times with 3,500,000 lights. The most attractive point is the huge illumination that reproduces the fight scene of Ultraman and Gomora, which is from the well-known Japanese animation, Ultraman.
Namba Light Journey at Namba Parks is a free illumination event. There is a fantastic world of 650,000 lights. The harmony of lights on the 8th floor is a hands-on illumination, in which light clips, music, and scenes change according to the people's actions.
5. Enjoying Winter Events at Kaiyukan Aquarium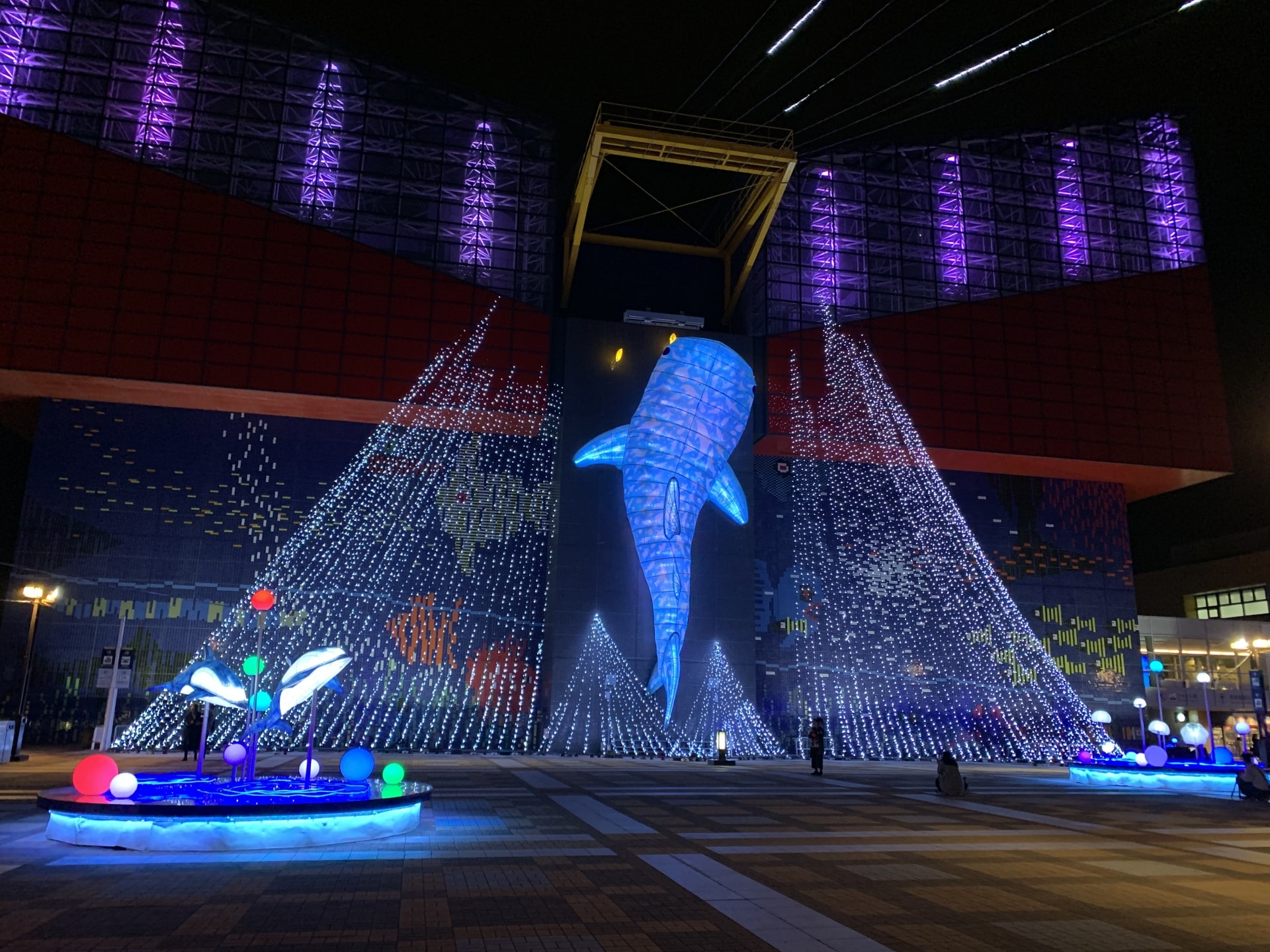 Kaiyukan Aquarium is one of the world-scale aquariums in Japan. There are about 30,000 creatures of 620 kinds. It has 8 floors and various exhibitions. From whale sharks and penguins to many tropical fishes, many marine creatures are welcoming you in different areas.
Kaiyukan Illumination is an annual winter event. A Christmas tree and penguin and dolphin objects are lit up at the entrance. A performance of light and music is available every 15 minutes from 17:00 to 21:15.
If you go there by Christmas day, you can find a Santa Diver in water tanks. In the Pacific Ocean tank and Tasman Ocean tank, a diver is costumed in Santa. Let's take a photo of the whale shark and Santa Diver.
6. Admiring Night Views from Umeda Sky Building Observatory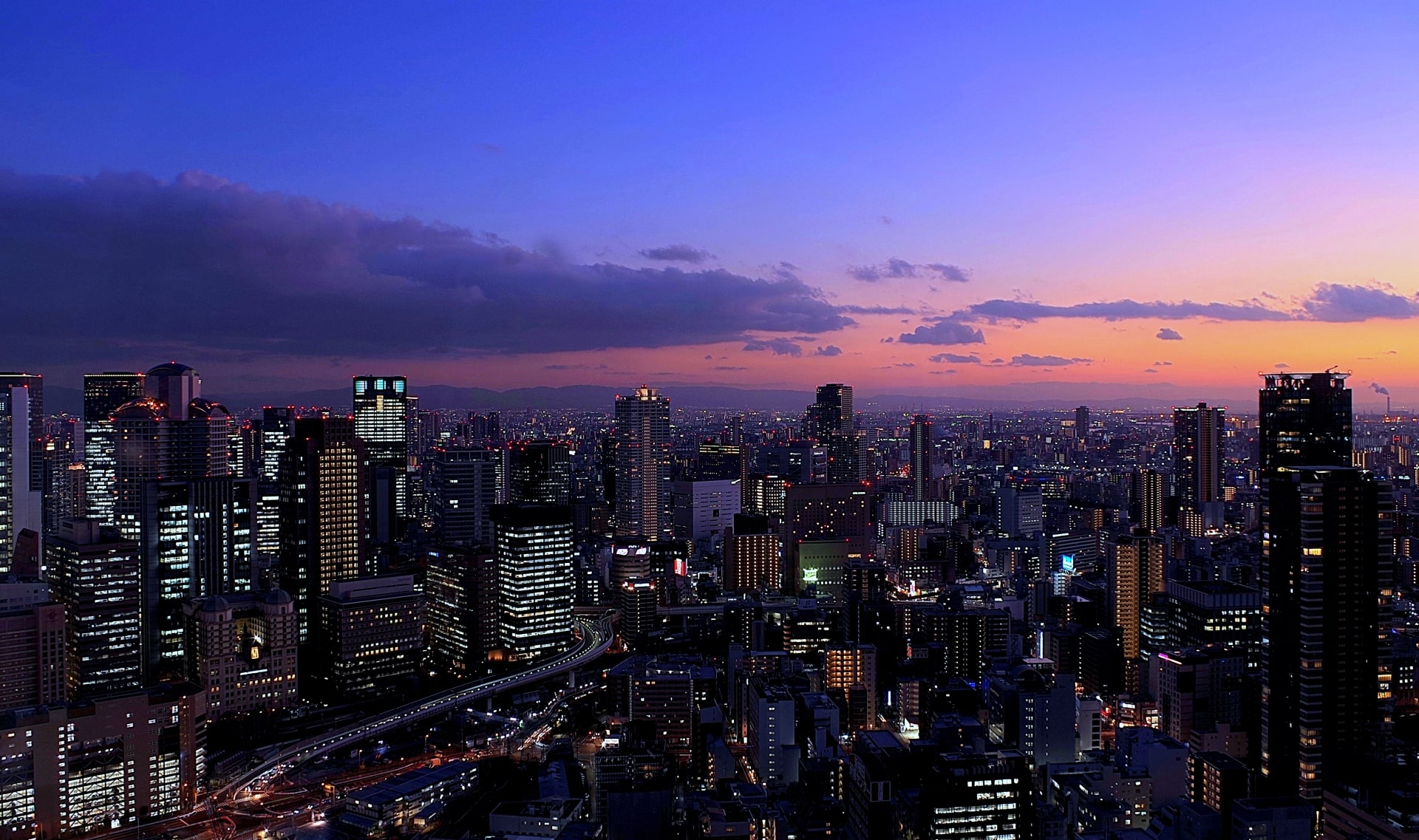 Umeda Sky Building, located at the center of Osaka city, was selected as one of the 20 best architectures in the world. The most popular thing in Umeda Sky Building is viewing the whole town of Osaka from the top 360° observation deck. Thousands of town lights illuminate the city at night.
Moreover, a Christmas illumination is held in the outside park on the B1 floor. The forest area decorated with colorful lights lets us forget our busy lives in the city. The main Christmas tree using a natural fir tree is as high as 7 m and makes a coexisting of the city and nature. You can also write down your wish on an ornament and put it in a present box at the bottom of the tree.
7. Soaking in Onsen and healing your body from daily exhaustion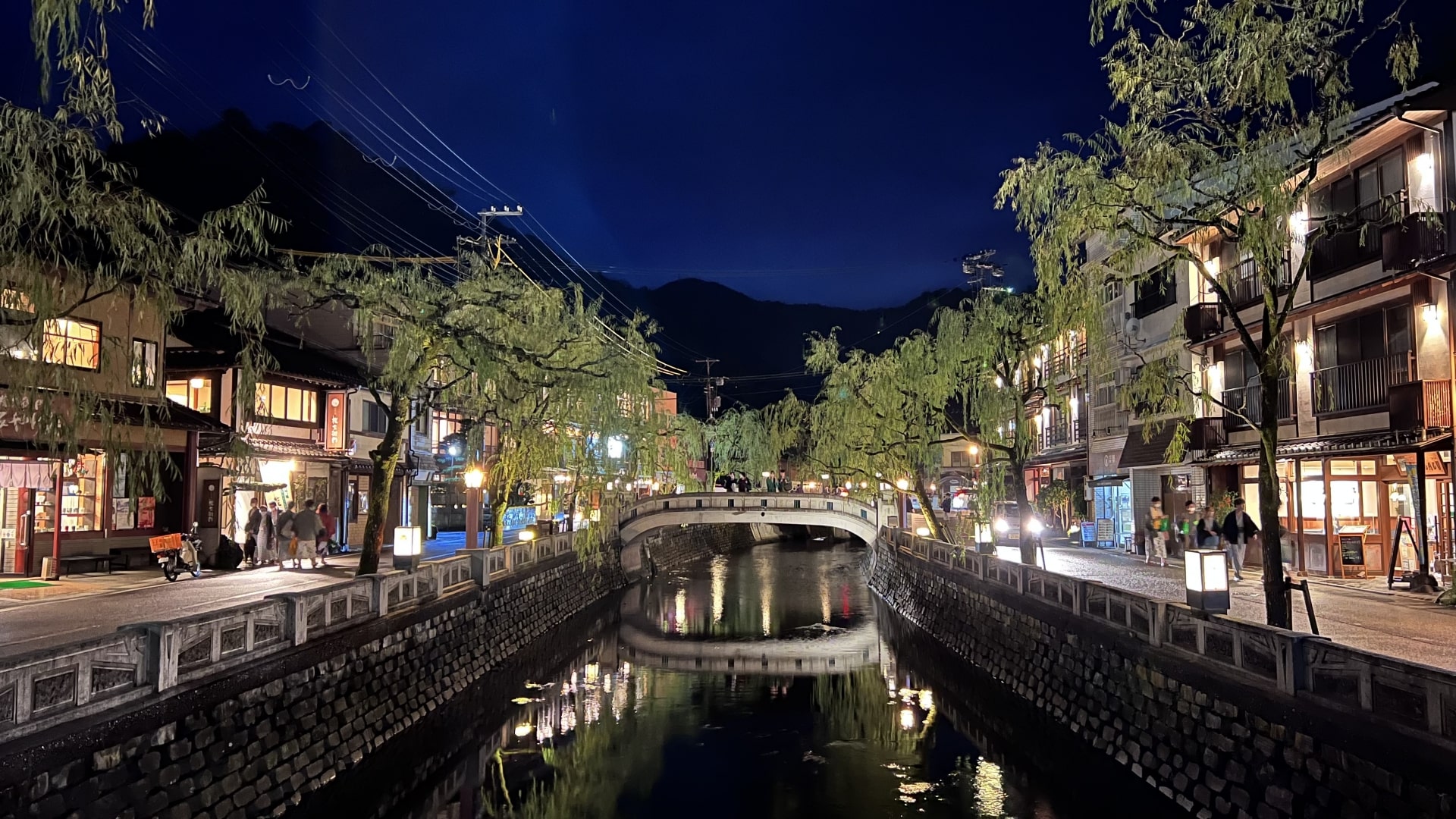 Osaka has various Onsen from natural Onsen and public baths to spa facilities.
Solaniwa Onsen Osaka Bay Tower is a huge Onsen Spa facility. At the top of the building, soaking in a footbath and viewing seasonal flowers in a Japanese garden make you relaxed. 9 different kinds of natural Onsen are drawn from 1,000 m underground. In a private open-air bath, you can enjoy your healing time and don't need to care about other people.
If you extend your way to Hyogo, why don't you visit Kinosaki Onsen? Kinosaki Onsen is one of the most popular Onsen in Japan and won 2 stars in a tourism guide, Michelin Green Guide Japan in 2013. An old Japanese-style town view of Kunisaki Onsen is one of the attractive points. People enjoy Onsen hopping among 7 common bathes. Mandara-yu is thought of as the origin of Kinosaki Onsen so don't miss trying it.
8. Eating hot dishes like Takoyaki, Okonomiyaki, and hotpots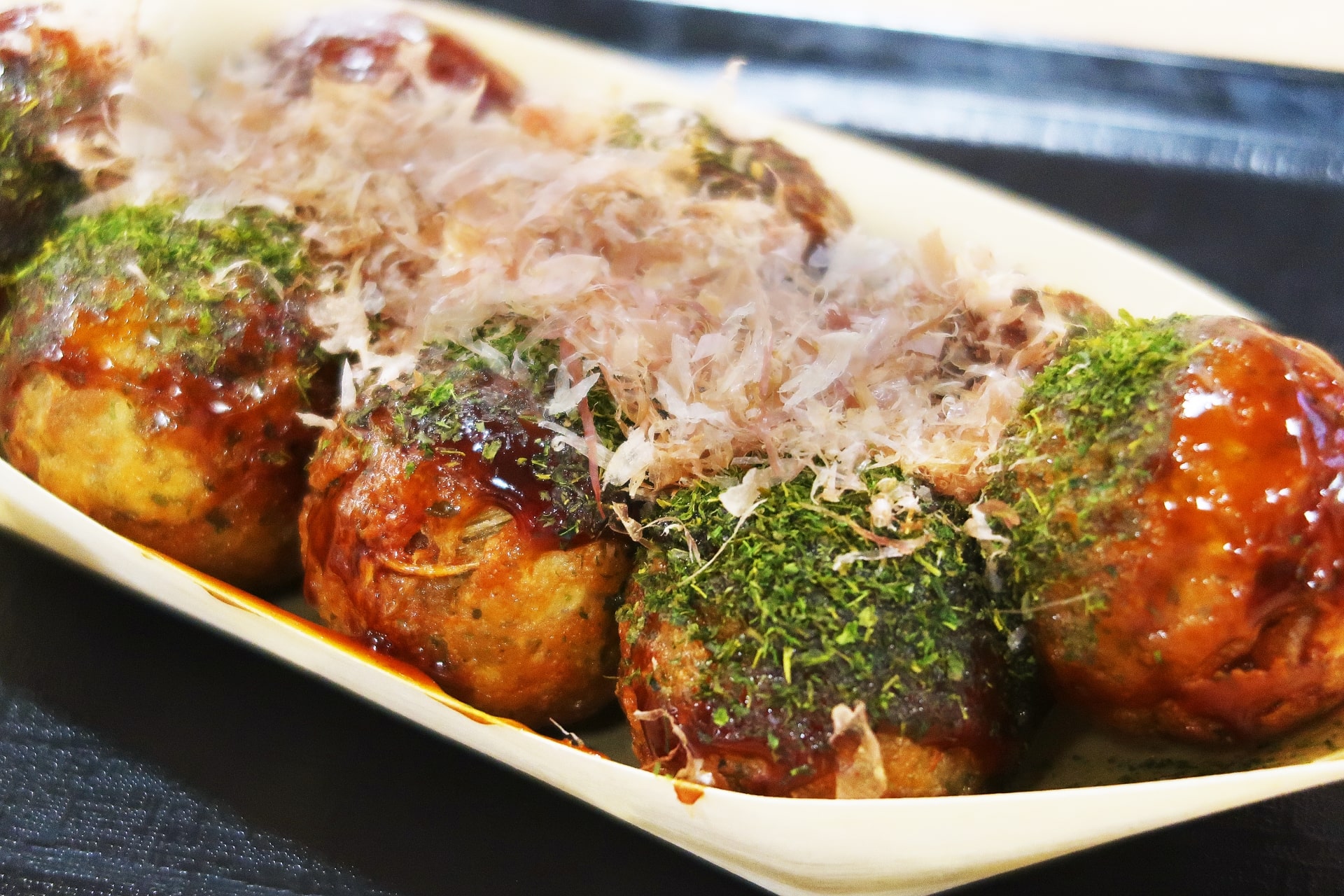 Osaka is also famous as a gourmet town. Let's eat hot dishes and keep warm in winter.
Takoyaki Tamaya is one of the most popular Takoyaki shops in Osaka. The key to the taste is dashi made by boiling lobsters and more than 20 selected ingredients for 3 days. You will be captivated by the Takoyaki soaked in the special dashi.
View Information
Hide
Information
| | |
| --- | --- |
| Access | 3 mins walk from the No.2 exit of Tenjinbashisuji 6 Chome Station of Sakaisuji Subway Line |
| Address | 1-3-4 Kokubunji Kita ward Osaka |
| Closed | 11:30 am - 10:00 pm |
| Official Website | https://tamaya08.com/ |
Fukutaro was established in 1997 and has been loved as one of the best Okonomiyaki restaurants. It uses high-quality pork from Kagoshima prefecture and fresh seafood from Osaka Chuo Market. The most popular item on the menu is Okonomiyaki eith green onions. There are 11 kinds and all of them are cooked with local green onions. The taste of good-quality ingredients and its original sauce mix and melt in your mouth.
View Information
Hide
Information
| | |
| --- | --- |
| Access | 5 mins walk from the exit No.E5 of Namba Station of Midosuji Subway Line |
| Address | 2-3-17 Sennichimae Chuo ward Osaka 5420074 |
| Business Hours | Weekdays 5:00 pm - 0:30 am / Weelends 12:00 pm - 12:00 am |
| Official Website | https://2951.jp/ |
Nikunabetei serves a special hot pot of collaboration with selected black Wagyu and domestic grated yam (Tororo). When you finish a hot pot, enjoying the last drop of tasty soup with rice or Udon is traditional Japanese style. In addition, there are Japanese Sake sets. You can compare the taste of different kinds of Japanese Sake.
View Information
Hide
Information
| | |
| --- | --- |
| Access | 5mins walk from Shinsaibashi Satation |
| Address | 1st floor Nippokasaya town hall 2-8-3 Higashi Shinsaibashi Chuo ward Osaka |
| Business Hours | 6:00 pm - 2:00 am |
| Official Website | https://kdv0800.gorp.jp/ |
9. Ice Skating at the center of Osaka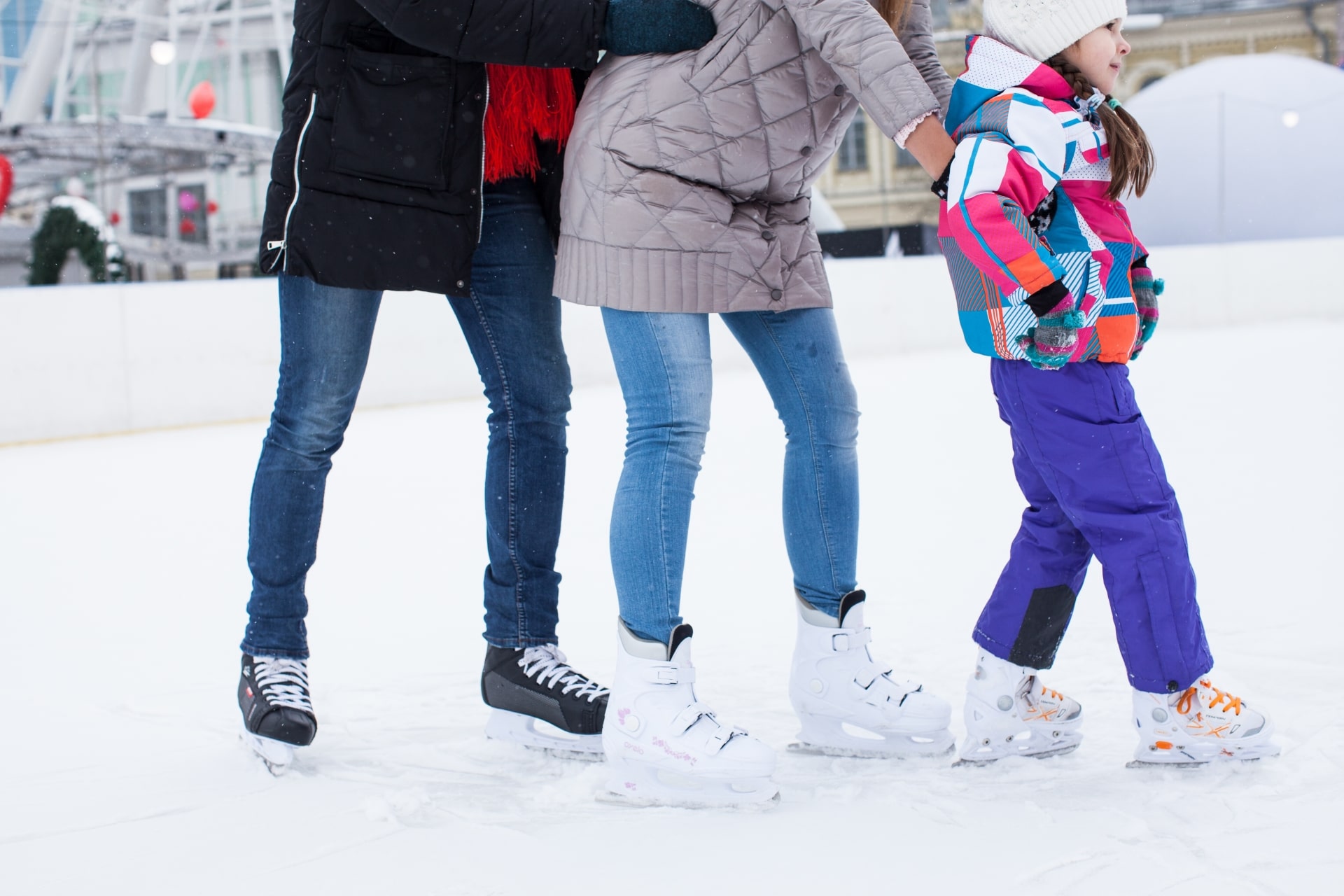 Compared to other winter sports, ice skating is easy to join because skate rinks are established even in the city.
Umeda Ice Rink-Tsurun Tsurun- is a temporary ice rink at the center of Umeda city. Even after shopping, you can enjoy ice skating empty-handed. The price is ¥1,900/ adult, ¥1,700 / Uni Students, ¥1,600 / Highschool Students, ¥1,500 / under 15. The rink will open till the end of February. On Wednesday and Thursday, a set price for 1 person under 15 and 1 adult is ¥3,000. On weeknights, the adult price is ¥1,500.
Maruzen Intec Osaka Pool is turned into a huge ice skate rink during the winter. This is a good rink as official competitions are held for figure skating, ice hockey, and speed skating. There is a skate lesson that both adults and children can join. The admission fee is ¥1,400 / adult and ¥800 / over 65th and under 16th.
10. Taking to day trips for Skiing and Snowboarding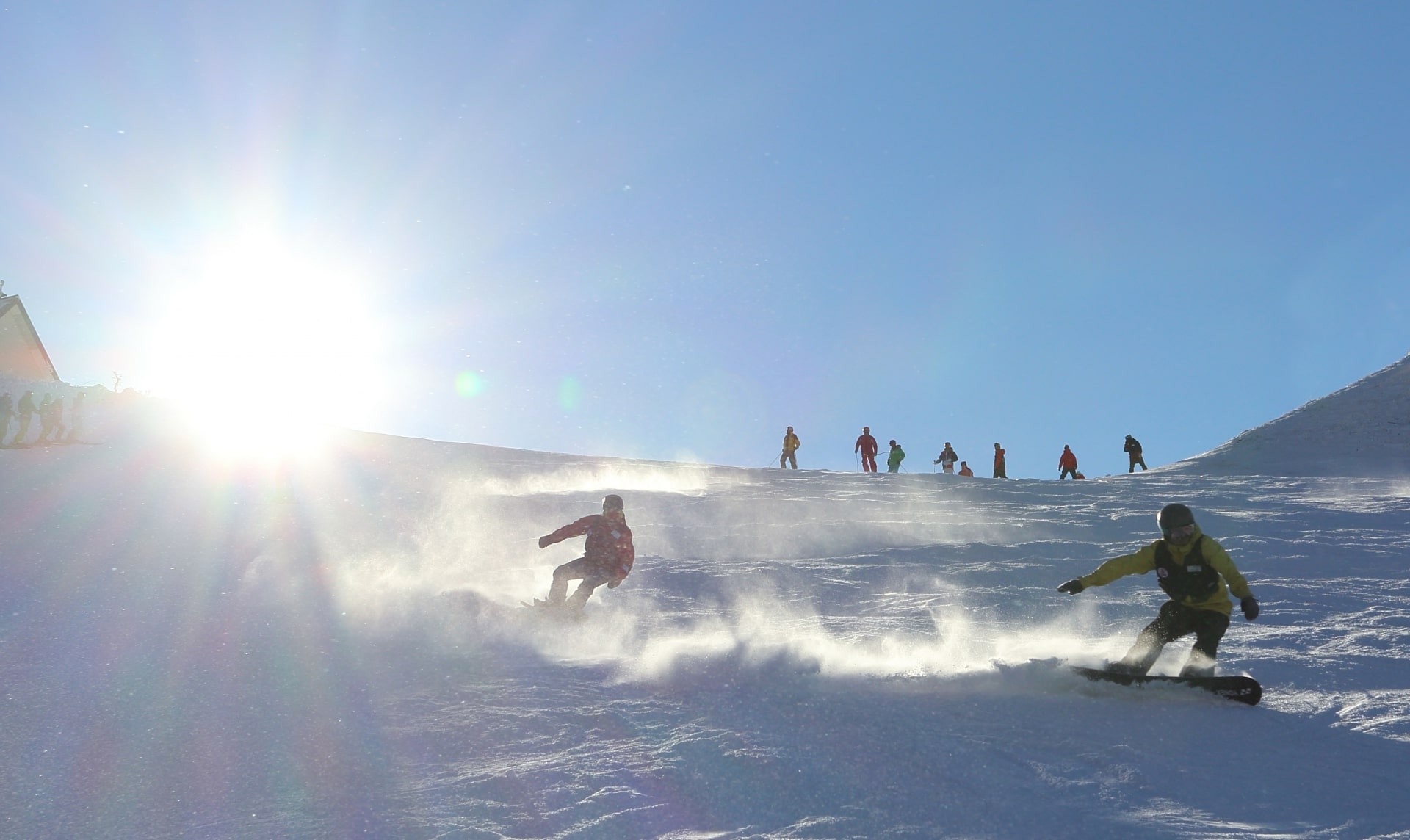 Are you excited to go skiing and snowboarding? There are some famous skiing places in Hyogo, Osaka's neighboring prefecture.
Rokkosan Snow Park is located in the southern part of Hyogo. There are various courses for skiing, snowboarding, and snow playing. The ski slope is gentle for beginners and middle-level players. There is enough rental stuff like snowboards and ski gear. It takes about 1 hour to get there by car from Kobe and Osaka.
Hachi Kita Kogen Ski Resort is located in the northern part of Hyogo. There are 2 areas, Hachi and Hachi Kita. The courses in the Hachi area are more for advanced-level players. In the Hachi Kita area, the course length from the top to the bottom of the mountain is the longest in western Japan. If you are confident about skiing and snowboarding, you should try these courses!! It takes about 3 hours to get from Osaka to Hachi Kita Kogen Ski Resort by train.
---
Did you find the best thing to do in Osaka in winter?
In winter, there are many events from traditional ones like Hatsumode to European-style ones like Christmas Market. It's interesting to experience both events during your stay in Japan. Moreover, because there is good access to Kyoto or Hyogo from Osaka, you can head to your next destination as soon as possible.
If you're from a warm country, don't forget to prepare winter clothes, especially if you're planning to go skiing!!
Also, check out things to do in Osaka in other seasons!
▶10 Best Things to Do in Osaka in Spring
▶10 Best Things to Do in Osaka in Summer
▶10 Best Things to Do in Osaka in Autumn
---
▽Subscribe our free newsletter!▽
For more information about traveling and living in Japan, check these articles below, too!
▽Related Articles▽
▼Editor's Picks▼
---