10 Best Nature Spots in Tokyo
Best places to enjoy Tokyo's nature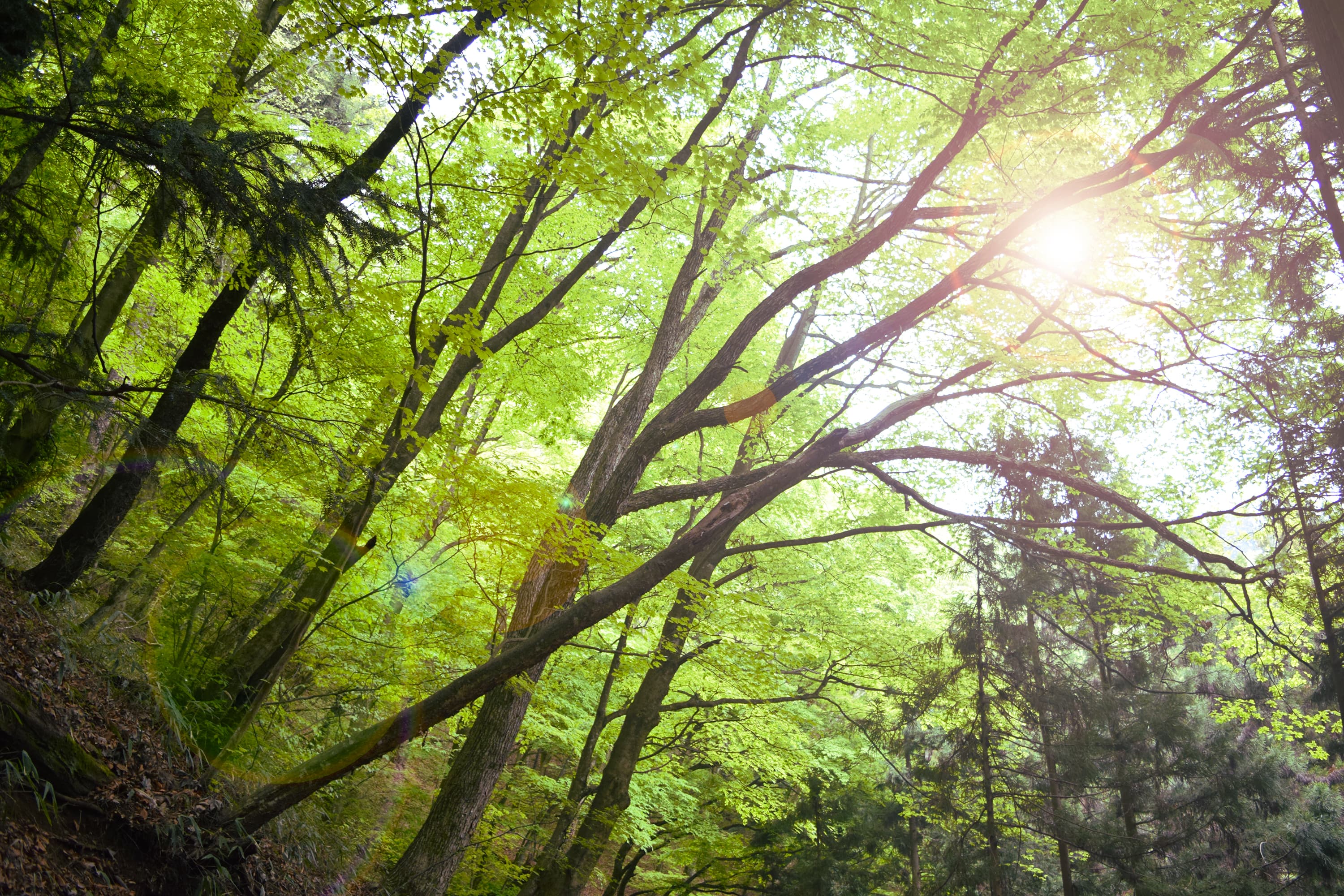 In Japanese, there's a phrase we say when we go out of the city and into nature to relax which is "Shinrinyoku" (森林浴). This literally means "bathe in the woods", and is one of the best ways to de-stress yourself from the busy and bustling atmosphere that big cities emanate.
Tokyo, being the largest city in the world, has many fun and entertaining things to do, but it can be overwhelming if you stay for a long period of time.
The problem is, many foreign visitors don't tend to take into account nature-rich spots when they do their research on Tokyo.
Luckily for you, I made a list of 10 of the best nature spots you can go to within Tokyo. It is good to have some of these places in mind in case you get tired of too much city activity.
---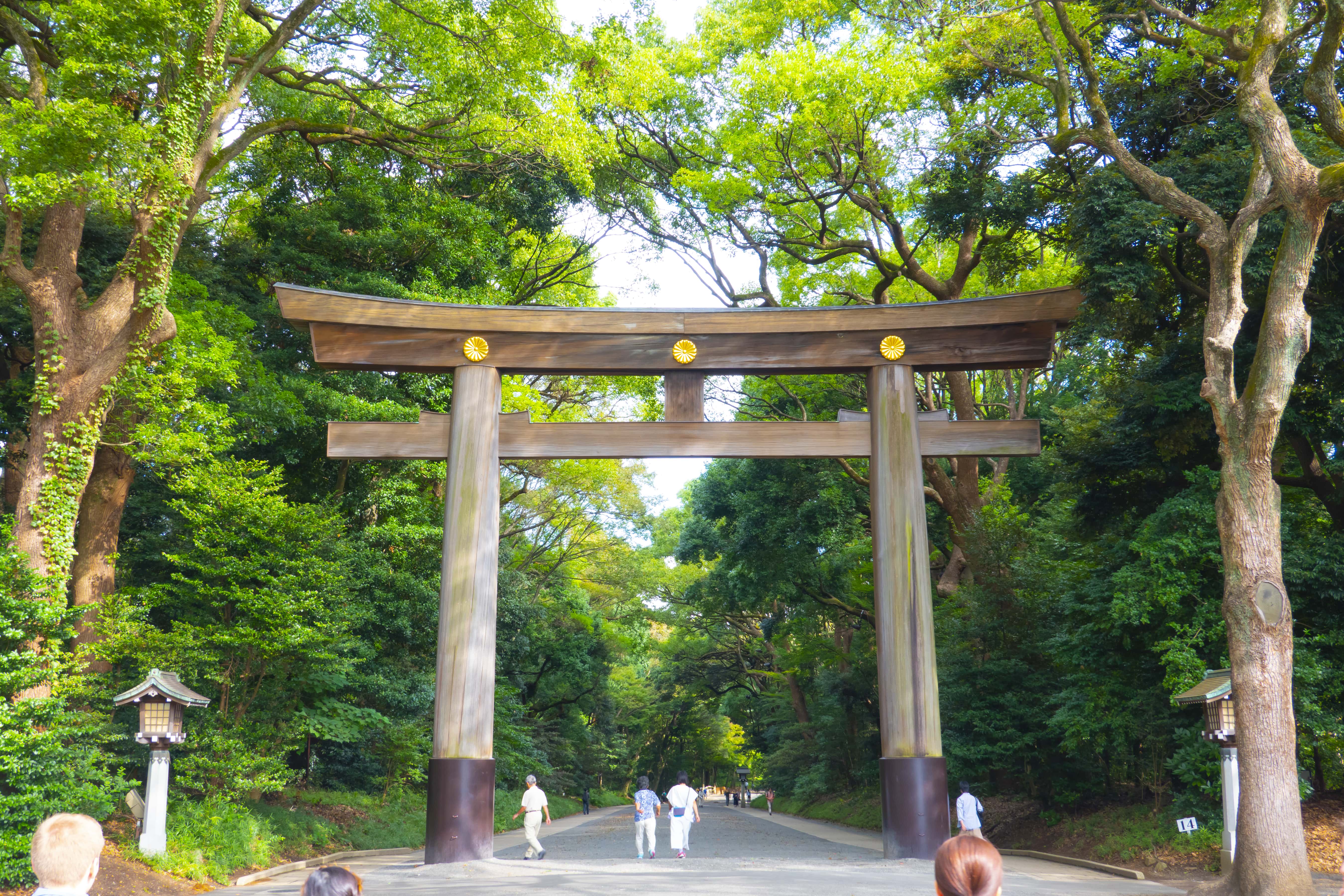 Meiji Shrine(明治神宮), also know as "Meiji Jingu" is probably the most famous spot in Tokyo where you can experience the peaceful atmosphere that nature provides.
This Shinto Shrine is located within a human-made forest just at the side of Harajuku station. It is hard to imagine that such a massive forest can be found so close to one of the most energetic areas in Tokyo.
You can actually find many species of birds you won't find elsewhere in Tokyo, so much that bird watchers like to come and take pictures.
Experience both nature and culture that this place has to offer. You can take tours that will explain the fascinating history behind this shrine and forest.
<<Book here to Explore Meiji Jingu Shrine and enjoy tasting Matcha!>>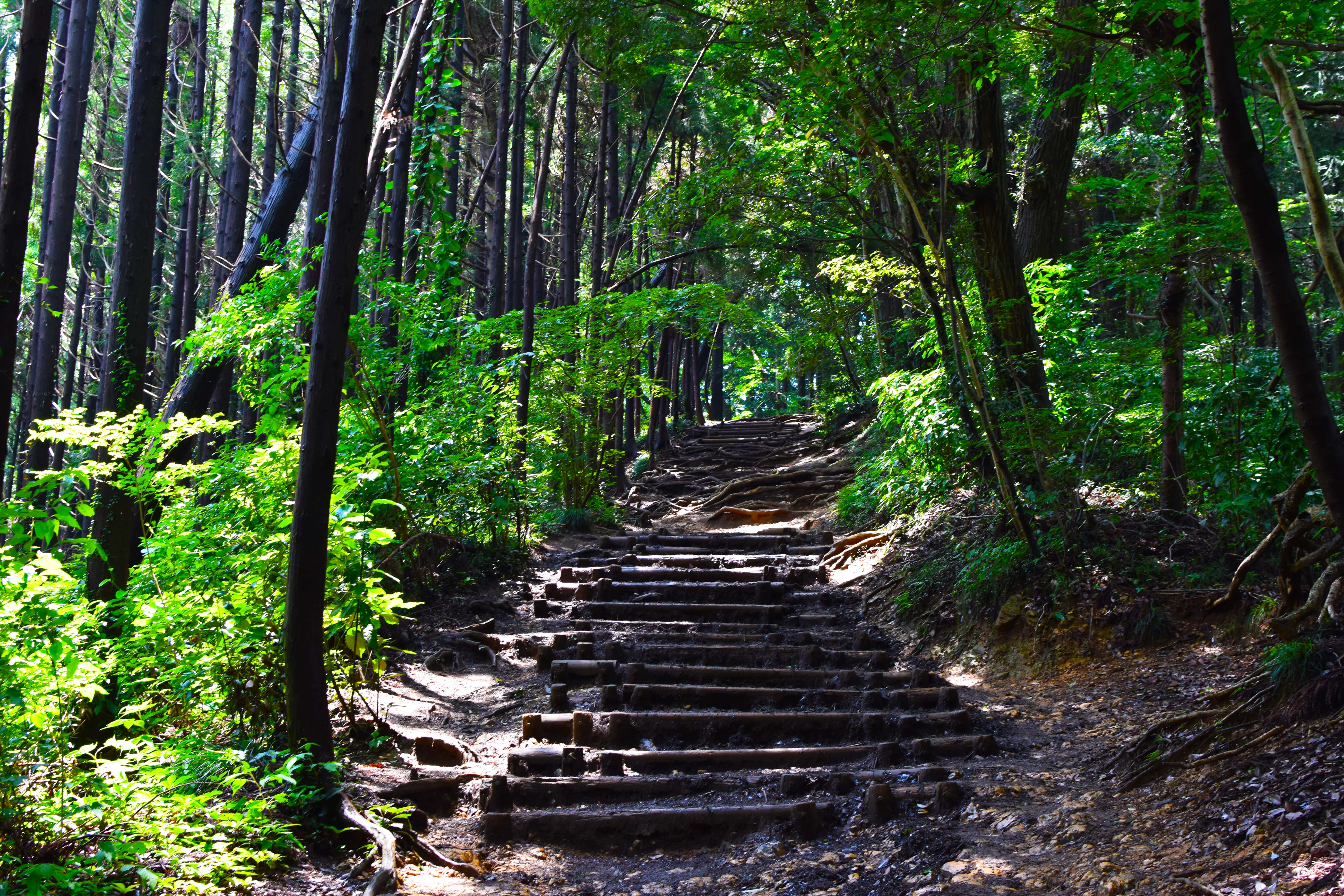 Mount Takao(高尾山) is the most accessible mountain in Tokyo, located just an hour by train from the center of Tokyo. Many people like to visit this place to de-stress themselves and to feel the spiritual power that it is said to be present here.
You can either climb the mountain by hiking(there are 8 different trails), or you can also take a cable-car to the mid-point.
I recommend you go to the Temple located 25 minutes from the cable-car exit. It is said to increase your luck in life. You can take a tour that will show you all the interesting spots within the mountain.
3. Mount Mitake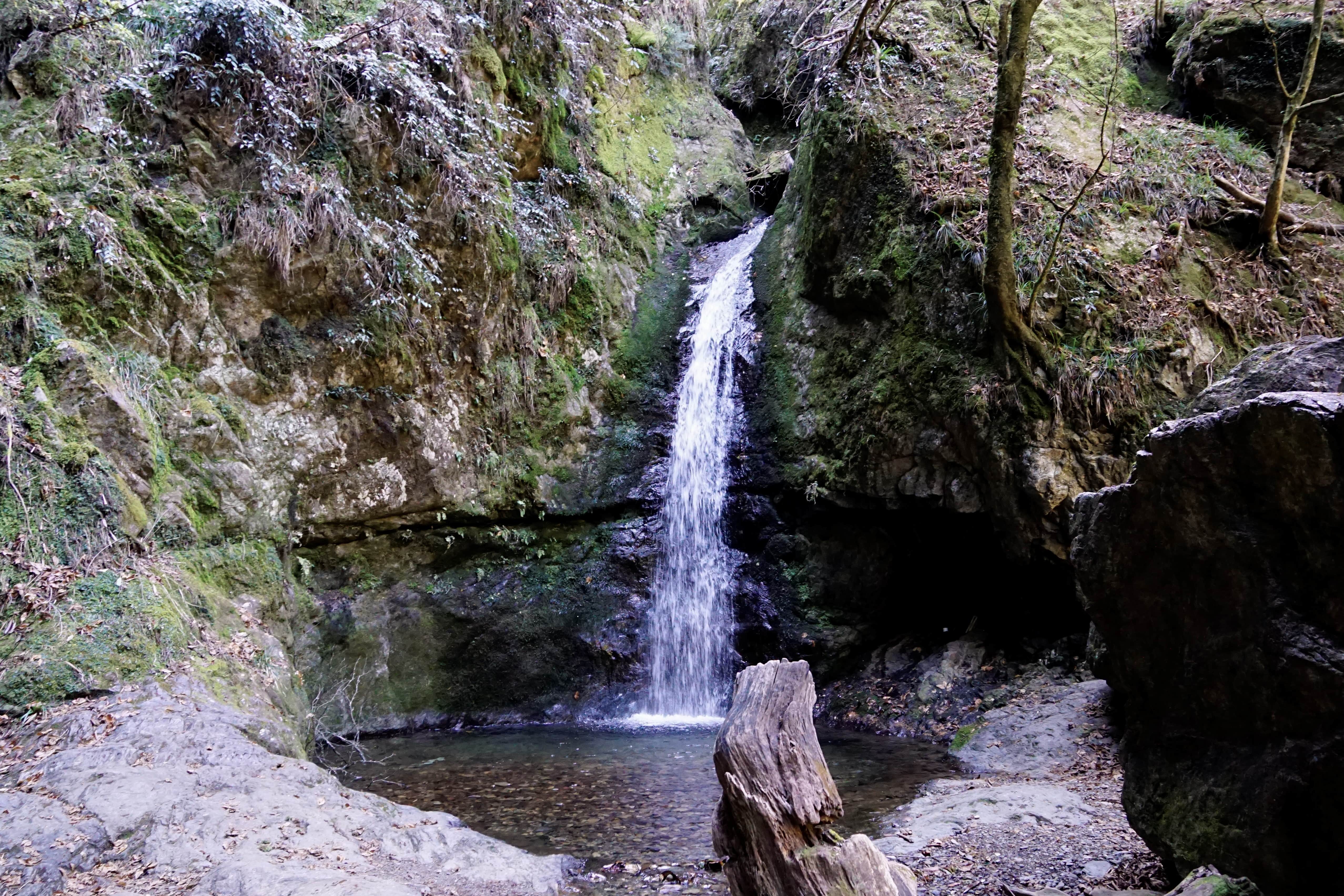 Mount Mitake(御岳山) is another mountain located just outside of the Tokyo center area. It is located in an area known as "Okutama"(奥多摩) which is very popular for going on driving trips and enjoying nature.
It only takes an hour and a half to get there from Shinjuku by train, which makes it, along with mount Takao, a very popular place for those who are lovers of nature.
near the top of the mountain, you will find the "Musashi Mitake Shrine"(武蔵御嶽神社) where you can pray to "Oinu-Sama"(mountain dog spirit) for protection from bad spirits and the well-being of your dog.
Other popular spots include the "rock garden" which is a photogenic area with lots of large stones covered in moss, and many many waterfalls.
Other than hiking in Mount Mitake, there are many things you can do in the Okutama area such as visiting large caves, white water rafting on the Tama river, and visiting a wasabi farm!
<<Book White Water Rafting Tour on the Tama River!>>
<<Book Okutama Forest Therapy Tour and Healthy Nature Walk!>>
For more information about the Wasabi farm, here's an article about it!
▶Hiking to Wasabi Farm in Tokyo Hidden Oasis: Tama
4. Akigawa Valley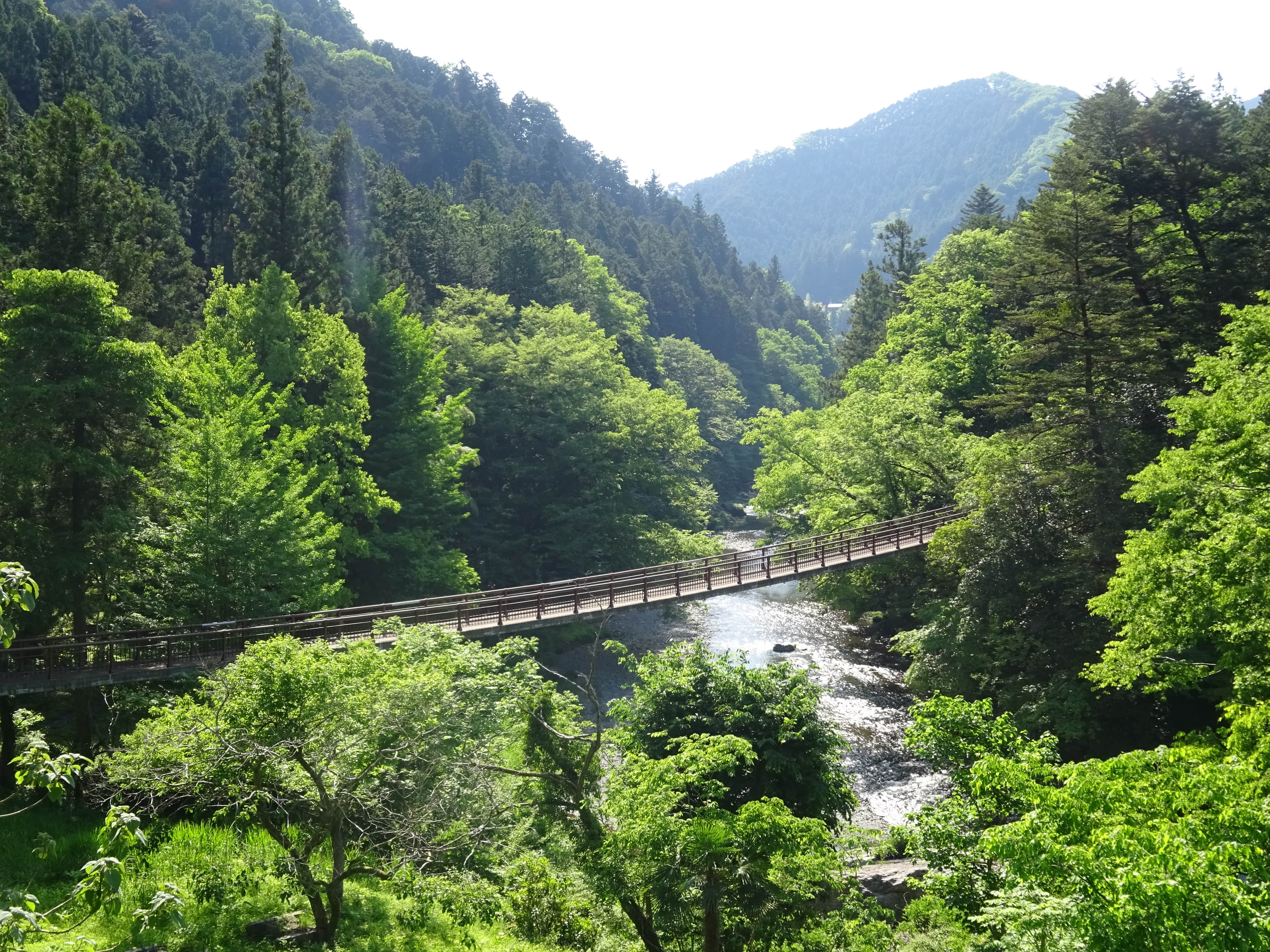 Akigawa Valley(秋川渓谷) is a 20km long valley located in the Tama region, about 1 hour west from Central Tokyo.
The famous "Ishibune bridge"(石舟橋), as shown in the picture above, is such a photogenic place that changes drastically depending on the season that you visit.
The "Aki river"(秋川), which runs through the valley, is the largest tributary for the Tama river and is a good place for camping and fishing.
If camping, fishing, and BBQ is your thing, then this is a place you would definitely love.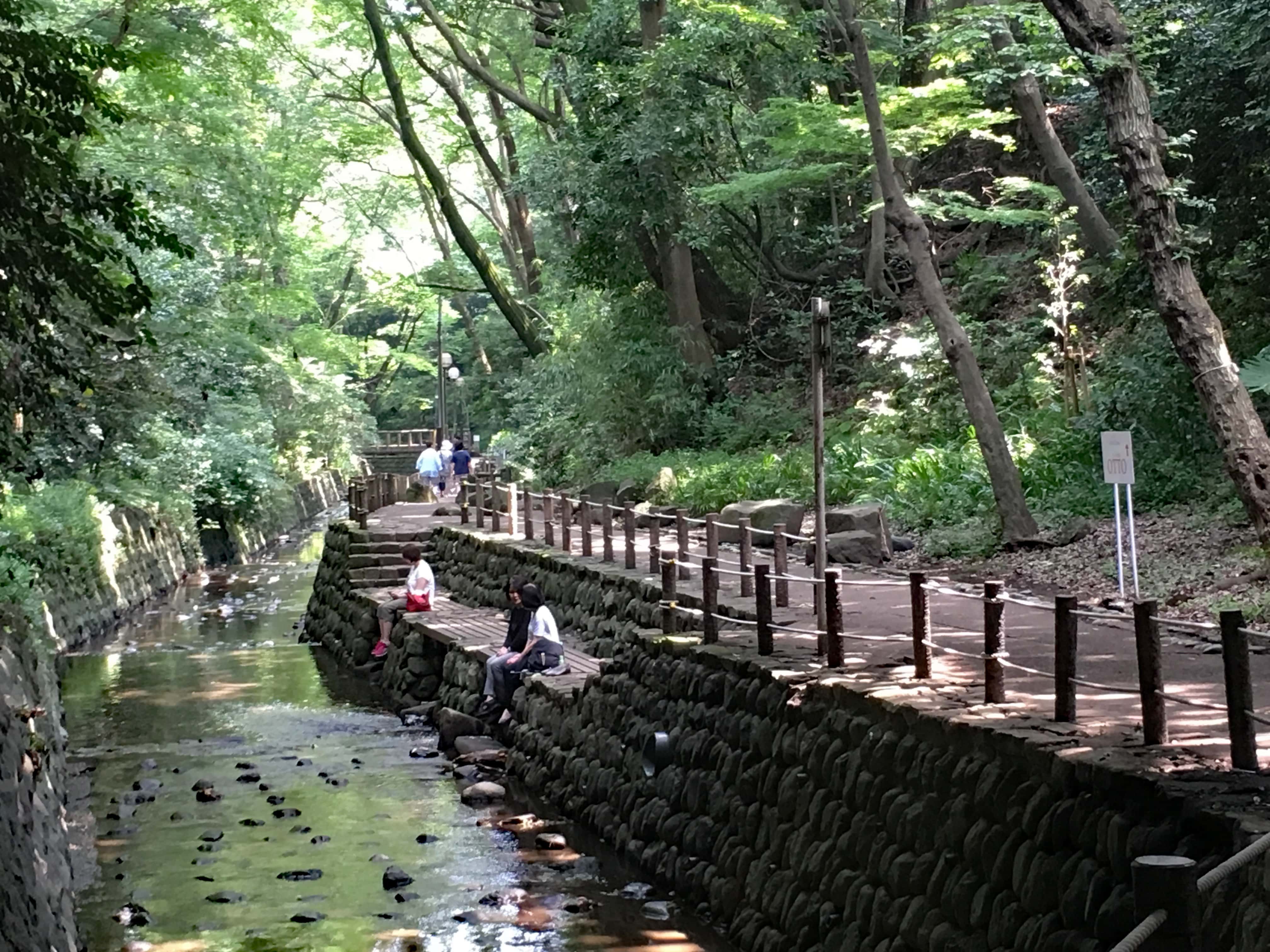 Although hard to believe, Todoroki Valley(等々力渓谷) is a small valley located within central Tokyo. This 1km long valley is just a few minutes walk from Todoroki station(等々力駅) in Setagaya-ward. It is the only valley within the 23 wards and it is known as the "Oasis of Tokyo".
The valley is well paved and maintained, so you don't need any special preparation except comfortable shoes and maybe a bottle of water.
You will be amazed at all that you can find within the valley. From Japanese-style cafes and areas where you can sit on the grass and have a picnic to a Japanese-style garden and a Temple located in the higher parts where you can look at the whole valley.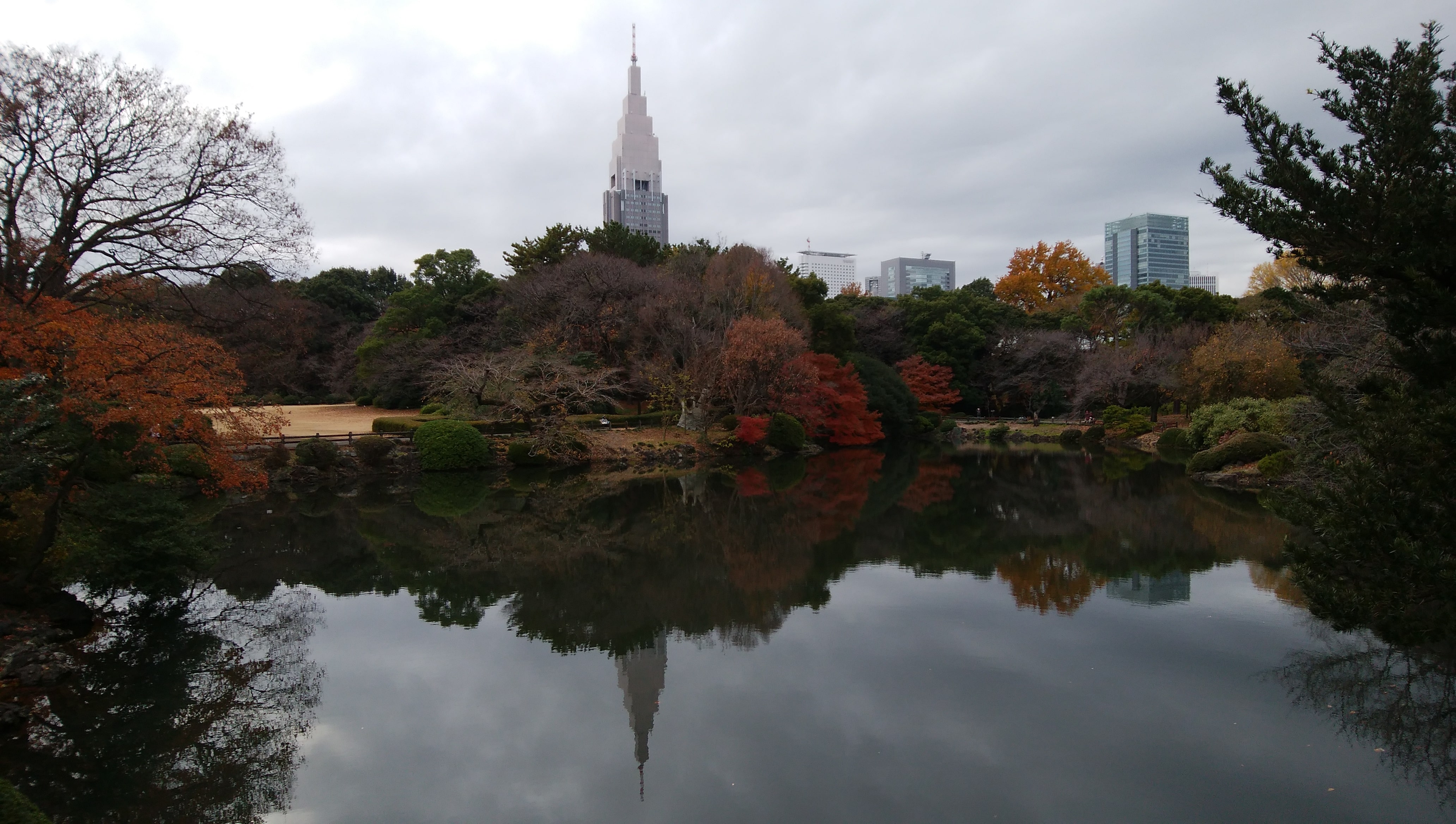 Shinjuku Gyoen(新宿御苑) is a large park located just a few minutes walking from Shinjuku station. You will not believe such a quiet place can be found in one of the most crowded places in Tokyo.
This 580,000 m² park was first created by the feudal lords of the Edo-period and it has many gardens with different styles located within the park. From Japanese-styled garden to English-landscape garden and French-formal garden.
It is especially popular in springtime for the Cherry Blossoms and in fall for the autumn leaves.
The park is opened from 9 am to 4 pm, and the admission fee is 200 yen.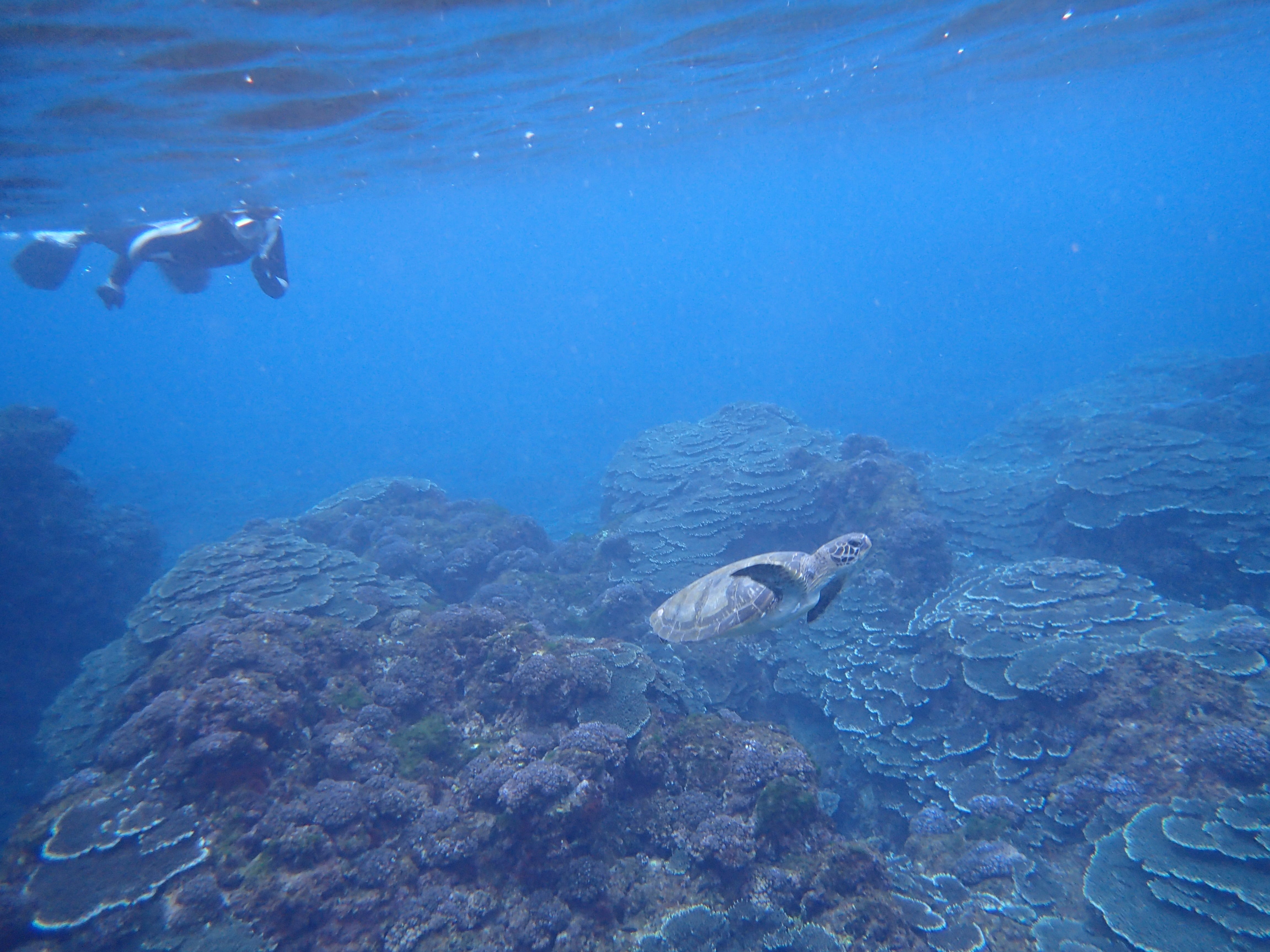 Hachijojima(八丈島), also known as Hachijo Island, is one of the seven volcanic islands that compose the Izu Seven Islands (伊豆七島) located 287 km away from the main island of Japan. These islands belong to Tokyo, hence making it into our list.
To get to this amazing location, you can either take a plane or a ferry.
There are so many things you can do at Hachijojima. Rent a car and drive around the 63 km²-island, explore in the forest where you will find vegetation like nowhere else in Japan, or go scuba diving in the crystal clear ocean.
Here is an article where we created a 2-day itinerary!
▶Hachijojima Island Itinerary for 2 Days
8. Inokashira Park
Inokashira Park(井の頭恩賜公園) is a public park inaugurated in 1917 located in the Kichijoji area. This 430,000 m² park is filled with activities and things to do!
Within the park, you can find a large pond where you can navigate in boats, a petting zoo, a small aquarium, a Buddhist temple, an area for street artists and performers, tennis courts, and much more!
Perhaps the most famous spot is the Ghibli Museum which is also located within the park.
Inokashira Park also happens to be one of the most popular places to see cherry blossoms in Tokyo. It is officially one of the 100 best spots to see cherry blossoms in all of Japan.
9. Sarushima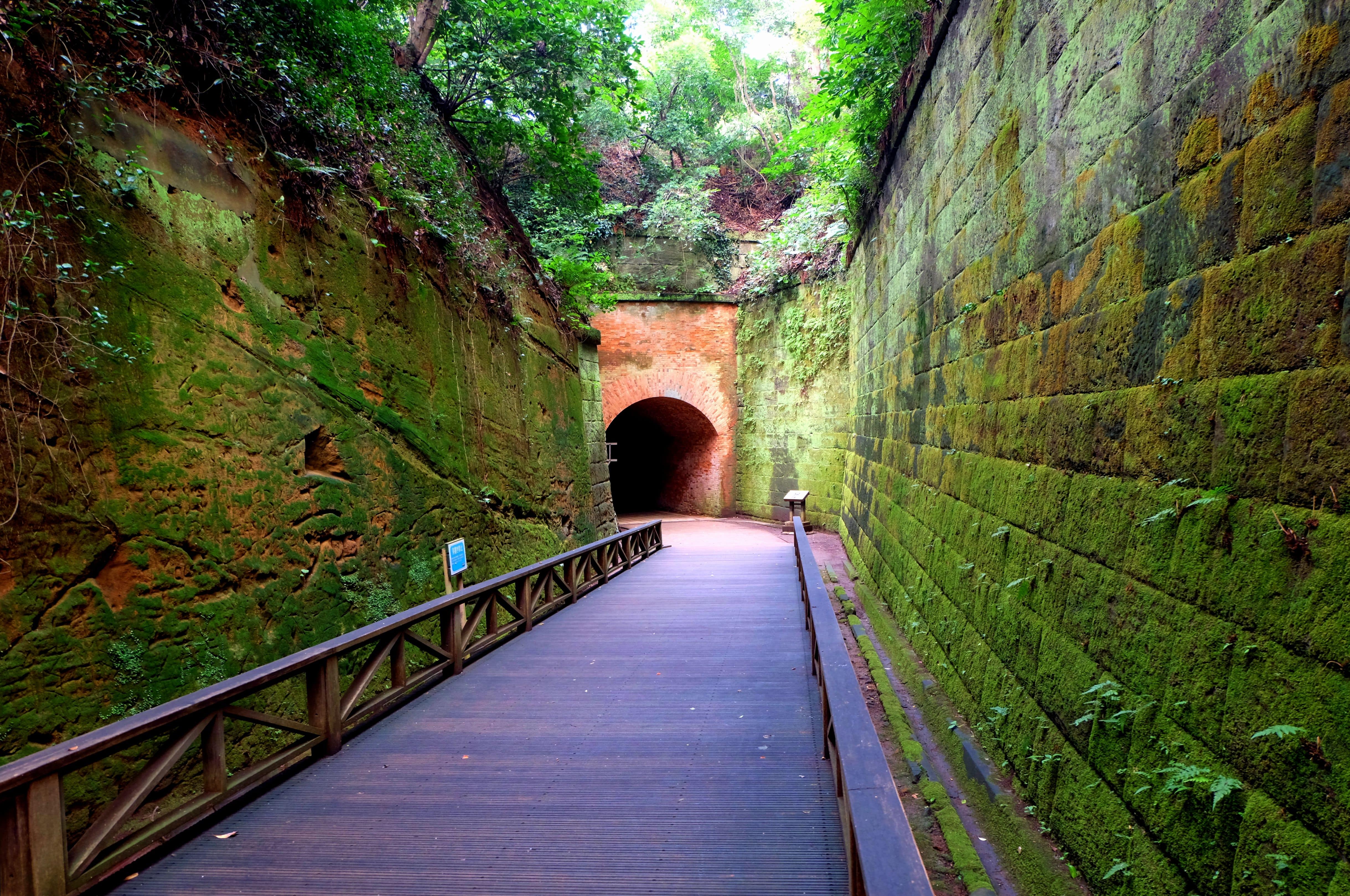 Sarushima(猿島) is a small island located offshore of Yokosuka in Kanagawa prefecture. It is not a place in Tokyo, but access from Tokyo is fairly easy.
To get to the island, first, you take a train to Yokosuka Station(JR Yokosuka Line) or Yokosuka-Chuo station(Keikyu Line). This will take you about an hour. Then you take a ferry which takes about 10~15 minutes.
The island is about 55,000 m² in size and was used as a battery during the Edo-period. Then it was used by the Japanese navy forces until the end of WWII. Nowadays you can go and see the ruins of these red-brick structures which contrast nicely with the green of the surrounding nature. People come to take pictures, bathe and have BBQs on the beaches.
Note: Although the name "Sarushima" literally means "Monkey island", there are no monkeys on the island.
10. Mount Tsukuba
This is also a place not located in Tokyo, yet it is easy to access from Tokyo.
Mount Tsukuba(筑波山) is located north of Tokyo, in Ibaraki prefecture. It is one of the most important mountains in Japan and it is considered a sacred place, having many legends about it in ancient Japanese literature.
To get there, first, you take the Tsukuba express from Tokyo which will take 45 minutes. Then you take a shuttle bus to the foot of the mountain(about 50 minutes) where you can take either a cable-car or the ropeway.
on the foot of the mountain is the "Tsukubasan Shrine"(筑波山神社) which is a 3,000-year-old Shinto shrine.
But what makes this mountain most popular is the view from the summit. If you're lucky with the weather, you'll be able to see the entire Kanto plain with Mount Fuji in the back.
---
So there you go. I hope this list helped you in getting some ideas for when you come and visit Tokyo. I think it's a good idea to mix the exciting and lively city action with a little bit of the peace and quiet of nature, to achieve a more complete Tokyo experience.
Are you looking for more places to go during your visit to Tokyo? Then be sure to check the following articles!
▽Related Articles▽
▼Editor's Picks▼
---