15 Best Gardens in Japan
A Journey Through Tranquil Beauty and Timeless Tradition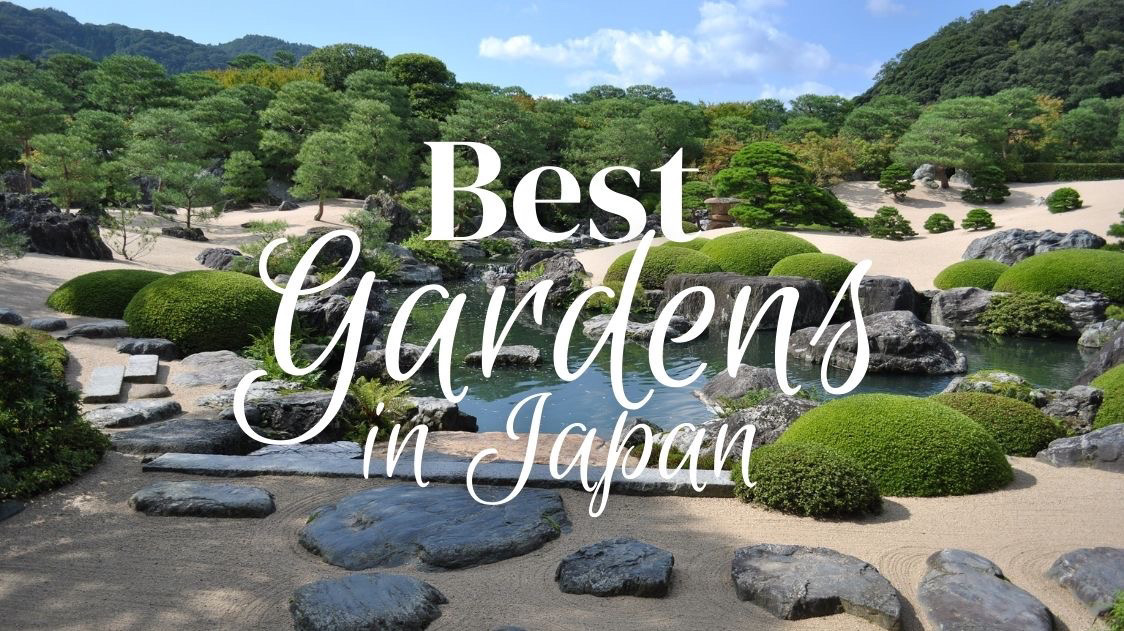 Japan's gardens are portals into the country's historical depth, cultural richness, and philosophical traditions. They offer vibrant landscapes where human ingenuity and natural beauty converge, crafting serene scenes that shift with the seasons. The following exploration of 15 of Japan's finest gardens will guide you through a diverse array of horticultural wonders, each with a unique charm and story to unfold.
---
Features of Japanese Garden
Japanese gardens represent a delicate balance between raw nature and human artistry, encapsulating the country's philosophical and aesthetic ideals. They are meticulously crafted to portray miniaturized, idealized landscapes, often featuring key elements like ponds, bridges, ornamental rocks, water features, and carefully chosen and positioned trees and flowers. Asymmetry and irregular shapes are embraced as reflections of natural beauty, while elements are placed to create pleasing compositions from multiple vantage points. Many gardens include tea houses where visitors can enjoy quiet reflection, emphasizing the gardens' role as havens of tranquility and mindfulness.
1. Kenrokuen Garden (Ishikawa)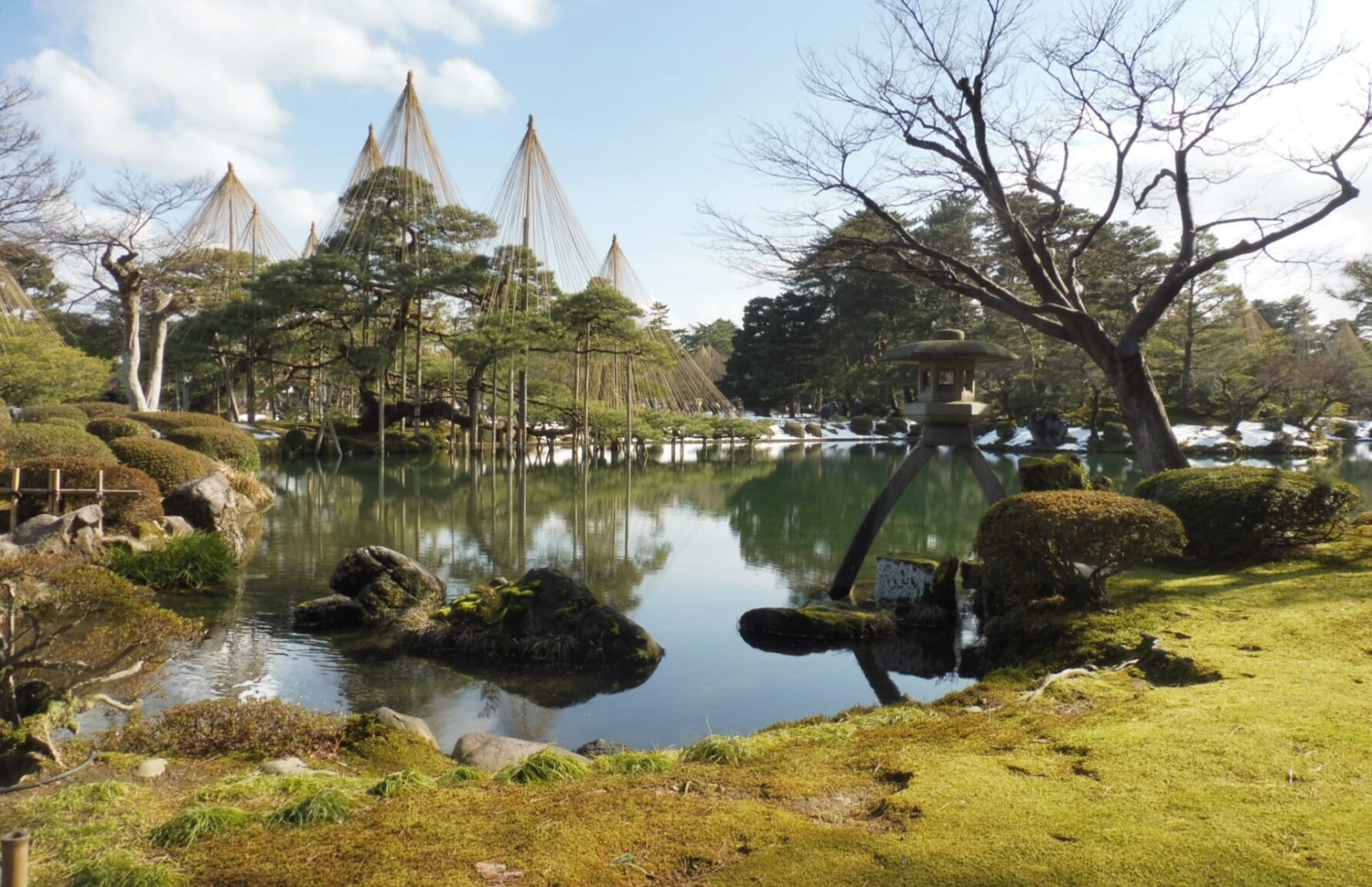 Meaning 'Garden of the Six Sublimities,' Kenrokuen (兼六園) encapsulates spaciousness, seclusion, artificiality, antiquity, abundant water, and broad views – the six attributes of a perfect landscape garden, lauding it as one of Japan's top three gardens. The garden, located in Kanazawa, Ishikawa Prefecture. boasts a diverse landscape teeming with ponds, streams, and centuries-old trees. No matter the season, Kenroku-en offers a distinct visual treat, from the snow-laden Yukitsuri trees in winter to the cherry blossoms in spring, and the irises in summer to the vibrant foliage in fall. Originally built in the decade of 1620 by the Maeda clan, its development continued until the 1840s, subsequently opening to the general public for the first time in 1871.
▶ Kenrokuen Garden official website: https://www.pref.ishikawa.jp/siro-niwa/kenrokuen/e/index.html
2. Kairakuen Garden (Ibaraki)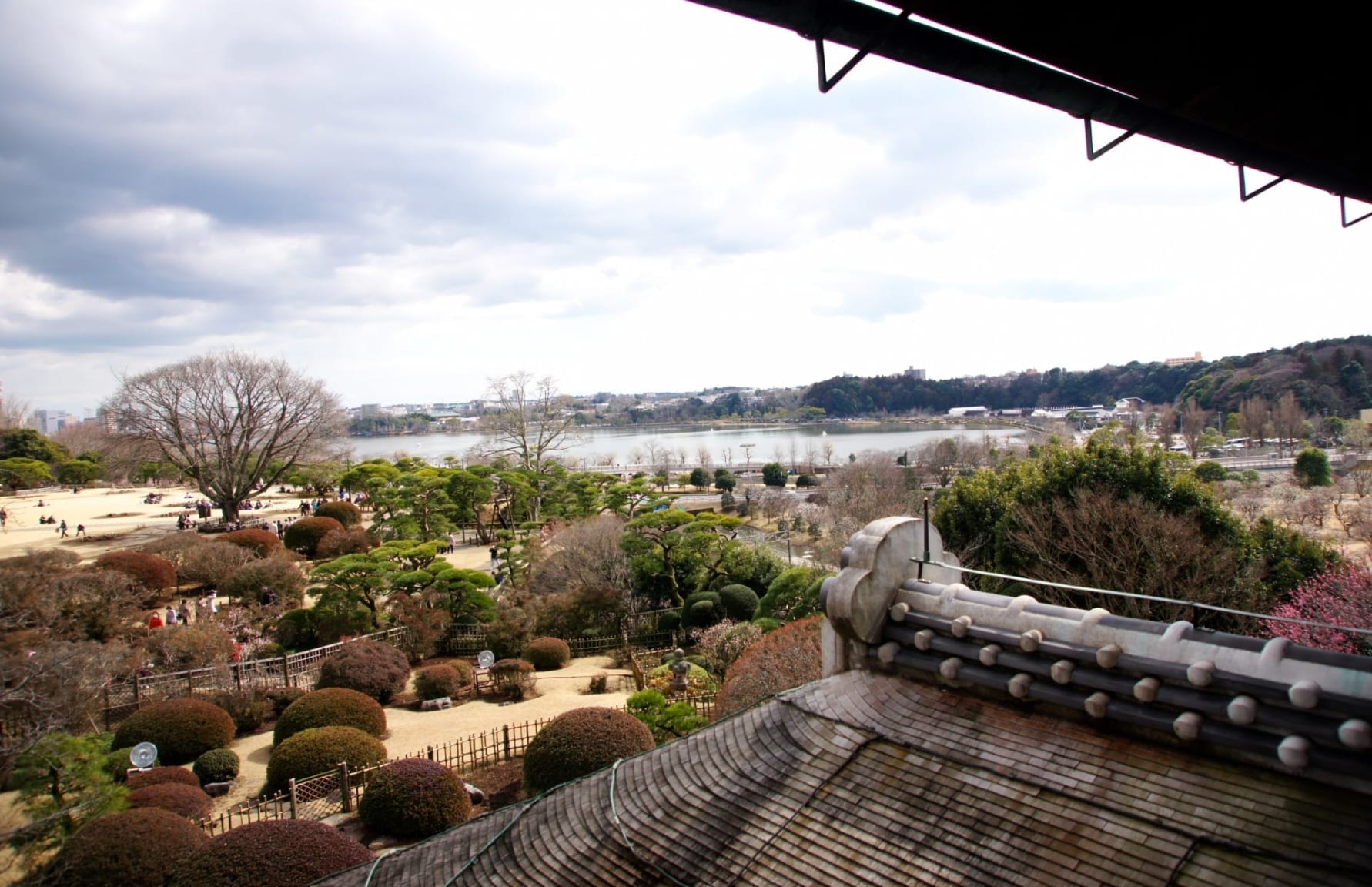 Kairakuen (偕楽園) in Mito City, Ibaraki Prefecture, is another one of the top three gardens in Japan, renowned for its large grove of over 3,000 plum trees, making it a spectacular sight during the plum blossom season. Built in 1842 by the daimyo of the Mito Domain, it was envisioned from the beginning as a public park, its name means "a garden to be enjoyed together" (although commoners could only access it on specific days at the time). The garden's beauty extends beyond the plum trees to a bamboo grove, cedar woods, and the traditional Kobuntei house where you can enjoy panoramic views of the garden in its seasonal bloom.
▶ Kairakuen official website: https://ibaraki-kairakuen.jp/en/language/
3. Korakuen Garden (Okayama)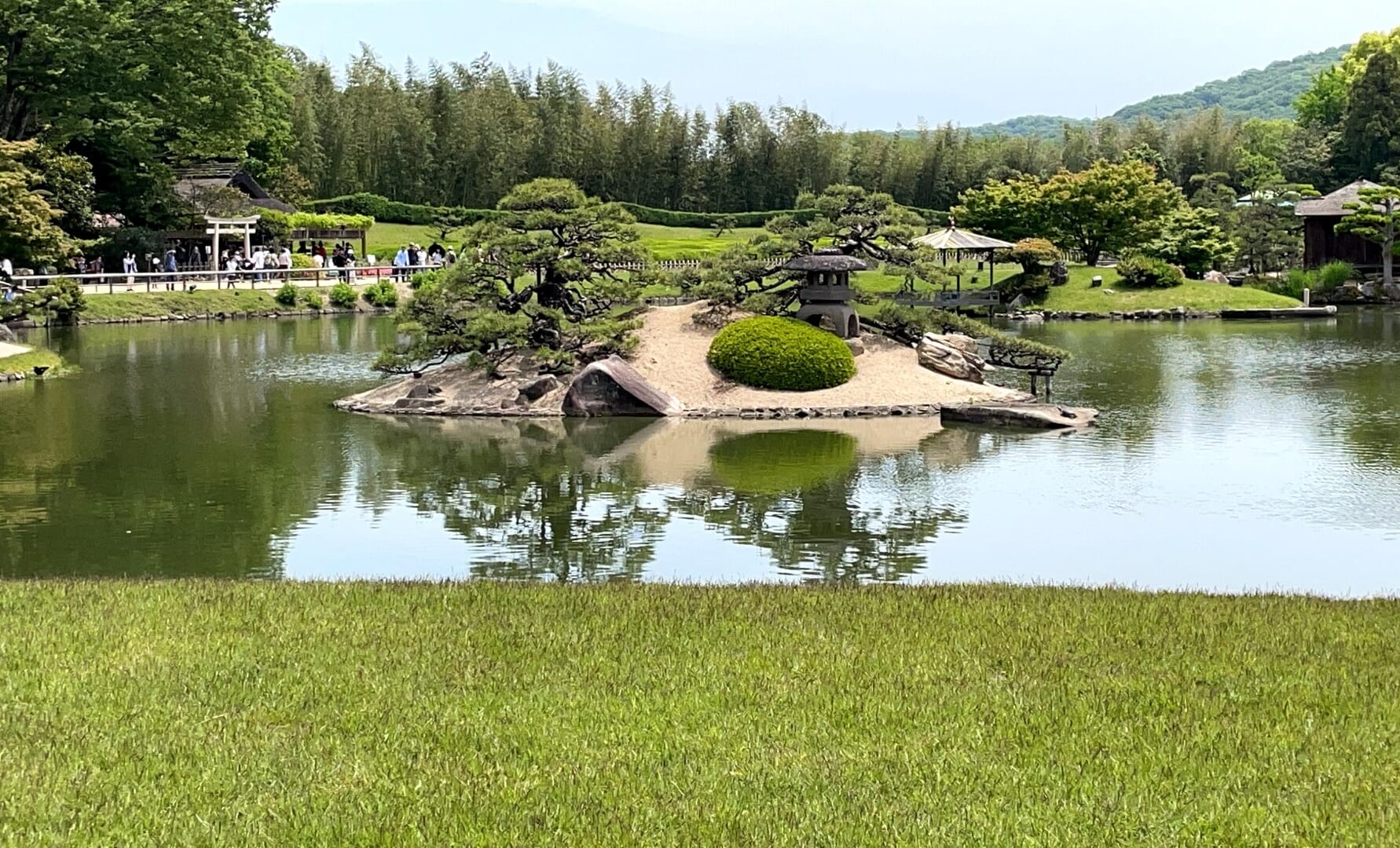 Korakuen (後楽園), the third garden in Japan's most esteemed triumvirate, unfolds in Okayama, Okayama Prefecture, over a vast landscape of meticulous and unusually large lawns, tranquil ponds, elegant bridges and timeless tea houses. Its spaciousness, coupled with the strategic use of the concept of "borrowed scenery," creates a sense of harmony between the garden and its surrounding environment. The garden was built in 1700 by the Ikeda clan, lords of the Okayama Domain, next to Okayama Castle, and opened to the general public in 1884 when Okayama Prefecture became the owner of the garden.
▶ Korakuen official website: https://okayama-korakuen.jp/section/english/
4. Adachi Museum of Art (Shimane)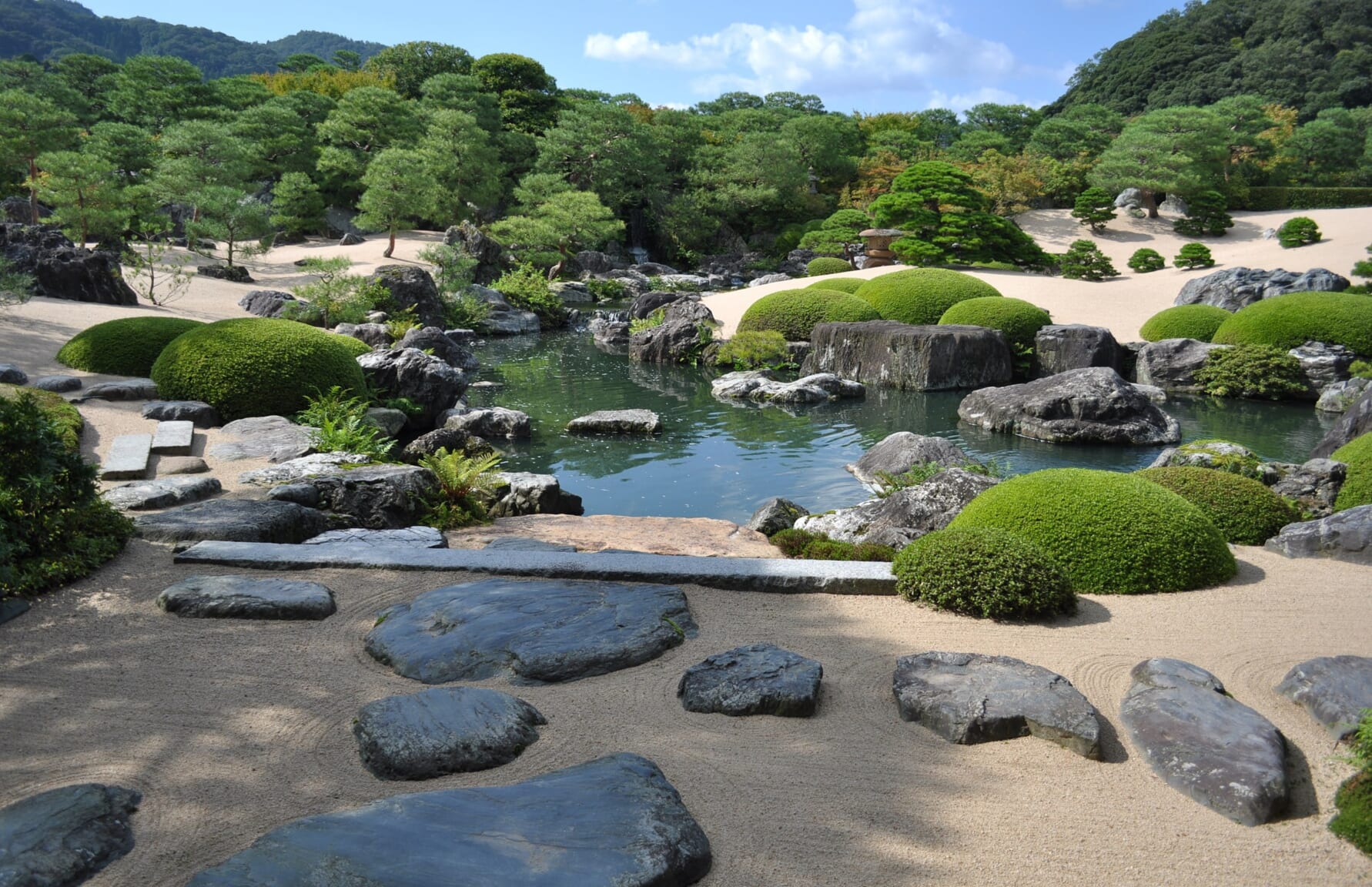 The Adachi Museum of Art (足立美術館) in Yasugi, Shimane Prefecture, presents a fascinating blend of traditional Japanese art and garden design thanks to its masterfully designed garden that complements the museum's impressive art collection. The garden itself is considered a "frameless picture," with scenes meticulously designed and maintained to reflect the changing seasons. Viewed from within the museum through expansive windows, the garden blends seamlessly with the exhibited artworks, creating an extraordinary fusion of nature and human creativity. To no one's surprise, the garden has been consistently ranked at the top for two decades in an American specialized magazine with the votes of experts around the world. Furthermore, it has also been awarded 3 stars by the Michelin Green Guide.
For more information about The Adachi Museum of Art, check the following link!
5. Ryoanji Temple Rock Garden (Kyoto)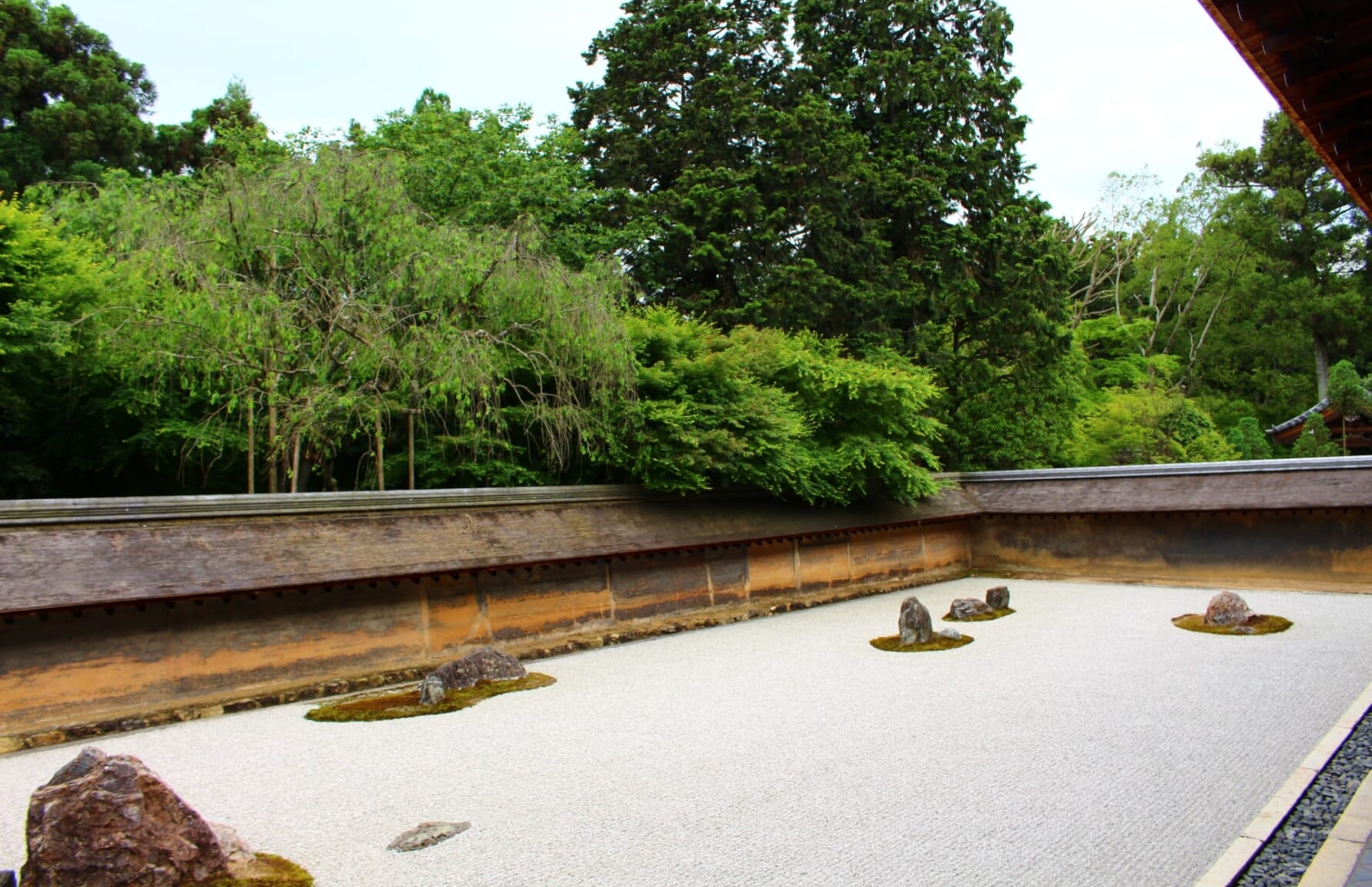 Ryoanji Temple (竜安寺) in northwest Kyoto is home to Japan's most iconic Zen rock garden, a place of profound spiritual significance. Fifteen carefully arranged rocks seem to float in a sea of meticulously raked white gravel, creating a minimalistic landscape that encourages introspection. The garden's design promotes a sense of calm and is intended to facilitate meditation, embodying the Zen philosophy's emphasis on simplicity and tranquility. There is no consensus about the construction date but the garden was likely built around mid or late 15th century after the temple's foundation in 1450.
For more information about Ryoanji Temple, check the following link!
6. Saihoji Temple (Kyoto)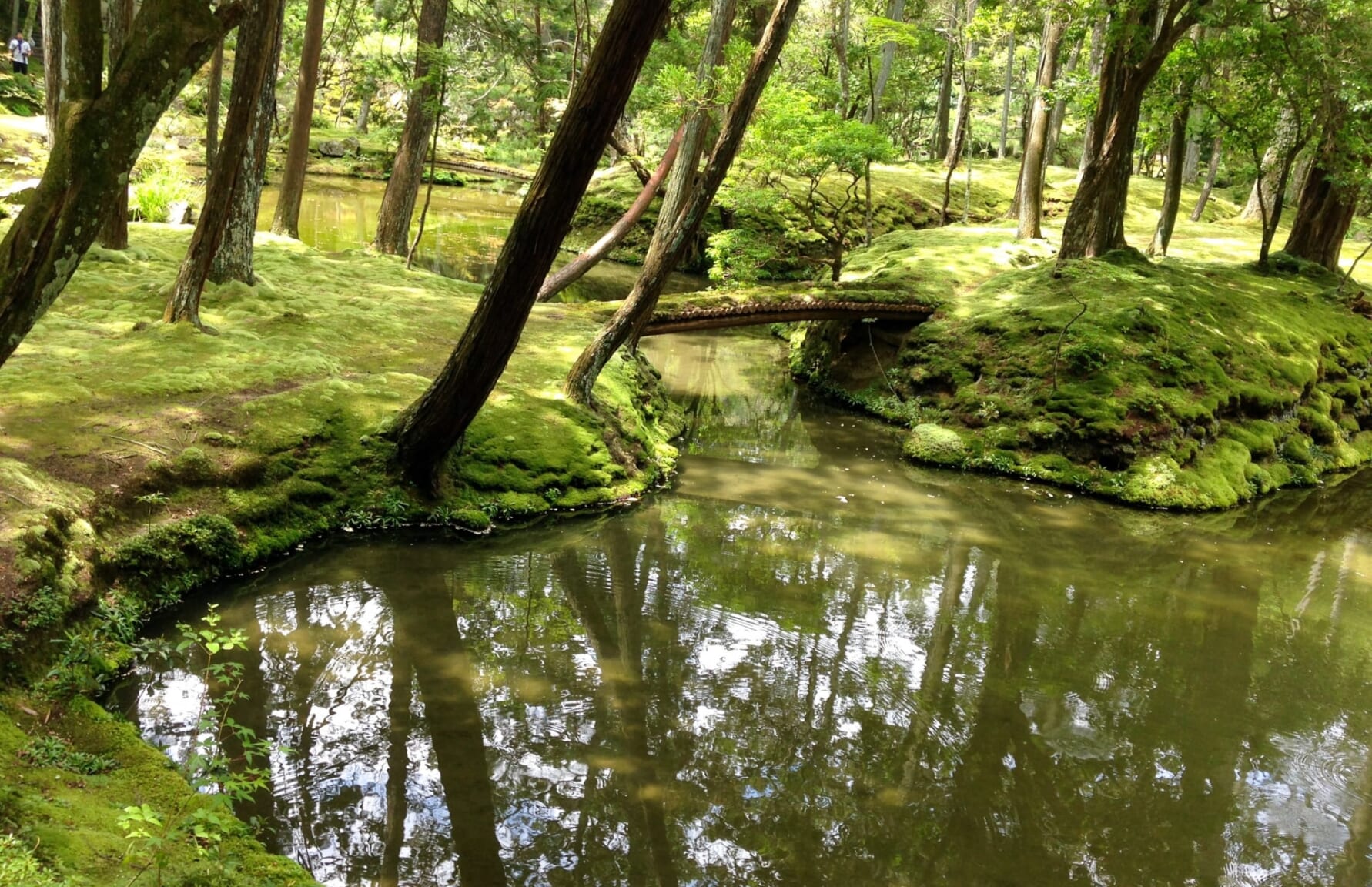 An ethereal carpet of moss envelops the garden of Saihoji Temple (西芳寺) in Kyoto, aptly earning it the moniker 'Kokedera' (苔寺) or Moss Temple. A fitting name for a garden that's covered in more than 120 species of moss, creating a breathtakingly lush atmosphere with an otherworldly ambiance. Originally belonging to another buddhist school, and later resurfacing as a Zen temple, the garden used to be made of white sand but lack of funds prevented proper maintenance and the environment's moisture resulted in the growth of the moss, eventually becoming the temple garden's main feature. A walk here feels like a journey through a verdant fairy tale, and the requirement for advance reservations preserves the garden's tranquility.
For more information about Saihoji Temple, check the following link!
7. Tenryuji Temple Garden (Kyoto)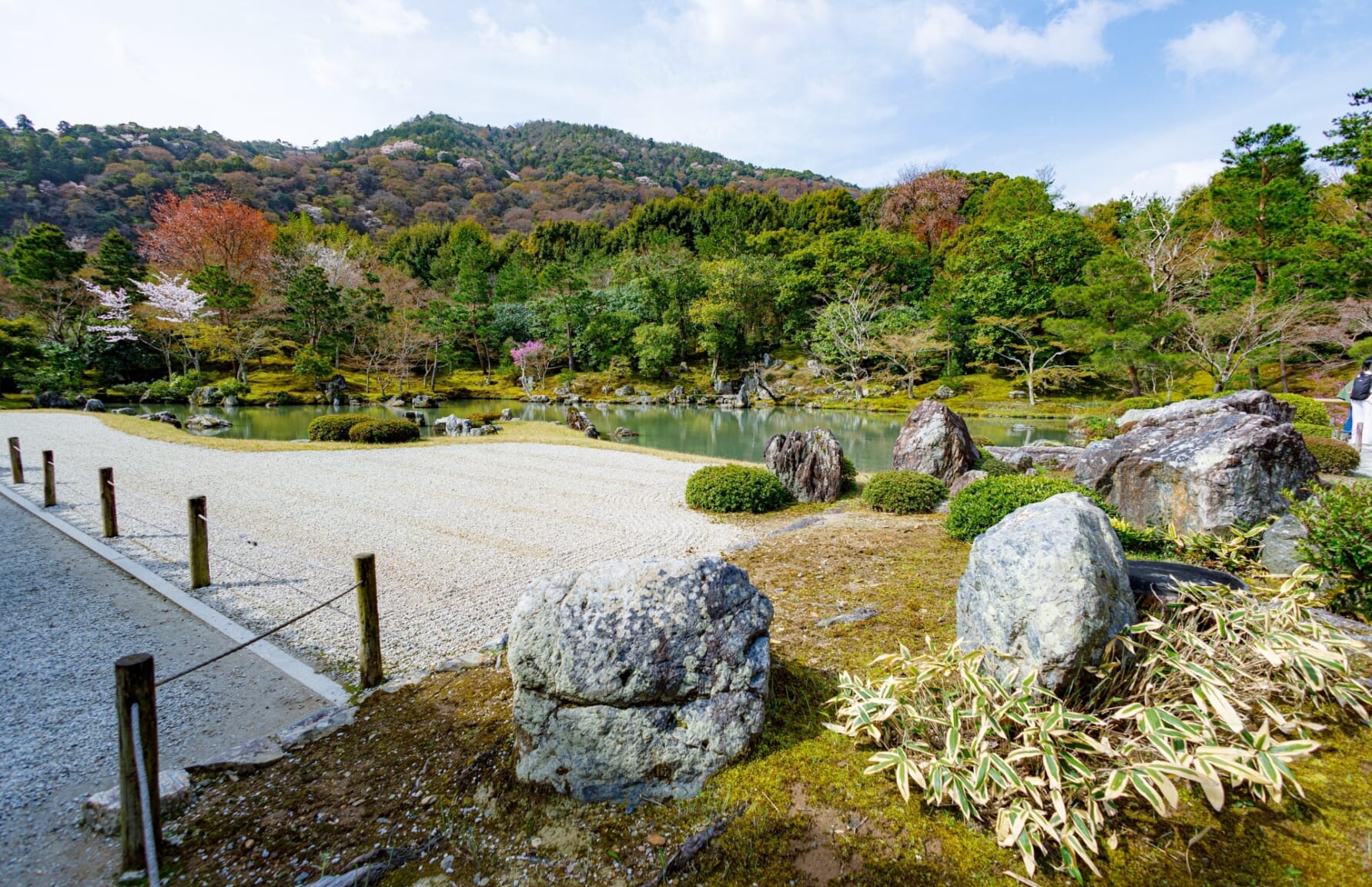 In the scenic Arashiyama district of Kyoto, the pond garden Sogenchi Teien (曹源池庭園) at Tenryuji Temple (天龍寺) captivates visitors with its serene beauty. Recognized as a UNESCO World Heritage site and officially designated as a Special Place of Scenic Beauty by the Japanese Government, the garden harmoniously exemplifies the "shakkei" technique of borrowed scenery by incorporating the nearby Arashiyama mountains into its views, complementing the temple's historic architecture. The garden was designed by the famed Zen monk Muso Soseki, aiming to inspire contemplation and reflection, maintaining a serene atmosphere amidst the city's bustling surroundings.
For more information about Tenryuji Temple, check the following link!
8. Suizenji Temple Garden (Kumamoto)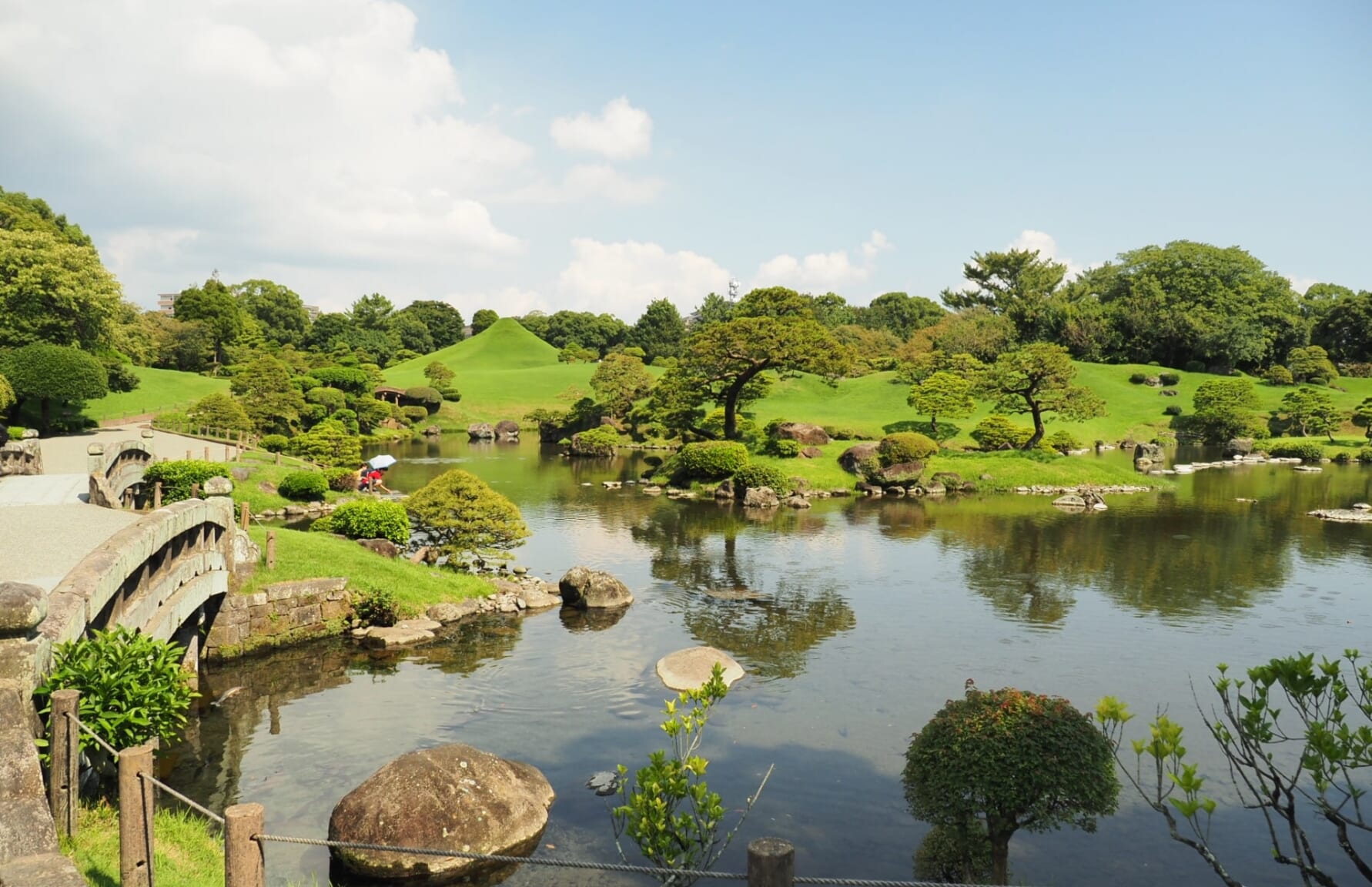 The spacious landscape in Kumamoto's Suizen-ji Temple Garden (水前寺成趣園) captivates views with its beautiful central pond, offering a garden layout consisting of a miniature depiction of the 53 post stations of the Tokaido, the famous road that connected Edo (Tokyo) and Kyoto during the Edo Period. The garden's most iconic feature is a small hill that represents Mount Fuji. Visitors can also find a nearby teahouse to enjoy the scenery from, and a Noh theater stage, offering insights into traditional Japanese culture. The garden was built along the buddhist temple and the teahouse in the 1630s by the daimyo of the Higo Domain.
▶ Suizenji Temple Garden official website: http://www.suizenji.or.jp/
9. Hamarikyu Garden (Tokyo)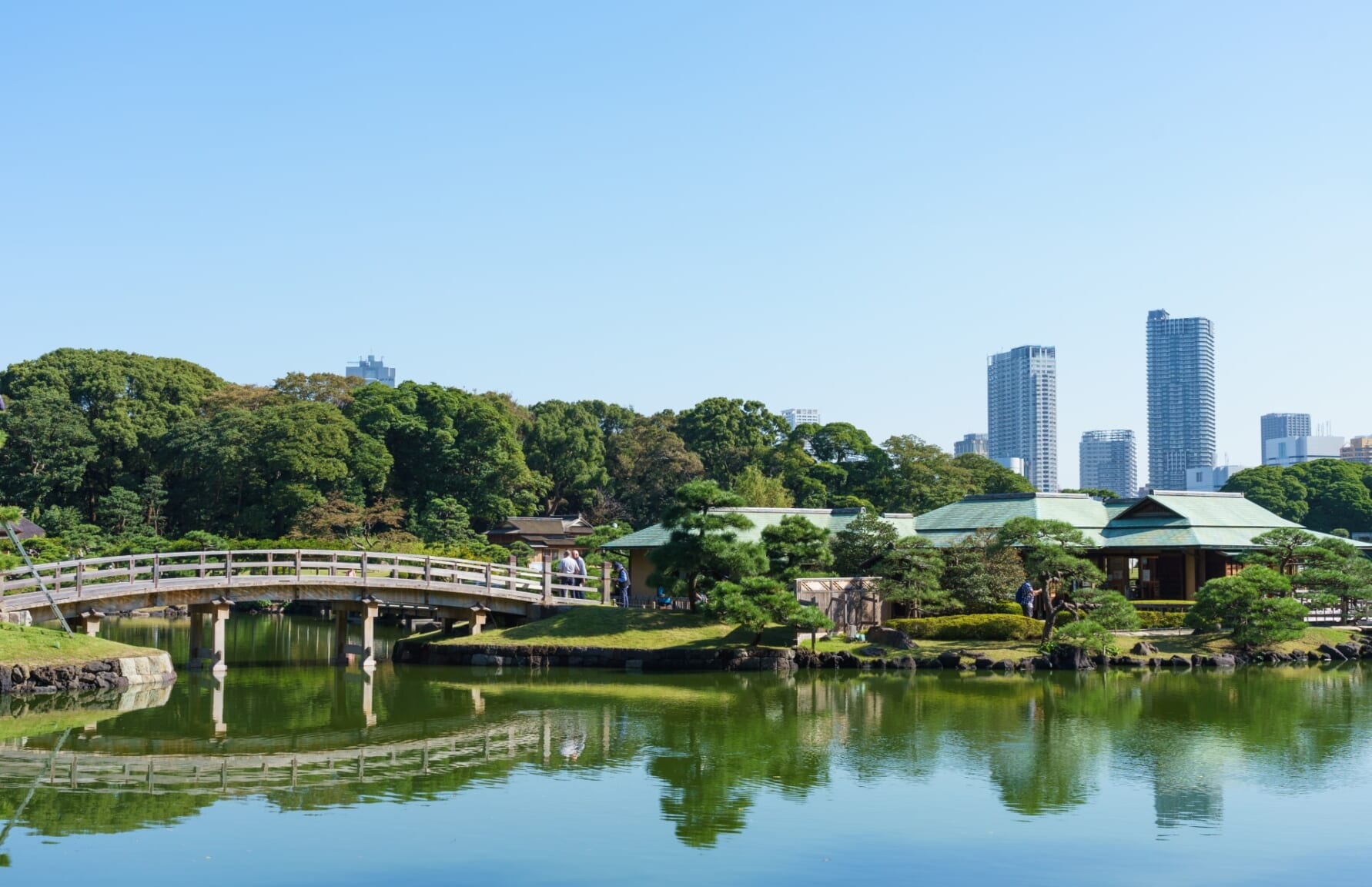 Hamarikyu Garden (浜離宮恩賜庭園) in Tokyo juxtaposes tranquil, traditional beauty against the surrounding towering skyscrapers. The garden features a unique tidal pond that mirrors the shifting tides of Tokyo Bay, an unusual feature for a traditional Japanese garden. Amidst the city's hustle, Hama Rikyu's peony and plum fields, a 300-year-old pine tree, and a teahouse on an island offer a tranquil, scenic retreat. The garden was built as part of a private villa for the Tokugawa clan in 1654 and was opened to the general public in 1946 after garden ownership was transferred to the Metropolitan Government from the Imperial household.
For more information about Hamarikyu Garden, check the following link!
10. Katsura Imperial Villa (Kyoto)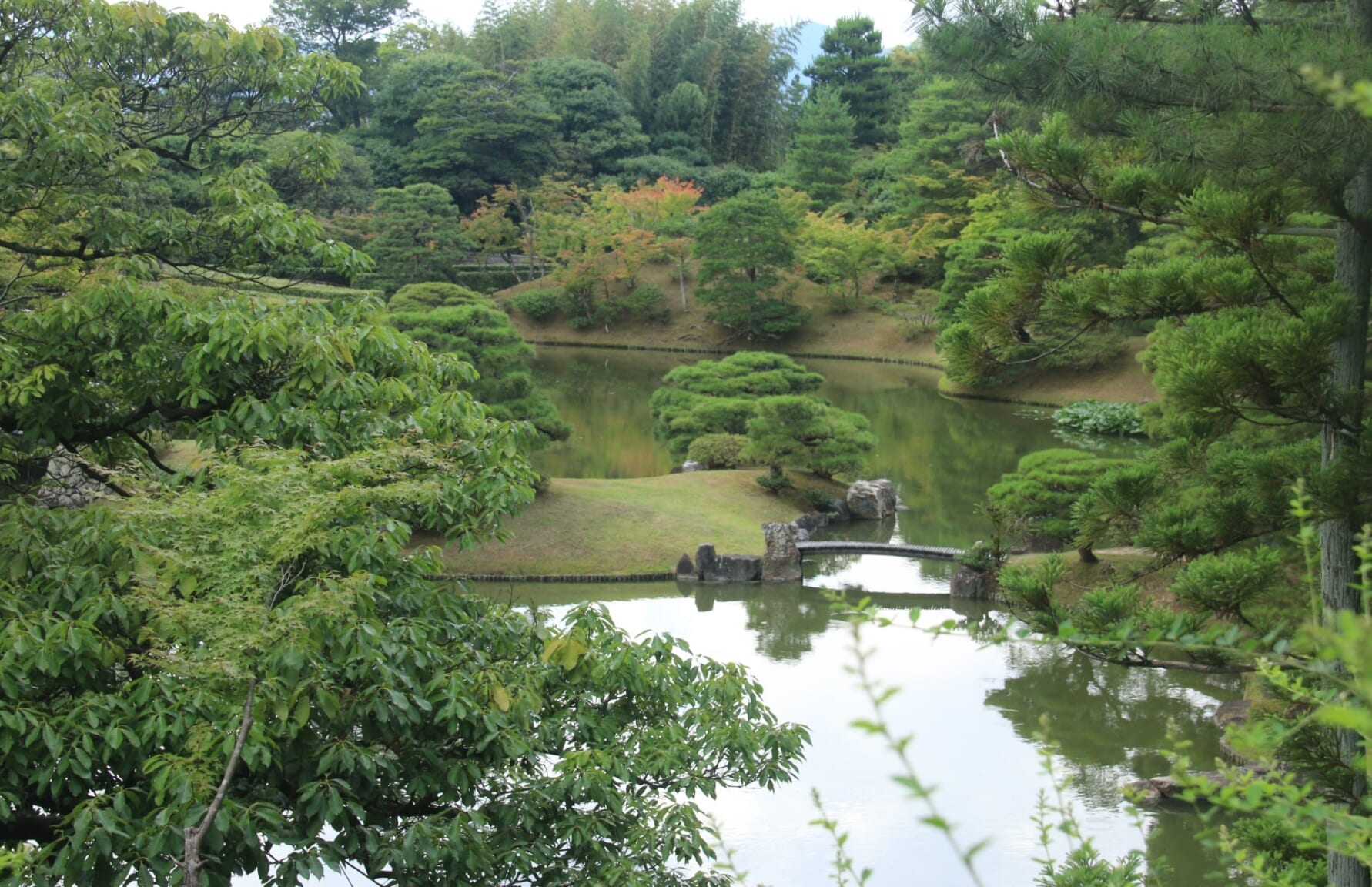 The Katsura Imperial Villa (桂離宮) in Kyoto stands as a masterpiece of Japanese architecture and garden design. Its sophisticated layout harmoniously integrates a central pond, islands, bridges, meandering paths and a teahouse, taking visitors on a route that reveals carefully curated views through different landscapes, highlighting the principles of harmony and balance. The garden was built as part of a villa for Prince Hachijo Toshihito during the early 17th century, inspired by passages of The Tale of Genji, the classic novel from the 11th century. His son Toshitada went on to renovate and improve it, increasing the renown of the place.
▶ Katsura Imperial Villa official website: https://sankan.kunaicho.go.jp/english/guide/katsura.html
11. Sankeien Garden (Kanagawa)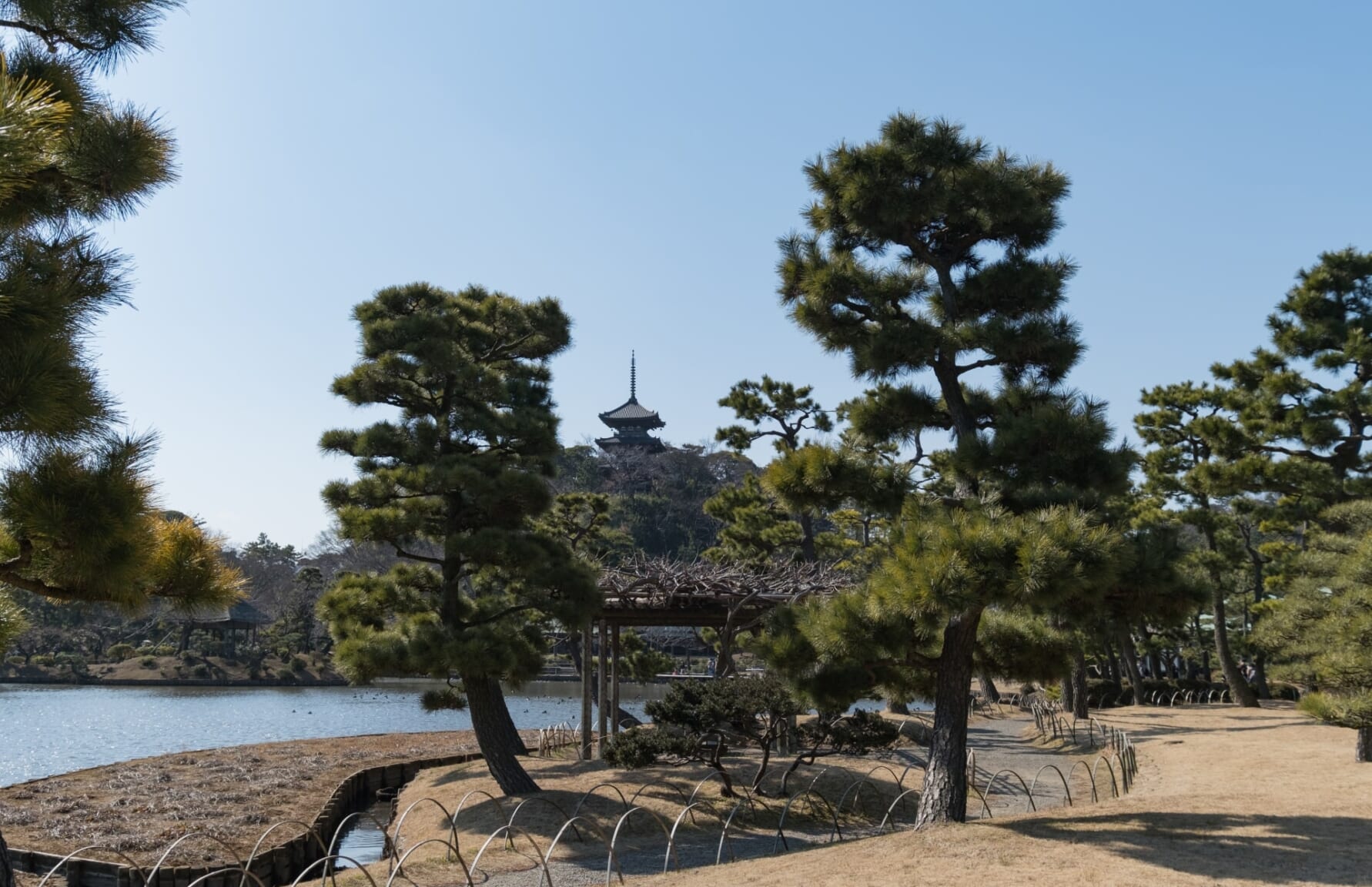 Sankeien (三溪園) in Yokohama, Kanagawa Prefecture, unfolds over a vast area featuring historical buildings from across Japan. Established by Sankei Hara, a successful silk trader who was also a passionate patron of the arts, the garden is home to several Important Cultural Properties and creates a beautiful space centered around traditional Japanese aesthetics in contrast to a city famous for its western influence through trade. Its verdant landscapes, a three-storied pagoda, and seasonal events make it a much-loved destination for history enthusiasts and nature lovers alike. Its beautiful pond, vibrant flowers, and seasonal events provide a tranquil escape from the bustling city, making it a much-loved destination for locals and tourists alike.
▶ Sankeien Garden official website: https://www.sankeien.or.jp/
12. Shukkeien Garden (Hiroshima)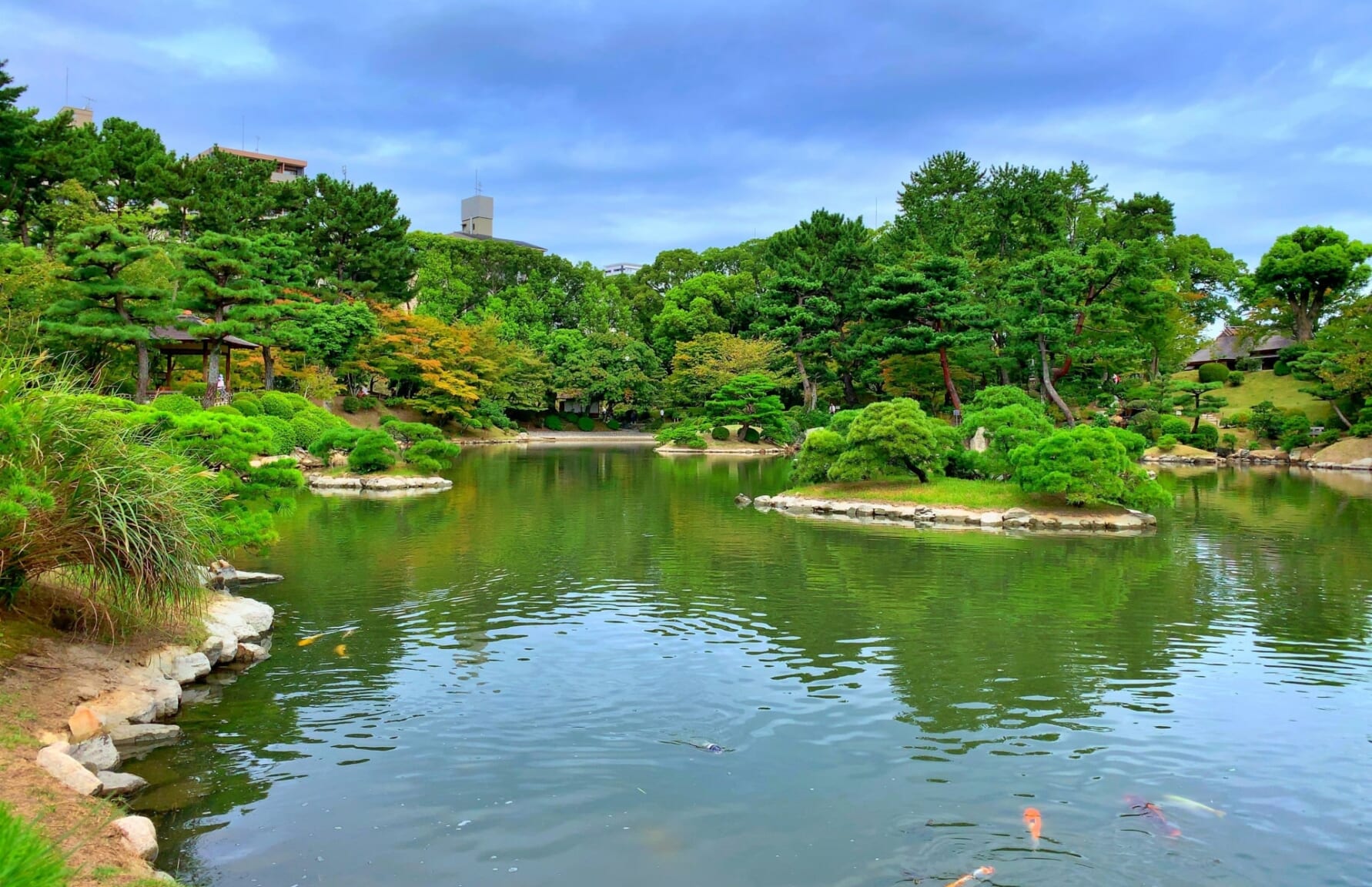 Shukkeien Garden (縮景園), inspired by China's famous Lake Xihu "West Lake" in Hangzhou, and its name itself meaning "shrunken-scenery garden", the garden brings together miniature landscapes of valleys, mountains, and forests in the heart of Hiroshima. It was built in 1620 by the daimyo of the Hiroshima Domain and donated to the prefectural government in 1940. Despite damages from the nuclear attack, it became a refuge for atomic bomb survivors during World War II. The garden reopened in 1951 after being restored and it stands today as a symbol of resilience and peace.
▶ Shukkeien Garden official website: http://shukkeien.jp/#
13. Ritsurin Koen (Kagawa)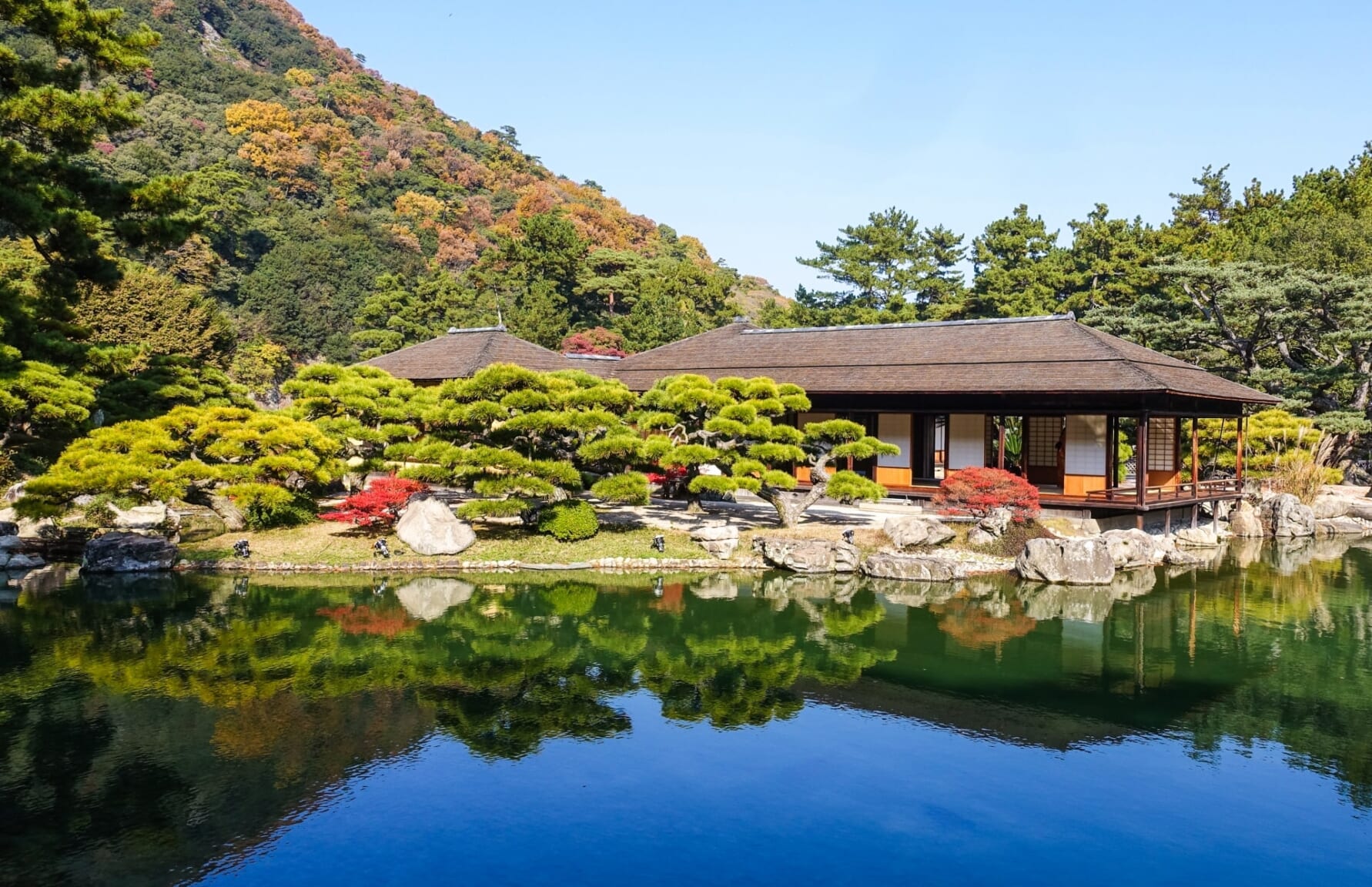 Ritsurin Koen (栗林公園) in Takamatsu, Kagawa Prefecture, is often hailed as one of Japan's most beautiful gardens. An expansive, beautifully maintained garden that boasts a 400-year-old history since the early 17th century, it was conceived as a strolling garden by the daimyo of the Takamatsu Domain. Its features include a vast pond, hilly terrain, and a number of teahouses offering views over the water. Each scenic point in the garden reveals a thoughtfully curated view, serving as a canvas that paints a picturesque scene of every season. Its picturesque ponds, elegantly arched bridges, and traditional teahouses create a serene ambiance, offering a perfect setting for quiet contemplation and leisurely strolls.
▶ Ritsurin Koen official website: https://www.my-kagawa.jp/ritsuringarden
14. Isuien Garden (Nara)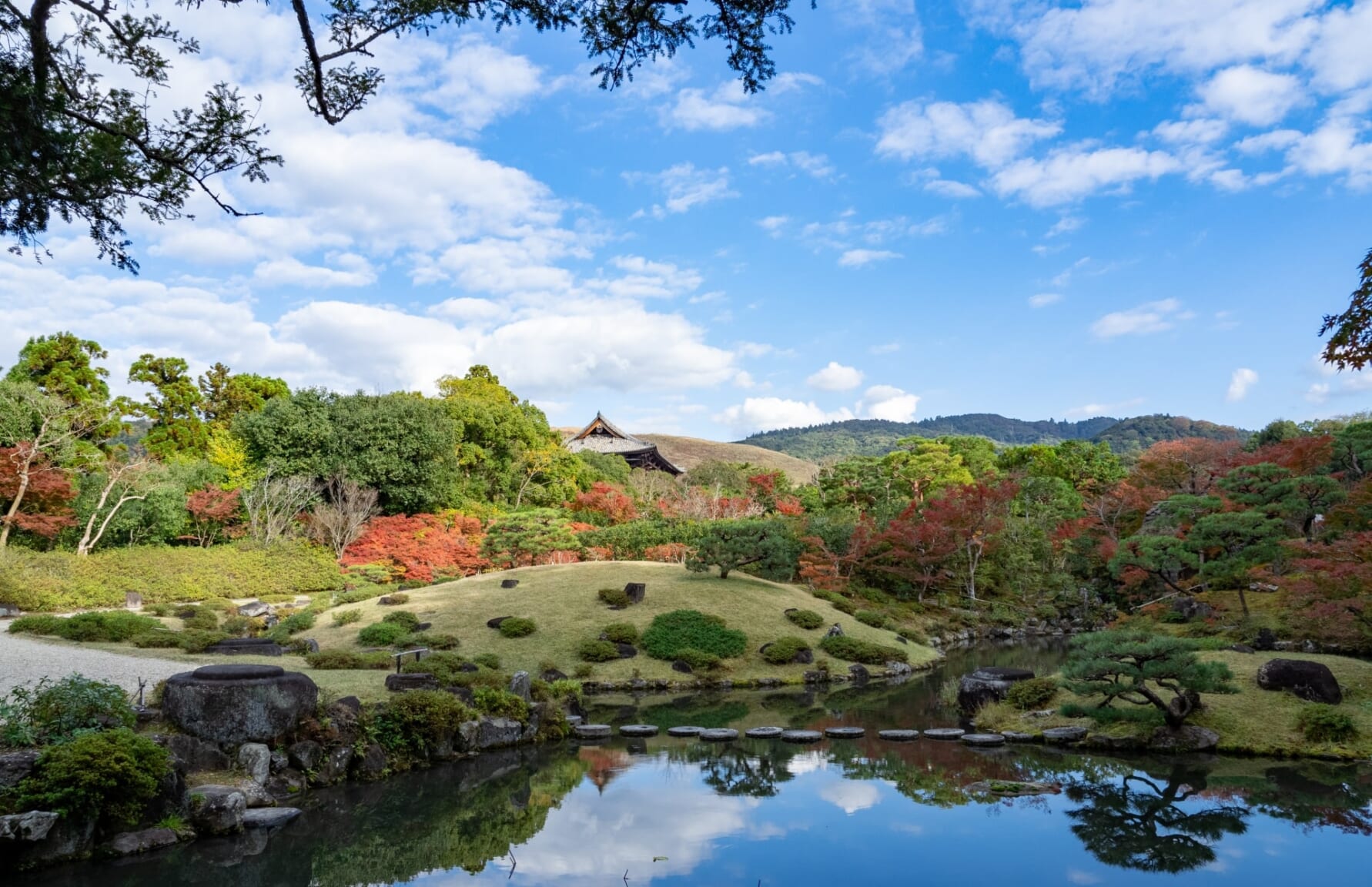 Isuien Garden (依水園) located in the ancient capital of Nara in Nara Prefecture, charms with its 'borrowed scenery', seamlessly integrating nearby mountains into its design, even including Todai-ji Temple's Nandaimon Gate and the Wakakusayama Hill, as backdrops to its views. As you stroll around the pond at the garden's center, the vista subtly changes, offering a new perspective at every turn. This elegant garden's proximity to notable cultural sites adds to its allure, making it a must-visit destination when exploring Nara. The garden was built during the late 17th century and parts of it were redesigned around the late 19th century, so distinct design styles can be appreciated on the garden layout.
▶ Isuien Garden official website: https://www.isuien.or.jp/en/index.html
15. Senganen Garden (Kagoshima)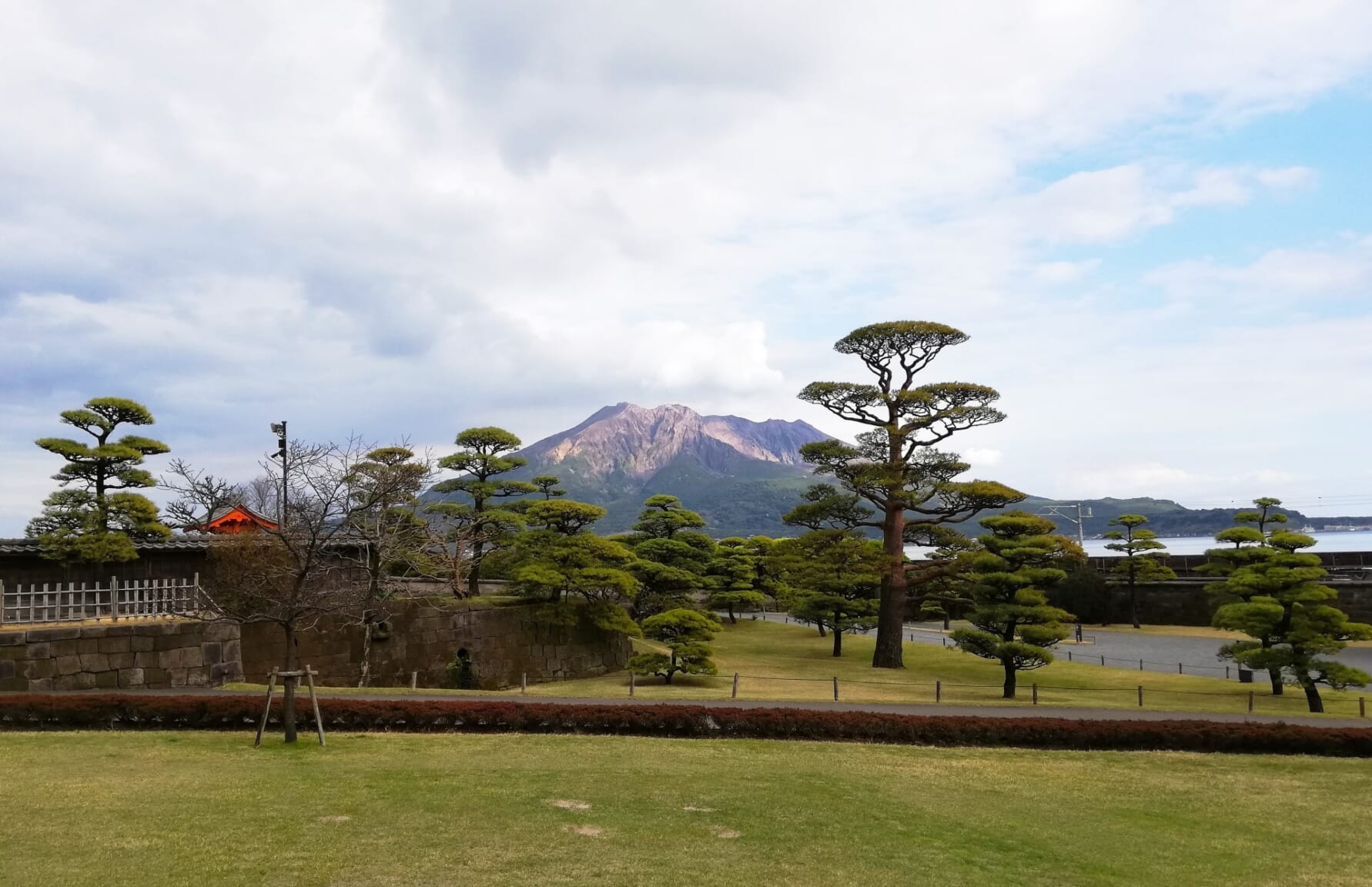 Senganen Garden (仙巌園) in Kagoshima, Kagoshima Prefecture, offers a unique blend of natural and man-made beauty. Its landscape, punctuated by views of the active Sakurajima volcano and Kagoshima Bay, carries historical significance as the residence of the Shimazu clan, marking it as a testament to the enduring influence of this powerful feudal family. Beyond the garden, visitors can explore the former residence of the Shimazu family and the clan's private Shinto shrine. The garden, also known as Isoteien (磯庭園), was built in 1658 and the residence kept being used by the Shimazu even after the end of the feudal age until 1949 when the property was transferred to Kagoshima City and the garden opened to the general public.
▶ Senganen Garden official website: https://www.senganen.jp/
Author's Top Recommendation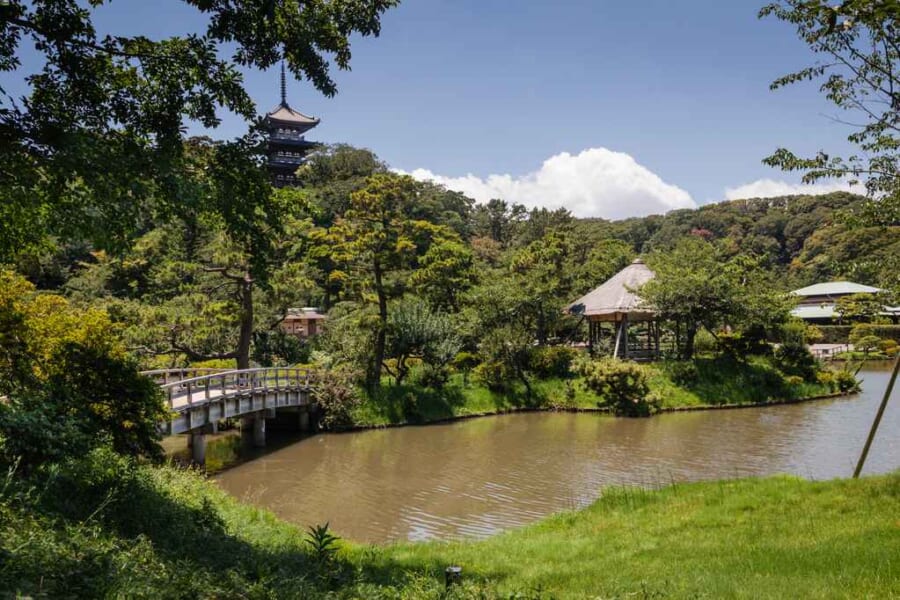 As for personal favorites, I have a soft spot for Yokohama's Sankeien. The garden itself was built in a philanthropic manner, always intended to be for the public rather than just a private garden. In addition to the park's scenic beauty, it holds great historical importance as a preserving spot for several impressive buildings from Kyoto, and also a gassho-zukuri house relocated from Shirakawago in Gifu Prefecture, which is one of the largest preserved houses built in said style.
---
Japan's gardens are timeless windows into the country's history, culture, and reverence for nature. They offer tranquil spaces for reflection, discovery, and a deeper appreciation of beauty in its myriad forms. Each visit is a journey, not just through lush landscapes, but also into the heart of Japan's soul.
▽Subscribe to our free news magazine!▽

For more information about parks and gardens in Japan, check these articles below, too!
▽Related Articles▽
▼Editor's Picks▼
---