Ghibli Museum in Mitaka, Tokyo
Ghibli Museum Tokyo Guide: How to Buy Tickets and How to Get there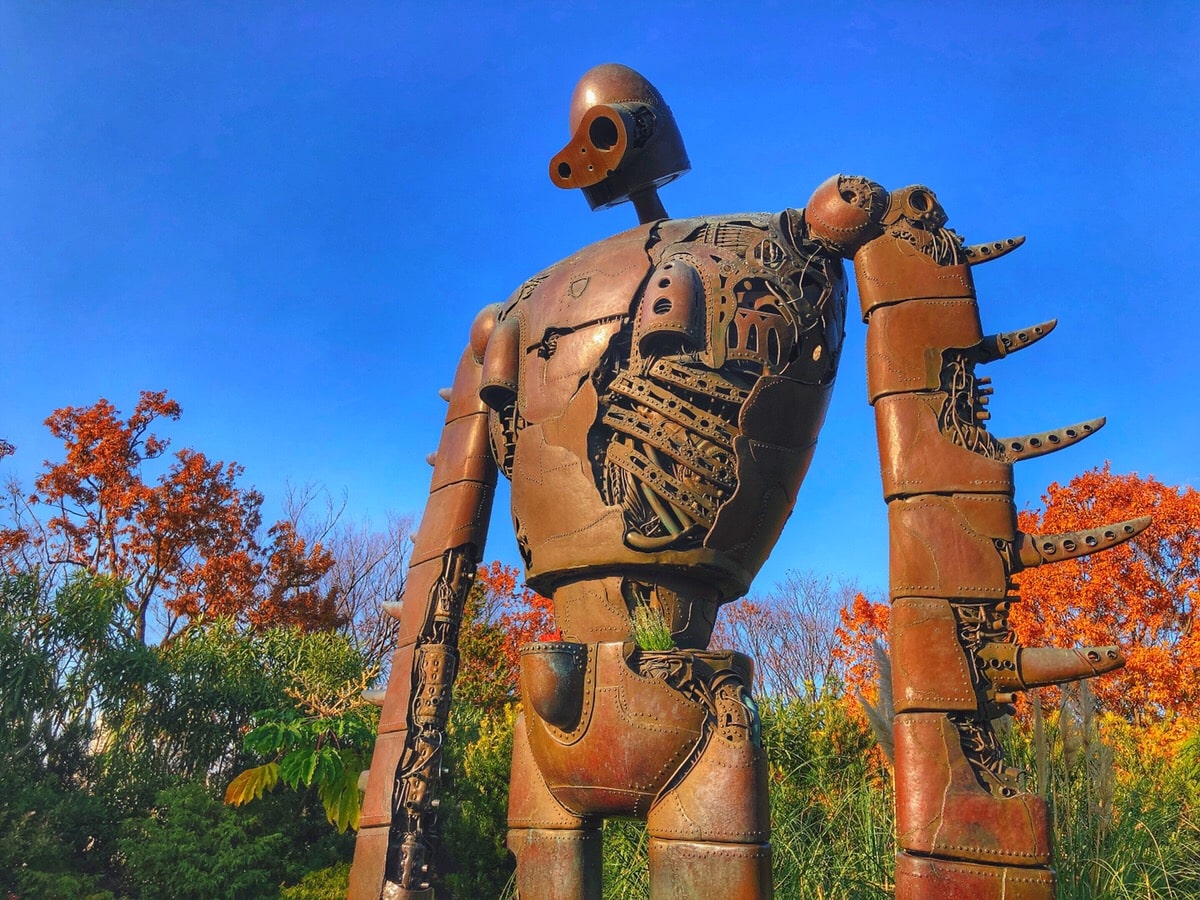 This is the guide to Ghibli Museum in Tokyo with my review. The only Studio Ghibli themed museum is one of the most popular places to visit in Japan among both domestic and foreign tourists. I just visited the Studio Ghibli Museum enjoying the wonderland filled with Ghibli's attractions. Here are also the guides to how to buy the tickets and how to get to Ghibli Museum, too.
---
It is needless to say that Studio Ghibli is one of the most famous Japanese animation studio in the world, and the Ghibli-themed museum Ghibli Museum (三鷹の森ジブリ美術館) is located in Mitaka, Tokyo, which is a western city of Tokyo. Beginning with the plan to found the museum by Hayao Miyazaki, who is the director of Studio Ghibli, Ghibli Museum opened in 2001. It was designed by Hayao Miyazaki while he has been so busy making Ghibli movies. This picture below is the design drawing made by him in 1999.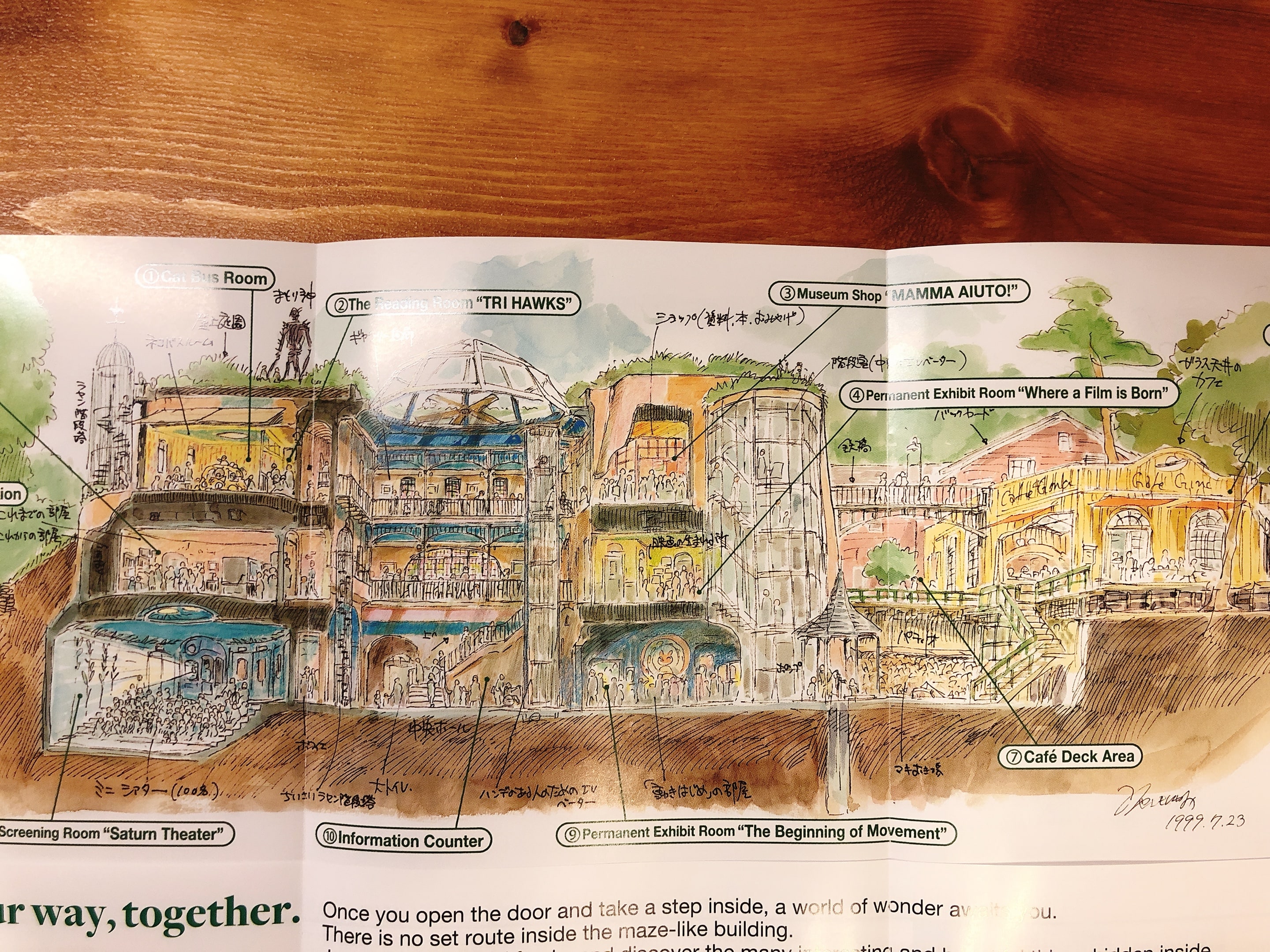 Ghibli Museum is still being too popular to get tickets easily about two decades later. Successfully, I got the ticket of Ghibli Museum and experienced the world of Ghibli with the latest exhibition the other day. Before going to the museum, check out what Ghibli Museum is like and the ways to book the tickets!
After 15 mins walking from the nearest station Mitaka Station, I arrived at the entrance of Ghibli Museum, located at the edge of Inokashira Park. Firstly, a large Totoro welcomed me at the reception with pitch-black Dust Bunnies, however, it was a fake reception. There were about 10 people queuing under the red clock near the other entrance of the museum around 13:30 which was 30 mins before my time scheduled to visit.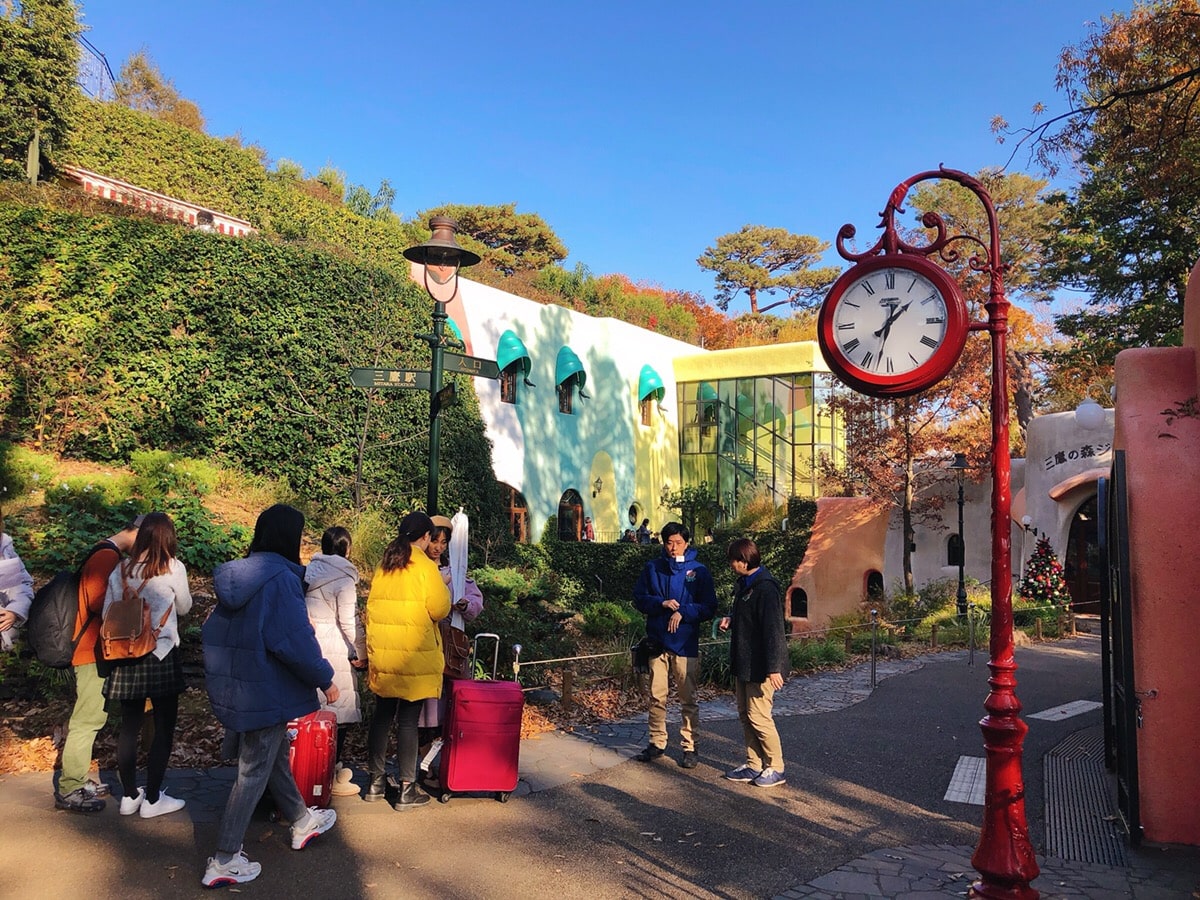 Visitors need to visit Ghibli Museum on a designated time since only four times are scheduled for visitors to admit a day (from 10:00/12:00/14:00/16:00). The museum's staff started to guide us to the reception 20 mins before 14:00. It is recommended to get there about 30 mins before your designated time if you want to go to the top group of the queue.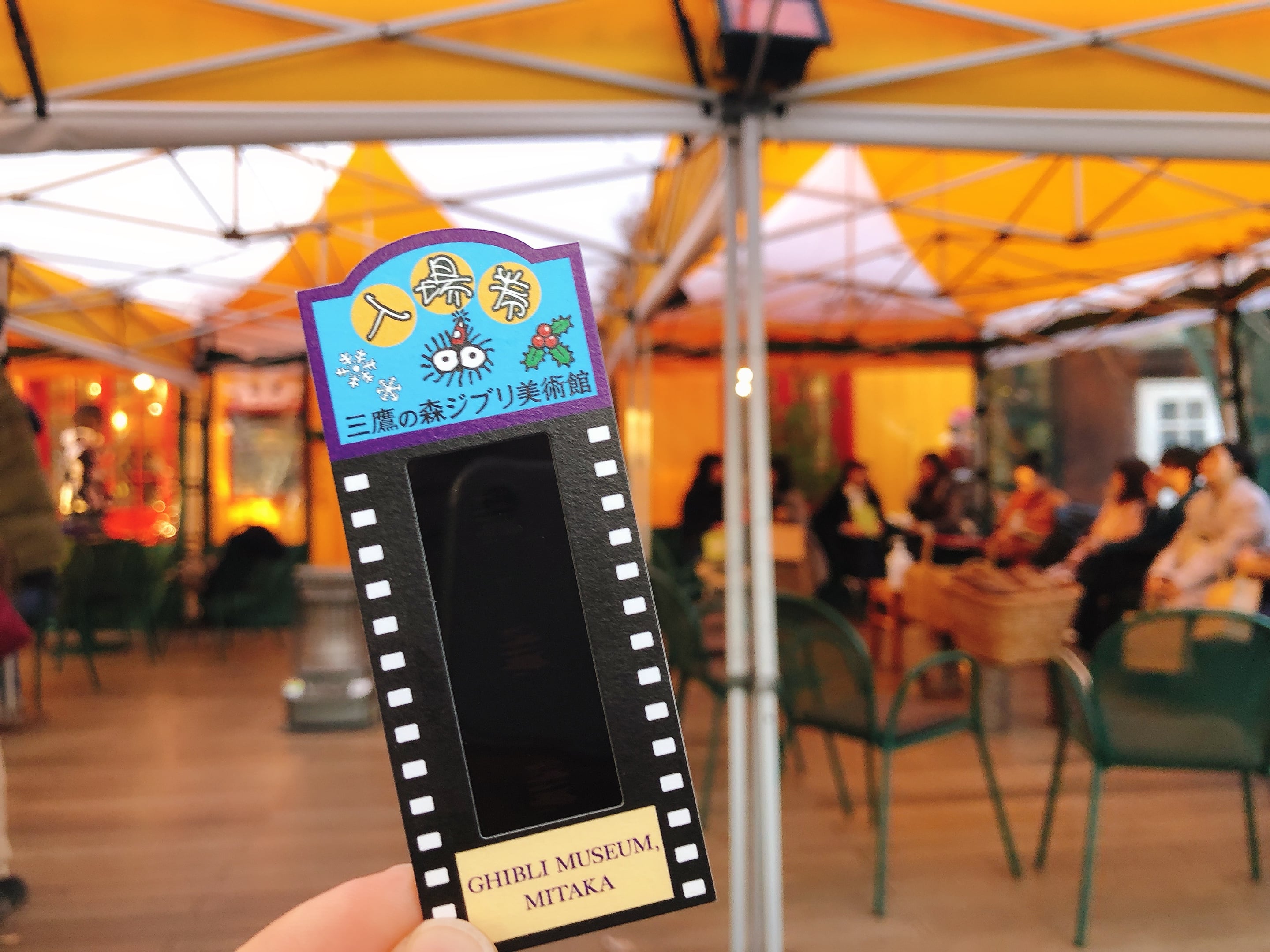 And then, it's the time to enter Ghibli Museum. After receiving an information brochure and a cute admission ticket at the real reception, I was guided to the stairs to the B1F.
There was an open ceiling space from the bottom (B1F) to the top (2F), and the glass dome on top admitted a lot of light into the whole building. Ghibli Museum inside seemed totally different from the real world outside the site of the museum, which was as if I wandered into the world of a Ghibli film.
Here is the list of all rooms on each floor in Ghibli Museum:
B1F: Screening Room "Saturn Theater"/Permanent Exhibit Room "The Beginning of Movement"/Information Counter
1F: Permanent Exhibit Room "Where a Film is Born"/Special Exhibit Room/Straw Hat Café (Outside)/Café Deck Area (Outside)
2F: Cat Bus Room/The Reading Room "TRI HAWKS"/Museum Shop "MAMMA AIUTO"
Rooftop Garden: The Robot Soldier
1st Basement
Going to Screening Room "Saturn Theater" on the to watch a short film was what I did at first. There are 10 short movies only available at the Studio Ghibli Museum, and a couple of them are scheduled to be screened during a period. Please be noted that a visitor can watch them only once per visit. Check the short film schedule at Saturn Theater for your visit here.
These two Ghibli short films were screened at that time: Mr. Dough and the Egg Princess and Kuso no Sora Tobu Kikaitachi (Imaginary Flying Machines). They were made by the famous staff including the director Hayao Miyazaki and the musical director Joe Hisaishi. After the films screened for 20–25 mins, it seemed all visitors from kids and foreign people enjoyed watching the fantastic movies while they were available only in Japanese. Just this film experience was worth visiting Ghibli Museum, personally.
At another room on the 1st basement Permanent Exhibit Room "The Beginning of Movement", I enjoyed learning how an animation works with Ghibli characters in various ways. There were lots of traditional machines with continuous motion drawings and many layered materials.
1st Floor
Just after going up stairs to the 1st floor, I found Permanent Exhibit Room "Where a Film is Born" where many people were making a line at the entrance. Where a Film is Born, one of the highlights of Ghibli Museum, showed how an animation movie is made from sparking ideas to completing a work as an animation film. There were countless sketches, storyboards and other paper works all over the walls. Of course, not only animators but also every Ghibli fan can enjoy seeing the authentic items all around the room. An enormous number of shortened pencils were piled up, which were actually used by staff of Studio Ghibli.
There is also the Special Exhibit Room on the 1st floor where a temporary exhibition is held all the time. The special exhibition "Sketch, Flash, Spark! ~From the Ghibli Forest Sketchbook (「手描き、ひらめき、おもいつき」展 ~ジブリの森のスケッチブックから~)" was offered on my visit (It is held from November 2019 to May 2021). I learned deeply about the history and background of Studio Ghibli films through the past exhibitions' items on display in the rooms. Seeing the memos and drawings drawn by Hayao Miyazaki helped me understand how he works just seeking for fun and joy.
2nd Floor
There are three rooms on the 2nd floor, and I began strolling from Reading Room "TRI HAWKS", which houses numerous books that you can take in your hand to have a good look and purchase. I enjoyed looking over the books that had inspired Hayao Miyazaki. TRI HAWKS also offered art books related to Ghibli movies including the short films screened only at Ghibli Museum. I bought the brochure of the short film Mr. Dough and the Egg Princess and special bookmark sets as souvenirs.
You can enjoy shopping at the museum gift shop "MAMMA AIUTO" which sells a variety Ghibli items from T-shirts, accessories, and postcards to snacks including exclusive goods you cannot get except there. For those who want to buy lots of souvenirs at MAMMA AIUTO, it is recommended to visit it at last or shop the items early and put them in the locker on the 1st basement to avoid carrying bulky bags.
On the way to the rooftop, I was surprised at Cat Bus Room where many kids played in and on the Cat Bus. It is available only or children (twelve years or younger), and honestly, I kind of wanted to ride on the Cat Bus. However, that was fairly enough since only children can see Cat Bus in My Neighbor Totoro. Beside Cat Bus Room, I found the spiral staircase outside which was the only way to get to the rooftop.
Rooftop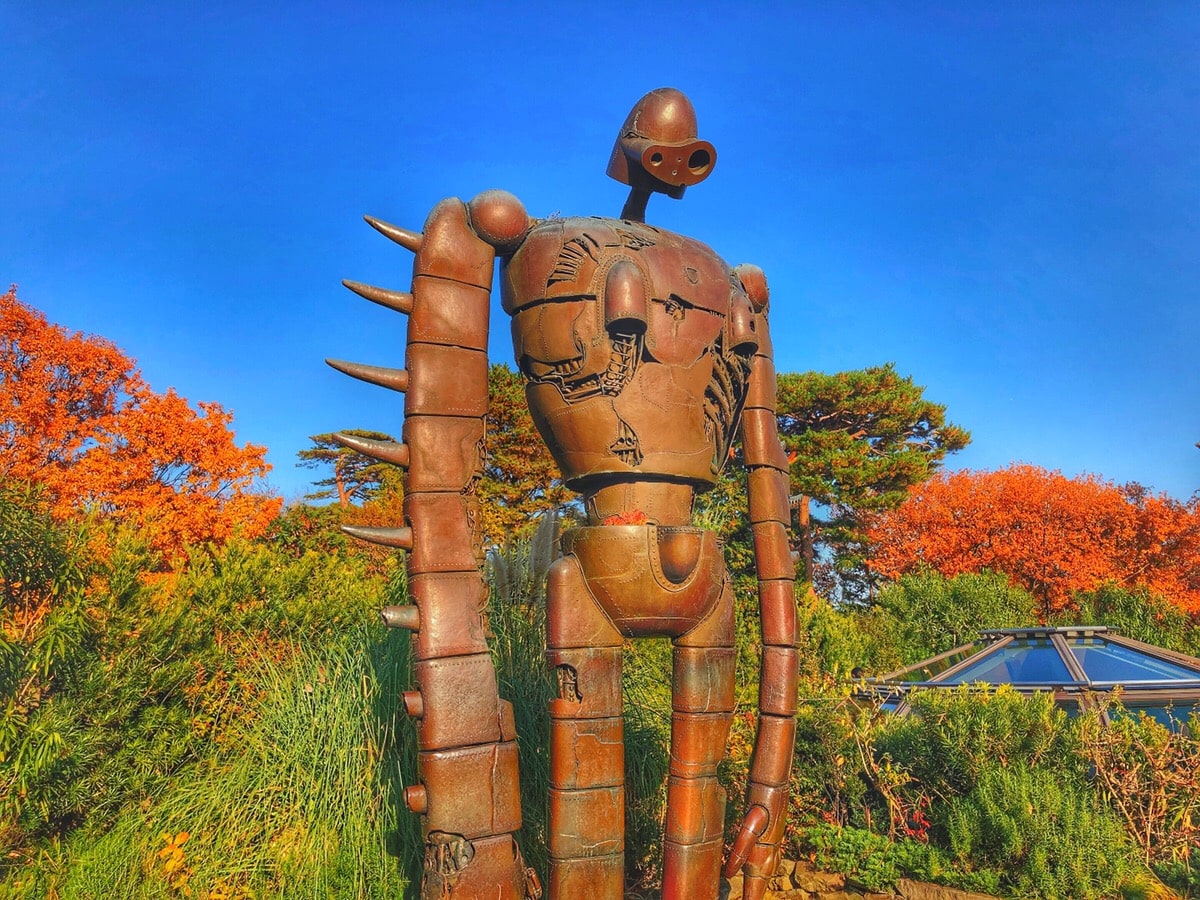 On the rooftop garden of Ghibli Museum, I was impressed that a large robot soldier that I had seen in Castle in the Sky welcomed me (it didn't seem hostile to me or other visitors). It stood at the rooftop garden under the blue sky. Visitors are allowed to take photos only outside the building, so the rooftop is the best photo spot in the museum.
Beyond the robot soldier, there was another photo spot with the stone monument which you may have also watched in Castle in the Sky.
Cafe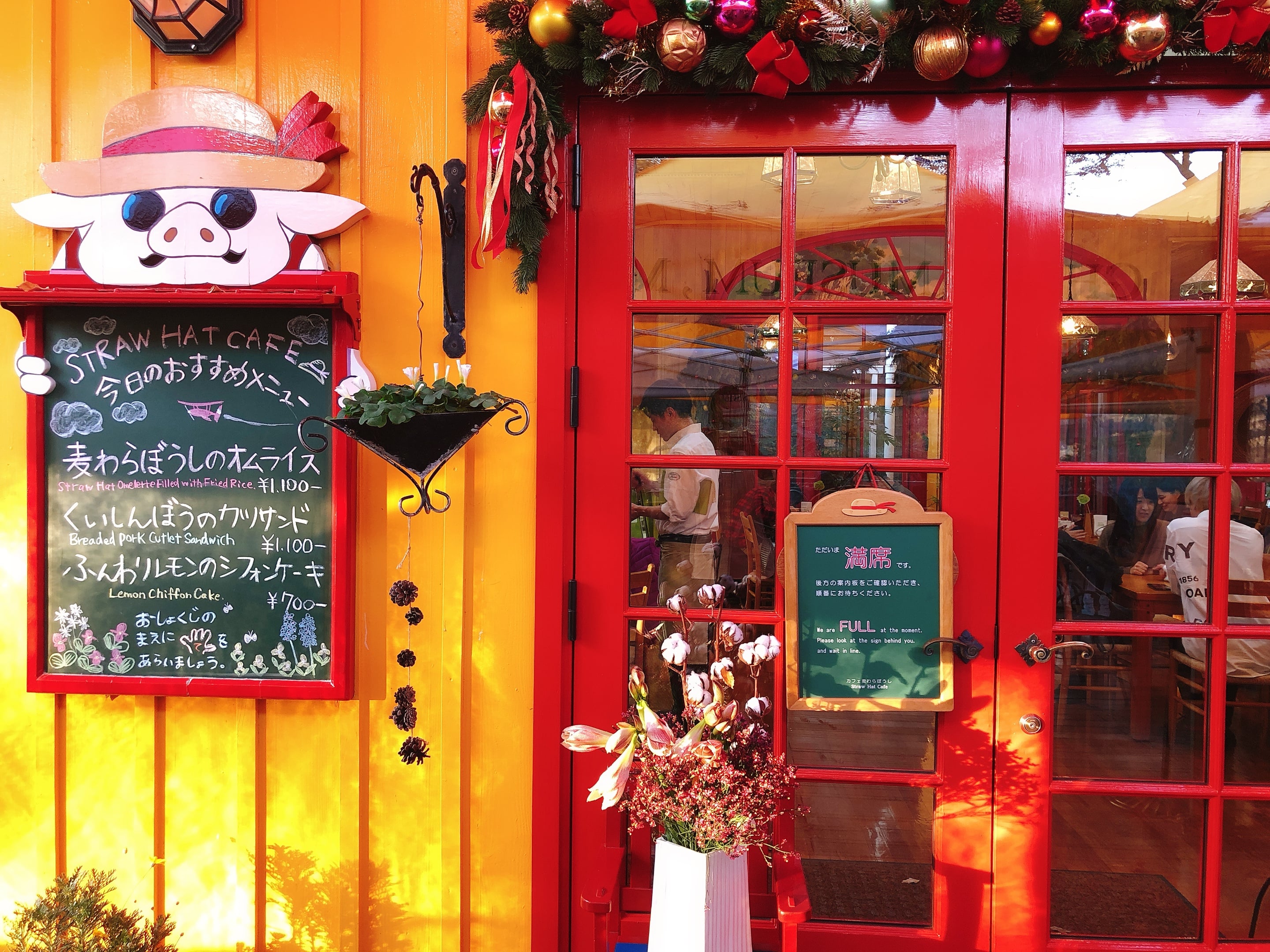 After seeing all of the rooms in Ghibli Museum, don't miss the chance to stop by Straw Hat Café outside. The yellow-colored building Straw Hat Café serves some cute dishes such as omelette with rice, soups and sandwiches.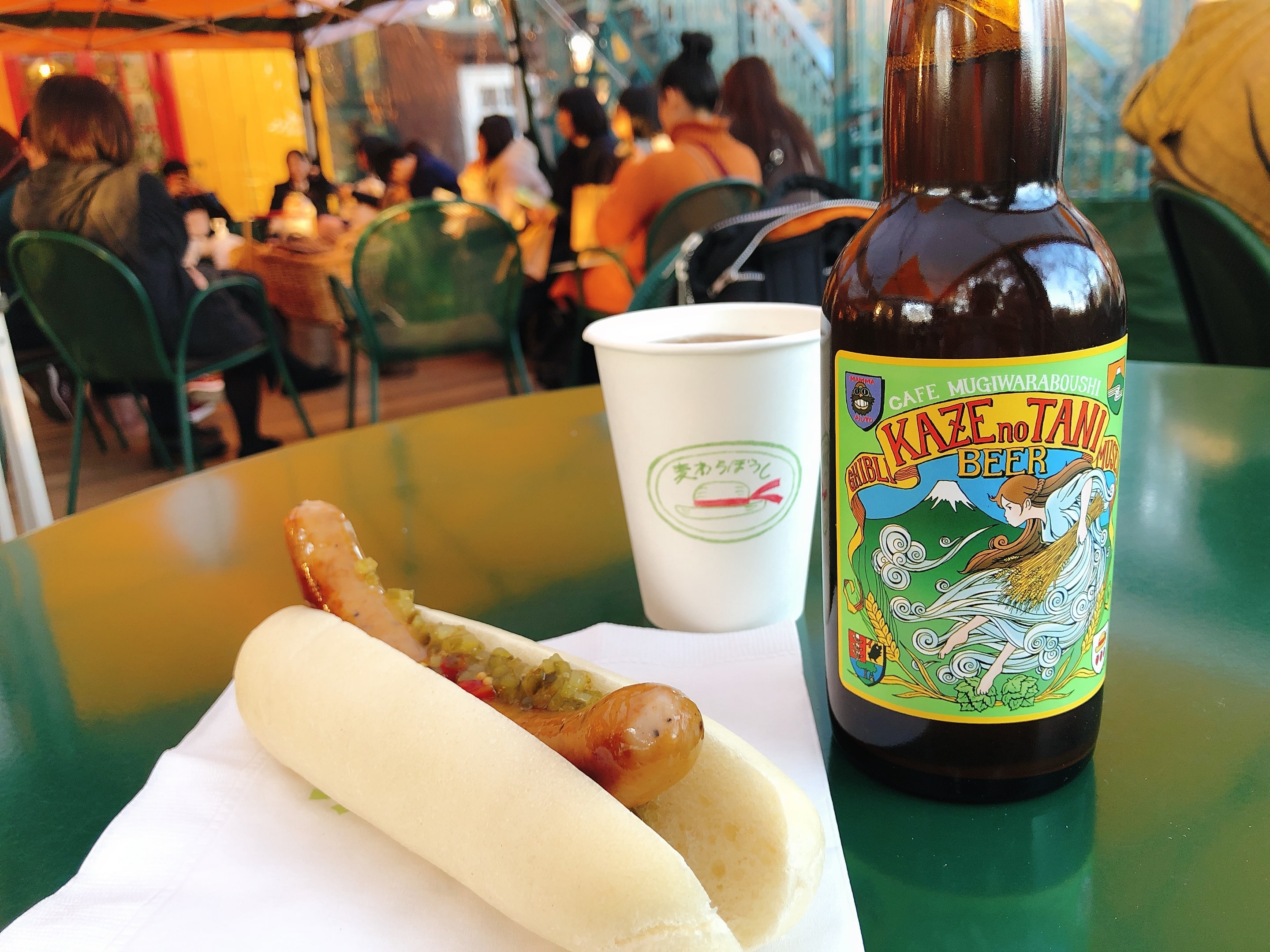 I took away a hotdog and a bottle of beer at Café Deck Area instead of seating in Straw Hat Café since about 5 groups were waiting for the inside seats of Straw Hat Café. The hotdog tasted simply delicious with the specially-packaged beer. You can bring the bottle home as a souvenir.
Overall, I had a wonderful time experiencing the world of Studio Ghibli and its Ghibli movies. Watching the short films and shopping the exclusive items are the only experience you cannot have except at Ghibli Museum. There are helpful facilities in the museum including restrooms, elevator, diaper changing tables, lockers and so on.
If you plan to visit Ghibli Museum, check these guides to how to get tickets and how to get to Ghibli Museum from the nearest station.
View Information
Hide
Information
| | |
| --- | --- |
| Access | 15 mins walk from Mitaka Station or Kichijoji Station (JR Chuo Line) |
| Address | 1–1–83 Shimorenjaku, Mitaka-shi, Tokyo 181–0013 |
| Business Hours | 10:00–18:00 (Entry Time: 10:00/12:00/14:00/16:00) |
| Closed | Tuesdays and New Year's Holidays (Ghibli Museum may be irregularly closed for maintenance, so check the schedule on the website.) |
| Official Website | http://www.ghibli-museum.jp/en/ |
How to Buy Tickets
As you may know, you need to admit Ghibli Museum with a reserved ticket, and it is not easy to get the tickets for Ghibli Museum for its popularity. Here are ways to book your Ghibli Museum tickets in advance.
At a ticket booking service Lawson Tickets, the tickets for Ghibli Museum go on sale from the 10th of each month for the following month. Check the availability here. This is the cheapest way to book the tickets for Ghibli Museum, which is the regular price 1,000 yen (Ages 19 or older: 1,000 yen/Ages 13-18: 700 yen/Ages 7-12: 400 yen/Ages 4-6: 100 yen/Ages 3 or younger: Free). For last-minute tickets, this is not your option, though.
There are some counters of JTB Group which is a Japanese travel agency company overseas. Tickets go on sale on the 1st on each month for entry in the month starting 3 months later. Check the locations of the counter here.
*Please be noted that tickets are available only for the specified date and time of admission.
How to Get to Ghibli Museum
There are two train stations near Ghibli Museum: Kichijoji Station (吉祥寺駅) and Mitaka Station (三鷹駅). For travelers who stay in the center of Tokyo, you can reach both stations by JR Chuo Line (JR中央線) from Shinjuku Station. It takes 15 mins to get from Shinjuku Station to Kichijoji Station and 17 mins from Shinjuku Station to Mitaka Station.
Them, which station should you get off at, Mitaka Station or Kichijoji Station? The route from Mitaka Station to Ghibli Museum is easier to follow than Kichijoji Station. For those who want to visit some tourist attractions around Kichijoji Station including Inokashira Park and some local food stalls, it is recommended to get off at Kichijoji Station. It is a little complicated to reach Ghibli Museum from Kichijoji Station through the vast Inokashira Park.
Here is the guide with photos from Mitaka Station to Ghibli Museum on foot. It takes about 15 mins to get to Ghibli Museum from Mitaka Station on foot. You can also take a bus from the south exit of Mitaka Station and get off at the bus stop No.9.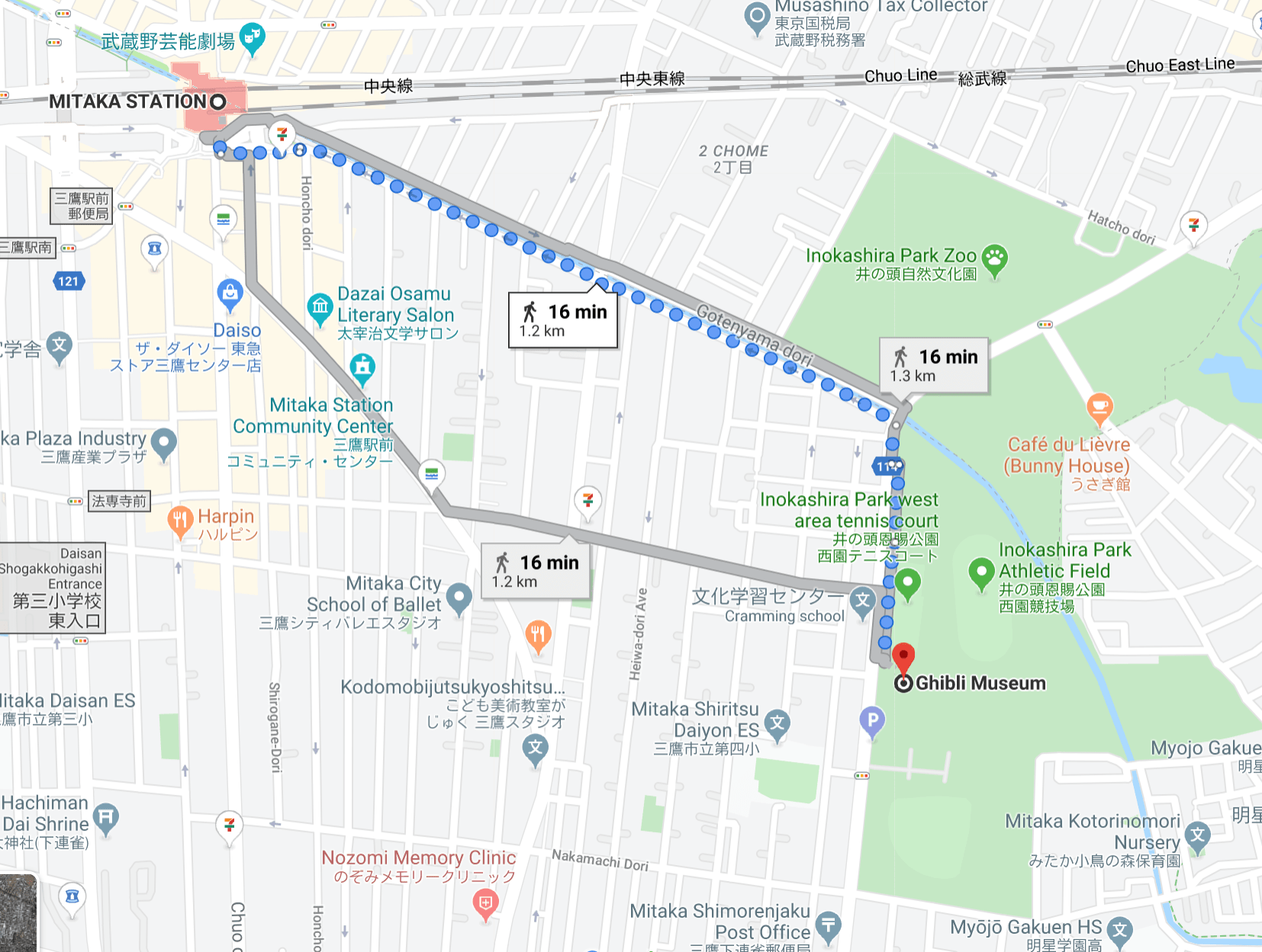 ▽1. Get out from the South Exit of Mitaka Station and turn right.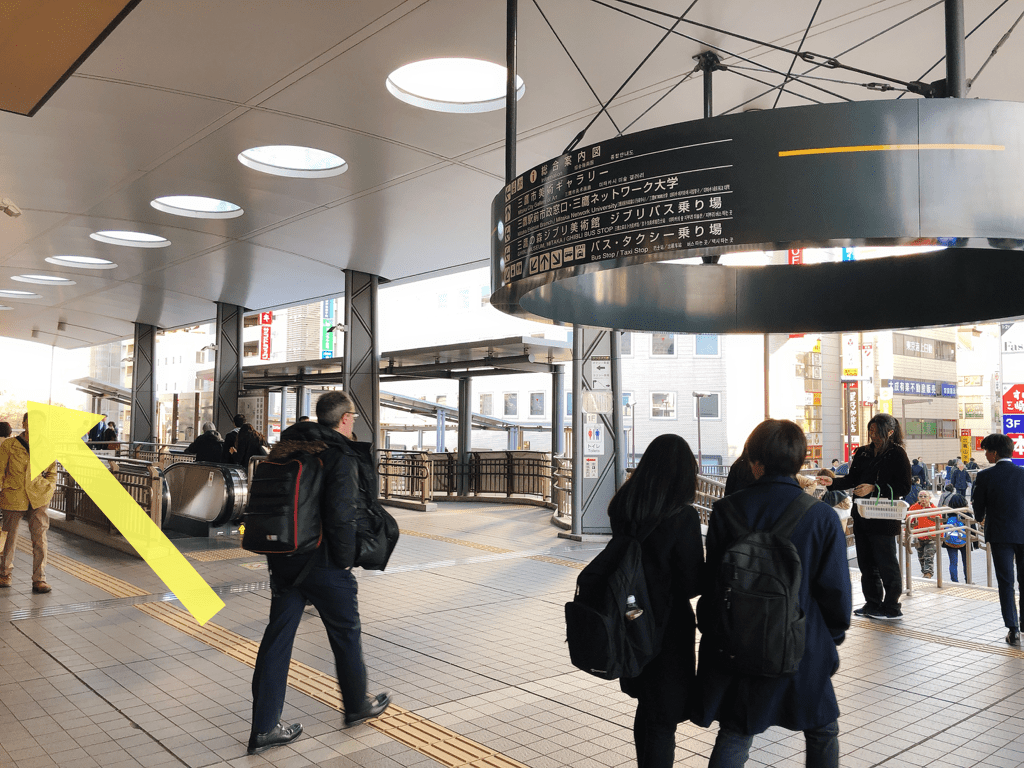 ▽2. Go right at the first fork, and then, turn left soon.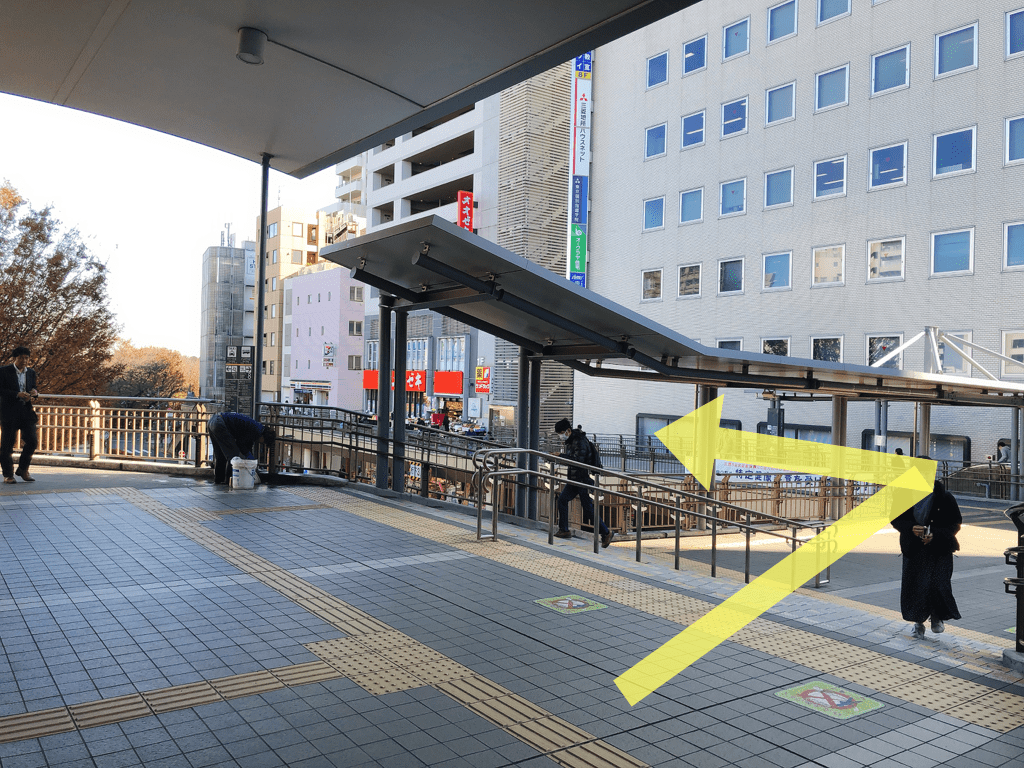 ▽3. Go straight and down stairs.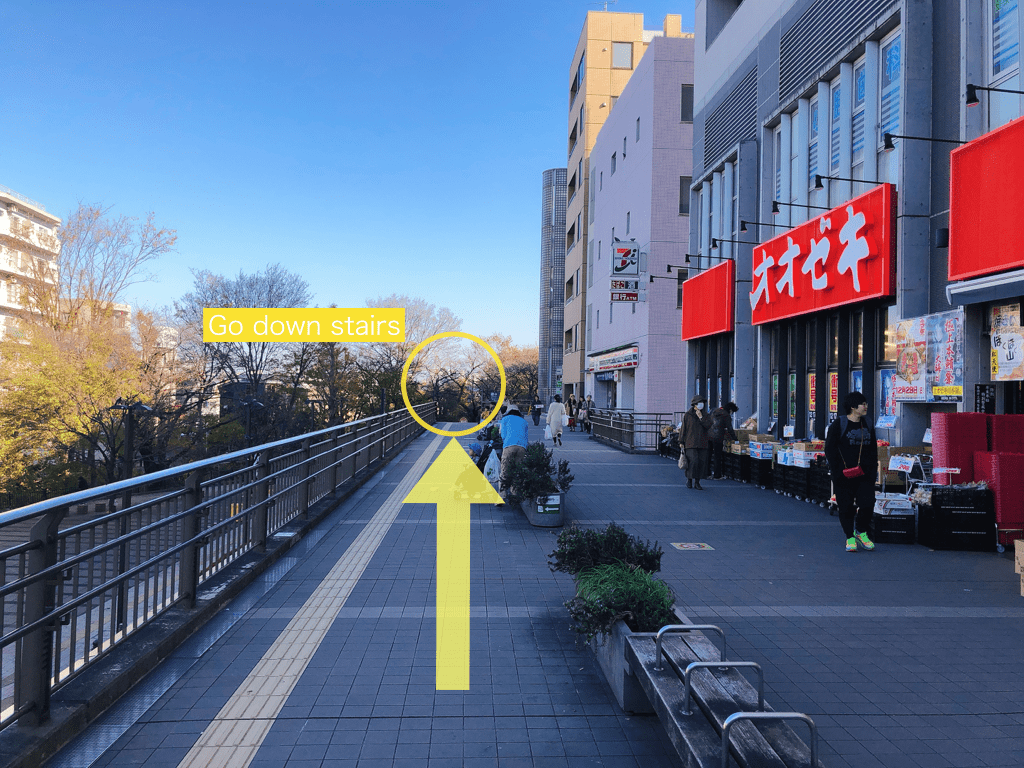 ▽4. You will find the footprint sign on the ground and the milestone.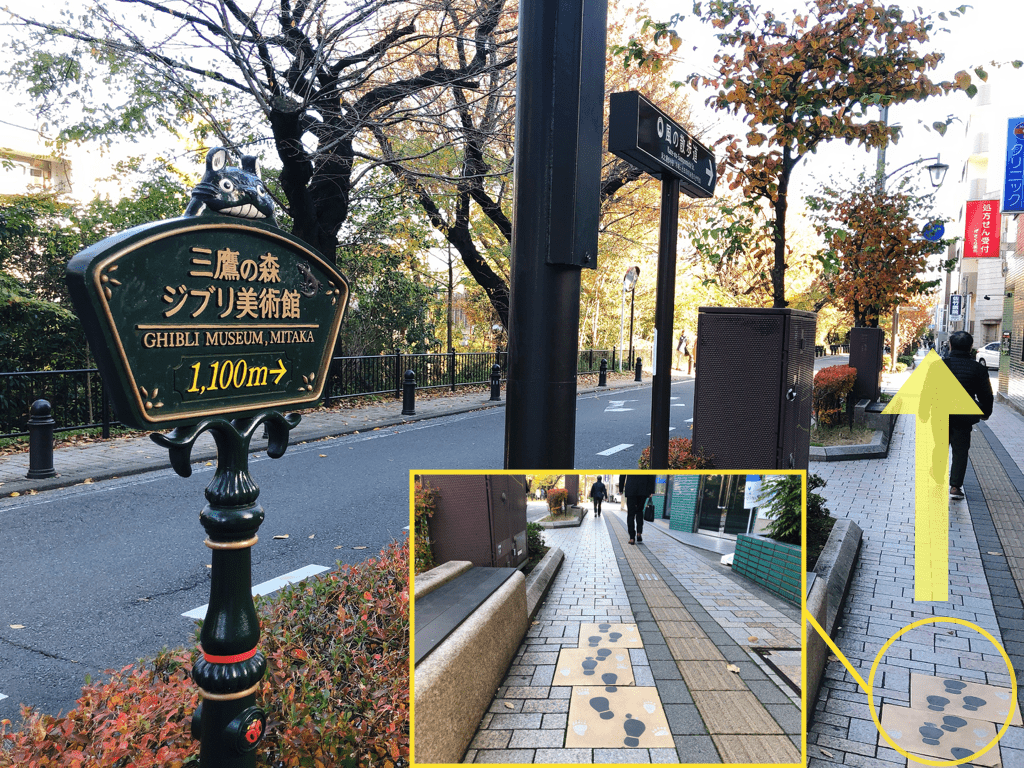 ▽5. After walking about 1km, you will reach the end of the street (Kaze-no-Sampomichi St.). There are some milestone signs on the street like 700m/500m left until Ghibli Museum.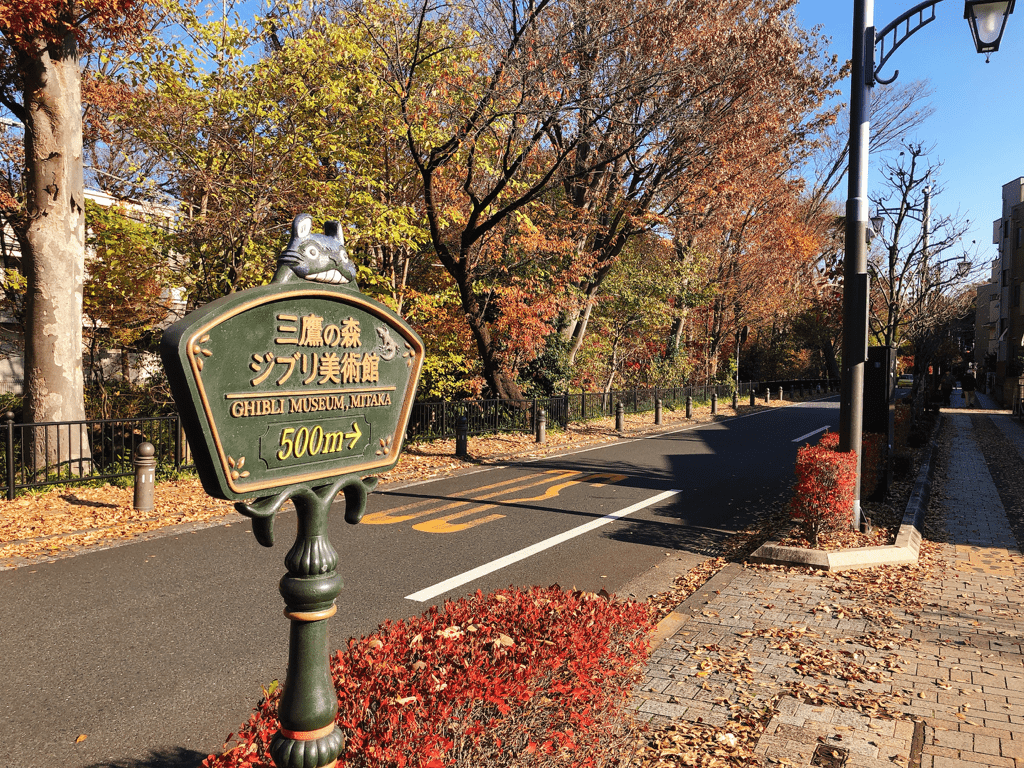 ▽6. Turn right at the end of Kaze-no-Sampomichi St. with the milestone (300m until Ghibli Museum). Please be noted not to enter the park.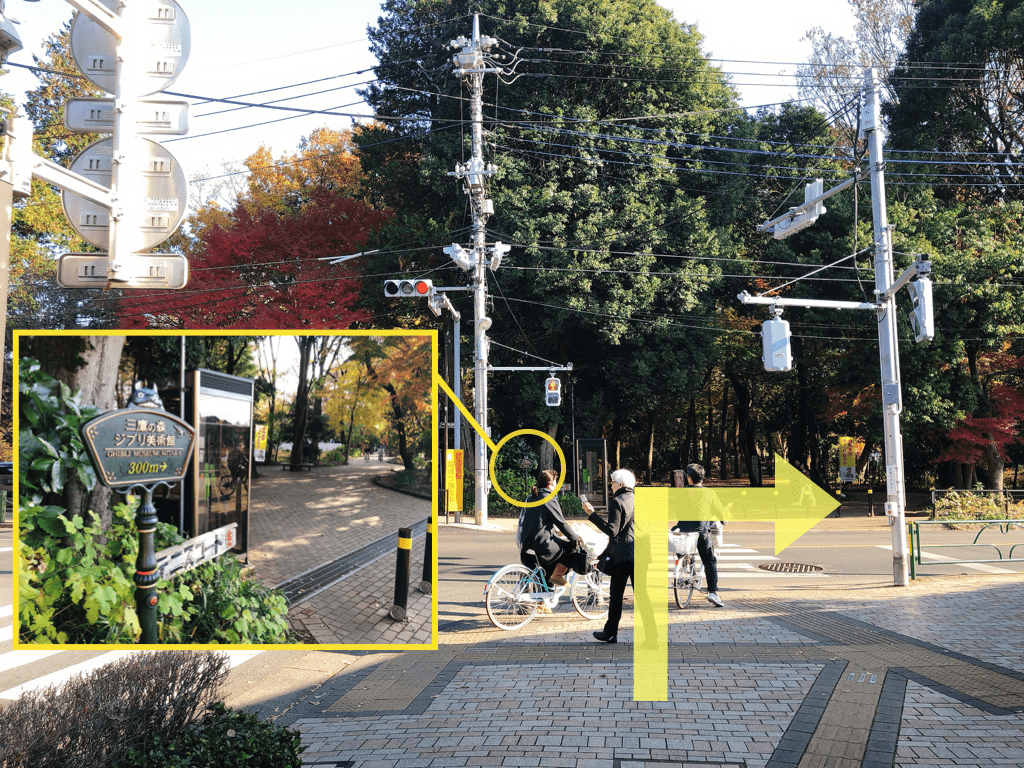 ▽7. Finally, you will find Ghibli Museum on your left after walking for 2–3 mins.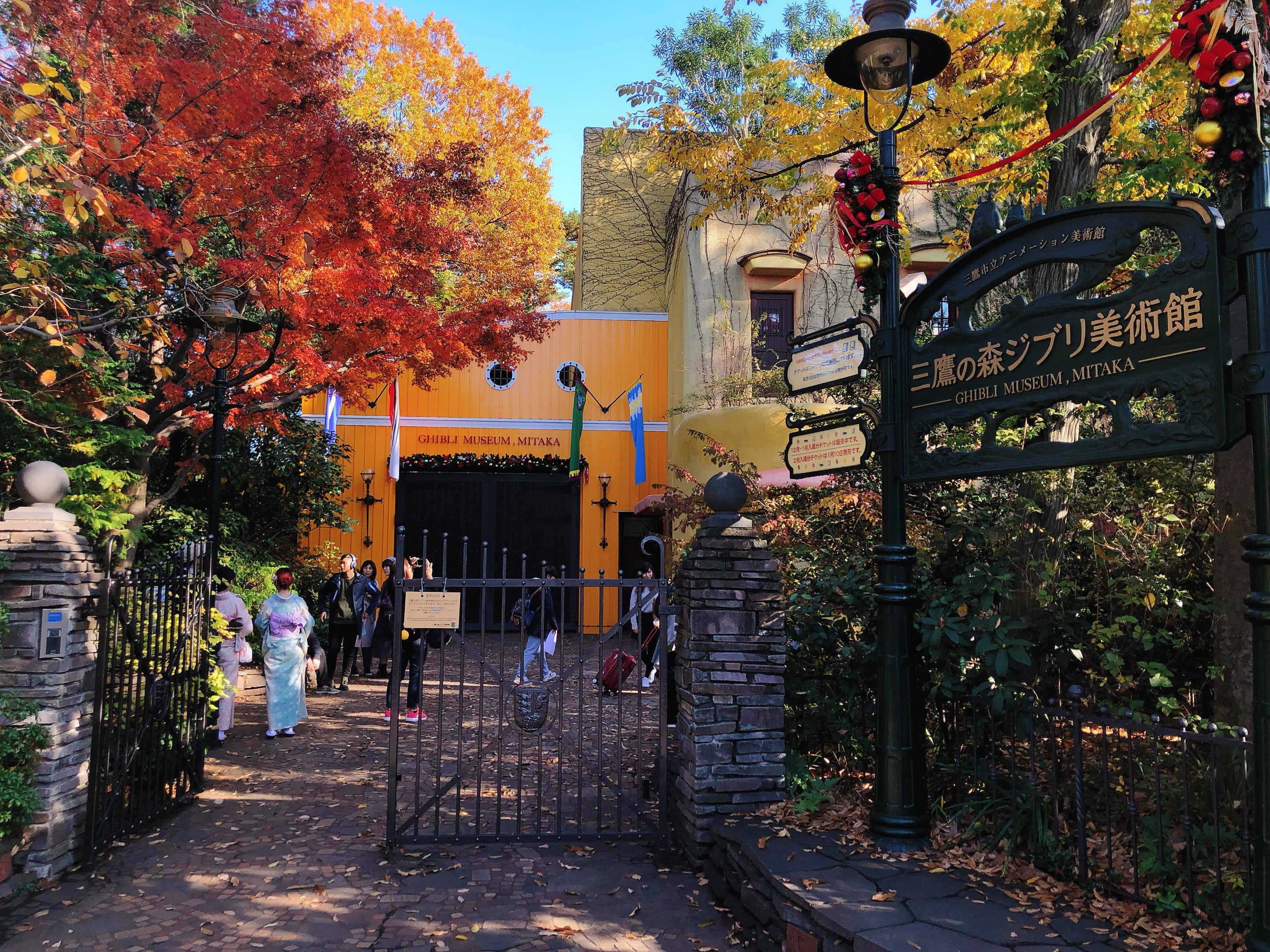 ---
For a big fan of Ghibli, it is strongly recommended to come by Shirohige Cream Puff Factory before/after visiting the museum. Shirohige Cream Puff Factory is the Studio Ghibli's official cream puff shop offering cute Toto-shaped cream puffs. In Tokyo, there are two branched of Shirohige Cream Puff Factory, which is run by relatives of Hayao Miyazaki. Following the first shop located on Daita, Tokyo, the branch in Kichijoji opened in 2018. It is located near Kichijoji Station, so how about stopping by it before going to the museum or after going back to Kichijoji Station. Please be noted that it is closed on Tuesdays.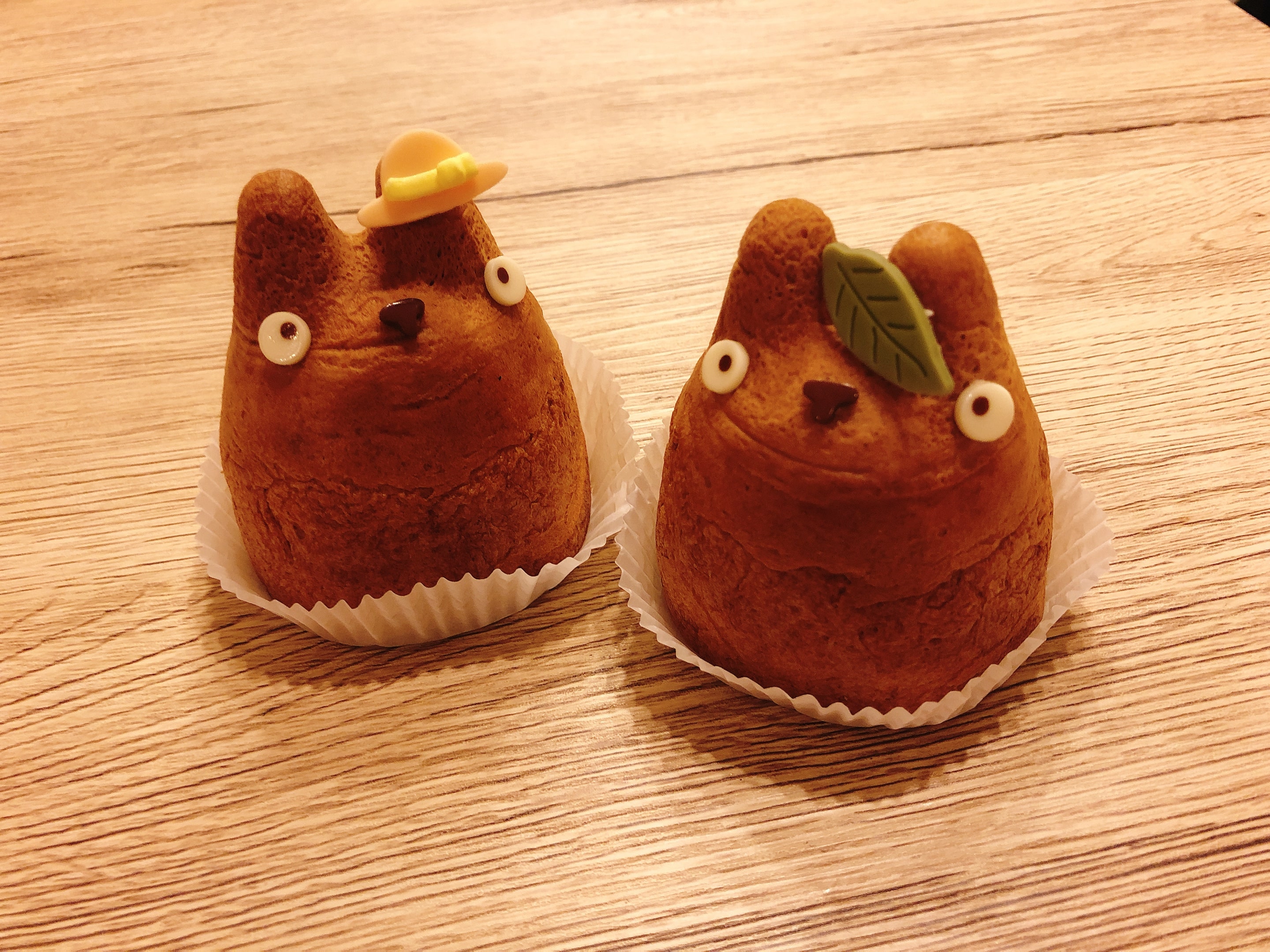 Did you understand about Ghibli Museum from ticket information to access guide? To make sure for you to enter Ghibli Museum, book your ticket once you book your flight ticket.
Check out the new large Ghibli-themed facility Ghibli Park , too!
▽Check the list of the best museums around Japan including trendy art museums and classic spots!▽
For more info about traveling in Tokyo, check these articles below!
▽Related Articles▽
▼Editor's Picks▼
---