List of Ghibli Spots in Tokyo
From the famous Ghibli Museum to a secret clock: the best places in Tokyo for Ghibli fans.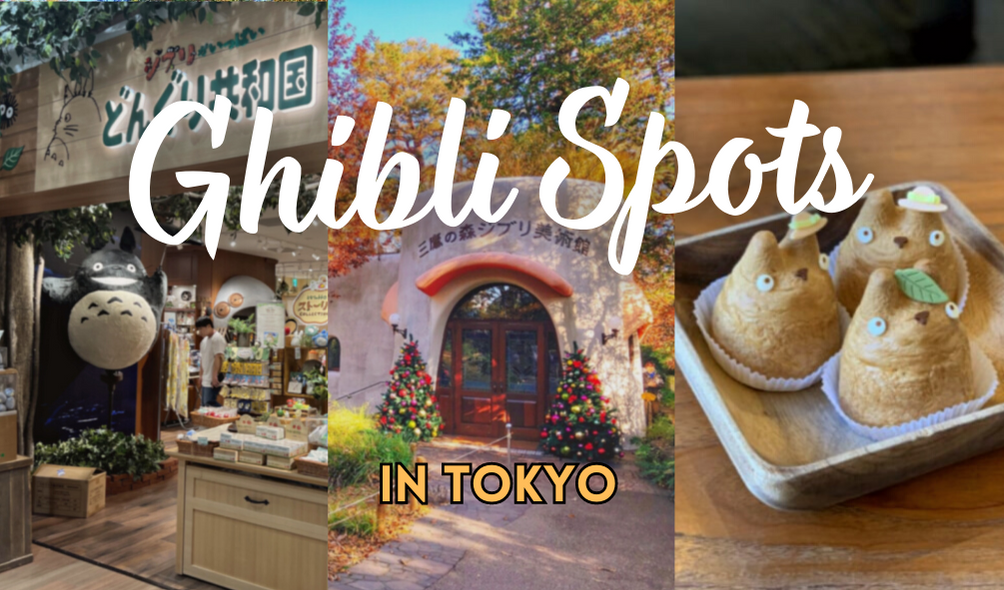 Founded in 1985 by Hayao Miyazaki and Isao Takahata, the Japanese animation studio Studio Ghibli is one of the most famous in the world, and its films have enchanted millions of fans both inside and outside of Japan.
Studio Ghibli have produced several animations including short films and television commercials and some of the most well-known films as My Neighbor Totoro, Spirited Away, Kiki's Delivery Service or Princess Mononoke have been fascinating many until today.
Many of the foreign fans of Studio Ghibli are looking forward to traveling to Japan to enjoy unique places that any true fan has to visit at least once in a lifetime, such as the Ghibli museum, the newly opened Ghibli park, with life-size reproductions of elements of some movies, or the real places that inspired some of the movies. Also to be able to buy products from their favorite movies that are only found in Japan, from merchandise to even themed food!
Today I want to introduce you to the must-go spots in Tokyo if you are a fan of Studio Ghibli. Some are already known to all, but you may also find a couple of hidden gems that you didn't know about! So let's check the list 😉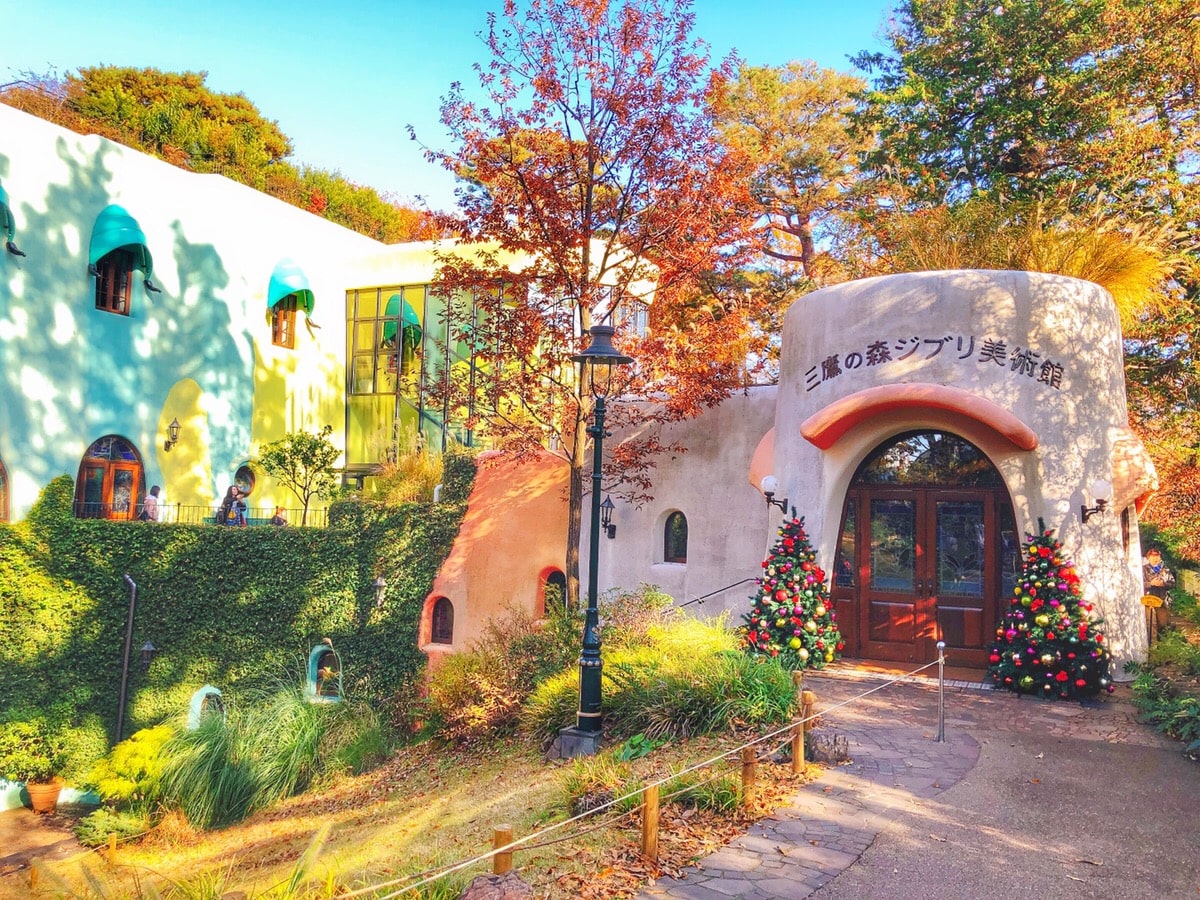 Opened in 2001 in Mitaka, on the outskirts of Tokyo's 23 neighborhoods, the Ghibli Museum was a thrill for fans of the studio. A museum dedicated exclusively to their favorite films, with countless sketches, storyboards, temporary exhibitions and 10 short films available only at the Ghibli Museum, among many other things! One of the highlights of the Ghibli Museum is in the rooftop, where the large robot soldier from Castle in the Sky welcomes visitors!
Moreover, the Ghibli Museum have a Cafe inside where they offer exclusive drinks and foods for visitors.
▽For more info check here!▽
---
View Information
Hide
Information
| | |
| --- | --- |
| Access | 15 mins walk from Mitaka Station or Kichijoji Station (JR Chuo Line) |
| Address | 1–1–83 Shimorenjaku, Mitaka-shi, Tokyo 181–0013 |
| Business Hours | 10:00–18:00 (Entry Time: 10:00/12:00/14:00/16:00) |
| Closed | Tuesdays and New Year's Holidays (Ghibli Museum may be irregularly closed for maintenance, so check the schedule on the website.) |
| Official Website | http://www.ghibli-museum.jp/en/ |
If you want to go to a lesser known place but a must for any Ghibli fan, especially of his super popular movie My Neighbor Totoro, aim for this place! Shiro-hige's Cream Puff Factory (also know as Totoro Cafe) is the only official bakery in the world, making adorable cream puff with the shape of Totoro. The place is cozy and adorable, and you can have a Totoro-shape cream puff filled out with eight different flavors accompanied by cup coffee or tea. They also sell Totoro-shape cookies for souvenir!
Please note that most of the fillings are seasonal flavours and they're available only a few specific months. The only ones that are available during all the year are cream and chocolate one.
▽For more info check here!▽
---
View Information
Hide
Information
| | |
| --- | --- |
| Access | 3 minutes walk from Setagaya-Daita Station/ 8 minutes walk from Shimo-Kitazawa Station exit South West |
| Address | 5 Chome-3-1 Daita, Setagaya City, Tokyo 155-0033, Japón |
| Business Hours | 10:30 to 19:00 |
| Closed | Tuesday and holidays |
| Price | 1.000~ yen |
| Telephone Number | 03-5787-6221 |
| Nearest station | Setagaya-Daita Station/ Shimo-Kitazawa Station |
Shiodome's Ghibli Clock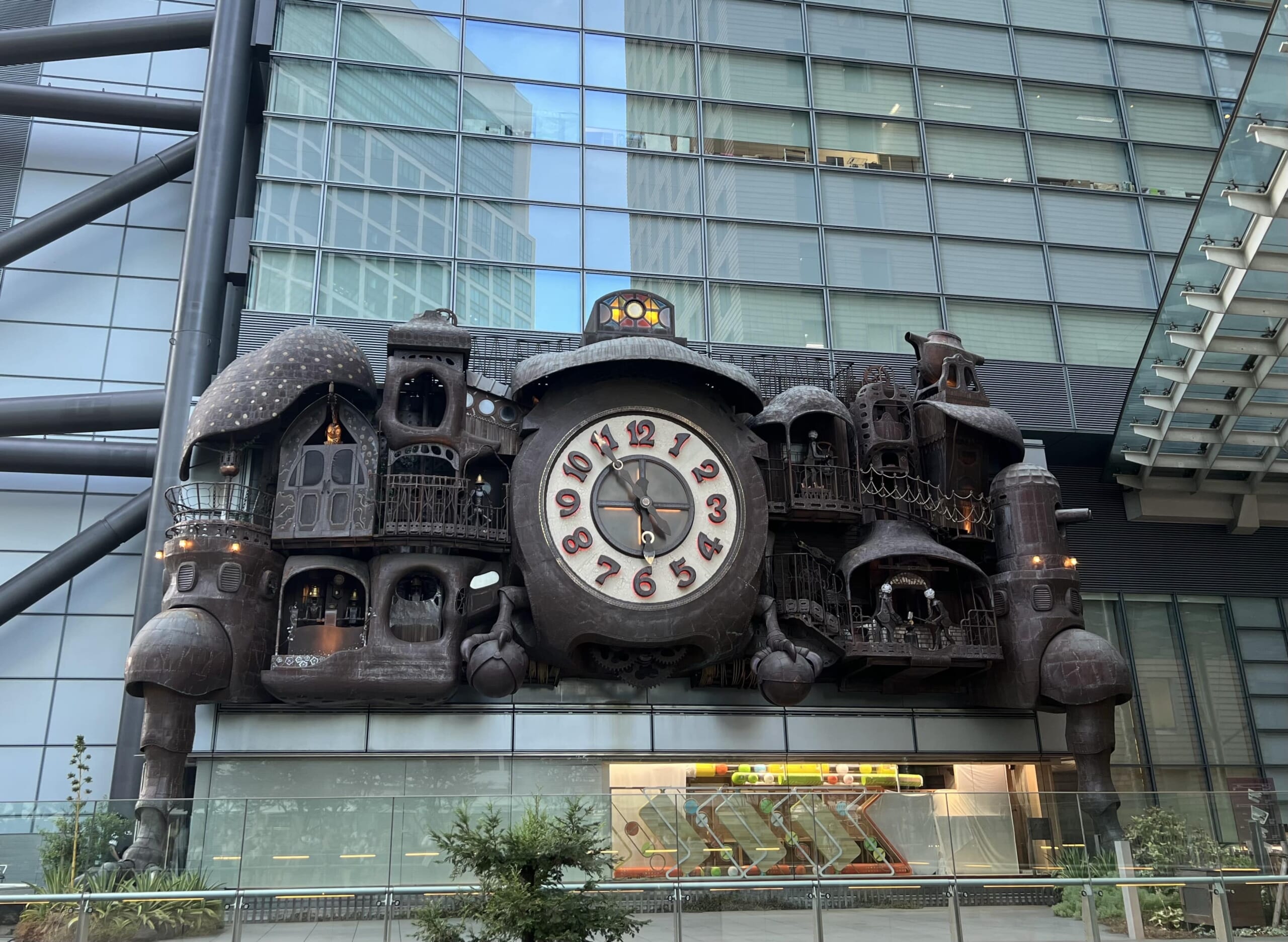 For true Studio Ghibli fans, there's a hidden place in the heart of Tokyo that few know about, but you can't miss.
I'm talking about the Ghibli clock located in Shiodome. The clock is located in front of the headquarters of Nippon Television, at the Nettle Tower. The oficial name is "Nippon Television's Big Clock" (Nittele Oodokei), but everyone knows it as the Ghibli Clock.
Personally designed by Hayao Miyazaki, and created by the sculptor Kunio Shachimaru, the same artist that did the famous big Robot Soldier on the Ghibli Museum in Mitaka, the Ghibli clock it's a real eye-catcher. Completed in 2006 at 12 metres high and 18 metres wide, the clock is inspired by the film The Walking Castle that Studio Ghibli released in 2004. It's said that it took 6 years to build it!
You can see the clock at any time of the day, but if you go at a specific time, you will be in for a surprise! The clock comes to life and many of its characters start to move. You can see it at 12:00/ 15:00/ 18:00/ 20:00. The show starts around 4 minutes before the full hour, so make sure to be at least 10 minutes in advance!
Map: https://goo.gl/maps/dPS96KgNsSjX21oo6
Donguri Republic
Do you want to go home with one (or more) souvenirs from your trip to Japan related to your favourite animation studio? Then don't miss the chance to visit Donguri Republic before leaving! Over the years, the Ghibli films have given rise to a wide variety of merchandise products, from the typical mugs and T-shirts to kitchenware, stationery and more.
Donguri Republic is the official shop of Studio Ghibli, and has more than 30 shops all over Japan. The most emblematic and adorable store to date was the one located in Kamakura, but recently they have opened one in the Sunshine City shopping center in Ikebukuro that is not only large but has an incredible decoration inside and out!
Also, if you like anime and Japanese kawaii culture in Sunshine City you can find the Mega Pokemon center, the Pikachu Sweets Cafe and the only official Pokemon Go store, plus Kiddyland, an official Sanrio store, and much more! The perfect place if it's a rainy day in Tokyo. Don't leave Japan empty-handed and take home a unique souvenir of your favorite movie 😉
Totoro Forest –
Sayama Hills
If you have extra days available and feel like a hike, Totoro Forest is located just outside of Tokyo, in Saitama. The real name is Sayama Hills, and it's said that it was the place where Hayao Miyazaki was inspired for the movie My Neighbor Totoro.
Since Hayao Miyazaki himself never reveals much information, there are various forests from which it's said that the famous director could have drawn inspiration for the film. But Sayama Hills is the only place where Hayao Miyazaki personally contributed to the opening of the Totoro Foundation. There is a hiking course available even for kids in which you may find some surprises. You might even see Totoro!
Seiseki Sakuragaoka
Last but not least on our list, we bring a place for Whisper of the Heart's fans. It's Tama City, a mountainous residential neighborhood just outside of central Tokyo. Many of Whisper of the Heart's locations, from streets to stores, are based on real places in Tama City. Especially the area around Seiseki Sakuragaoka Station attracts many Ghibli fans and there is even a map showing the actual locations, to make it easier to visit.
Seiseki Sakuragaoka is located about 30 minutes from the Ghibli Museum, so it can be a good stop after your visit to the museum.
---
Ghibli Park
Planning to go to the Ghibli Park too?? Ghibli Park is the world's first and only amusement park dedicated to the Ghibli animation studio, and includes attractions such as the life-size home of Satsuki and Mei from My Neighbor Totoro!
▽Check here how to buy the tickets from overseas▽
▽Don't miss this complete guide with all you need to know about the park!▽
I hope you enjoyed the article! How many spots on the list do you plan to go? 🙂 For more Ghibli-related content in Japan, or other interesting places, check these articles too!
▽Related Articles▽
▼Editor's Picks▼
---