How to Buy Tickets for Ghibli Park from Overseas
Ghibli Park: How to get tickets for the Ghibli Park from abroad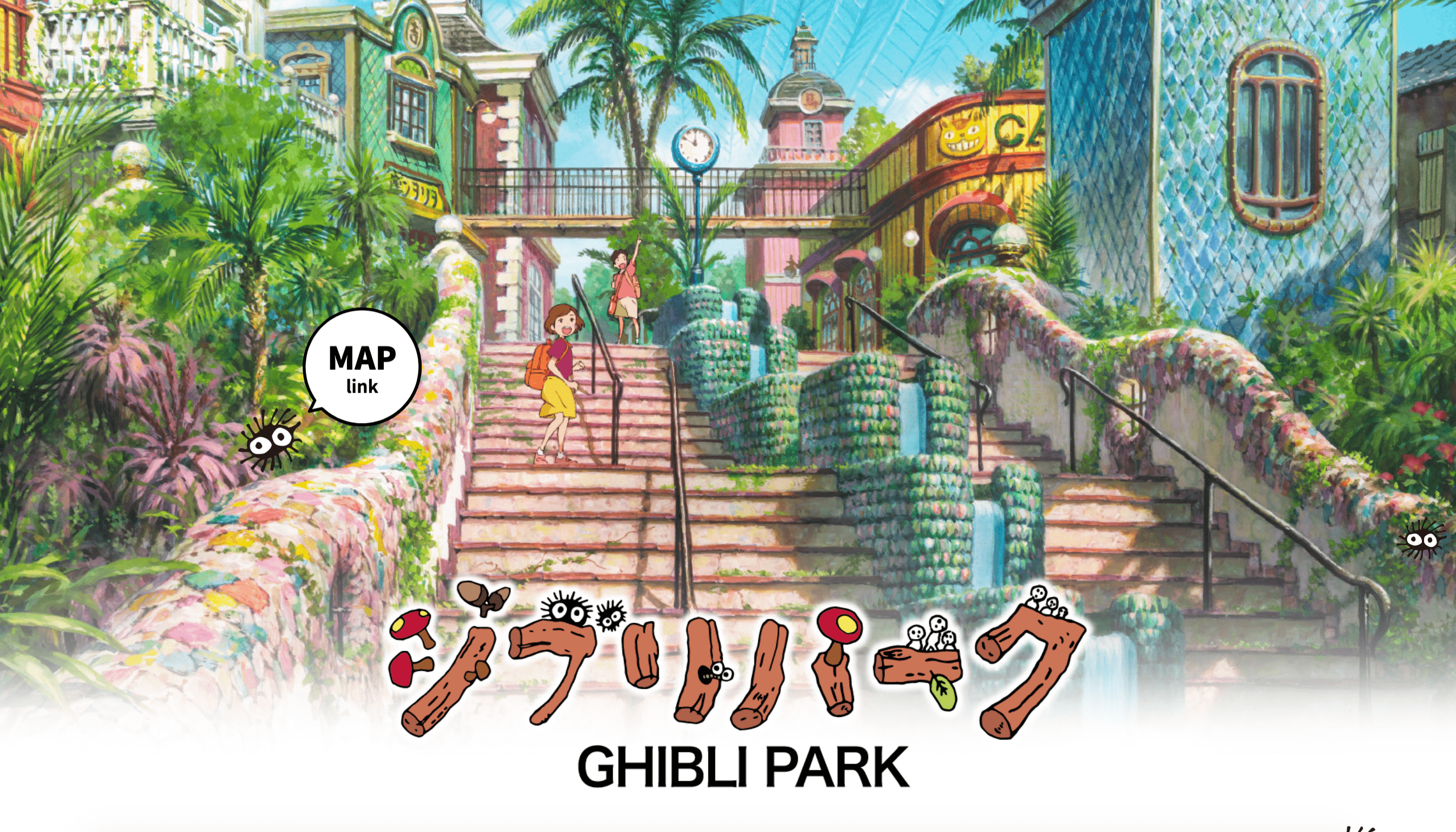 One of the most anticipated events of 2022 in Japan has undoubtedly been the opening of the theme park of the renowned Japanese animation studio Ghibli. Created by Hayao Miyazaki and Toshio Suzuki, Studio Ghibli has produced numbers of anime films known and loved all around the world.
Every time the studio releases a new film it is a box office hit and the Ghibli Museum in Mitaka have been one of the most famous tourists spots during the past years. Finally in November 2022 Ghibli Park opened at Aichi Earth Expo Memorial Park, in Nagoya City.
Until now visitors coming to the park could enjoy Satsuki and Mei's House, a life-size reproduction of the house from the Totoro movie. At this moment visitors can enjoy three areas: Ghibli's Grand Warehouse, Hill of Youth and Dondoko Forest and in 2023 new additional areas such as Valley of Witches and Mononoke Village will be opening.
Representing the world of the Studio Ghibli movies the new Ghibli Park is larger than other famous theme parks all over Japan. In it Ghibli fans will be able to immerse themselves in the authentic world of some of the greatest Studio Ghibli films while enjoying the nature.
On December 20, 2022, Ghibli Park has announced that the sale of tickets for individual overseas visitors will start on 10 January 2023 (Tuesday). They opened a ticket sales website for overseas individuals with the aim of welcoming foreign visitors to Japan.
Starting from Tuesday 10 January 2023 at 14:00 Japan Time tickets for admission from Wednesday 15 March to Sunday 30 April 2023 will be available at the website.
Please note that due to the strong sales of tickets for the domestic market and the limited capacity to prevent the spread of covid coronavirus infections, for the time being only the noon admission slot for the Ghibli's Grand Warehouse tickets will go on sale.
As with the Ghibli Museum, tickets are in high demand and have to be purchased months in advance. It's scheduled that sales of tickets for overseas individuals for admission in May 2023 onwards will start on the 10th of the month three months prior to the month of use.
Ghibli Park Official Website: https://ghibli-park.jp/en/
Ticket Prices
Each attraction for adults and children (age 4 – 12) makes a charge for admission as these prices below:
-Hill of Youth and Ghibli's Grand Warehouse Package (Weekday): 3,000 yen (Adults)/1,500 yen (Children)
-Hill of Youth and Ghibli's Grand Warehouse Package (Weekend): 3,500 yen (Adults)/1,750 yen (Children)
-Ghibli's Grand Warehouse (Weekday): 2,000 yen (Adults)/1,000 yen (Children)
-Ghibli's Grand Warehouse (Weekend): 2,500 yen (Adults)/1,250 yen (Children)
-Hill of Youth: 1,000 yen (Adults)/500 yen (Children)
-Dondoko Forest: 1,000 yen (Adults)/500 yen (Children)
*Children at age 3 year or younger are admitted free to all the areas.
How to Get to Ghibli Park
It takes less than an hour to get from Nagoya Station to the nearest Aichikyuhaku-kinen-koen Station by Higashiyama Line and Linimo (formally known as Aichi Rapid Transit Tobu Kyuryo Line).
-Taking Higashiyama Line from Nagoya Station, Aichi's largest train and Shinkansen station, to Fujigaoka Station (28 minutes).
-At Fujigaoka Station, making a transfer to Linimo for Aichikyuhaku-kinen-koen Station (13 minutes).
▽Access Guide from Tokyo▽
View Information
Hide
Information
| | |
| --- | --- |
| Access | Near to Aichikyuhaku-kinen-koen Station (Linimo) |
| Address | 1533-1 Ibaragabasama, Nagakute, Aichi |
| Business Hours | Weekdays: 10:00 to 17:00/ Weekends and Holidays: 9:00 to 17:00 |
| Closed | Tuesdays (When Tuesday is a national holiday, the park is open and will be closed the following weekday.) |
| Price | 1,000-2,000 JPY |
| Official Website | https://ghibli-park.jp/en/ |
---
Excited about visiting the new Ghibli Park?? Although less popular than Tokyo and Osaka, Aichi area has a lot to offer. For more interesting things to do in and around Nagoya, take a look to these articles too!
▽Related Articles▽
▼Editor's Picks▼
---