Nakasendo Trail: from Magome to Tsumago
Travel back in time on this route that crosses Japan through the mountains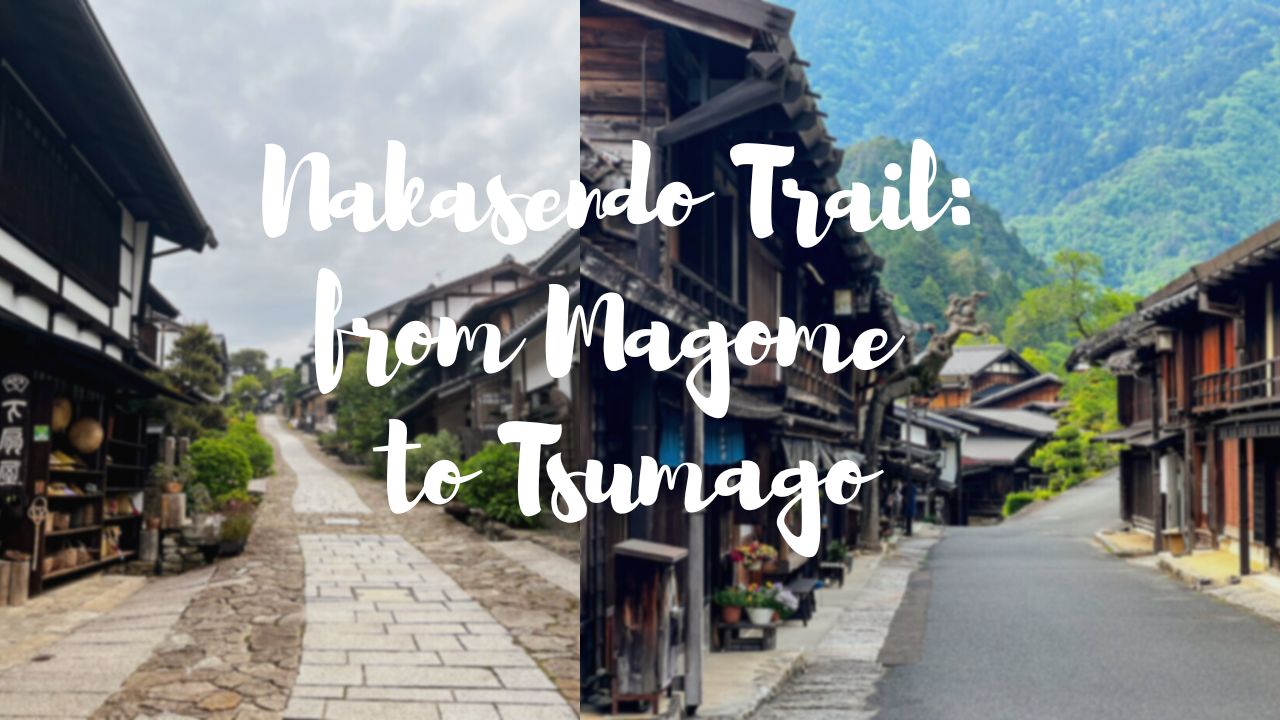 Among the forested mountains of Nagano is the Kiso Valley. In addition to its mountains and scenery, the Kiso Valley is famous for its picturesque mountain villages. Many of these villages were born years ago when the Nakasendo trail was created.
In the time of the samurai, during the Tokugawa shogunate that unified Japan, several official travel routes to Edo were created. The reason was that under the Tokugawa shogunate, the feudal lords were ordered to live half a year in their domains and half a year in the capital, Edo. In total there were 5 major roads. Among them was the Nakasendo route, which connected Kyoto (the former capital) to Edo, present-day Tokyo. The Nakasendo route is more than 500 kilometers long, so obviously travelers needed areas where they could rest during a journey that would last several weeks. Therefore, along the entire Nakasendo route there are more than 60 small villages that served as rest areas.
The Nakasendo connects Kyoto with Edo (present-day Tokyo), passing through the interior of the Nagano Mountains, and is a whopping 534 km long. It was one of 5 major roads established in the Edo period (1600-1868) under the Tokugawa shogunate to be used as official travel routes to Edo. Along the Nakasendo are 69 post towns that function as rest areas for travelers to take a break from all the walking. They would certainly need it, as walking the entire route from Kyoto would take weeks. Over the years new road where opened and the lords stopped using the old routes. That, at the time, was a problem for local villagers, who were isolated. But it's also what has allowed many of these villages to be preserved over time.
Today many parts of the trail have been preserved and have become tourist areas (there is even a part of the trail that passes through Tokyo!). In some cases only the small villages have been preserved but not the route itself. The most popular is the part of the Nakasendo trail linking the villages of Magome and Tsumago, which can be done in about 2-4 hours. I recently did this trail myself and was delighted with the experience, and today I would like to share it with you! Let's travel back in time to the time of the samurai by walking part of the same route they took to return home going from Magome to Tsumago.
Magome
The route can be done either from Magome to Tsumago or the other way around. In our case we did the first option. We arrived in Magome early in the morning, when most of the stores were still closed. Being honest I felt in love of Magome since the first moment. It's a charming little town. The cobblestones of the main street perfectly placed, the water mills, the stray cats sleeping peacefully in the street, the houses full of plants and flowers… And I can't talk about Magome and not tell you that they have the most adorable Japan post office I have ever seen!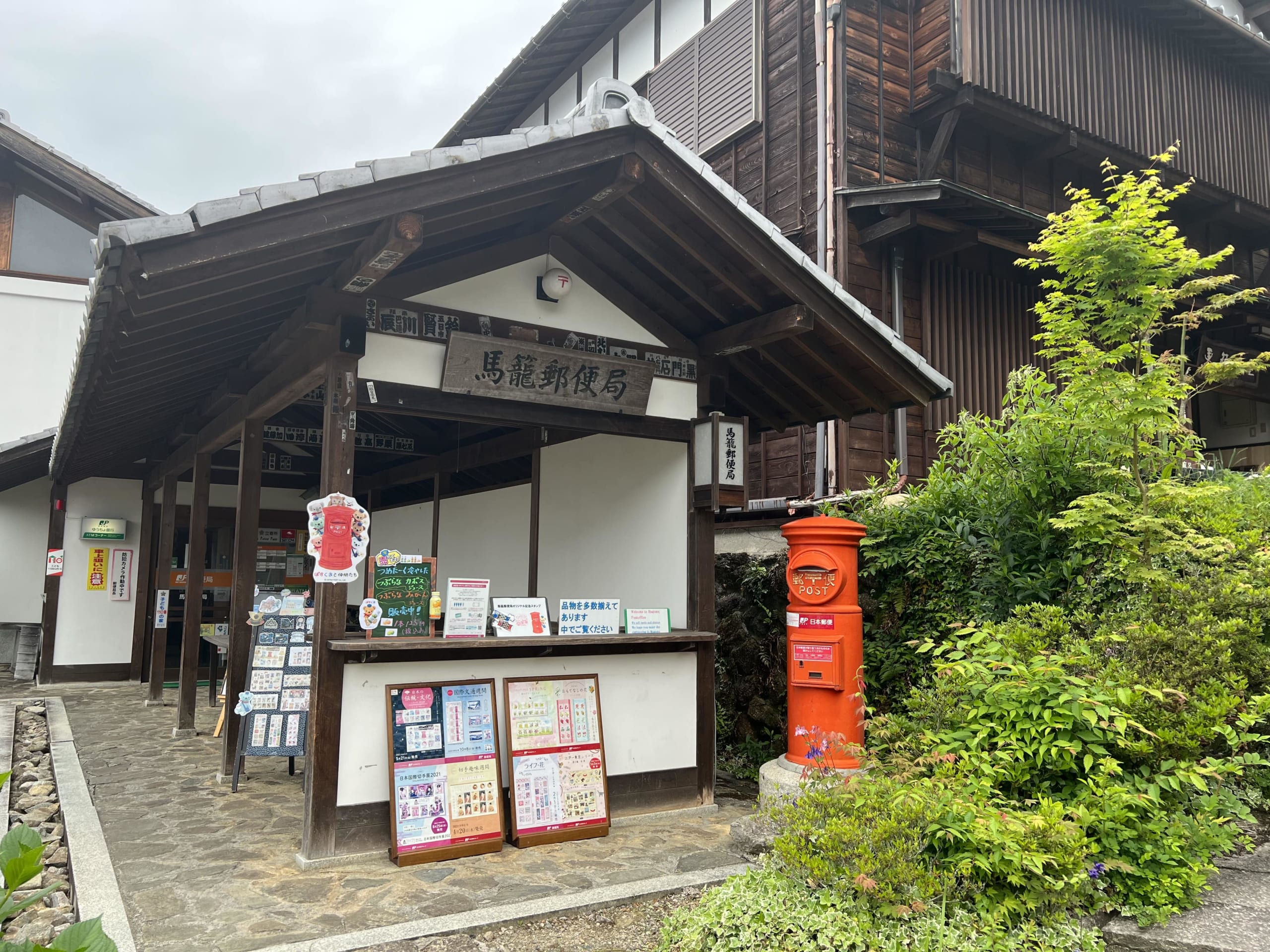 We spent some time taking pictures and exploring the area, like a small but beautiful shrine a little off the beaten path and little by little the food stalls and souvenir stores started to open, most of them run by lovely and very friendly local elderly people. We stopped at a couple of places to enjoy some typical food of the area and talk to the locals. Many of the food stalls have a bench or a few tables and offer you free tea to enjoy with your meal. While you are sitting there, you can talk a bit with the owner of the store. When we went there were not many people, and I think they like to be able to talk to new people.
Then after filling our bellies we finally got on the road!
Quick tip: the trail is quite easy and can be done with normal sports clothes, nothing very special is needed. In our case we wore sunscreen just in case since it was summer, and we wore hats. Although it looks cloudy especially in summer it is advisable to protect yourself from the sun. We also took water for the road and something to snack on in case we got hungry.
From Magome to Tsumago
The route itself is not something very special. A mountain road, with trees and several rivers and waterfalls. And, according to the signs we found, also bears. All along the way you will see some bells that are set for travelers to ring since the noise scares the bears. Luckily, we didn't encounter any during our journey.
But it's a good activity to escape from the big cities and the noise. Or in times like now, where as a result of the situation of recent years more and more people prefer to go to secluded and uncrowded places during the vacations. We went at a leisurely pace, stopping here and there to take pictures or at some of the many rest areas along the way. At a house at the beginning of the trail there were free wooden walking sticks for those who wanted one.
Halfway along the trail, we came across a cozy house that said "Free Tea room". The owner of the place, a very nice and kind man, prepares tea and some sweets for the hikers. We spent a few minutes there enjoying tea and chatting with the gentleman, and then set off on our way again. There are also restrooms available at this point for those who need to use them.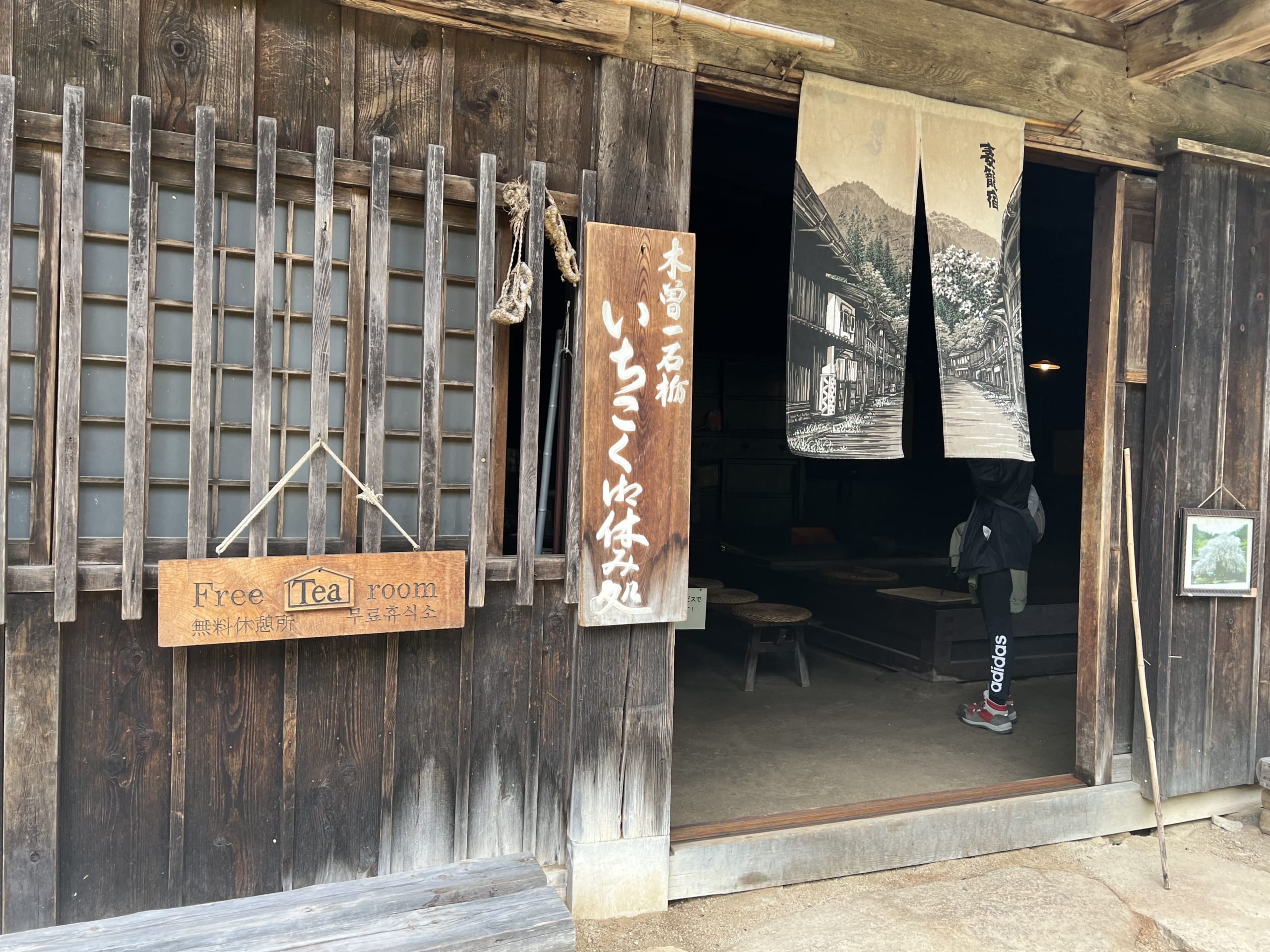 When we went part of the trail wasn't available due to landslides, so we had to do a section by road. This meant that on a couple of occasions we didn't know if we had taken the wrong road, but finally we started to see some houses. And after a while more of road, we arrived at our destination, Tsumago.
Tsumago
Tsumago is different in style from Magome, but also beautiful and picturesque. It's a small village between mountains, with the wooden houses contrasting with the green of the mountains. As it was already lunch time and we were hungry after the hike in the mountains, we decided to look for a restaurant first and visit the town later.
In Tsumago almost all restaurants serve soba (Japanese noodle made from buckwheat), so we stopped at the first one that caught our attention. I ordered a plain cold soba, which is always very refreshing in summer. We also ordered a local specialty: hida wagyu beef with roasted vegetables on top of a leaf with miso (a traditional Japanese condiment made from fermented soybeans and salt). Tsumago borders Gifu prefecture, an area famous for its hida beef. Wagyu is the Japanese breed of cattle. The most famous internationally is "Kobe beef", but within Japan hida beef is also highly valued.
Once we finished eating, we went for a walk around the area and investigate the nooks and crannies of the place and not just the main road, just as we did with Magome. Finally, we went to have a sweet and tea while making time for the bus.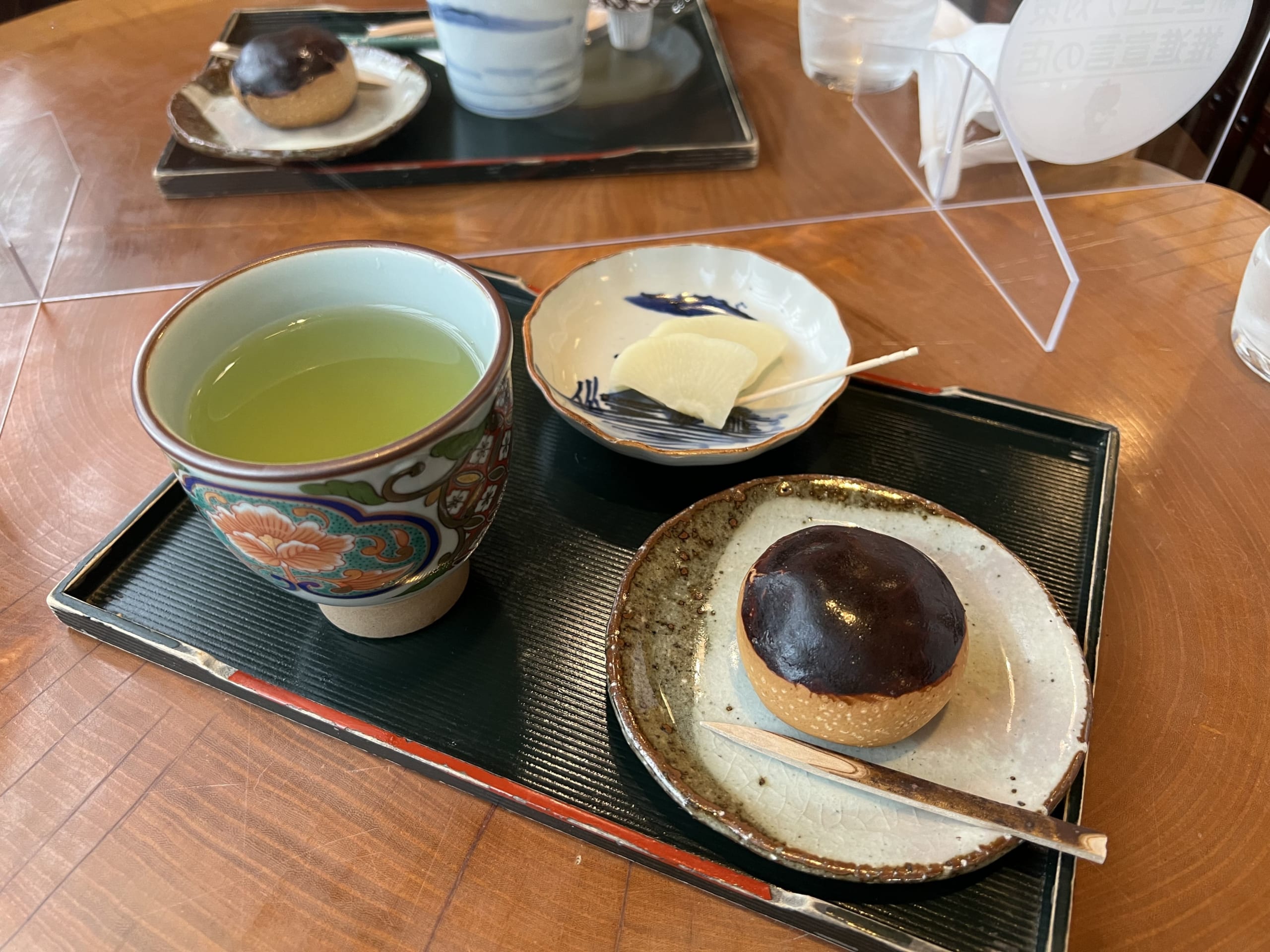 In that area the sweets made with chestnuts are famous. We stopped at a small shop that had sweets to take away as souvenirs but also a few tables inside where you could order a set of drink and sweets. I ordered a "kuri manju" (kuri means chestnut). I was surprised that unlike other manju I have tried, the coating of this candy was a rather hard paste (it is usually soft).
Here we were also able to talk to the owner of the shop, a lovely old lady, and her group of 3 friends, who were spending the afternoon on the bench in front of the store talking.
How to get to Magome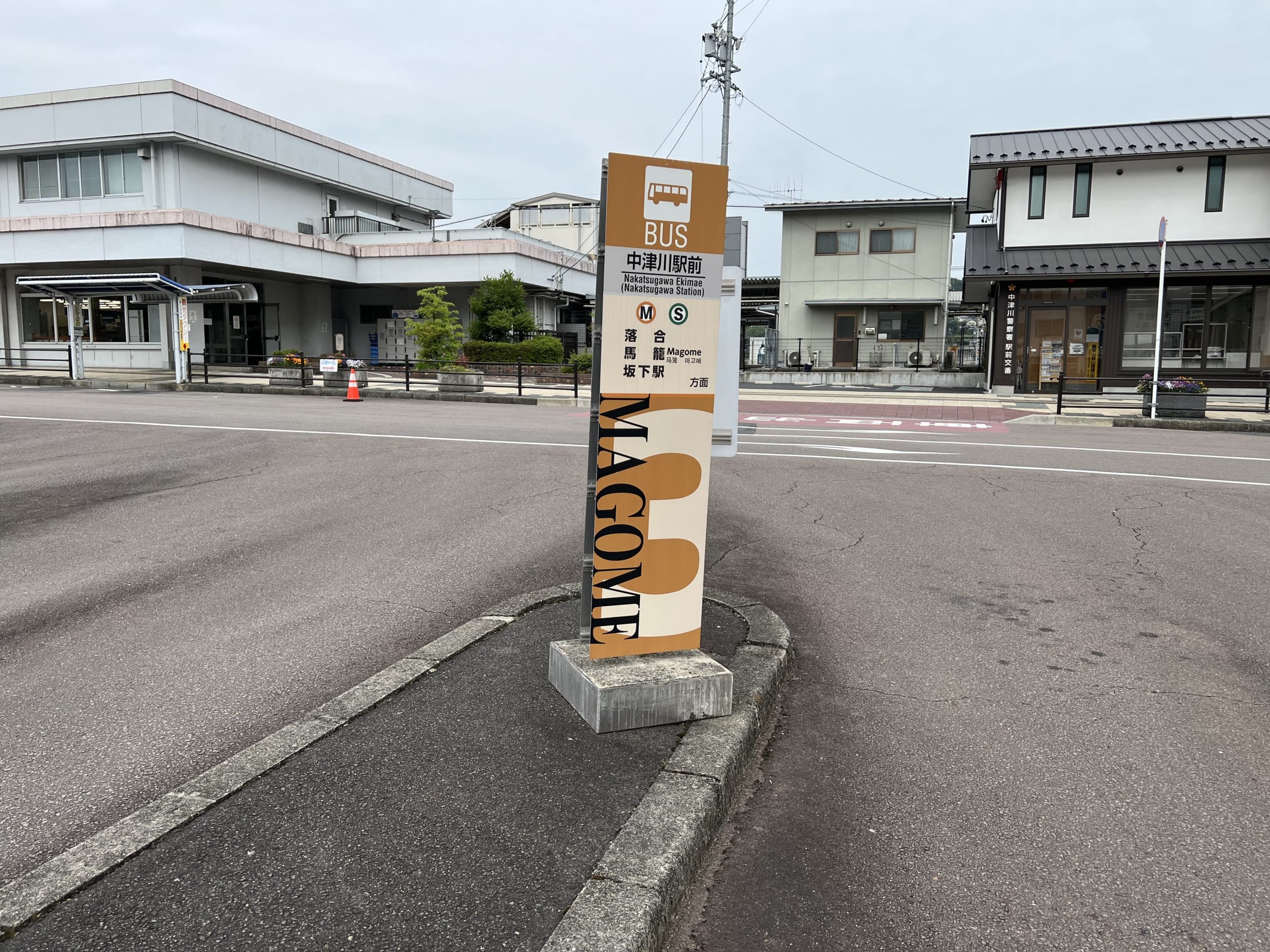 To get to Magome you have to take a train from Nagoya to Nakatsugawa, and from there a local bus to Magome. To go from Nagoya to Nakatsugawa there are two options, a faster one that takes 45 minutes and costs 2,500 yen and the slower one that takes one hour and 15 minutes and costs 1,320 yen. We took the fast train (called Shinano) and when we came back we took the slow one. Then from Nakatsugawa to Magome the bus was 550 yen. The bus stop is right in front of the station and there are some big letters that say "Magome".
If you prefer to start the trail in Tsumago and finish in Magome, then you have to do the same but in reverse.
How to get to Tsumago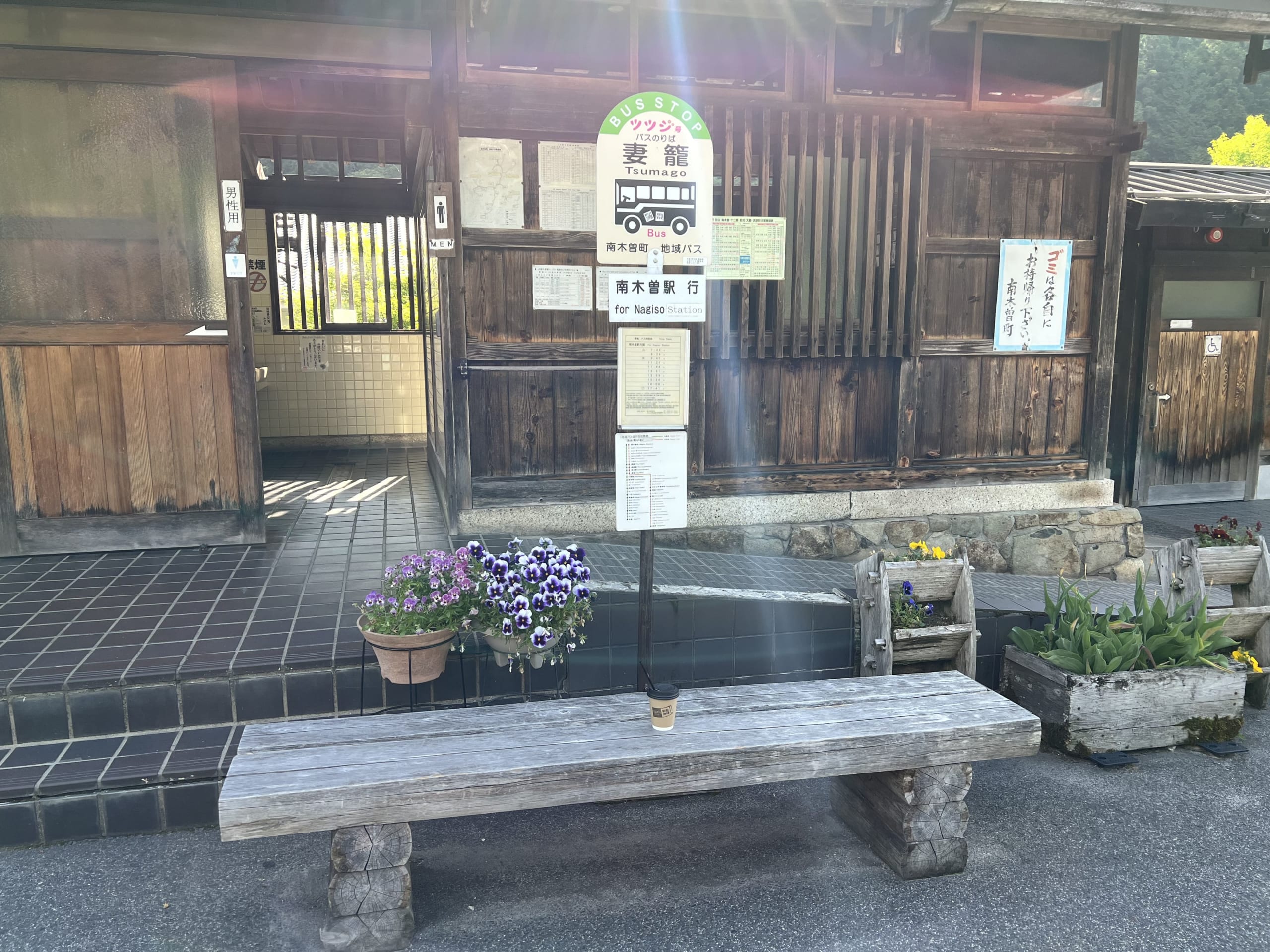 To return to Nagoya, take the bus from Tsumago to Nagiso, and from there the train to Nakatsugawa, where you have to change trains and you can go directly to Nagoya (it is the same way we did to get to Magome).
You can also walk from Tsumago to Nagiso, it takes about 40 minutes, but if you are too tired to walk all day, the best way is by bus.
If you prefer to start the trail in Tsumago, then you have to do the same but in reverse.
To get to Nagoya you can go by Shinkansen or bus from Tokyo. We chose to go the day before by bus, as it was only 3,000 yen (much cheaper than the Shinkansen) and spend the night in a hotel in Nagoya, so the next day we left early in the morning to Magome. There are also some buses that go from Shinjuku to Magome or Tsumago, but I don't highly recommended. They take a long time and make many stops.
Thanks for reading my experience in the Nakasendo Trail! I hope you enjoyed it. If, like me, you like these type of places and you want to explore more Nagano and Gifu area, you can find more interesting places to visit in these articles too!
▽ Related Articles ▽
▼ Editor's Picks ▼
---