10 Best Things to Do in Gunma
Gunma Travel Guide: What to Do in Gunma Now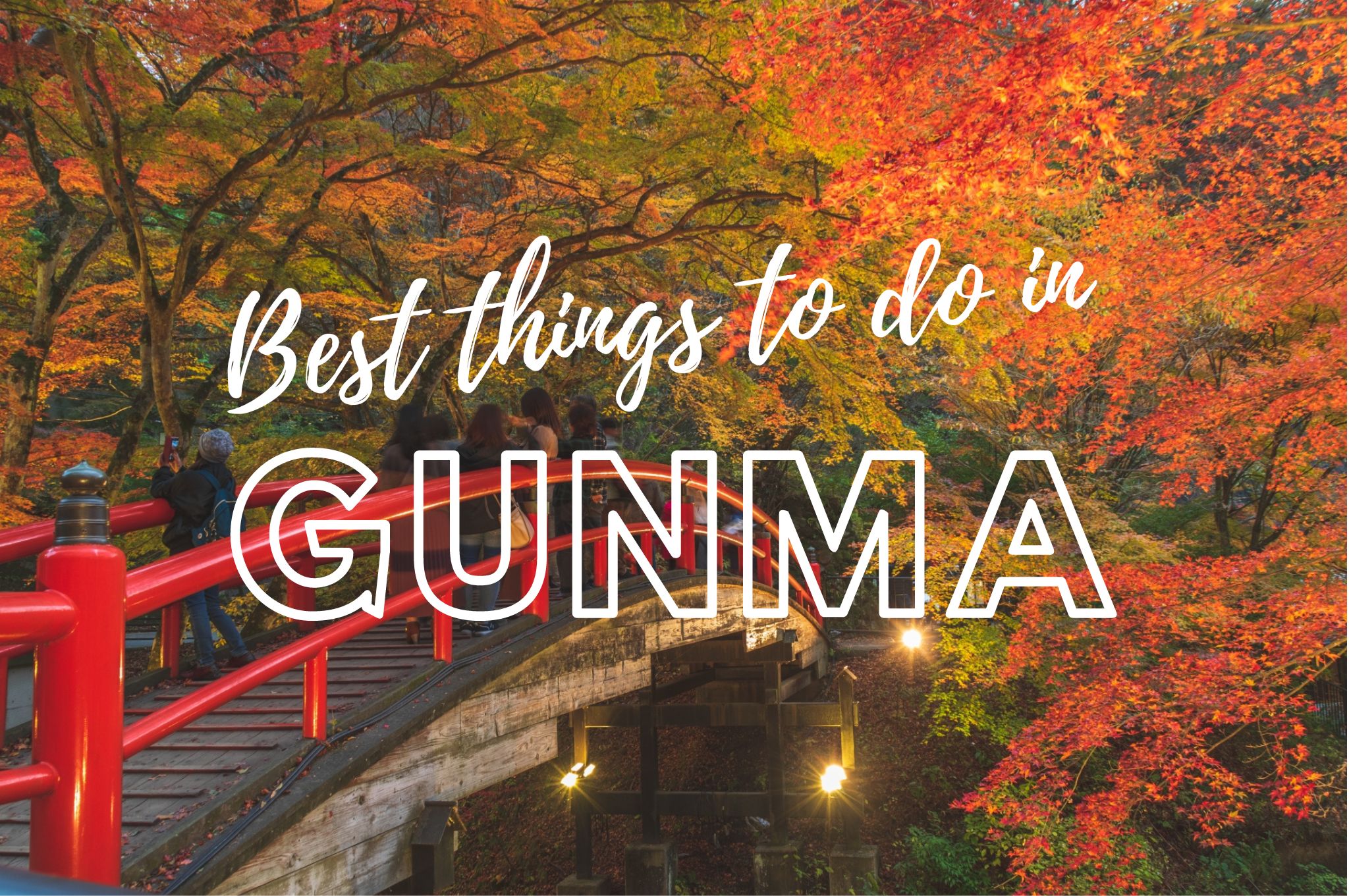 With its mountains, hot springs, and magnificent lakes, Gunma Prefecture is a nature lover's paradise. Gunma is also home to some of Japan's most famous sights, including the Jigokudani Monkey Park, where you can watch wild monkeys soak in hot springs, and the Kusatsu Onsen, one of Japan's oldest and most popular hot spring resorts. It's also one of the best destinations for winter sports relatively close to Tokyo thanks to its ski resorts. Whether you're looking to relax in nature or explore some of Japan's most iconic sights, Gunma is the perfect destination for you. With this in mind, here's our list of the best things to do in Gunma!
With this Kanto Region Bucket List, let's also check out the surrounding tourist attractions: Best Things to Do in Kanto
---
1. Take a Hot Spring Getaway at Kusatsu Onsen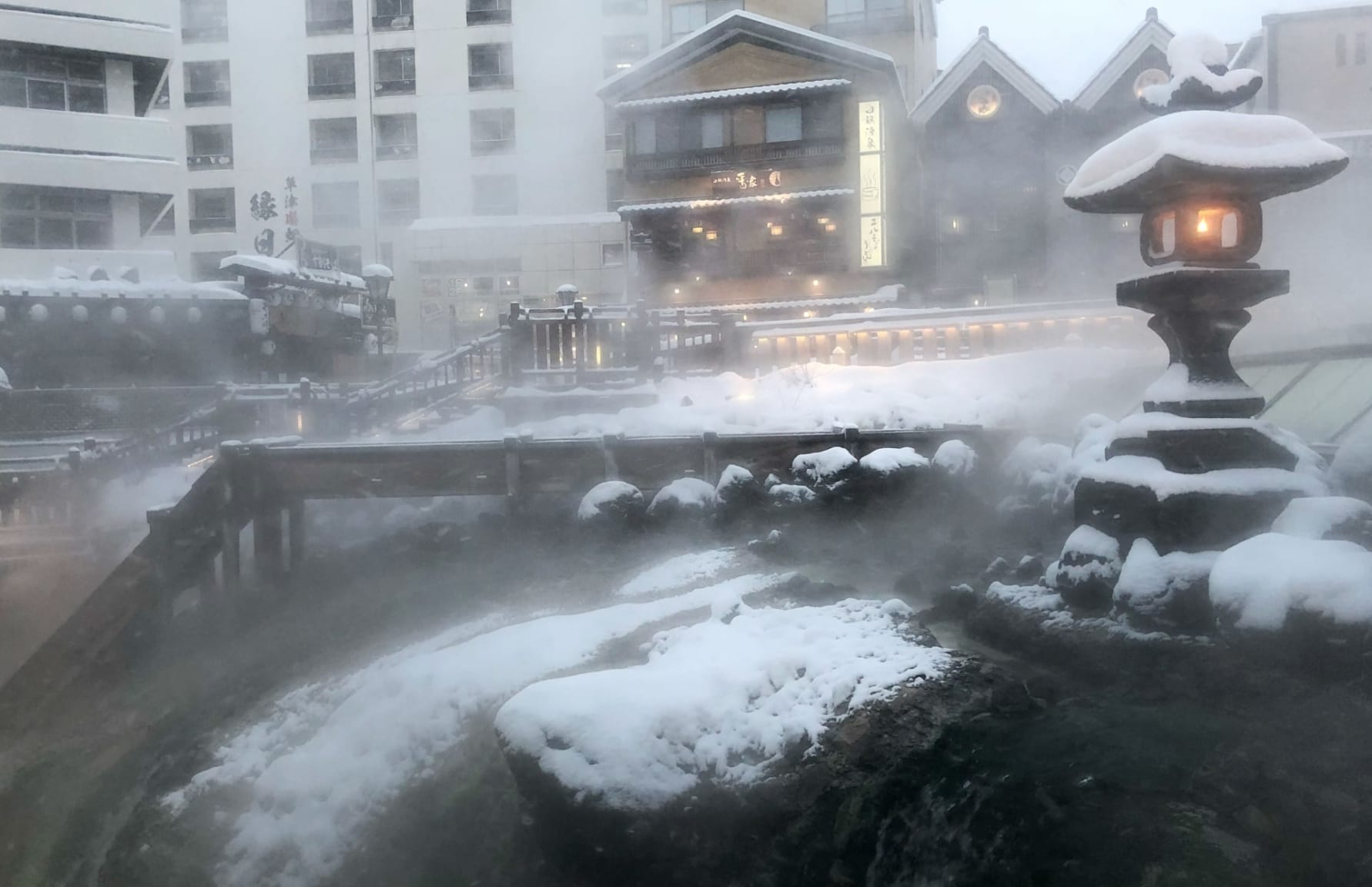 Kusatsu Onsen (草津温泉) is a world-famous hot spring resort in Gunma Prefecture. The town is situated in a valley surrounded by Mt. Akagi, Mt. Myogi, and Mt. Haruna, and is known for the top quality and healing properties attributed to its waters. After all, the hot springs here are said to be some of the best in Japan, and visitors can enjoy soaking in them at one of the many public baths or hotels. The town is also home to a number of traditional crafts shops and attractions, making it a great place to visit for a relaxing and cultural experience.
▶ Kusatsu Onsen Tourism Association official website: https://www.kusatsu-onsen.ne.jp/
Check out more about Kusatsu Onsen in the following article.
2. Climb a Sacred Mountain to Visit Haruna Shrine
Haruna Shrine (榛名神社) is a beautiful, traditional Japanese shrine and one of the oldest in Gunma prefecture. Established in the year 586 in Mt. Haruna, It's surrounded by lush cedar forests and mountains, and it's said that some of the oldest cedars in the area could be over 1000 years old. The shrine is dedicated to Mountain itself, revered as a deity and visitors often come to pray for love, marriage, and childbirth. Visitors to the shrine can purchase good luck charms and amulets, and there's also an ancient sacred wishing tree where people can write down their wishes. The atmosphere of the shrine is very peaceful and calming, and it is a great place to visit if you are looking for a serene and beautiful place to pray or meditate.
▶ Haruna Shrine official website: https://www.haruna.or.jp/
3. Make a Wish With a Daruma at Shorinzan Daruma-ji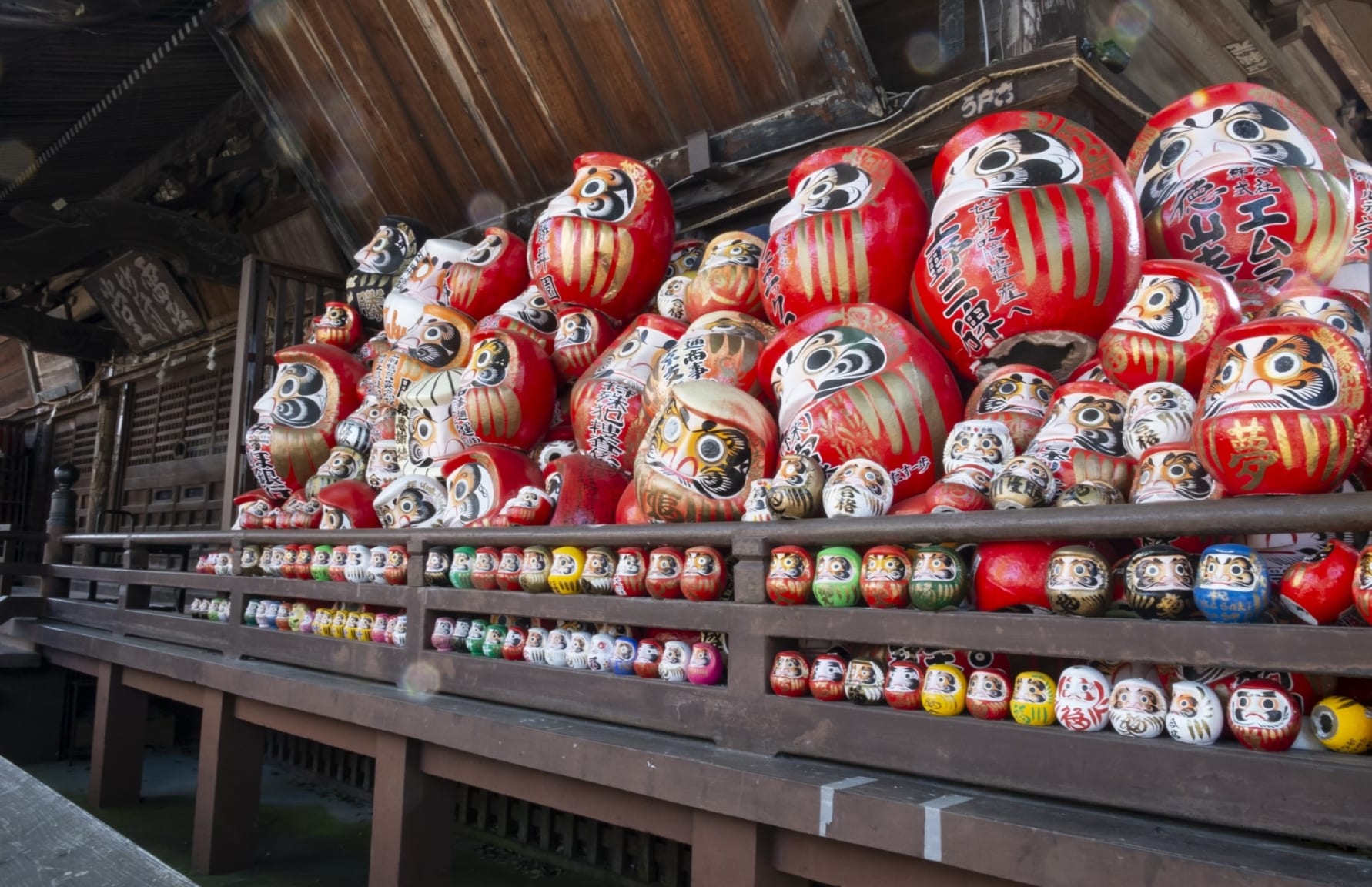 Shorinzan Daruma-ji (少林山達磨寺) is a must-see for tourists visiting Gunma prefecture. Founded in 1697 and located on a mountainside with stunning views of the surrounding area, the temple's claim to fame is its enormously large collection of Daruma dolls. In fact, it's said this is the birthplace of these Japanese quirky limbless dolls and traditional good luck charms. Typical darumas are red for general fortune but there are also many other colors and designs for more specific wishes such as love or business or academic success. Visitors can purchase their own Daruma dolls at the temple, or take part in the temple's annual Daruma festival at the beginning of the year where they paint the first eye and make a wish, and then wait for the wish to come true in order to paint the second eye. At the end of the year, dolls are returned to the temple and can burn them.
▶ Shorinzan Daruma-ji official website: https://www.daruma.or.jp/
4. Feel the Retro Atmosphere at Rinkokaku
Rinkokaku (臨江閣) is a beautiful historical state guest house located in Maebashi City in Gunma prefecture. Built in 1884, it's a fantastic sample of the architectural modern Japanese style from the Meiji era, a singular period where Western influence started to manifest in official buildings, creating a unique aesthetical blend. Designated as an Important Cultural Property in 2018, and is open to the public for tours. Overlooking the Tone River, it's an impressive sight during the day but after sunset, it also acquires a special charm with the evening illumination.
▶ Maebashi City's Rinkokaku official website: https://www.city.maebashi.gunma.jp/shisetsu/1/4/18430.html
5. See the World From a Goddess Shoulders at Takasaki Kannon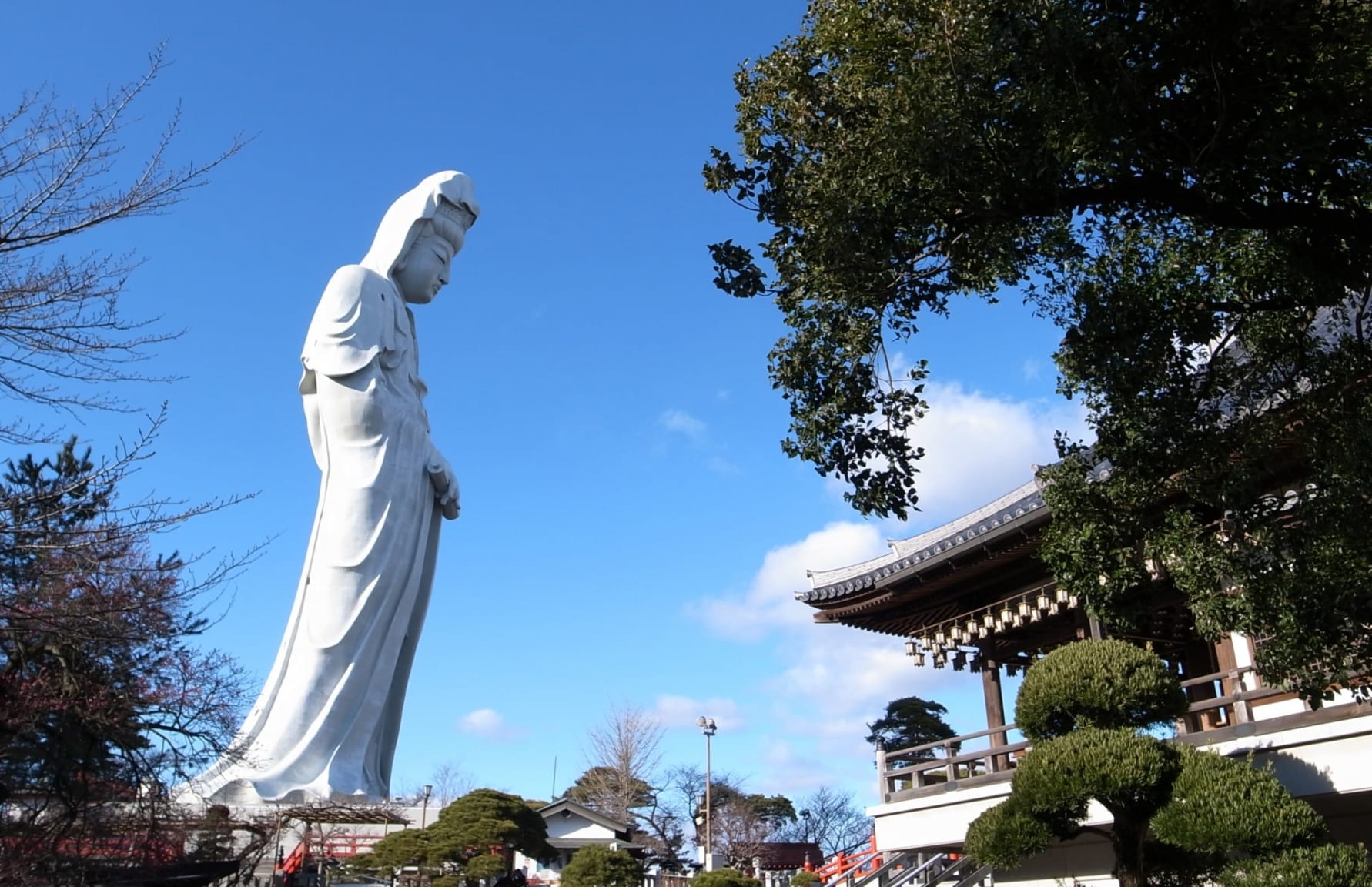 Takasaki Byakue Daikannon (高崎白衣大観音) is one of the most popular tourist destinations in Gunma prefecture. A striking 41,8 meters high statue of Kannon, goddess of mercy, it sits atop Mt. Kannonyama next to Jigen-ji temple, overlooking the city of Takasaki. It's said that the temple dates back to the Kamakura period but was destroyed amid a fire during the mid-late XVII century and wasn't restored to its former glory until the Kannon statue was built in 1936. Visitors can enter the statue and climb 146 stairs up the shoulder for nice views of all the surroundings.
▶ Takasaki Kannon official website: https://takasakikannon.or.jp/
6. Discover a Hidden Treasure at Chinpo Kan
Definitely one of the most unusual and quirky spots in all of Gunma Prefecture is the Chinpo Kan (珍宝館) or penis museum! The name is a play on words with the official meaning of "chinpou" as hidden treasure, with the more colloquial "chinpo" of the word for one's manhood. Since 1978, over 3,500 objects on display serve the purpose of an equally fun and educational experience, since, innuendo jokes aside, it's also an interesting visit as many of those objects also have historical and cultural value. But the highlight of the visit is probably the guide and museum manager, who refers to herself as "Mancho", a portmanteau of "manko" (vagina in Japanese) and "kancho" (manager). She's known for throwing all kinds of funny sexual jokes during the visit so rest assured, this won't be a boring experience.
▶ Chinpo Kan official website: http://chinpoukan.com/
7. Tour Shibukawa City For Locations of Initial D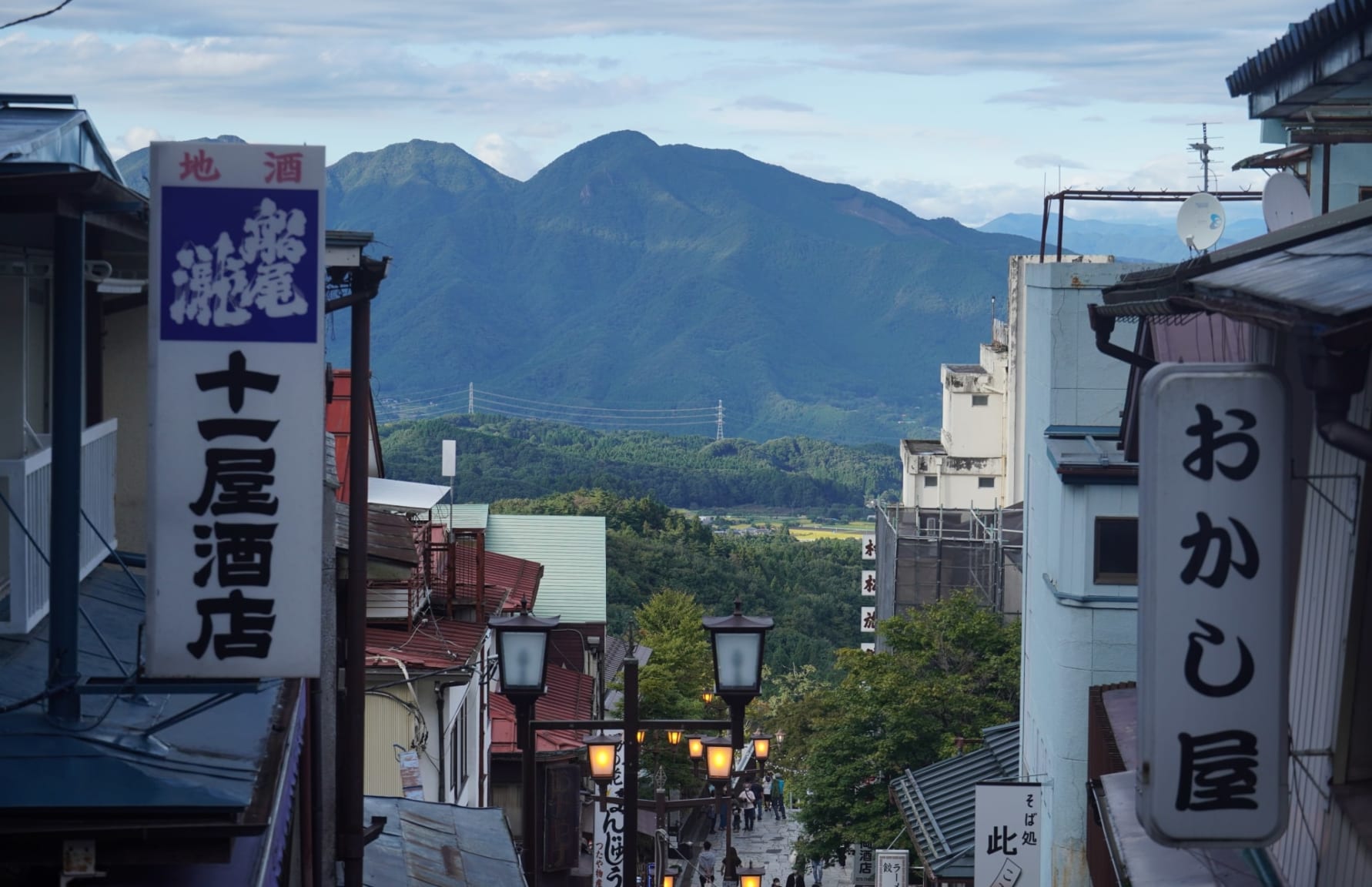 If you're a fan of the Initial D manga, then you'll want to check out the locations around Shibukawa City (県渋川) that were used as inspiration for the story. From the Touge (mountain pass) roads that the characters race on to the mountain passes and valleys that provide the stunning backdrop, there's plenty to see and do. Some of the most popular attractions include the Akina pass (which in real life is the Jomo-Sanzan Panorama Highway), which is where the opening scene of the manga takes place. Furthermore, the city itself launched an initiative in summer 2022 to revitalize tourism after the manga and anime's popularity and has sponsored a few taxis modeled after some of the story's iconic models, adding up to the existing manhole covers with character designs scattered around Shibukawa.
▶ Shibukawa City's Initial D collaboration official website: https://initiald-shibukawa.com/
8. See the autumn leaves from Kajika Bridge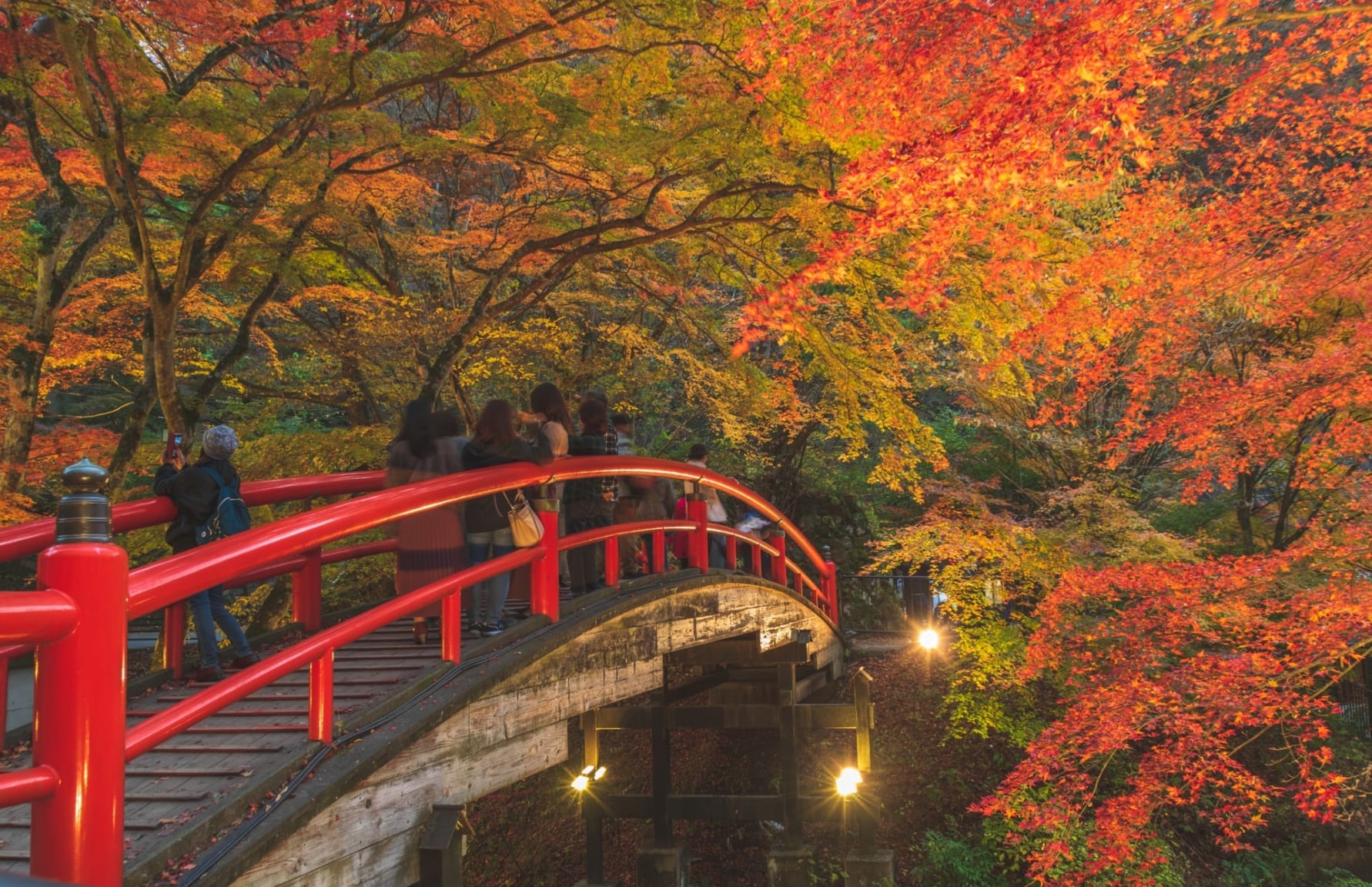 The views of the mountains and valleys blanketed in red and gold are simply breathtaking, which is why Kajika Bridge (河鹿橋) is the main attraction in the Ikaho Onsen area of Shibukawa city. A gorgeous lacquered red bridge against a backdrop of red and orange maple leaves is one of the most sought-after images during the autumn seasons, drawing quite the crowds every late October to mid-November. The show isn't over once the sun sets, as a special illumination lights up the bridge at night, creating a magical atmosphere!
▶ Shibukawa City Kajika Bridge practical information: https://www.city.shibukawa.lg.jp/kankou/event/matsuri/p000308.html
9. Snack on Yaki Manju During Your Trip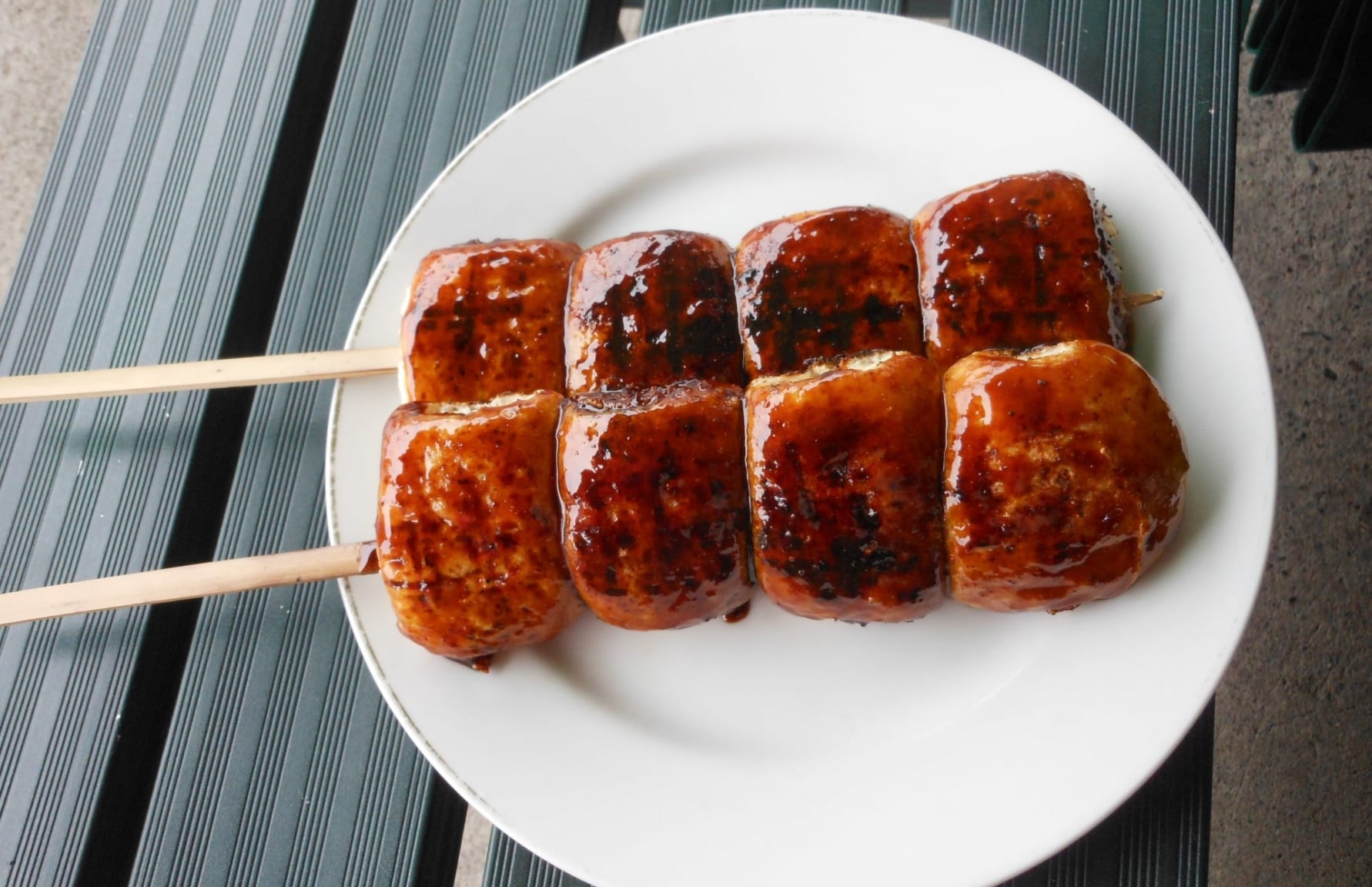 When in Gunma Prefecture, be sure to try the Yaki Manju (焼きまんじゅう)! These little grilled sweet buns are stuffed with a variety of fillings, from sweet to savory, and have been a unique staple that originated in Gunma since the Edo Period. The most popular filling is red bean paste, but there are many other delicious options to choose from. Yaki Manju are the perfect snack to enjoy while exploring everything this beautiful prefecture has to offer.
10. Warm Yourself With Okkirikomi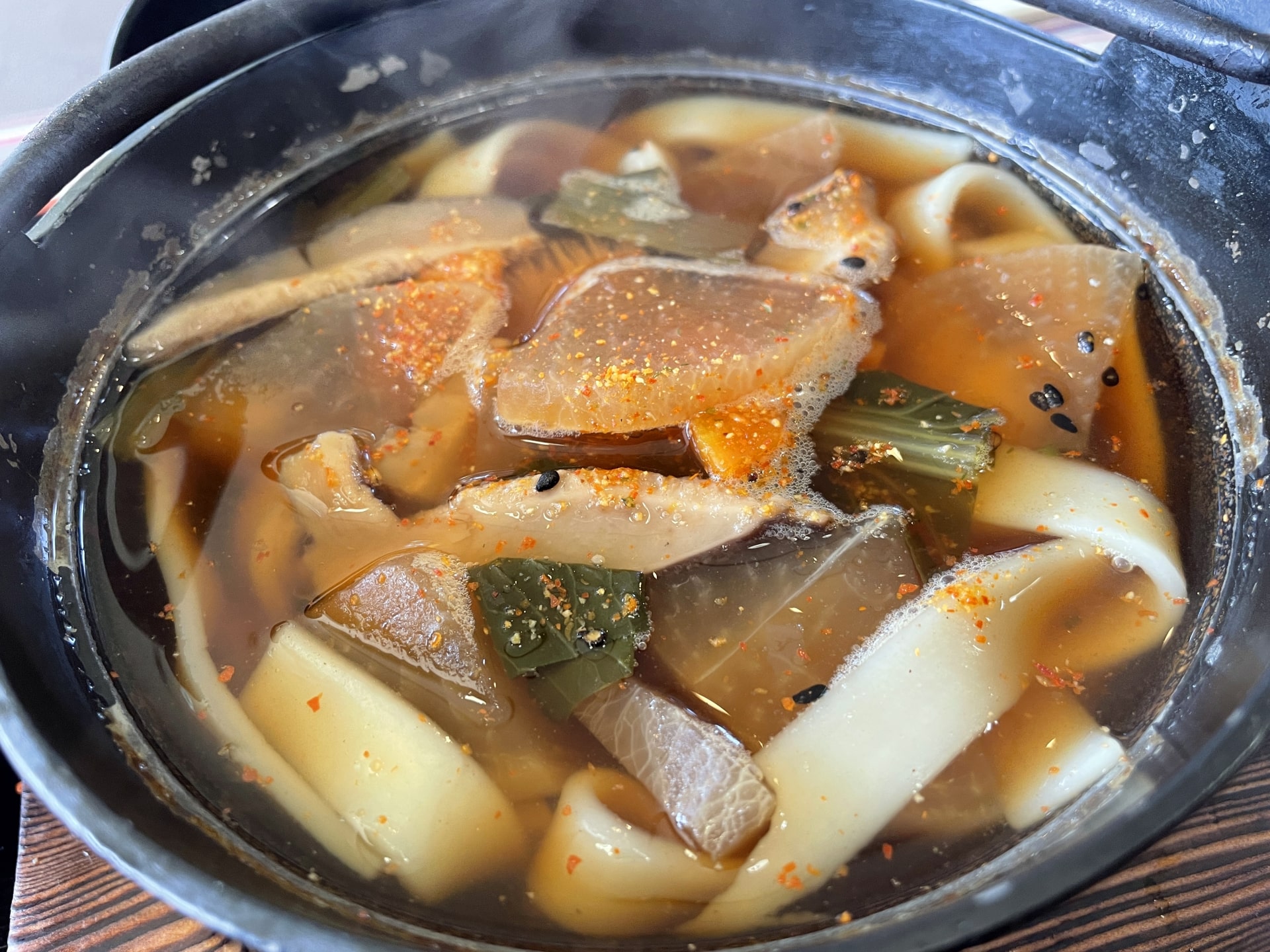 Okkirikomi (おっきりこみ) is a wide flat udon that's a famous local specialty of Gunma prefecture. It typically consists of wheat flour noodles simmered with seasonal vegetables and mushrooms in a soup that may be miso or soy sauce based. Simple, affordable, and delicious, it's a hearty and filling dish that is perfect for those months when temperatures start to drop.
---
▽Here are the attractions you should experience across Japan with this Japan Bucket List!▽
Check best things to do in other prefectures in Kanto below!
▽Subscribe to our free news magazine!▽

If you're looking for an authentic Japanese experience, away from the hustle and bustle of the cities, then Gunma Prefecture is the perfect place for you. From hiking in the beautiful mountains to soaking in one of the many hot springs, to visiting historic temples and shrines, there's something for everyone in Gunma. And of course, you can't come to Gunma without trying the local food! There are plenty of delicious dishes to try. So what are you waiting for? Come and explore everything that Gunma has to offer!
For more information about traveling in Japan, check these articles below, too!
▽Related Articles▽
▼Editor's Picks▼
---