Japan Travel Tips: 10 Essentials for Travellers to Japan!
Things to know before and during your trip in Japan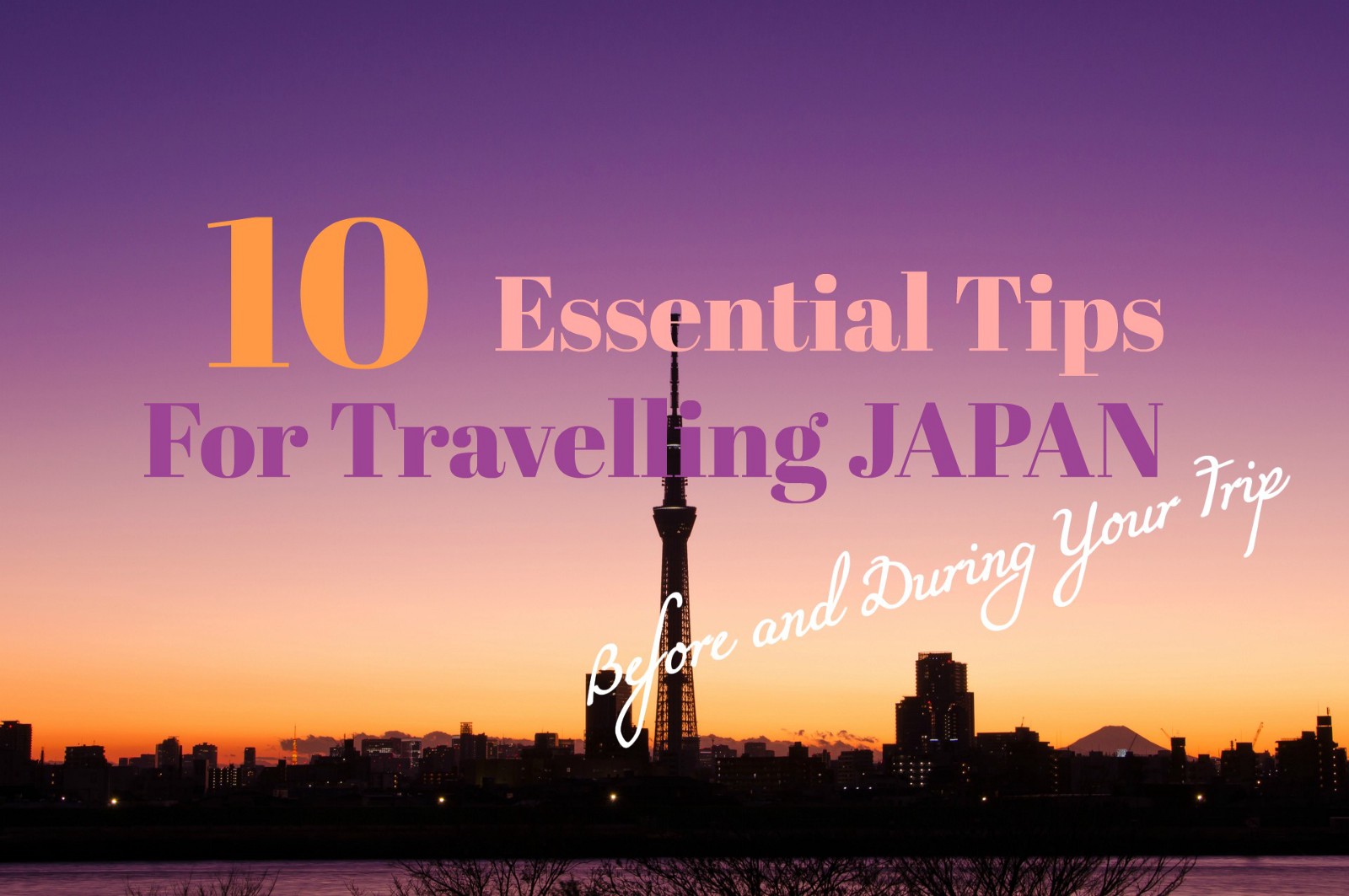 For those who are planning a trip to Japan, this article might be a bit of help 😉 I have listed essential Japan travel tips and advice which are especially useful for first timers to Japan. Check out things to know before and during your trip in Japan.
*Please note that this article contains affiliate links.
Before travelling
1. Check general info
Time:
JST (Japanese Standard Time) is 9 hours ahead of GMT and has No Daylight Saving Time. From north to south, all Japan is in one time zone. Here are some time differences between Japan and some major international cities:
New York: -14 hours
Los Angeles: -17 hours
Sao Paulo: -12 hours
Sydney: +1 hour
Seoul :0 hour
Hong Kong: -1 hour
New Delhi: -3.5 hours
Dubai: -5 hours
Berlin: -8 hours
London: -9 hours
Climate:
Japan has four distinct seasons: Spring (March to May), Summer (June to August), Autumn (September to November) and Winter (December to February). The climate and temperature vary depending on season and area, and also each season offers different attractions and sightseeing spots. For more info about climate in Japan, please check the article below:
When is the best time to visit JAPAN??
Public Holidays:
It's a simple advice but it's better to check the Japanese calendar than not doing. Japan has 16 public holidays through the year, and tourist attractions get very very crowded or some may be closed on these days. Especially, the long weekend in May "Golden Week" and middle of August "Obon" are the busiest time of the year. It's a wiser idea to avoid travelling on these periods in Japan.
-List of Japanese Holidays
New Year's Day: 1 January
Coming of Age Day: Second Monday of January
National Foundation Day: 11 February
The Emperor's Birthday: 23 February
Vernal Equinox Day: around 20 March
Showa Day: 29 April
Constitution Memorial Day: 3 May
Greenery Day: 4 May
Children's Day: 5 May
Marine Day: Third Monday of July
Mountain Day: 11 August
Respect for the Aged Day: Third Monday of September
Autumnal Equinox Day: around 23 September
Health and Sports Day: Second Monday of October
Culture Day: 3 November
Labour Thanksgiving Day: 23 November
2. Book Accommodation
Japan is one of the most popular countries to travel in the world, so booking accommodation in advance of your trip is essential especially during high season as many hotels tend to be fully booked. Besides regular hotels, there are various types of accommodation available in Japan where tourists can have unique "only in Japan" stay experiences such as Japanese style Ryokan inn and tiny budget capsule hotels. Check this article introducing many types of accommodation in Japan: Where to Stay in Japan : Best Accommodation Types from Budget to Luxury
3. Book Pocket WiFi
Japan is one of countries where having pocket WiFi could make a massive difference. The area with free public WiFi is expanding slowly but still it's not like you can connect everywhere you go. Also as I will explain it later, travelling Japan sometimes could be harsh with language barrier, especially in countryside. So the internet could be the biggest savior for your trip to Japan.
Japan-Wireless is highly recommended and reliable company providing rental pocket wifi with fast speed internet at very affordable rate. Make sure to book it before you leaving to Japan! Use the discount code "JPW001" exclusively available for my readers 😉 Place your order HERE with a special price!!
4. Get Japan Rail Pass
If you are planning to travel multiple cities in Japan, Japan Rail Pass (JR Pass) is a must-have item, and it can only be purchased outside of Japan which means you should place your order before coming to Japan. This "exclusive to foreigners" rail pass allow you to travel with any JR lines across the country including bullet trains (usually very pricey!). However, if you are only visiting Tokyo, this is not necessary item. Check this article more about JR Pass: JAPAN RAIL PASS will Save Your Money during your stay in Japan
5. Exchange Money
According to many travellers to Japan, the exchange rate in Japan seems like higher than other countries. Also there are not many exchange counters on the street either. So it's wiser to have some yen ready in your country before travelling and manage with your credit card while travelling.
While travelling
6. Learning the culture
Japan has an unique own culture which is hard to understand for many and very interesting/valuable. While you are in Japan, it's highly recommended to try one of cultural activities, such as kimono, tea ceremony and samurai training. These experiences could be done only in Japan and don't miss a chance for the "once in your life time" kind of moment.
Here are top activities in Japan:
10 Most Recommended Tours&Activities in Tokyo!
7 Hottest Indoor Activities in Tokyo
Top 10 Tours&Activities in Osaka
Top 10 Tours&Activities in Kyoto
7. Be an early bird
Japan is basically a small sized country with a massive number of population. Everywhere you go, it seems packed even during week. If you are quite keen on photography and wanna capture views of some of famous tourist attractions like on magazines, it may be a bit of disturbance to have tons of people surround you and a subject. So the best way to avoid this situation is to get up early and go to the destination in early morning.
8. Use Suica wisely
If you are not familiar with Japanese money and wanna avoid fuss with dealing with coins, the best way is to use "SUICA" card rightly. It's basically a electronic money card by JR to use for most of transportation in Japan, but it can be used for shopping too. It's acceptable at most of convenience stores, vending machines, supermarkets, restaurants and more. You can purchase it or top-up at the ticket machine of any stations.
Here are ultimate uses of Suice card: Make your trip more Smooth and Easy with SUICA card!
<< Book your SUICA card in advance and pick up at the airport! >>
9. Download apps
Some apps can massively ease your trip like Google map&street view are must. Also transportation app is very useful, which can tell you the nearest station and how to get to your destination, as Tokyo's (especially) Metro is like a spider web.
This article is highly recommended to read regarding to useful apps to download in Japan: 5 Helpful Apps to Install for Your Traveling in Japan
10. Maximise your trip with cheap domestic flights
Numbers of LCC domestic flights are available in Japan nowadays and it's now more easy to travel around the country. If you are travelling Japan for over a week and willing to explore the country, it's highly advised to visit one of countryside cities in Japan with cheap domestic flights. Japanese countryside is more interesting in cultural way than big cities and totally worth visiting.
<< Book domestic flight tickets with the Lowest Price NOW!! >>
For more useful information about travelling in Japan, please check out listed stories, too!
▽Related Articles▽
▼Editor's Picks▼
---