10 Best Shopping Streets in Tokyo
Retail Runways Where Shopping Meets Culture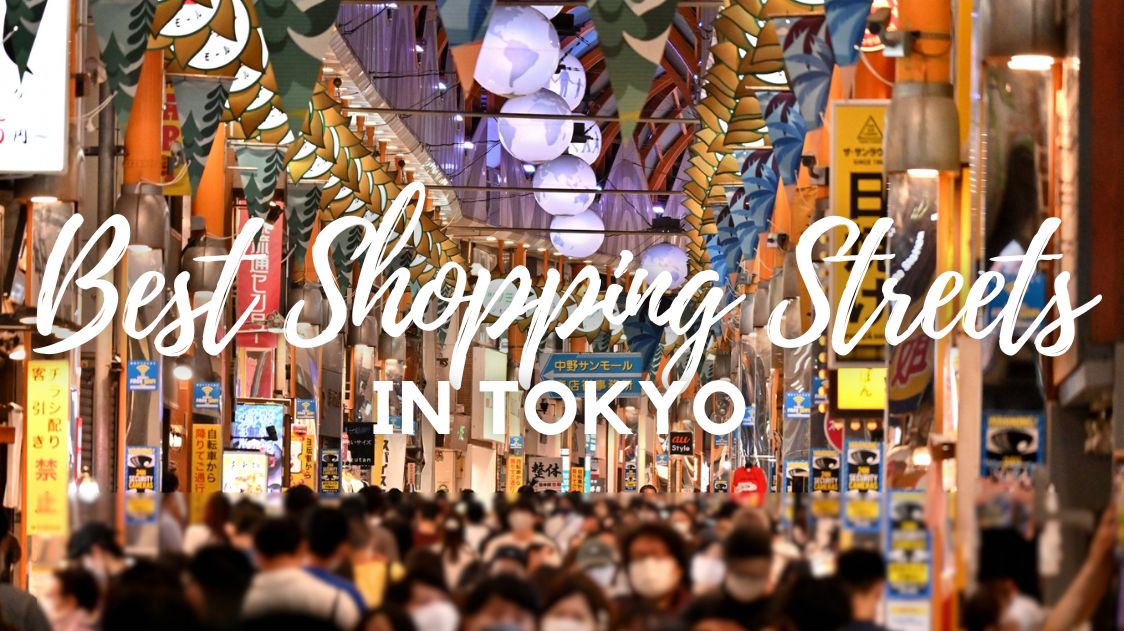 Shopping streets or Shotengai (商店街), as commercial areas go, are a staple feature of the Japanese urban landscape, and chances are that you will stumble upon one wherever it is that you are visiting.
Their kind of only-in-Japan unique look some of them are actually born of necessity: even if it is not the first thing you would think about when you hear the expression "land of the rising sun", Japan experiences way more rain than you would imagine. Many sports a translucent ceiling that allows for sunlight while keeping a roof above the place, which is something you will be tremendously grateful for when you feel the heavy seasonal rain on the methacrylate ceiling while completely dry below, eating freshly baked taiyaki, thanking whatever gods you believe in for not being exposed to the elements.
Anyway, let's hit the best 10 shopping streets of good old Tokyo, where locals actually shop, eat and hag out, and see what they have waiting for you.
---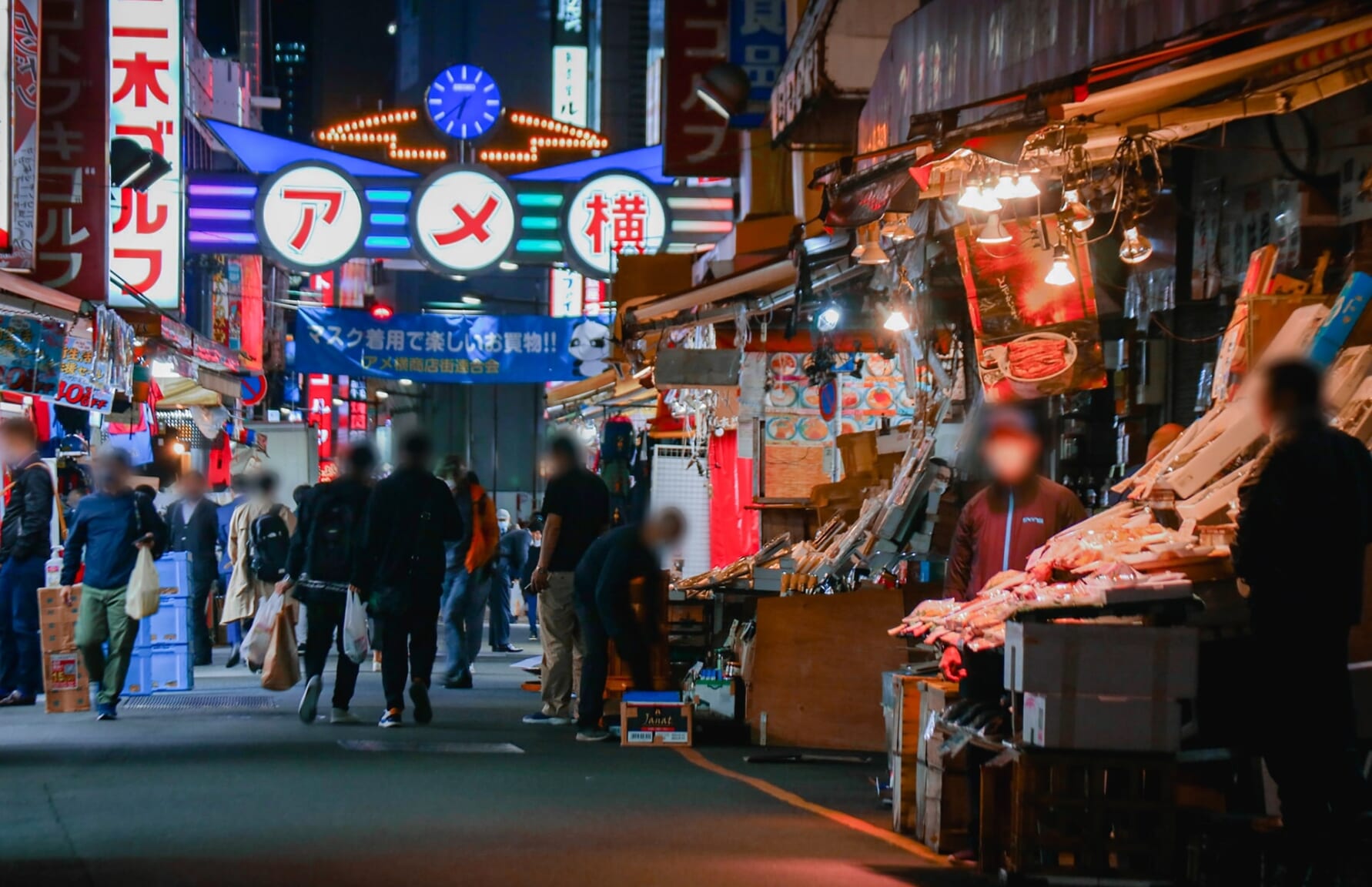 Ameya Yokocho, also known by the locals as Ameyoko (アメ横) is an early example of a Shotengai, starting shortly after WW2, and, if we have to believe the legends, it was a place where you could find black market goods.
Nowadays it is one of the most vibrant spots in all of the world, running along next to the rails the Yamanote line, with some of the stores actually under the arcades of the elevated rail tracks. It is a noisy place, to be sure, but all the sarariman crowding the outside bars can't be wrong and they're known for being quite the discriminating crowd after all.
If you feel like haggling, here is one of the few places in the city where you can do it: see some merchandise outside without a tag. Try making an offer.
▽More information about Ameyoko!▽
▶Ameyoko Shopping Street in Ueno, Tokyo
2. Happy Road Oyama
Welcome to Northern Tokyo, which I would advertise as not the most sophisticated area in the world. The best part of Happy Road Oyama (ハッピーロード大山) is that is completely out of the tourist radar and routes, which keeps the place 1000% authentic: bars in which you sit on a plastic crate to down a stiff one, an (amazingly good) ice cream store that hasn't cleaned the white tiles on the frontage since 1978 when it opened, TONS of nana & pops stores that sell stuff for locals (but that will be a blast to get as a souvenir), and much more. It not only cries GENUINE, but actually is.
A cool feature is that everything is plastered with posters of the place's mascot, which is not a cute anime critter, but an actual human being called Mayu Chan, an idol of, let's say, moderate success, who one Sunday a month comes in the flesh to the place and sings and dances in an act that you can see for free. Let's try and fail to blend in this, the most uncouth but also most charming and authentic shotengai in Tokyo, Happy Road Oyama, the happiest and rowdiest of shopping streets.
▶ Happy Road Oyama official website: https://haro.or.jp/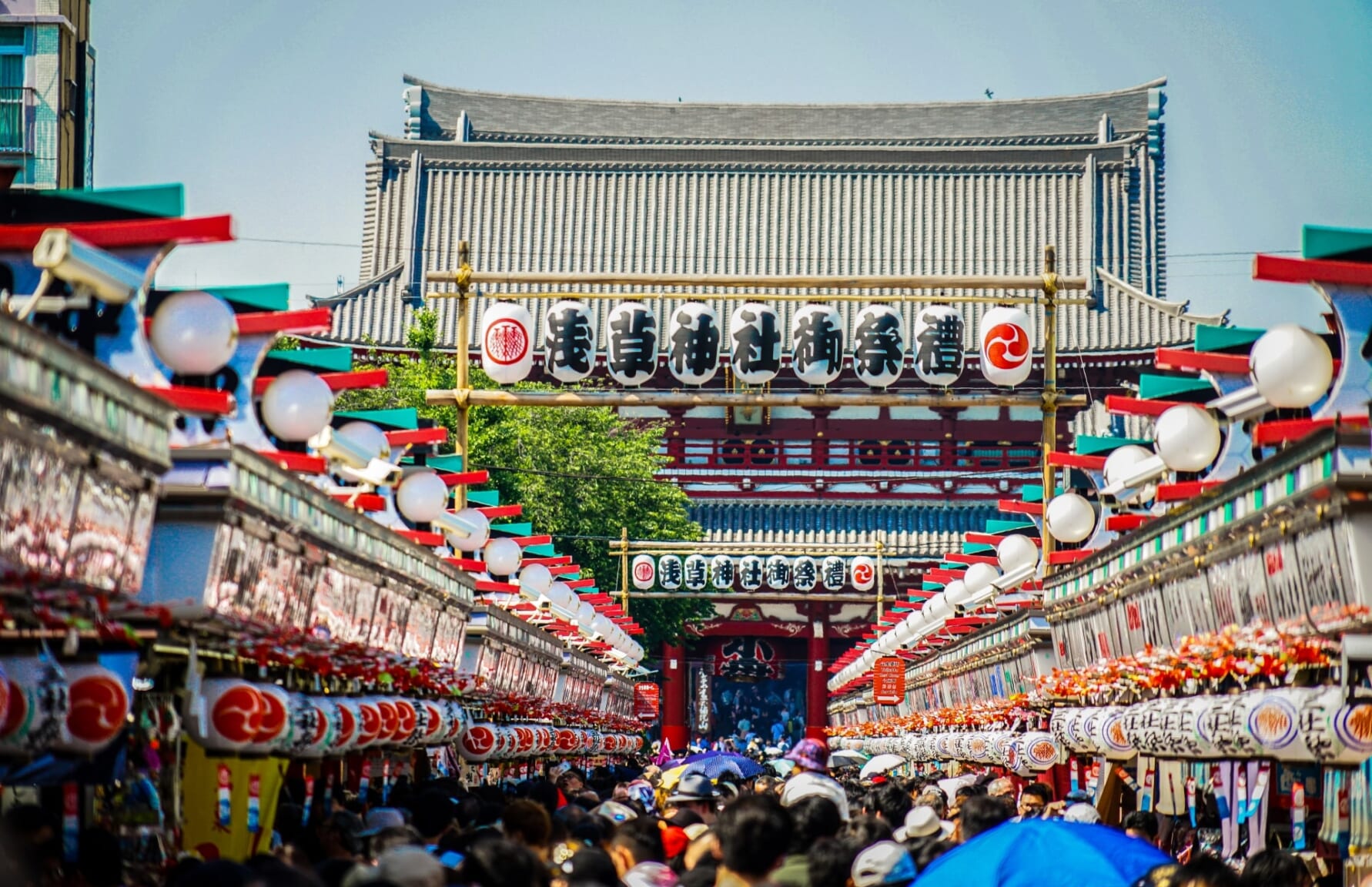 That's it: you cross the Gates of Lightning and, bam, you step into holy soil. In Nakamise Dori (仲見世通り) you will have the peace of mind that every deal you make will be technically approved by the powers above, by the sole fact of it being inside of the precinct of one of the most gorgeous temples in the world.
About the history of the place; stores are documented in the temple since the 18th century, but the present form of the shoten took shape immediately after WW2, which arguably makes Nakamise the oldest in Tokyo. Most stores gravitate towards the more touristy side of life; it is the perfect place to buy souvenirs for everyone at home, ranging from the cheap and tacky to the super sophisticated and pricey.
That said, I think that the general quality and taste of most touristic trinkets here put to shame those found anywhere else in the world. The 300 yards from the gates to the incense altar get really crowded, though, so bear that in mind. It is also in Asakusa, one of the hottest spots in Tokyo for sightseeing, with tons more to do besides shopping, which is always a perk.
▽More information about Nakamise!▽
▶Nakamise Shopping Street: Must-Try Asakusa Street Food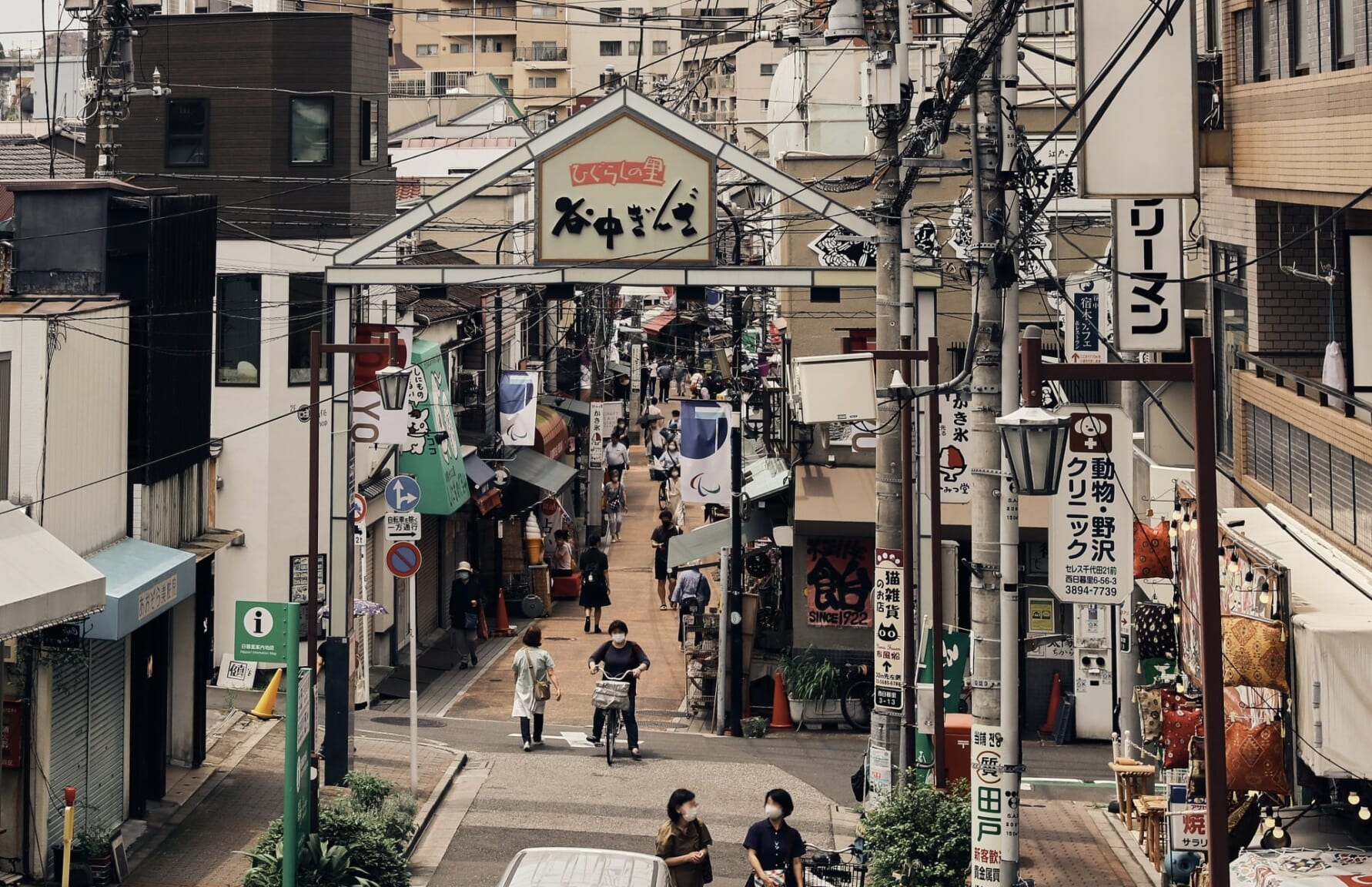 Yanaka Ginza (谷中銀座) is a breath of fresh air, or perhaps more accurately, a nostalgic breeze from Tokyo's past.
Located in the Yanaka district, known for its old-world charm, this shopping street is a delightful detour from the city's skyscraper-studded profile and a shopping experience that feels like a journey back in time. The street is lined with wooden storefronts, each one a treasure trove of traditional Japanese goods, ranging from artisanal crafts to local snacks, so rest assured the offerings here are as authentic as they come. But Yanaka Ginza isn't stuck in the past. It's a living, breathing community where elderly locals share sidewalk space with young urban explorers.
The street is famous for its "Yanaka Five-Storied Pagoda" ice cream, a towering treat that's as Instagrammable as it is delicious. And let's not forget the street cats—Yanaka's unofficial mascots—who add a whimsical touch to the area.
▽More information about Yanaka Ginza!▽
▶Yanaka Ginza: Tokyo's Best Old-Fashioned Shopping Street
5.Kichioji Sunroad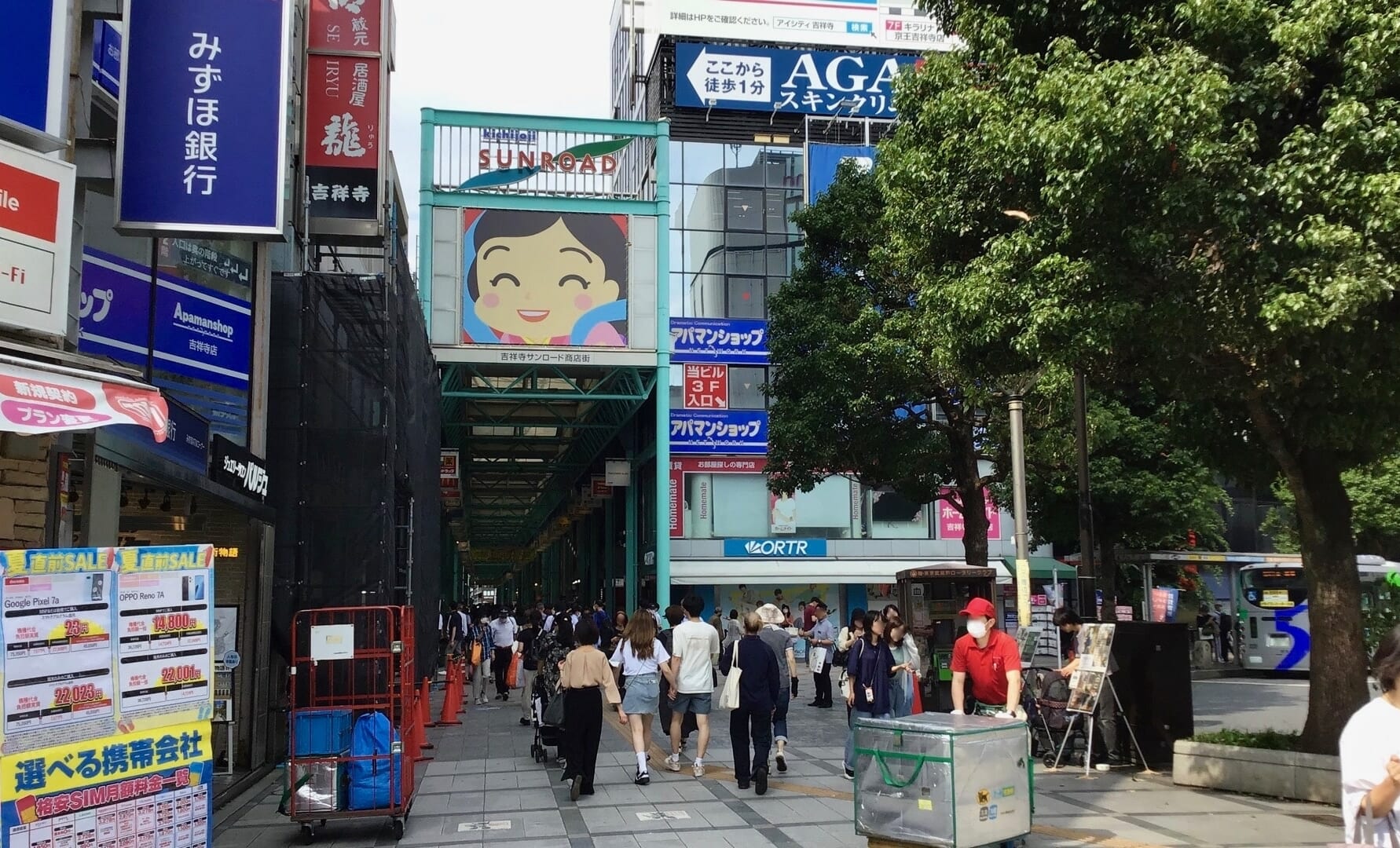 Kichijoji Sun Road (吉祥寺サンロード) is the beating heart of Kichijoji, a neighborhood often touted as one of Tokyo's most desirable places to live.
Imagine a 300-meter-long covered arcade that's a delightful blend of the old and the new. On one side, you'll find retro shops that seem to whisper tales of yesteryears; on the other, chic designer boutiques that scream modern Tokyo. Coffee shops and restaurants are sprinkled generously along the stretch, offering perfect pit stops for weary shoppers or caffeine-deprived wanderers.
What sets Sun Road apart is its adjacent alley, Harmonica Yokocho—a labyrinthine offshoot teeming with bars and eateries. It's like the quirky cousin who shows up at family gatherings and suddenly the party is a lot more fun.
If you're hunting for a unique fashion find, craving a steaming bowl of ramen, or in the mood for some people-watching, Kichijoji Sun Road is your go-to destination. It's a microcosm of Tokyo's eclectic charm, all packed into one bustling street.
▶ Kichioji Sun Road official website: https://sun-road.or.jp/
6. Nakano Sun Mall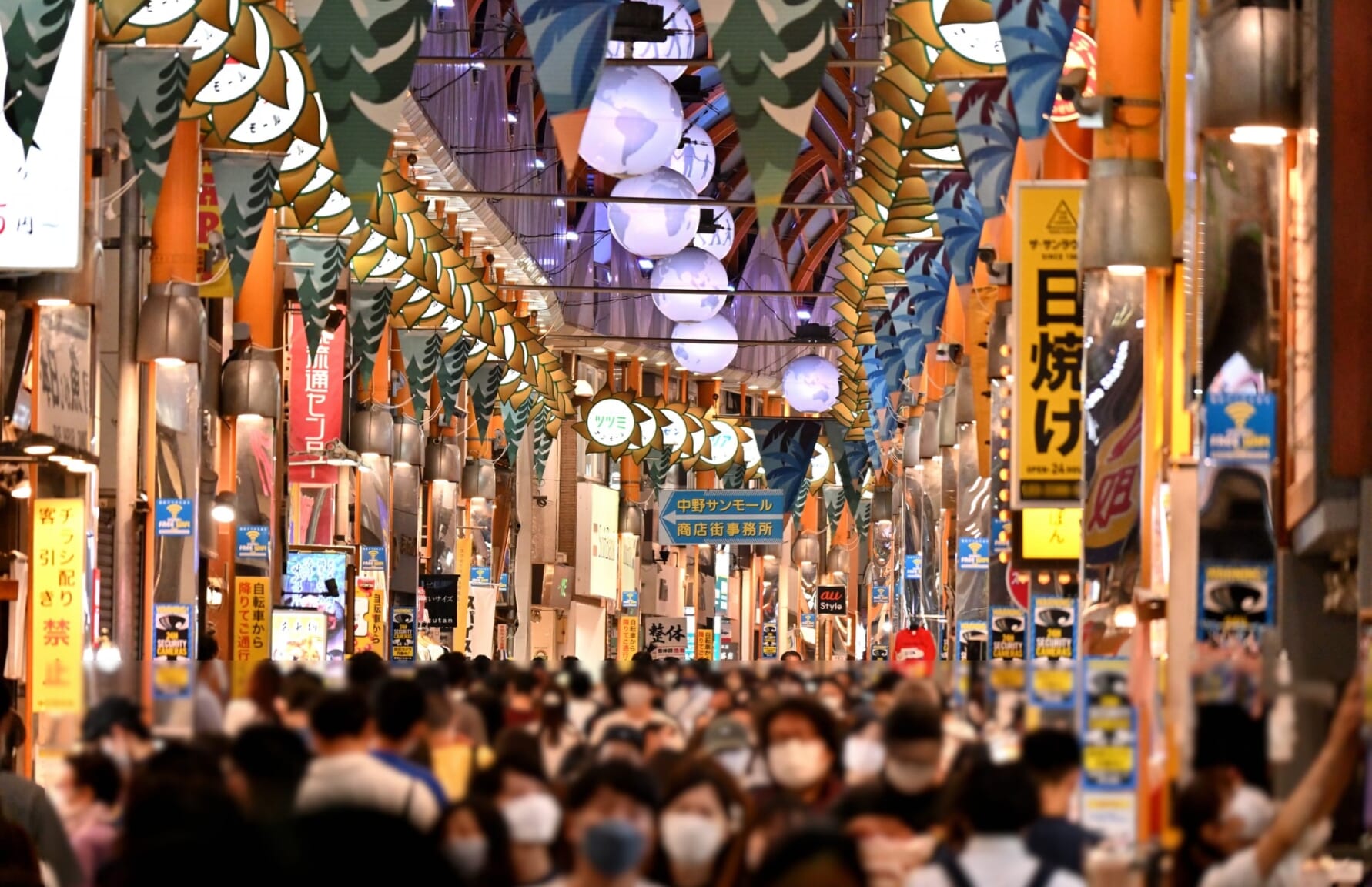 We keep the Sun theme with this one and we go to Nakano, the gritty nightlife area that is also well known for its shotengai. The Nakano Sun Mall (中野サンモール) is a curious mix of stores for locals and those that you would expect in an entertainment zone: there are lots of restaurants and cafes, and the crowd is younger than in areas like Oyama, and also more local than more centric places like Asakusa. This means that you will find the occasional tourist here, but mostly you are in for the real thing.
I would be remiss if I didn't mention that Sun Mall is not only in an interesting area to see by itself, but it also is directly attached to Nakano Broadway, an indoor mall that hosts Mandarake, a massive hobbies emporium with dozens of stores divided by categories ranging from Tokusatsu figurines to movie and show's OSTs, manga volumes, video games and a lot more.
▶ Nakano Sun Mall official website: http://www.heart-beat-nakano.com/street/48.html
7. Musashi Koyama Palm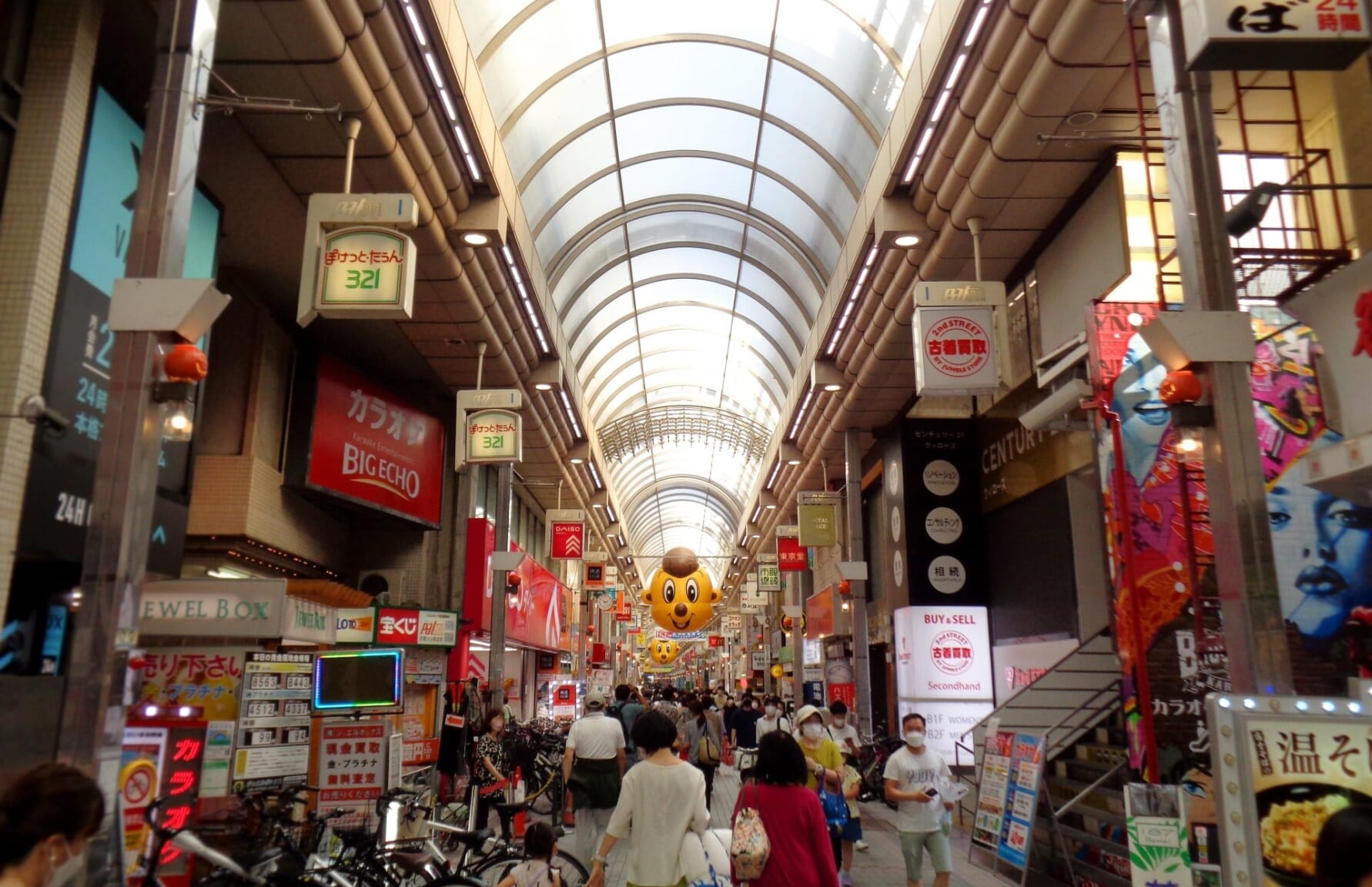 Musashi Koyama Palm (武蔵小山商店街パルム) is a record-holder among its kind. As Japan's longest-covered shopping arcade, this 800-meter marvel is a bustling artery of Tokyo life. But don't let its size intimidate you; the street is as welcoming as it is expansive.
Chain stores may dominate the landscape, but it's the independent shops that are the hidden gems here. Artisanal crafts, bespoke fashion, and everything in between, these stores offer a curated experience that's a refreshing break from the commercial monotony.
Foodies, you're in for a treat. The arcade is a culinary United Nations, offering everything from yakitori skewers to French parfaits. It's like a global food festival every day, minus the entry ticket. And if you're worried about navigating this mammoth stretch, fear not.
The street is designed for leisurely strolls, inviting you to wander, discover, and perhaps find that perfect something you didn't even know you were looking for.
▶ Musashi Koyama Palm official website: https://musashikoyama-palm.com/
8. Sugamo Jizo Dori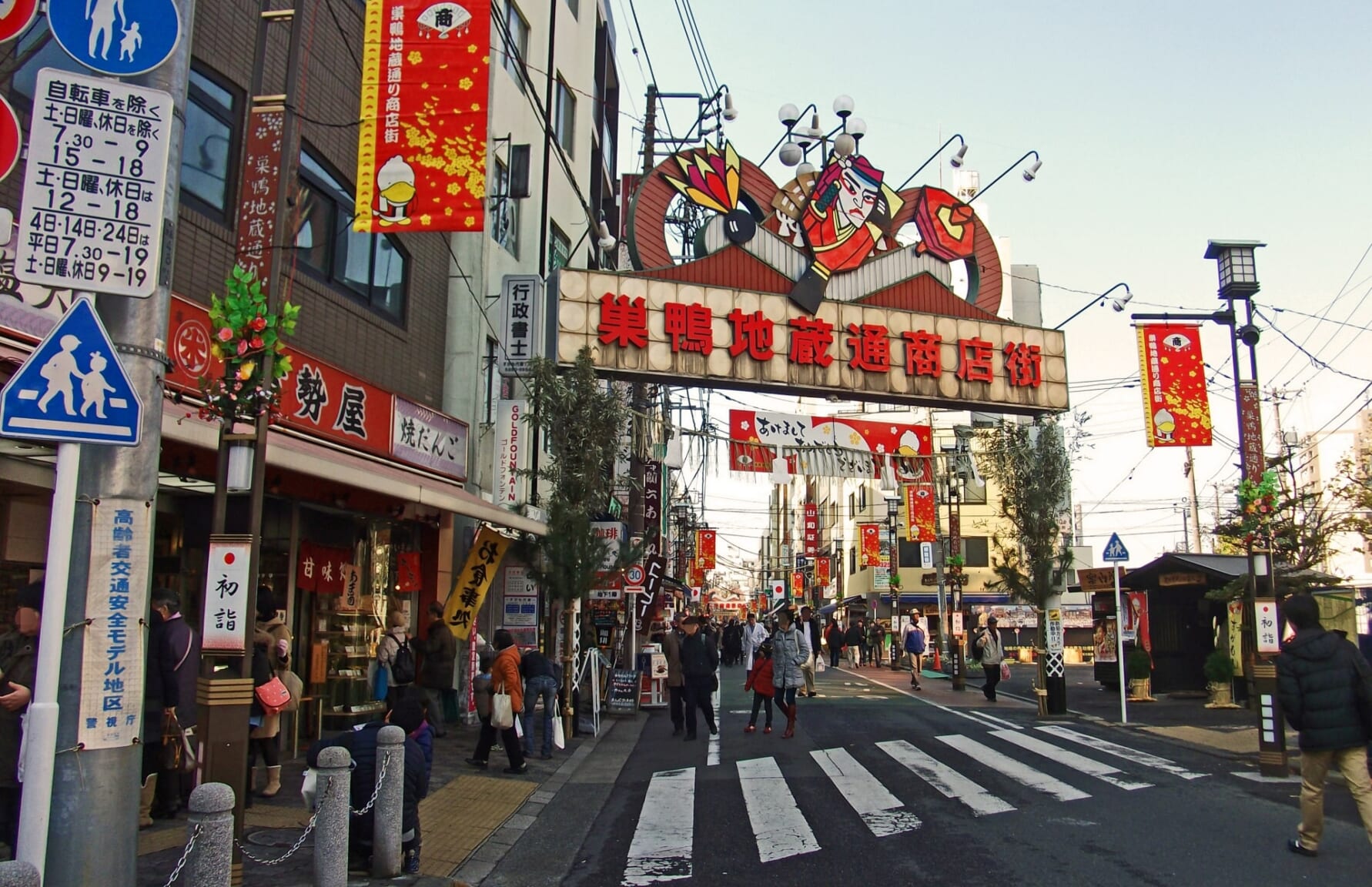 Sugamo Jizo Dori (巣鴨地蔵通り商店街) is a fascinating paradox in the heart of Tokyo. Known colloquially as "Grandma's Harajuku," this shopping street defies the city's youth-centric trends, choosing instead to be a haven for the older generation.
But don't be fooled into thinking it's outdated. The street is an eclectic blend of traditional shops and modern comforts, appealing to visitors of all ages. The star attraction? The famous red underwear sold in various shops is believed to bring good health and vitality. A quirky find and a cultural experience all in one.
But the allure of Sugamo Jizo Dori extends beyond its unique merchandise; strolling around you can feel its community atmosphere. It's not uncommon to see locals chatting away with shopkeepers or visitors receiving personalized recommendations. In a city that often feels like it's rushing into the future, Sugamo Jizo Dori offers a warm, welcoming pause. It's a reminder that in Tokyo, the past and present don't just coexist; they enrich each other.
▶ Sugamo Jizo Dori official website: https://sugamo.or.jp/en/
9. Sunamachi Ginza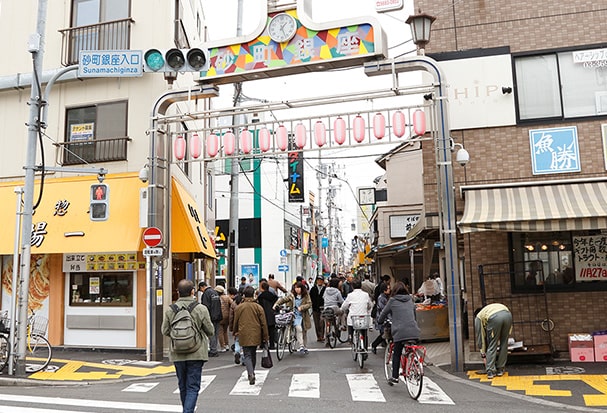 Sunamachi Ginza (砂町銀座) is Tokyo's best-kept secret, a sanctuary of authentic local life in a city that often feels like a whirlwind.
Located in eastern Tokyo, this shopping street is a gastronomic wonderland without the touristy fanfare. From mouthwatering tempura to sizzling yakitori, the culinary offerings are as diverse as they are delicious—and surprisingly affordable.
But what truly elevates Sunamachi Ginza is its community vibe. Here, shopkeepers don't just sell; they engage, turning each transaction into a personal exchange. It's a slice of Tokyo that's as warm and inviting as it is exciting, a place where the city's frenetic pace slows down just enough for you to savor the moment.
In a metropolis that's always on fast-forward, Sunamachi Ginza hits the pause button, reminding you that the heart of Tokyo lies in its local flavors and friendly faces.
▶ Sunamachi Ginza official website: https://sunamachi-ginza.com/
10. Asagaya Pearl Centre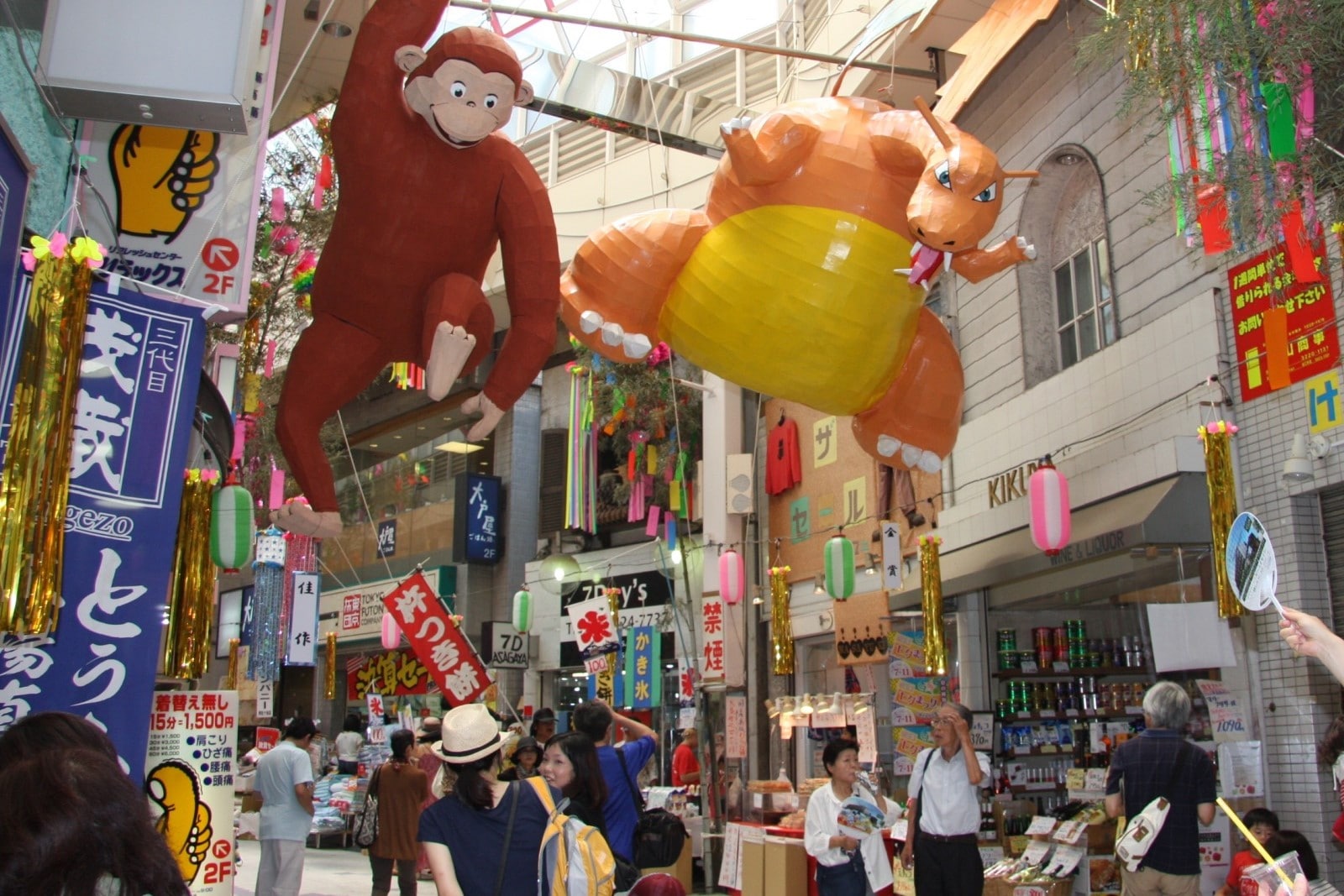 Asagaya Pearl Centre (阿佐ヶ谷パールセンター) is a community hub that comes alive with colors and festivities.
Located near the south exit of Asagaya Station, this 700-meter-long arcade is a magnet for bargain hunters. From fashion to household items, the street offers a wide array of goods at prices that won't break the bank. But what sets it apart is its annual Tanabata Matsuri in August. The street transforms into an explosion of bamboo displays and colorful paper-mâché ornaments, celebrating the traditional star festival. It's a spectacle that adds a cultural layer to your shopping experience, making each visit a unique adventure.
In a city known for its high-octane energy, Asagawa Pearl Centre offers a blend of affordability and tradition, making it a must-visit for those looking to experience Tokyo in all its multifaceted glory.
▶ Asagaya Pearl Centre official website: http://www.asagaya.or.jp/
---
If there is one thing in which Japan is exactly as in the commercials, it is in its adamantine adherence to ukiyo-e aesthetical philosophy: everything is kind of fleeting. If we apply this to urbanization, it means that redevelopment of old areas is always on the table, and Shoten streets are quite old news in Japan, being quintessentially reminiscent of the second half of the XXth century.
What I mean by this is that the urban landscape in Tokyo is in constant flux, now is the time for visiting this atmospheric, strictly no-car, only-in-Japan area is now, before the recognizable existence of many of them ceases; gone, like a floating world in a bubble that pops in the air. Bring those taiyaki on, and don't go easy on the anko.
▽Subscribe to our free news magazine!▽

For more information about shopping and leisure in Japan, check these articles below, too!
▽Related Articles▽
▼Editor's Picks▼
---