Akihabara Shopping Guide: 10 Best Shops in Akihabara
Must-Visit Shops in Akihabara Tokyo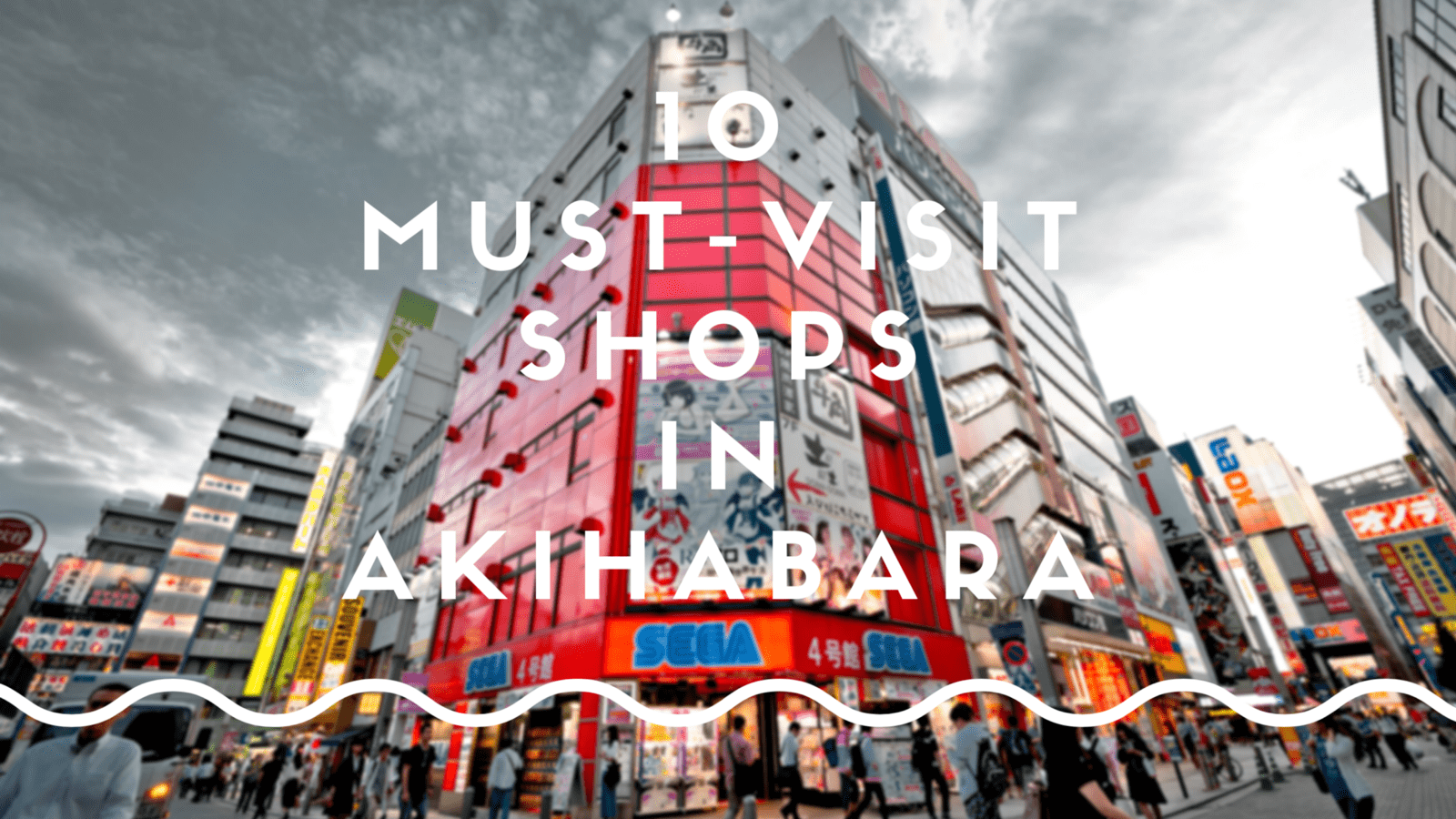 Akihabara a.k.a. AKIBA is one of the most popular tourist destinations in Tokyo known as the center of Otaku (geek) culture in the world. If you are into Otaku culture, you may already know what Akihabara looks like, but it's a great tourist destination for everybody to learn the unique Japanese underground culture!
Besides the unique culture, Akihabara is also a great area for shopping. Especially, Akihabara is known as the world leading "Electric Town" where you can find practically any electronics products. Numbers of electronics retailers are located within this area. Also, there are a lot of shops selling unique products related to anime, games, manga, cosplay, idols, etc, including very rare items.
Today, I am sharing the Akihabara Shopping Guide with my picks of the 10 best stores in Akihabara, Tokyo where you can find great products and also get to know the deep Otaku culture. So let's check what Akihabara offers to all of us!
▶ !!Big discount available!! Book "Anime and Gaming Adventure Tour in Akihabara"
---
1. Yodobashi Camera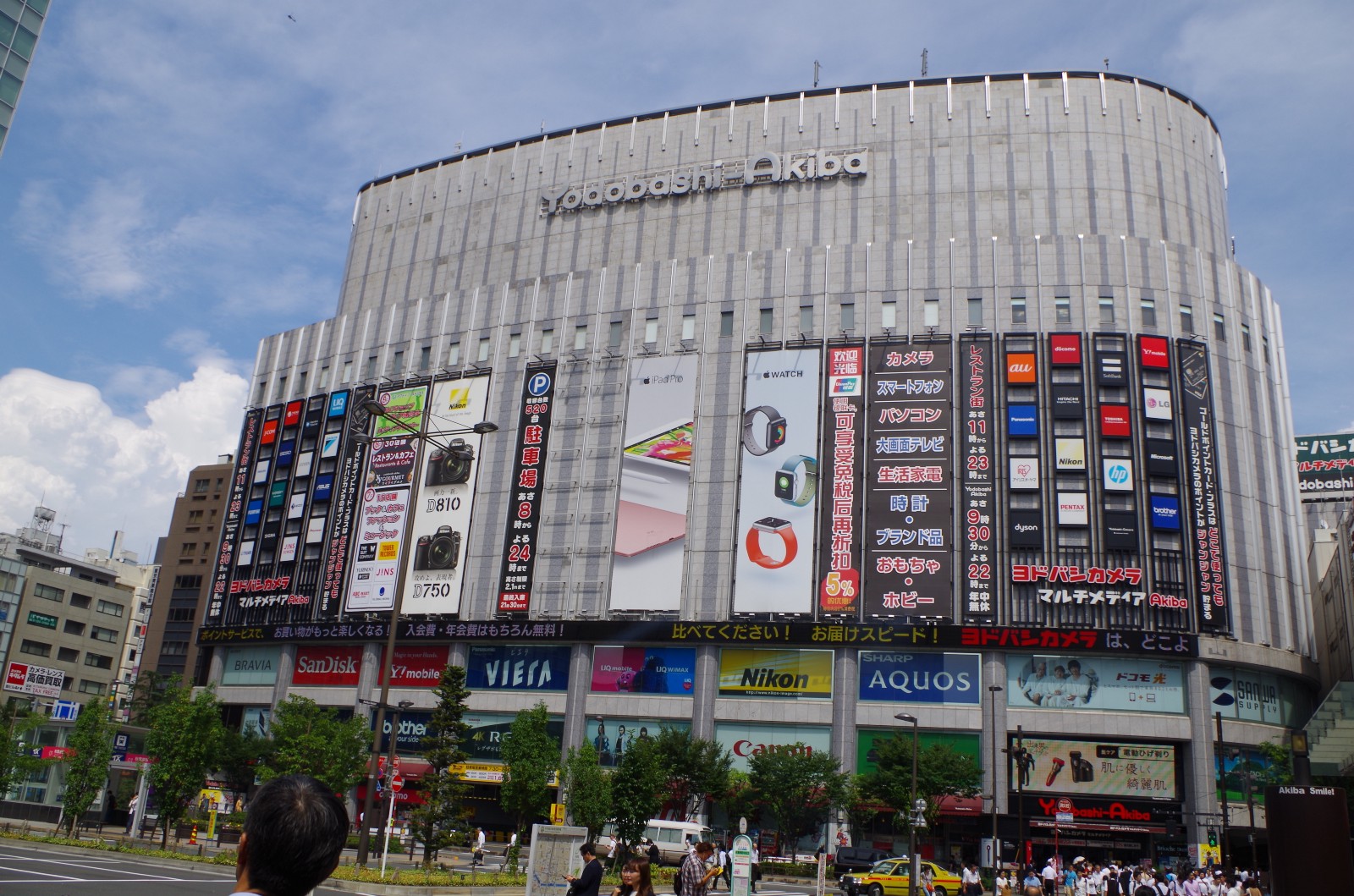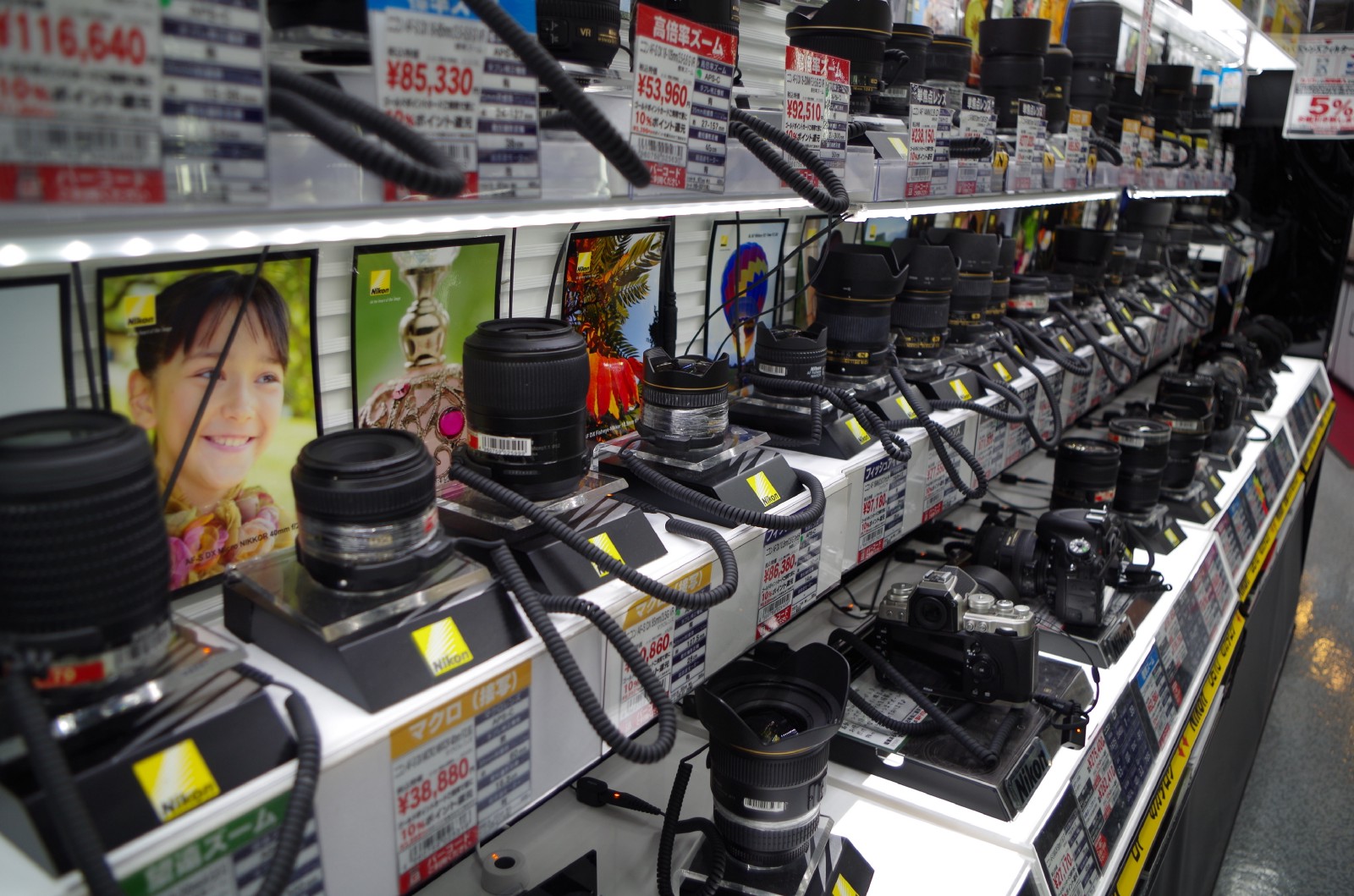 So as Akihabara is home to electronics products, it's arguably the best place in the whole world to shop high-tech gadgets. Not only because the selection of products are huge but they do offer competitive rates as there are many shops gathered in Akihabara to compete each others.
Yodobashi Camera is the biggest electronic store in the area with 9 floors with a huge variety of electronics products.
More info: Yodobashi-Akiba: Largest Electronics Store in Akihabara
2. Akihabara Radio Kaikan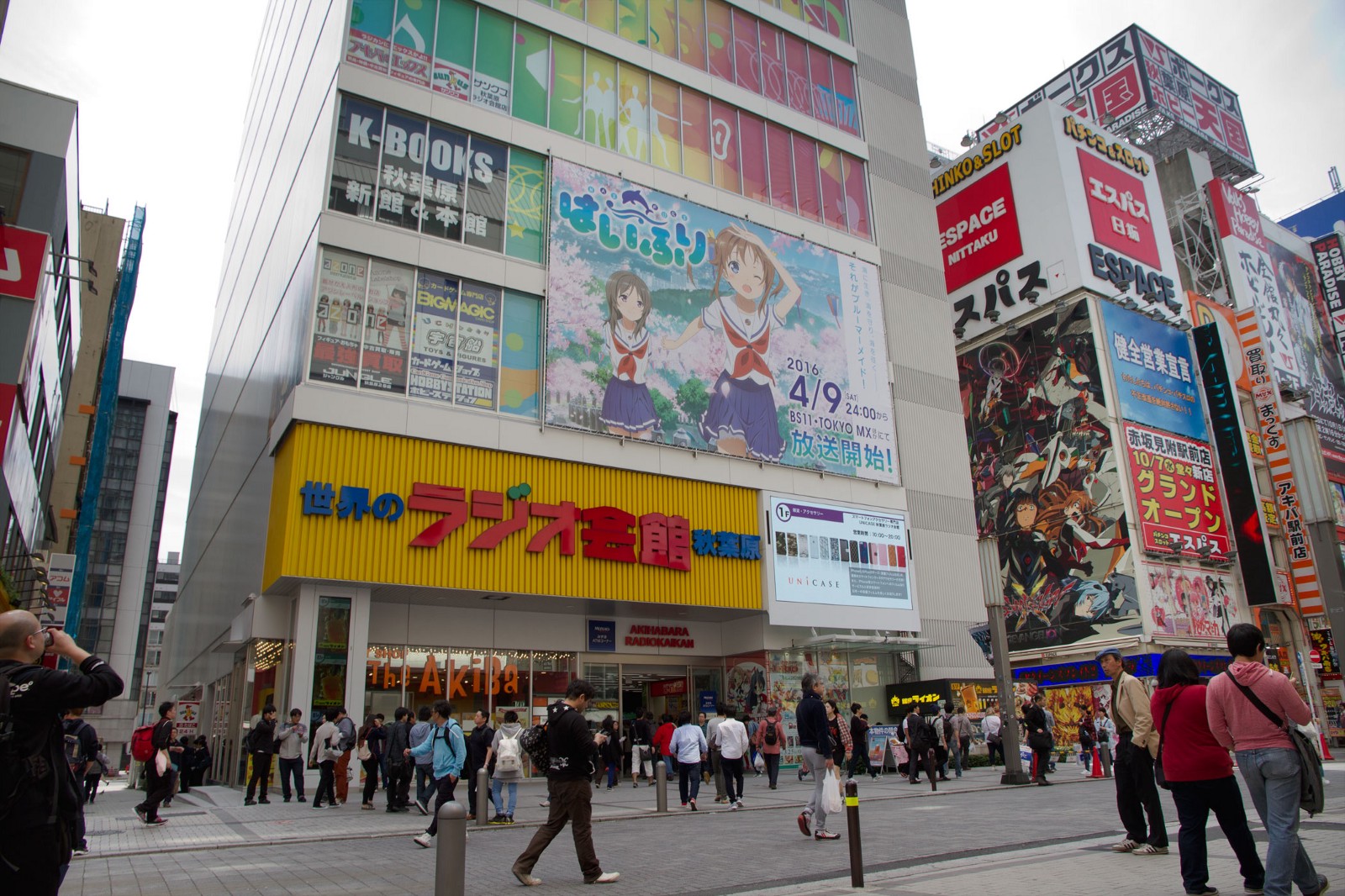 Akihabara Radio Kaikan is a shopping building and the famous landmarks in Akihabara area. The 10 storied building was originally built in 1962, then demolished and newly rebuilt in 2014.
There are numbers of shops inside the building, which are related Akihabara Otaku culture, selling a wide selection of manga, figure dolls, books, trading cards, unique souvenirs and more.
3. Akihabara Gamers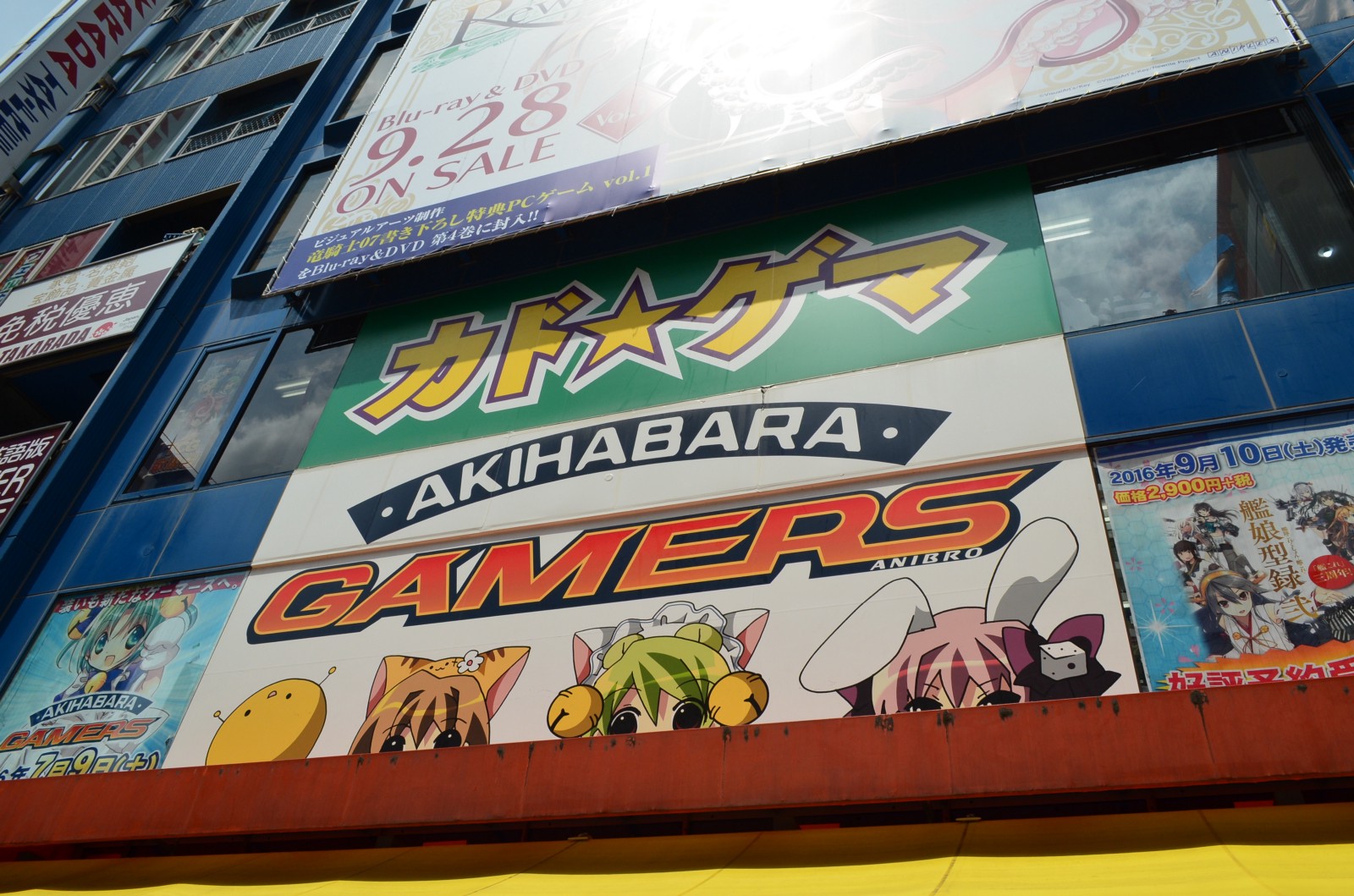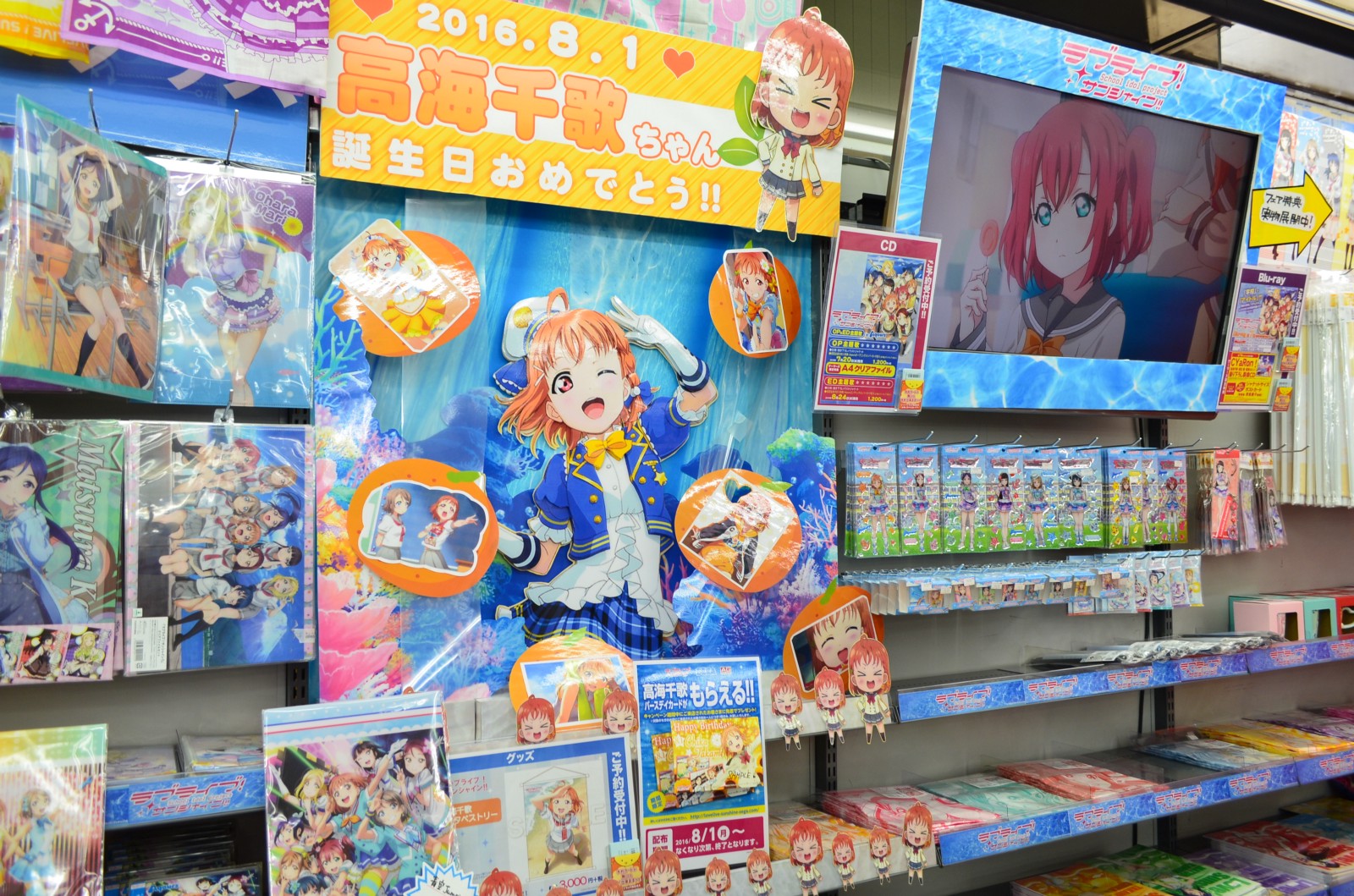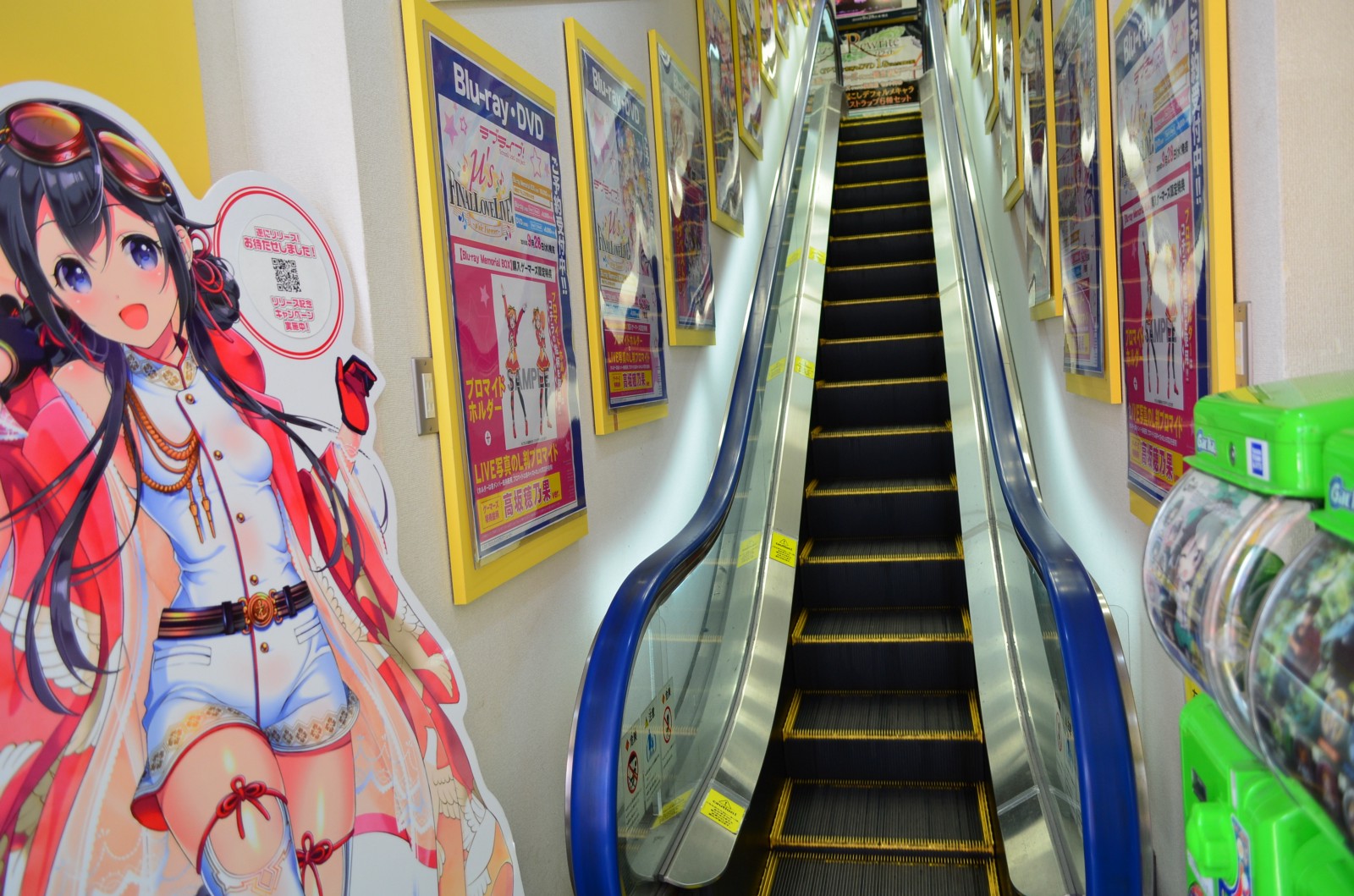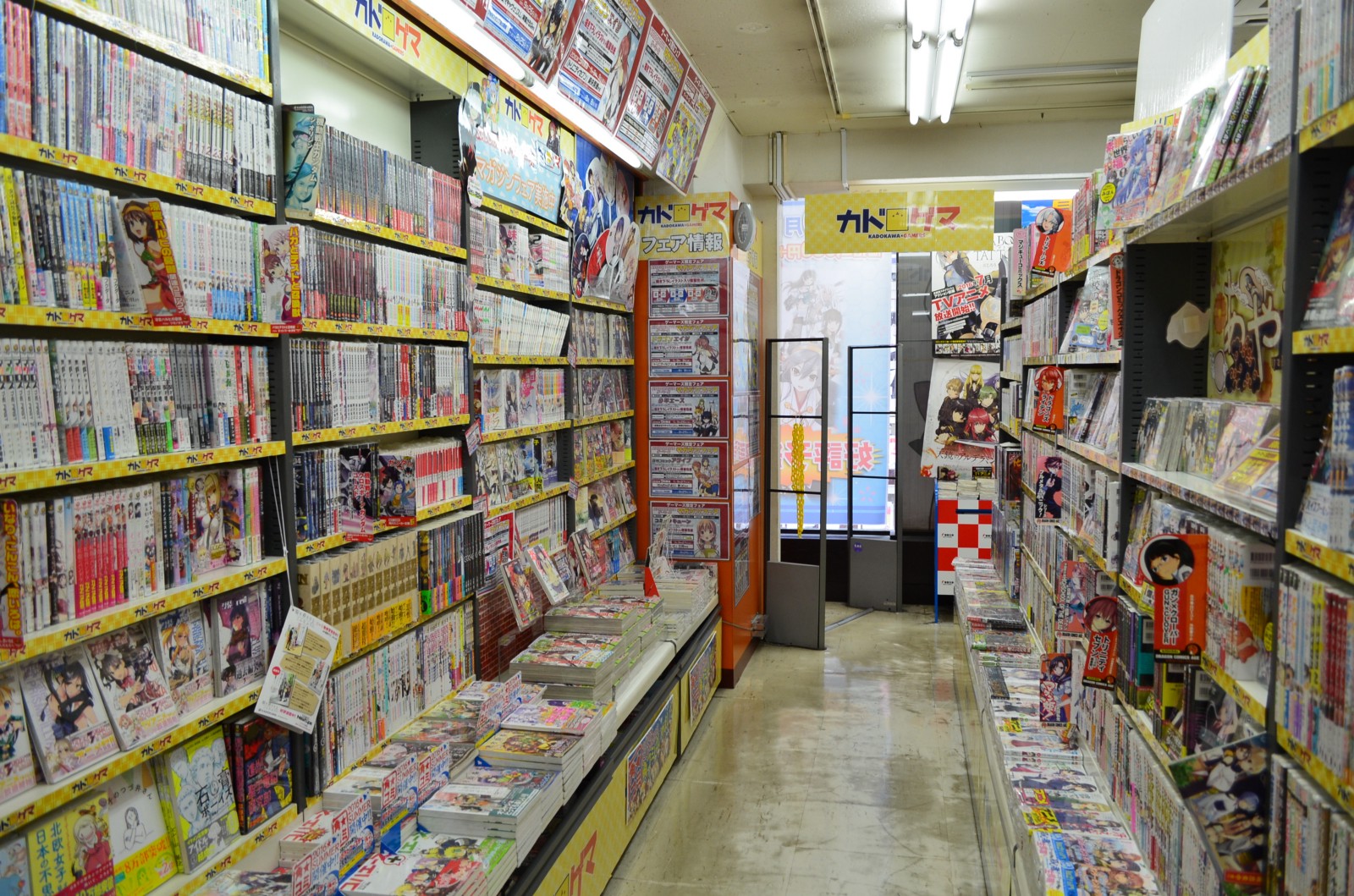 Only few steps away from JR Akihabara station's "Electric Town Exit", the 7 storied building, Gamers deals mainly with animation and game related goods. Also if you are looking for your waifu from Japan, this is a good place to find one!
The shop offers a wide selection of books, CDs, DVDs and Blu Ray, and often holds events with popular voice actors.
4. Radio Center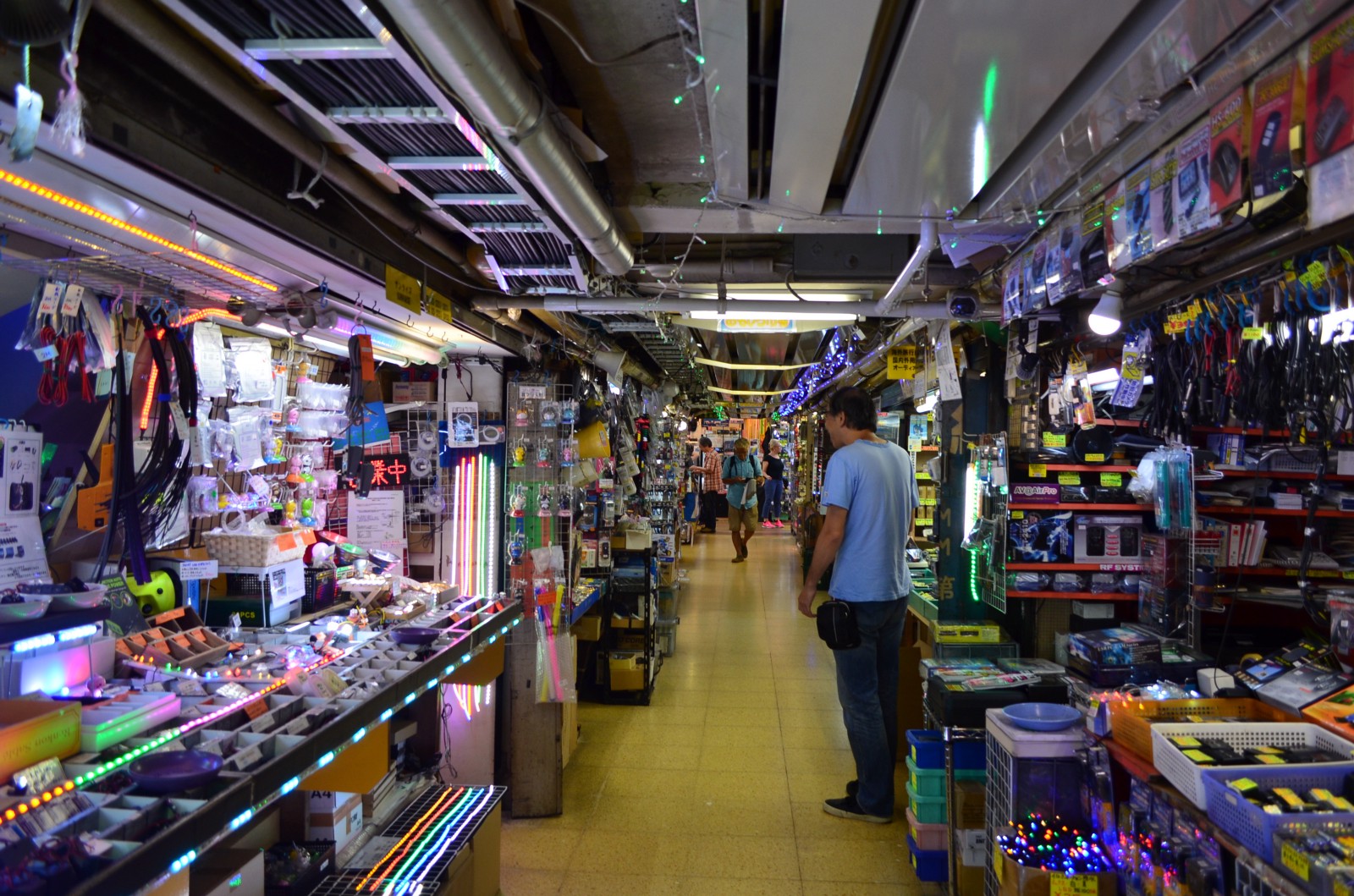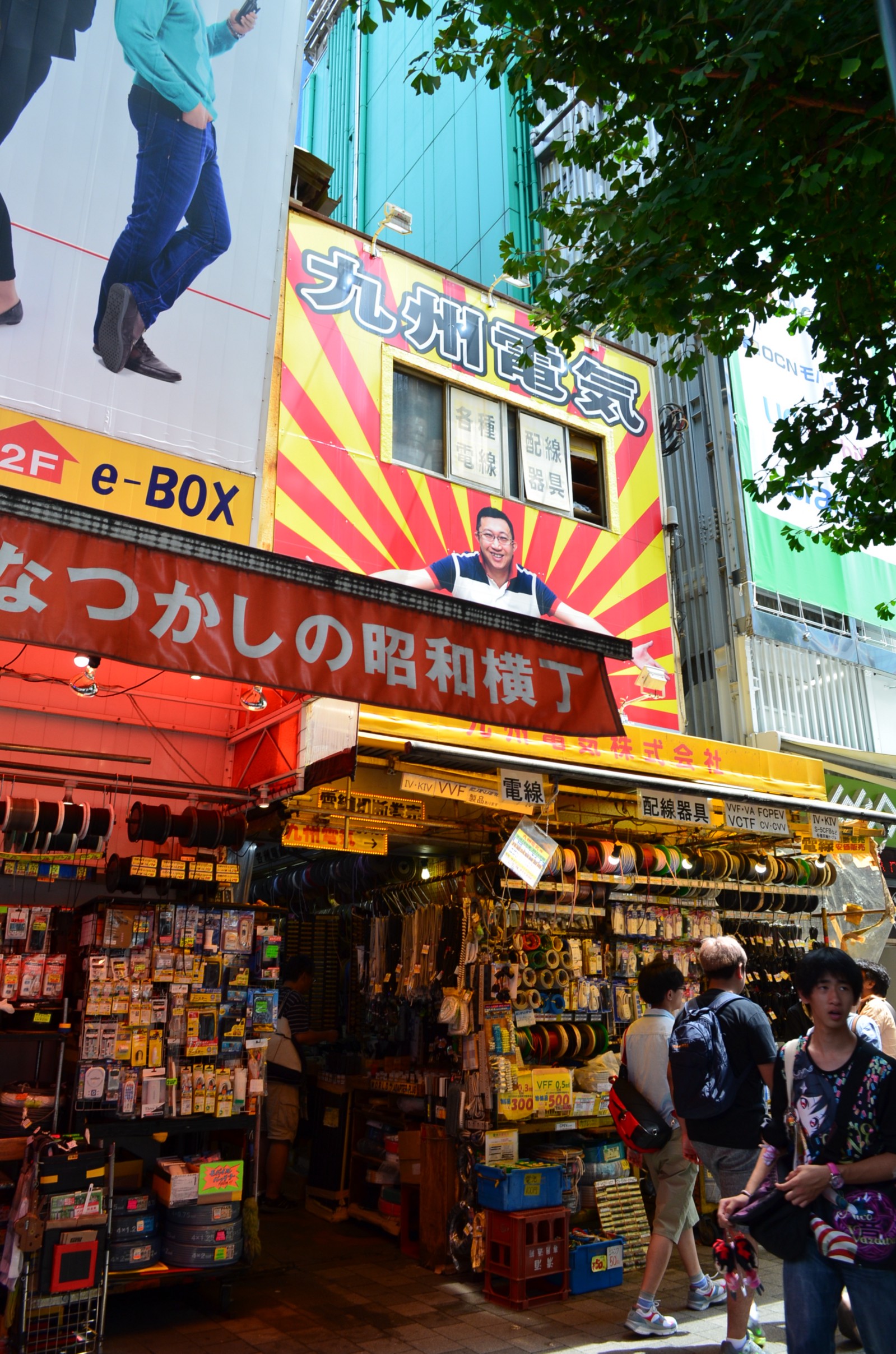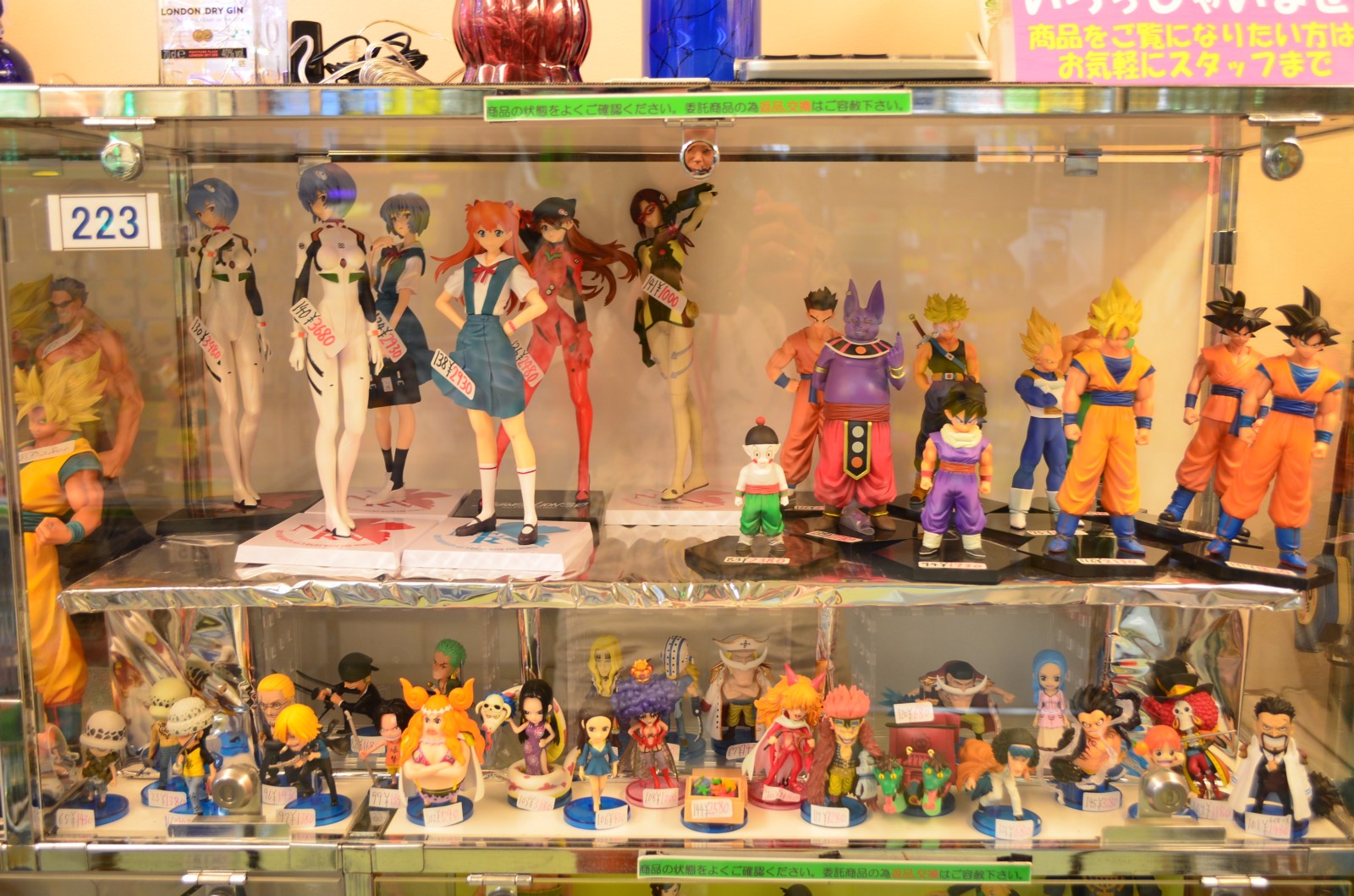 Where the Otaku history of Akihabara began. Akihabara Radio Center is a 60 years old shopping center lined by numbers of small merchants selling millions of electronic components.
It's also a good place to hunt for rare anime goods such as model figures.
More info: Akihabara Radio Center: The Old-School OTAKU Paradise in Tokyo
5. Animate Akihabara
Animate is Japan's biggest anime shop chain that has outlets across the country. In Akihabara, one of largest Animate shop opened in 2023 spring. The brand-new anime shopping complex comprises 8 floors in total and sells a wide variety of anime-related products such as character goods, comics, game, DVD, Blu-ray and CD. There is an event space on the top floor where various events are held.
Map: https://goo.gl/maps/xaxeVpBMMi7JKmbP7
6. JANPARA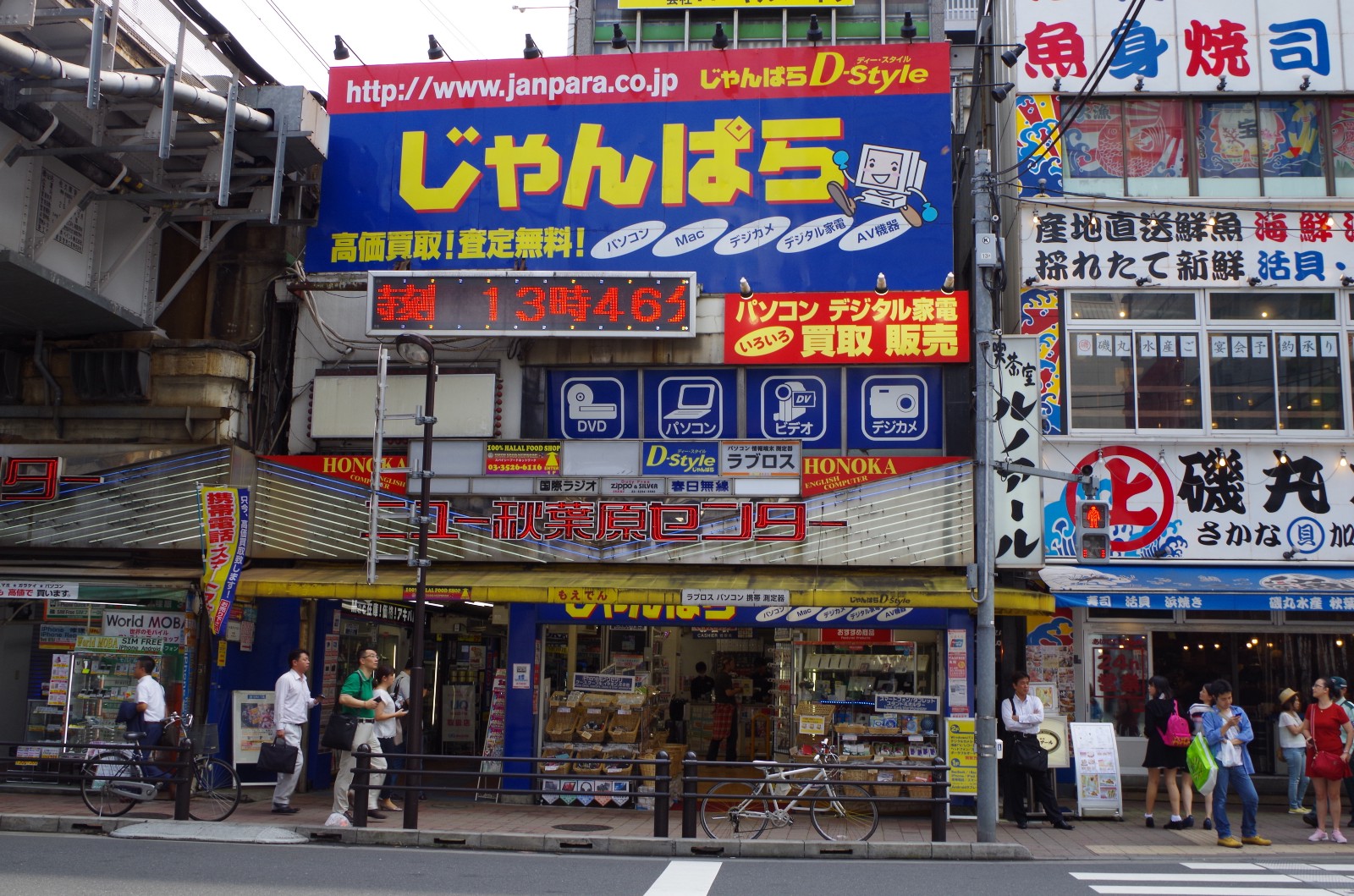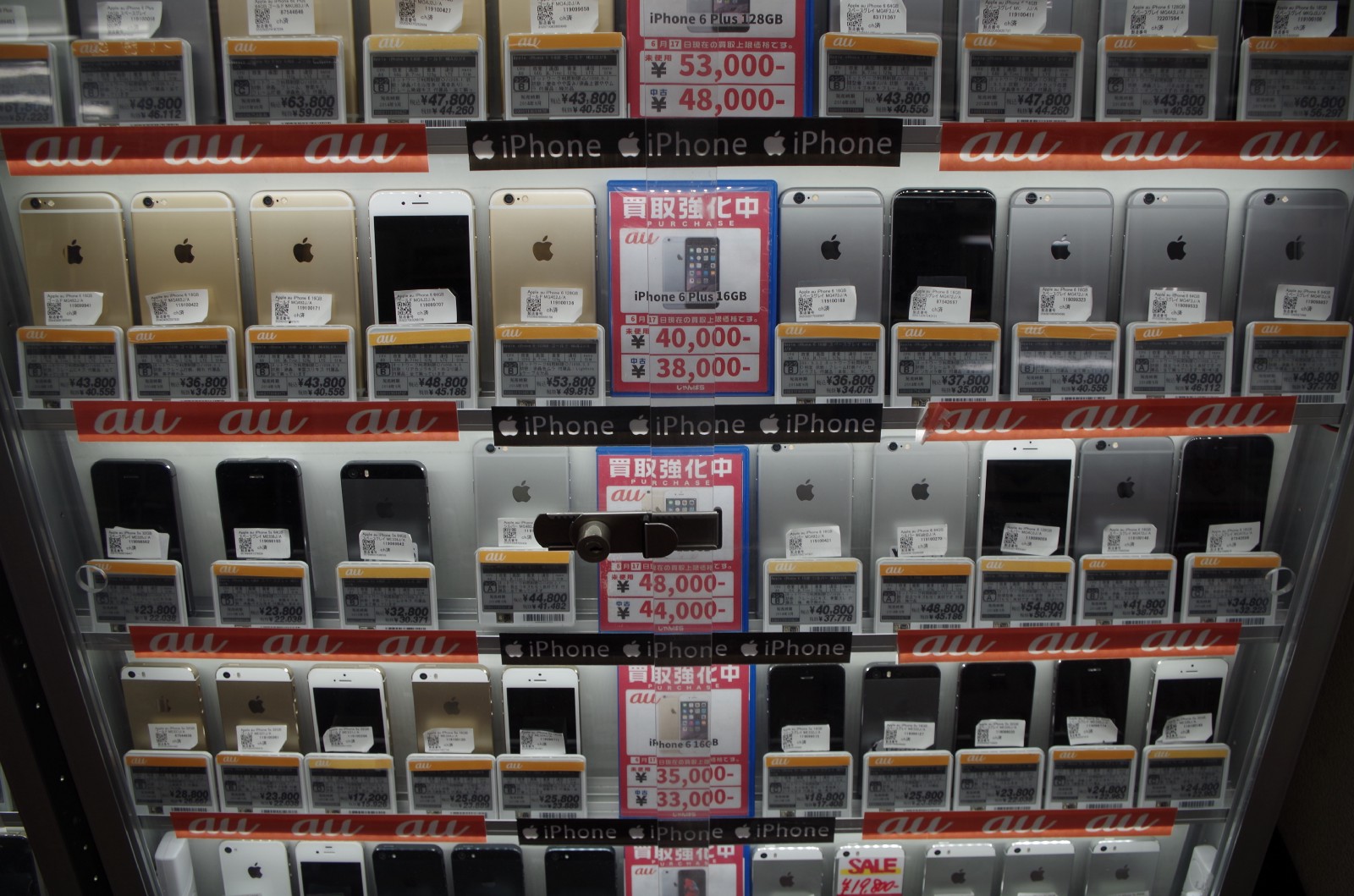 JANPARA is a second hand hardware store who has shops across Japan, and currently 5 JANPARA stores are located in Akihabara area, Tokyo. A lot of electronic products such as computers and smartphones including iPhone are sold at very reasonable price with surprisingly good conditions.
If you are not so picky about the newness of products, JANPARA is definitely worth visiting.
More info: Get iPhone and Mac at Bargain Prices
7. Gachapon Kaikan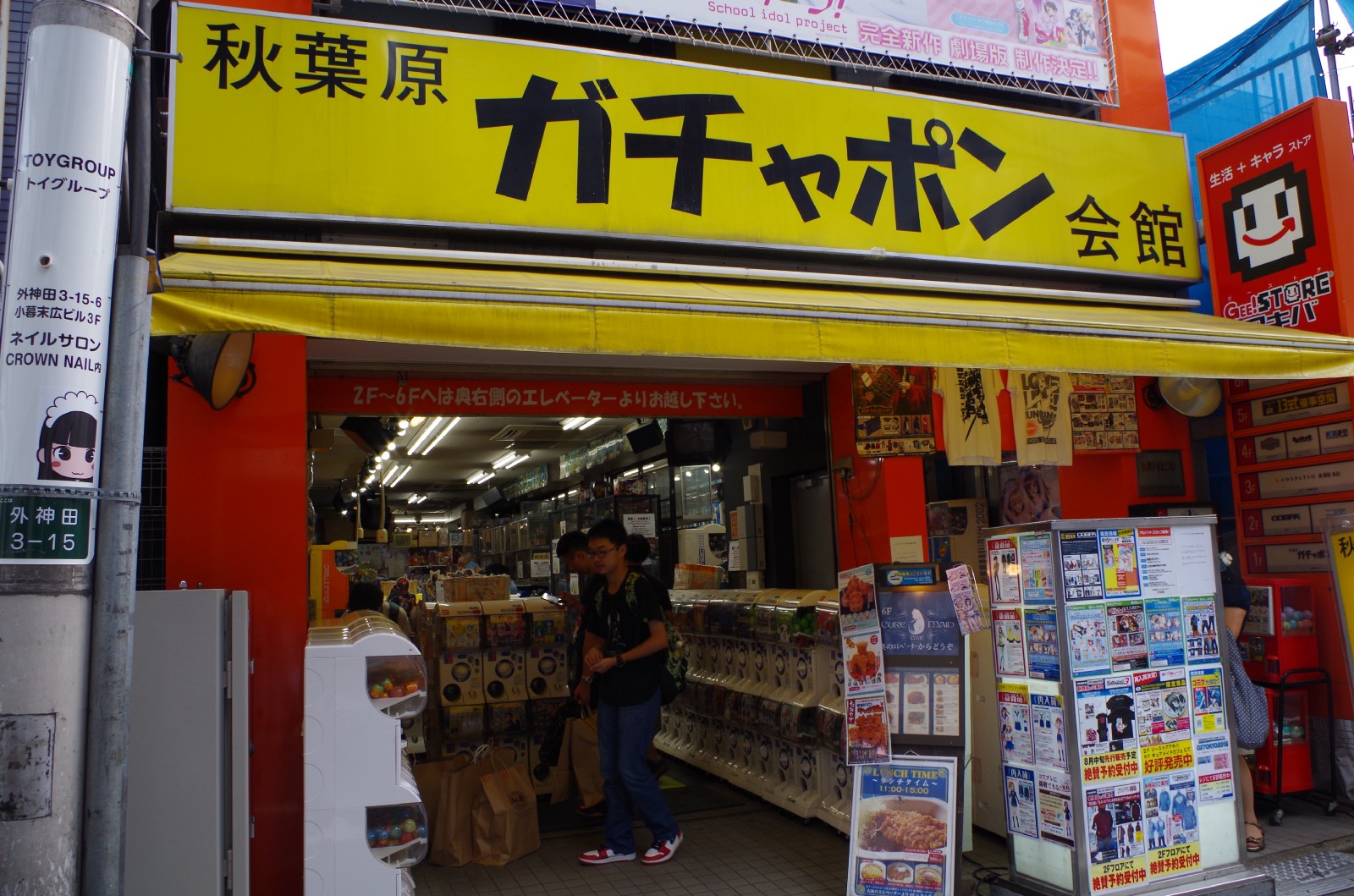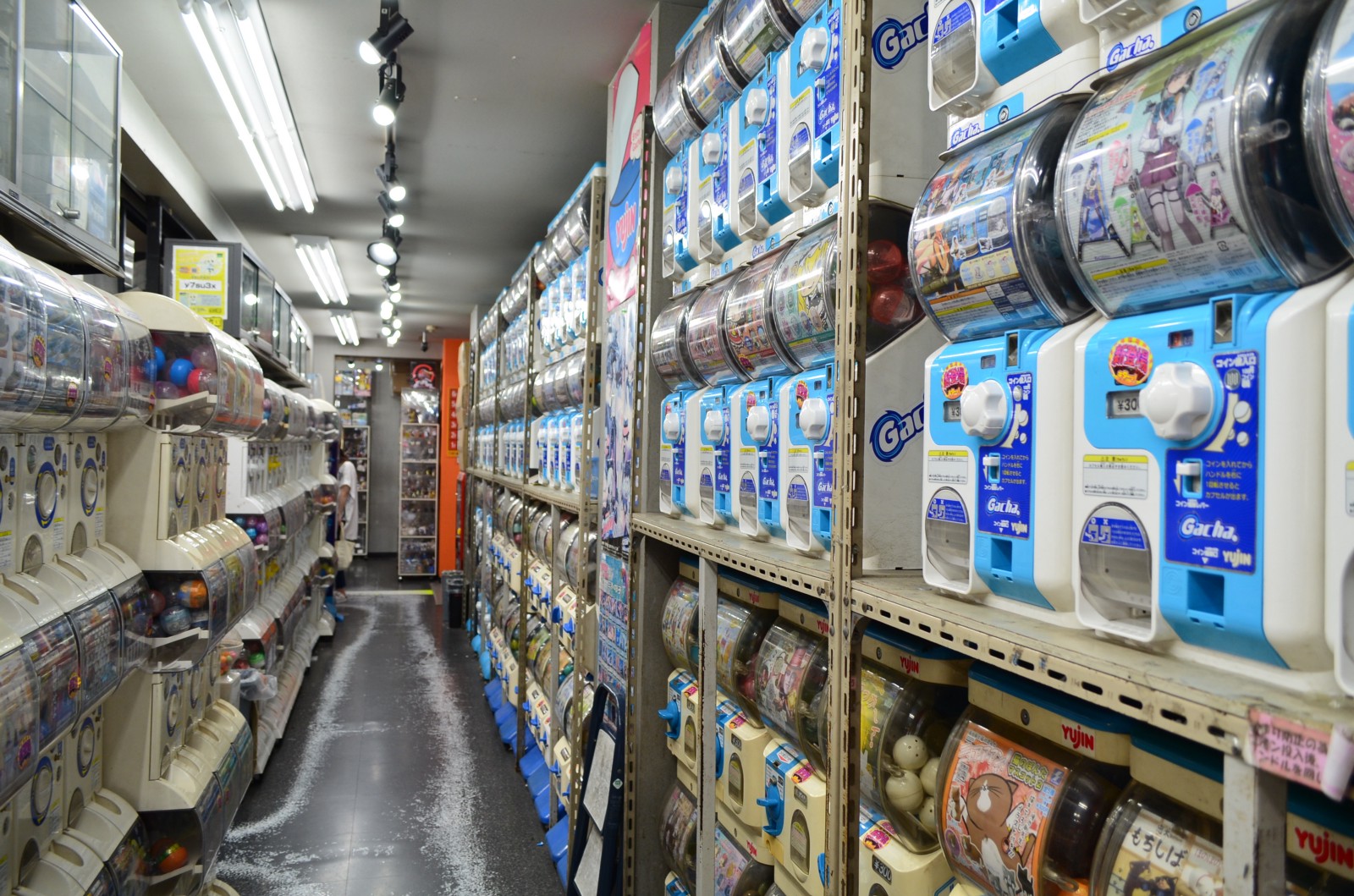 Sweet precious in a capsule. Gachapon is one of Japan's unique cultures. It's a vending machine of small toys, mini-sized model figures, key-holders in capsules which normally can be played with 2–300 yen.
Akihabara has several shops with over a hundred selections of Gachapon machines and the biggest shop is called Gachapon-Kaikan.
8. Mandarake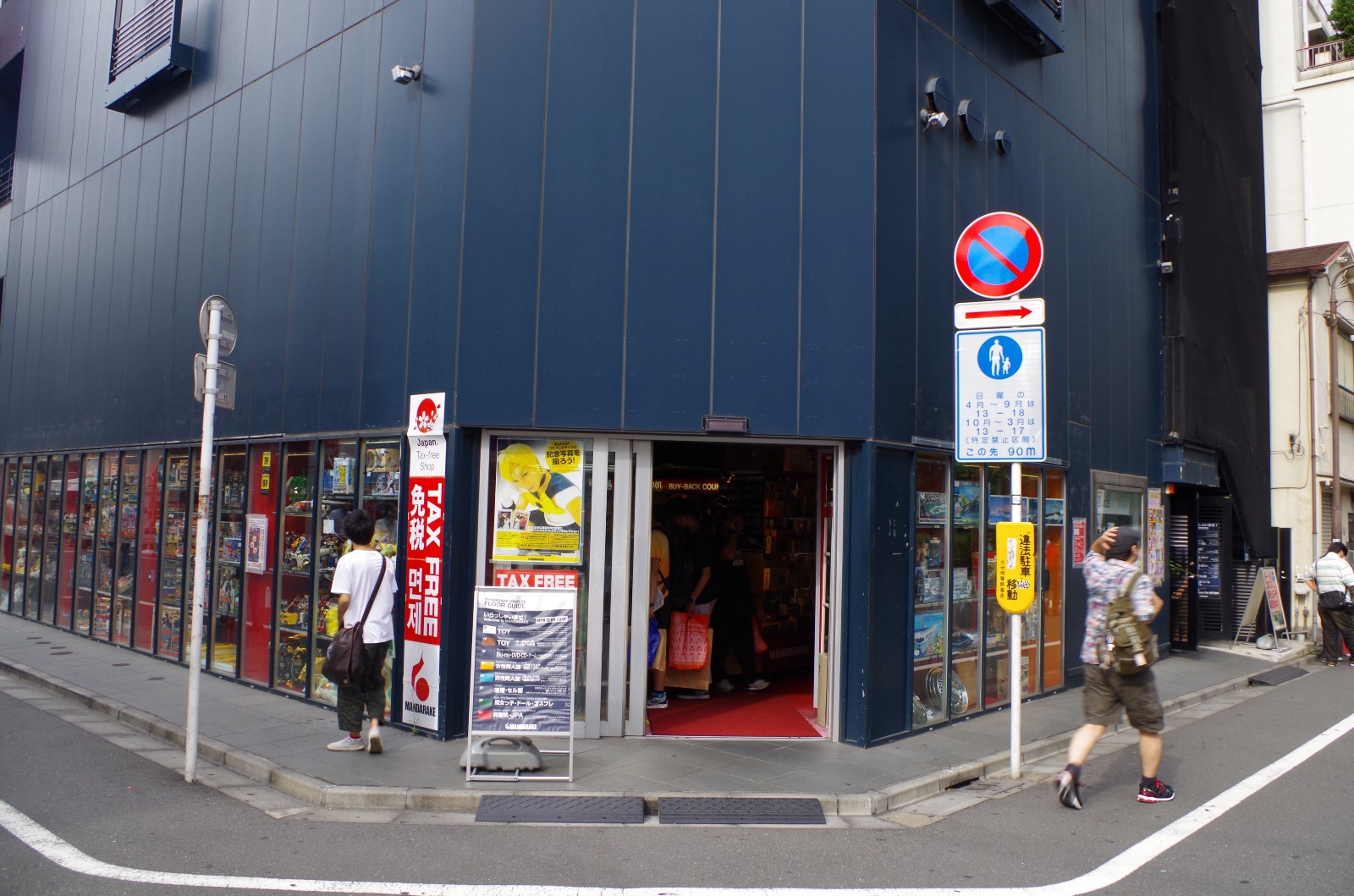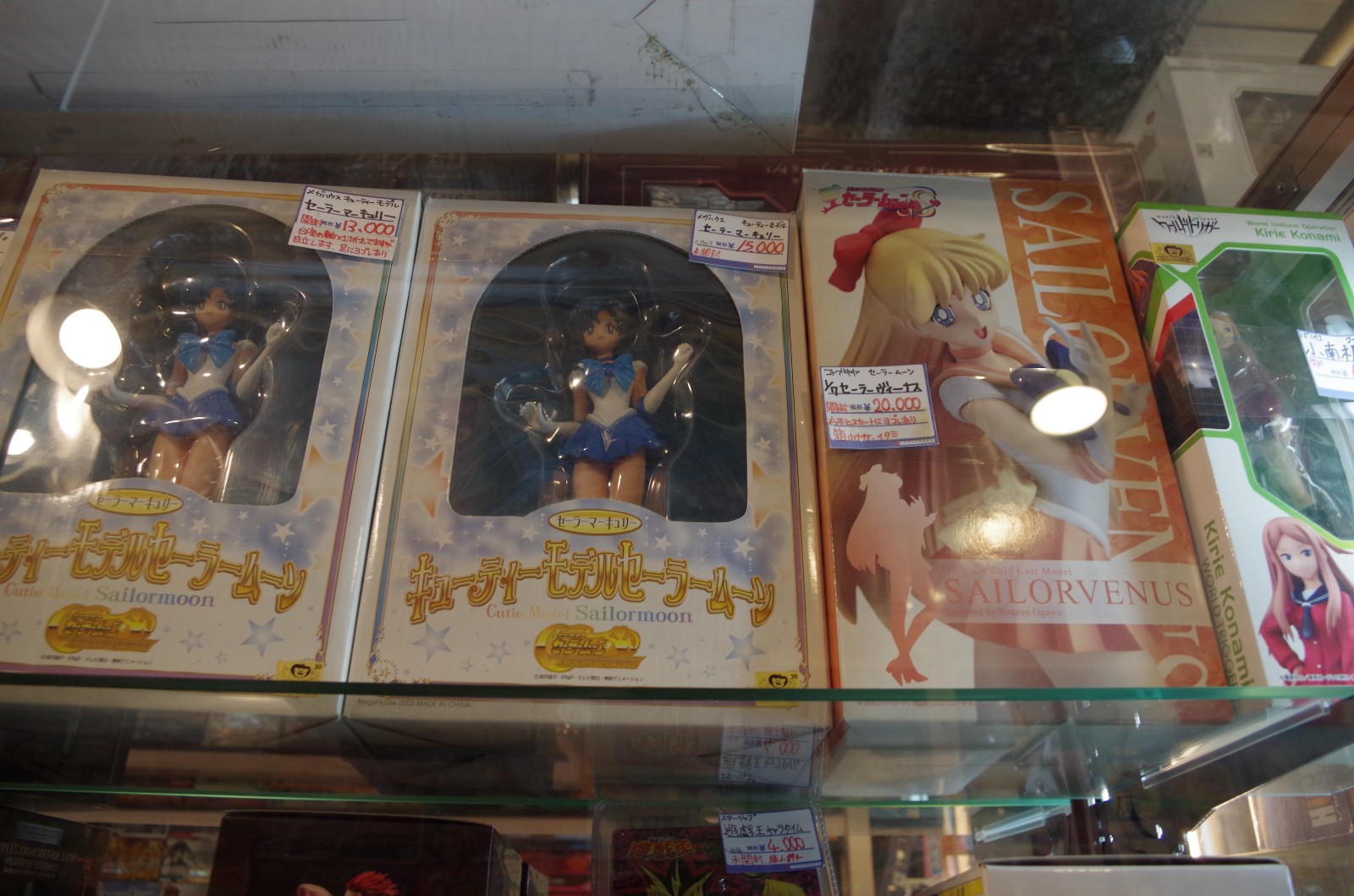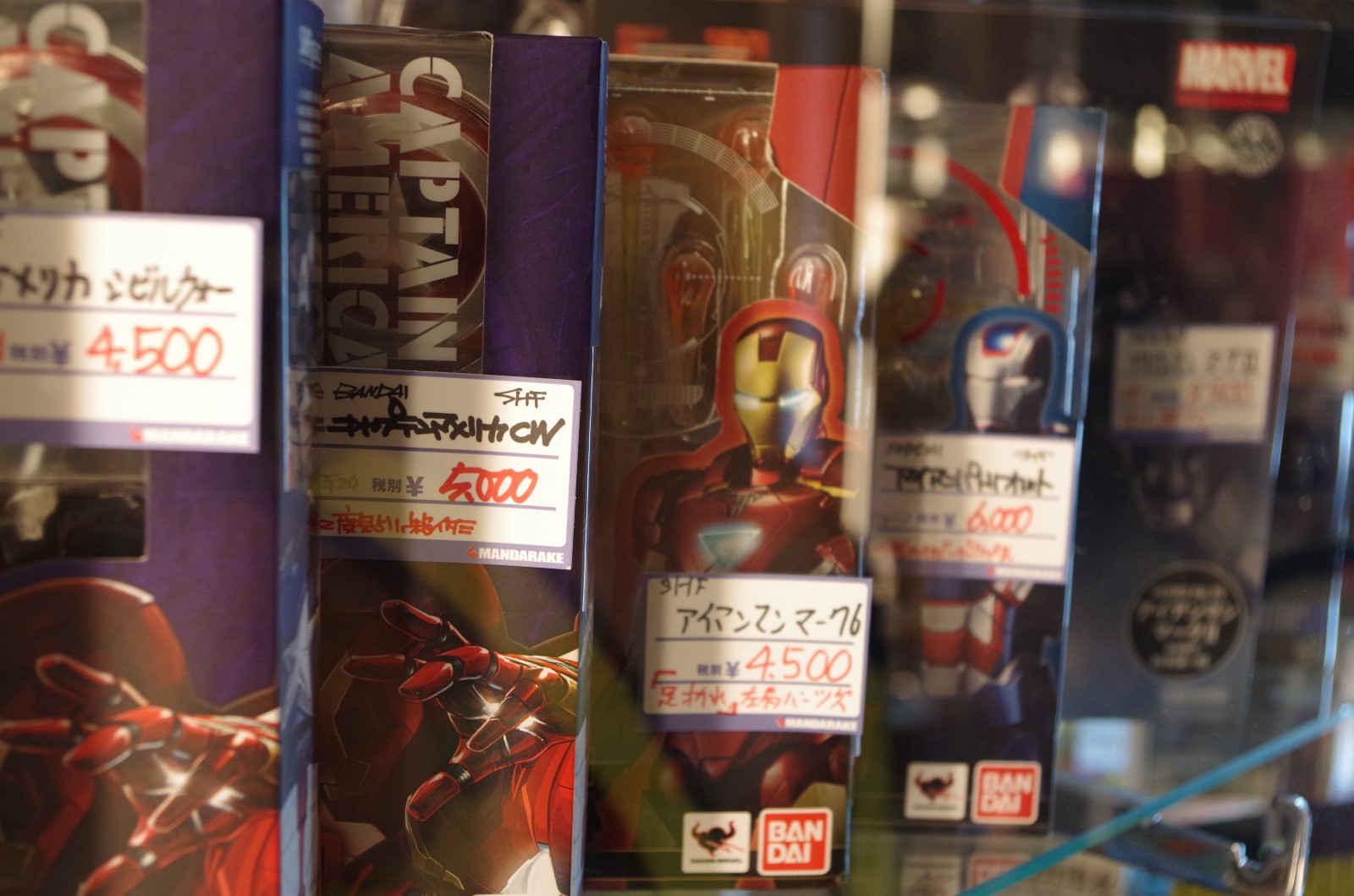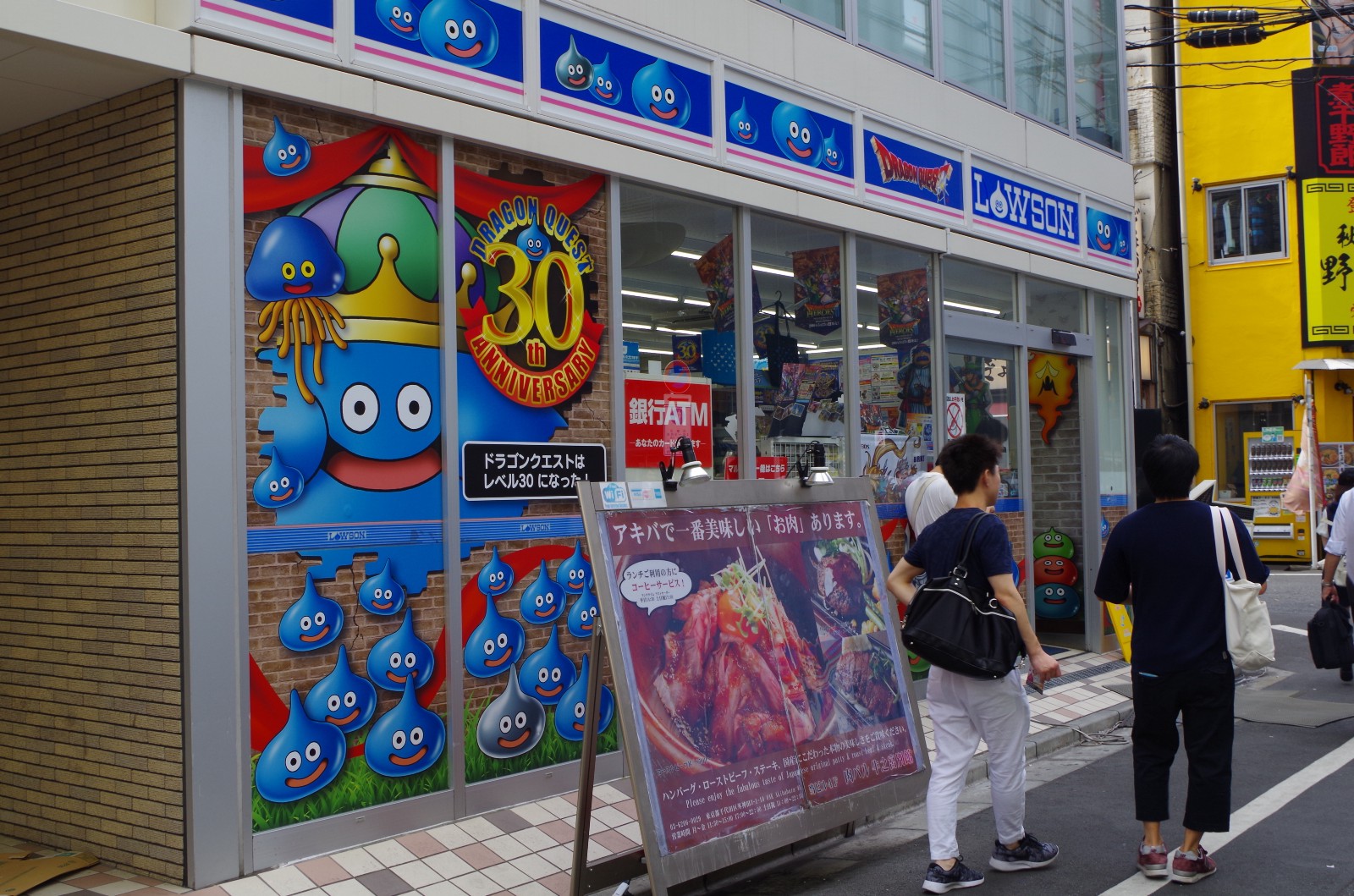 This 8 storied black building is Arcadia of anime lovers. Mandarake offers the best selection of rare anime/manga/game products such as figure dolls, vintage comics, records, etc. A lot of collectors and fans travel here to hunt their treasure items even from abroad.
Check out the convenience store Lawson in front of Mandarake! The store is decorated with popular game series "Dragon Quest" which only two of them exist in Japan (the other one is in Osaka!).
More info: What to buy at Mandarake Akihabara
9. Don Quijote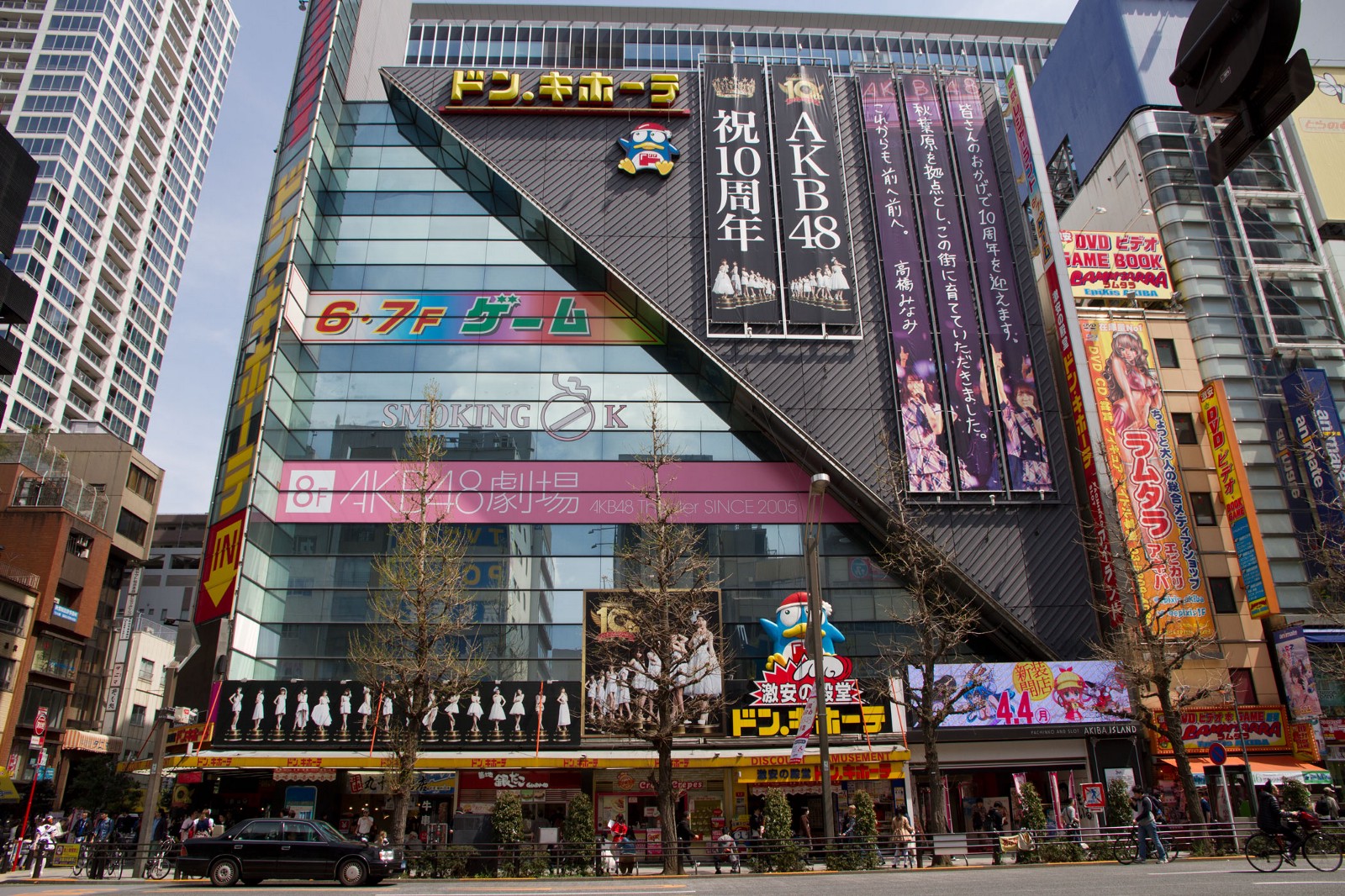 Don Quijote (a.k.a. DONKI) is the most beloved store in Japan among foreign travellers. If you have thoughts like "What shall I get for souvenirs in Japan??" "Where should I go for shopping in Tokyo", just go to one of Don Quijote. They'll give you an answer for sure.
One of the largest Don Quijote branches is situated on the Chuo Dori Street in Akihabara. The 5-story large shopping complex offers pretty much everything you need from the latest gadgets to Japanese food. Moreover, the Akihabara branch offers a wide variety of unique products related the Otaku culture of Akihabara, including the largest selection of Cosplay outfits of Donki stores in Japan! There are also a maid cafe and a game arcade in the same building.
10. 2k540 Aki-Oka Artisan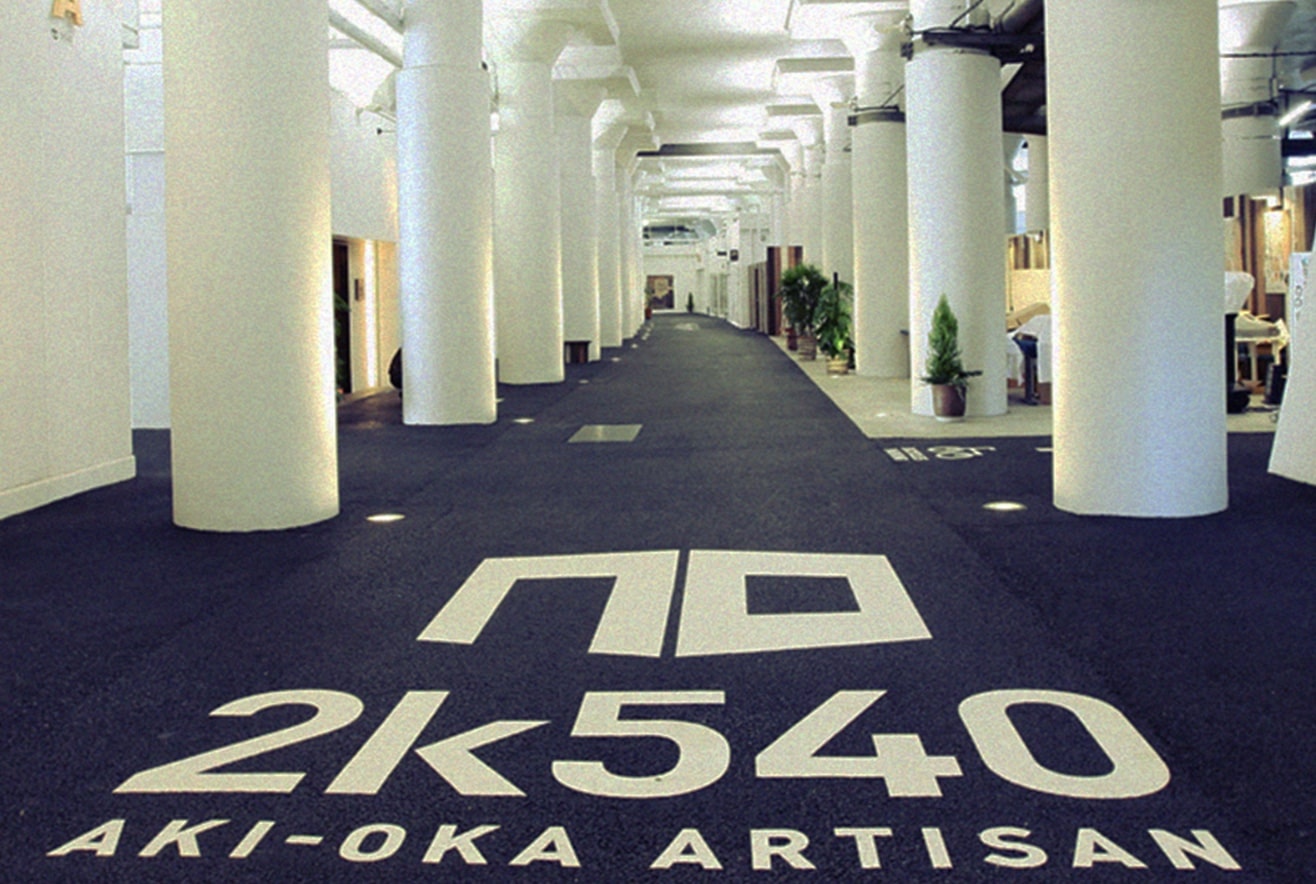 2k540 Aki-Oka Artisan is a modern shopping complex located underneath the elevated railway tracks between Akihabara and Okachimachi Stations. It has the theme of making things that is inspired by the Edo culture of traditional crafts. There are around 50 shops selling products produced by artisans in small quantities including accessories, interior, leather and clothing.
Map: https://goo.gl/maps/DTLdxSoeTmox6qBD8
---
Going to Akihabara? The best way to explore this Tokyo subculture center district is joining a guided local tour! Visit the hidden Otaku spots with a local guide and enjoy the best highlights of Akihabara in a half-day! "Akihabara Anime Tour: Explore Tokyo's Otaku Culture" by Japan Wonder Travel will surely bring your geek spirit 🙂 Check the link below and book the tour with a big discount!
Book Online ▶ Akihabara Anime Tour: Explore Tokyo's Otaku Culture

---
▽Check more shopping information in Tokyo▽
▶︎Best Shopping Areas in Tokyo
▽Best Shops in Tokyo by Area▽
▶︎Shibuya Shopping Guide
▶︎Shinjuku Shopping Guide
▶︎Harajuku Shopping Guide
▶︎Ginza Shopping Guide
Enjoy shopping in Japan! Here are some more unique shops and products in Japan that you shouldn't miss!
▽Related Articles▽
▼Editor's Picks▼
---