10 Best Things to Do in Atami
Atami: Popular Onsen Town near Tokyo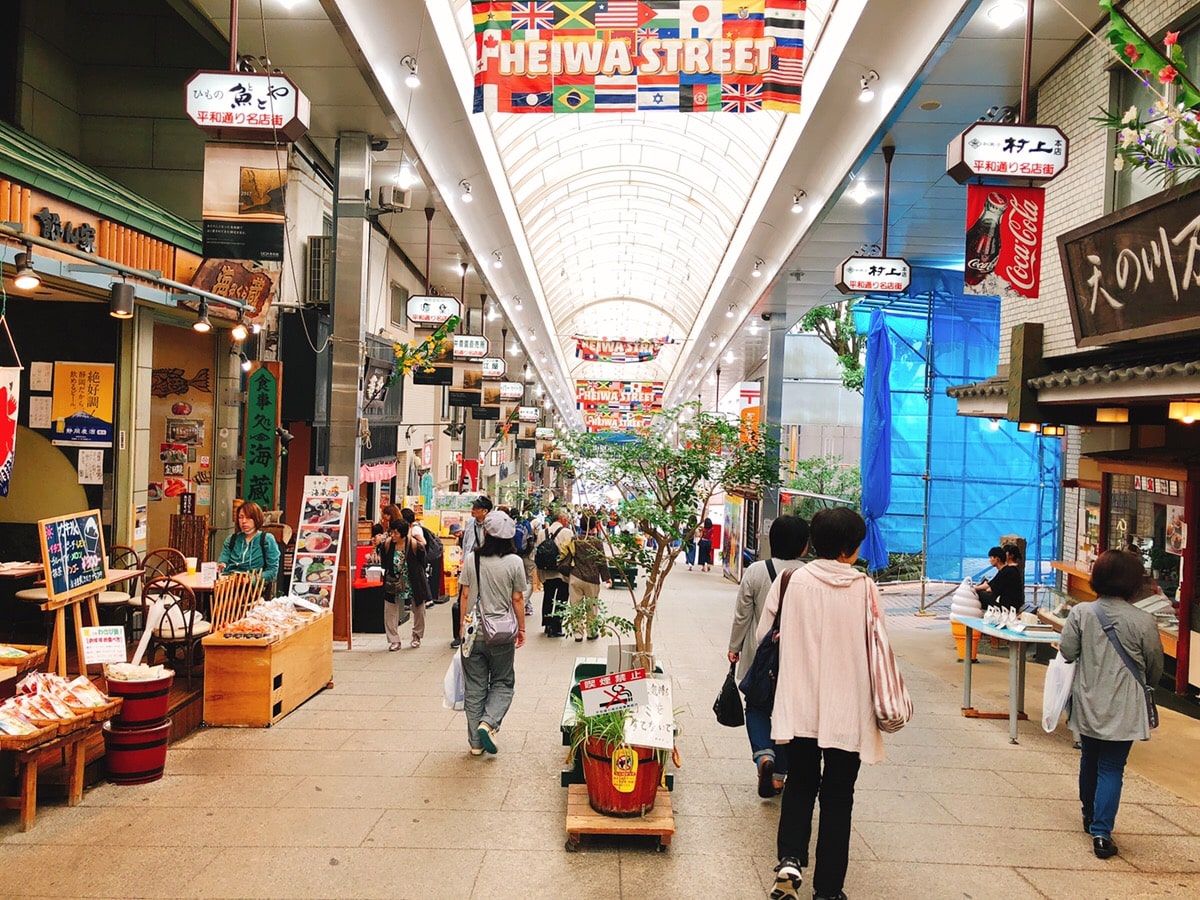 Atami, located in the northern east of Shizuoka Prefecture, is one of the best tourist destinations near Tokyo. Many people have visited Atami from the metropolitan area during vacation for a long time, and it has attracted younger people especially recently. Atami is famous as the popular Onsen town surrounded by mountains and the sea. There are numerous Ryokan (Japanese style hotel) with Onsen facilities.
Here are 10 best things to do in Atami from Onsen and beaches to freshest seafood and unique museums. Atami has accessibility to Tokyo, and the guide to how to get to Atami from Tokyo is also introduced below.
How to Get from Tokyo to Atami
There are two recommended ways to reach Atami from the largest hub Tokyo Station. It takes less than 50 mins to get to Atami Station from Tokyo Station by Tokaido-Sanyo Shinkansen, which costs over 4,000 yen. Another way is Tokaido Line (local train) by which it takes about 1.5 hours to get there. For budget travelers, it is recommended to take the local train since it is about half-priced compared to Shinkansen. If you have Japan Rail Pass (JR Pass), you can use Shinkansen with no extra fee. There are some buses bound for Atami from Tokyo Station, however, it spends much more time with the almost same rate as the local train.
1. Onsen
Experiencing the authentic Onsen is one of the must-do things to do in Atami. The onsen town is popular to Tokyoites who want to take a day trip from Tokyo and it has a large number of Onsen spots that day-trippers can enjoy. Nevertheless, it is highly recommended to stay overnight at Ryokan to spend much time to soak in the finest Onsen. Watei Kazekomichi Hotel (WA亭 風こみち), a luxury Onsen Ryokan in the Atami area, is very popular among both domestic and international travelers. For a little more budget-friendly Onsen, Atami Seaside Spa & Resort (熱海シーサイド スパ&リゾート) is a nice option.
2. Beach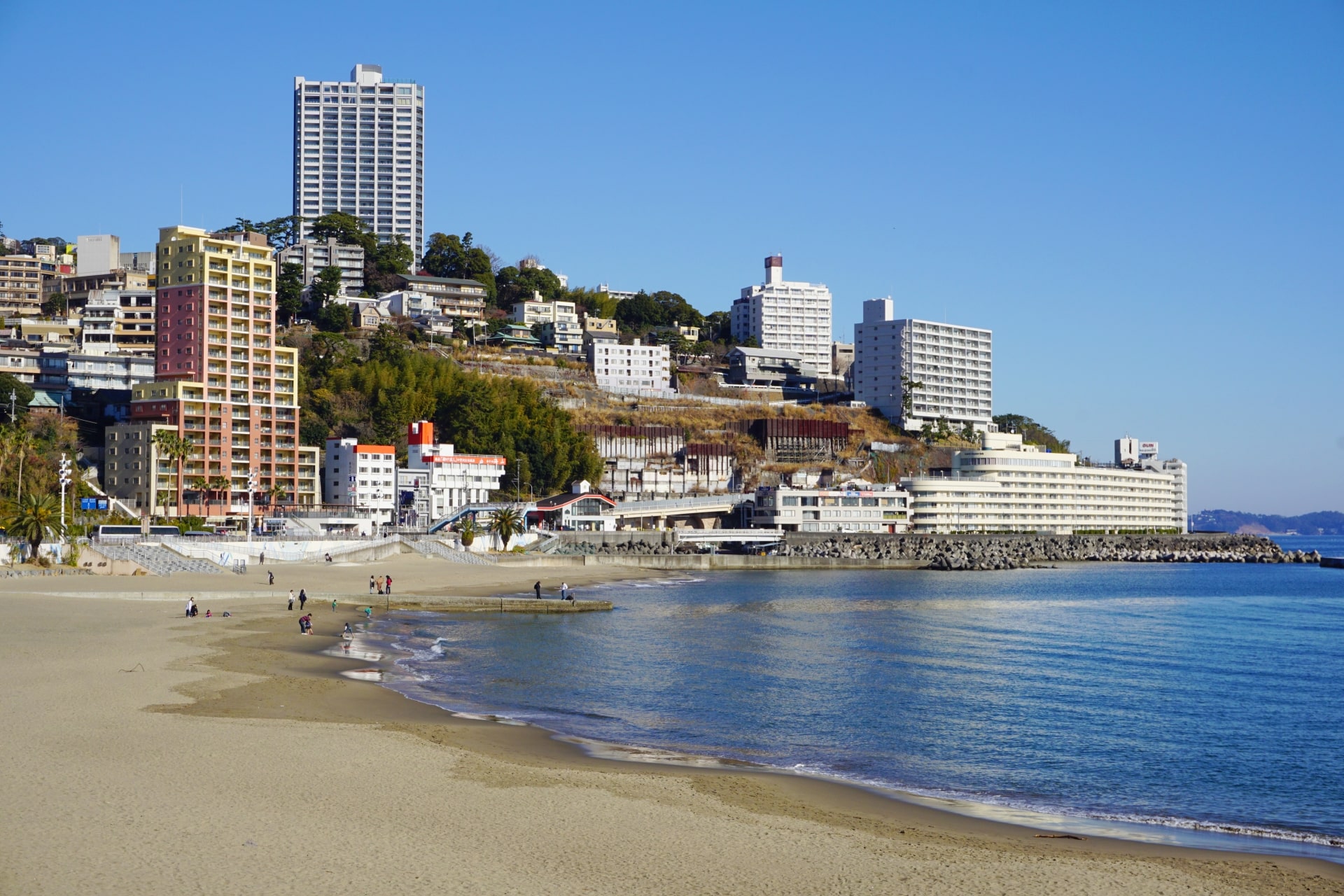 Atami is also famous for the beaches that tourists visit from the area around Atami including Tokyo in summer. Atami Sun Beach (熱海サンビーチ), located near Atami Station, is the most popular beach in Atami, where a road lined with palm trees and beach resorts. The beach is lit up in the evening and the fireworks festival are held there some times a year.
3. Atami Shopping Streets
Shopping Japanese unique items and eating portable snacks are one of the best things to do in Atami. There are some shopping arcades running parallel to each other in front of Atami Station: Atami Heiwa-dori Shopping Street (熱海駅前平和通り商店街) and Atami Nakamise Shopping Street (熱海仲見世通り商店街). Onsen Manju (bean-paste buns) and dried fish are the regional specialties in the area.
4. Atami Fireworks Festival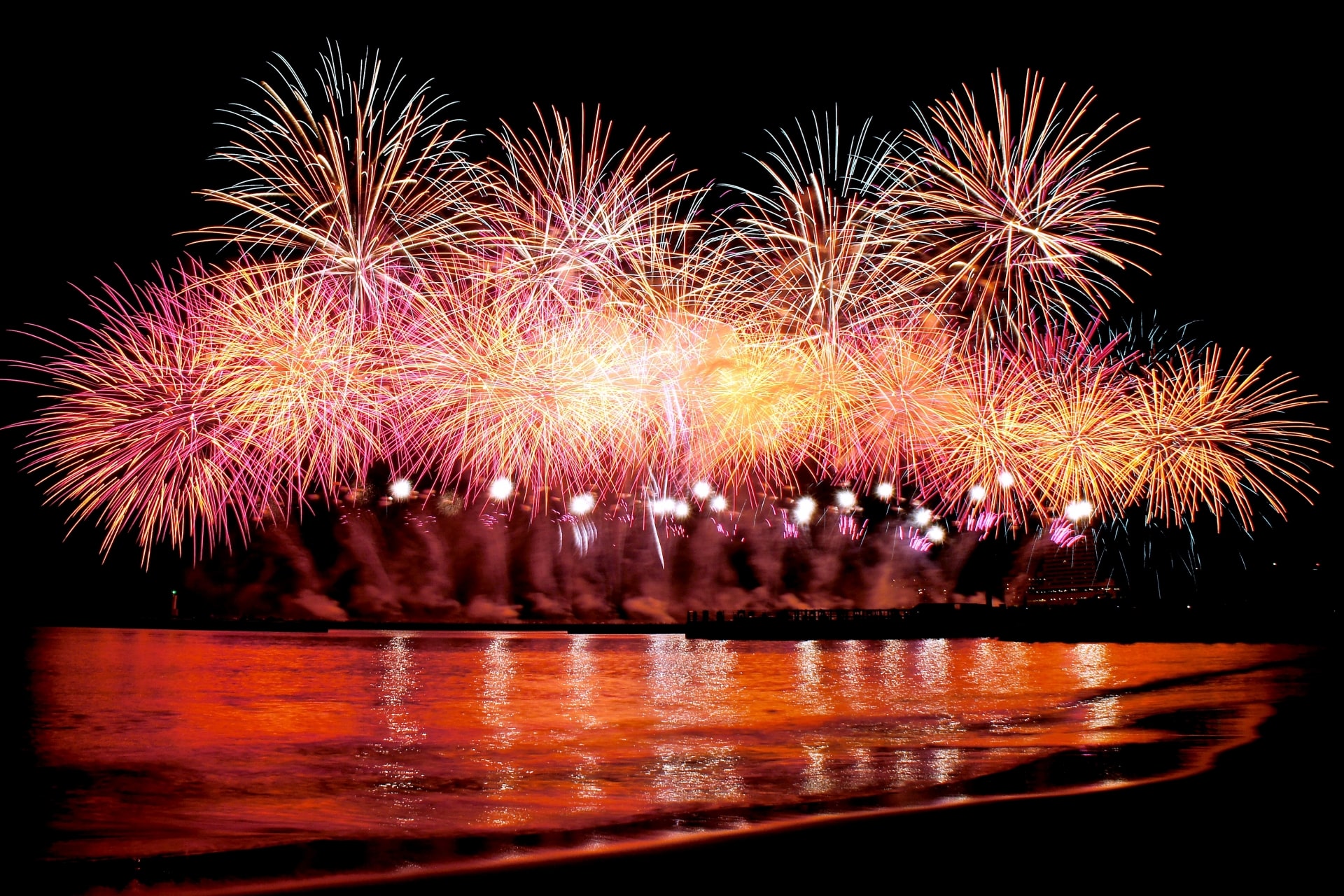 Atami Fireworks Festival (熱海海上花火大会) has its long history from 1952 and is one of the best dynamic fireworks events near Tokyo. You can see about 5000 fireworks displayed above the sea from Atami Sun Beach and around. Surprisingly, Atami Fireworks Festival is held in not only summer but also other seasons even winter every year.
5. Seafood
Atami is also a perfect tourist destination for gourmets since there are lots of restaurants which serves various freshest seafood dishes. From Sushi and Sashimi (raw fish) to fried fish and dried one, the restaurants have too many attractive options to choose the only one. You can eat gorgeous Japanese food if you stay at Ryokan and also go out for dinner (Tips about how to find nice local restaurants: Staff at accommodations kindly recommend popular restaurants loved by the local if you ask).
6. Atami Castle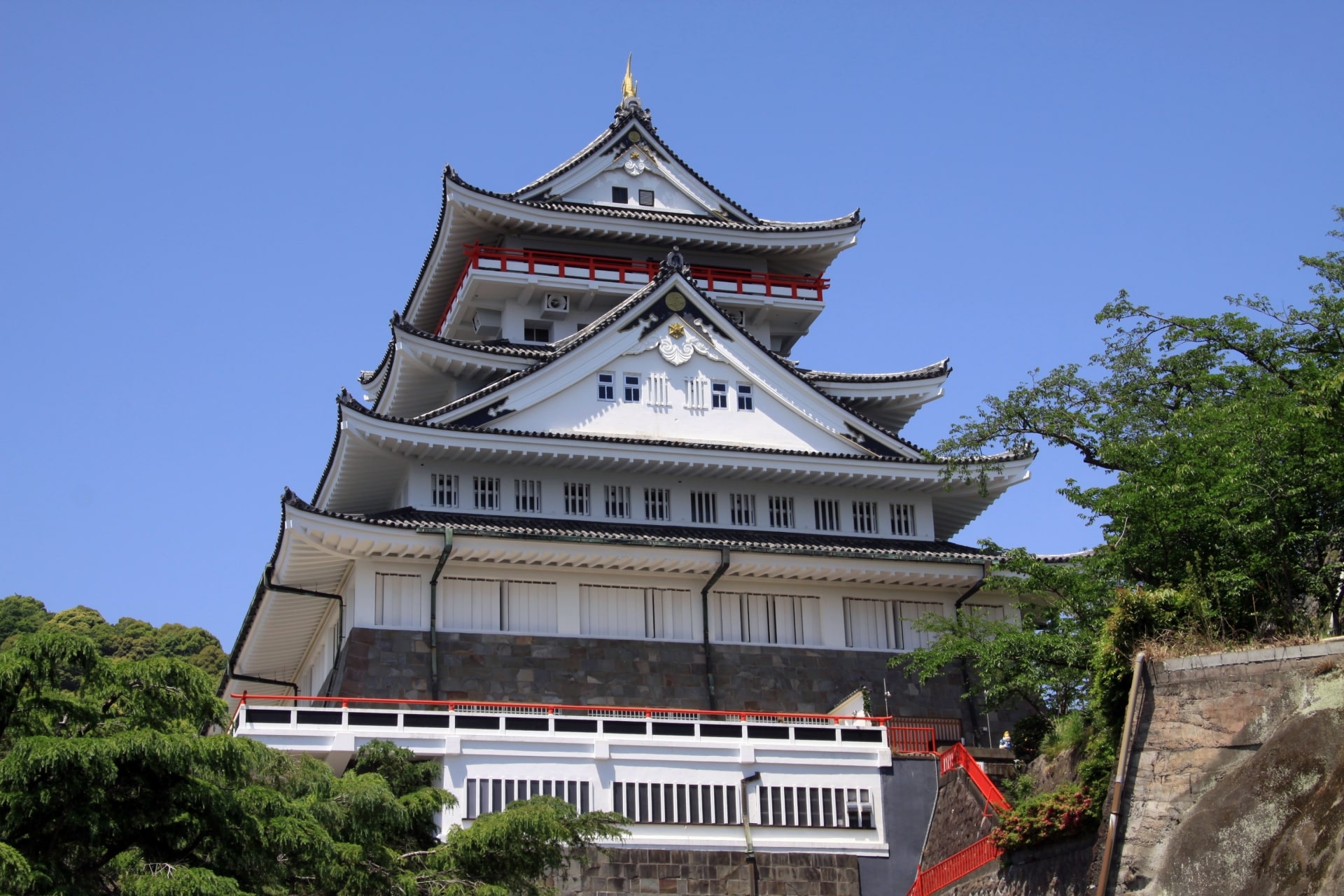 There are some unique spots on top of Mt.Hachimanyama which you can get to by car, bus and ropeway. Atami Castle (熱海城), built in 1959 at a height of over 100m above sea level, is one of the symbols of Atami. The top of the castle offers an observatory which overlooks the whole town of Atami and remote islands. The castle is also famous as a nice cherry blossom viewing spot in spring with 200 cherry blossom trees.
7. Unique Museums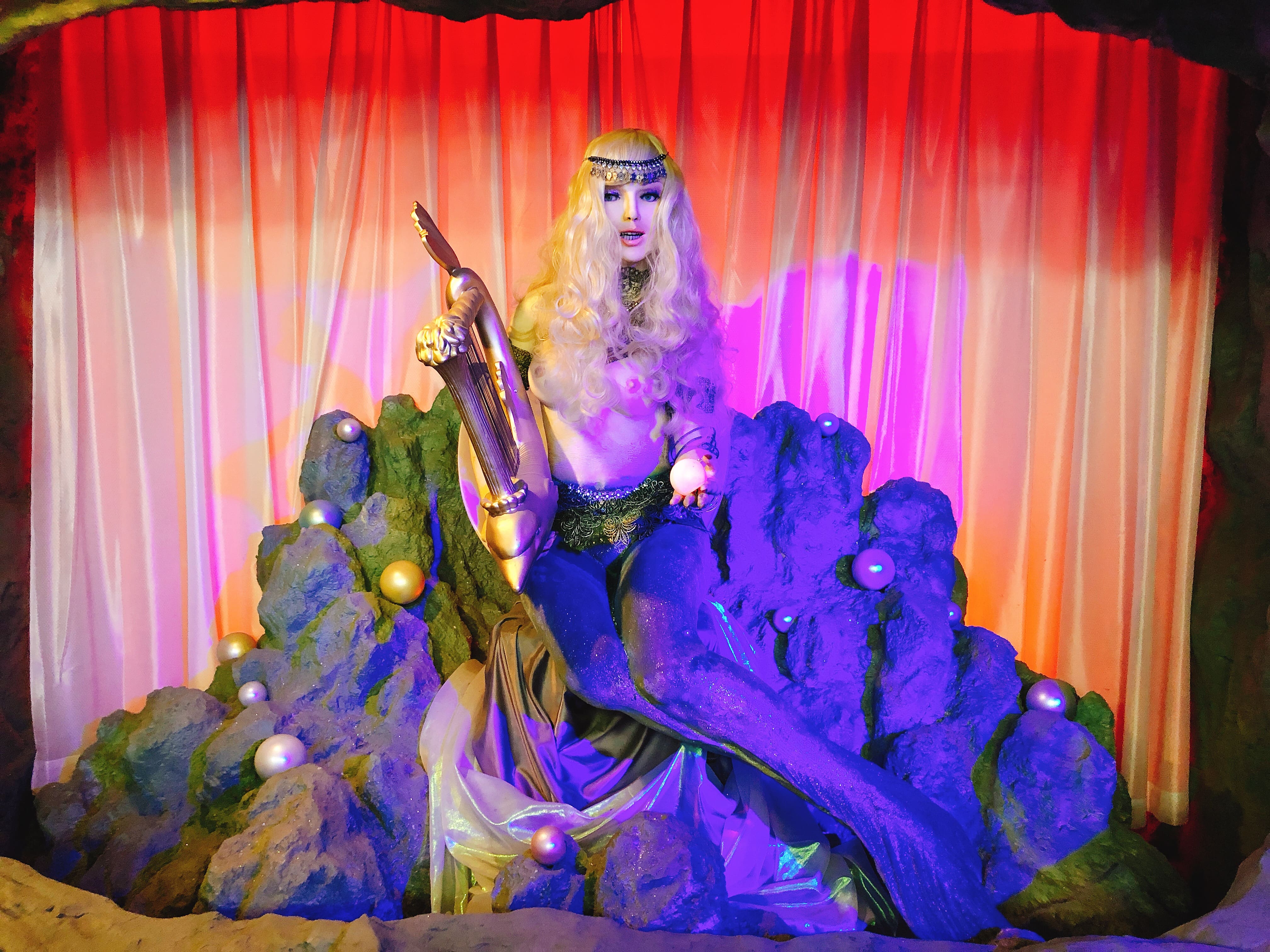 In addition to Atami Castle, two unique museums are available on top of the mountain. Atami Adult Museum, which is also known as Atami Hihokan (熱海秘宝館) in Japanese, is one of the most interesting Japanese museums that only adults can enjoy. Many items about sex are displayed there. Atami Trick Art Museum (熱海トリックアート迷宮館) is another unique museum where you can see two-dimensional objects as if they were three dimensions.
8. MOA Museum of Art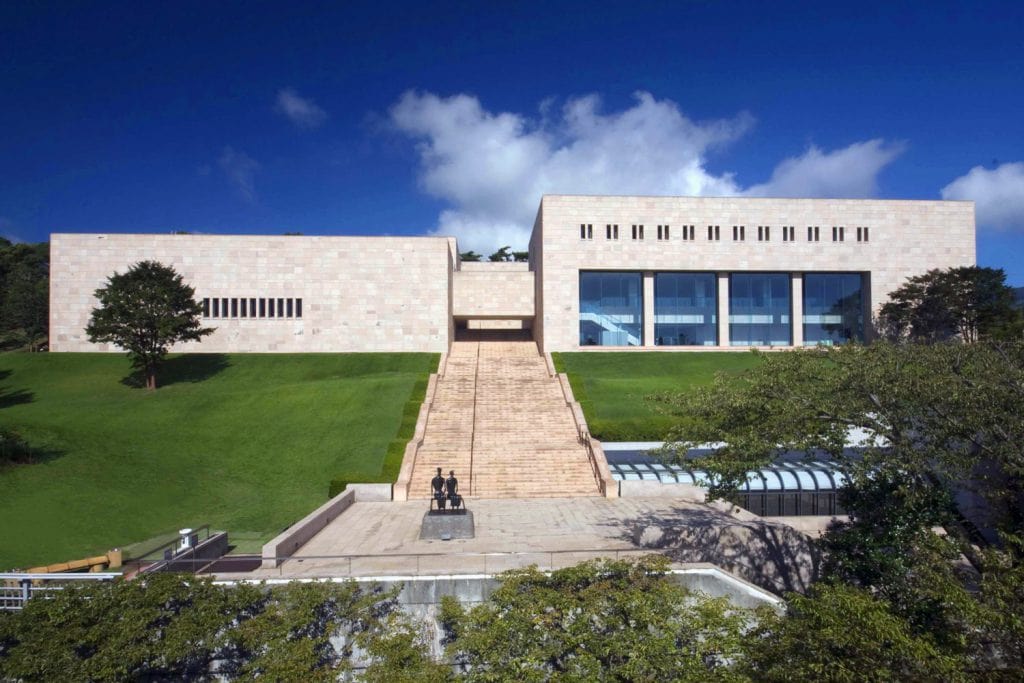 MOA Museum of Art (MOA美術館) is situated in the cast garden at a height of over 250m above sea level. There are Japanese art pieces on displayed in relation to traditional cultures including a Chanoyu (tea ceremony) and Noh (Japanese traditional music drama). You can also enjoy experiencing tea ceremonies and Kimono wearing.
9. Side Trip to Hatsushima Island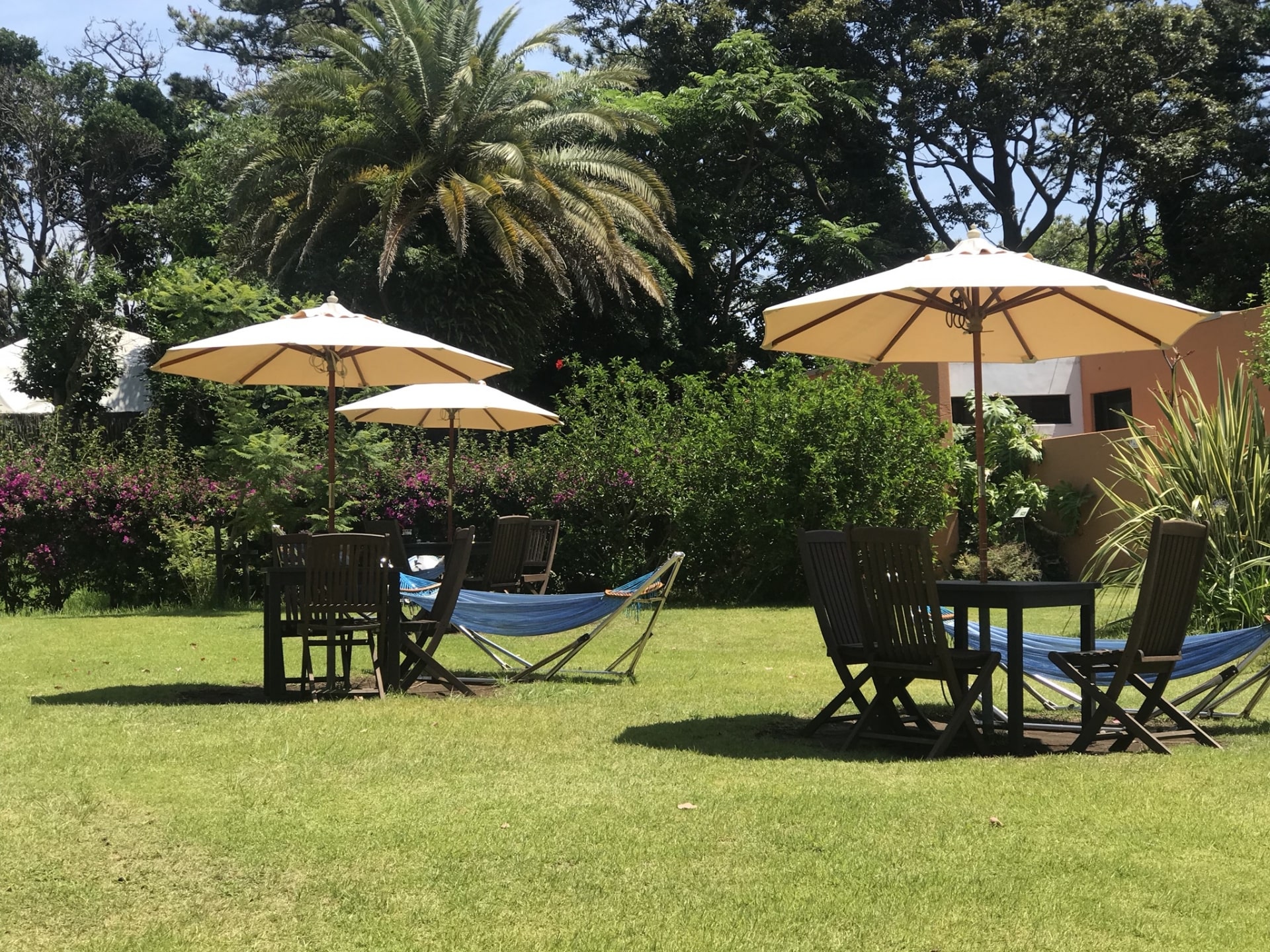 Hatsushima Island (初島), which is known as the closest remote island to Tokyo, is the best destination to take a side-trip from Atami since it takes only a half an hour from Atami by ferry. The island is filled up with a variety of attractions such as outdoor activities, BBQ, camping and the freshest seafoods. You can enjoy viewing seasonal flowers and the famous landmark of Japan Mt.Fuji.
10. Izu
Atami is adjacent to the other popular beach resort Izu (伊豆) which is located in the south of Izu Peninsula. Izu has a large number of beautiful beaches, and many Ryokan and hotels are locate near the beaches. For beach hopping, Izu is an ideal place near Tokyo. The neighboring Kawazu City, is famous for Kawazu Sakura, which flourish a little earlier than other cherry blossoms in spring.
Atami has got more and more popular among younger people and foreign visitors for the Onsen spots and other attractions like above. How about taking a short trip from Tokyo to Atami? For more info about Japan, check out these articles below.
▽Related Articles▽
▼Editor's Picks▼
---